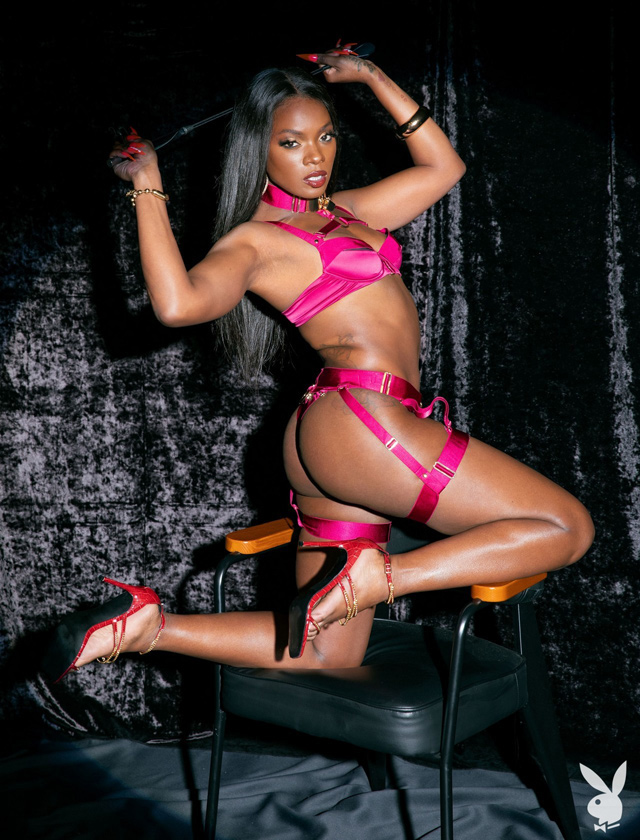 How long have you been performing as a pornstar and how did you begin your career in the adult industry?
ANA FOXXX:  I've been performing in the adult business for 10 years. I absolutely love it. I started because I wanted my boyfriend at the time to join. He had a high sex drive and I wanted him to fuck me better. He decided not to join, so I took the opportunity to better my sexual skills. At the time, I wasn't confident or experienced in sex.
2. Please share with us a little bit about your heritage and where you grew up?
ANA FOXXX:  I grew up in a big southern style household in Southern California. My parents taught us how to fish and garden. I have a lot of family and we'd spend lots of time mostly cooking together. I loved growing fruits and vegetables and cooking a dish. I was super active in sports and competitive in school.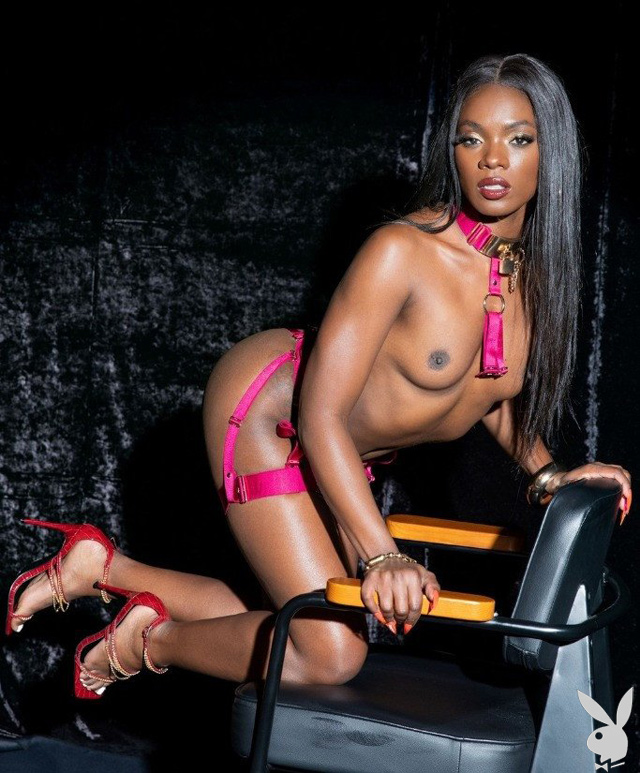 3. Ana you have so many exciting things going on, I can't wait to pick your brain on all of them. Let's start with your very recent mainstream role in the HBO original hit series, Winning Time: The Rise Of The Lakers Dynasty. This television show follows the Los Angeles Lakers in the 1980's. I have to ask, are you a Lakers fan and do you watch basketball?
ANA FOXXX:  I was born into a Lakers loving family. I was at the parade when they won the Nationals. I chased the float and had fun in flip flops. They broke after two blocks, but I kept going. I've meet Magic Johnson in real life twice, and my smile was definitely bigger than his.
4. How was it being on set for HBO's Winning Time: The Rise Of The Lakers Dynasty, considering that the show is a time period piece showcasing the 80's?
ANA FOXXX:  It didn't hit me how authentic they were going until I sat in a chair and got my hair cut. The wig I was wearing was transformed into a cute curly bob. When I saw the rest of the cast dressed up in bellbottoms, I got super excited. It really felt like I was at a house party in the 80's.
5. In your role as Foxy, you film an on-screen sex scene with basketball player Magic Johnson [portrayed by actor Quincy Isiah] at a party. How was filming this for you as obviously you weren't having real sex and how does being on a mainstream set filming a "sex scene" contrast to filming real sex scenes for adult companies?
ANA FOXXX:  The contrast is interesting. I hadn't been out much due to Covid, so I was overly excited to get naked and film a "sex" scene. I realized right away the crew was somewhat conservative compared to porn. It's completely normal to walk around naked on a regular porn set, but on a mainstream set they really make sure your covered up until just before action. Everyone on set was so professional when it came to coordinating our teases leading into "sex". I have to say I was pleasantly surprised. It was almost like we had all worked together before.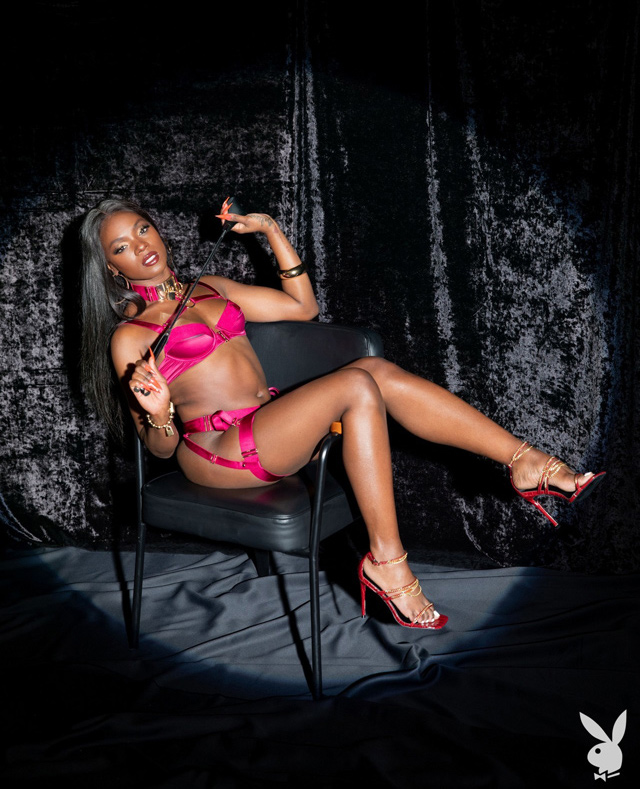 6. It's great to see you show off your acting skills and this certainly isn't your first mainstream role either! Can fans expect you to be auditioning and hopefully starring in more mainstream roles in the near future?
ANA FOXXX:  It's funny because I love mainstream roles, but I've never auditioned for any of the roles I got. Each of the roles I star in came through word of mouth. Turns out not a lot of women are comfortable with nudity or portraying a sex worker. I'd love to work more in mainstream no matter the role.
7. While broaching the topic, more pornstars and adult models are recently securing roles and being cast in mainstream film and television; which is amazing to see as so many pornstars are incredibly talented in film beyond sex and have valuable experience that can truly only be learned from years on set. Do you believe that this is a sign that society and the film industry is becoming more accepting of adult talent; and that we are breaking through the barriers of stigmatization against sex workers?
ANA FOXXX:  It's 2022. I find it strange that there was ever a separation with sex workers and mainstream roles. We definitely qualify as human, and everyone is a product of sex. I think it's immature that any sex worker would be denied any job because of their involvement with porn. I'm definitely happy to see a lot more adult talent crossing over.
8. Prior to your notable career in the adult industry you were a high fashion runway model. Please share with us your experience about your time on the runway and modeling and why you choose to change career paths?
ANA FOXXX:  Quite honestly, I wasn't confident when I was modeling. I was always told I was beautiful growing up, but I realized I didn't believe it myself. I wasn't mature enough in my opinion as well. There were a lot of sexual advances that I didn't know how to navigate. I would get comments like, "I don't think your photos are going to get you this job. You could try sucking my dick and I'll make sure your hired." I wasn't very sexually active, so each advance would throw me off and made it hard to trust people. So, I quit after a year. A while later when I was approached to consider porn, I figured I would be in control of all the sex, and I could learn a lot from the porn experience.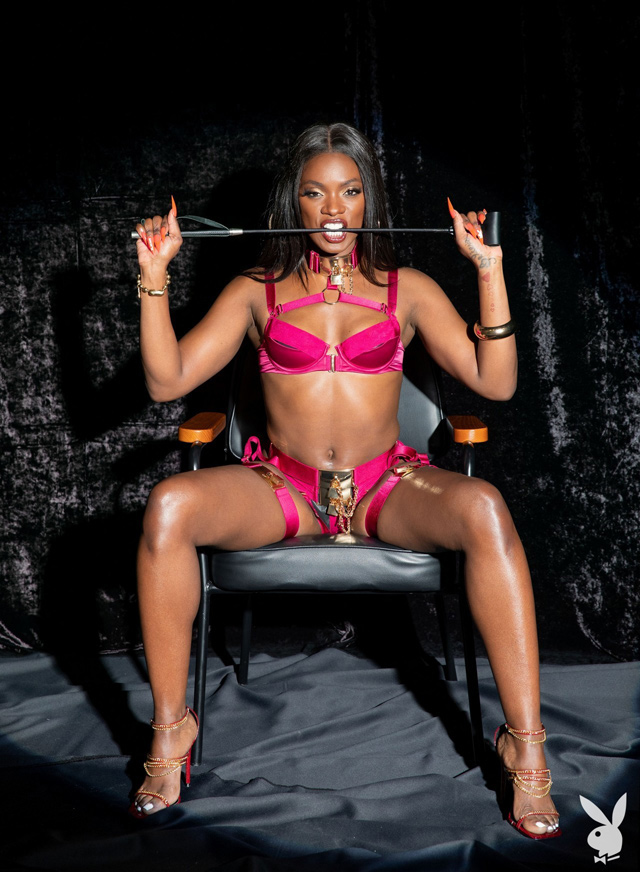 9. You are so much more than just a pornstar, actress and model. You're an incredible producer for Playboy and your shoot with Misty Stone was honestly one of the most beautiful pictorials I've seen in years. The photos really showcase raw emotion and joy and showcase Misty's personality in such a genuine fashion. Tell us about that shoot!
ANA FOXXX:  I absolutely love Misty Stone. She was hands down my first pick when I was offered the producing job for Playboy. It wasn't hard to style her; she's full of fun energy even on a bad day. I think it helps a lot that I admire her. I knew all I needed to do was make sure she was comfortable. It was such an easy day that I felt like I had produced 100 times before. I was happy Playboy gave me no limits when it came to shooting Misty. She performed flawlessly.
10. Please share with us more about your experience producing for Playboy and how being behind the camera feels for you?
ANA FOXXX:  Producing for Playboy is the most fun job that I've ever had. It's super satisfying choosing everything from the shoes to the set and seeing it all come together. So far everything has gone a lot better than my own expectations. I feel like a cool big sister that gets to play dress up with her friends. The look on all of my models faces when they see their outfits come together is priceless. I'm very proud of myself and I can't wait to continue to do more. My crews have been amazingly talented and helpful with bringing my ideas to life. I'm so thankful to Playboy.
11. Ana, you're also a strong advocate for the adult industry and you are the current president of APAC, the Adult Performers Advocacy Comittee. What does this mean to you and as president what do your duties consist of?
ANA FOXXX:  I never noticed how much people pay attention to what I say online. I realized I was speaking up for a lot of people who didn't feel necessarily comfortable, so it's a huge honor to be an advocate for performers. I feel like myself and everyone on the APAC board are all equal, even though my title is President. We meet up once a month (more or less) and discuss ways to improve our industry. I'm really impressed with everyone's passion behind the advocacy. We really want every performer to feel heard and know we have their backs.
12. When you're not busy on set filming, producing or shooting mainstream roles, what do you like to do for fun? Do you have any hobbies, pets or things you can't live without?
ANA FOXXX:  I love my pets. My babies make everyday the best even if I have nothing to do. I have two dogs, Lacey and Pepper, and a cat named Geeko. When I'm not chilling with them, I love to go out and eat food. People watching is a hobby of mine. I love guessing people's relationships and guessing where they're going. Plus, who's mad at eating delicious food. I'm a really chill person; I'd rather spend my time with my friends or my animals.
13. Ana, you are insanely fit and have a stunning physique! How do you stay in such great shape and what is your go to method for exercise or routine?
ANA FOXXX:  I've actually never been to a gym until after Covid. I have to thank my parents' genes for my physique. I've always been active though, and I think performing in porn helps my body maintain its shape. Now, I go to the gym maybe twice a week for an hour. I use my body weight when working out. This summer my body goals are "angry abs."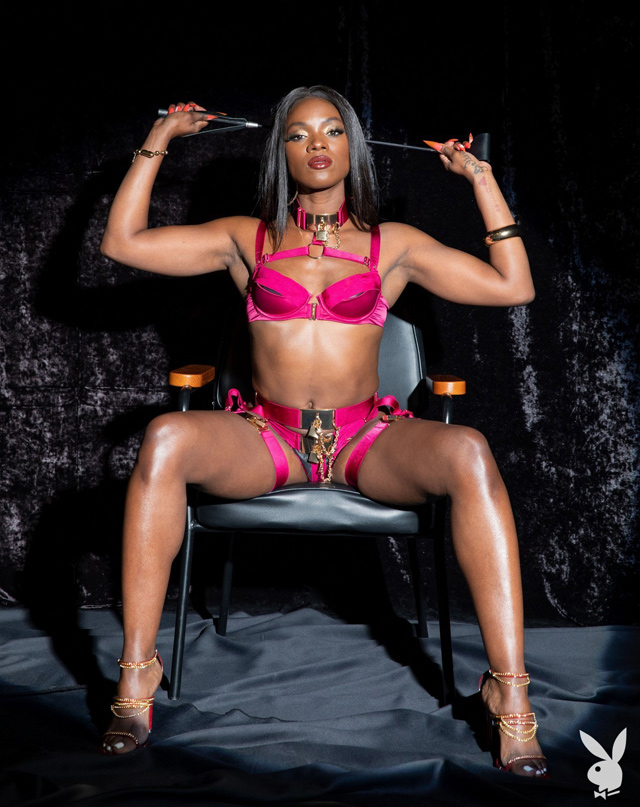 14. Let's talk about sex and orgasms! What are your turn-ons and what kills the mood for you?
ANA FOXXX:  I don't have a specific turn-on. I like different things about different people. Sometimes, it's a person's smile and sometimes I have a thing for a person's hands. Other times, it's nothing physical at all. I'm pretty open to a lot, so it's hard to turn me off. One thing that's a dead turn off is the assumption anything physical will happen if I haven't said so. Consent is sexy and if someone thinks they can skip over that, the door to me will close and lock.
15. When all the cameras are off and you are alone, how often do you masturbate and what is your favorite way to make yourself orgasm?
ANA FOXXX:  Usually, I masturbate everyday. It's never like I do in my performances. It always takes me anywhere from a one to five minutes to orgasm. First thing in the morning or before bed, I just lay on my stomach and hump something. My hand or my pillow. It's pretty simple and straight forward.
16. What makes you orgasm the hardest?
ANA FOXXX:  The hardest orgasms I have are from DPs. I'm not sure what it is, but I really love two men sharing me. It's a huge turn on. I wish I could get DP'd every day.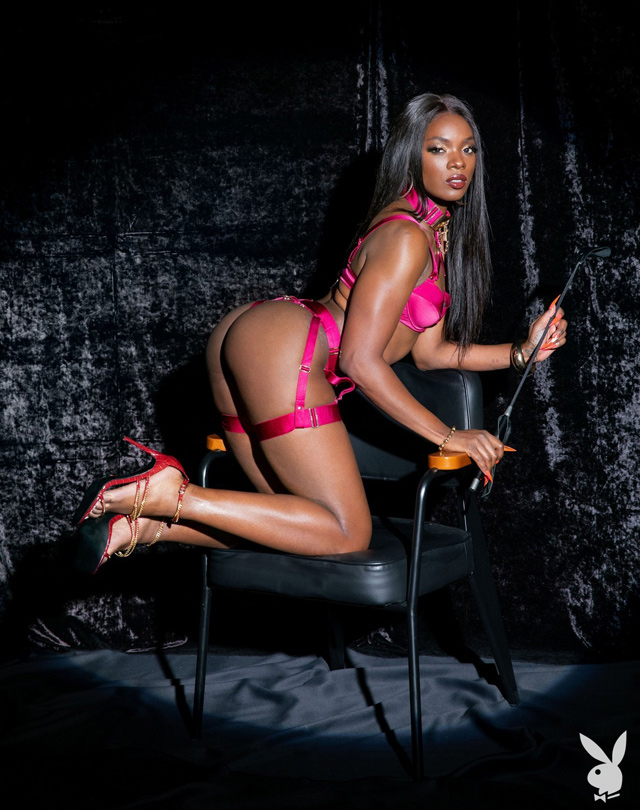 17. When was your first lesbian experience? Don't spare the juicy details.
ANA FOXXX:  I always knew I was bi-sexual. I never had a boyfriend until after college and I had a crush on every pretty girl I laid my eyes on. My first boyfriend was really sexually experienced. One day, he suggested one day we have a foursome with his best friend and another girl. I was so excited. We got a hotel room and the boys encouraged us to make out and start the party. She was beautiful and soft. I jumped on the bed after her and we started kissing. The boys took our clothes off. She was so freaking sexy moving like a snake, while I felt like a Nervous Nancy. She spread her legs and I felt like I just dived in. I almost forgot the boys were there. They stood back and watched us for a while, and then joined in.
18. Do you have any upcoming appearances, events, business plans or career aspirations or upcoming porn scenes that you are starring or producing that you can let us in on?
ANA FOXXX:  My goal for next month is to produce my fifth shoot for Playboy, featuring Janice Griffith. I've always admired her and can't wait to dress her up as a goddess. On the porn side, I'm really excited to shoot with Owen Grey and Small Hands later next week. These two are at the top of my favorite list and I get to have them together a dream come true. In May, I'll be going to XBIZ Miami. I love the vibes, a chance to meet new performers, and to see everyone.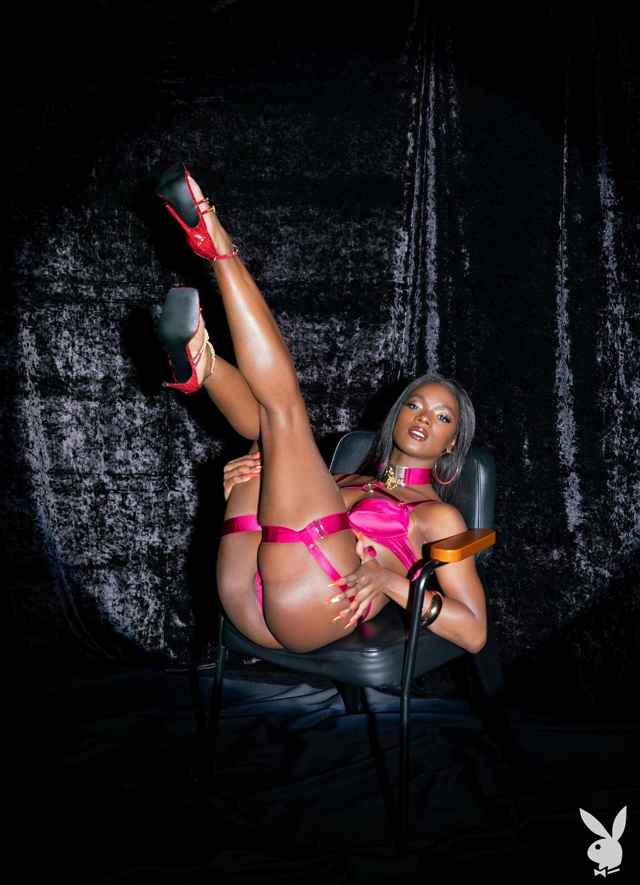 19. For the record please share with us your official social media accounts.
ANA FOXXX:  @AnaFoxxx on Twitter & @Foxy_Scorpio on Instagram
20. Leave our readers with true taste of the delicious Ana Foxxx. If you were ice cream, what flavor would you be?
ANA FOXXX:  Chocolate, obviously. I think I would taste like Snickers.
21. Is there anything else you would like to share with your fans, our readers or your colleagues in the adult industry?
ANA FOXXX:  For my colleagues in the industry, I'm proud of you all. So many people in this industry inspired me daily. So, thank you to everyone here.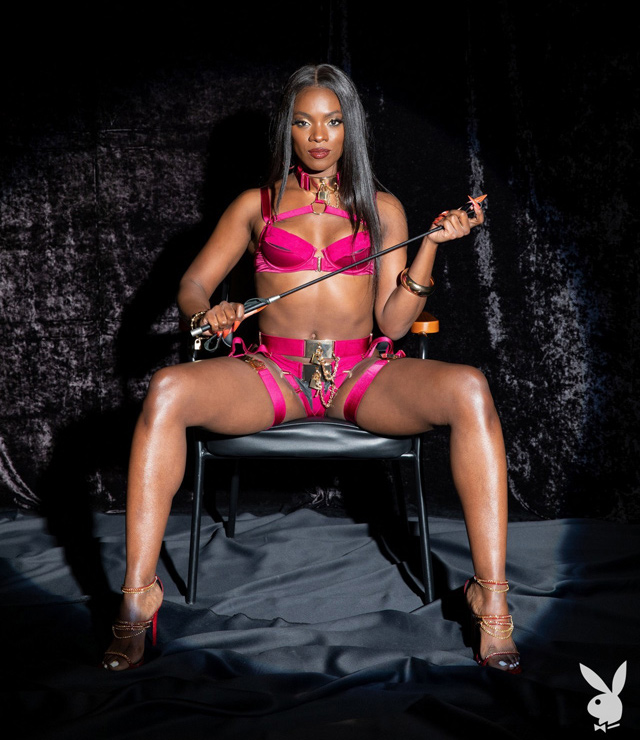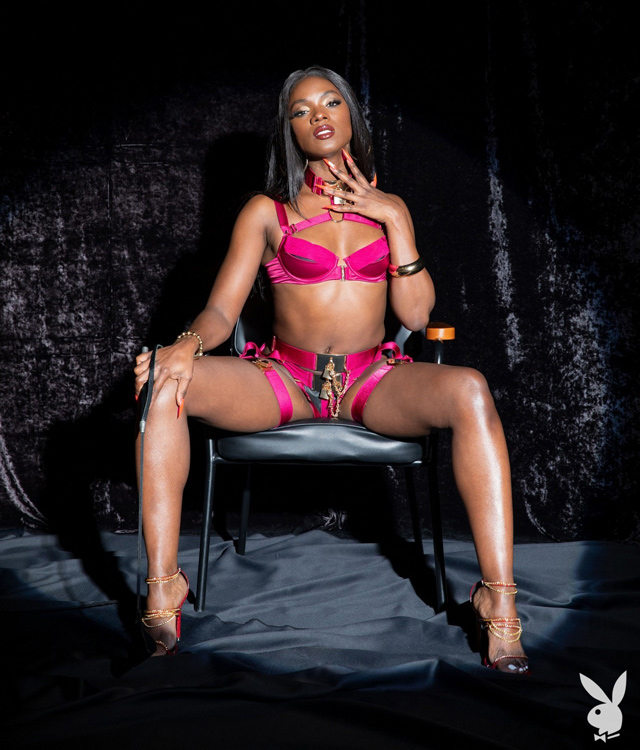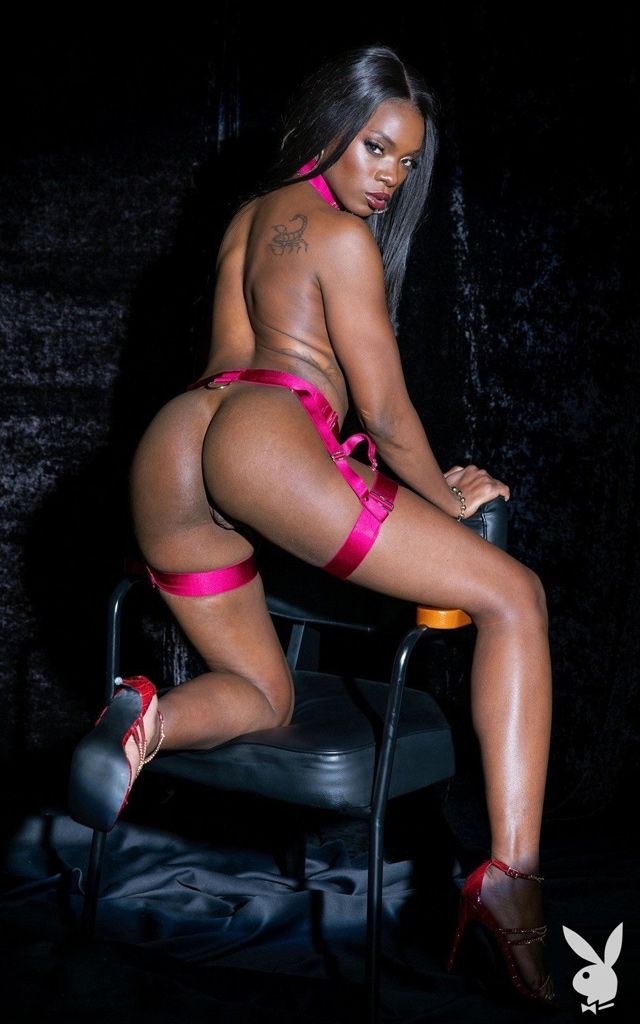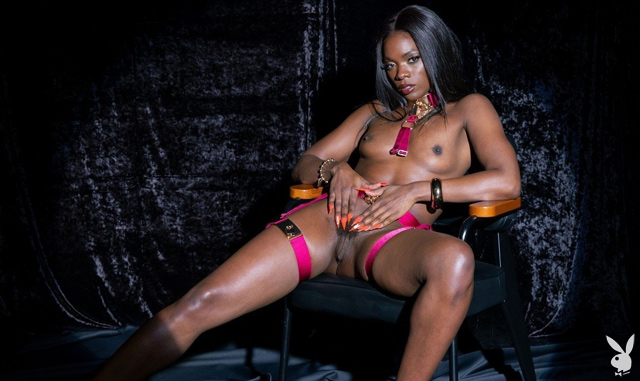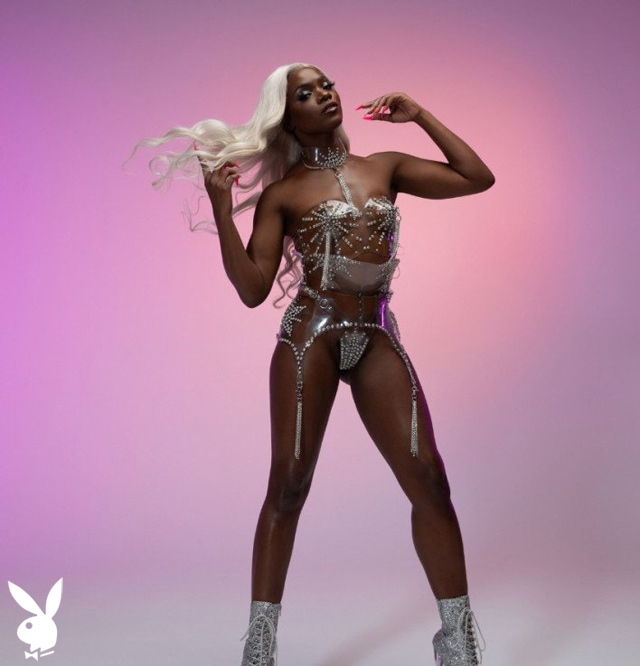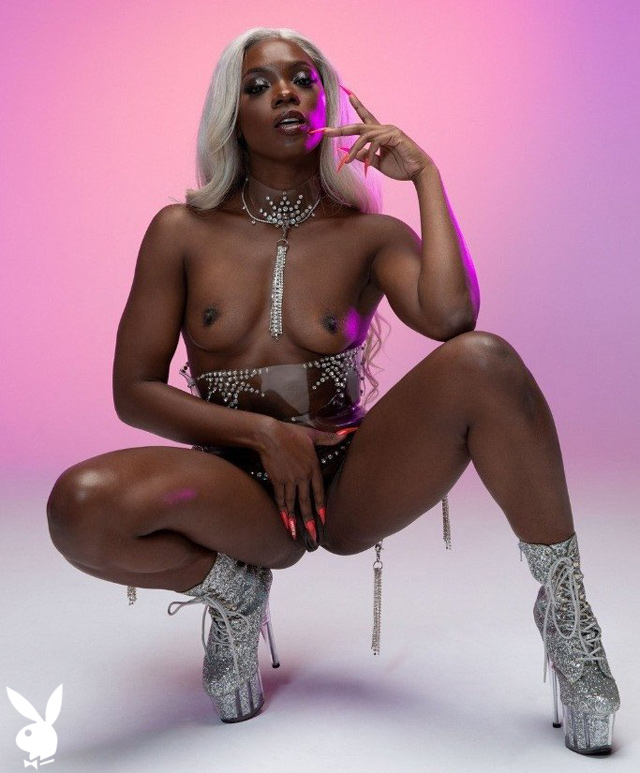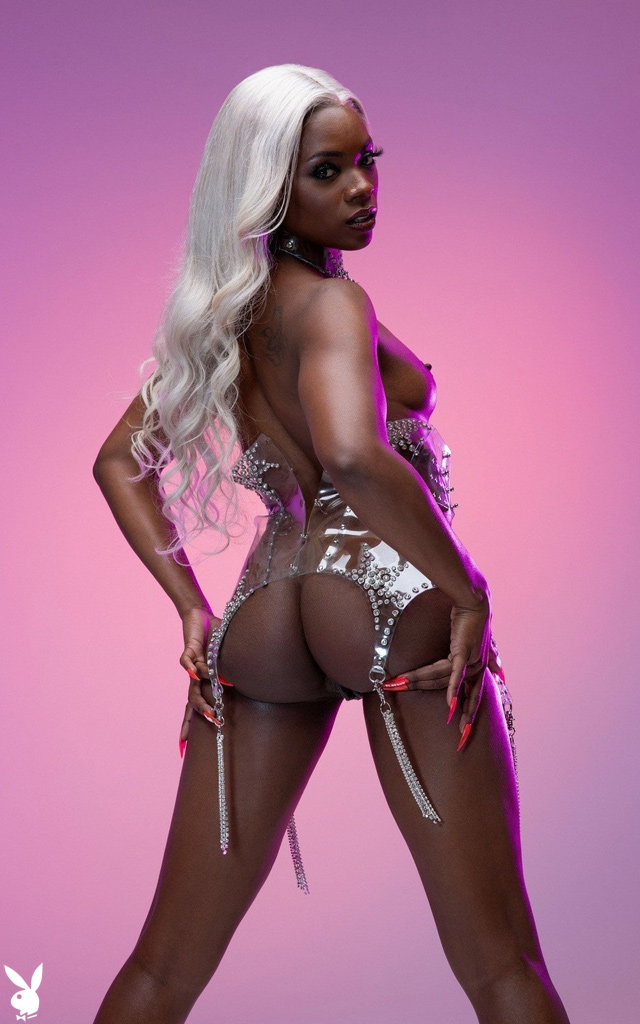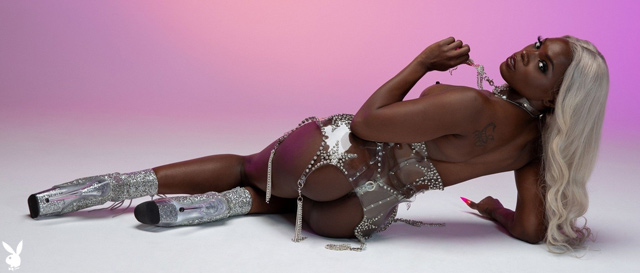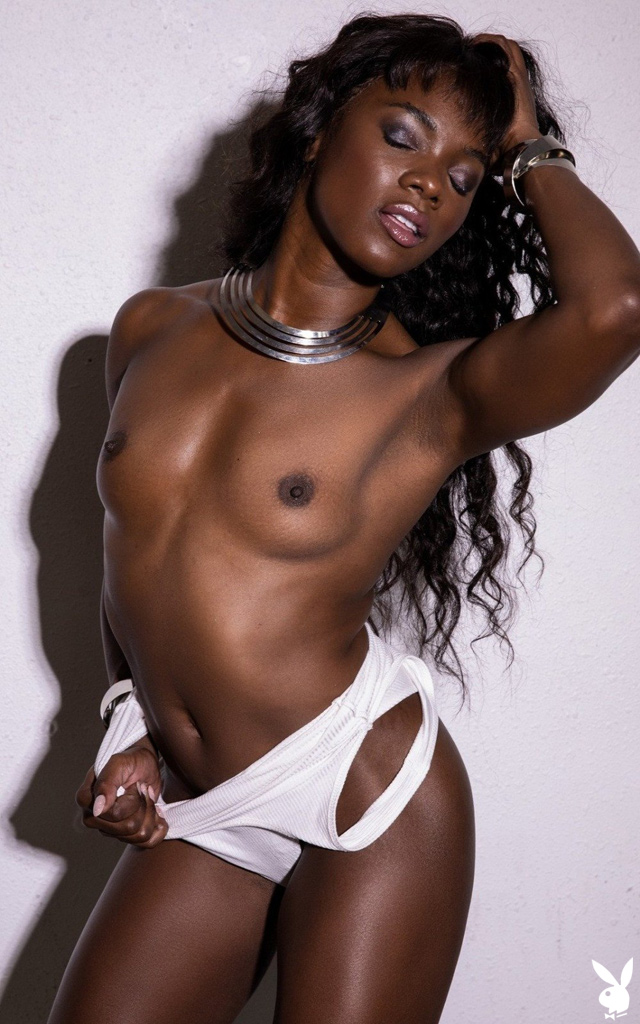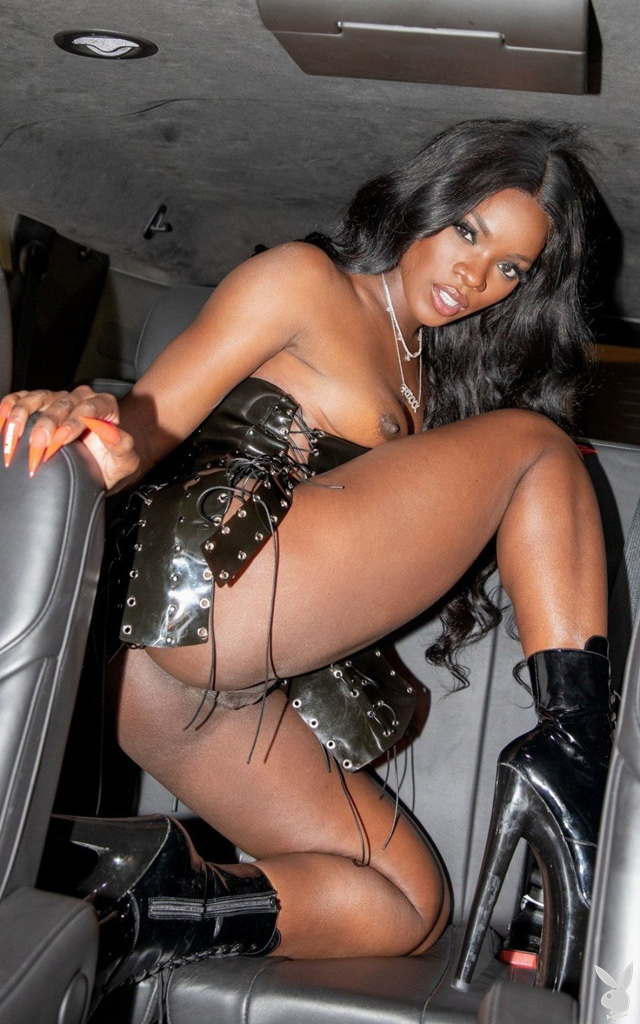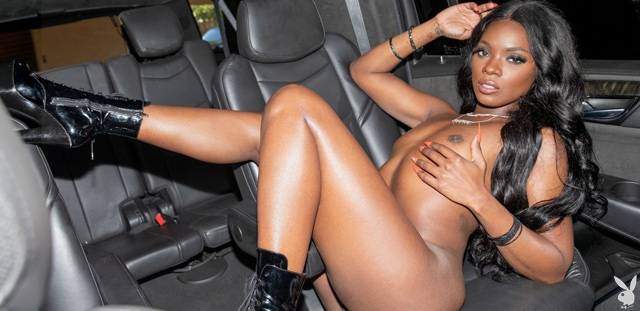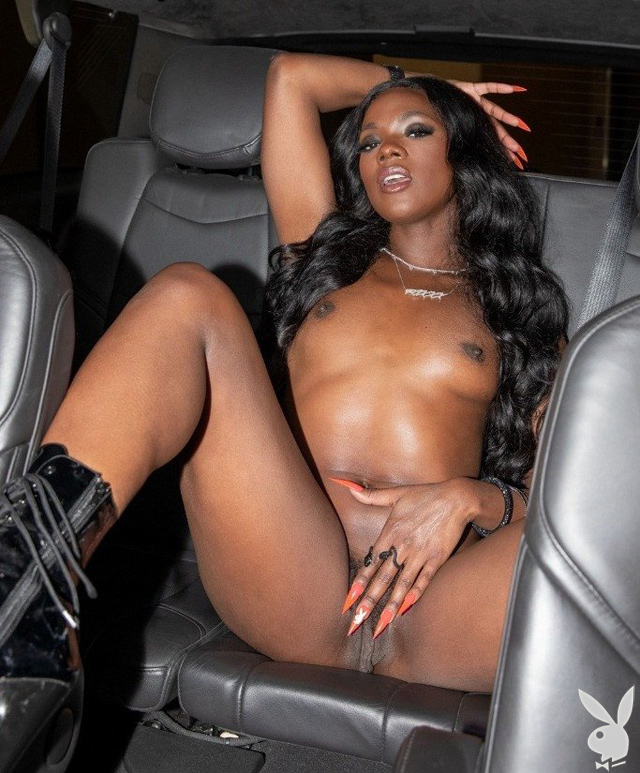 Want all of the hottest Ana Foxxx content?  View more of Ana Foxxx, the stunning and talented Playboy producer, model and 2022 Playboy Plus All Stars adult entertainer inside Playboy Plus and see all of Ana's incredible productions with Misty Stone and other stunning pornstars!

Continue in the Pornstar Interviews or BIPOC categories or return to cover of Porn Corporation.
View more of babe Ana Foxxx. Previous:  Wife Ana Foxxx Cheats With The Gardener In 8K VR
Read the latest Porn News or view the New Porn Sites released or read our recent interviews:
Haley Reed – Joshua Lewis – Crystal Rush – Misha Montana – Alina Ali – Violet Myers
Check out our recent AMA thread with pornstar Marica Hase in Ask Marica Hase Anything!
See more starring Playboy Plus.  Previous:  Bunny Sabrina Nichole Soapy In The Shower
Tags:
Adult Performer Advocacy Committee
,
all natural
,
Ana Foxxx
,
APAC
,
ass
,
babe
,
babes
,
Black
,
blonde
,
blowjob
,
boobs
,
booty
,
bra
,
brunette
,
coeds
,
college
,
Cumshot
,
cumshots
,
Ebony
,
Exclusive Interview
,
fit
,
fitness buff
,
fun
,
gun
,
hardcore
,
hardcore xxx fucking and sucking
,
HBO
,
high heels
,
horny
,
HOT
,
icecream
,
Instagram
,
Interview
,
Lakers
,
leather
,
legs
,
licking
,
lingerie
,
Los Angeles
,
Magic Johnson
,
mahogany
,
masturbation
,
men's magazine
,
mobile
,
mobile porn
,
natural
,
natural woman
,
natural women
,
New
,
nipple
,
nipples
,
oral
,
orgasms
,
panties
,
Pink
,
Playboy
,
Playboy All-Stars
,
Playboy Plus
,
Porn
,
Porn News
,
pornstar
,
Pornstars
,
premiere
,
pussy
,
pvc
,
round ass
,
sexy
,
social
,
solo
,
solo girl
,
solo girls
,
Solo Interviews
,
special
,
spread ass
,
tattoo
,
tattoo girls
,
tattoo models
,
tight
,
tight ass
,
tits
,
Twitter
,
vinyl
,
wild
,
wild natural hottie
,
wild natural hotties
,
Winning Time
,
world premiere
,
XBiz
,
XBiz Awards
,
XXX