King of Kinks is one of the hottest online games right now for adults and it's easy to see why. The incredible animation, fast paced fighting action in fun to play 5v5 squad battles, super sexy girls and r-rated fully animated hentai sex scenes!  In this RPG you are playing in the Kingdom of Clouds.  This kingdom has long been run by gorgeous but ruthless and dominating women.  Men have faced inequality and injust unfairness for decades.  Thus resulting in a rebellion.  As the protagonist in this game you are the son of the Rebel King who has led the rebellion againest the fearless warrior goddesses to overthrow the mericless beauties and stop this chaos.  Unfortunately, as in any war, there are casualities and your Father, the Rebel King has been assassinated.  You have now dedicated your life to carry on your Father's spirit and lead the rebellion!  Build your empire and used strategy-based squad building to defeat your enemies!  During your mission to reclaim the throne of the Kingdom of Clouds you will cross pathes with countless merciless beauties and you must defeat them in epic 5 vs 5 squad battles to recruit the warrior babes to your batallion!  As a fantasy game you will meet with sexy warriors, princesses, noble queens, inhuman creatures ready to suck you dry in naughty or nice action [your choice!].  Indulge as the diversity of the inhabitants carries through to the fully animated hentai porn scenes in unparelled H-scenes!  Upgrade your girls, chat and explore the filthy fetishes they enjoy!  This engaging RPG [role playing adult video game] brings strategic elements in line with quick speed combat gameplay to have risen to become one of the top exclusive online games at Nutaku!  To add to the epicness, you get AFK [away from keyboard] bonuses.  So you play, then log off and go live your life, and come back to awesome bonus rewards ready to cash in when you log back in!  Are you ready to rise to the occasion and fight the gorgeous but ferocious stunning Monarchy to bring back equality and take your throne in the Kingdom of Clouds?!  Play the casual action adventure adult Gacha porn game King of Kinks FREE on desktop and mobile android devices created by Dragon Powerhouse exclusive to Nutaku!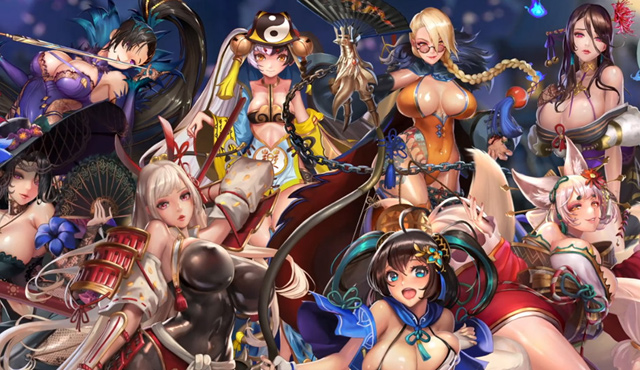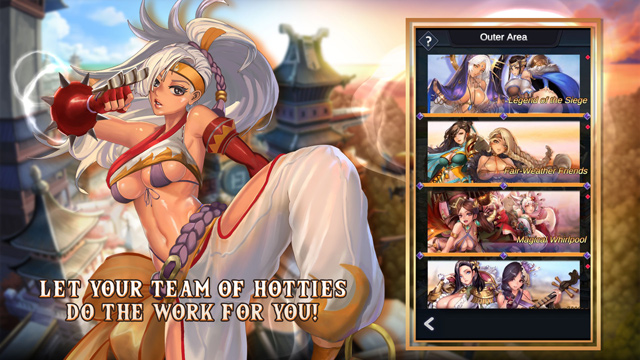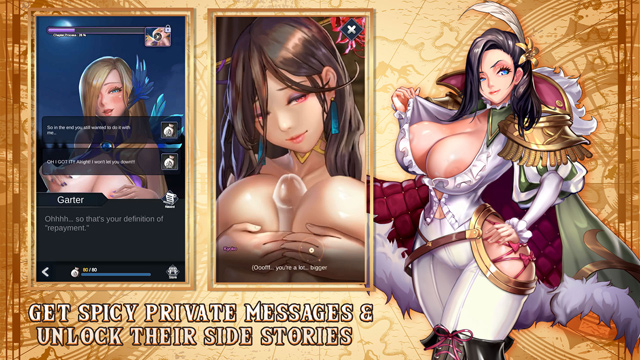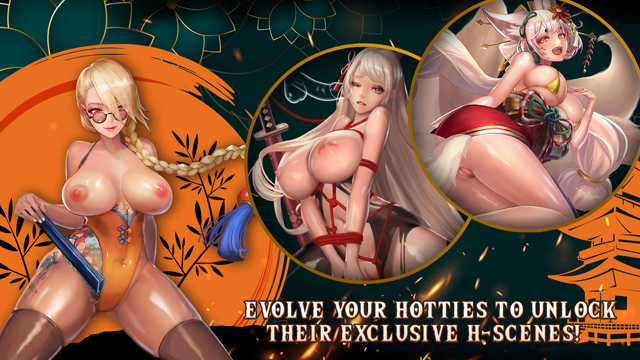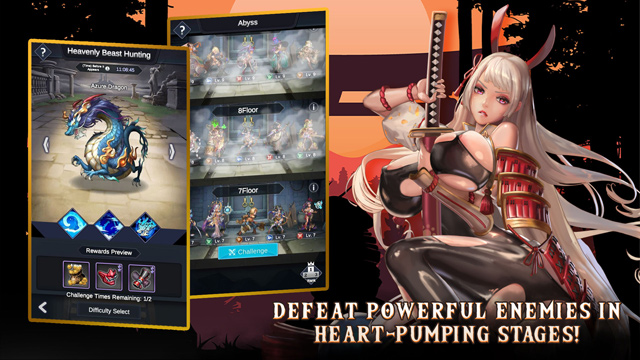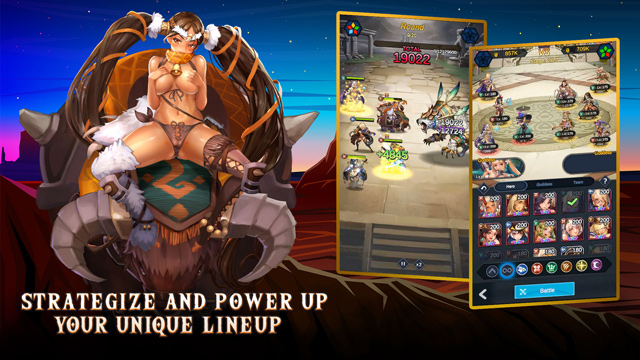 Enjoy special events and get access to exclusive time based content!  Currently the "Meet Mistress Meiyueh" event is happening and is on for another 9 days [until April 7th, 2022!] Enjoy regular carnivals and events held monthly to obtain rare items and special content!  In this special event you come in contact with a warrior babe you have fought beside before Mistress Meiyueh [the hot big boobed cyan haired babe shown in the posters below…] but this time Meiyueh wants more!  See a side of sexy goddess Meiyueh you have never seen before in her all exclusive brand new limited time H Scenes in hardcore fully animated uncensored hentai sex!  Play King of Kinks free now and Join the Nutaku community now for 200 Free Goin Coins!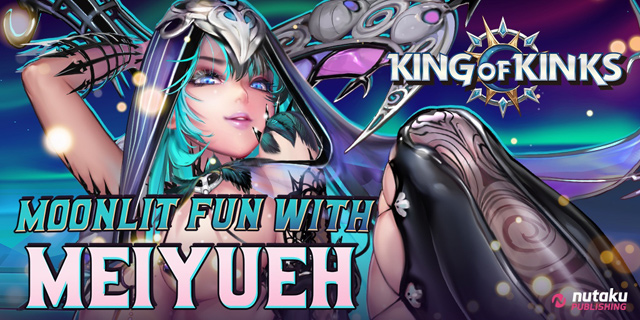 Join Nutaku now for free & get a bonus 200 gold just for signing up!  Play the super hot and popular new RPG fantasy anime porn game King of Kinks now for free and get in on the special event and have moonlit fun sex with Mistress Meiyueh until April 7th, 2022.  Enjoy sex and battles with over 40 amazing fearless warrior babes, princesses, queens and inhuman goddesses as you lead the rebellion to take the throne in the Kingdom of Clouds againest the evil Monarchy!  Play KING OF KINKS now for Free from Dragon Powerhouse studio only published at Nuktau!  Are you ready for all the fucking fun games?  Visit Nutaku for more free to play hardcore hentai porn games for adults!
More in Adult Games or 3D Porn Games categories or return to the cover of Porn Corporation.
See more Nutaku games.  Previous article:  Project QT: Free Hentai Puzzle RPG Porn Game
Porn Corporation's #1 Hottest Free Anime Game: RPG Hentai Porn Game: Kamihime Project R
Looking for more hot anime?  Check out the Adult Comics or Hentai or Futanari categories.
Tags:
100% Free Membership
,
3D Porn Video Game
,
3D Sex Game
,
alien fantasy sex
,
alien porn
,
alien sex
,
Android
,
Anime
,
Asian
,
Asian Babe
,
babe
,
babes
,
bdsm
,
Best Hentai Games
,
big boobs
,
Big Boobs Are Cool
,
Big Tits
,
bikini
,
bizarre
,
Blackberry
,
blonde
,
bondage
,
boobs
,
brunette
,
busty
,
cartoons
,
cute
,
Dragon
,
Dragon Powerhouse
,
fetish
,
Fetish FuckDolls
,
fetish girls
,
fetish porn
,
flash game
,
Free
,
Free Download
,
Free Membership
,
free trial
,
Free2Play
,
fun
,
game
,
gun
,
Hentai
,
horny
,
HOT
,
JRPG
,
mobile
,
mobile porn
,
New
,
nipple
,
nipples
,
Nutaku
,
Pink
,
Porn
,
Porn News
,
Princess
,
pussy
,
role playing game
,
RPG
,
sex
,
sex games
,
Sex Video Game
,
sexy
,
shaved
,
shaved pussy
,
Smartphones
,
social
,
strategy games
,
streaming
,
streaming movie
,
streaming movies
,
streaming porn
,
streaming video
,
streaming videos
,
tit fucking
,
tits
,
toons
,
unusual
,
Video Games
,
virtual hentai movies
,
wet
,
wild
,
x videos
,
XXX