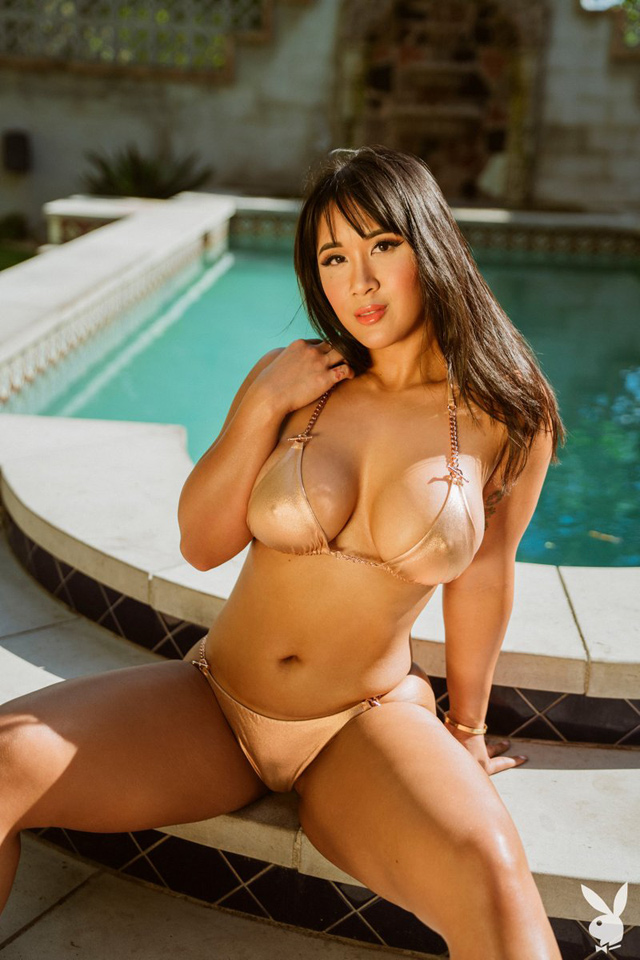 If you haven't seen Misha Mai yet, you've been hiding under a rock!  It's time for you to come out into the light of day and introduce yourself to this rising star.  Misha Mai is a Texas-based Filipino American cosplayer, model, fitness influencer, and internet personality. Since beginning her journey of content creation in 2018, Misha has gained hundreds of thousands of followers worldwide while guesting at comic and anime conventions throughout the US.  She's been featured in Reader's Digest and her collabs with companies such as Gundam Planet and KFKF [Kinda Fit Kinda Fat] have only accentuated her brand; on top of her stellar cosplays and appearances at Comic-Con and other venues makes this fun babe a force to keep note on.  You can catch her on Twitch and YouTube, gaming, building gunpla, and posting fitness and anime inspired cosplay and convention videos.  Photographer Madeline Northway joins Mishamai as she glistens in the sun in a golden bikini to get wet and naked poolside in LA for this stunning Playboy photo shoot.  Misha tells Madeline, "I feel my most free posing nude. A lot of the time, I feel the most sexy in my cosplays of strong characters," … "When I think of Playboy, I think iconic, self-expression, and sexual freedom," Misha says. "Playboy has been an absolute dream to work with. I can really feel the love for art and women empowerment from everyone I've had the pleasure of interacting with." One thing about Mishamai is that she's always aiming for the best. "My philosophy is trying my best at everything I commit to," she shares, "I know how precious time is and how fortunate I am to have opportunities, so if I do my best, there's no room for regrets."  See more of internationally adored cosplayer and fitness influencer Misha Mai wet & nude in "Reflection Pool" and more exclusive sets at Playboy Plus for $1!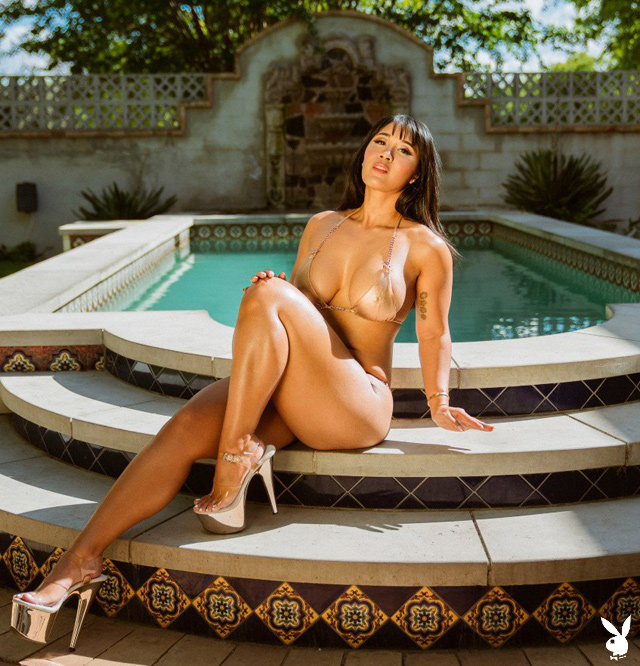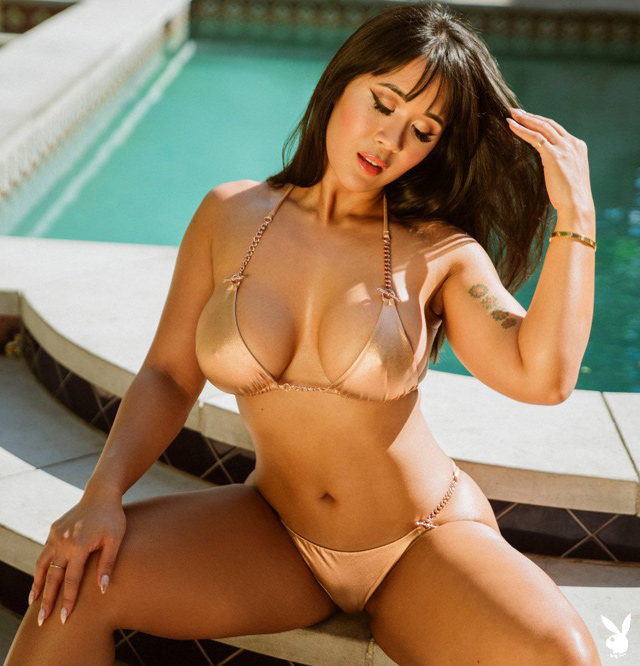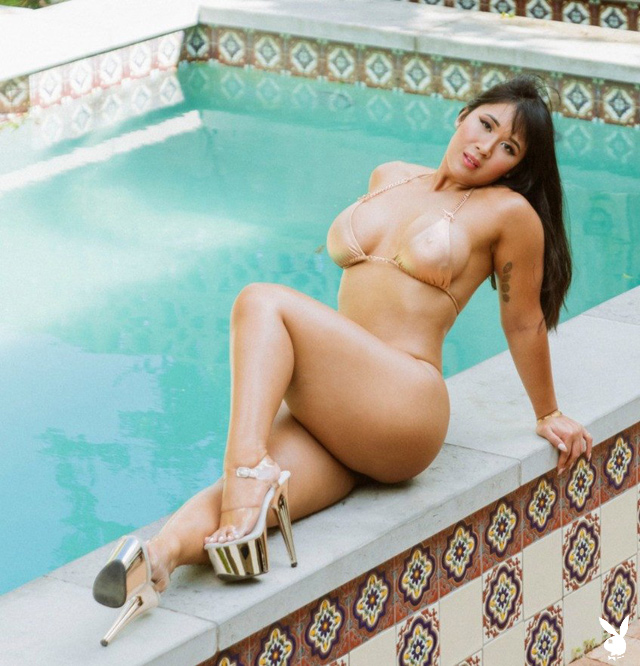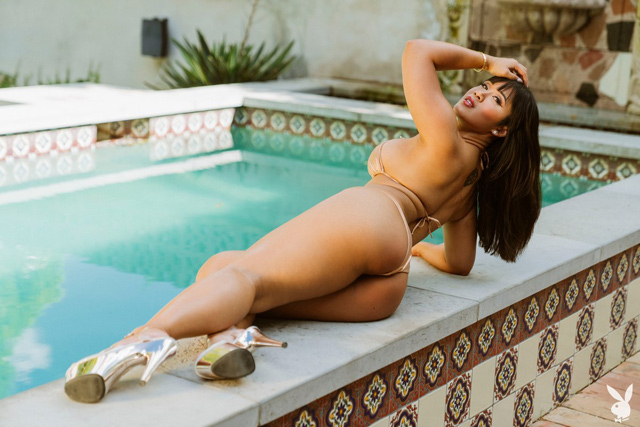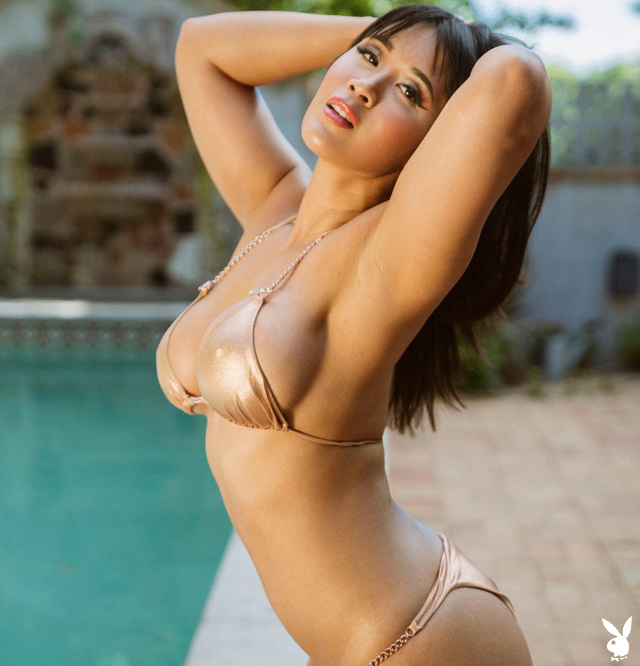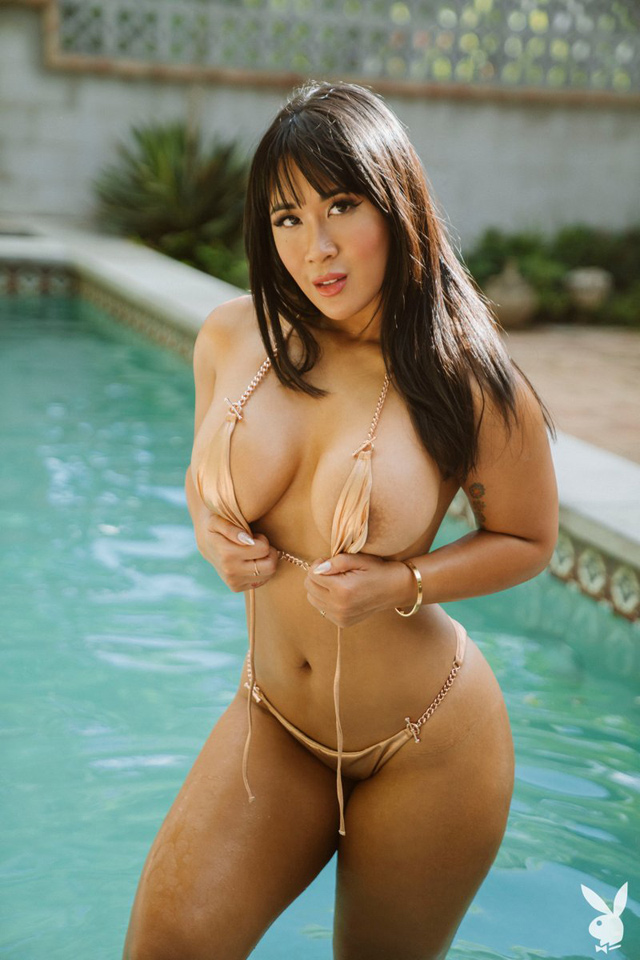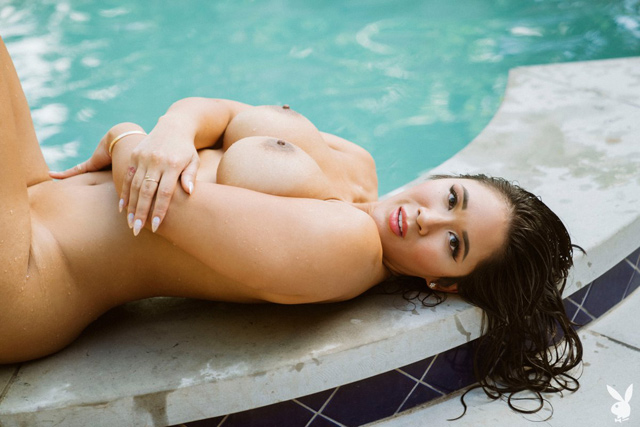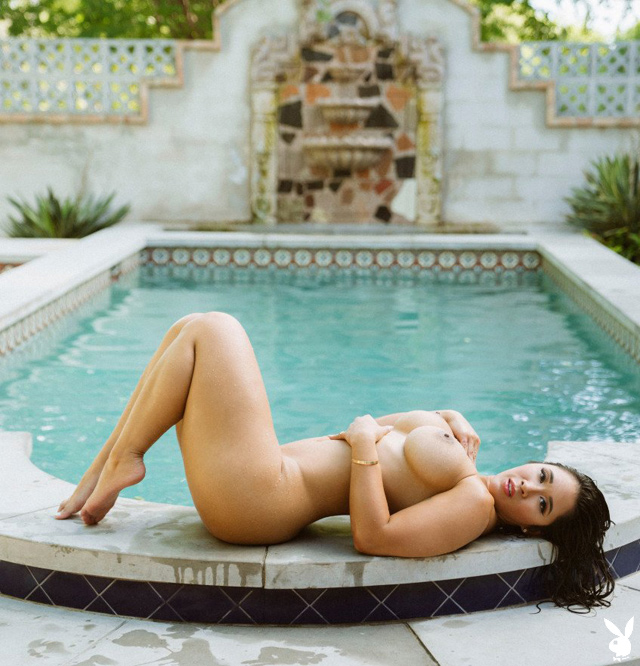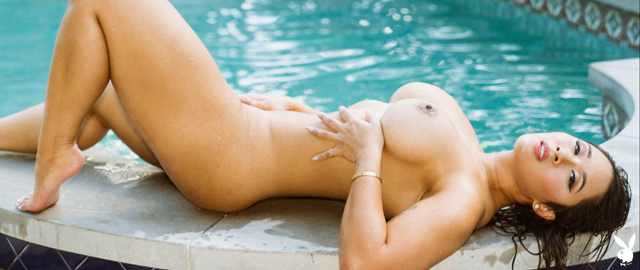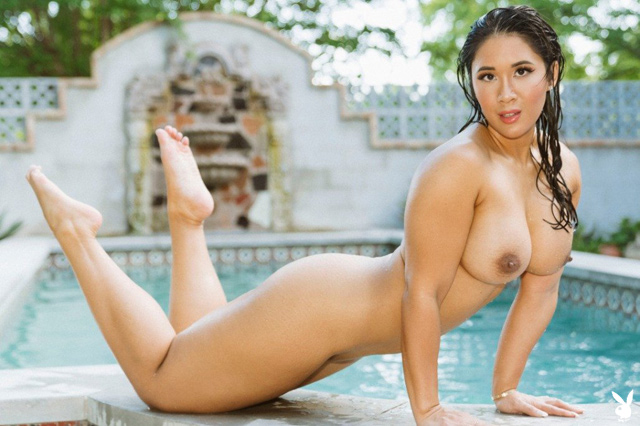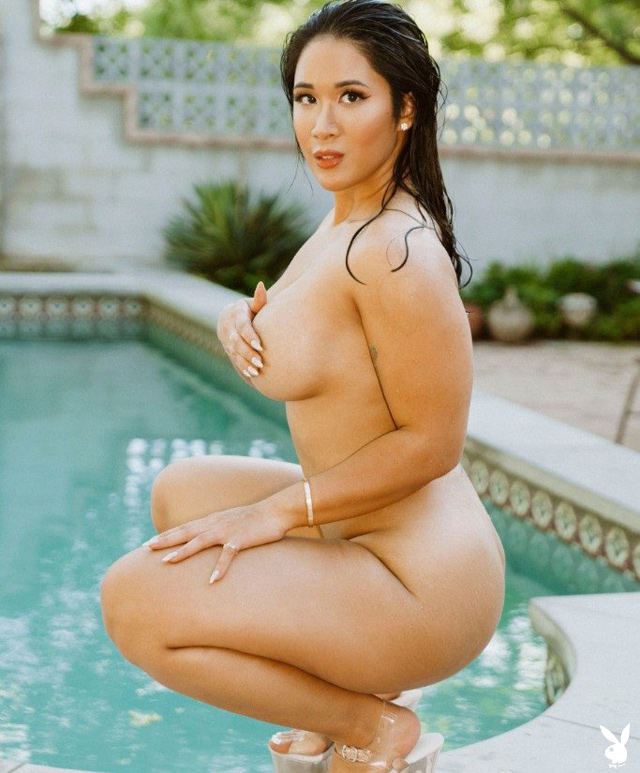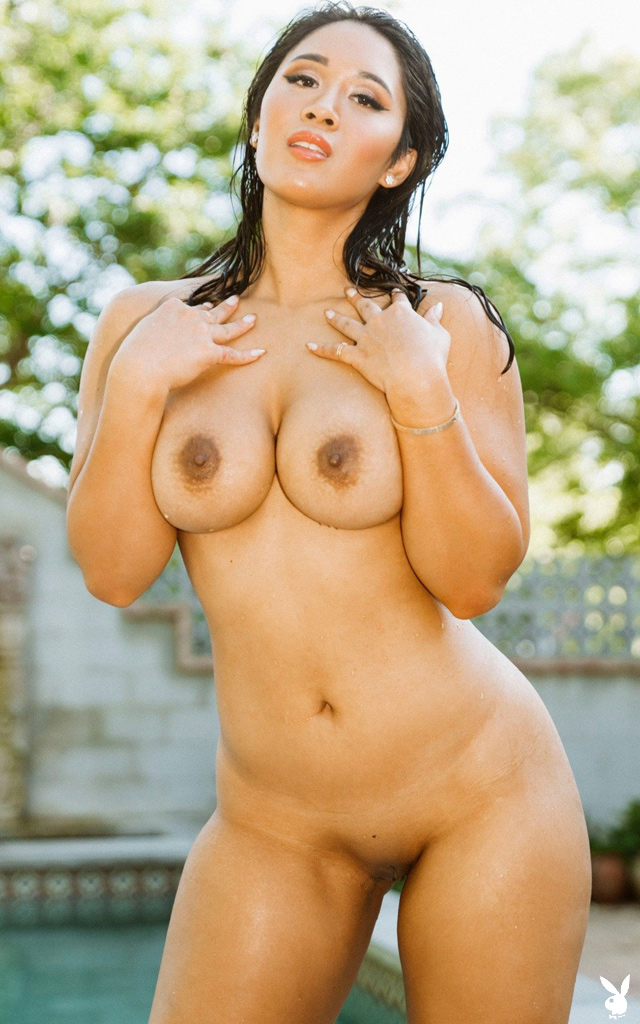 "At first glance, people may not know I've competed in powerlifting," shares Misha. "My personal records were a 248 lb squat, 135 lb bench, and 303 lb deadlift." Mishamai always aims to better herself. "My passion is self-improvement because I want to live authentically and be my best self. A bonus is seeing how it inspires others, whether we have similar goals or not," she says. "I'm good at goal-setting. When I set my sights on something, I ask myself how I can get there and what I can do now." When she's not working, Mishamai loves to dress up. "I'm playful, quirky, and a little shy. My main hobbies are cosplaying anime and video game characters," she says. "I feel the most sexy in my cosplays of strong characters!"  Join for all the exclusive photos and videos of Misha Mai taken by photographer Madeline Northway on set pool side in Los Angeles in "Reflection Pool" & more now inside Playboy Plus for only $1!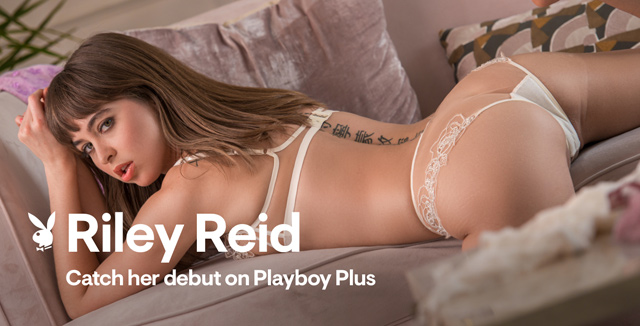 More in Asian or Celebrity or Instagram Stars categories or return to the cover of Porn Corporation.
View more Playboy Plus features.  Previous:  Lena The Plug Playboy All Star For December 2022
Read this Special Feature: Playboy Model & Producer Ana Foxxx Interview For Porn Corporation
Tags:
Asian
,
Asian Babe
,
Asian Girl
,
Asian Porn
,
babe
,
babes
,
big boobs
,
Big Boobs Are Cool
,
Big Tits
,
bikini
,
boobs
,
booty
,
brunette
,
busty
,
celeb
,
celebrity
,
Celebrity Tits
,
Comic Con
,
cosplay
,
erotic
,
exotic
,
famous
,
fit
,
fitness buff
,
flashing
,
fun
,
Gundam Planet
,
gunpla
,
high heels
,
HOT
,
Instagram
,
Kinda Fit Kinda Fat
,
legs
,
Madeline Northway
,
men's magazine
,
Misha Mai
,
Mishamai
,
model
,
naked
,
nature
,
New
,
nipple
,
nipples
,
nude
,
nude celebrities
,
Oriental
,
outdoor
,
outdoors
,
Playboy
,
Playboy Plus
,
Porn News
,
premiere
,
pussy
,
Reader's Digest
,
round ass
,
sexy
,
shaved
,
shaved pussy
,
softcore
,
solo
,
solo girl
,
solo girls
,
special
,
sunbathing
,
swimming
,
tattoo
,
tattoo girls
,
tattoo models
,
tits
,
Topless Asian Celebrity
,
topless celebrities
,
topless celebrity
,
Twitch
,
Twitter
,
under water
,
underwater
,
water
,
weight lifting
,
wet
,
world premiere
,
YouTube