Browsing articles tagged with " Jenna Ross"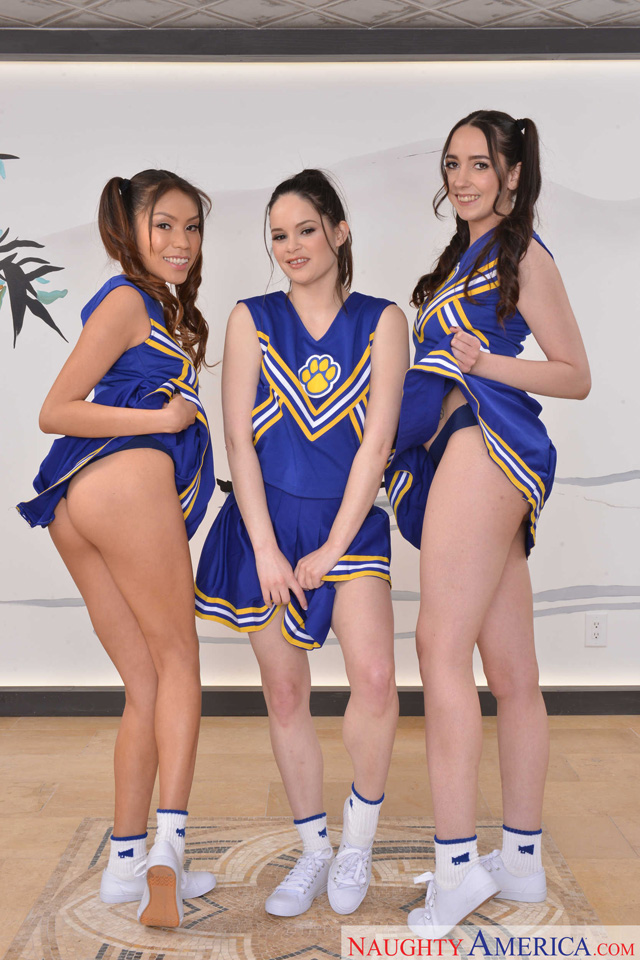 It's after school and you are hanging out with the hottest girls in the cheer squad!  Cheerleaders Sami Parker, Jenna Ross & Kyra Rose aren't the innocent girls they lead everyone to believe!  Watch these horny cheer hotties have a virtual orgy with you in VR porn!  See more from this scene starring cheer captain Jenna J Ross and her best cheerleaders Samantha Parker & Kyra Rose have a foursome with you in real vr porn. Join Naughty America VR to access to all the virtual porn videos & Naughty America 4K, mobile & HD movies. Full vid for only $1.95!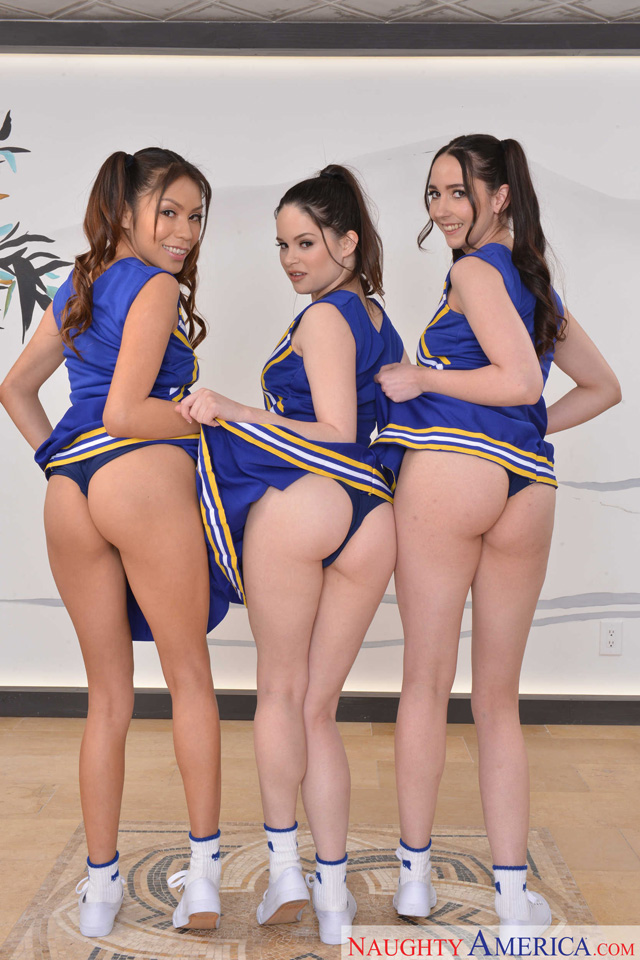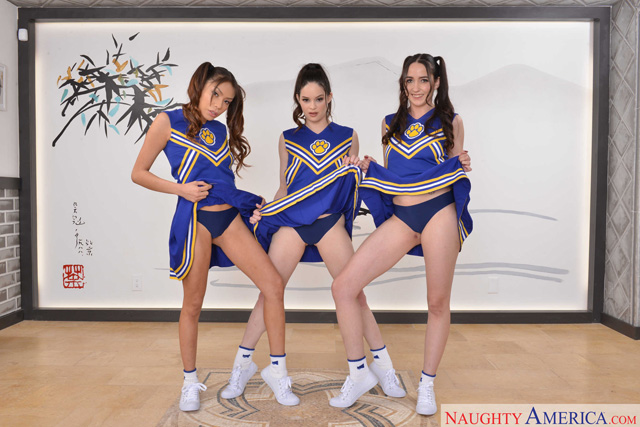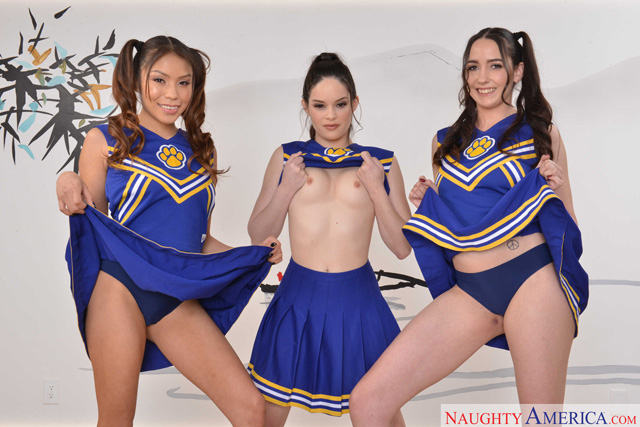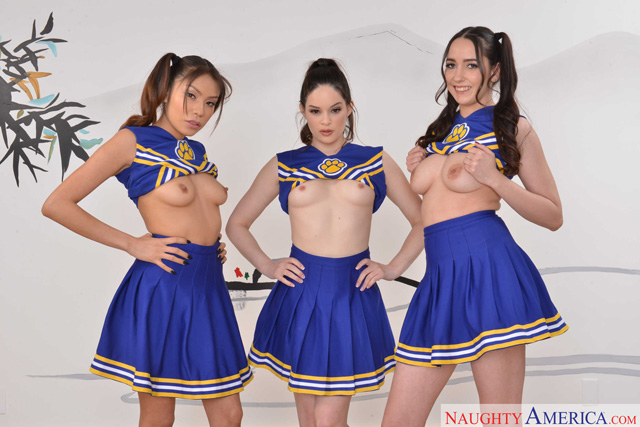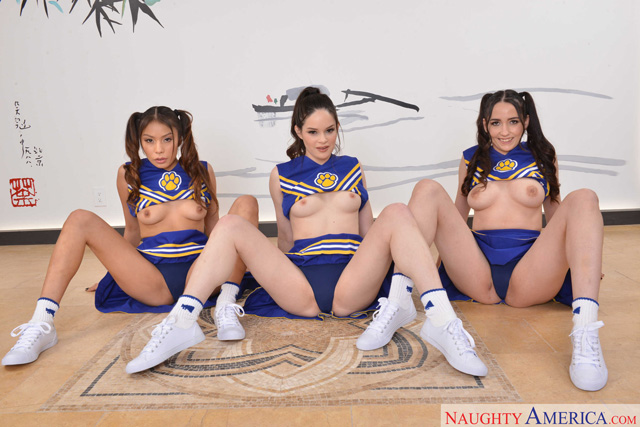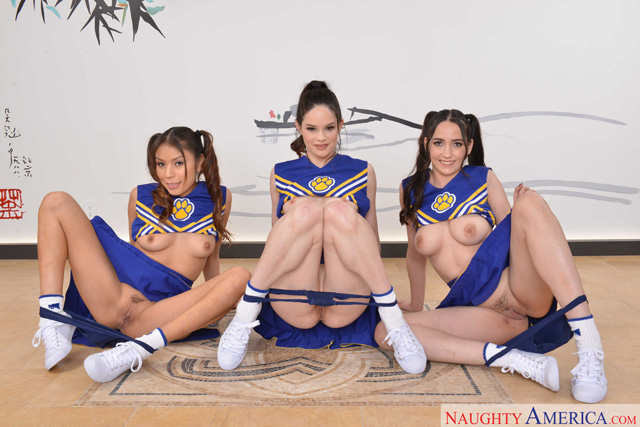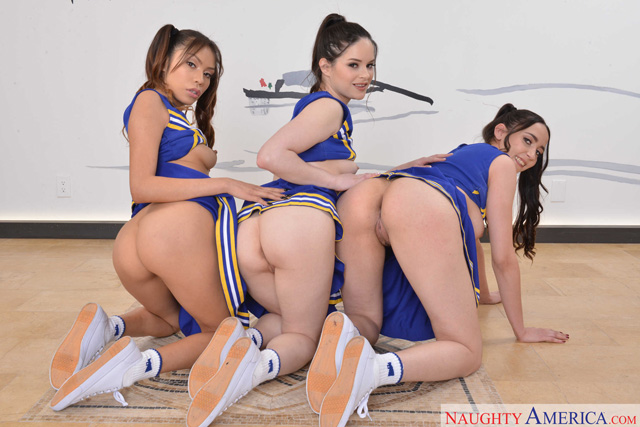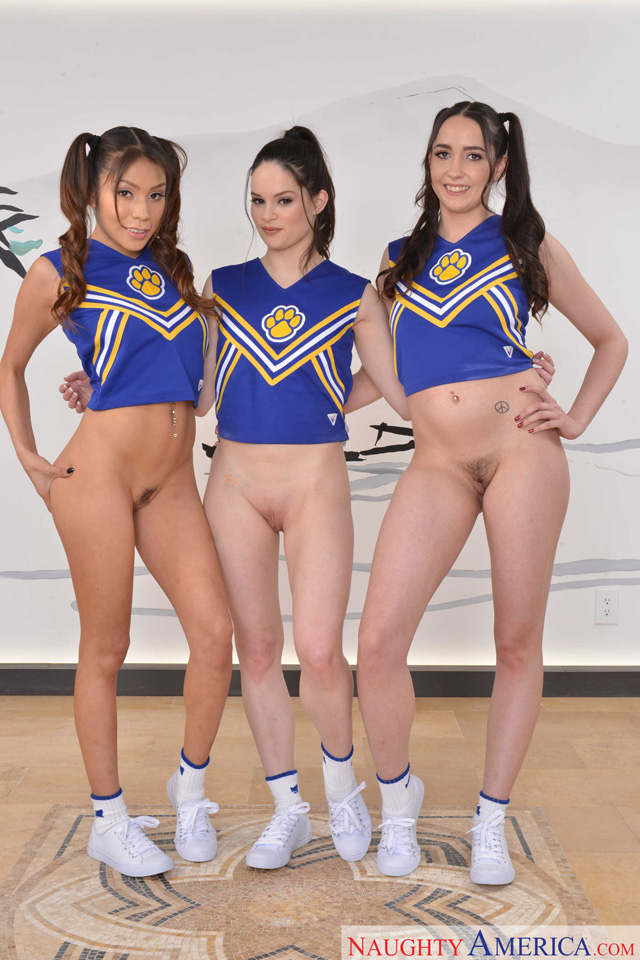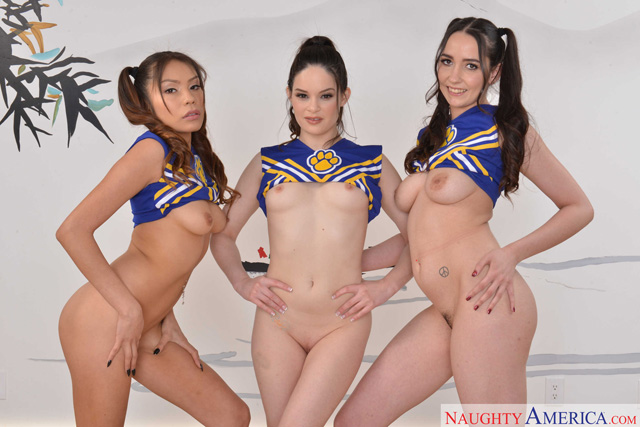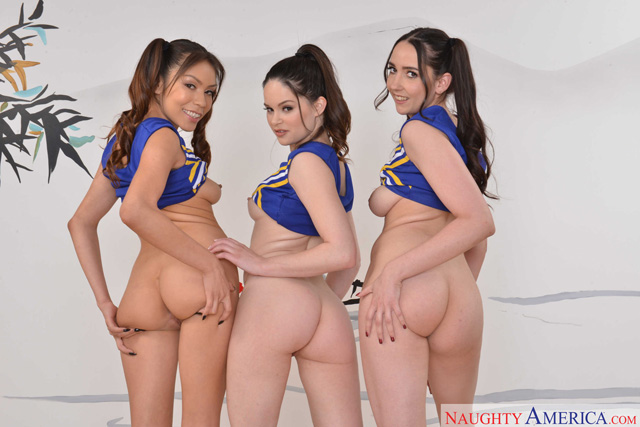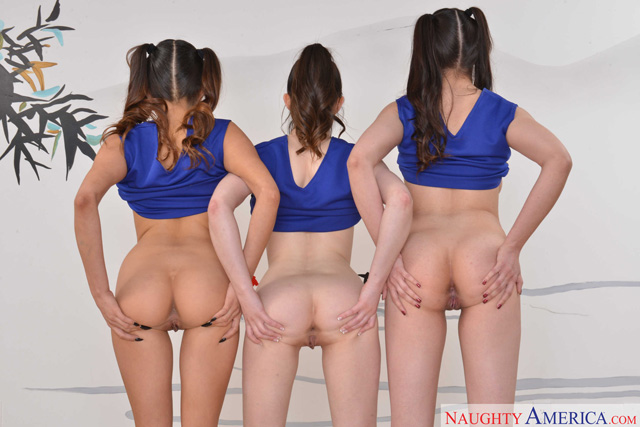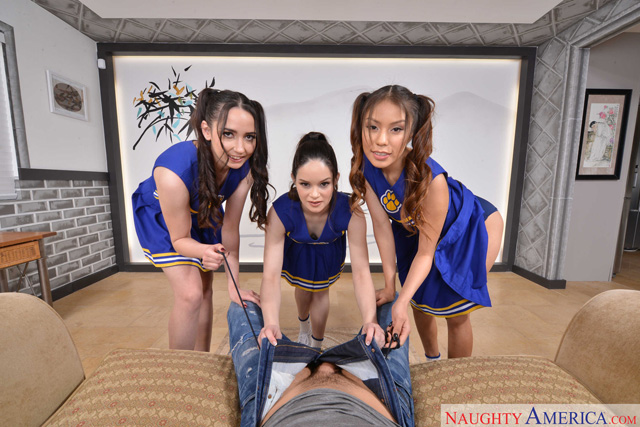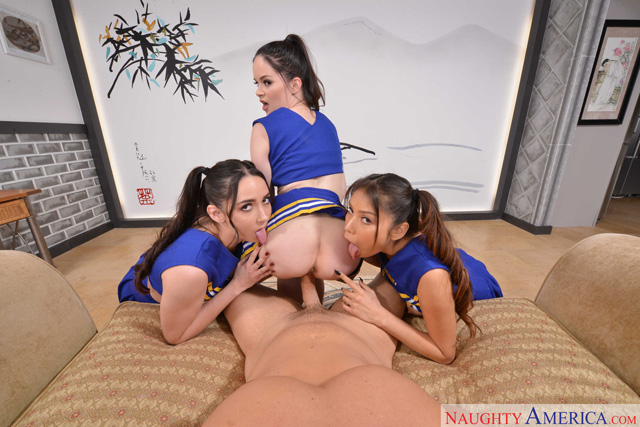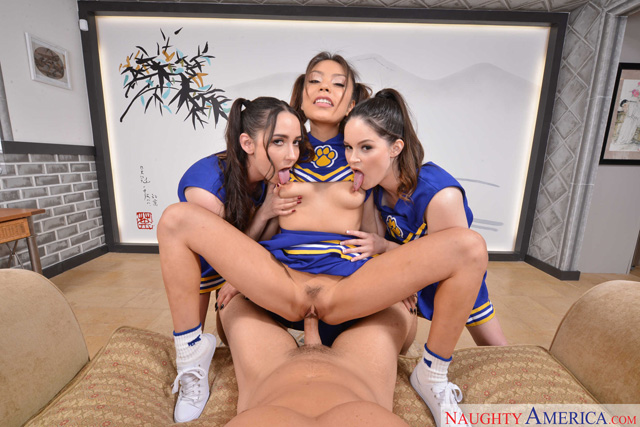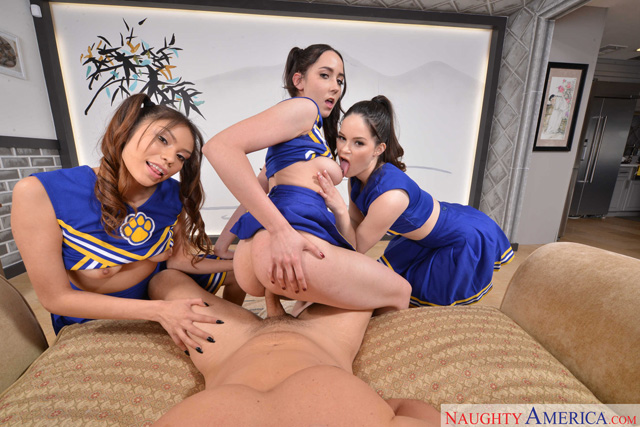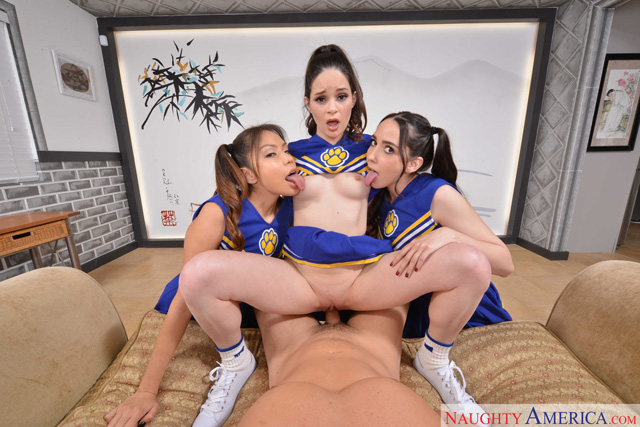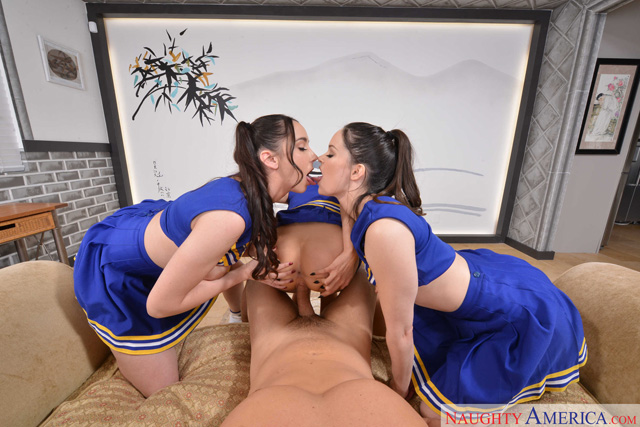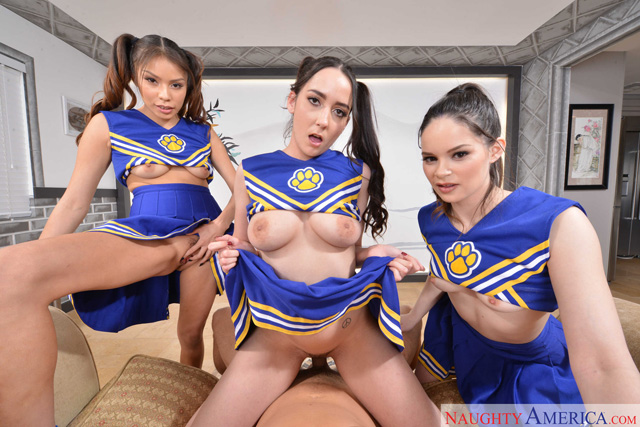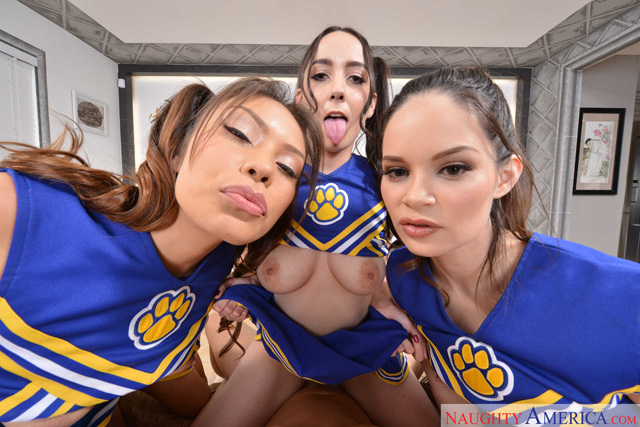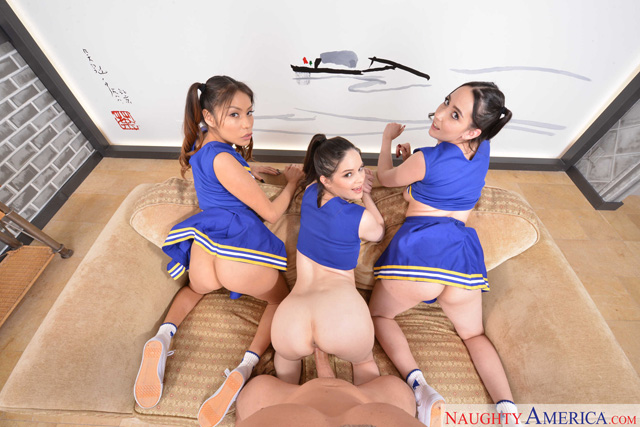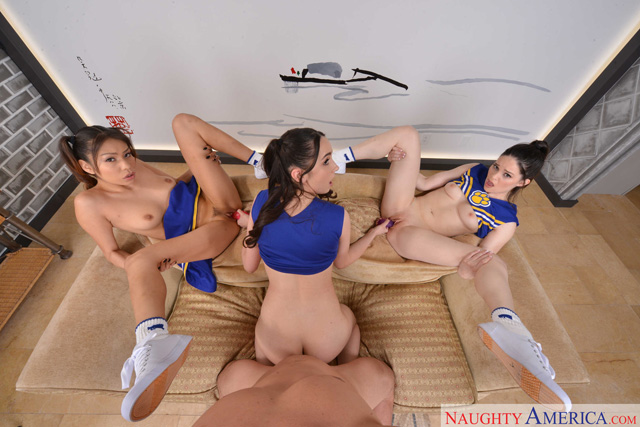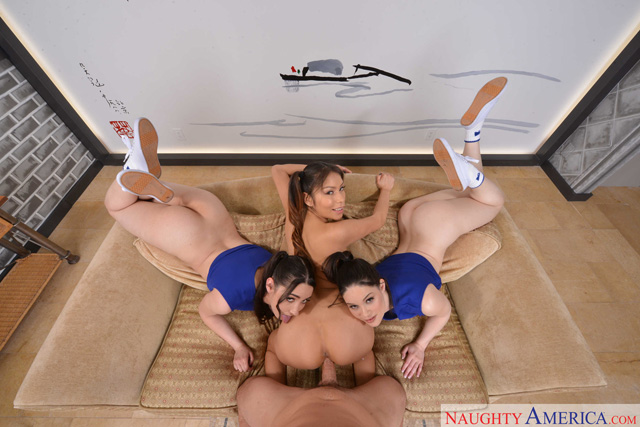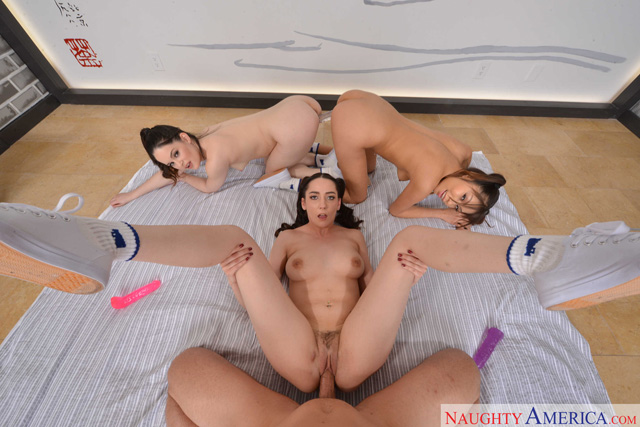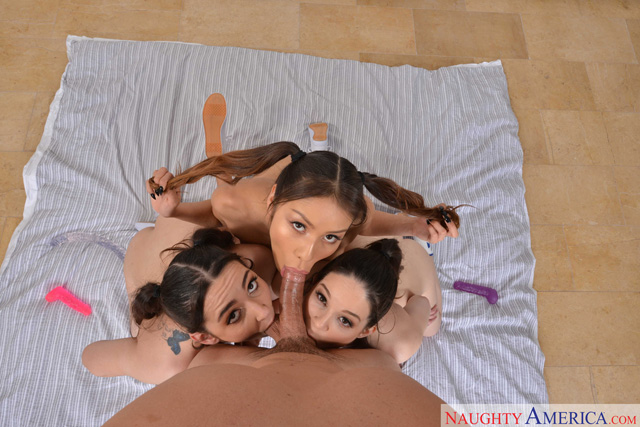 Are you ready for the after school special starring the hottest teen cheerleaders and your hard cock!?  Download this full video for only $1.95 with a trial pass starring Jenna J Ross, Samantha Parker & Kyra Rose in a wild cheer squad orgy in real VR porn!  Join Naughty America VR for all the hardcore HD VR sex movies & access 8000+ Naughty America porn videos shot in 4K, HD & VR!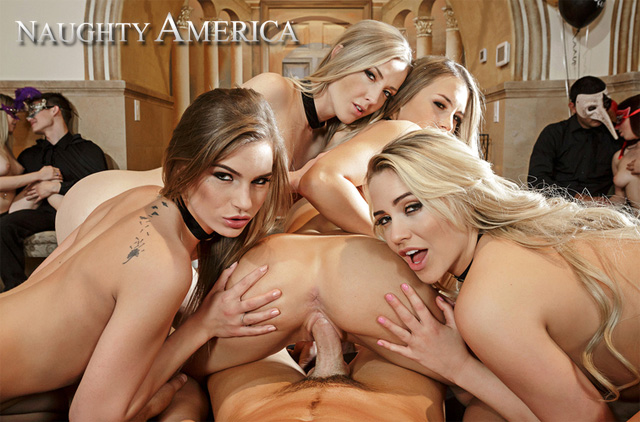 View more VR Porn in our Virtual Sex category or return to the cover of Porn Corporation.
More in the Cheerleaders category. Last: Teen Cheerleader Slut Lyra Law Locker Room Sex
Previous Naughty America VR article: Victoria June Fucks You In VR At The Boobtique
Another hot VR orgy:  VR Orgy Mia Malkova, Sydney Cole, Kendall Kayden, Karla Kush
View more porn from Naughty America or see more of Sami Parker or Jenna J Ross.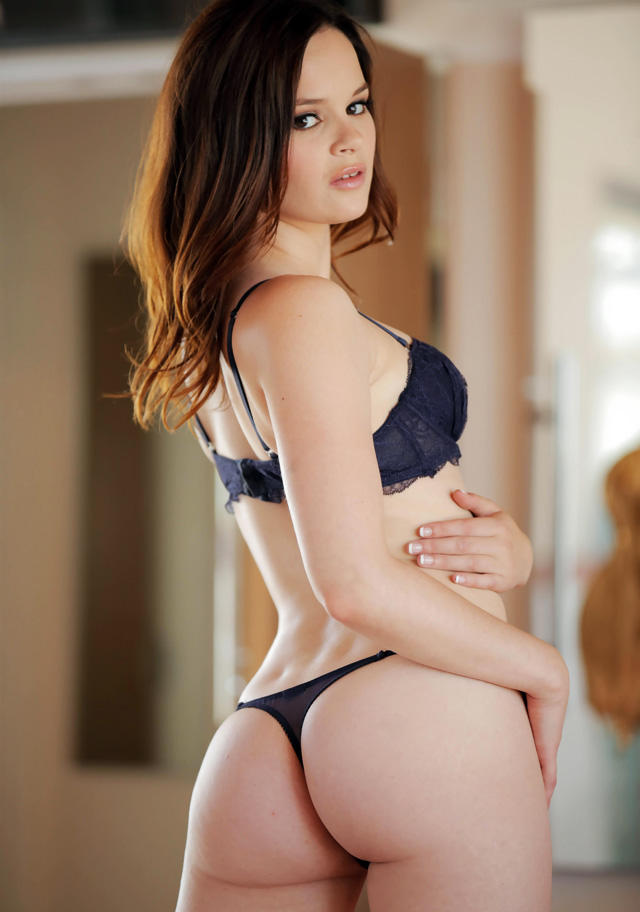 Adult Empire Films debuts with their first signature dvd starring Jenna J Ross.  After 17 years in the business providing you with the top xxx producers, since the very first porn dvd was produced in 1997 by Bobby Sox; 9 time AVN award winning company Adult Empire has now ventured into filming.  Watch the magic as Adult Empire brings you Jenna J Ross like you have never seen her before in 4 amazing sex scenes including a lesbian scene with Lola Foxx and 2 threesome scenes, starring Lola and Katerina Jade and Jenna's male co-stars Tyler Nixon, Chad White and Clover.  Share in Jenna's passion for life and live in the moment with this pornstar and discover how many times she can orgasm in one session.  Watch the hardcore trailer of Jenna J Ross from Adult Empire Films.  The official release date for the new dvd Jenna J Ross is September 23, 2014.  Pre-order your copy today & be the first to watch this epic adult world premiere, Jenna J Ross!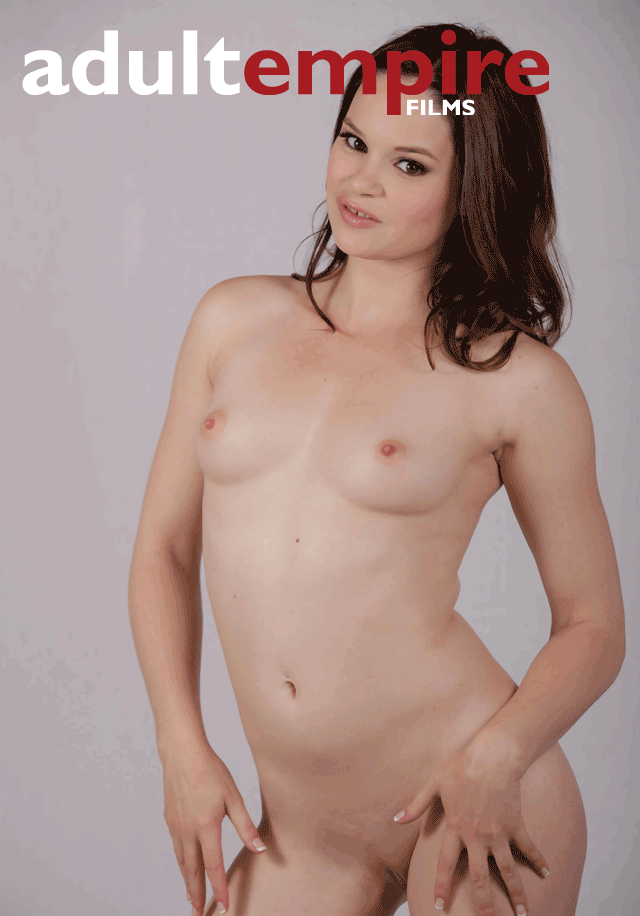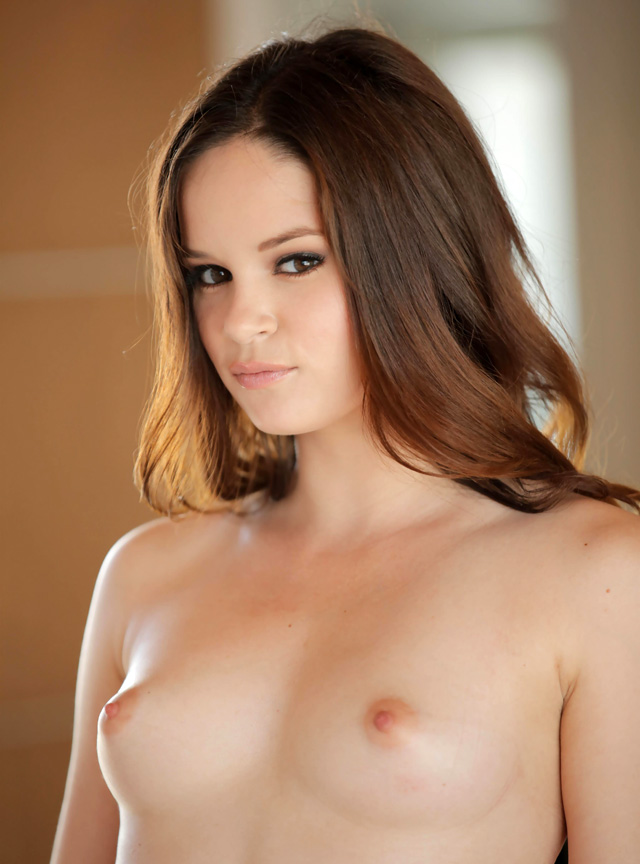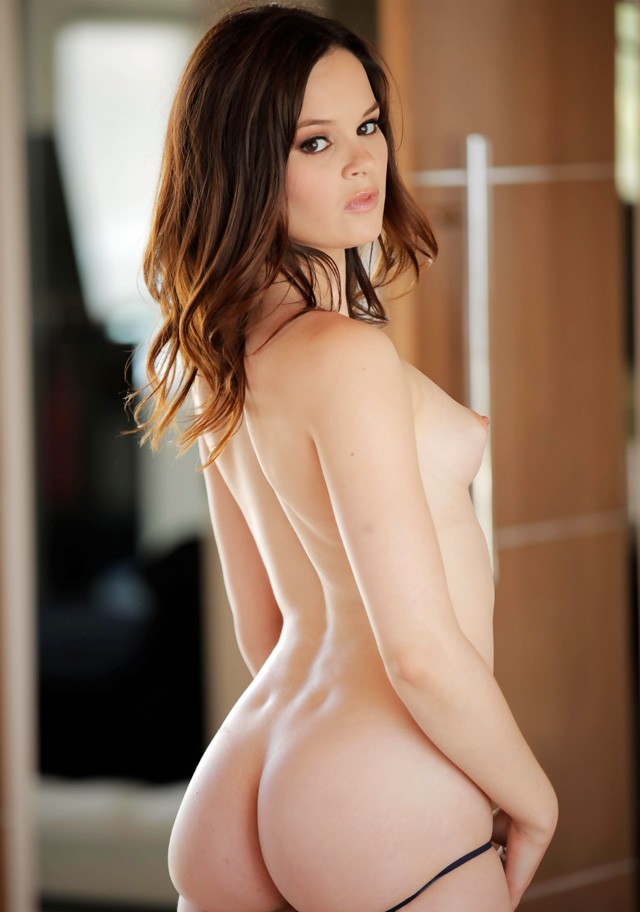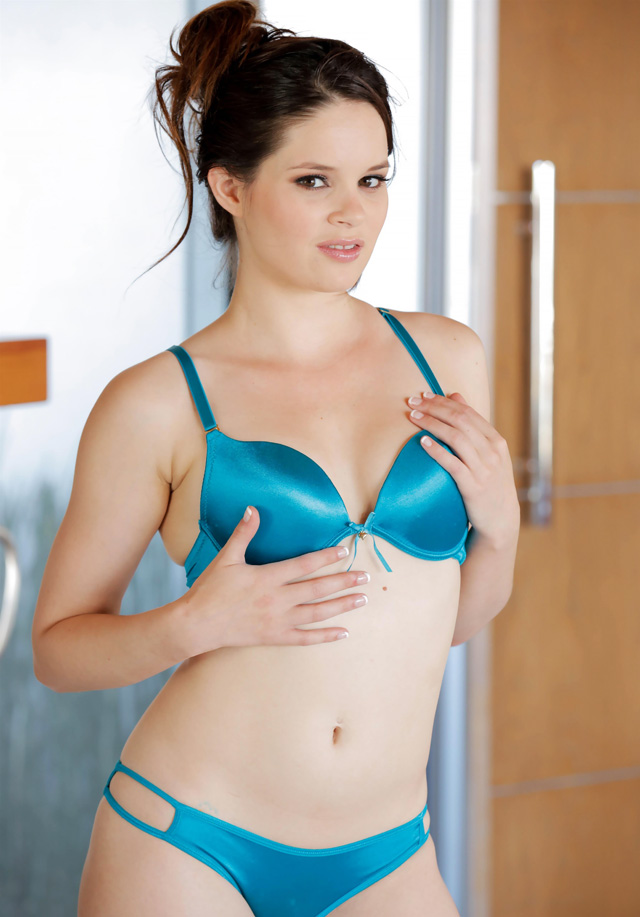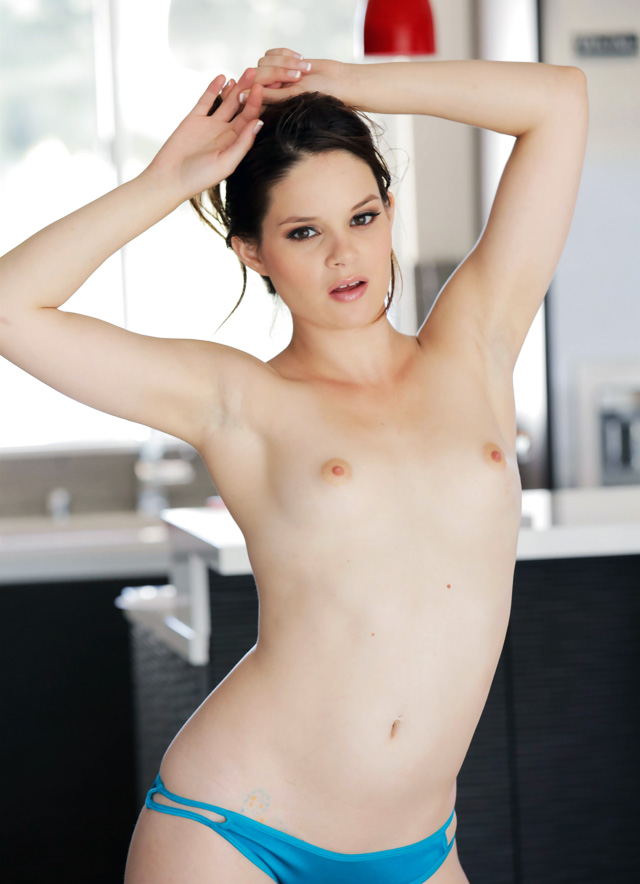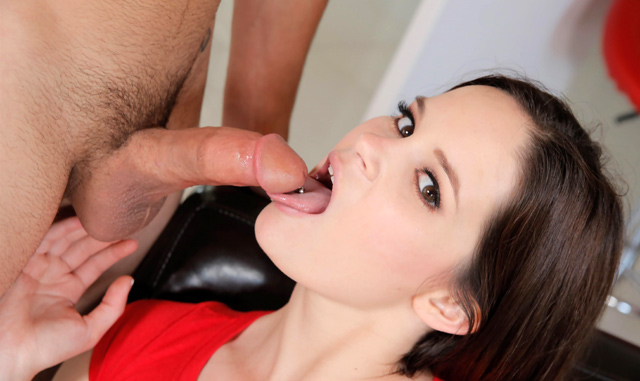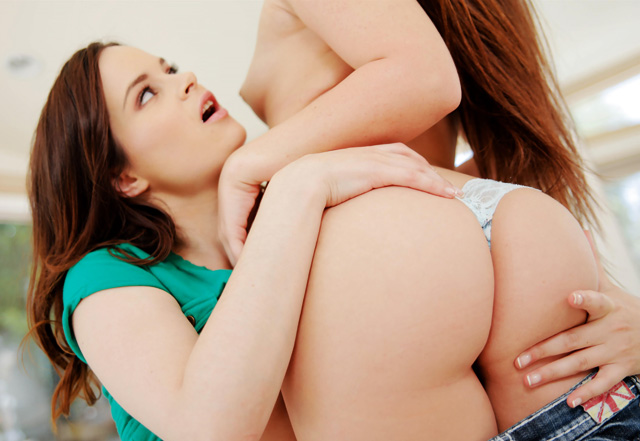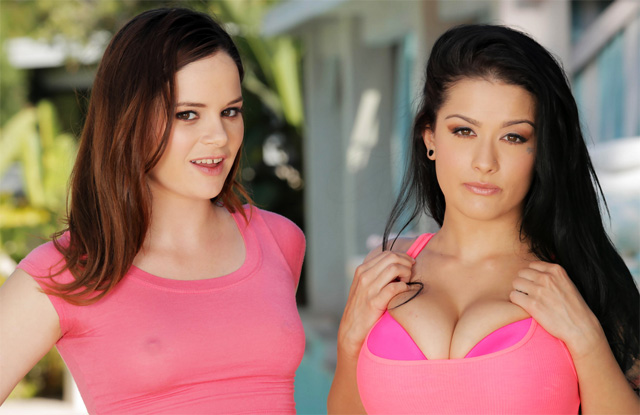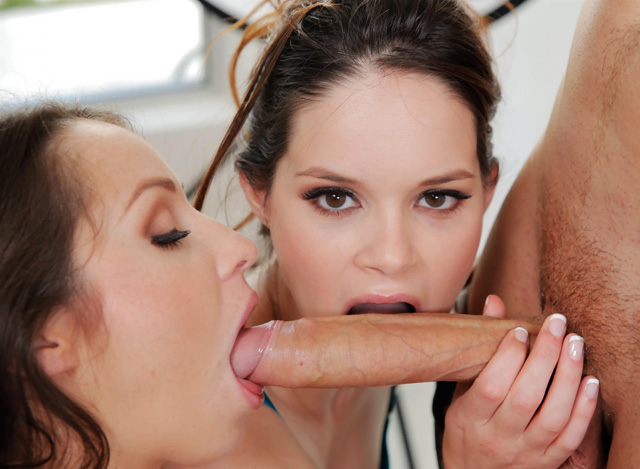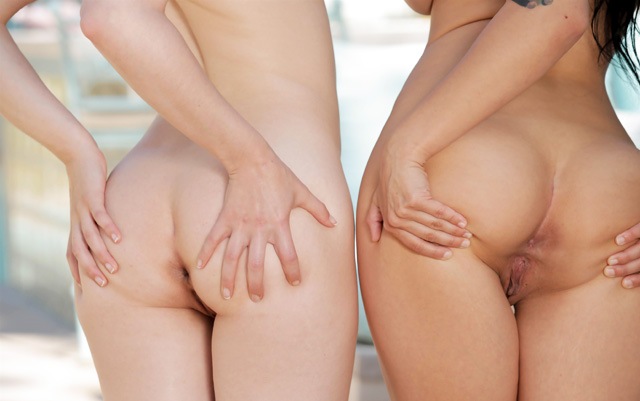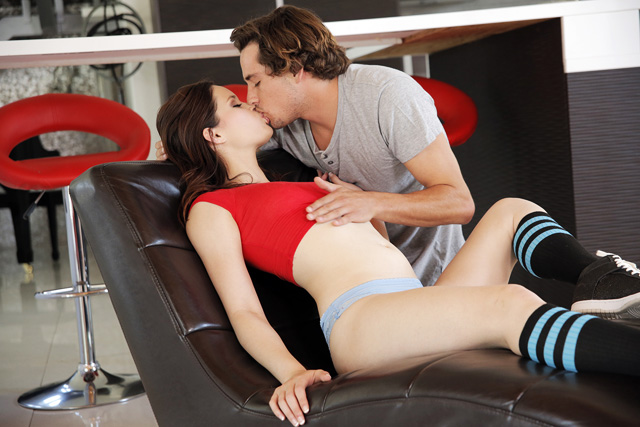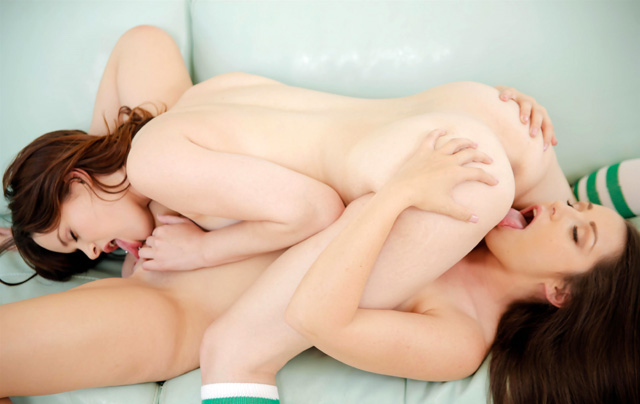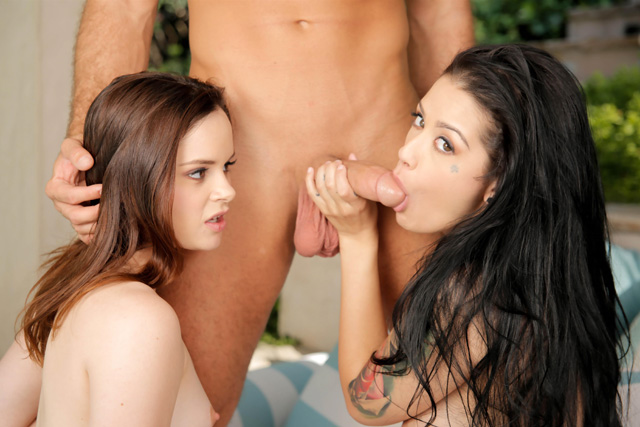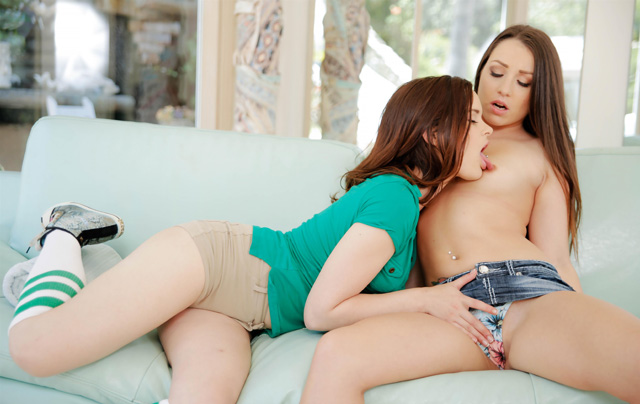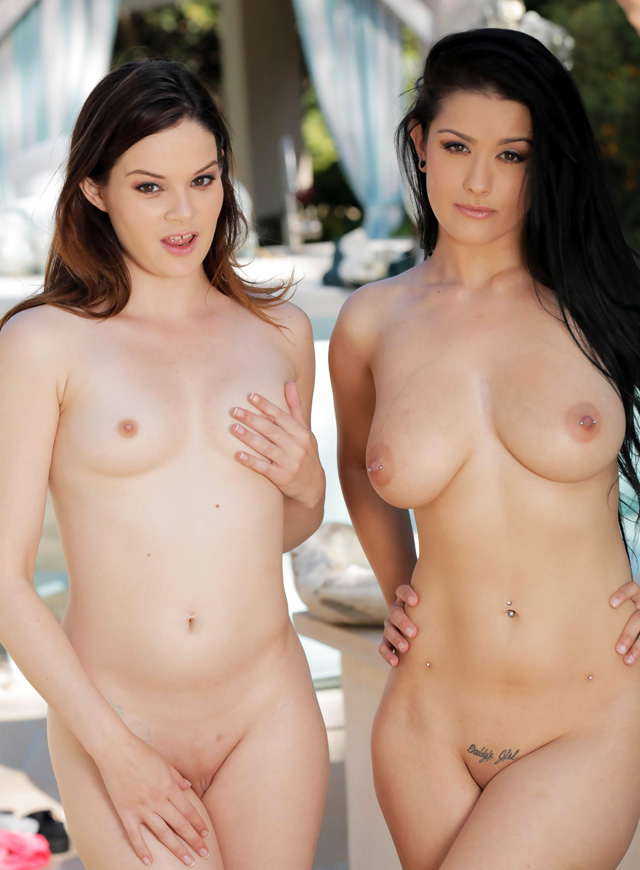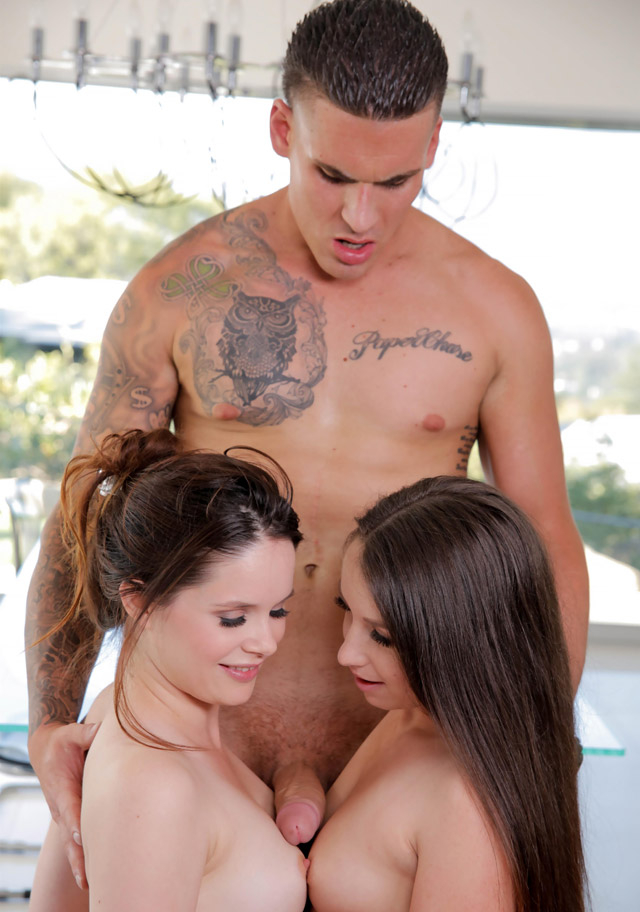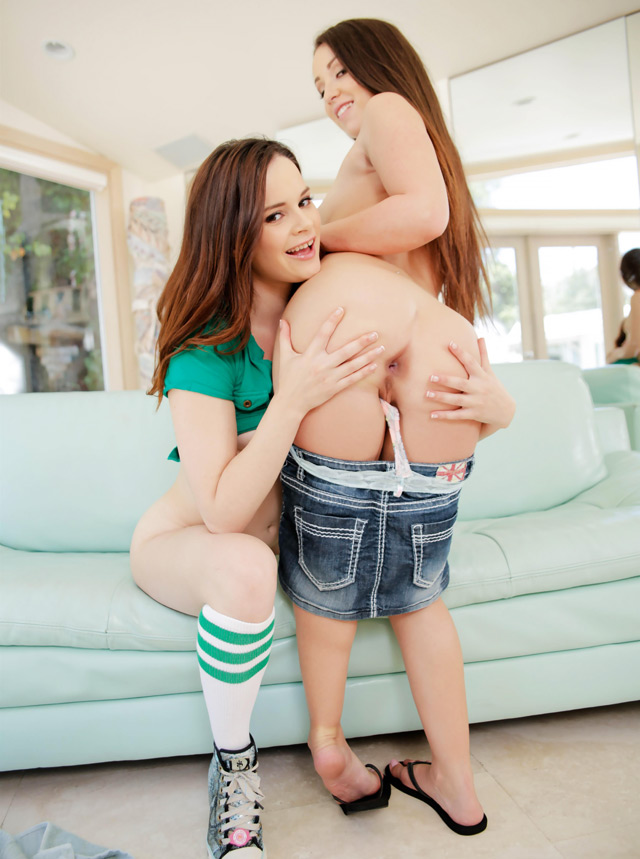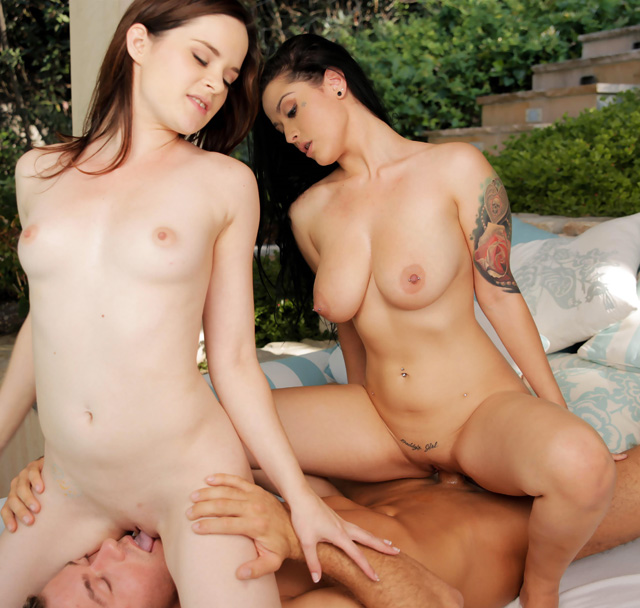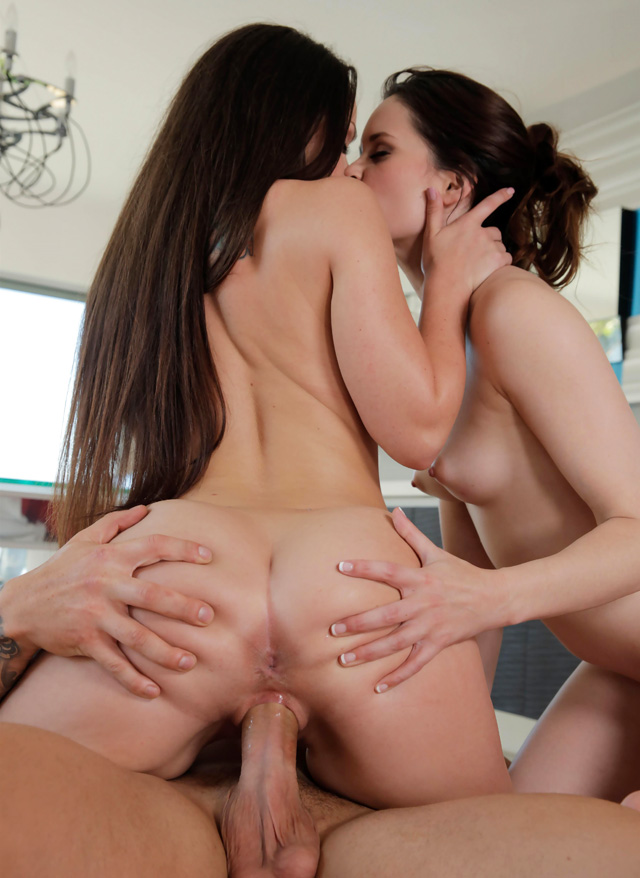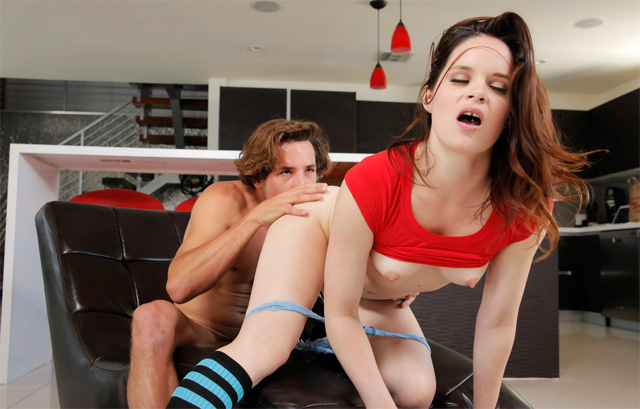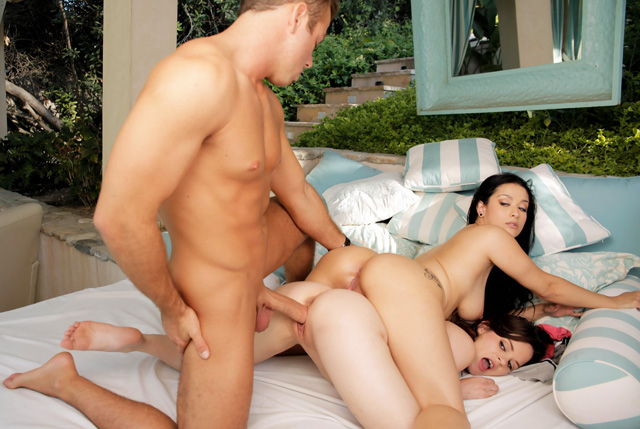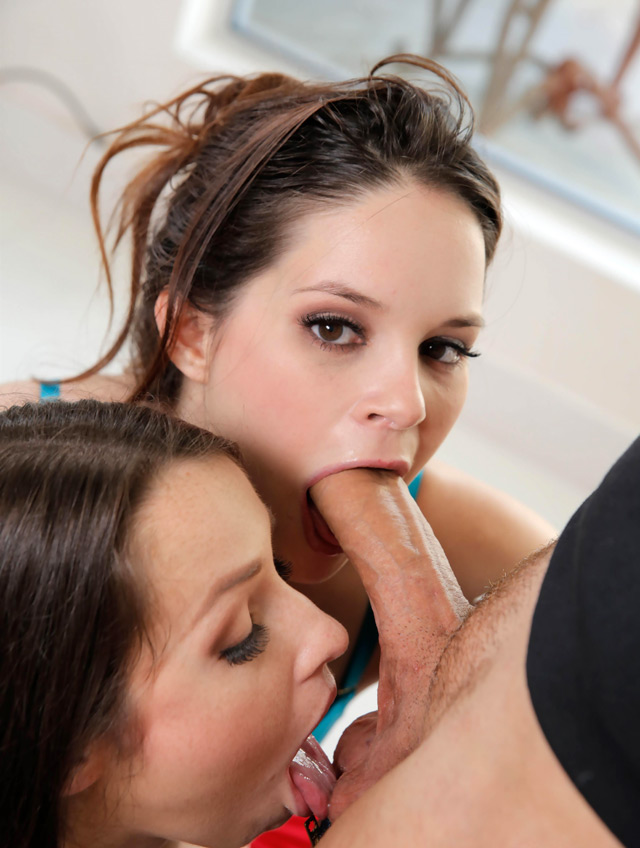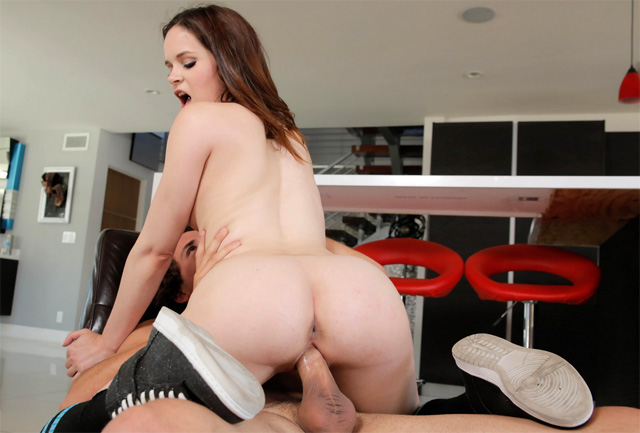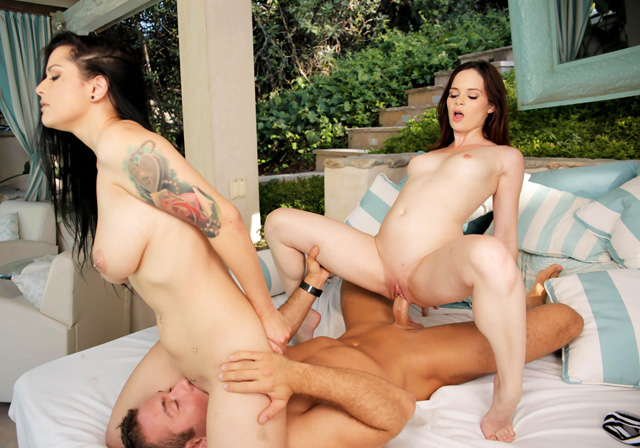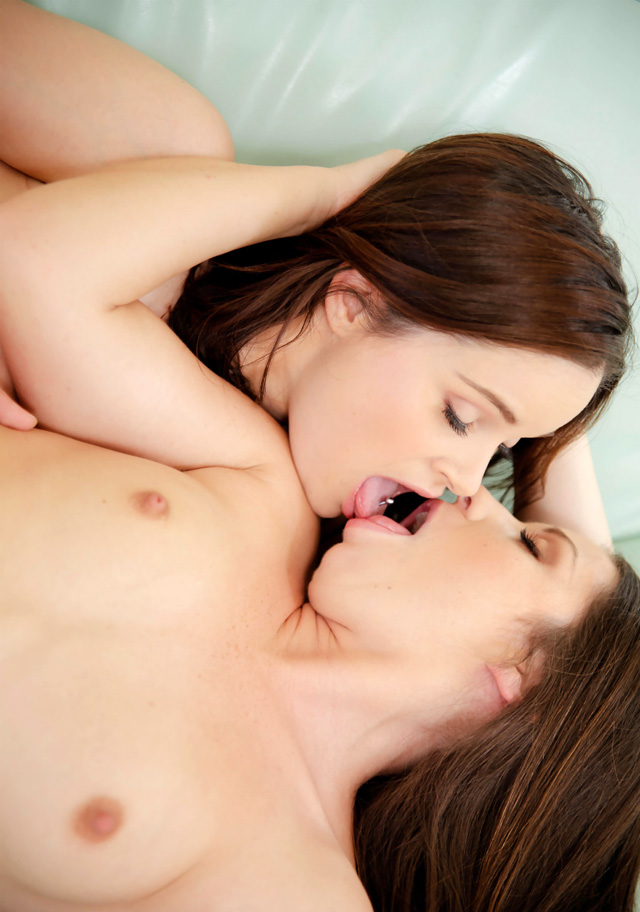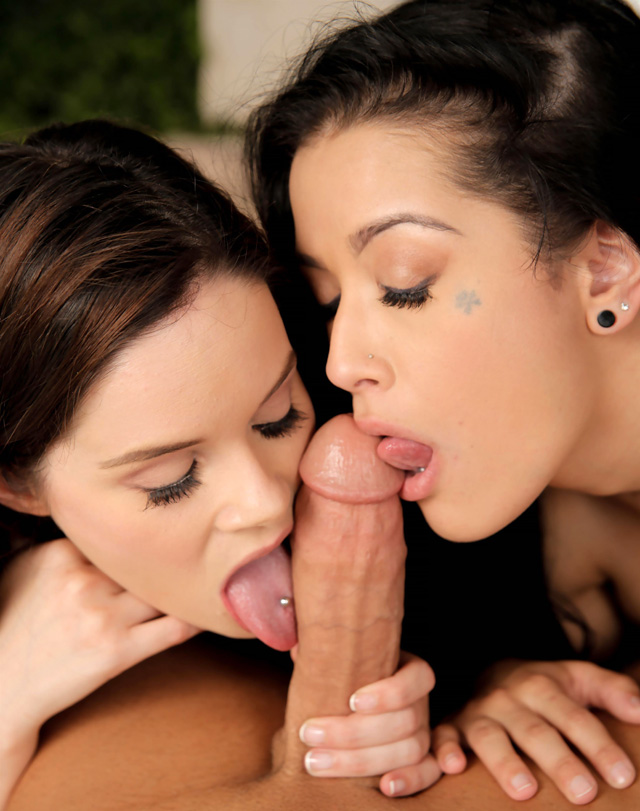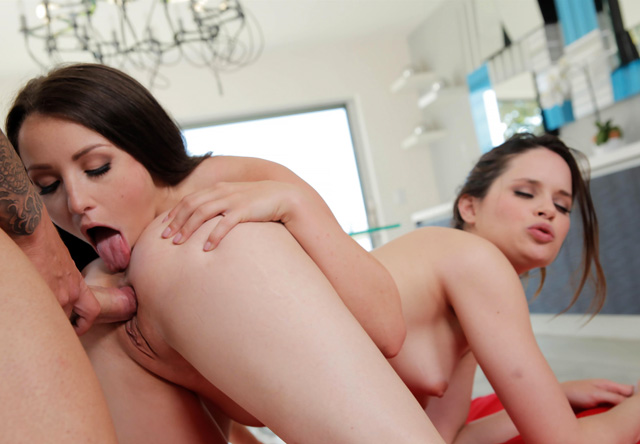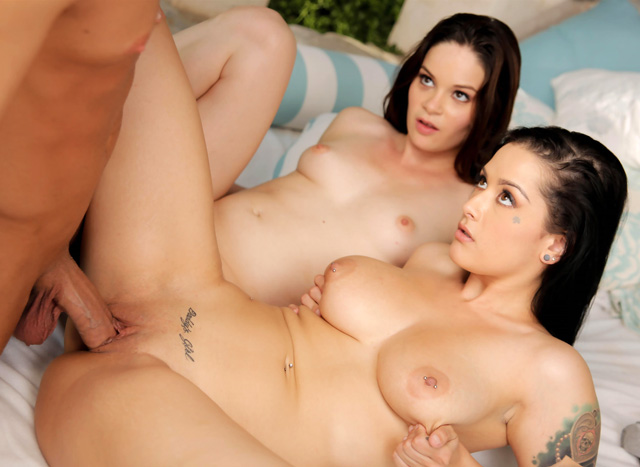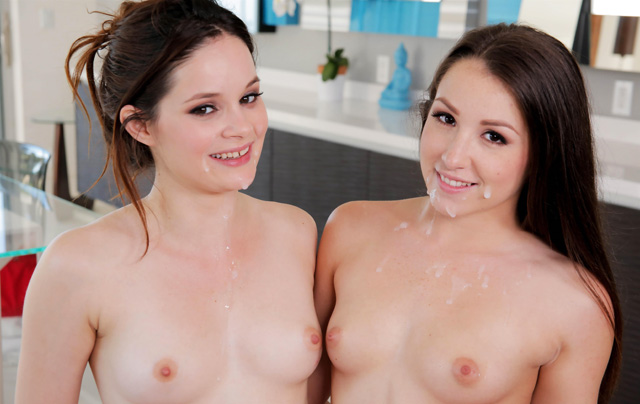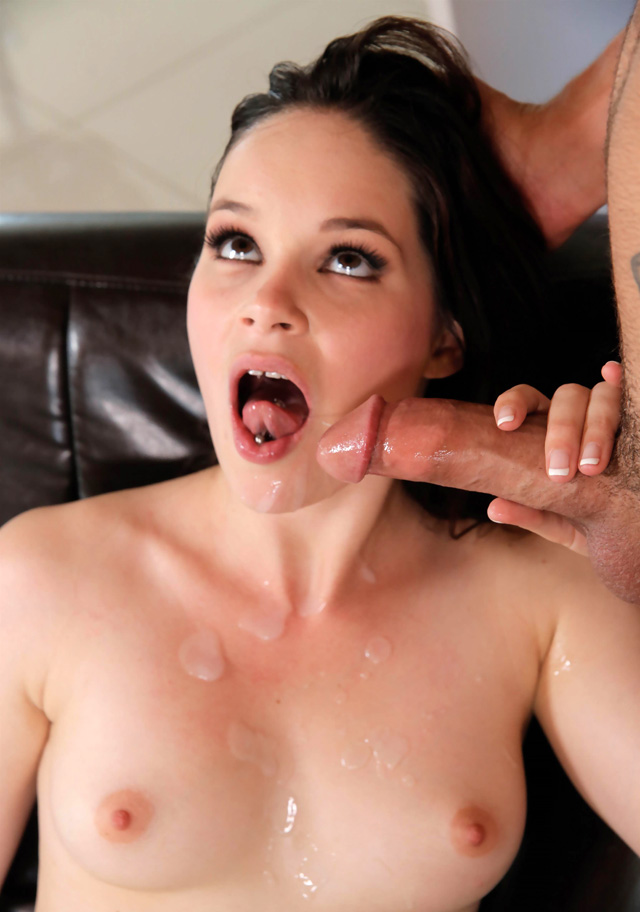 Watch the free hardcore trailer of Jenna J Ross from Adult Empire Films & pre-order your copy for the world premiere debuting on Tuesday, September 23, 2014.  Filmed by Jay Rock to bring you Jenna J Ross in explosive orgasmic entertainment like you have never seen Jenna before, up close & personal.  All images and trailer courtesy of Adult Empire Films, 2014.  Learn more about this hot upcoming title & get your copy only from Adult Empire DVD.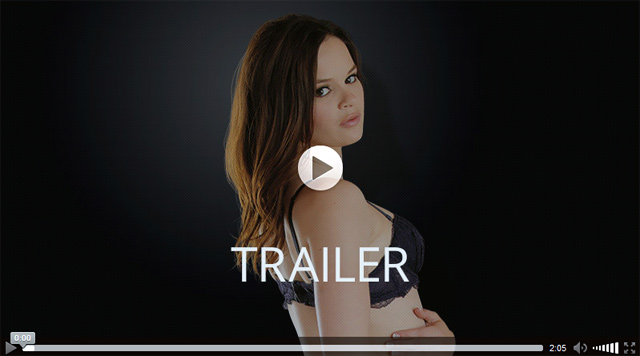 Order your copy of Adult Empire's Jenna J Ross now!  Want to learn more about petite brunette pornstar Jenna J Ross?  Read her interview:  Jenna J Ross Interview For Porn Corporation & hear her feelings on her upcoming AEF title, Jenna J Ross!  Pre-order your copy.

Continue reading in the Pornstars category or return to cover of Porn Corporation magazine.
View all the articles showcasing pornstar Jenna J Ross or catch up on all the latest Porn News!
Related:  Jenna J Ross Interview For Porn Corporation  More Jenna: Lesbian Foot Fetish Gallery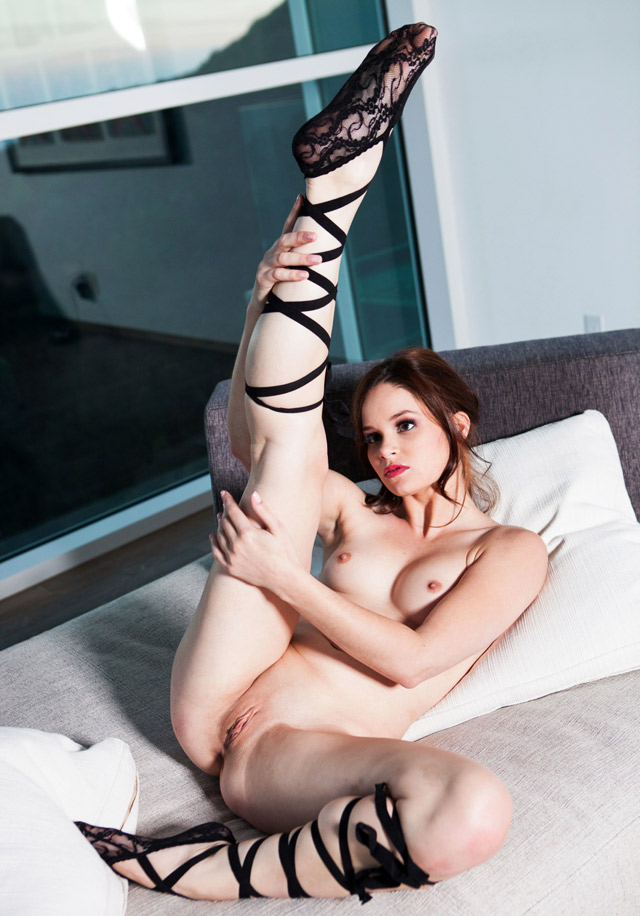 1.  How long have you been performing in the adult industry?  What were your deciding factors to begin a career as a pornstar?
JENNA ROSS:  It will be three years this August 29th that I've been in the adult industry. I decided to give porn a try, after I moved from my hometown near Boston, Massachusetts to Orlando, Florida. I was tired of being a waitress and wanted to drastically change the pace of my life. I'd already been doing nude modeling for about a year and porn seemed the next logical step for me.
2.  Jenna J. Ross, we just have to ask…  Is that your real name and what does the J. stand for?
JENNA ROSS:  No, Jenna J. Ross is not my legal name. The J stands for Jinx, which was a part of my original stage name and I didn't want to lose that.
3.  You have a very sweet, petite & unique appearance and we absolutely love that.  Where were you born and what is your heritage?
JENNA ROSS:  I was born in Boston, Massachusetts and heritage wise I'm 1/2 Portuguese, 1/4 French and a 1/4 Irish.
4.  Our favorite part of your signature look that makes you so sexy is the gap between your front teeth.  Do you love it as much as your fans and have you always felt the same way about having a gap?
JENNA ROSS:  I love my gap now and I've totally embraced how unique it makes me look. As an exhibitionist, I love to stand out and draw attention, so my gap plays well into that part of my personality. Although, while I was growing up it was more of a source of torment (small children are brutally honest), but by the time I was 16 I was quite secure and comfortable with it.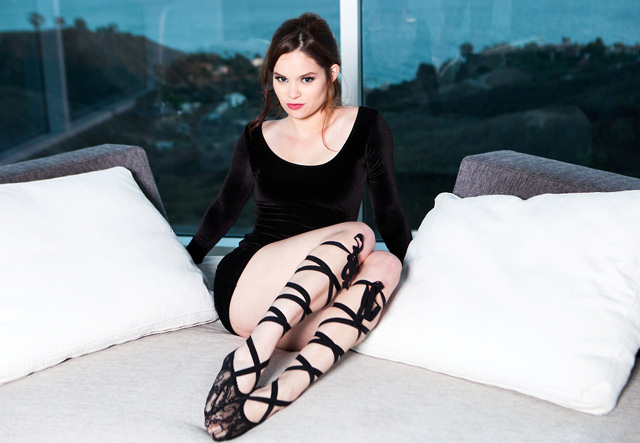 5.  Do you prefer filming solo, lesbian, straight or group sex scenes and why?
JENNA ROSS:  Each one of those scenarios is such a different sexual experience that I don't feel that they can be compared. I really enjoy each one for the different kind of sexual pleasure they each bring me. In terms of threesomes and groups, I feel that everyone involved needs to be on the same page and equally as into the experience for the real magic to happen.
6.   We want to know what truly drives Jenna J. Ross crazy in bed.  What are you're biggest turn-ons?
JENNA ROSS:  One of my weirdest turn-ons is having my ear nibbled on. I'm always a tease and definitely enjoy being teased as well. Draw it out because the wait always makes it so much better.
7.  Deal-breakers and turn offs?  What kills the vibe for you?
JENNA ROSS:  Rudeness, unwarranted cockiness, and girls who don't actually like girls kill my vibe.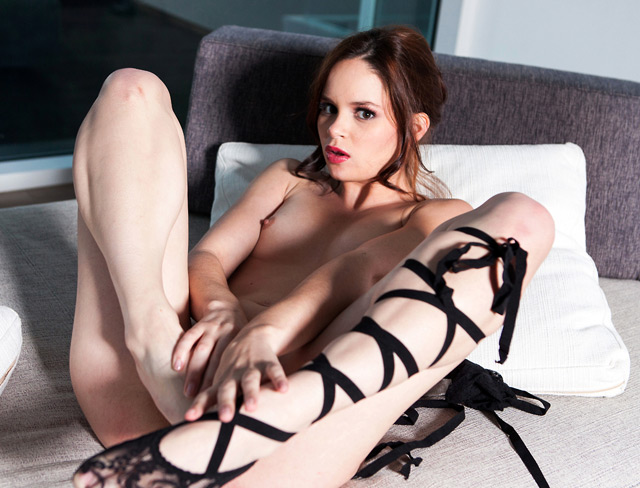 8.  What is the craziest thing you have ever done in real life?
JENNA ROSS:  That's a long list. The top three would have to be fucking in the photo lab of my school, having sex in the snow, and the multiple hook-ups in my town's public library.
9.  Speaking in hardcore terms, as we all know there is no boundary in porn these days from gangbangs to double anal!  How far have you gone sexually and how far will you go with your career?
JENNA ROSS:  When there is a camera involved I'm only comfortable performing sex acts I've already tried in my personal life. Perhaps one-day the things I try in private will find their way towards the front of the camera. I guess you'll have to keep watching to find out what's next.
10.  We are shocked that you don't already have an official Jenna J. Ross website!  When are you going to give us and your fans an official site to worship you at?
JENNA ROSS:  You can worship me via my Amazon Wishlist.  As for a website, I have no plans to start one as of now.
11.   Are you currently shooting any new films or upcoming scenes you can share with us?
JENNA ROSS:  I just finished a movie all about me from Adult Empire. I'm pretty excited about it so be sure to keep an eye out for that!
*Read our exclusive preview article of Jenna J Ross presented by Adult Empire Films including hardcore photos,  2 minute trailer video & opportunity to get your copy!*

12.  In your free time when you are not busy doing photo shoots and filming adult videos.  What are your hobbies and what do you enjoy doing?
JENNA ROSS:  I love taking photos, going hiking, being outdoors, reading, and playing video games, overall lots of different things.
13.  Do you have a love interest in your life currently or are you enjoying life as a single girl?
JENNA ROSS:  I don't believe in dating. I think all you need is a good friendship and an amazing sexual chemistry.
14.  Please tell us about your upcoming events, business plans and adult career aspirations. Are you currently working on any other projects that you can let us in on?
JENNA ROSS:  I have a new DVD entitled Jenna J. Ross from Adult Empire coming out soon! Be sure to watch for it because you'll see me in a whole new light.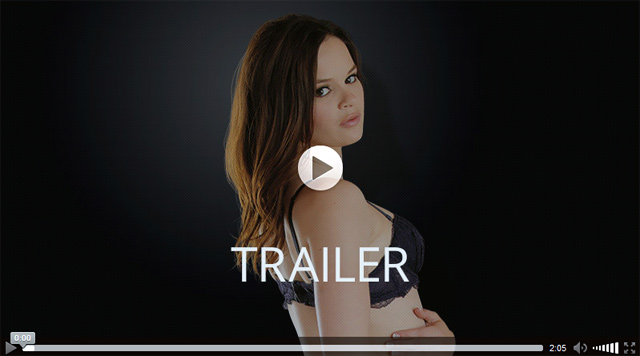 15.  Leave us with a true taste of Jenna J. Ross.  If you were ice cream what flavor would you be?
JENNA ROSS:  Cotton Candy, because I love bright colors and I'm super sweet and unique. 🙂
16.  Is there anything you would like to share with your fans and our readers?
JENNA ROSS: 
Follow my social media:
Twitter- http://twitter.com/JennaJRoss
Instagram- http://instagram.com/jennajross
Tumblr- http://jennajrossxxx.tumblr.com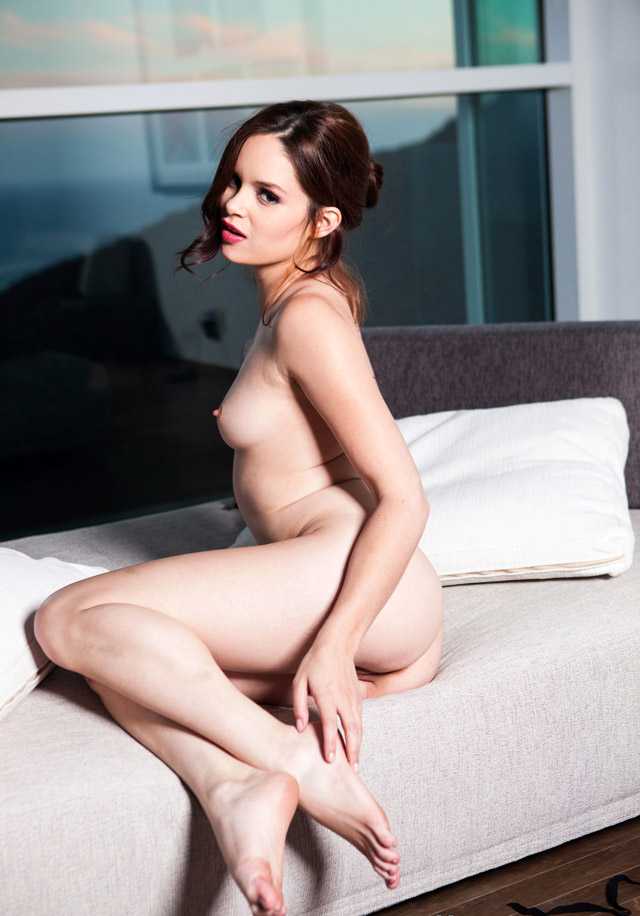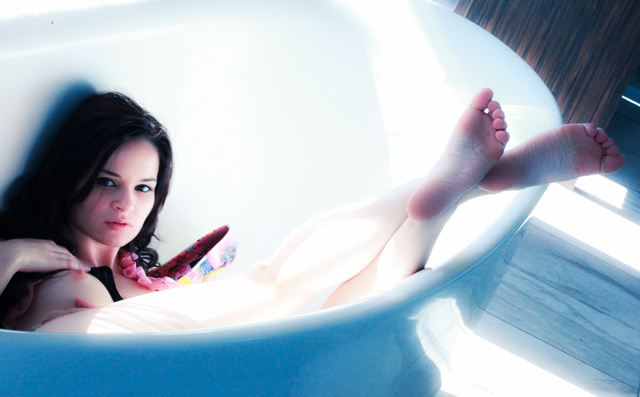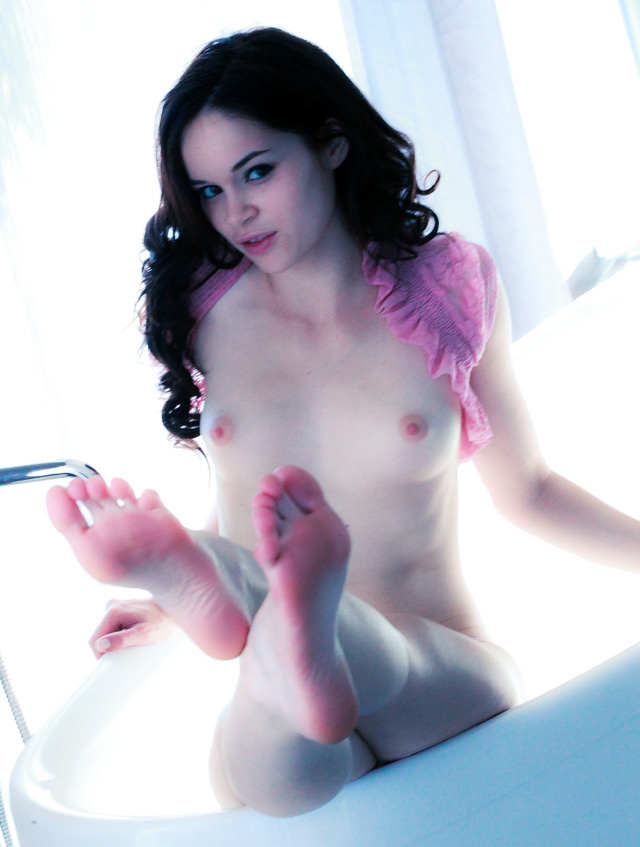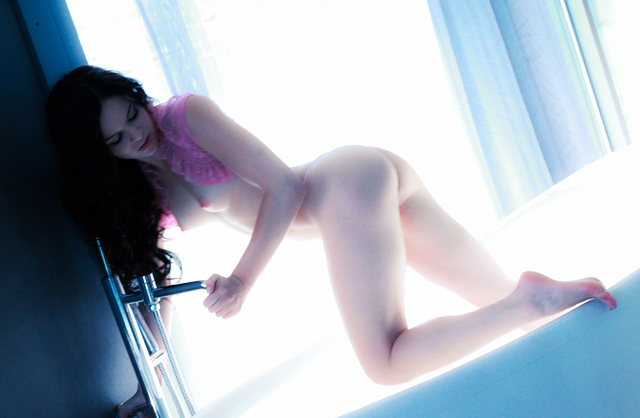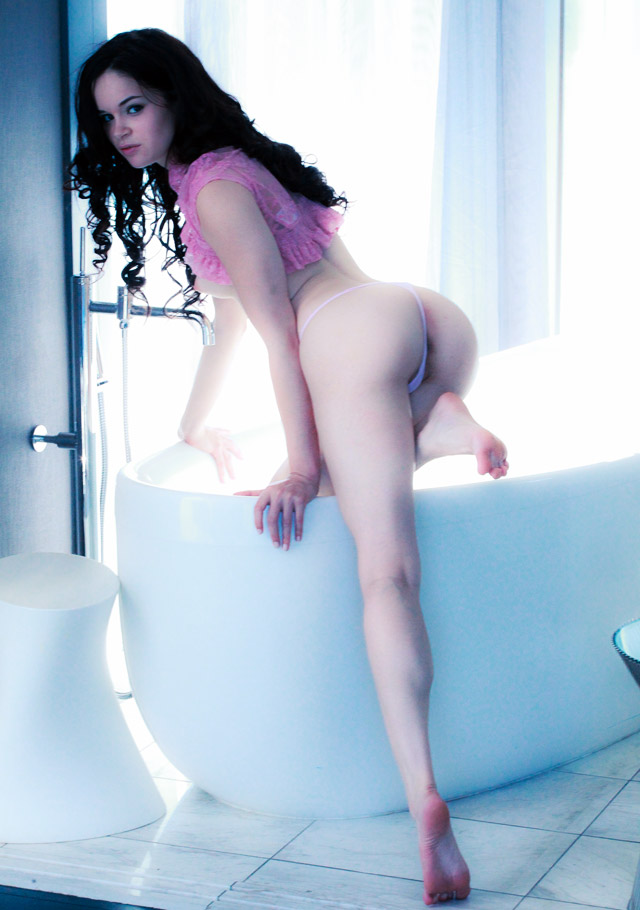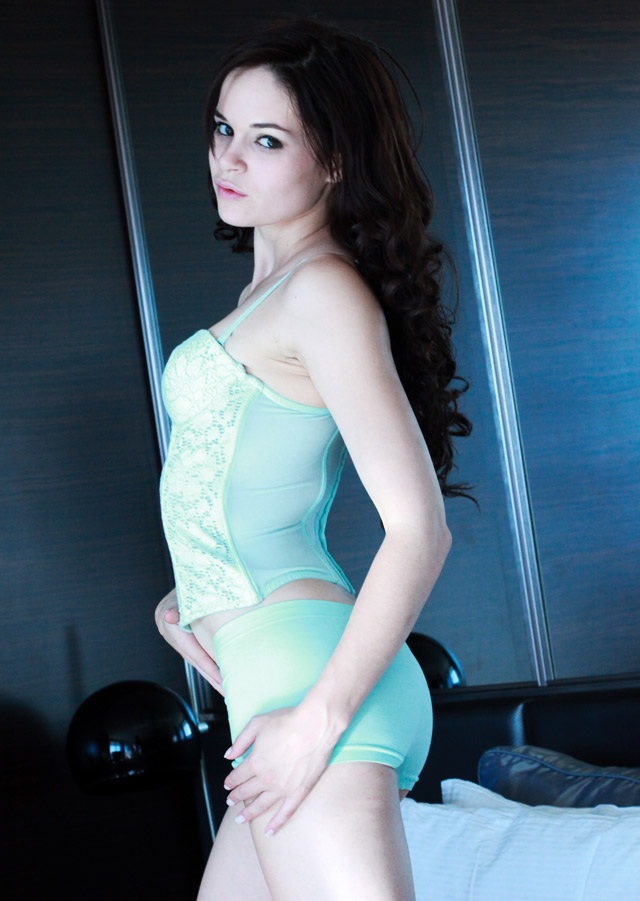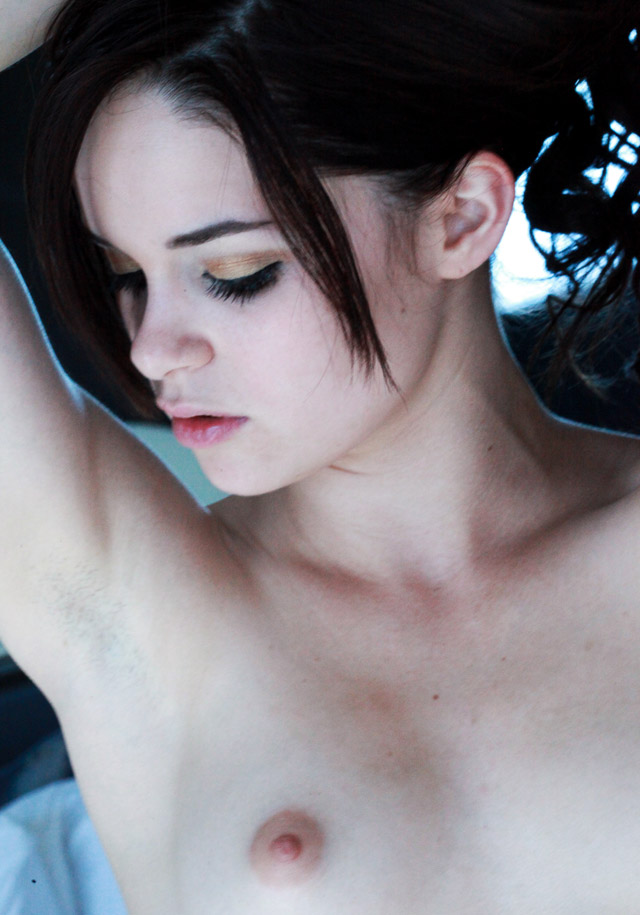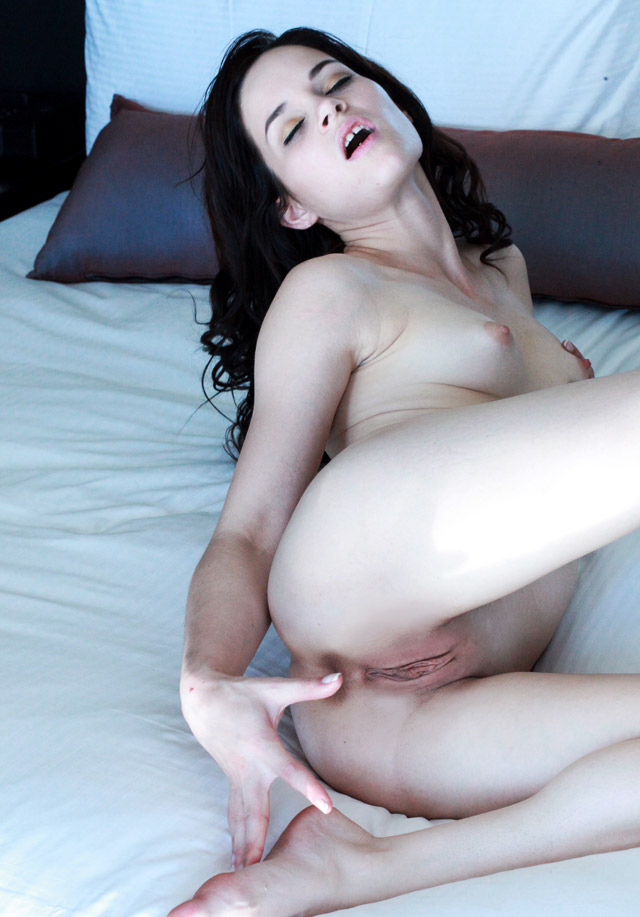 Photography of Jenna J Ross showcased in this article was taken by Kayla Jane Danger for the erotic solo and lesbian, foot fetish & ass worship website My Doll Parts.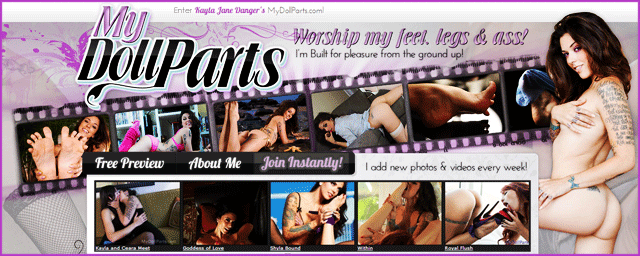 Continue reading under our Pornstar Interviews category or return to the cover of Porn Corporation.
View all the articles showcasing pornstar Jenna J Ross or see more Porn Corporation Girls!
Sneak peek Jenna's upcoming feature DVD:  Adult Empire Films Presents Jenna J Ross

Interviews: Olivia Wilder –  Nikita Von James – Allison Moore – Karla Lane – Kayla Jane Danger
Natasha Starr – Karmen Karma – Leia Down – Mia Gold – Nora Noir – Porn Fansigns
Keep up on the latest & read our hottest topics:  New Porn Sites – Porn News & Adult Parodies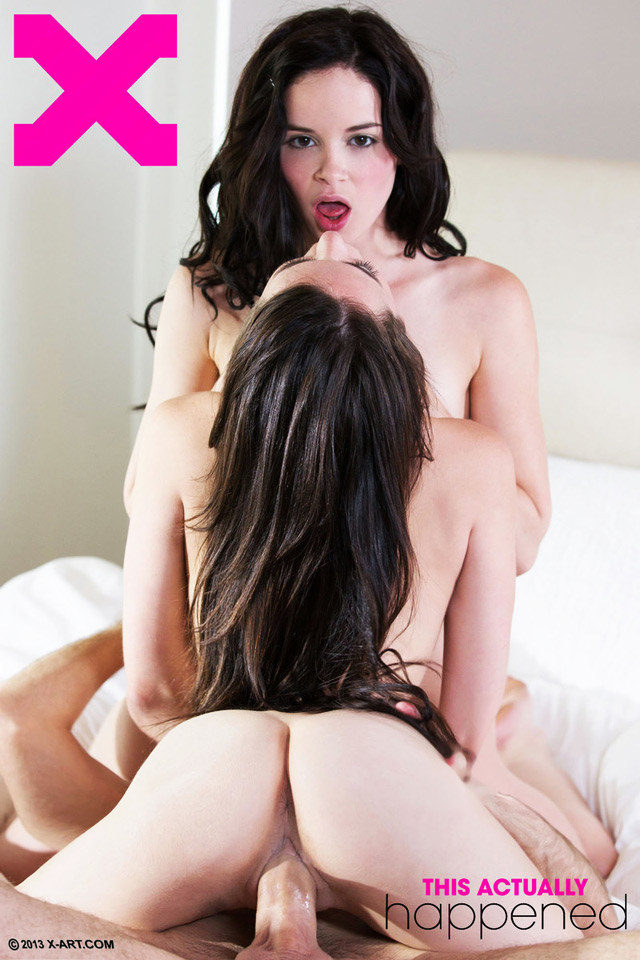 Jenna J. Ross and her girl friend Scarlet have erotic threesome sex with James Deen for the cameras of X-Art.  This passionate triple combo leaves nothing for the imagination and bares all for you in their most delicate and intimate moments!  Play Free Video of Jenna & Scarlet in this steaming hot threesome porn.  Watch as these 3 lovers embrace in hardcore action inside X-Art!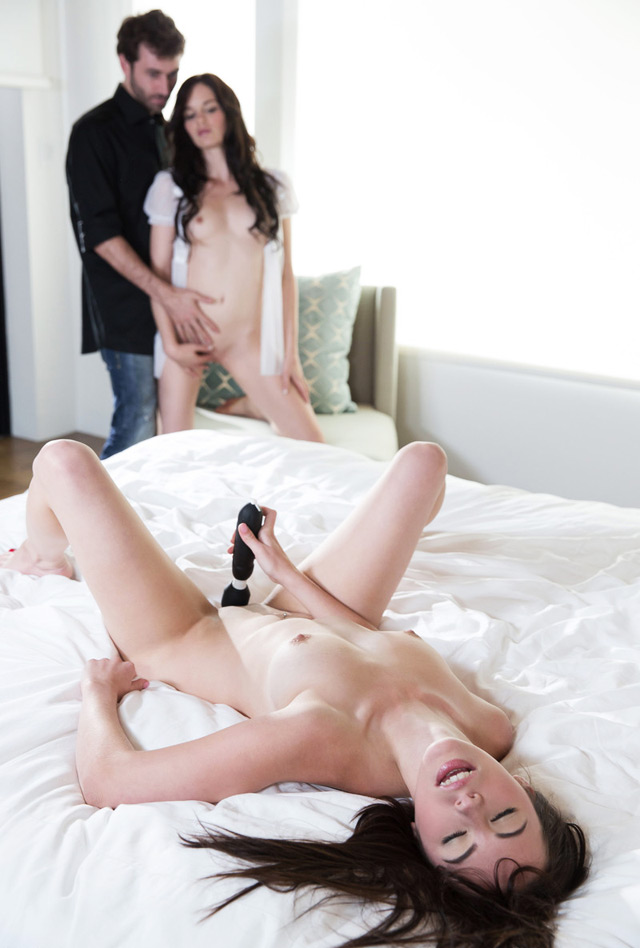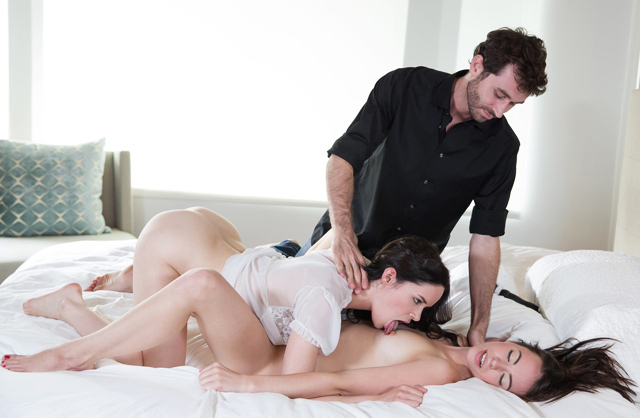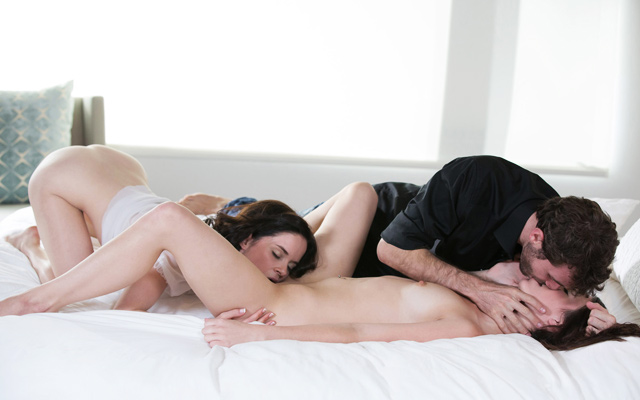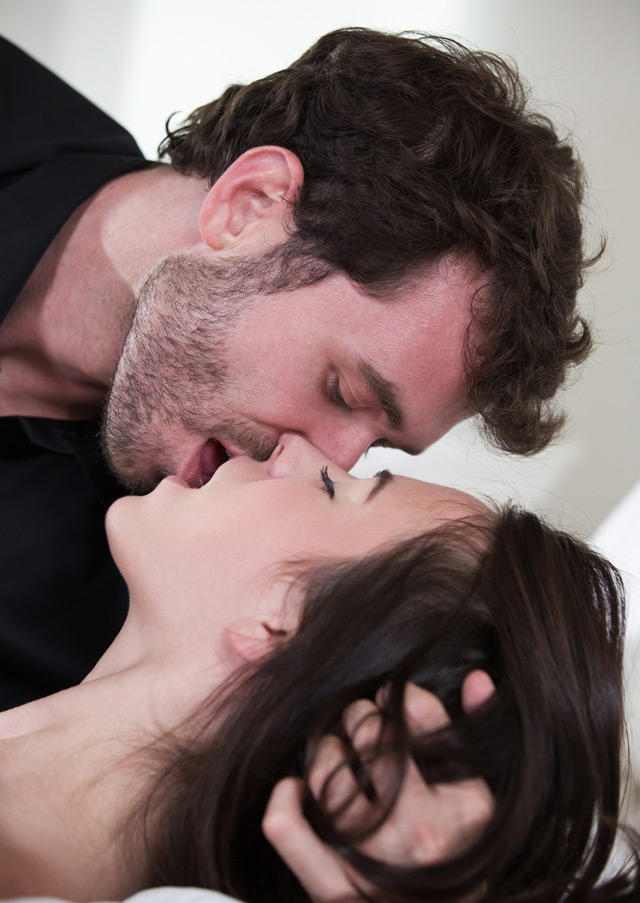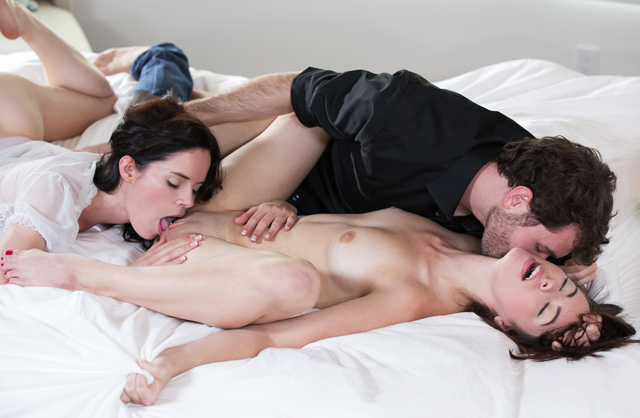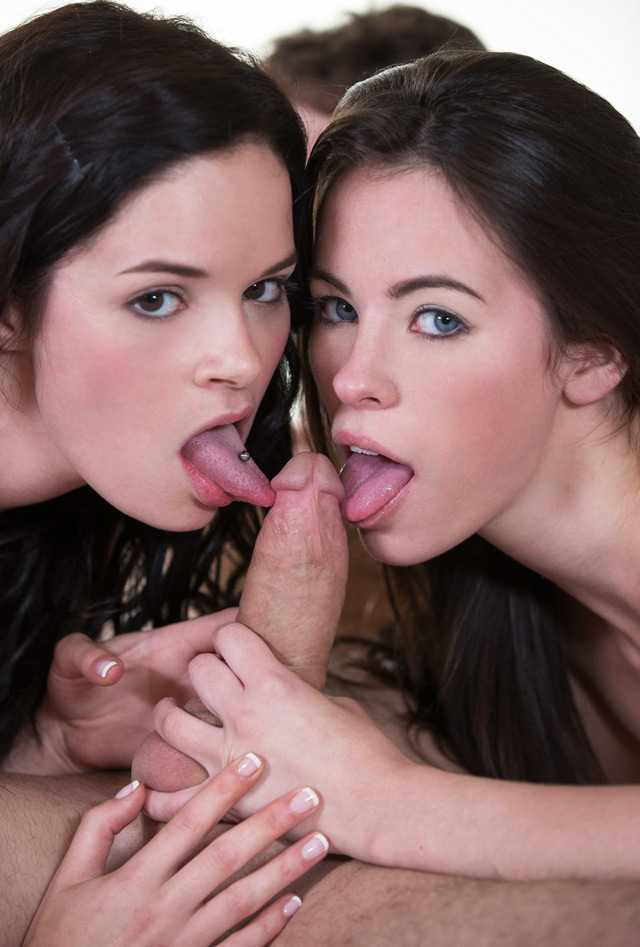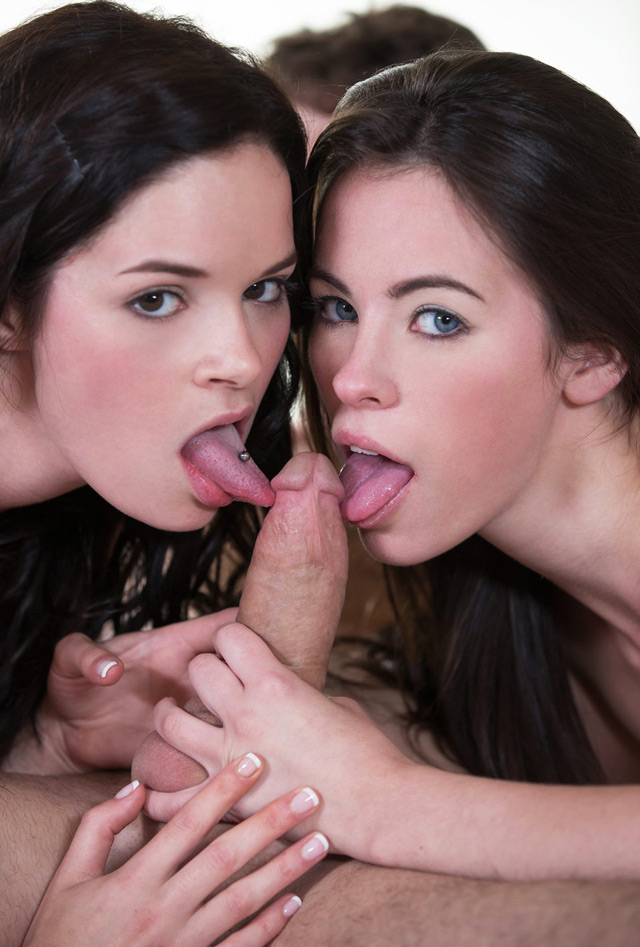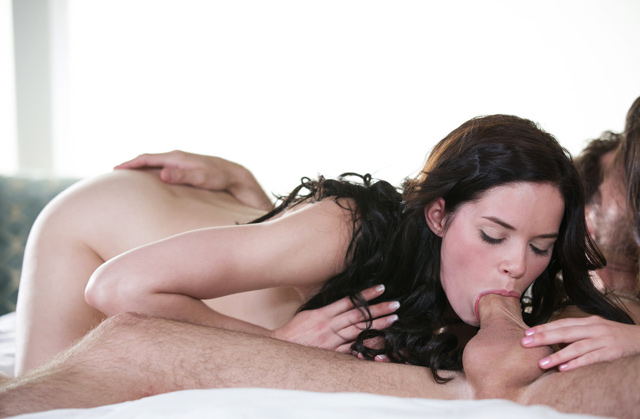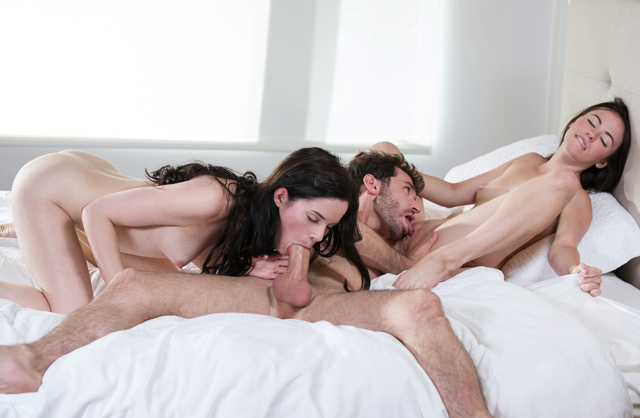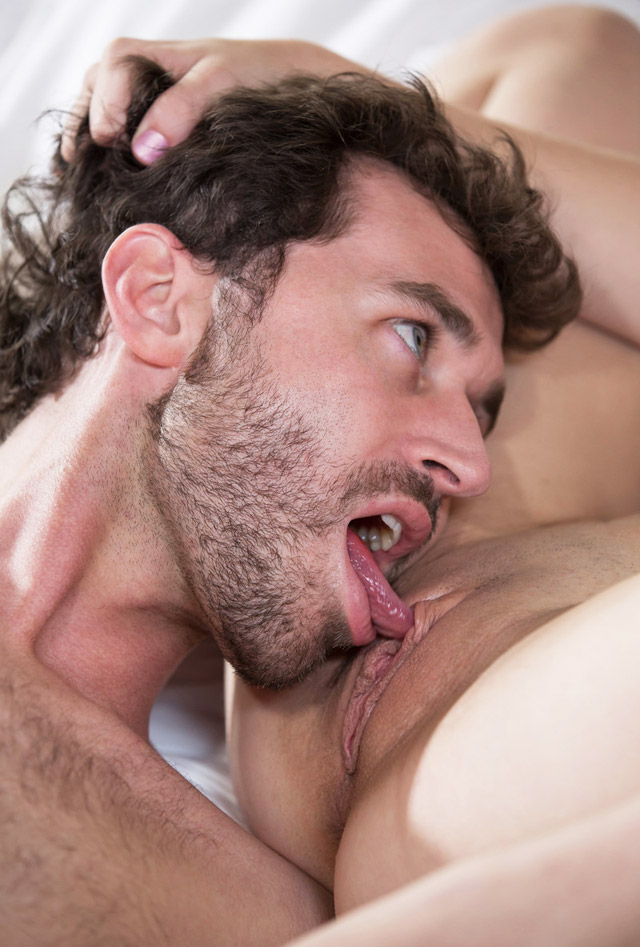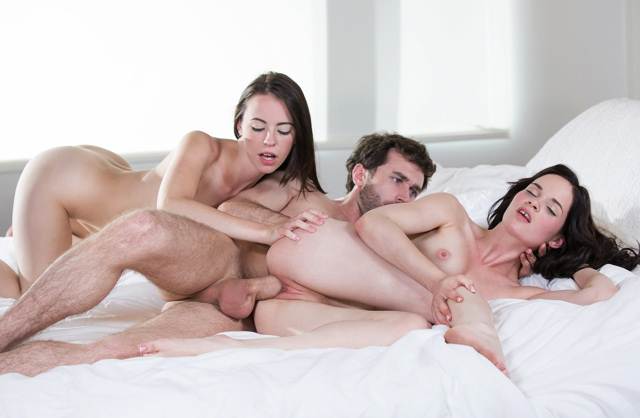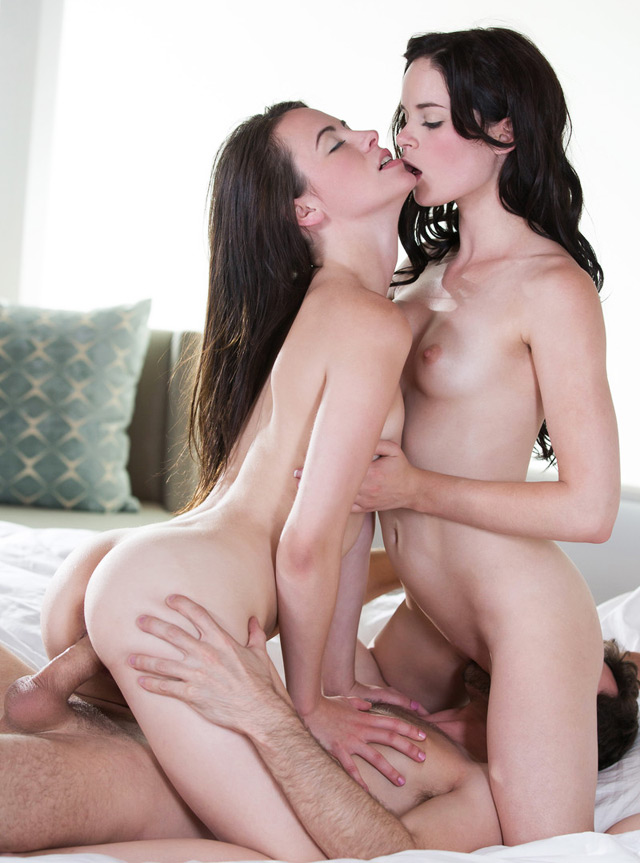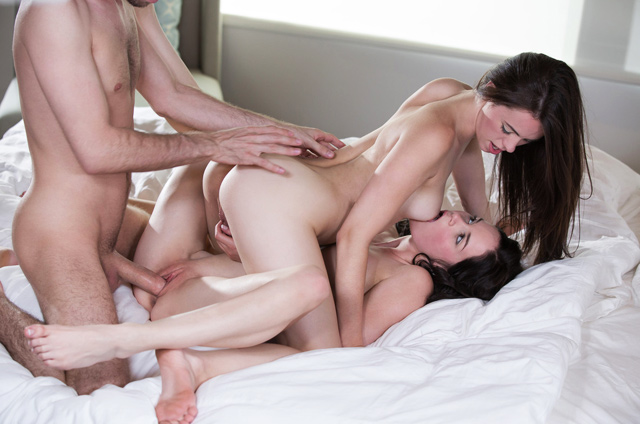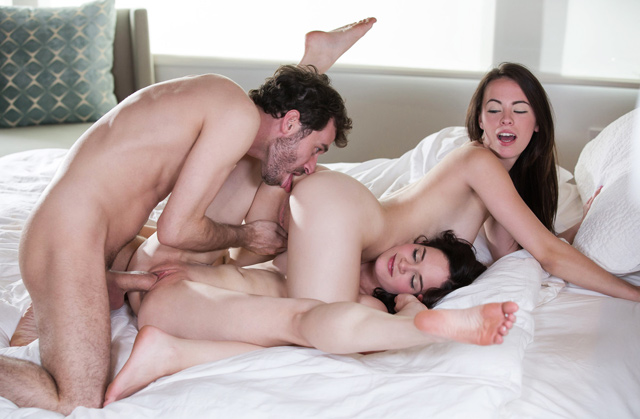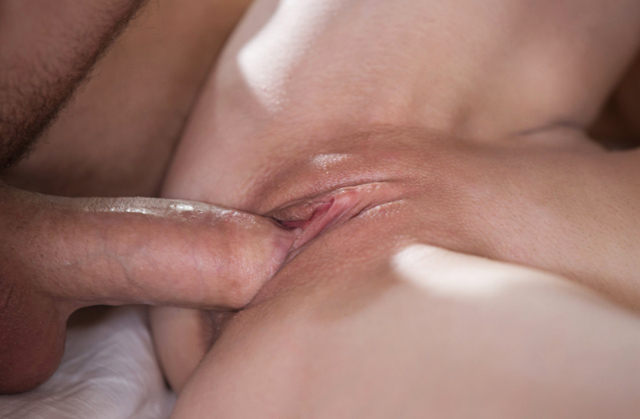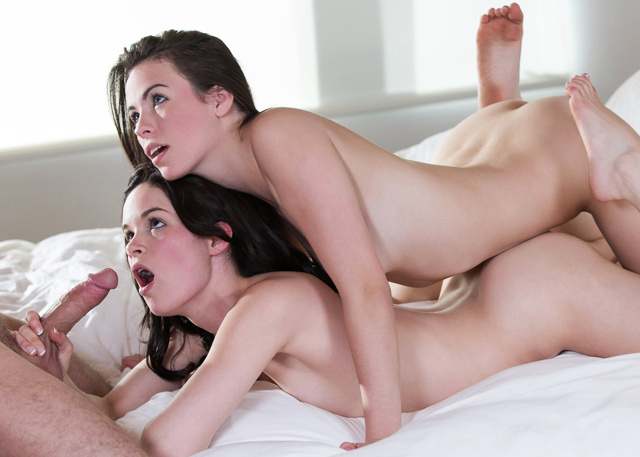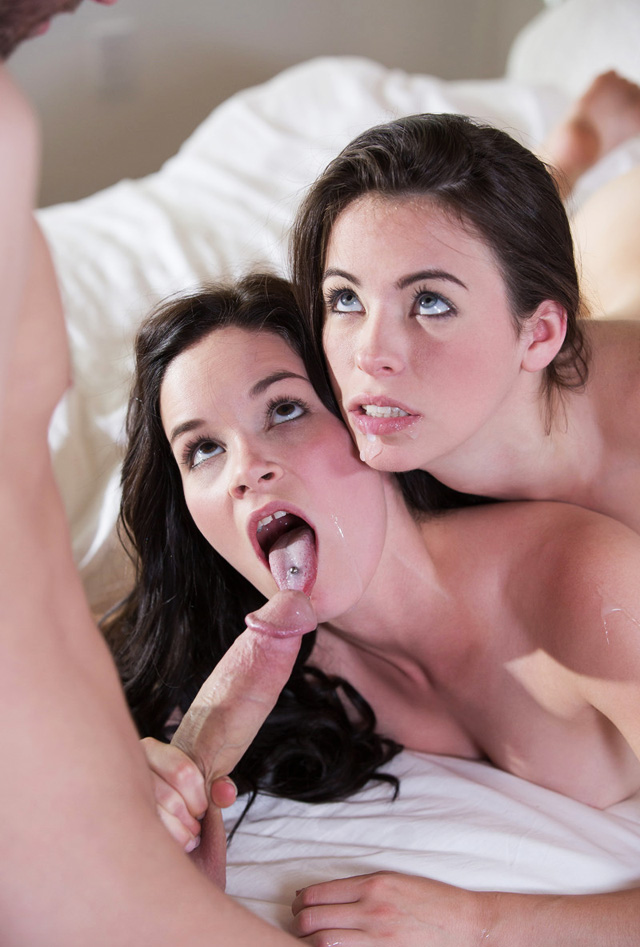 PLAY FREE VIDEO of Scarlet and Jenna sharing James cock and playing with a vibrator in a smoking hot threesome!  Do you want to watch the hardcore video from this erotic threesome starring Jenna Ross, Scarlet and James Deen? Enter X-Art for erotic hardcore action!

Return to the main page of Porn Corporation or scroll through the Teens category for more!
See all the articles featuring X-Art with free photos & videos on our site or see more Jenna J. Ross.
Enjoy X-Art?  You should also check out:  Watch4Beauty – FTV Girls – Nubile Films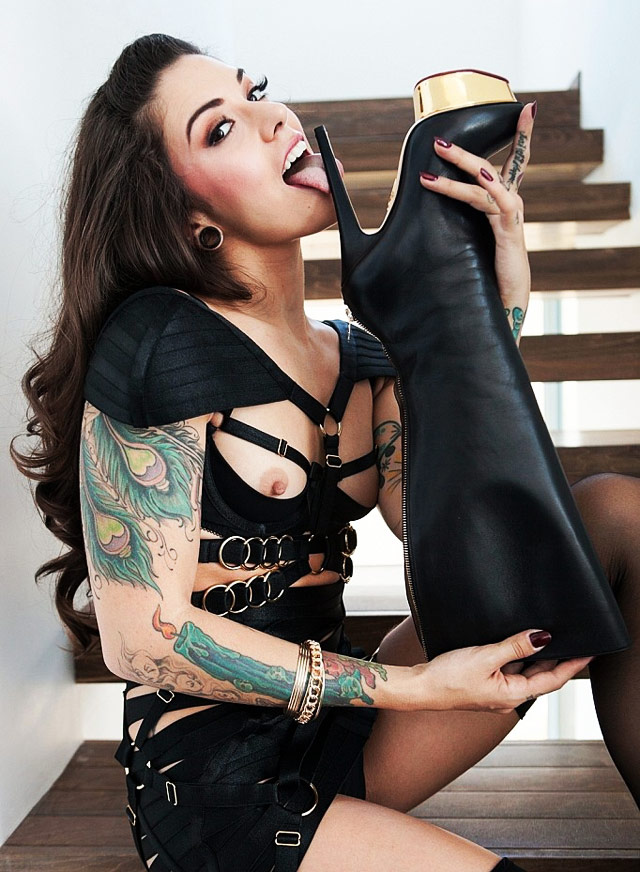 1. When did you begin performing in adult situations and when did your love for fetish truly begin?
KAYLA-JANE:  I started performing in adult productions when I was 18 years old! My love for fetish has come over time. It started out without really understanding why I had certain sexual reactions and attractions; I just went with it as part of my early sex play, thinking of it as nothing more than generally "kinky". As I entered my adulthood, I had more outlets to express and explore my fetish inclinations and did. I used dancing at fetish parties & clubs to participate in BDSM activities, learn, train and find my place in the community.
2. Kayla-Jane, we know your a dangerous girl, so tell us what is the craziest thing you have ever done in your life?
KAYLA-JANE:  Craziest, in my life…that's a tough one. I spent a day shooting for a public nudity website walking around downtown Long Beach California during lunchtime. It was a blast, very exhilarating, empowering, and a fun day in the sun. Seeing as how that is totally illegal in Los Angeles and technically something I could have been arrested for, I guess that qualifies as dangerous!
3. We know you're into femdom, foot fetish and lingerie, but please tell us in depth some of your deepest fetishes and why you love them!
KAYLA-JANE:  I think my love of these three things are derived from a feminization fetish. It's not just a male fetish, but I absolutely fetishize the 'ultimate female' in my eyes, dressing up in lingerie, extremely high heels, making myself up and doing my hair arouses me completely. When I transform, it is when I feel most powerful, and most Dominant, although I am always and Alpha Female and Dominant personality. I do switch when it comes to my partner—he's an Alpha male and we have a great power exchange, but he never really submits, if you know what I mean. When it comes to feet, to me it's not even a fetish; it is a way of life. Foot worship is part of foreplay and my feet are an erogenous zone—it just comes naturally to use them in my sex life and sexual exploration on camera! To see exactly what I mean, please check out my site MyDollParts.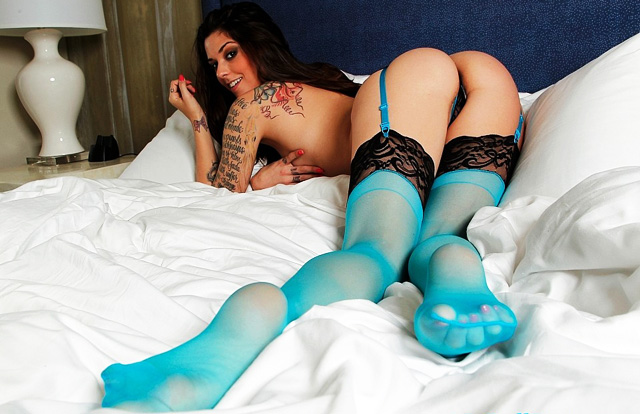 4. Please describe what it feels like to you when another person submits oneself as a slave under your control.
KAYLA-JANE:  It really depends on what kind of submission it is. There are many submissives and not all are slaves to me, even if they submit to me. But taking control over someone in general is a very personal and powerful thing. It's more than a notch on my belt, but the beginning of a relationship, no matter how brief or long. Although, I really only accept the submission of those who plan on staying under my control for the long term. All around it is a warm feeling, like acquiring anything new, all the potential that servitude holds—it's very exciting.
5. You're a fashionable girl, let's cool it down for a minute and talk style. What are your must haves and your personal fashion faux-pas?
KAYLA-JANE:  Must haves…high heels! In general when I am out and about, I am in high heels. You know something is wrong or I am on the run when I am wearing flats, although my few pairs of Jordans, and my Charlotte Olympia kitty flats are the only ones I will wear with pride! I think every girl should own a pair of Jordans, but I believe the same about key designers, although I do understand the price restriction for some. I am happy you mention faux pas, because I will say there are two looks most common on hipster girls that really needs to go—mom jean shorts, and geenie pants…COME ON LADIES – it's just not cute. It blows my mind when cute girls dress in these ridiculous bottoms—there are pants and shorts for every figure and those do no justice to ANY figures.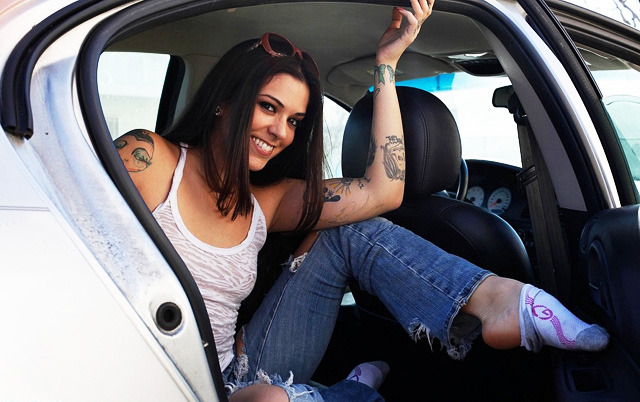 6. Ink. You're covered in it! Please tell me about your tattoos, what does the one on your arm say and what do your other tattoos represent to you?
KAYLA-JANE:  Most of my tattoos are drawings or paintings that I have done throughout my life and decided to get tattooed on me. I tend to lose sketchbooks, portfolios, etc. over the years, but once they are inked on, they are much harder to lose! The writing on my left arm is from "Ariel's Song" from Shakespeare's The Tempest. I suggest everyone reading this looks it up and contemplates the meaning for themselves—don't worry, you don't need to read the whole book for context, just Ariel's Song. I end the quote short at "rich and strange", which happens to be what my man and I call ourselves now—his name is Rich and I am strange. I do love that I can take a walk down memory lane and remember all the people in my life and the places I have been, when I look at each tattoo. I will be getting tattooed for a long time to come—it's part of why you don't see me totally grilled yet.
7. Do you have any piercings or have you had any piercings in the past?
KAYLA-JANE:  Yea, I had my belly button pierced in my early teens like every girl of my generation and my ears pierced when I was a kid. But it was around the time I started checking out BMEzine and stretching my ears when I was 14/15 that I really got into it, and got in trouble for piercing my own lip. Then after I turned 18, I had my nipples pierced. I also had my clitoral hood (sometimes called the "Christina") and my rook, and nose pierced, and I loved every one of them. Unfortunately, the genital piercing got fucked out of me…literally. It healed quickly, but if you ever see a close up pics of my waxed mound, you will see the tiny circular scar. My nipple rings got caught on everything, so eventually I just took them out. My belly ring I chose to take out when I was about 20 because I was just over it, and after I had to take my nose ring out for a photo shoot, I just decided not to put it back in. Now, all I've got left are my ears stretched to 5/8ths of an inch, and I'm not going bigger—they have been this size about 7 years.
8. What were you like growing up? Were you a rebellious girl or a good girl? Getting A's or skipping class?
KAYLA-JANE:  Actually, I was a bit of both. I am a Gemini and have always embodied the concept to a "T". I was absolutely rebellious. At 15, I got my first tattoo and also lived on my own. But, I also graduated high school early, and although I didn't graduate college, I did go straight into college right after graduating high school. Generally, everyone had the wrong idea about me—I was either an angel or the devil…and that pretty much covers how people still see me.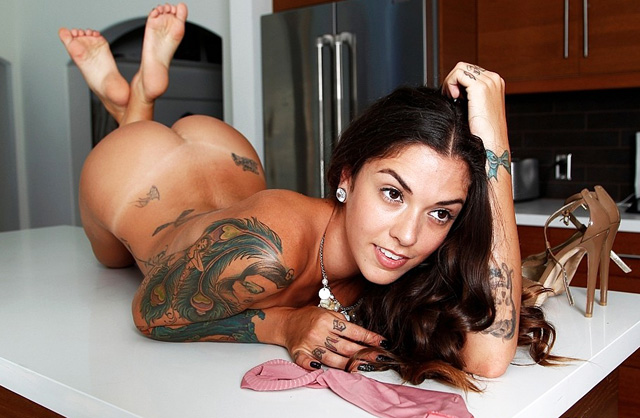 9. Back to naughty talk! You're mostly known for your lesbian and solo performances. Please tell us the difference for you between having sex with a woman or a man?
KAYLA-JANE:  Ahh women and men, Mars, Venus…really though, there are a million differences. I will speak to my current situation. My partner of 5 years is a man—he's heterosexual and I'm queer. Just because I am dating and exclusively having sex with a man doesn't change my sexual preference. So when I get into a scene with a woman I really have chemistry with, my sexual energy is just as strong as it is with my man. But there's a connection he and I have that goes beyond anything sexual, although it certainly enhances our sexual relationship. I'm probably more dominating with other women than with my man. As an Alpha Female I tend to assert that in all aspects of my dealings with other women, in and out of bed.
10. Is sex the same for you on camera as it is in your personal life off camera? How does it differentiate for you?
KAYLA-JANE:  Well, I don't have sex with men on camera so my personal life is vastly different. My sex life has always been the thing of porno fantasy, whether before I was monogamous or after—which makes me a very lucky girl.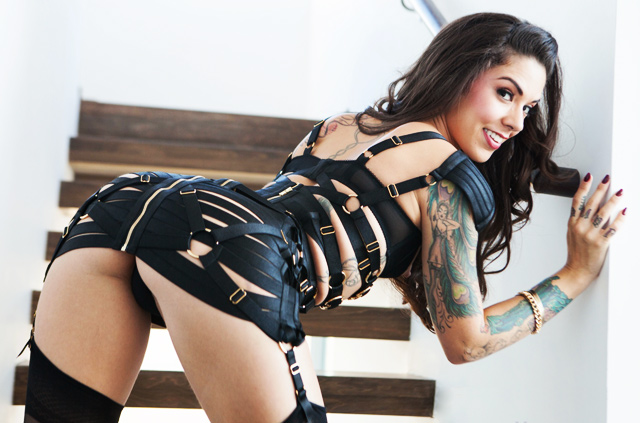 11. A few more juicy details. Are you currently seeing anyone or just hosting a number of pets and subs?
KAYLA-JANE:  As I have mentioned, I am taken when it comes to Love, Sex, Life Partnership and am not looking for anyone to date, see romantically or sexually, but I am always looking for submissives to fill positions whether online or in person. They can submit themselves at SpoilKayla.com—they need to give me their information, like their interests, why and how they are interested in serving me and all that good stuff. Right now, I have a few positions open and a few good pets in my pen.
12. A taste of danger to leave on! If you were ice cream, what flavor would you be Kayla-Jane?
KAYLA-JANE:  Cherry Amaretto with Dark Chocolate Chip—something unexpected, decadent and naughty.
13. Is there anything else you would like to say to your fans and tell our readers? Perhaps a glimpse of what the future holds for the lovely Miss Kayla-Jane Danger?
KAYLA-JANE:  If you want the front row seats for the future of KJD Media (my production company) and myself, I suggest you follow me on both my Twitter accounts @KJDangerdoll and @KJDMedia. [Follow us @PornCorp] My novel "Pleasure Or Pain
" has just been released on Amazon.com
for Kindle and there will be more books in the future to look forward to, as well as the DVD productions I have alluded to. We are hoping for big things and our fans, members and your readers are a huge part of that becoming a reality!
ENTER Kayla Jane Danger's Official Site & get up close and personal inside My Doll Parts!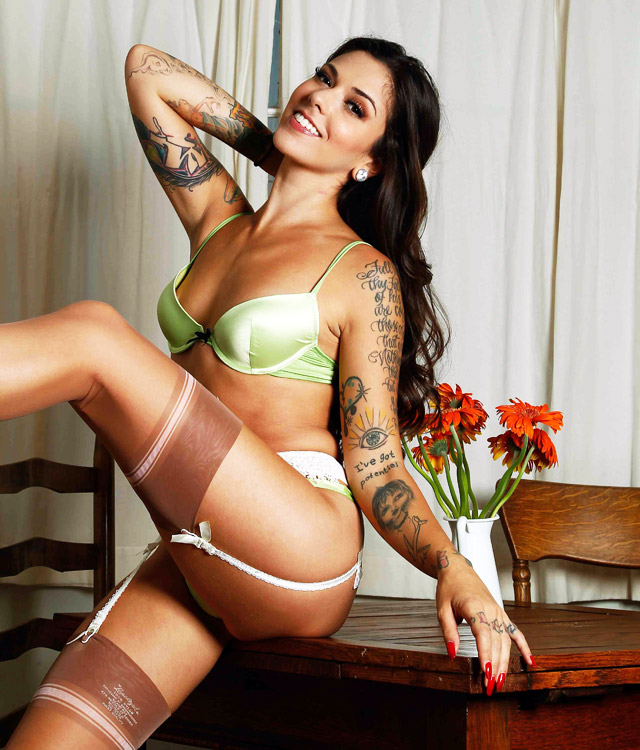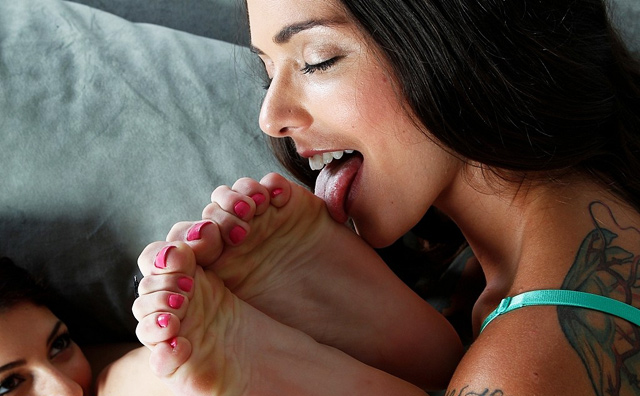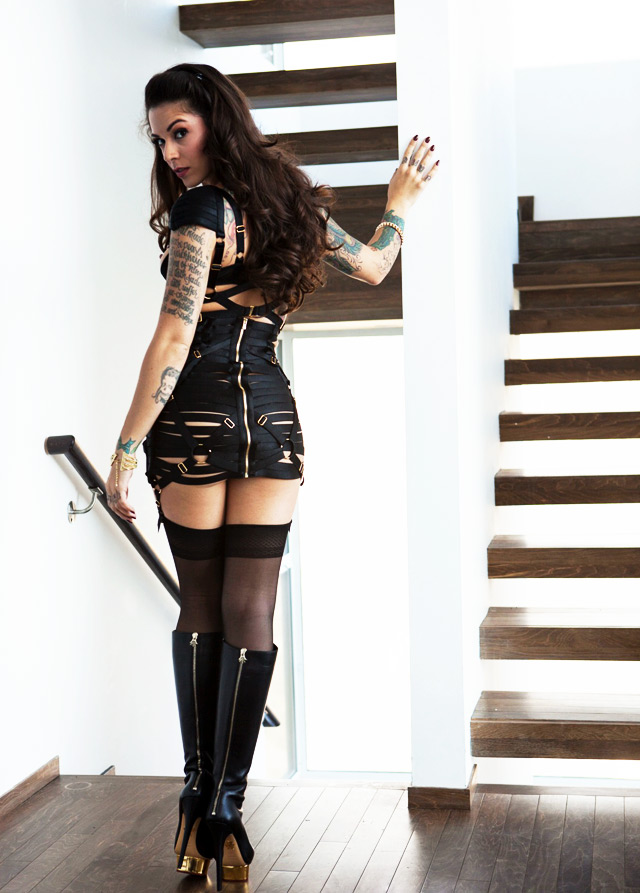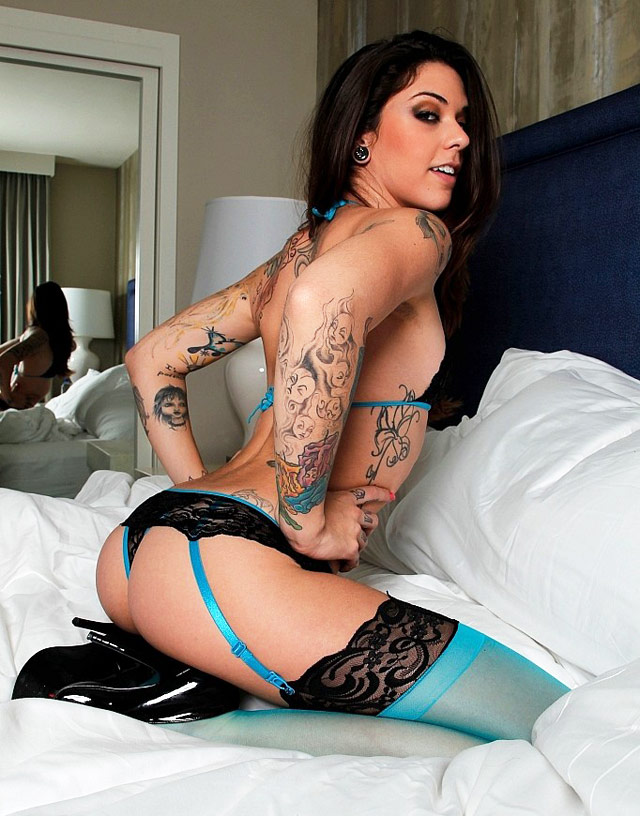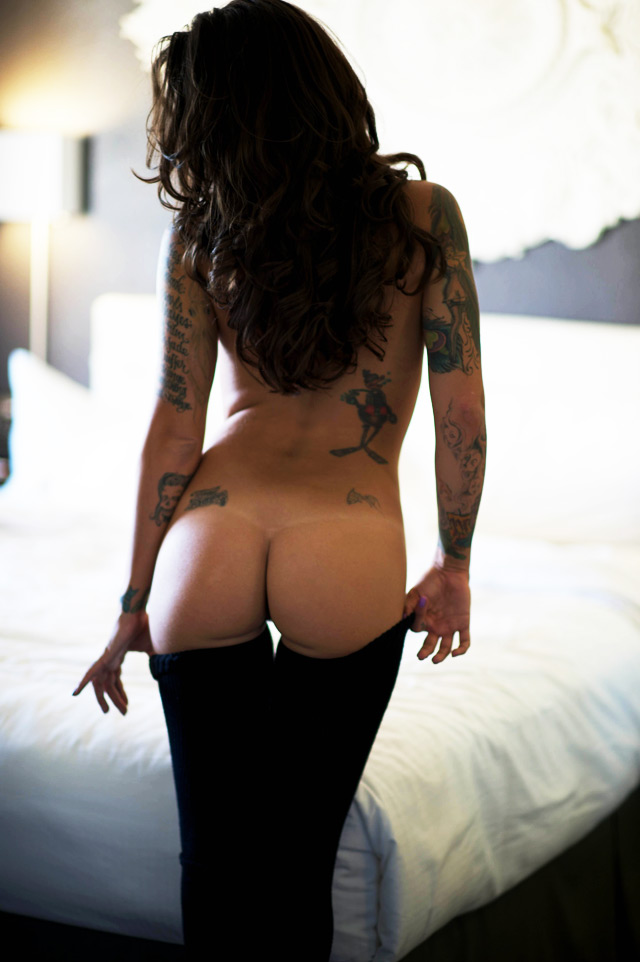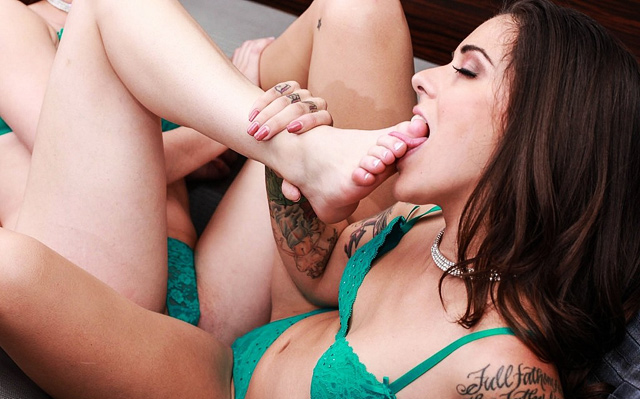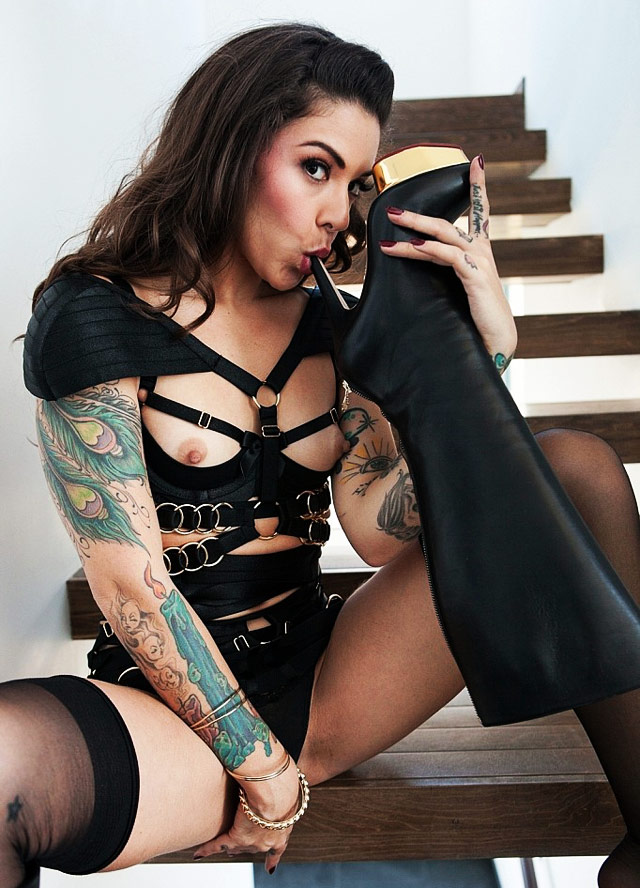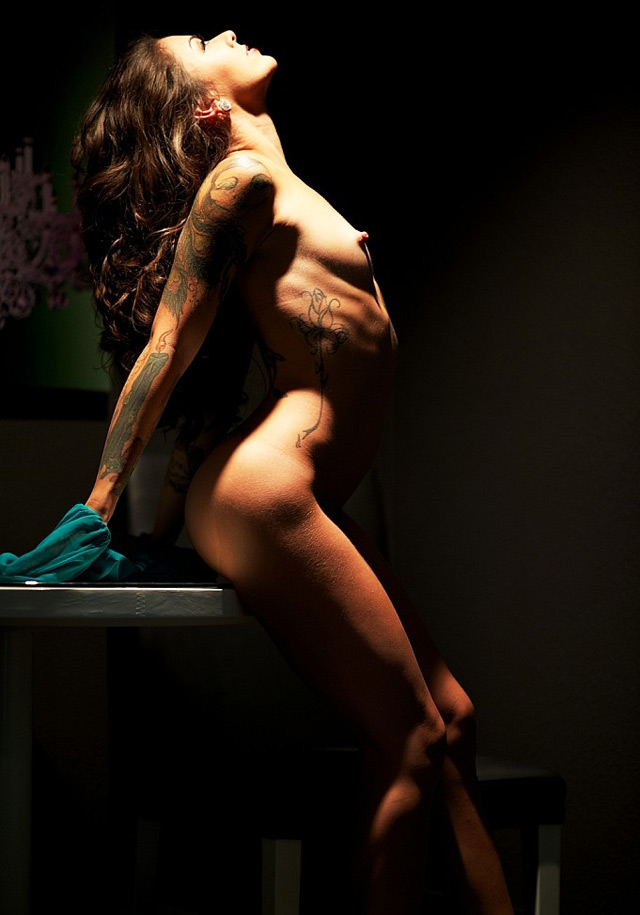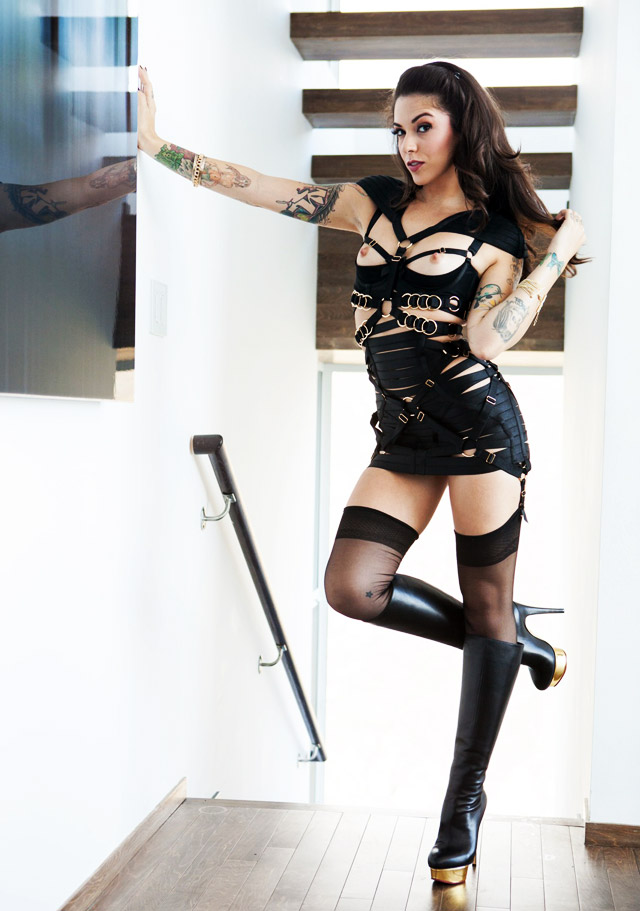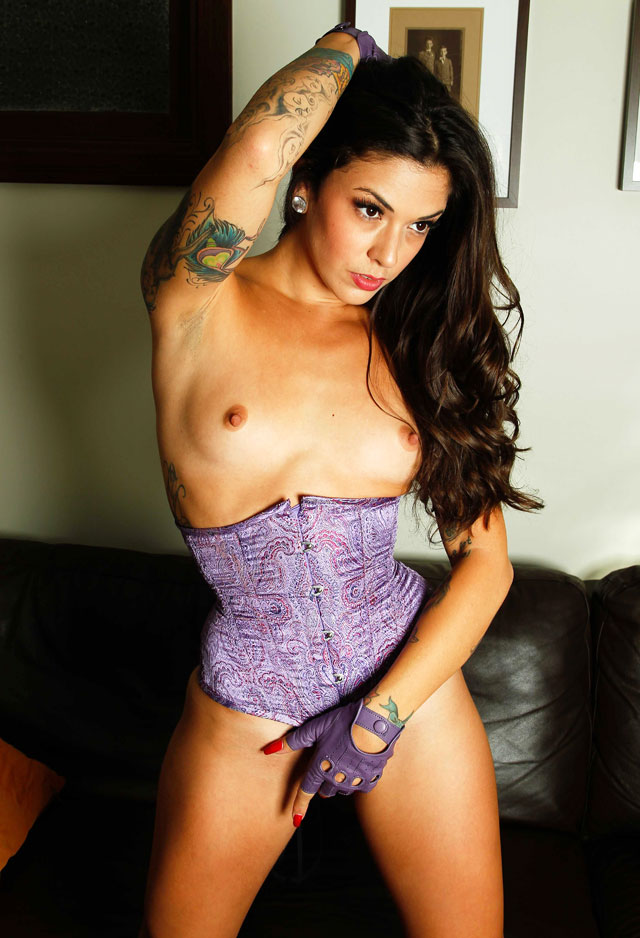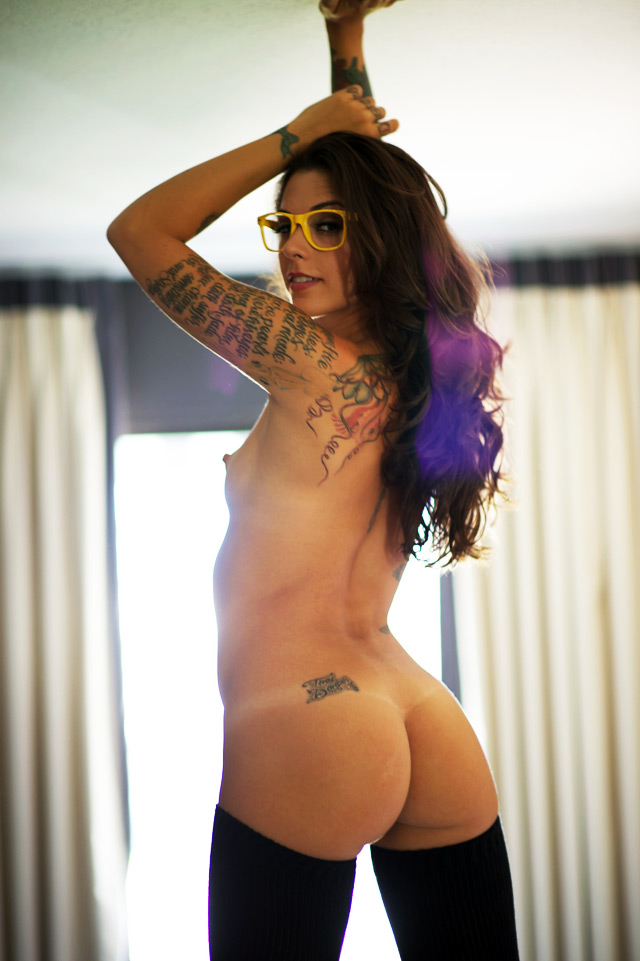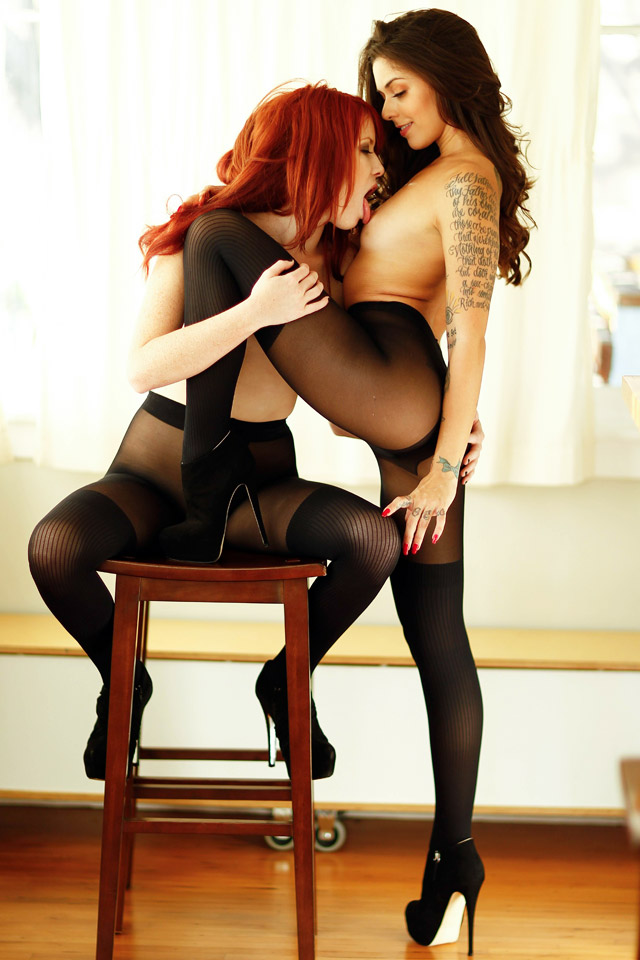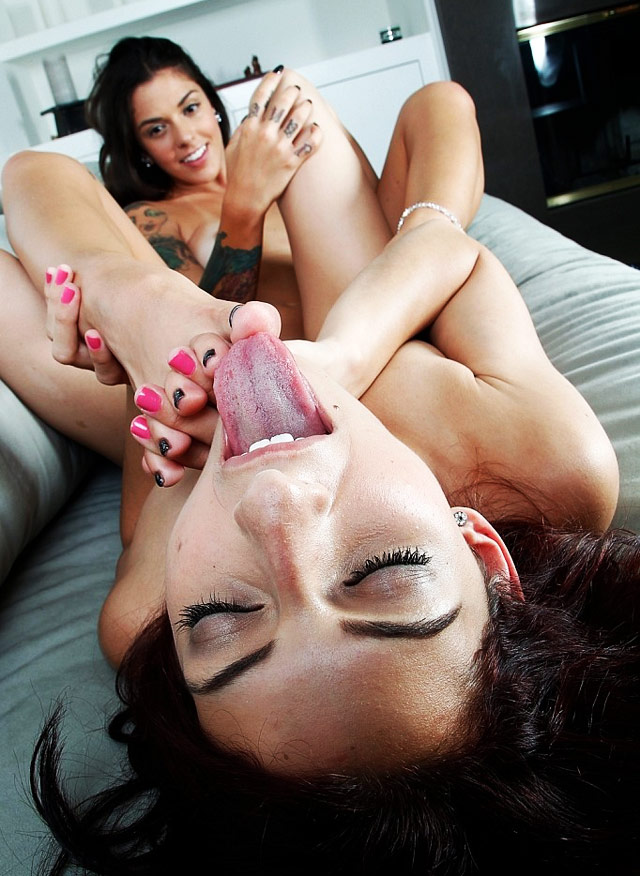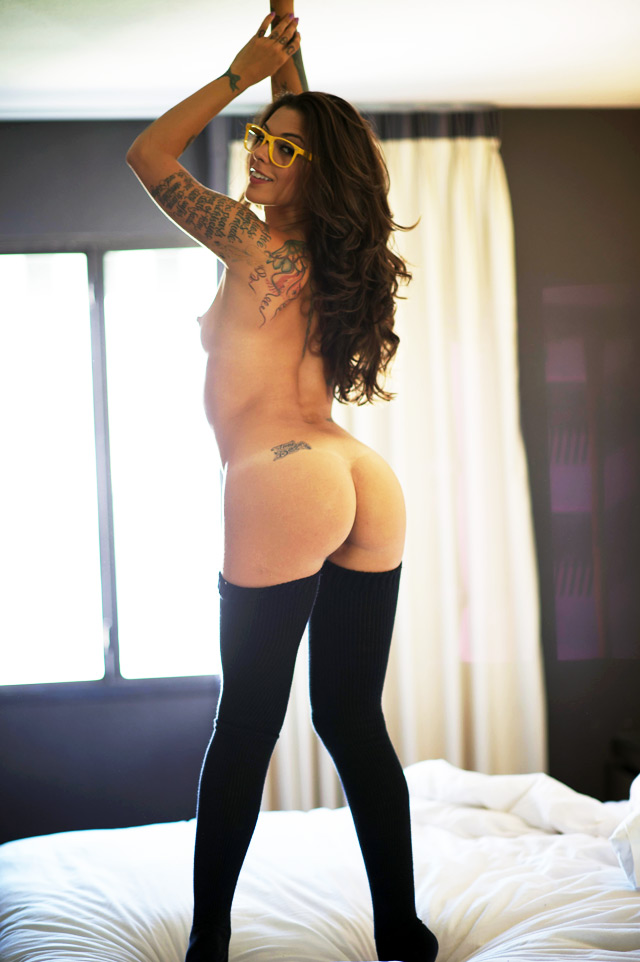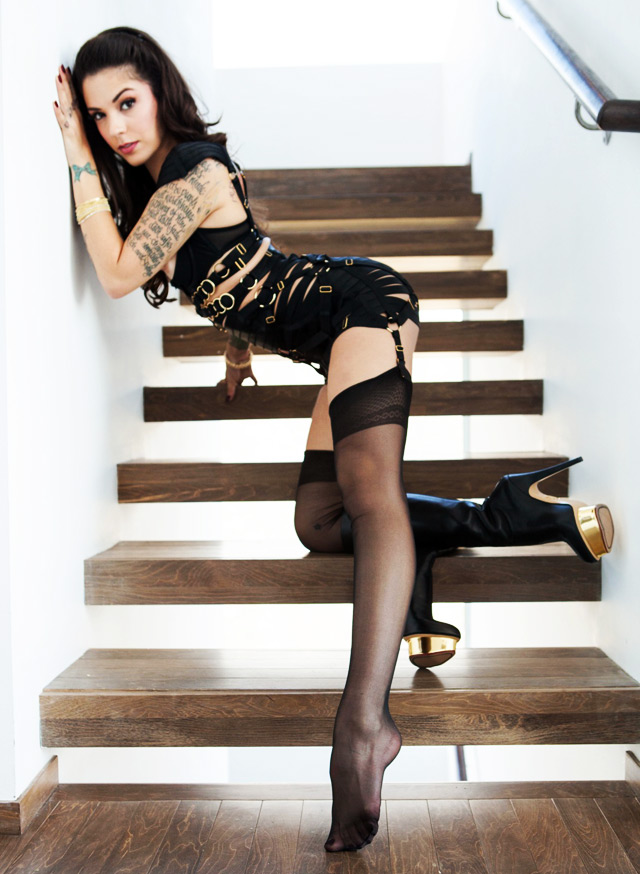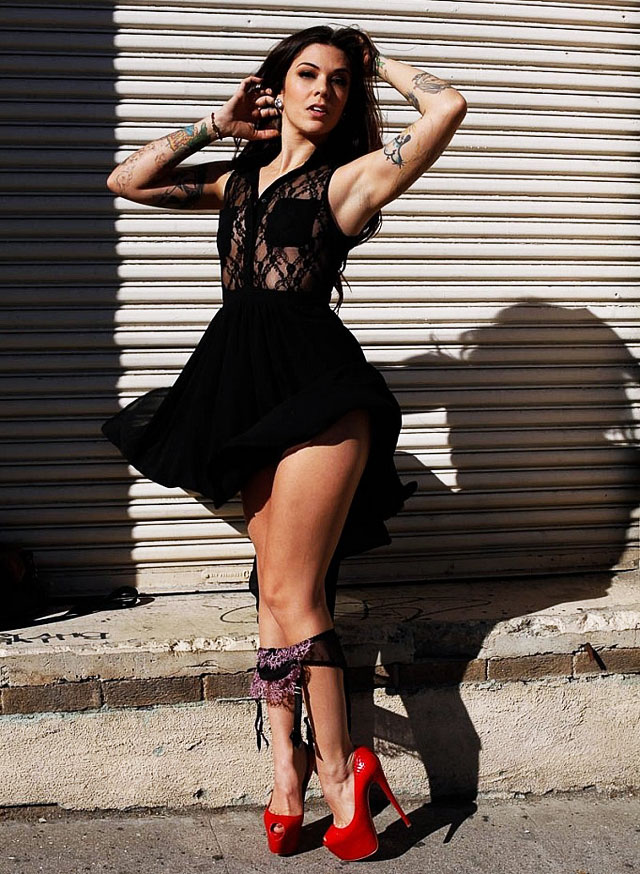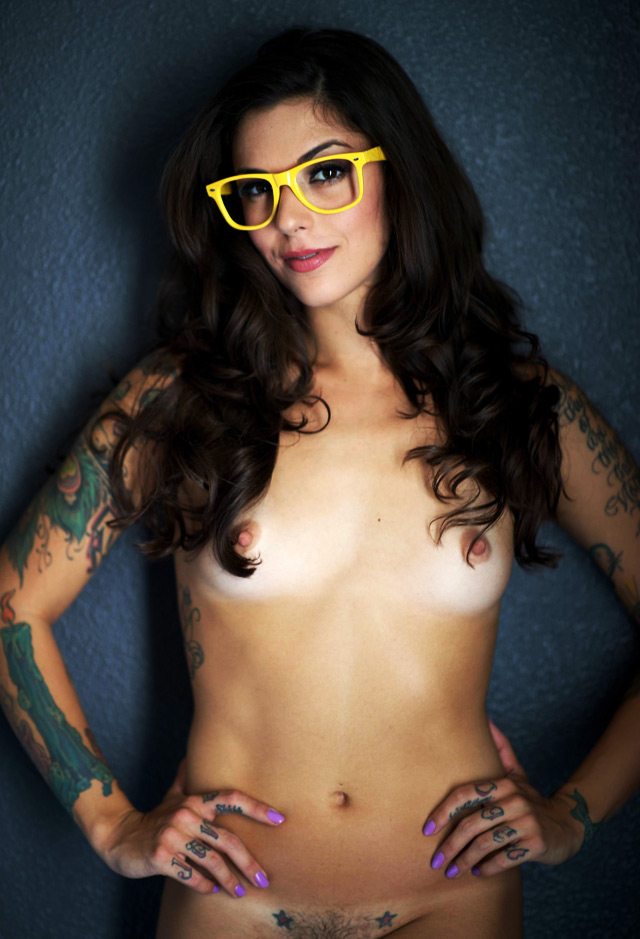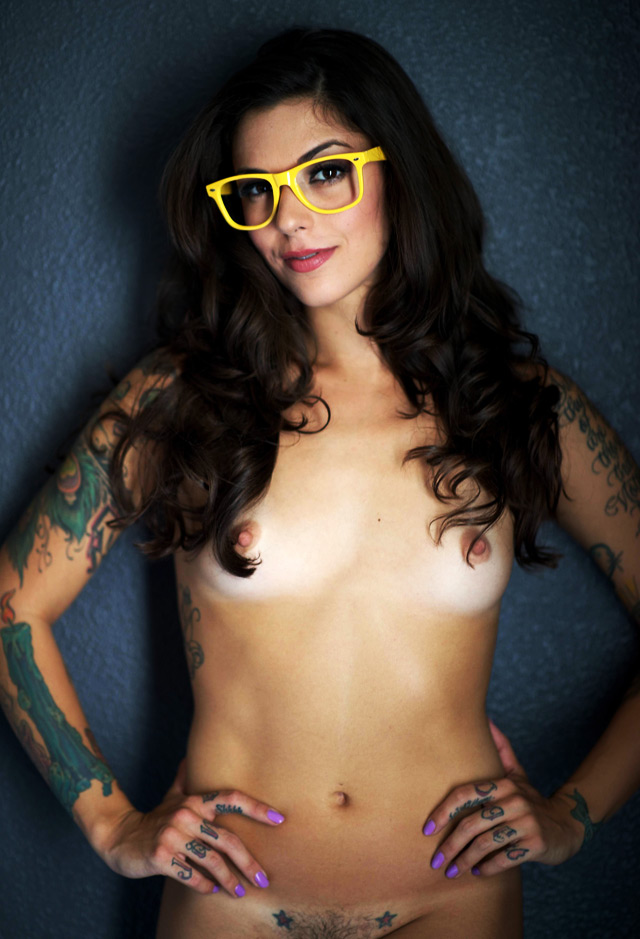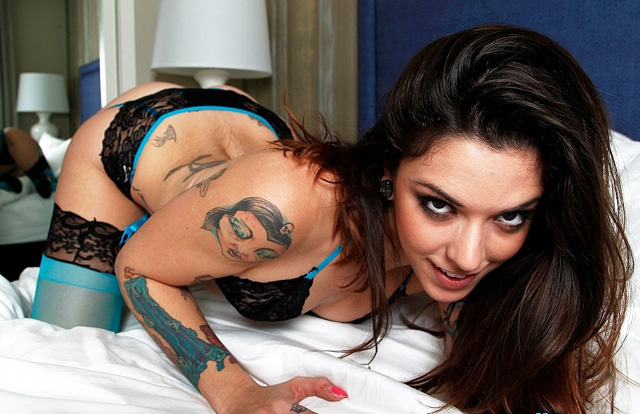 ENTER Kayla Jane Danger's Official Site & get up close and personal inside My Doll Parts!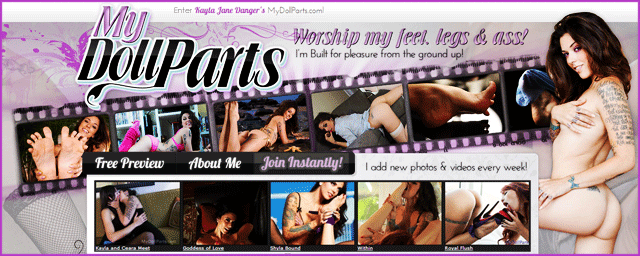 Continue reading in the Pornstar Interviews category or return to the cover of Porn Corporation.
More Interviews:  Natasha Starr – Karmen Karma – Cosplayer Leia Down – Mia Gold – Nora Noir


The new porn site Moms Bang Teens officially debuts with a special $1.00 trial to get you inside the member's area.  This hot new site has been in beta testing since the beginning of February when Reality Kings launched the first Mom/Teen duo of Jenna Ross and Veronica Avluv [Preview here in "New Porn Site Moms Bang Teens Beta" on Porn Corp] and now this site has made it to official status.  After a request for a teen and milf threesome niche from multiple persistant RK members they found that this new site had the members captivated, dripping cum & begging for more!  Moms Bang Teens is celebrating with a special 2 day trial for only $1.00!  Get yours instantly & watch all these insatiable cougars teach innocent teens how to please a man with real live sex sessions and threesome scenes.  Inside you will find stepmoms & daughters, teachers and students, neighbors, piano teachers and teens, real sex instruction lessons from hot milfs to fresh little teenies!  Watch the free videos below or get your $1 membership to Moms Bang Teens!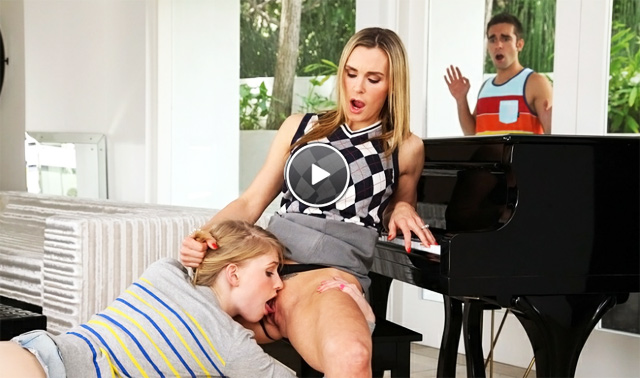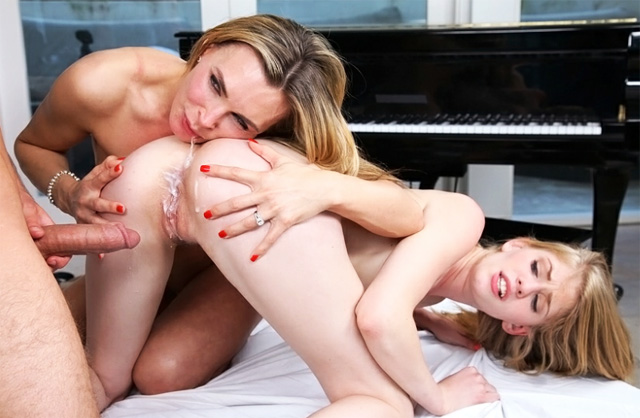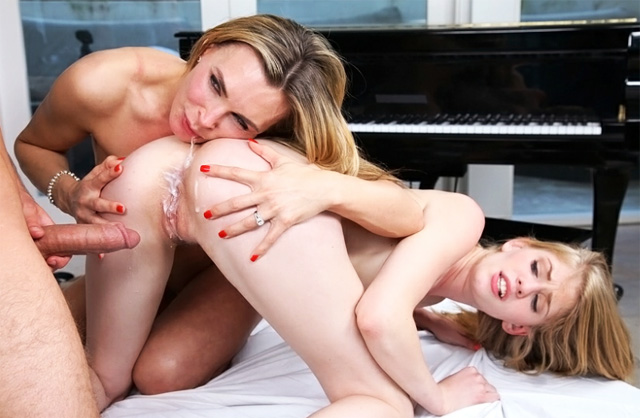 Allie James learns get a lesson is more than just finger work from her piano teacher Tanya Tate, when Allie's boyfriend Logan caught them in the act & blackmailed them to join in!  PLAY VIDEO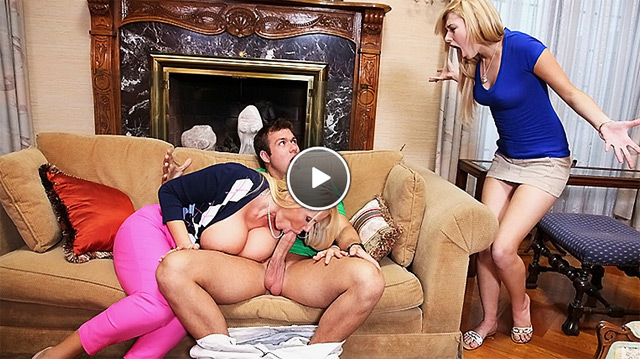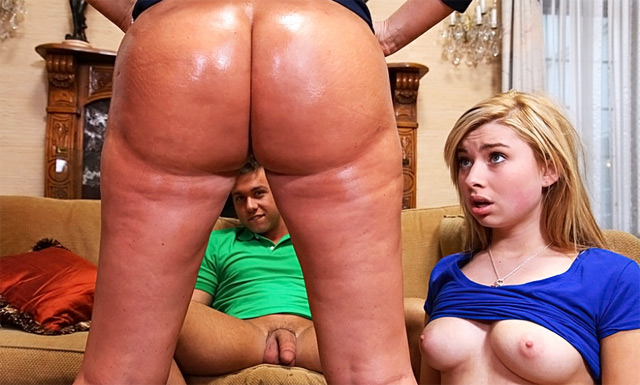 Molly Bennett catches her cheating boyfriend with MILF Karen Fisher and gets in trouble with this horny cougar and is forced to shut her mouth and join in… or else!  PLAY VIDEO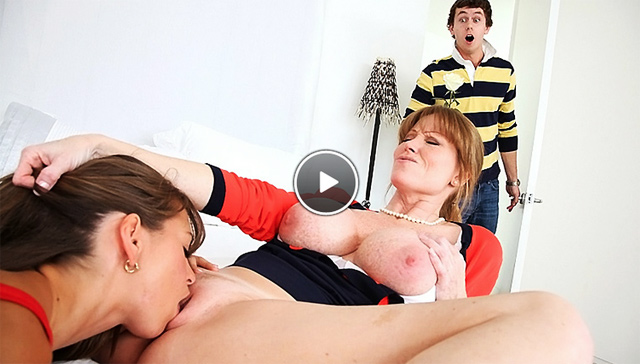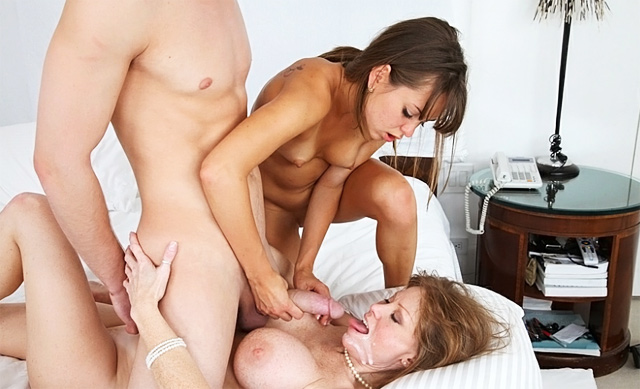 Riley Reid and her stepmom Darla Crane had been fooling around when "Daddy" isn't home for a while now!  When Riley's boyfriend catches them it turns wild!  PLAY VIDEO – Special $1.00 Pass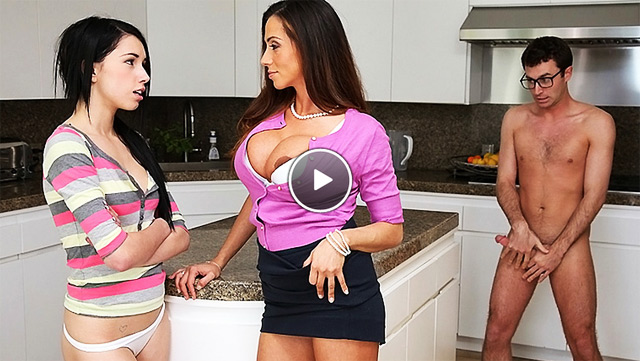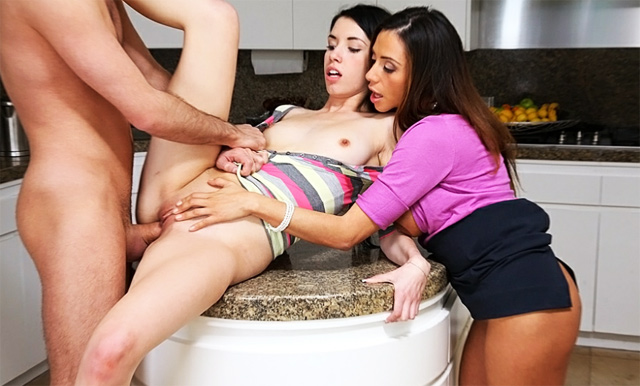 Callie Cyprus was fucking her boyfriend but not satisfying his needs, he went downstairs to get some water & got busted with a hard dick from her stepmom who was suppose to be away for the weekend!  Ariella Ferrera gives them both a sex lesson of a lifetime!  PLAY VIDEO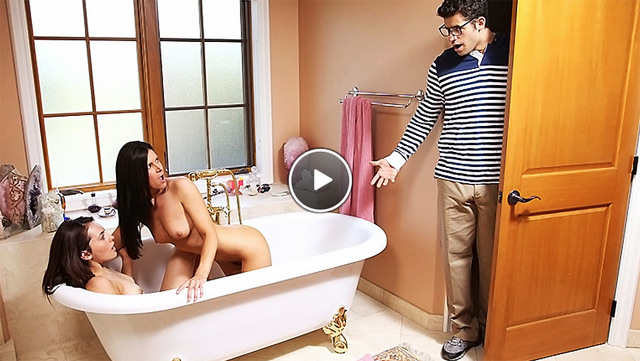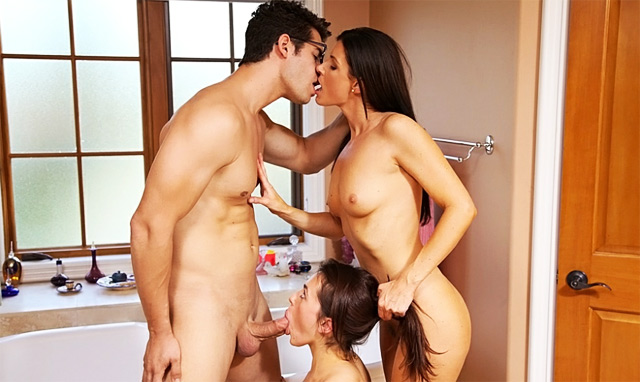 Melanie Raine's boyfriend is mad about her hanging out with her stepmom India Summer all week and storms in to find out that they have been naughty girls!  PLAY VIDEO – $1 Membership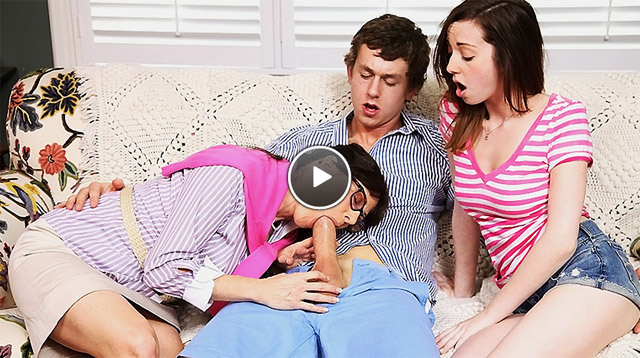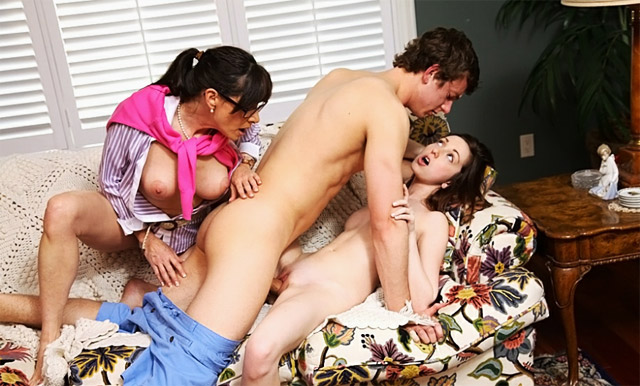 Daughter Victoria Volt gets busted with her new boy during lunch break having sex instead of being at school!  Mom Alexandra Silk catches them & bribes them to join.  PLAY VIDEO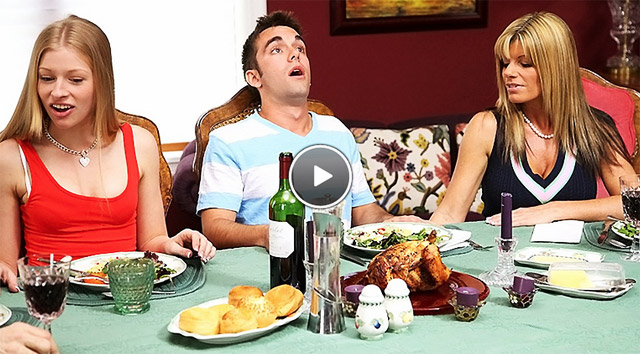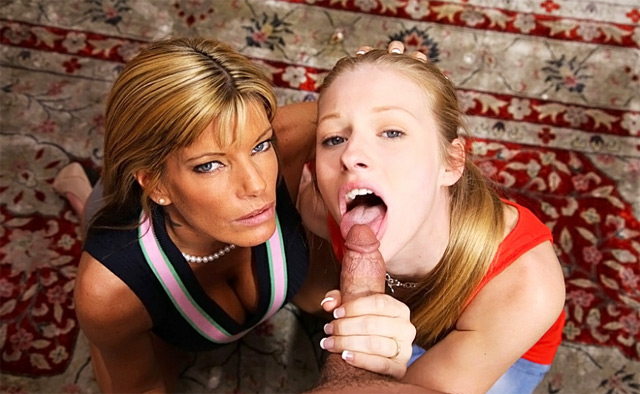 Avril Hall brings her bf home to meet her dad & stepmom and while she is trying to convince daddy to buy her a car, stepmom Kristal Summers is making her boyfriend hard under the table.  As soon as the father leaves for golf, Kristal challenges Avril to see who is a better cock sucker!  PLAY VIDEO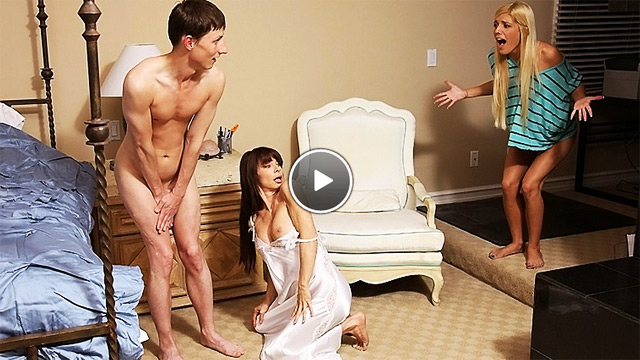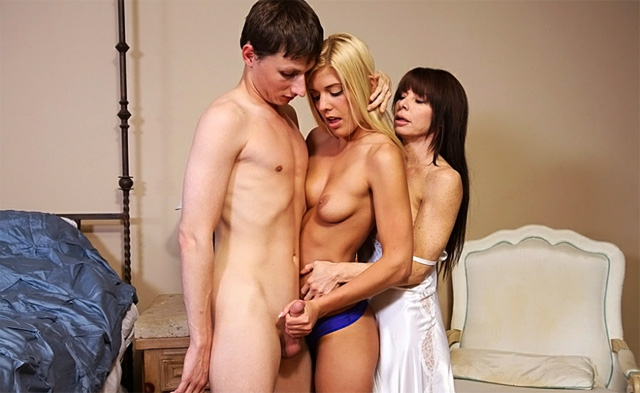 Jenna Moore is a horny stepmom with a taste for fresher meat, when Carmen Monet brings her boyfriend for the weekend she catches Jenna fondling her boy toy!  PLAY VIDEO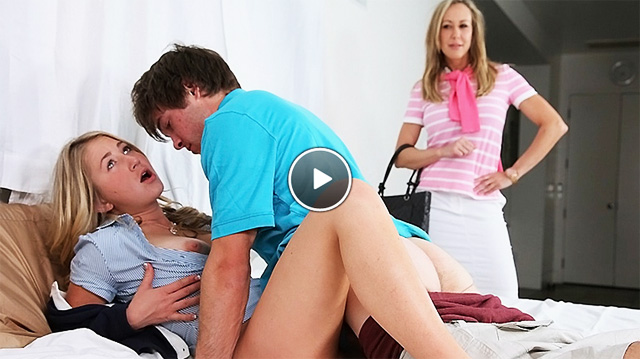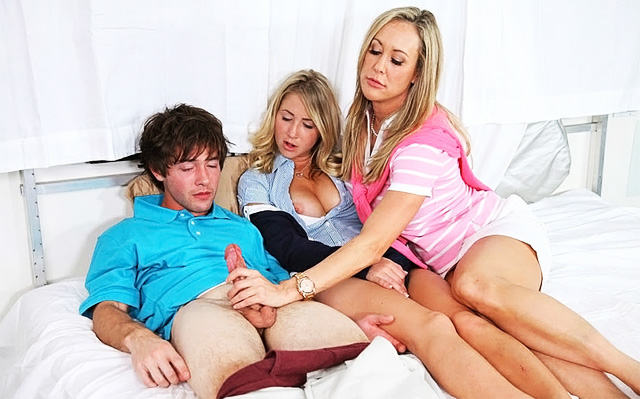 Cassie James is staying with her mom's friend and gets caught fucking her boyfriend, so Brandi Love decides to really help them out with a sex instruction lesson! PLAY VIDEO – 2 Day Access for $1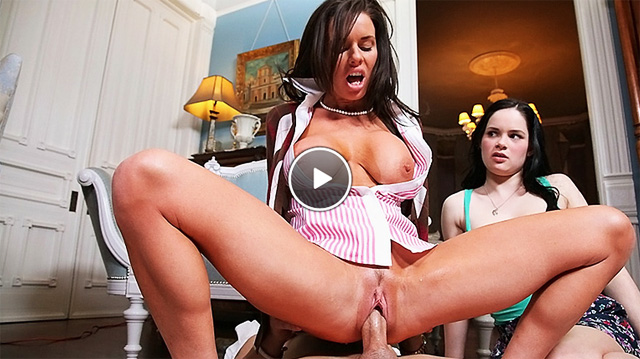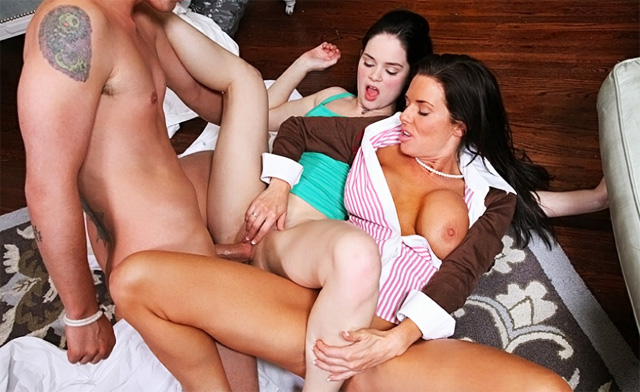 MILF Veronica Avluv gives her students Jenna Ross & Jesse Jones a sex lesson and helping hand for their first hook up!  Things get crazy as the carpet gets squirted on!  PLAY VIDEO

Join this CRAZY Milfs teaching teens hardcore threesome sex site & get your hands on the best new porn available.  Don't miss out & take advantage of this very special $1.00 2 day full membership trial!  Say hello to your new favorite porn site MOMS BANG TEENS. Join Reality Kings for $1.00 and get full access to Moms Bang Teens plus another 35 premium exclusive RK porn sites for $1 & join the king in top quality adult entertainment!
Return to the cover of Porn Corporation magazine or browse our Mother Daughter Sex category.
More Free Moms Bang Teens Hardcore Cumshot Photos in the Debut Article:

New porn site Moms Bang Teens from Reality Kings in is beta testing and is strictly available to our surfers and can be found inside the member's area of the RK Network.  Members had been requesting a milf/teen site and the first update has been released featuring MILF Veronica Avluv and teen tart Jenna Ross.  The continuance of this new porn site is based on what you think.  If the site is a hit, RK will keep filming!  Comments are rolling in and this new porn site seems to be more popular than CFNM Secret which the new updates became into fruition by overwhelming member requests.  Reality Kings bases their scenes and new porn sites on what their member's want.  You can even request in the comments who you want to see next on Moms Bang Teens.  Choose your women, your fantasies and your top porn network.  Not only did Reality Kings start a new site, but they got a new male pornstar Jessy Jones for their stud cock for this update.  Refreshing new site, new theme & new a cock that can fuck like a champ!  Jessy Jones is taking the adult industry by storm, see him first on the new porn site Moms Bang Teens inside the member's area of Reality Kings.  Get your $1 membership special here now!  Scene Synopsis Below.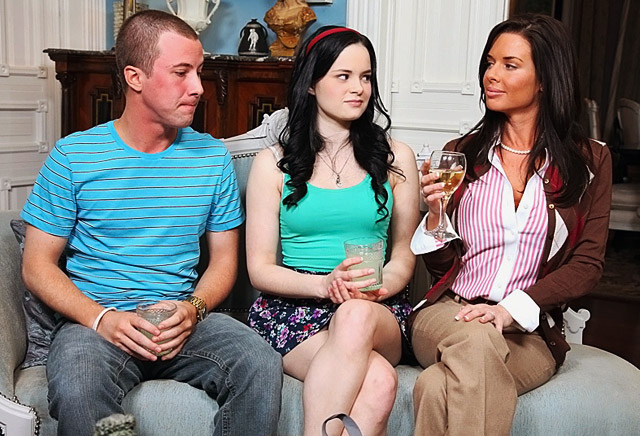 Moms Bang Teens Scene Synposis: [Starring Jenna Ross, Veronica Avluv & Jessy Jones]
Jenna Ross recieved a letter from her teacher asking her to come to her house regarding her academics.  Jenna thinks she in big trouble but when she walks up to Ms. Avluv's  house she runs into Jessy, another student who Jenna happens to have a big crush on.  They wonder why they were both summoned to meet their teacher at her home instead of at school.  Ms. Avluv greets them and offers them lemonade to sip on as they converse together.  Jenna starts getting freaked out when Ms. Avluv starts asking questions about their private life, sexual questions.  Ms. Avluv told Jenna that she is a friend and wants to be there for her as "a more experienced woman" to help her in any way possible.  Ms. Avluv goes to the bathroom and Jenna asked Jessy what the hell is going on.  Jessy says he thinks it is weird how touchy feely the teacher was being but that they better play along out of fear of receiving a failing grade.  Jessy decides he is leaving and goes to say goodbye to Ms. Avluv and that is when this horny teacher cougar pounces on her young male prey, Jessy Jones.  Then his teacher reaches into his pants and whips out his dick giving it a couple of quick licks!  That is when they make Jenna get involved.  Ms. Avluv already knew Jenna already had a huge crush on Jessy and she decided to facilitate the whole thing!  Jenna learns how to please her crush Jessy while he enjoys her sweet, inexperienced, virginal pussy and he even learns a few tips from banging Ms. Avluv until she gushs all over the living room floor!  WATCH NOW INSIDE RK w/$1 PASSWORD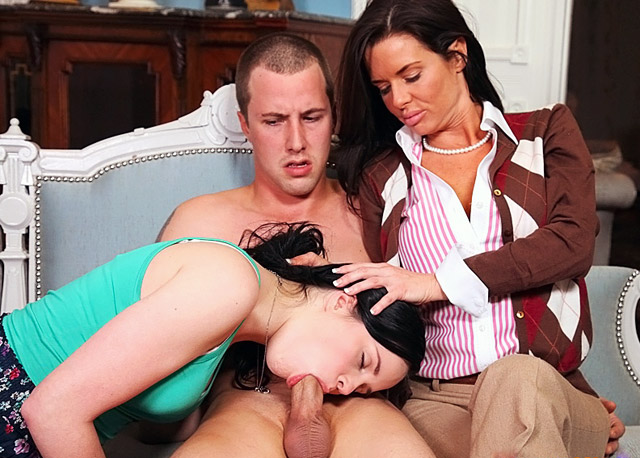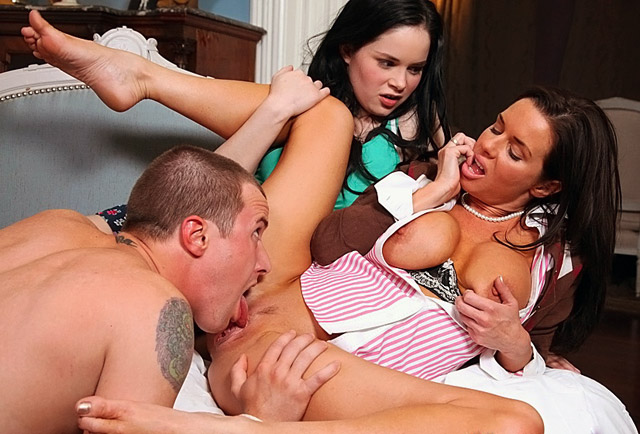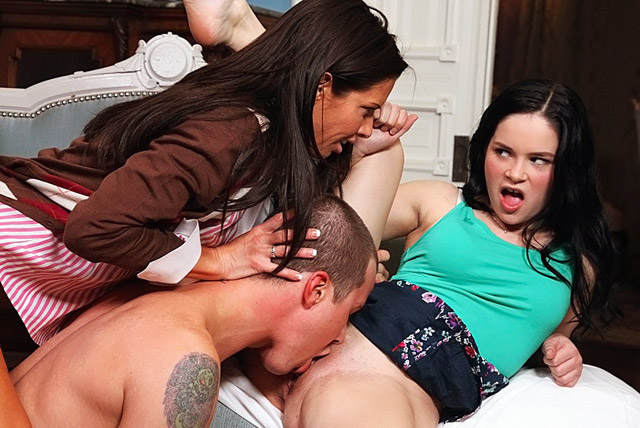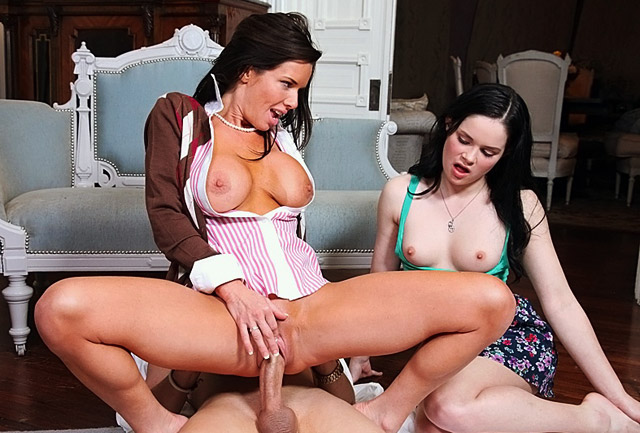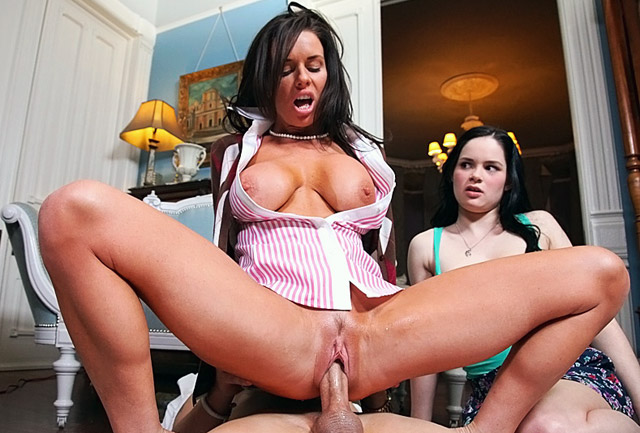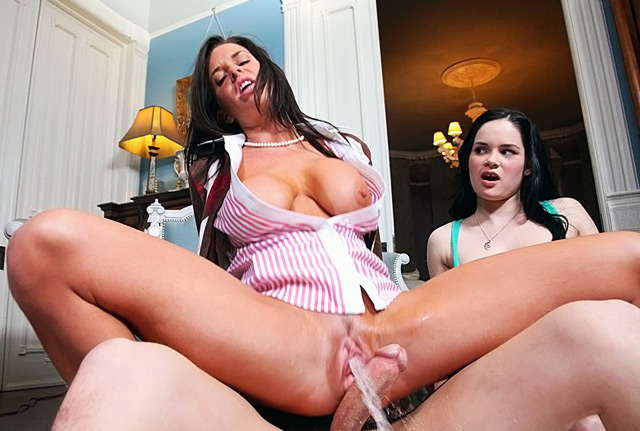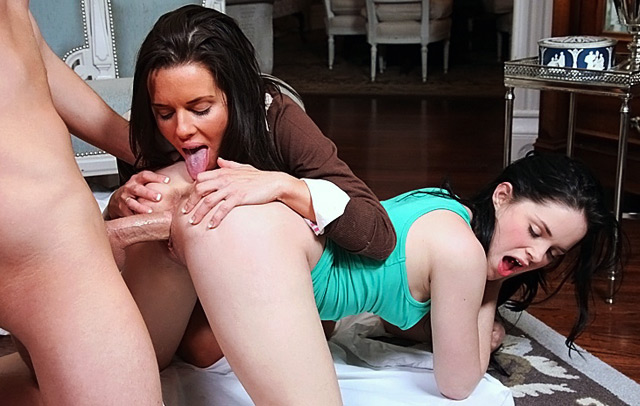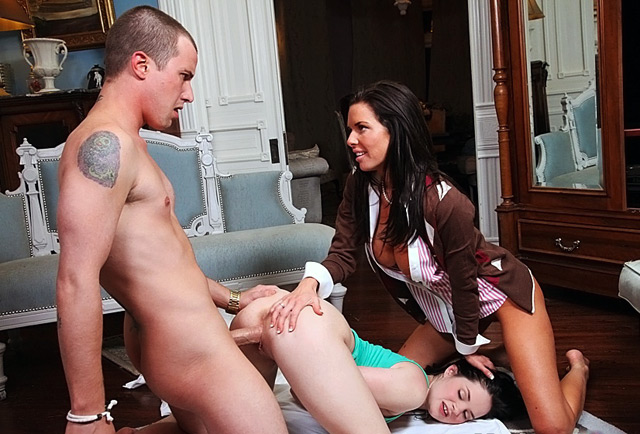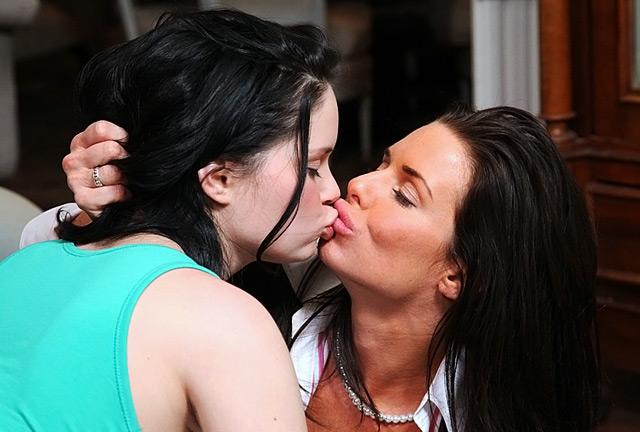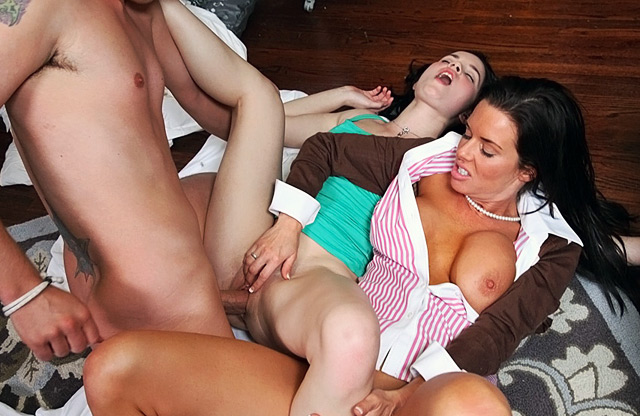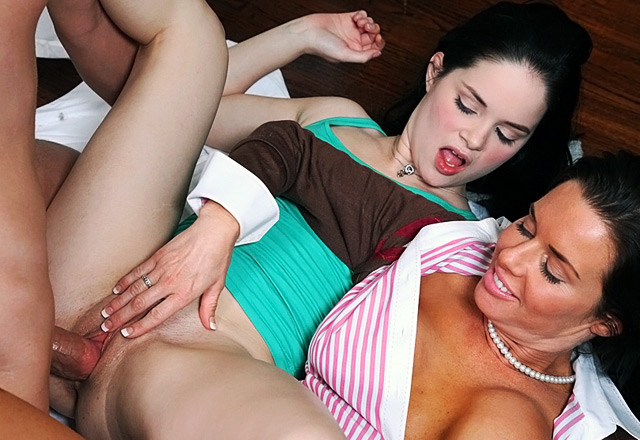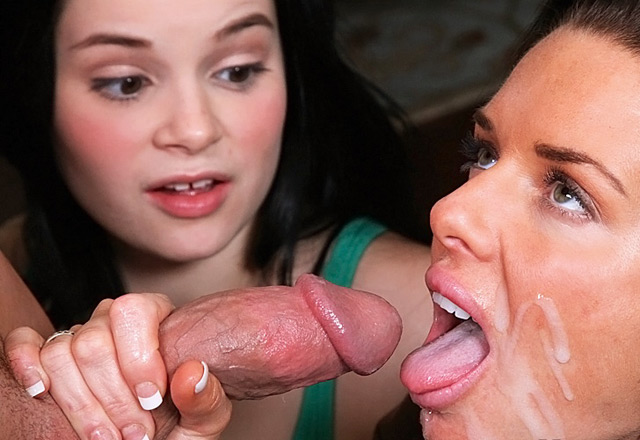 Here is a preview of what a few of the thousands of RK member's are saying, indicating that the new porn site Moms Bang Teens is going to take off like a wildfire: Join RK for $1 for this & new updates!
"This is awesome, can't wait for the next episode!"  ~ "Awesome! Thanks for listening. MORE MORE MORE!!!!!!!" ~ "keep this shit coming!!" ~ "Holy shit… you guys made like a real porno… With editing and stuff. It's not just people fucking on camera… Well done!" ~ "Awesome new site, keep more of this going, AAAA" ~ "Likey Likey" ~ "finally!!!!!!! ive been waiting on this site for a while!! thank you rk!!!!!!"  ~ " awesome, please update weekly, can u do a white guy banging a black mom & teen? that would be so hot" ~ "DID U GUYS SEE THE PUSSY ON THAT CHIC… wow i loved it…" ~ "great stuff – no stupid mansions in the Hollywood hills, good roll playing and acting. love the long lead up" ~ "Do you see the pussy on that MF damn and she squirts" ~"Excellent new site. please mix it with anal and girls who wear leggings. loved it when Veronica gently rubbed Jenna's asshole.."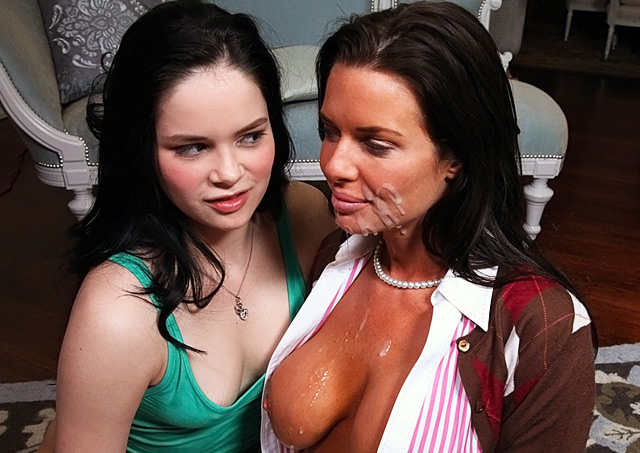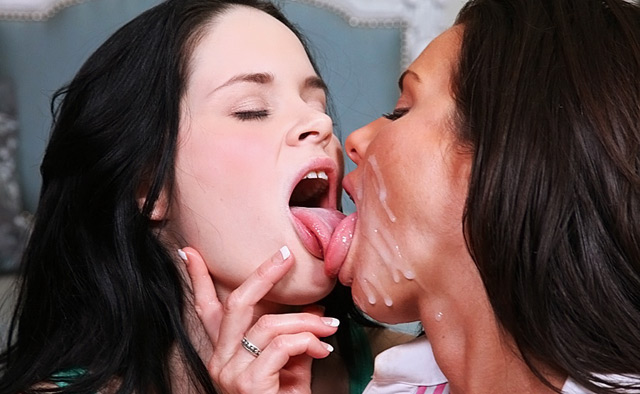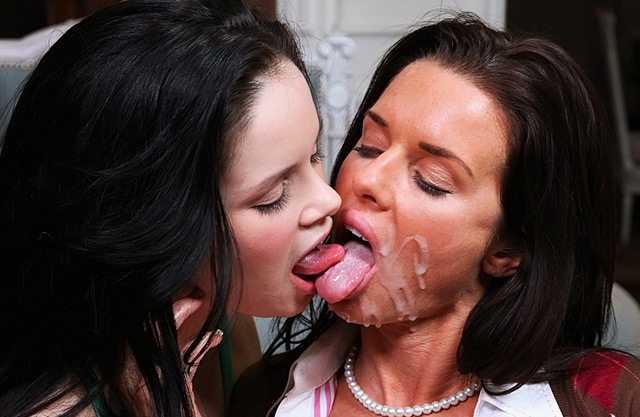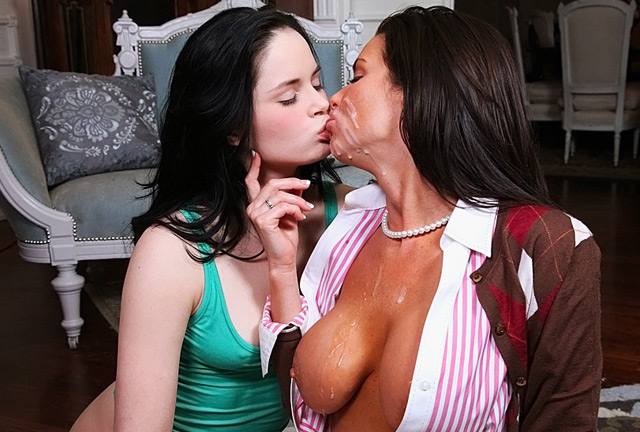 There is a reason why Reality Kings is the world's best voted porn site!  Tell them what you want, and they will deliver.  Who do you want to see next on Moms Bang Teens?  Get your special $1 pass from Porn Corporation for Moms Bang Teens for only $1.00 and the entire 36+ site network pass to all of Reality Kings including Monster Curves, CFNM Secret, In The VIP, Pure 18 & MILF Hunter plus another incredible 30+ sites!  Join Here Now to get this scene & the upcoming Moms Bang Teens scenes exclusively inside Reality Kings.  Available in all standard, HD & mobile formats!  ENTER

Join Reality Kings Now for $1 & get your exclusive pass to new porn site Moms Bang Teens.

Return to the front page of Porn Corporation for more New Porn Sites, New Pornstars & Free Porn.
Read more Mother-Daughter / MILF-Teen Articles in our Mother Daughter Sex Category.
Veronica Avluv on Porn Corp: "I'll Pay You To Fuck Me As My Mother In Law"