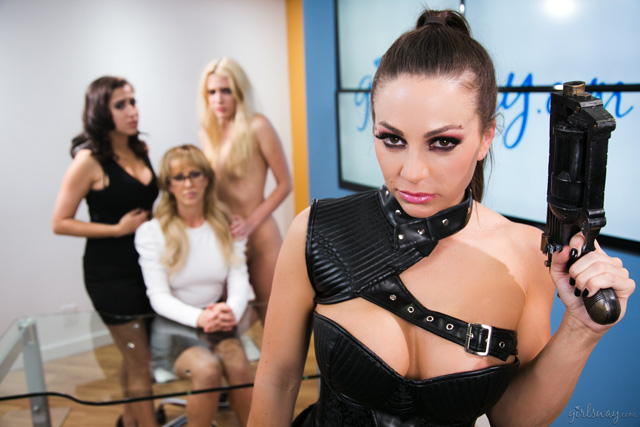 In the finale of Wastelands April The Doc O'Neil awakens out side after being knocked out by Commander Mac [Abigail Mac] with a mysterious cyber guide "The Programmer" giving her instructions on how to infiltrate the city of Pandora and the Girlsway Corporation inside to rescue her android lover VX-13 [Kenna James]. Carefully following the programmers instructions April finds her way through the rich being pleasured by sexbots and narrowly escapes capture and certain death. Meanwhile Commander Mac is taunting VX-13 through her cell doors as she is heavily guarded by android soldiers. Exposing her true hatred for synth-humans as she raves about the struggle for humanity, hunger, pain all the things androids do not have to worry about. VX-13 insists that she feels more and is not as simple as Commander Mac makes out synthetic human brains to be. The face-off comes down to April being reunited with her girlfriend VX-13 with the help of The Programmer who exposes herself to the lovers as Cherie DeVille and Commander Mac. There she reveals pertinent breaking science on the way androids are progressing and the effect that has between a human and robot relationship! Things are heated as their primal desires kick in and the four women have a wild lesbian orgy where the lines between human desire and android fembot commands are so blurred it's hard to tell what is real anymore… but one thing is for sure. As the orgasmic high fades and the dark reality set in, if these girls want to live & love another day, they will first have to escape and make it out of the Girlsway Corporation Fantasy Factory and the city of Pandora to the Wastelands. Watch episode 4 in Wastelands: The Escape and get your pass for only $2.95 to watch the entire full series of this futuristic cyberpunk sci-fi lesbian tale of darkness, deception, love and hope!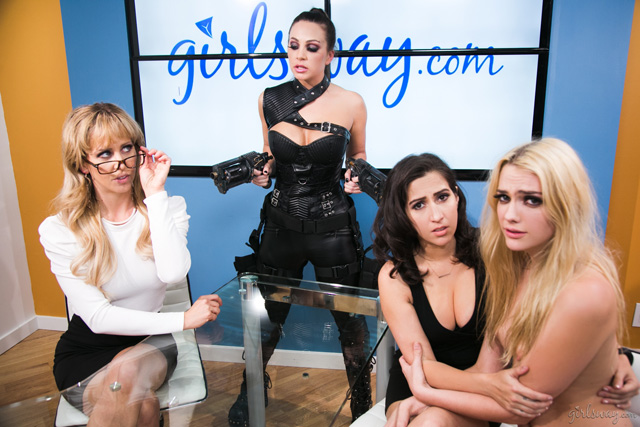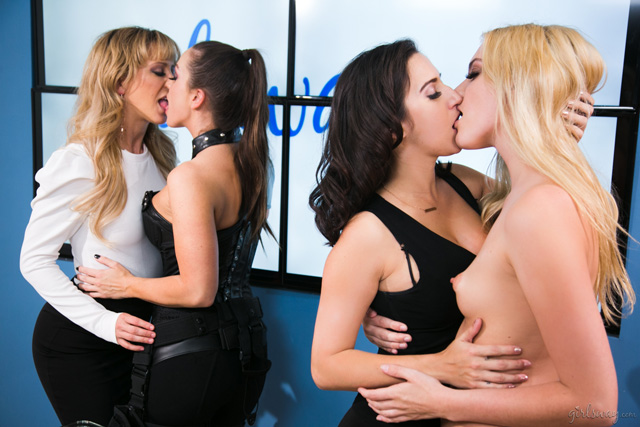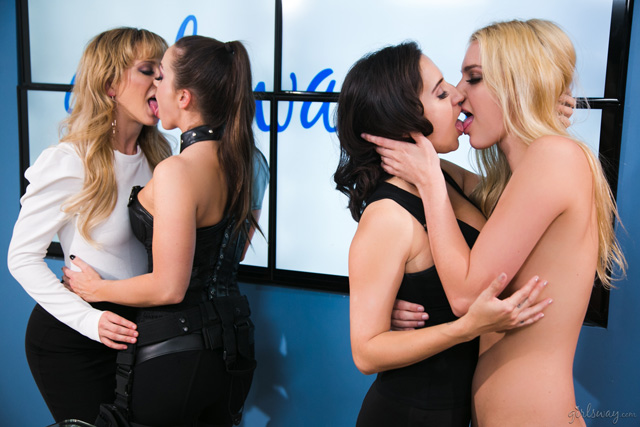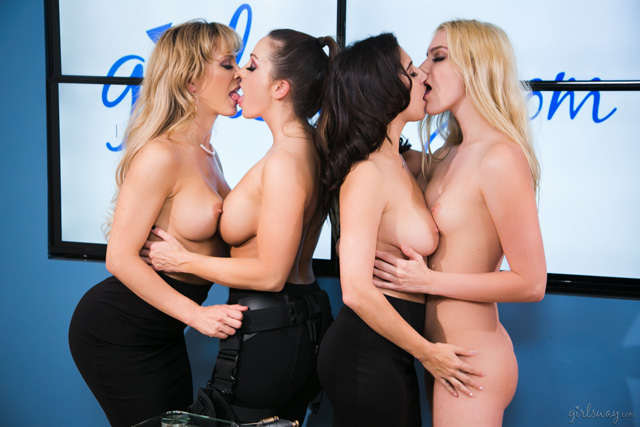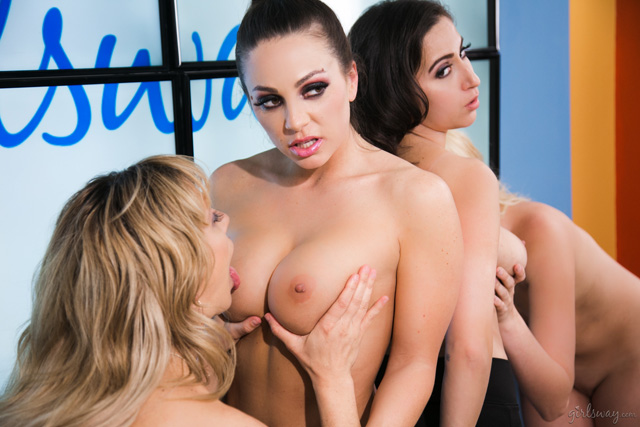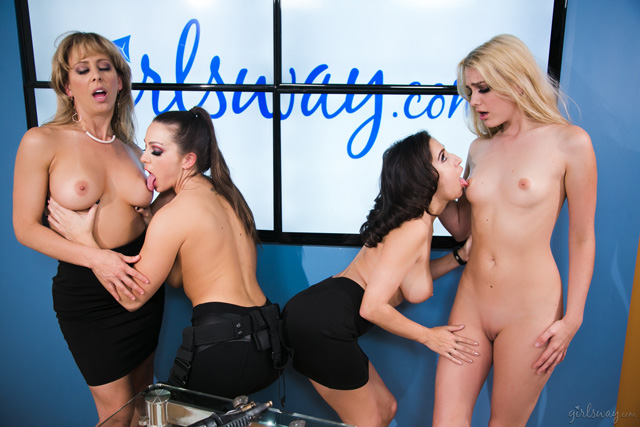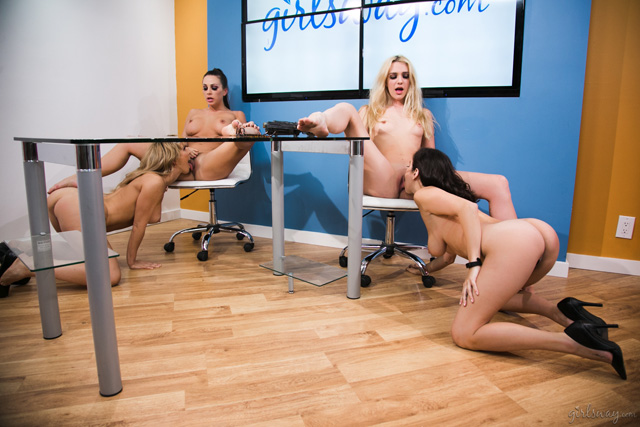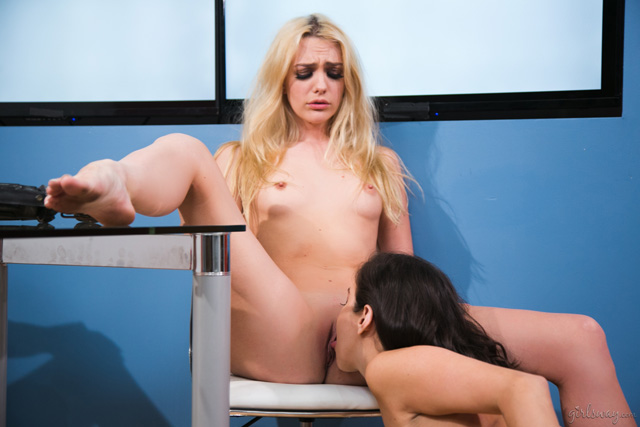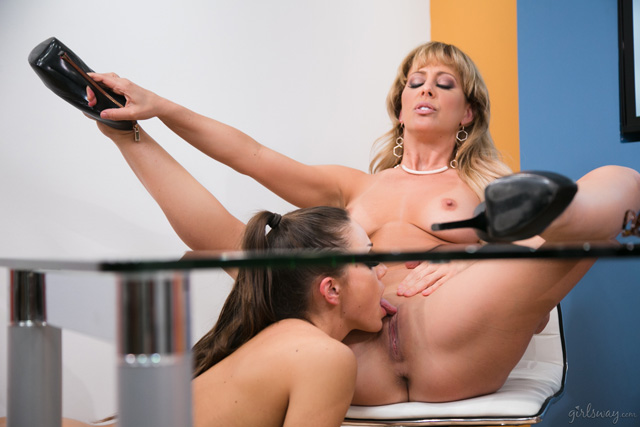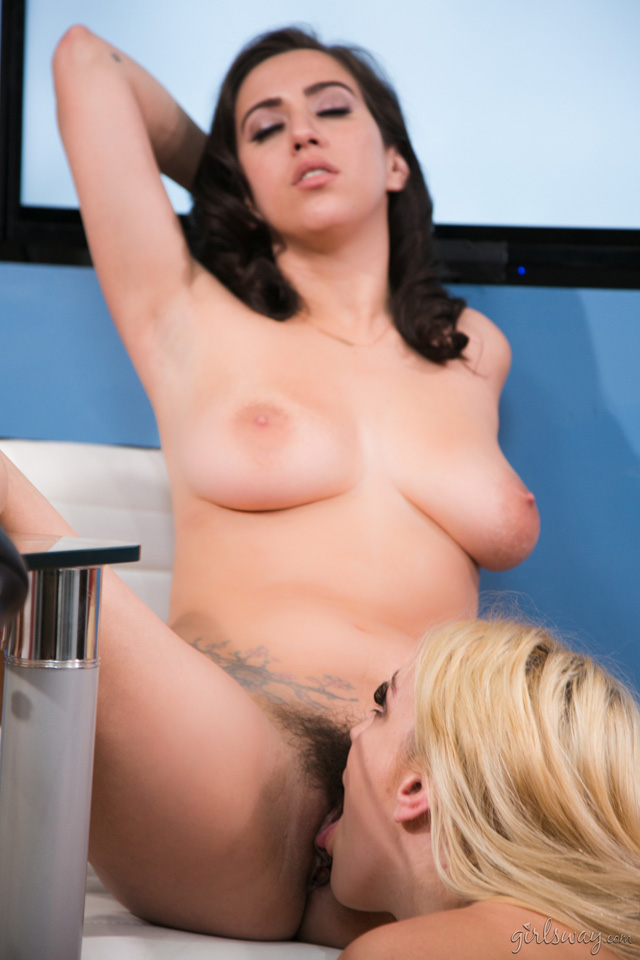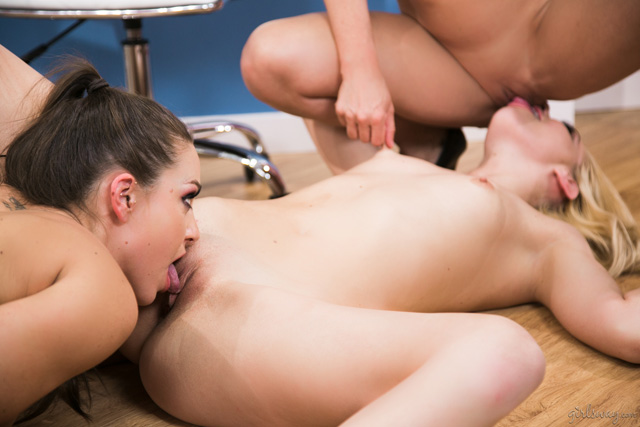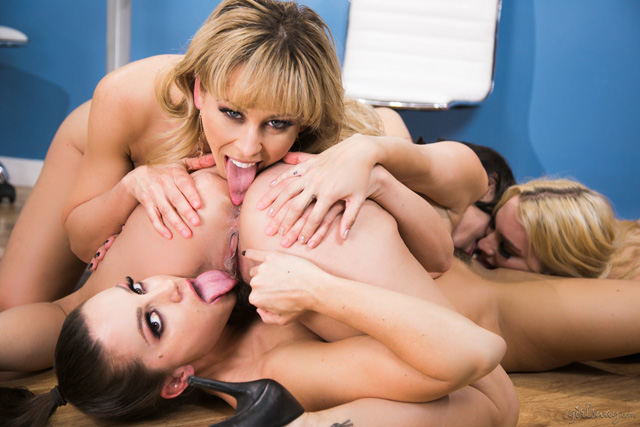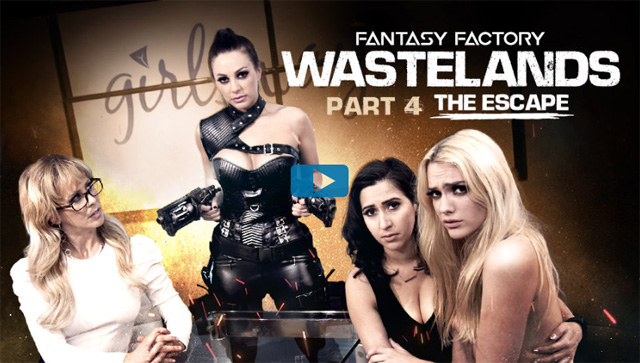 Watch the full Wastelands series from the Fantasy Factory masterminds, Bree Mills & shot by StillsByAlan inside the member's area of Girlsway for only $2.95 right now starring Cherie DeVille, Abigail Mac, Kenna James & April O'Neil.  Has AI developed this in android babe and did scientist programmer DeVille make a new discovery that will change the world?  Will they escape the Girlsway Corporation to live another day and fuck another girl?  Find out now in the epic finale of Wastelands.  The hottest new cyberpunk science-fiction porn drama to hit the web!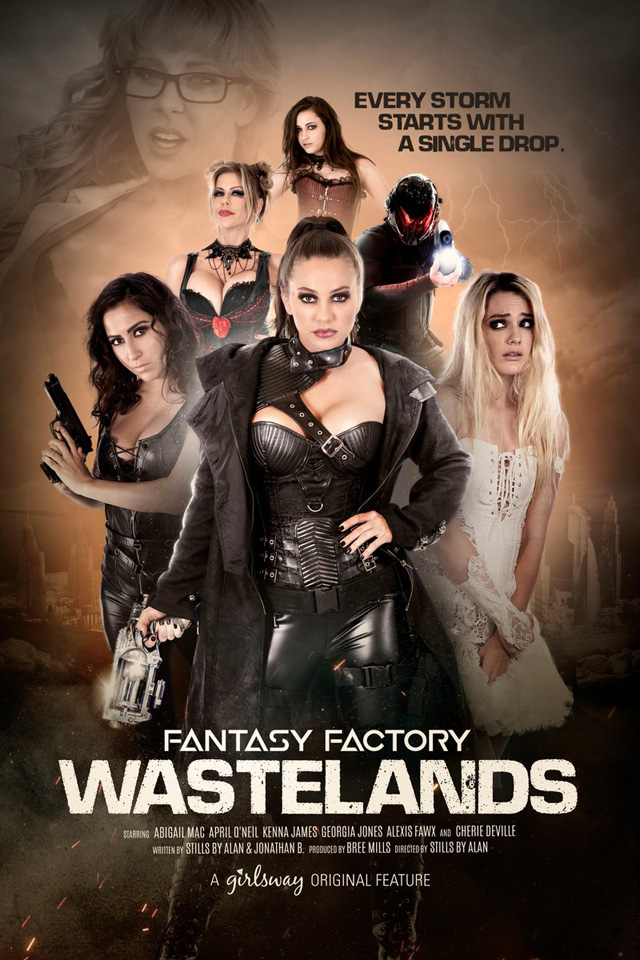 See more in the new Cyberpunk or Sex Robots categories or return to the cover of Porn Corporation.
More Girlsway or Wastelands.  Previous: Wastelands: VX-13 Captures For Android Sex Slave
Synth-Human Rescued By Hot Lesbian Doc – Wastelands: Cyberpunk Sci-Fi Lesbian Feature Film
More of Kenna James or April O'Neil or Abigail Mac or Cherie DeVille or visit the Lesbian category.
Another lesbian mini-series currently premiering: Talk Derby To Me: Lesbian Roller Derby Porn
Top Series Premiering NOW:  Brazzers House 3: 10 Pornstar Contestants FREE Reality TV Series
Tags:
Abigail Mac
,
all natural
,
Alt.Sex.Fetish.Robots
,
April O'Neil
,
ASFR
,
ass eating
,
ass licking
,
babe
,
babes
,
big boobs
,
Big Tits
,
bizarre
,
blonde
,
boobs
,
booty
,
Bree Mills
,
brunette
,
busty
,
Cherie DeVille
,
crazy
,
cybersex
,
doctor
,
face sitting
,
facesitting
,
fantasy
,
Fantasy Factory
,
fembot
,
fetish
,
Fetish FuckDolls
,
fetish porn
,
fetish sex
,
fingering
,
foursome
,
full length feature film
,
fun
,
Girlsway
,
glasses
,
gun
,
hairy
,
hairy girls
,
hairy MILF
,
hairy muff
,
hairy pussy
,
hairy pussy porn
,
hairy woman
,
hairy women
,
hardcore
,
hardcore xxx fucking and sucking
,
high heels
,
horny
,
HOT
,
insane
,
Kenna James
,
leather
,
legs
,
lesbian
,
licking
,
mature
,
MILF
,
mobile
,
mobile porn
,
muff diving
,
natural
,
New
,
nipple
,
nipples
,
oral
,
orgy
,
Pink
,
Porn
,
Porn News
,
pornstar
,
Pornstars
,
premiere
,
punk
,
punk girls
,
Punk Porn
,
pussy
,
pvc
,
rimjob
,
rimming
,
robots
,
round ass
,
science experiment
,
scissoring
,
sexbots
,
sexy
,
small tits
,
special
,
steampunk
,
steampunk porn
,
Stills By Alan
,
stockings
,
tattoo
,
tattoo fetish
,
tattoo fetish porn
,
tattoo fetish sex
,
tattoo girls
,
tattoo models
,
tattoo porn
,
tattoo sex
,
tattooed slut
,
tight
,
tight ass
,
tight pants
,
tits
,
train
,
unusual
,
vinyl
,
Wastelands
,
wild
,
wild natural hottie
,
wild natural hotties
,
world premiere
,
XXX