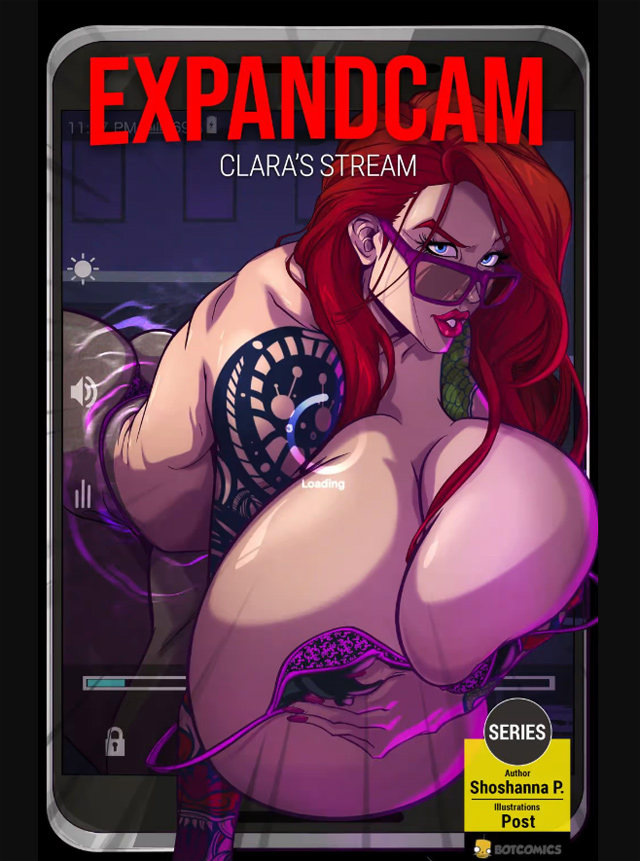 ExpandCam Clara's Stream is a hot and kinky growth enthusiast porn comic that stars redhead cam girl Clara.  This bimbo and breast expansion story is an ongoing [meaning new chapters to come!] 30 page XXX comic written by Shoshanna P. & Blue and illustrated by Post and Leonardo.  Here's the official review from the publisher to give you insight on this epic comic series, "ExpandCam is the newest sensation on the internet. This new webcam model service is breaking a lot more than sales records worldwide, offering the viewers the chance to enlarge their favorite models live through donations. Each new goal reached unlocks a new expansion which takes place immediately in front of the whole chat room. This series offers a plethora of expansions such as good ol' Breast Expansion, Ass Expansion, Vagina Expansion, Lip Expansion, Bimbofication, and much more. Follow the story of Clara, an uprising webcam model that's about to crush the internet. Soon she'll find herself buried under donations and her own boobs, but will she reach her final goal? Only one way to find out!"  Continue reading this comic ExpandCam: Clara's Stream now or view all of the Bot Comics!

Continue reading this hot comic ExpandCam Clara's Stream now and see how big Clara goes and if she meets her goal!  Read all 30 pages in this series now & look forward to the upcoming chapter in this ongoing growth enthusiast xxx comic series starring horny redhead cam girl Clara.  Read all the hot new comics for adults on Bot Comics with all the hottest storylines including growth enthusiasm, breast expansion, giantess fetish, vore, futanari, furry, bimbo & more!  Bot Comics is a self publishing platform for creators so when you join as a member to access the full library of 500+ comic series or buy a single comic à la carte you are supporting the artists who created these comics & encouraging them to create more awesome porn comics!  Become a part of the community & be sure to join & comment if you like a particular artist or series and cast your vote for the next comic!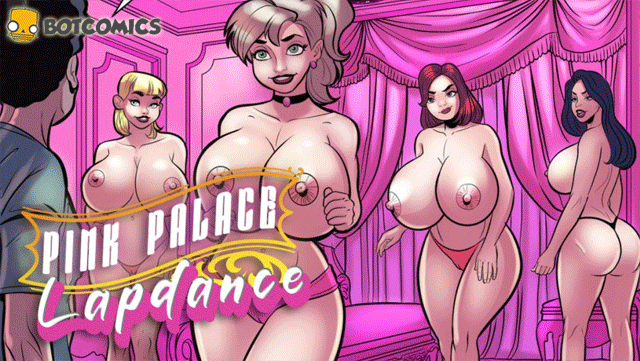 More in Adult Comics or Hentai or Cam Girls categories or return to the cover of Porn Corporation.
Growth Comics:  Zero To Z Cup – Kaley Miles – Remote Out Of Control – Giantess Loose In The City
Read all the articles starring Bot Comics or see our hot Adult Games or 3D Porn Games categories.
#1 Free Game: RPG Hentai Porn Game: Kamihime Project R  ~ HOT: Agent Red Girl Futanari Porn
Tags:
All Redheads
,
Anime
,
art
,
Artcore
,
big boobs
,
Big Boobs Are Cool
,
Big Tits
,
Bimbo Story Club
,
bizarre
,
Blue
,
booty
,
Bot Comics
,
bra
,
Breast Expansion Story Club
,
bubble
,
bubble butt
,
bubblebutt
,
busty
,
cam
,
cam girls
,
Camgirls
,
cams
,
Clara's Stream
,
close up
,
close ups
,
comics
,
crazy
,
ExpandCam
,
fetish
,
fetish porn
,
filthy
,
fun
,
glasses
,
growth comics
,
Growth Enthusiast Porn
,
Hentai
,
high heels
,
HOT
,
insane
,
legs
,
Leonardo
,
lingerie
,
Lovense Lush
,
New
,
nude webcams
,
panties
,
Pink
,
Porn
,
Post
,
pussy
,
redhead
,
redheads
,
round ass
,
sex webcams
,
Shoshanna P.
,
unusual
,
webcam
,
webcams
,
wild
,
XXX