Attack on Moe H is a free to play online anime sex game with Giantess titan like girls who are invading the cities! You are a little pink haired dude who wields a sword and fights to protect the innocent and tames the giantess hotties into submission for your own personal harem! In this game high definition Anime girls are attacking the Pixel world… With a portal to the 5th dimension remaining open Moetan [the giant girl] is attacking the defenseless Pixel Kingdom. That's where you come in! You slip through the 5th dimension to bring pixel power to the 3D hentai world & blast Moetan and her sexy giantess friends into sex loving friends. This cute anime game features fairies, magic & animated sex with the combined fetish of giantess sluts! Immerse yourself in the world of the best adventure clicker game on the internet for free. It's easy and fun to play and has over 2000+ stages & endless hours of game play! Tap/click to defeat the Moetan bosses & their strange but cute acolytes and capture & befriend them for wild sexual connections! Create your own artifacts and power up your skills in this free to play fun hentai porn game in Attack On Moe H. This is a casual clicker and a browser based game that you can play on Android or desktop. Ready to get started and start defeating giantess babes to collect for your harem? Play Attack On Moe H Beta Online For Free Here Now & have fun fearless warrior!  Are you ready for the journey that awaits?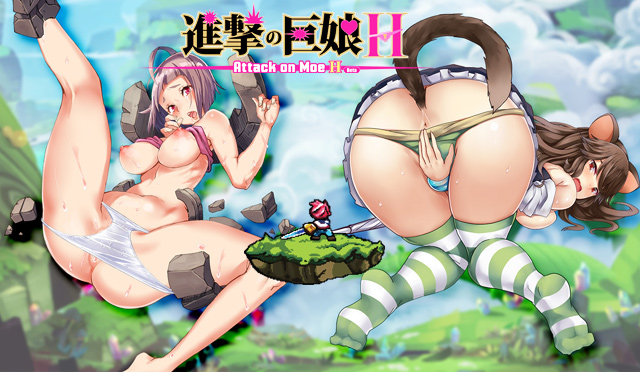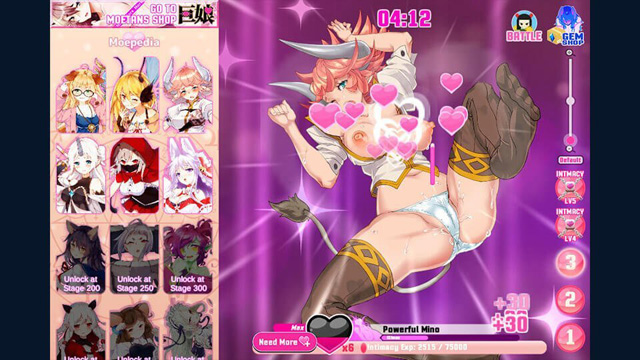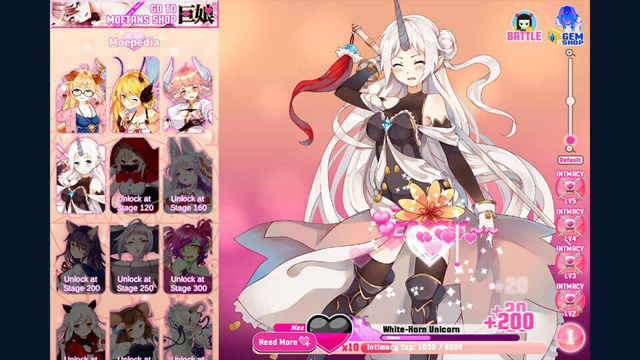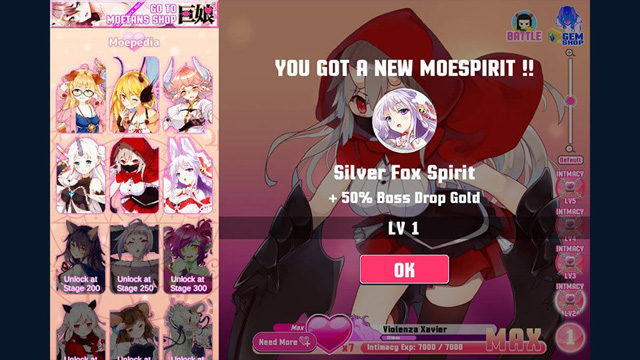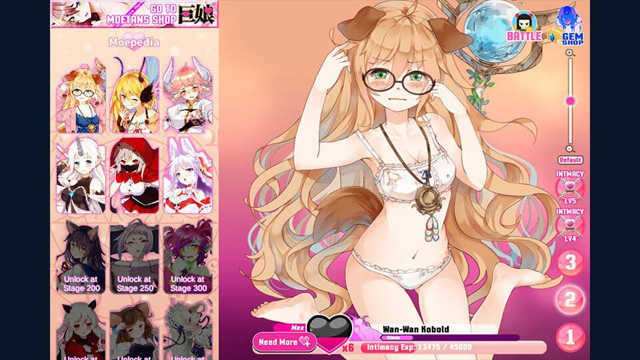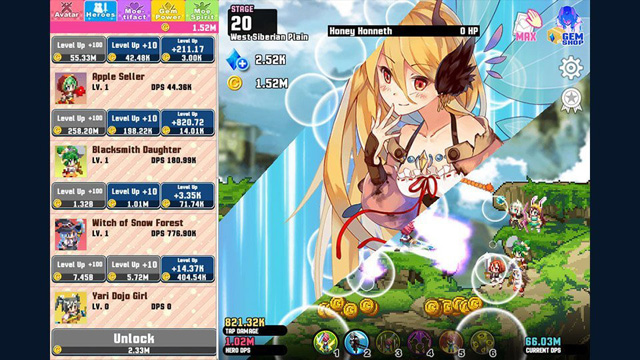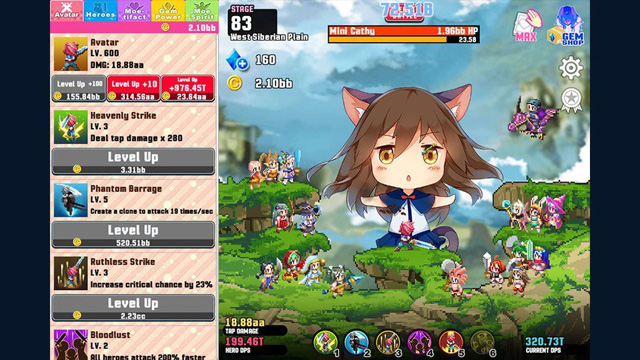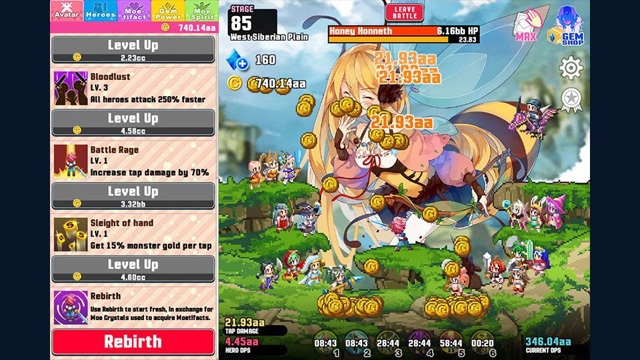 Ready to play Attack On Moe H for free now? This is an online browser based casual clicker anime game with over 2000 stages & hours and hours of game play. Defeat & tame HD hentai giantess hotties for your own personal sex harem and save the Pixel Kingdom from these high defintion anime babes! Only you can stop them from attacking and befriend them for wild sexual encounters! Are you ready warrior? Start Playing the Attack On Moe H Beta Now!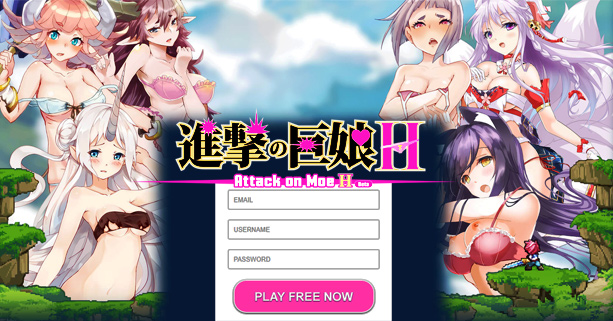 More? See Kamihime Project R from the banners below or more free games from Nutaku.
More in Adult Games or 3D Porn Games categories or return to the cover of Porn Corporation.
More from Nutaku.  Previous feature:  New Adult Strategy Game: Cosmic Shock League
Top Featured Anime Porn Games:  Free RPG Hentai Porn Game: Kamihime Project R
Pussy Saga – Anime Game Where You Fuck Hot Girls! – Meet the Horny Sluts of Pussy Saga

Check it: 6K VR – 4K – Parody – New Sites – Interviews – Comics – Giantess – Gloryhole
Noteworthy new porn site launch:  True Amateurs: New Real Couples & GF Porn Site
Peep this new article & sexy pictorial:  Marica Hase Exclusive Interview For Porn Corporation
Tags:
100% Free Membership
,
3D Porn Video Game
,
3D Sex Game
,
Android
,
Animalizm
,
animals
,
Anime
,
Attack On Moe H
,
babe
,
babes
,
Best Hentai Games
,
beta
,
big boobs
,
Big Boobs Are Cool
,
Big Tits
,
bizarre
,
Blackberry
,
boobs
,
busty
,
cartoons
,
casual clicker
,
cute
,
fetish
,
flash game
,
Free
,
Free Download
,
Free Membership
,
free trial
,
Free2Play
,
fun
,
Giantess
,
Giantess Anime
,
giantess growth comics
,
giantess stories
,
giantess vore
,
Hentai
,
horny
,
HOT
,
iPad
,
iPhone
,
mobile
,
mobile porn
,
New
,
nipple
,
nipples
,
Nutaku
,
panties
,
Pink
,
Porn
,
Porn News
,
pussy
,
sex
,
sex games
,
Sex Video Game
,
sexy
,
shaved
,
shaved pussy
,
Smartphones
,
social
,
streaming
,
streaming movie
,
streaming movies
,
streaming porn
,
streaming video
,
streaming videos
,
tits
,
toons
,
unicorn
,
unusual
,
Video Games
,
virtual hentai movies
,
wet
,
wild
,
x videos
,
XXX