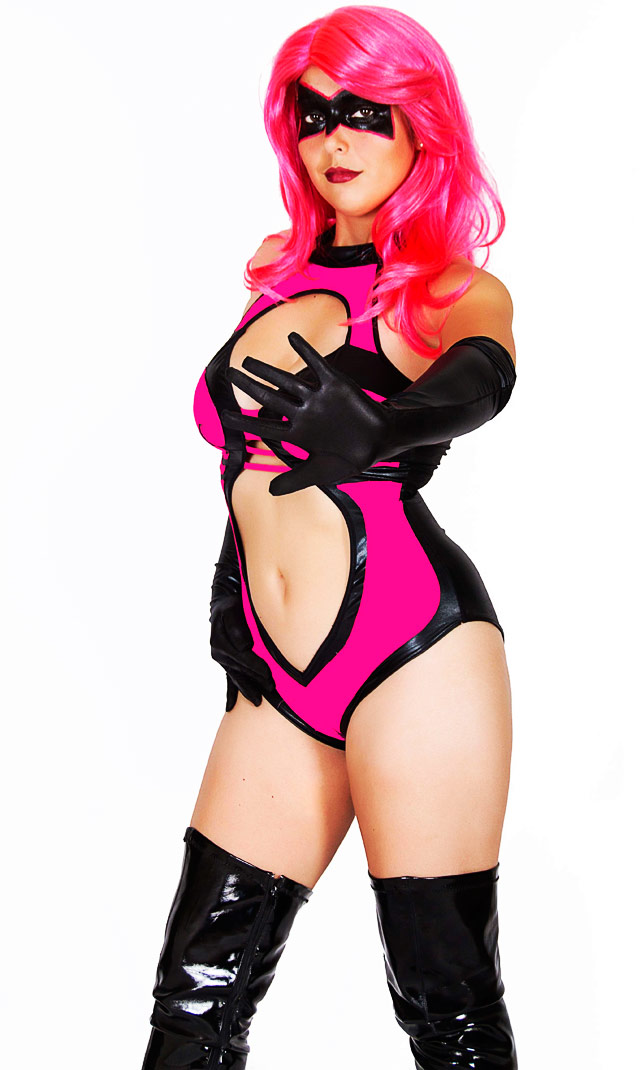 X-Rated Cosplay Supervillian Leia Down Interview for Porn Corporation
1. How long have you been into cosplay and when did your love for performance art begin?
LEIA: Everything changed for me after my plane crash back in 2002. I got these awesome powers of being able to morph into anyone I wanted. I figured, why not be every mans desire. Most guys want to fuck Wonder Woman, right? I also decided to create my own costume so that no one would ever know my true identity.
2. How long have you been in the adult industry & how did you begin your career?
LEIA: I started recording my naughty adventures around 2009 and camming in 2010. After having a good following on MyFreeCams, I decided my Cum Buddies wanted to see my naughty adventures, so I created my website Mask'D Desire to showcase them. So, I have been around for a total of four years.
3. Who is your favorite cosplay character to dress up as?
LEIA: The very first character I morphed into was Robin Girl. I realized I had a peeping tom outside my window and that was whom he was desiring to see. My first morph will always hold a special place in my evil heart.
4. Can you name any cosplay characters that you have never dressed up as but are planning to in the future?
LEIA: I want to start getting more into the anime world of characters. One character that comes to mind right away is Rider from Fate Stay Night, a Japanese Visual Novel. As funny as this may sound, I haven't even morphed into Sailor Moon yet! And, she is probably one of the more well-known anime characters.
5. What are your biggest turn-ons? Please tell us in depth, what makes a super villain like you sizzle?
LEIA: My absolute biggest turn on is a hard cock in my mouth. That's right I'm a cock sucker, literally. My favorite position is "The Leia Down." Right hand fingering my tight wet pussy and my left hand gripping the hard cock that is thrusting in and out of my mouth. Juicy enough?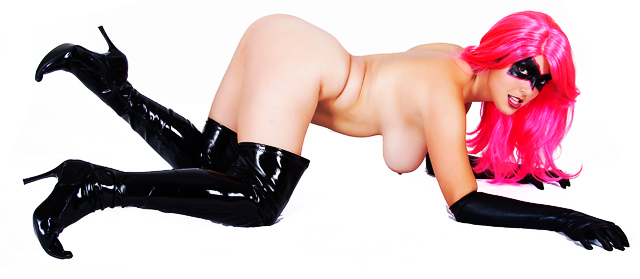 6. What is your favorite sex position and why?
LEIA: Honestly, I would do "The Leia Down" all day everyday, but when it comes to penetration there are two positions I like. Number one is being on top and pogo sticking the dick as I like to call it. Number 2 is being held down on my stomach and being fucked from behind.
7. What's your current status quo on your love life? Are you dating/married/single? Give us the juicy details!
LEIA: Whenever anyone asks me if I'm looking for love, my first response is I'm looking for pleasure. (Insert evil laugh here.) In this super villain world that I live in, it would be hard to have a relationship. It's a good thing I've never even entertained the thought. Feed me, fuck me, shut the Fuck up!  Ha ha!
8. How does performing on camera and sexual situations in real life compare to you?
LEIA: My adventures shown on camera are exactly the same as my sexual encounters in real life. I bring men back to my lair, do as I please with them and if they're lucky, send them on there way. Every now and then I'll allow myself to be dominated, since I consider myself a switch.

9. Please tell us, how does an average day in the life of adult star and cosplayer Leia Down typically develop?
LEIA: Every day starts the same for me—I need to cum and I want to make others cum to. Then I get in my gear and go on the hunt for fresh meat. That sounded dirty. I'm vegan, so I don't even eat meat unless its cock. The day usual ends with an explosion of sorts… 😉
10. Word on the street is that you are working on a comic book project? Please tell us all about it!
LEIA: Your heard right, I am indeed! It is called "The Chronicles of Leia Down." Essentially it will dive deep into my back story and feature a lot of action and sex. It will allow me to show the world my daily adventures without always having to record it.
11. The tasty truth: If we turned the delicious Leia Down into ice cream, what flavor would you come out?!
LEIA: The first thing that came to mind was my favorite flavor, which is coconut. I think if I were to turn into ice cream that's the flavor I'd be, because I've eaten so much of it.
12. Is there anything else you would like to tell our readers or say to your fans?
LEIA: To all my cum buddies, I want to say smucy-doby-revem-ucumuci! Try to figure that one out haha. To anyone that doesn't know me and if you want your fantasy to become a reality, then visit my website MaskDDesire.com. Yep, I'm pleasing dicks daily. And if you want to meet me in real life (but beware), I'll be at Adultcon in Los Angeles March 22 through 24.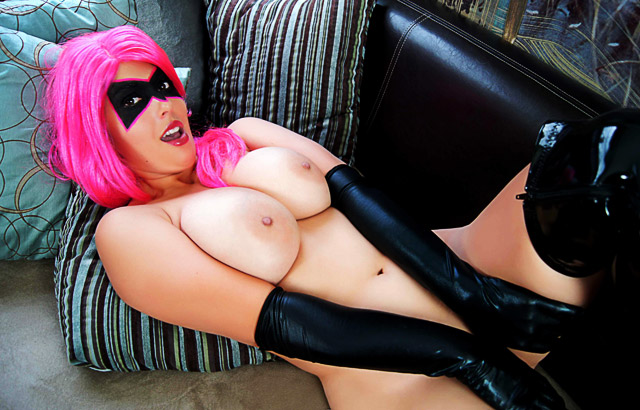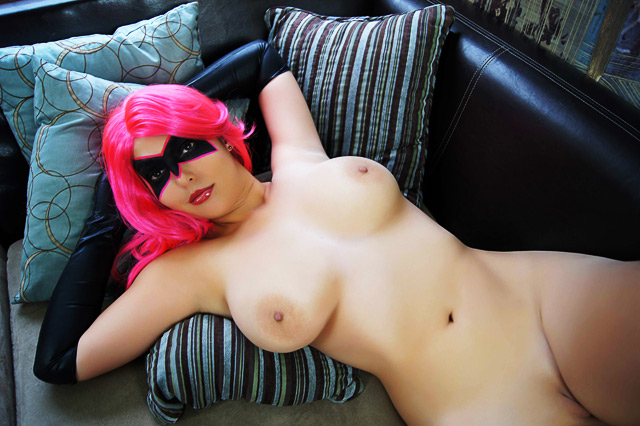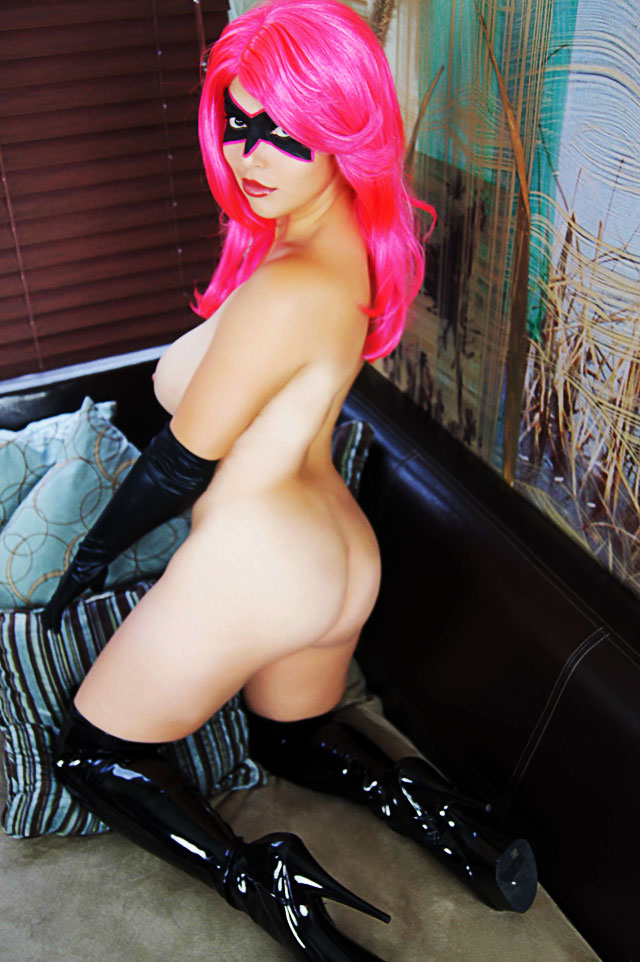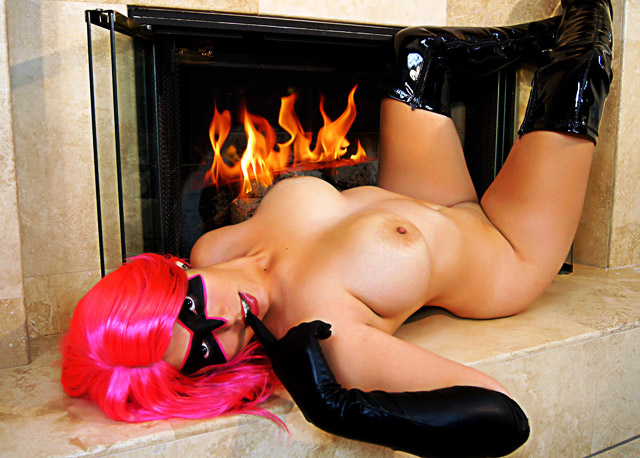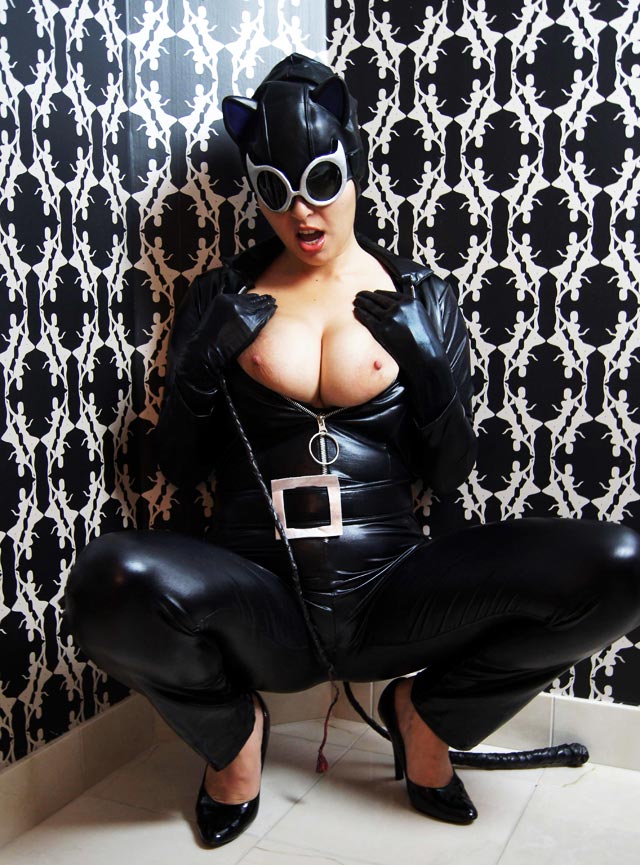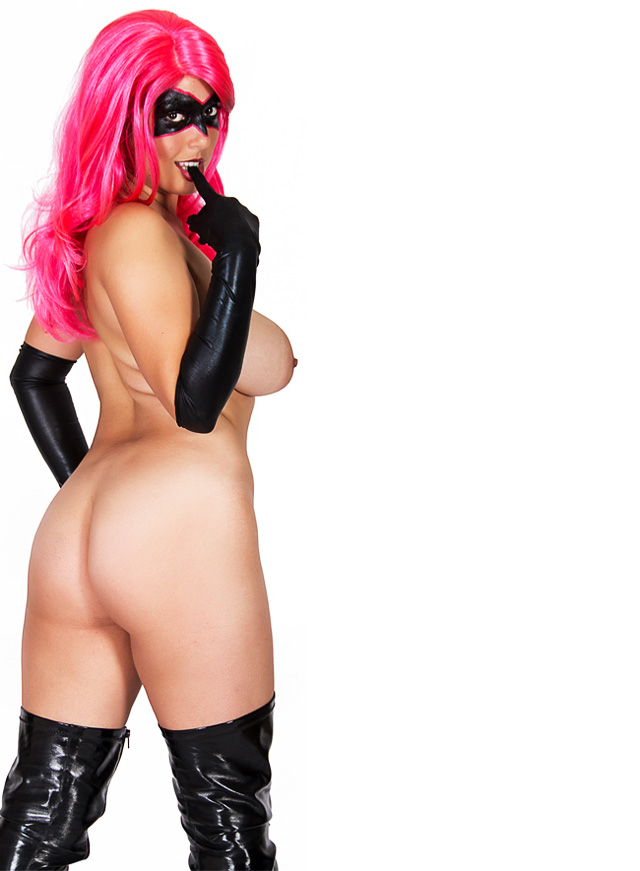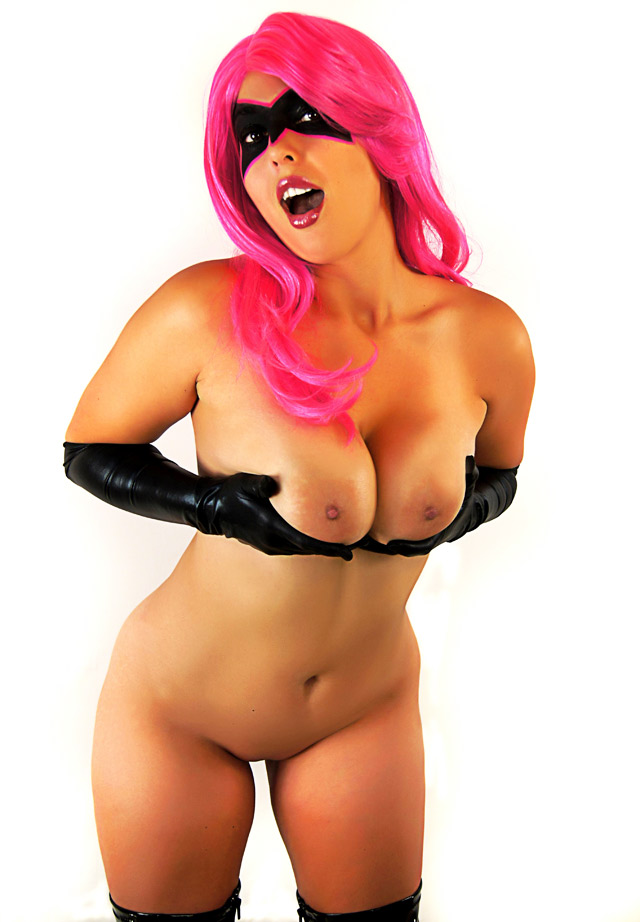 Intrigued by super villian Leia Down's cosplay lifestyle?  Or maybe you just want to be abused & play with those big natural evil titties!  Get your Leia Down fix & all be specialized porn as your favorite superheros and villians at her Official Site:  Mask'D Desire!  Join to get full access to all of her photos & videos plus free live webcam cosplay sex shows with all her members.  Not ready to become a dedicated Leia Down minion?  Test out her abilities to see if she can join your superteam of villians by fucking her live on cam.  See if Leia Down is live now on MFC or Enter Mask'D Desire!

See if Leia Down is Live on My Free Cams Now!  – Visit Leia Down's Official Site Mask'D Desire!

Visit our new Pornstar Interviews category or return to the cover of Porn Corporation.
Related Categories:  Cosplay Porn – Adult Comics – 3D Video Games – XXX Parody
Tags:
all natural
,
amateur
,
ass
,
Avatar sex parody
,
babe
,
big boobs
,
Big Tits
,
bizarre
,
boobs
,
Broken Heroines
,
busty
,
Catwoman
,
comics
,
cosplay
,
costume
,
costume party
,
crazy
,
devil
,
Exclusive Interview
,
fetish
,
Fetish FuckDolls
,
fetish porn
,
fun
,
handbra
,
high heels
,
HOT
,
Hulk
,
insane
,
Interview
,
Leia Down
,
Mask'D Desire
,
Mystique sex parody
,
natural
,
New
,
nipple
,
nipples
,
parody
,
Parody Porn
,
Pink
,
Porn
,
Porn Corporation
,
Porn Corporation Girls
,
Porn Heros
,
Porn News
,
Porn's Heros
,
pornstar
,
Pornstars
,
sexy
,
shaved
,
shaved pussy
,
She-Hulk
,
special
,
superhero
,
superwoman
,
The Hulk
,
The Incredible Hulk XXX: A Porn Parody
,
tits
,
unusual
,
wild
,
wild natural hotties
,
world premiere
,
XXX