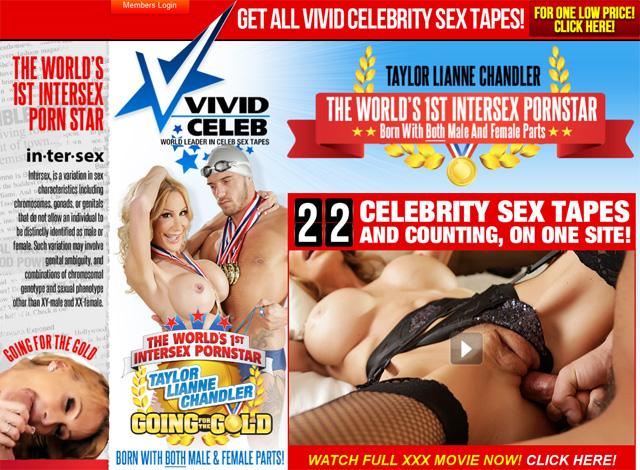 Vivid Celeb releases a new celebrity sex tape revealing intersex woman Taylor Lianne Chandler, who was former alleged girl friend of Olympic gold winner Michael Phelps in a porn movie with her swimmer friend.  Taylor Lianne Chandler was born with both male and female parts. Intersex is a new umbrella term that has been formed to replace the term hermaphrodite.  To be an intersex individual you are not cast as a male or a female but fall somewhere in the middle in regards to your genitalia and sexual reproduction organs.  It can produce a variety of different characteristics in genitals including an enlarged clitoris, a very small penis, variations of gonads or balls sacs or ovaries, unique pussy lips or labia and a variety of new and unusual formations.  See what Taylor Chandler looks like!  You can also appear to have male or female genitals and have the opposite sexual reproduction organs inside. This is created from a chromosomal genotype or sexual phenotype that is not typically XY-male or XX-female but a combination of both.  Taylor Chandler breaks ground in leading the way to informing the public about intersex individuals as she stated earlier in the media, she has never been a man and was not born a man, nor does she relate as a transsexual or transgendered individual.  She is a woman, but she is unique and different!  She is willing to show the world up close and personal exactly how different she is and what it is like to have sex with an intersex girl!  Watch the world's first intersex pornstar celebrity Taylor Chandler in this breaking news sex tape "Going For Gold" inside Vivid Celeb for only $4.95 right now!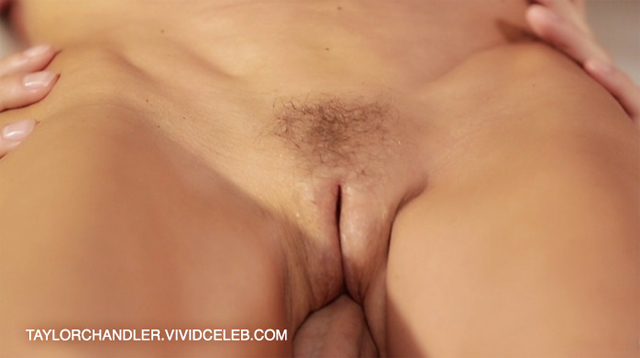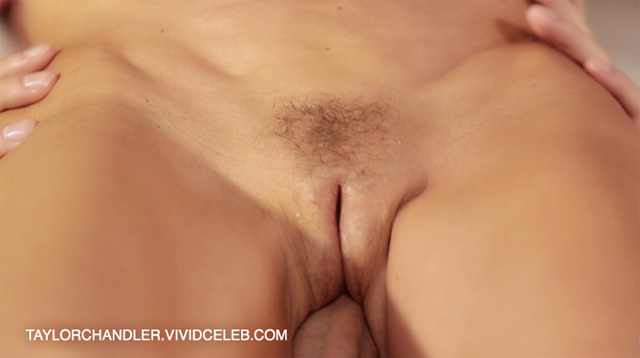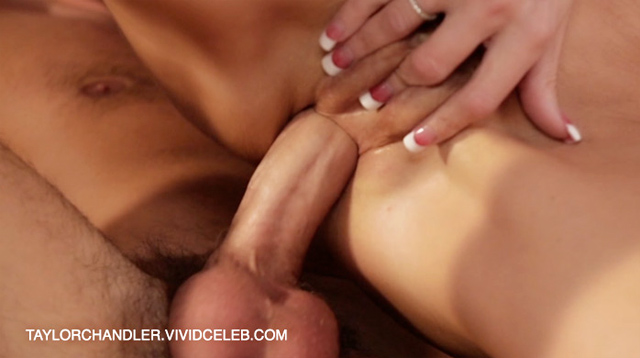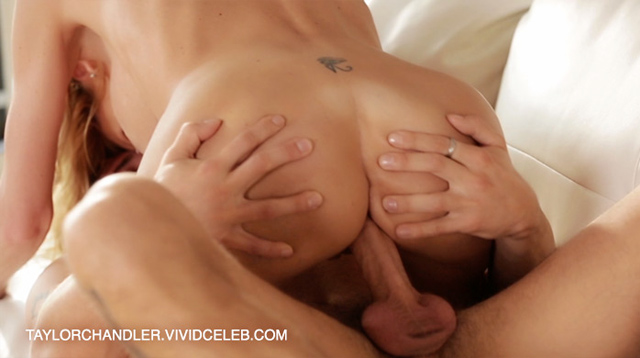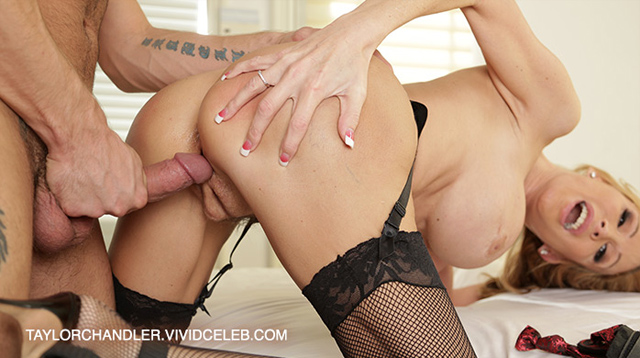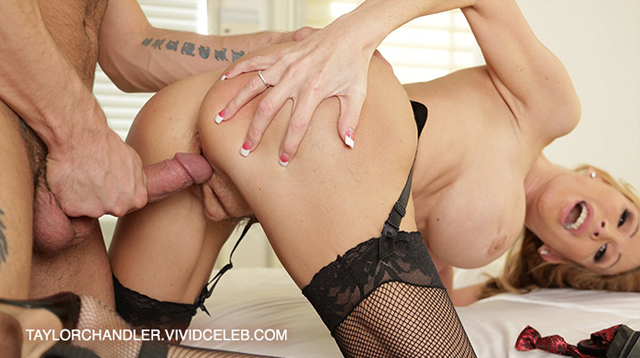 Watch The World's First Intersex Pornstar Taylor Chandler XXX in "Going For Gold" from Vivid Celeb instantly inside the member's area for only $4.95!  See what her pussy looks like up close and personal now in the world's 1st intersex porn movie starring Taylor Lianne Chandler now!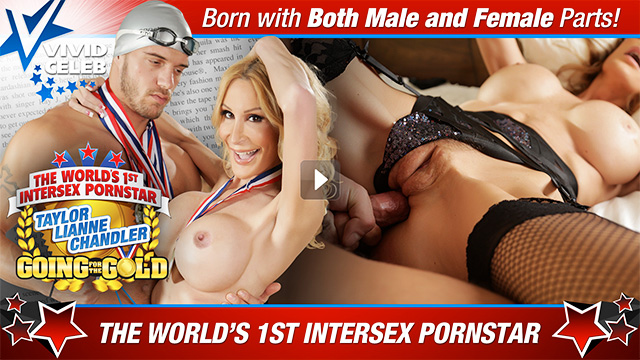 Here's what Vivid producers had to comment about the Taylor Chandler sex tape… "Intersex is an umbrella term that has replaced hermaphrodite. Here's alleged Olympic athlete lover and intersex star Taylor Lianne Chandler showing the world how a girl born with both male and female parts fucks and sucks in mind-blowing gold medal hardcore. Blowing way past gender-bender sex, watch Taylor reveal the intimate details about her shocking, kinky acts and then re-enacting the dirty deeds with her swimmer lover in what's left even the most experienced porn hounds slack jawed and in disbelief. If you really want to get your freak on don't miss the most unique and taboo Vivid Celebrity film ever released."  Only $4.95 to watch the full video of Intersex girl Taylor Chandler fucking right now!
Return to the cover of Porn Corporation or view all the articles in the Celebrity Girls category!
Previous Vivid Celeb debut:  Celebs Mimi Faust & Nikko Smith's Secret Sex Tape!  Top Vivid Celebs:
Kim Kardashian – Myla Sinanaj – Farrah Abraham – Tila Tequila – Sydney Leathers
See all the articles starring Vivid Celeb & Vivid included in your pass!  Must See: Vivid Parodies
Tags:
ass
,
award winning
,
big boobs
,
Big Tits
,
bizarre
,
blonde
,
boobs
,
Brand New Girls
,
celebrity
,
Celebrity Tits
,
cougar
,
crazy
,
fetish
,
fetish porn
,
fetish sex
,
fingering
,
first
,
first blowjob
,
first boy girl
,
first cumshot
,
first porn scene
,
first time
,
First Time Video
,
First Time Videos
,
fishnets
,
fun
,
garter belt
,
girlfriend
,
hardcore
,
hardcore xxx fucking and sucking
,
hermaphrodite
,
HOT
,
insane
,
intersex
,
Michael Phelps
,
MILF
,
My First
,
New
,
New Girl in Town
,
New Model
,
New Porn DVD
,
New Pornstar
,
nipple
,
nipples
,
nude celebrities
,
olympic
,
panties
,
Pink
,
Porn
,
Porn News
,
pornstar
,
Pornstars
,
premiere
,
pussy
,
sex
,
sexy
,
She's New
,
special
,
stockings
,
swimming
,
tattoo
,
tattoo girls
,
tattoo models
,
Taylor Chandler
,
Taylor Lianne Chandler
,
tits
,
topless celebrities
,
unusual
,
Vivid
,
Vivid Celeb
,
wild
,
world premiere
,
XXX