Browsing articles tagged with " Porn Corporation Girls"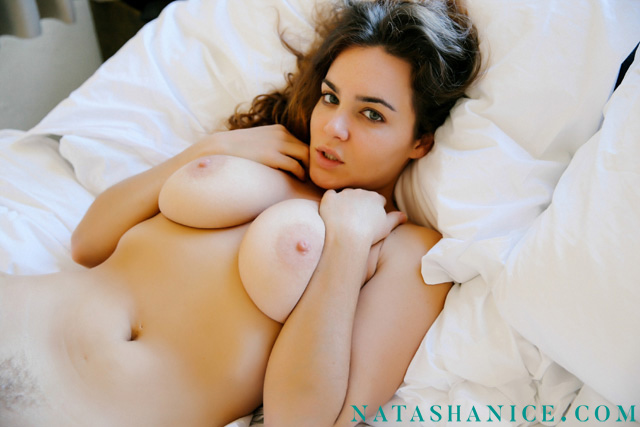 1. Hi Natasha, When will you do a scene with a transgirl? – Thanks, B D
I'm not sure when. I absolutely would shoot a scene with a transgirl. I would love to be part of their promotion into mainstream porn, I feel very strongly about their fight. As for when though, it would have to be with the right production company. I'd probably only do it for Evil Angel right now. Keep following me on social media and I'll keep you posted on any changes 🙂
2. Is it hard to meet a good man doing porn? Do you enjoy anal ??? And what kind of guy are you interested to fall in love with?? – Dave
Relationships in this business can be very complicated but are still worth pursuing if you have the time lol. I tend to fall for different types of guys. I like intellectual bad boys, feminine poets, older men with great taste in film and music, ambitious men who are turned on by dominant female personalities and funny guys
I love anal as the final act in a play lol after I've been properly reamed and fucked hard in all other ways. It's the cherry on top, the perfect climax.
3. Are you as horny as commentary states and how many times do you have sex a day? – Ron Nupp From Twitter
Oh my goodness, people tell me I'm the horniest girl they've ever met all the time. I have a big clit and a dirty mind. They're the source of all my sexual eagerness lol. The commentaries are true *wink*. Once I find a guy I like, I fuck him 4 to 5 times a day for a couple weeks and then its over.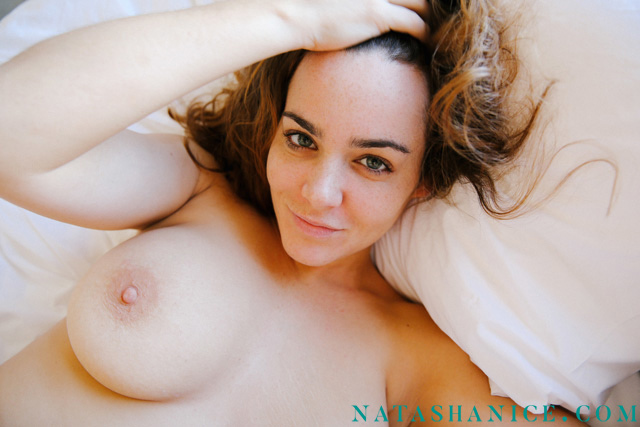 4. Why did you get into the porn industry? – Jaiki
I just love sex, I've always loved sex. I've been touching myself since I was very young. I blame my big clit. I wanted to be a nude model after high school because I had taken so many nude photos for the boys I liked in my classes, it just felt natural. Then it progressed to porn and it just felt right. Like I belonged.
5. How big are your boobs? Are they natural? – Thanks John
I'm all natural 34DD
6. Will you ever put on a fuck a fan contest? – Thank you, big fan, JCDA
I don't have any plans for one at the moment but keep checking back 🙂
7. What does your pussy taste like? I would love to know for myself. – Thank you. Bob Ross
It tastes like sweet water!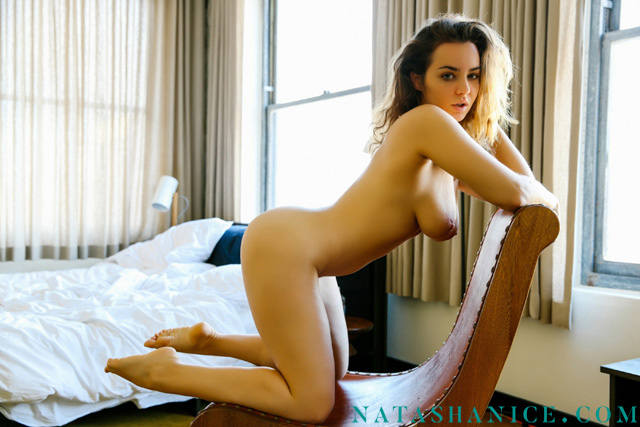 8. Do you have any balloon popping fetish videos available? – Thanks, from Just a fan.
I'm pretty sure I do but they might be locked away in someone's home collection. Fans usually ask me to blow up balloons at conventions while they video tape it. You're always welcome to request a custom video from me by sending me a message on NatashaNice.com <3
9. What is the weirdest thing you have ever put in your vagina? – Nick C Fan from Ontario, Canada
When I was a teenager, I didn't have access to dildos, and I remember being in the bathroom one day before taking a shower and seeing a tube of deodorant that had a smooth rounded cap. I put a little baggie over it and then rubbed conditioner on it and fucked myself with it. It felt so good that I searched all over my room for similar objects. I did the same thing with a bunch of Sharpie markers.
10. Do you Skype or cam anywhere? How can I set up a Skype show? – David G.
I cam all the time! Usually on NatashaNice.cammodels.com. Several times a week I offer free cam shows to members of NatashaNice.com. Check my Twitter account for show dates 🙂 (@BeNiceNatasha)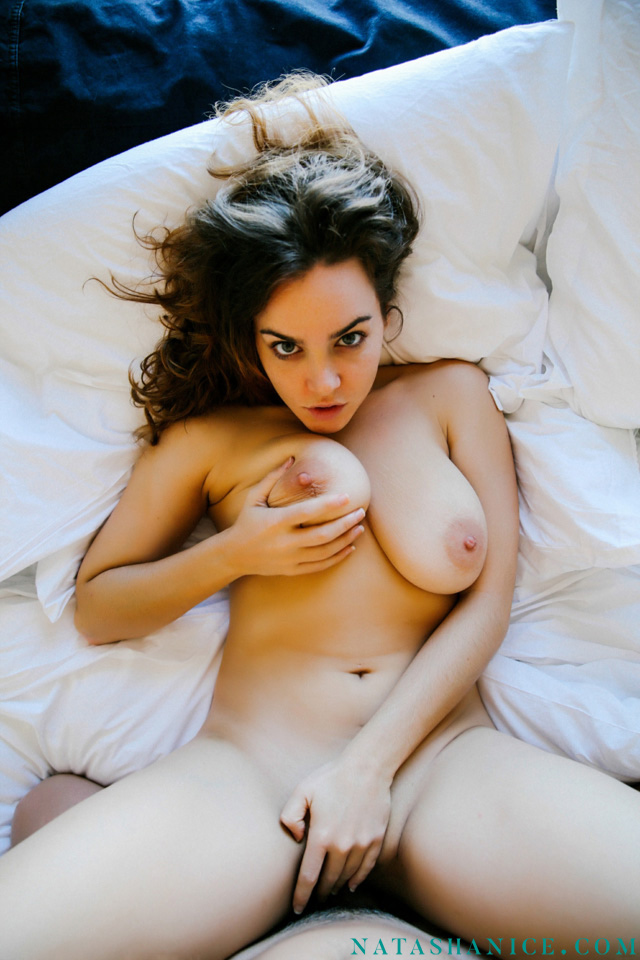 11. How can I buy your high heels or used panties and how much? Will you ship them to Denmark? – Roland X
My online merchandise store will be up soon!!! Follow me on Twitter for updates <3
12. What tv series or movies do you recommend? – LB
That's a tough question, depends on what you're into. I love spy movies. The Bourne Trilogy. But I'd say my favorite movie ever is Titanic. Or the LOTR trilogy. As for TV, The Americans, Nikita, Girlboss. I still can't believe Netflix canceled Girlboss. Rude.
13. How many times a day do you masturbate? – Jack A Lot
Haha lol! Probably like 10. I masturbate ALOT. I blame my Hitachi.
14. Do you like creampies, swallowing or facials most? – Nebraska QC
I think creampies are the sexiest thing ever but I prefer the way a facial feels.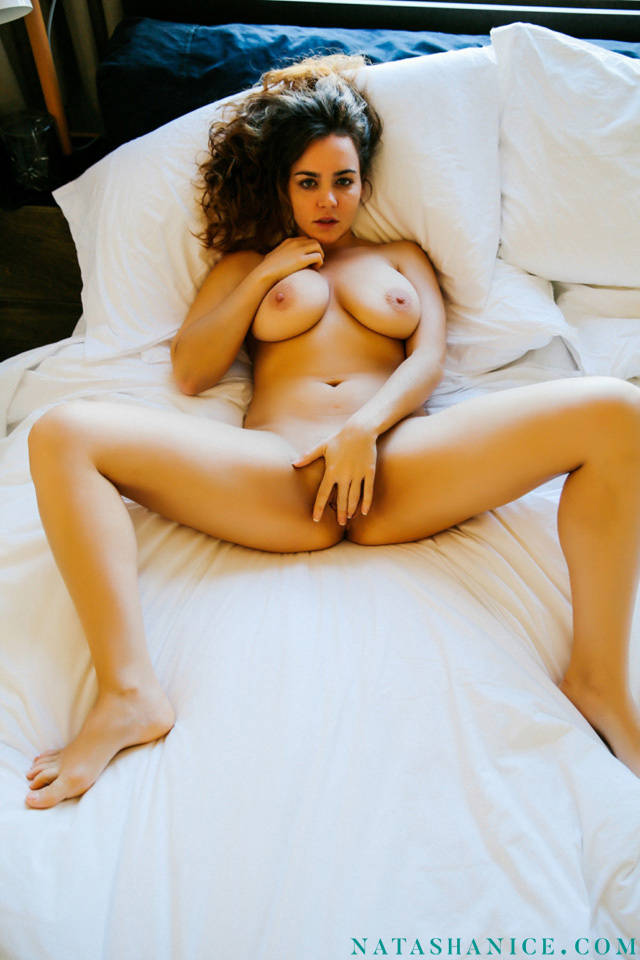 15. Are you religious? How do you think porn fits into Religion? – Thanks, Tom
I think porn is the result of people realizing that there's nothing wrong with sex. I think religion likes to teach that sex is evil unless done a certain way. I think the two are like oil and water. At the same time, I don't think God hates me. Why would he? I haven't done anything wrong. I'm just a slut. I'm pretty sure he's big enough to love sluts.
16. Allez-vous être de la danse de Paris bientôt? – Amour de Jacques Allemand
J'ai pas compris la question. Y-a-t'il une danse qui se met en place a Paris bientot? Si tu me demande a propos de faire du strip bientot, la reponse est malheursement non.
17. When/what/how did you give your first blowjob? – Billy B
There was this boy, Josh who lived on my block when I was like 16 or 17. He would come over before my dad got home from work and we'd make out in my room. Eventually we started fucking in the garage. One day, we were on the side of the house smoking a cigarette and making out and I started touching his cock. He took it out and I started sucking it. We were outside! I don't know what I was expecting but I guess I wasn't expecting him to cum in my mouth cuz all of a sudden it tasted really bad but I didn't want anyone to see that I'd been sucking cock on the side of the house so I swallowed it anyways. He was cool, I liked him. He was my cigarettes, naughty sex, basketball buddy. Til he moved 🙁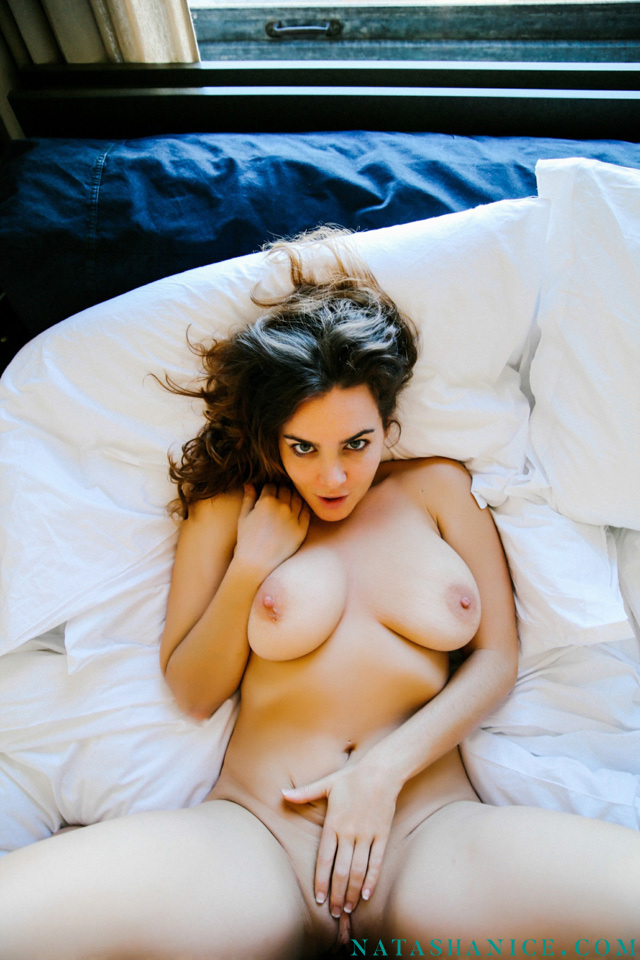 18. Will you marry me…. Would you like to spend a vacation in Greece with me? – Raf from Twitter
That's really tempting Raf. I don't usually commit this quickly to random strangers but Greece is in my top 5 of places to visit. So what the heck, I accept.
19. Is Natasha Nice your real name? – A. Anonymous
It is not. I prefer my real name, I even wanted to use it but my agent advised against it.
20. Who is your favorite pornstar, guy or girl to work with? – Thank you, Robbie R.
That's a tough one. As of lately, I'd have to say Sean Michaels because he and I have the spy thing in common where we both think spy sex is suuuuuper fucken hot and he calls his cock a concealed weapon and I tell him not to conceal it no matter how dangerous it is. Ugh. So hot. You can watch the intro to the scene here.
21. How can I get a date with you? – Mark Morwood
I used to do a little bit of escorting but I don't anymore, its too much of a hassle to verify people. Sorry Mark! Sometimes if I really like a fan I'll let him take me to dinner after conventions lol, but that's pretty much it.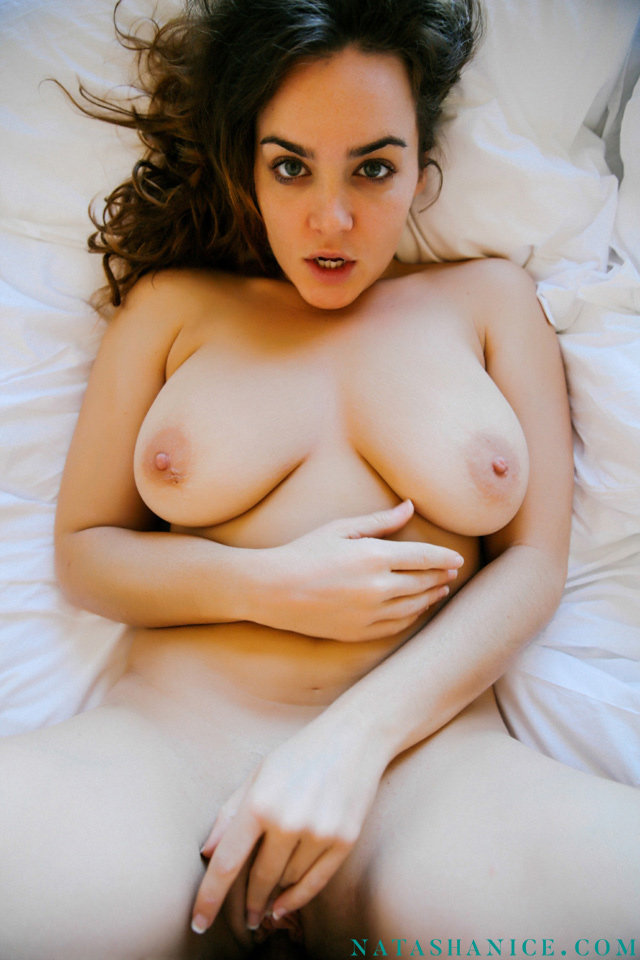 22.  Can you give some of your best porn star hygiene tips? – Lynn
Of course! Gently wipe the cum off with a baby wipe and then go about your normal self care routine. I know some girls who use baby wipes to wipe everything off, even their makeup and then head out the door and I think this is poor hygiene if you're having sex everyday with someone new. Plus, it strips your skin of its moisture. As for my pussy, I like to just use water. I also drink lots of water and eat probiotic yogurt. I pretty much never get sick down there 🙂
23.  How do you keep your pussy so smooth?  Lasor, shaving, Wax?  – Lynn
I shave in the tub. And use after shave gel lol.
24. How do you like being contract free this year? – Lynn
I love it! Thank you for asking!
25. Would you like to have children one day? – Lynn
Not really.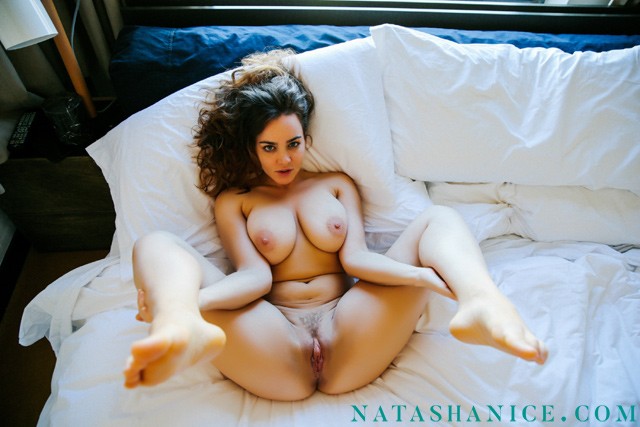 26. What would you like to do with your life after porn? – Lynn
Either travel or start a new business or both. I really love the ocean, I studied marine bio for a couple years. I'd probably go visit different corners of the Earth in search of the best ocean views.
27. Knowing what you know now, if you could go back to your first interview with YoungModels would you have made the decision to continue the interview after you realized they wanted you to have sex or would you have left and called your mom? – Lynn
I tried to find this interview but I couldn't so I'm not sure I remember exactly what was said but I don't think I would have called my mom lol. If I didn't want to be there, at that age I might have made up an excuse and left but chances are I knew exactly what I was there to do hehehe.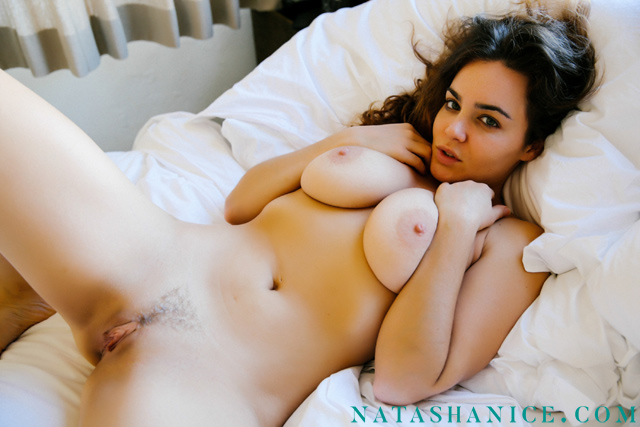 28. This isn't a question but I just wanted to say that I really enjoy watching your videos. I am happily married and since I have started watching your porn my sex life has dramatically improved. You look authentic on camera and I really appreciate that. It's a big turn on for me to see you enjoying yourself. Thank you for helping improve my marriage. – Lynn
Thank you so much for following my work! It makes everything so much more worthwhile when people aren't just jerking off but using it to better their sex lives. Porn is my way of rebelling against who I'm "supposed" to be sexually. It's not meant to offend, it's just meant to make a statement and I'm glad my statement pleases you <3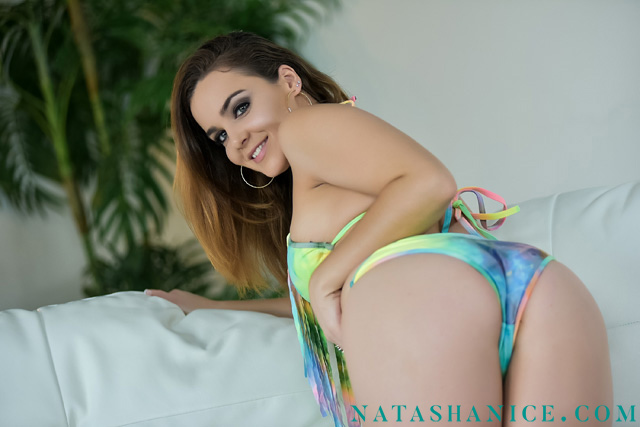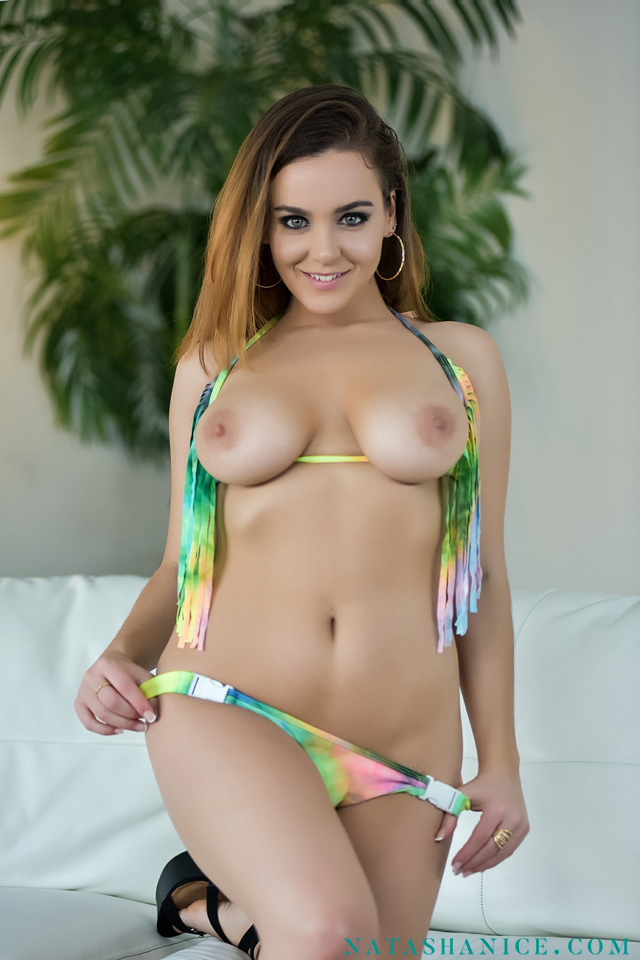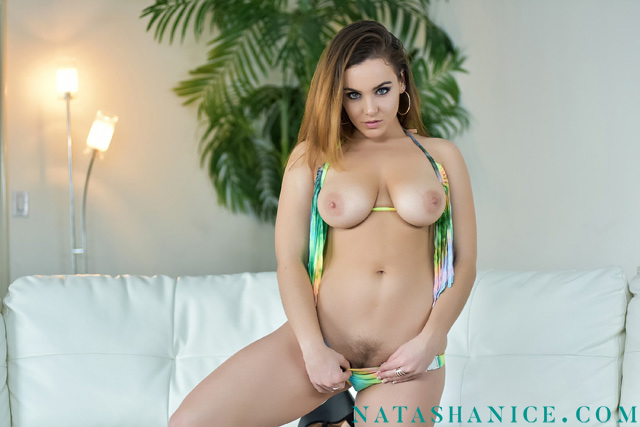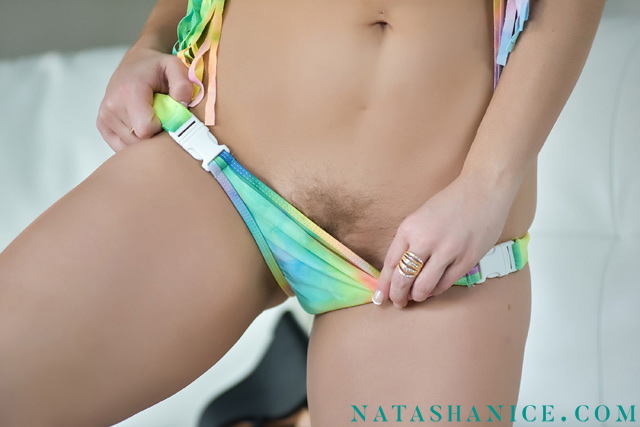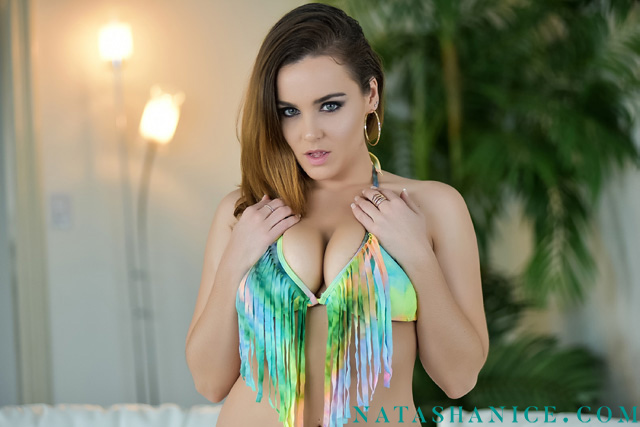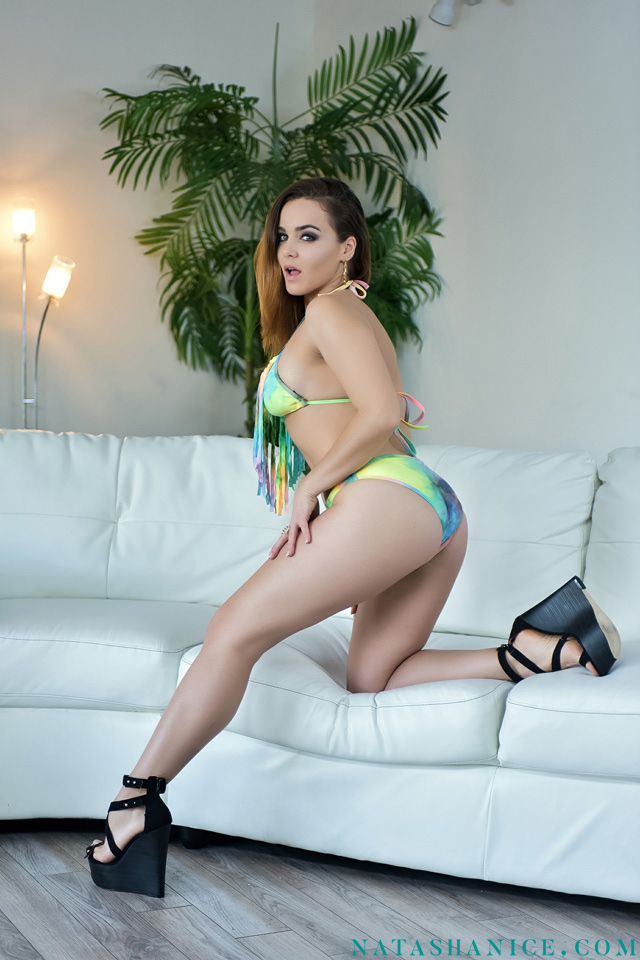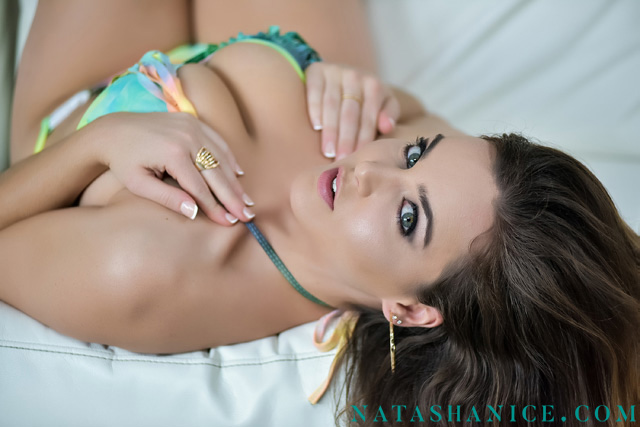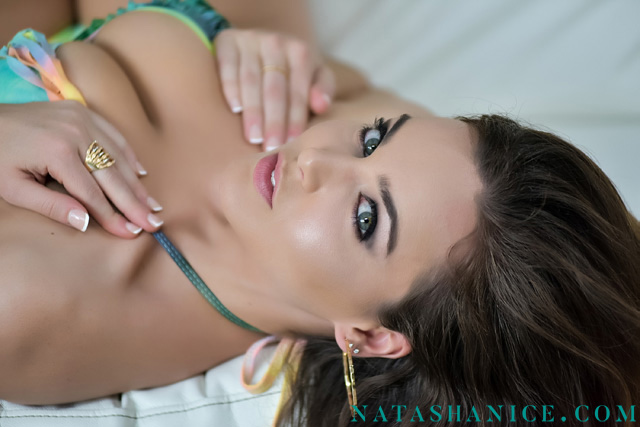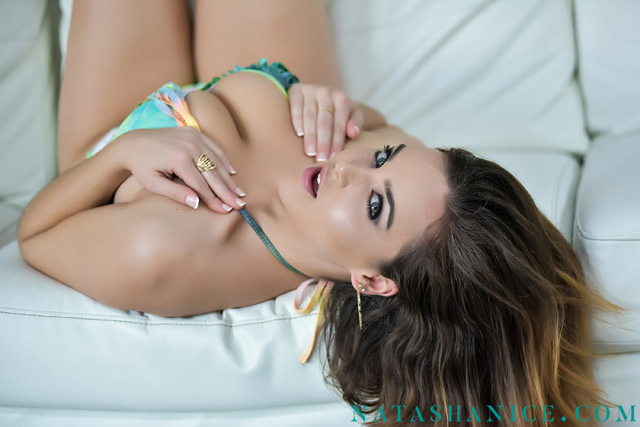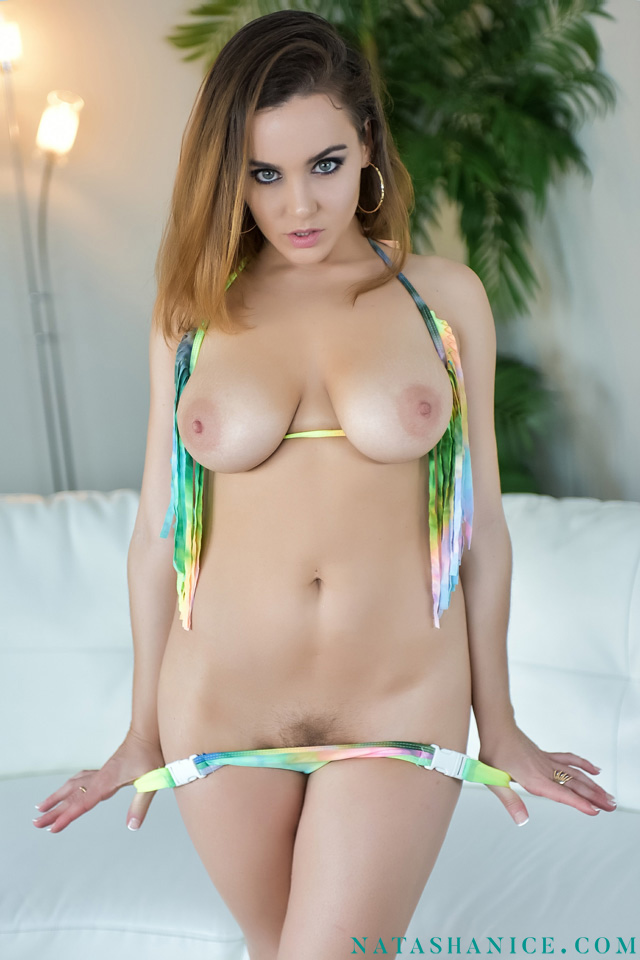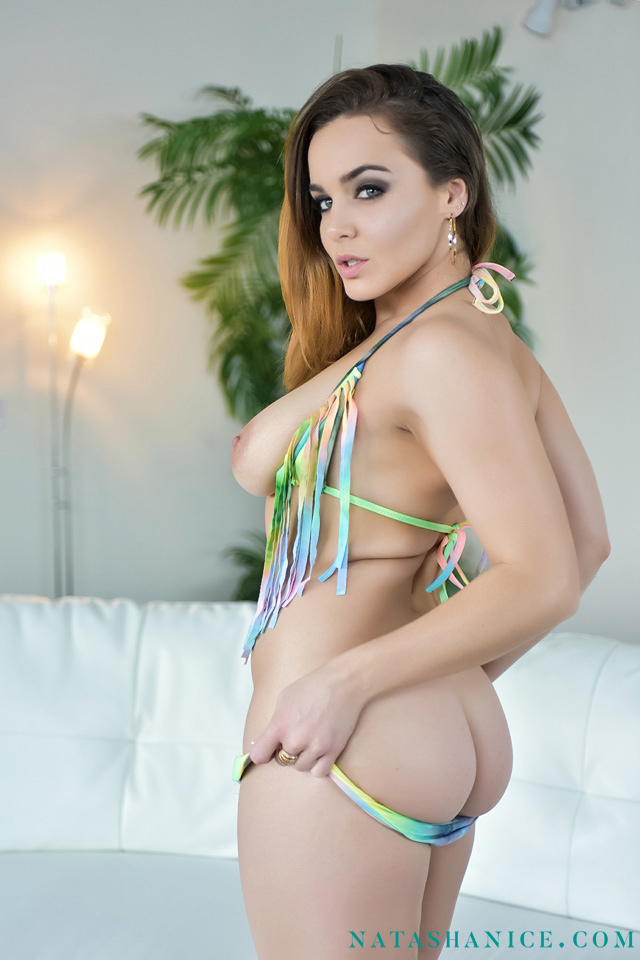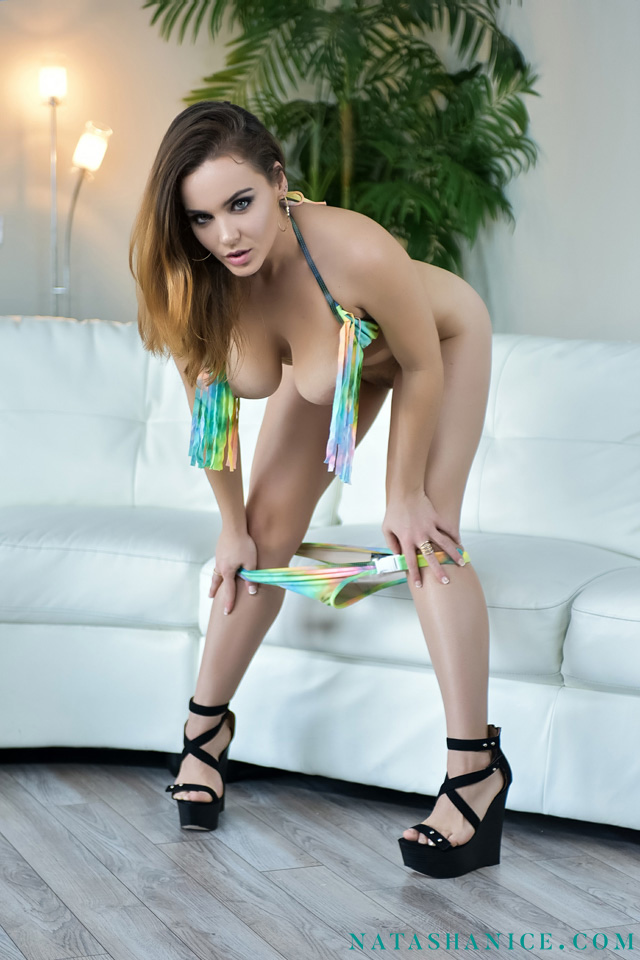 To see more of all natural 34 DD French beauty Natasha Nice visit her Official Site!  There you will enjoy Natasha in hardcore sex, tit fucking, solo masturbation, lesbian, foot fetish, lingerie, sex toy play, interracial porn and more…  Natasha Nice awaits your company.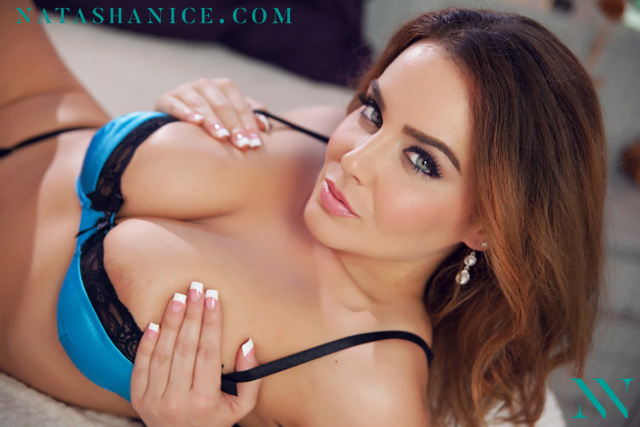 See more in Porn Corporation Girls or the new AMA category or return to the cover of Porn Corp.
Want to chat live with Natasha?  Check to see if Natasha Nice is live on cam right now.
View all of the articles starring Natasha Nice. Previous: AMA: Ask Pornstar Natasha Nice Anything!
Looking for more juicy articles?  Catch up on all the New Porn Sites or read all the latest Porn News.
Hot categories: Pornstar Interviews –  Parodies – 4K Porn – VR Porn – Comics – Games – Pornstars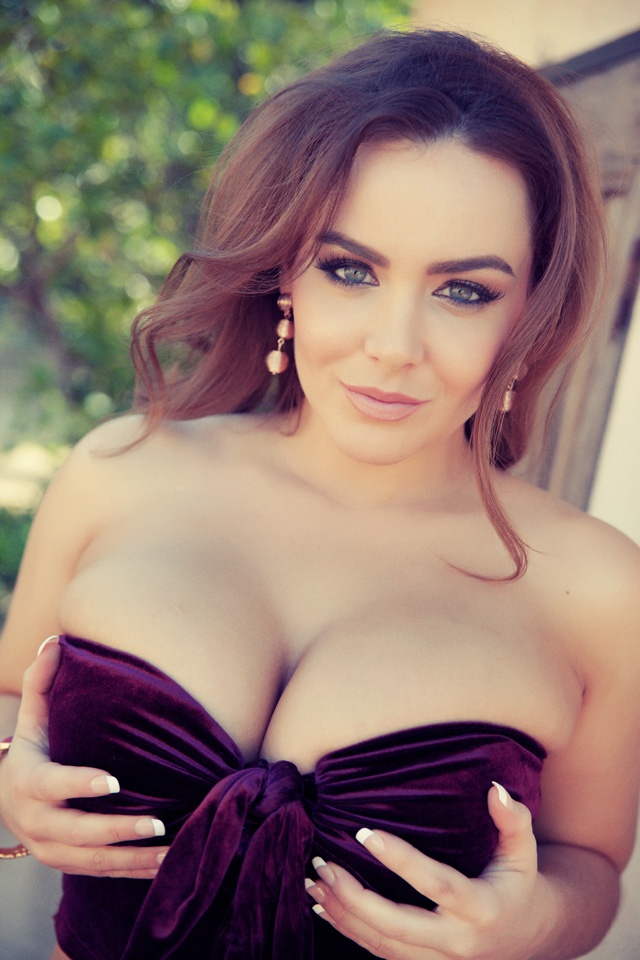 AMA with pornstar Natasha Nice! Busty natural 34 DD babe Natasha Nice answers all your questions. Do you have a question for Natasha? Send your questions to asknatashanice@porncorp.net and don't be shy! We'll be publishing our newest author Natasha Nice's AMA answers for all to see in our brand new Pornstar AMA column.  Here's your chance to Ask Natasha Nice!  Visit her Official Site!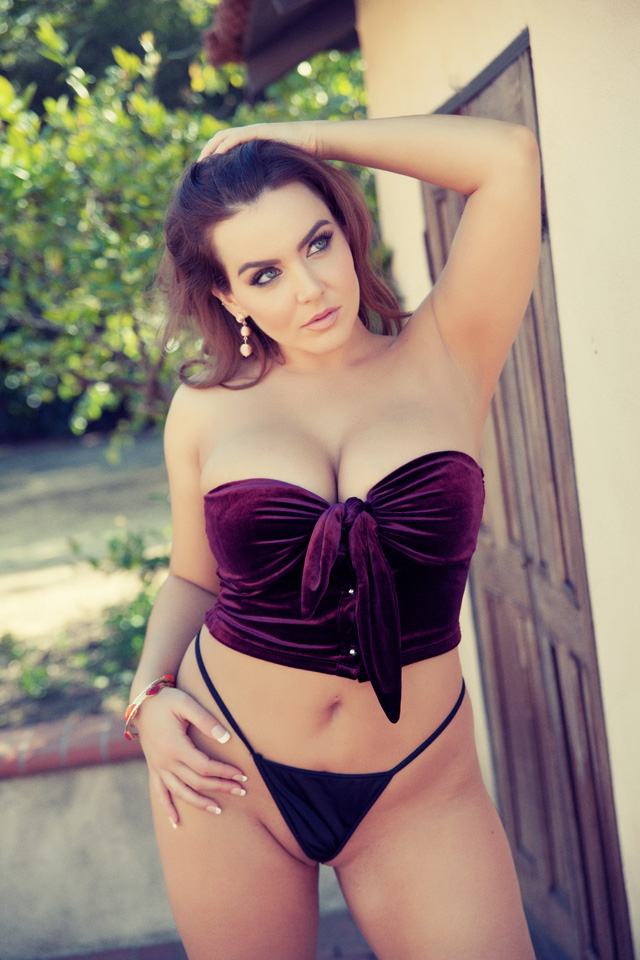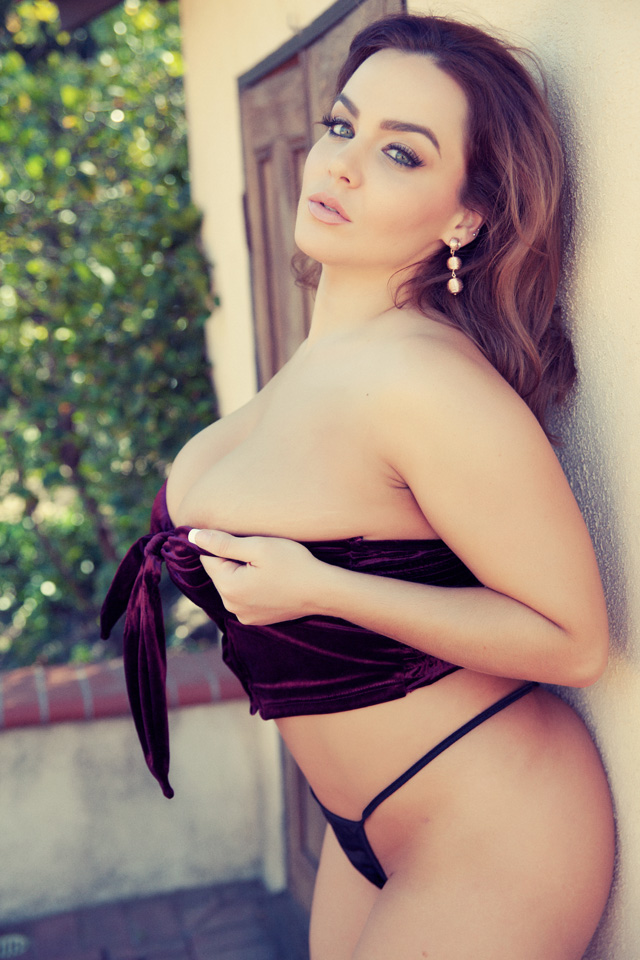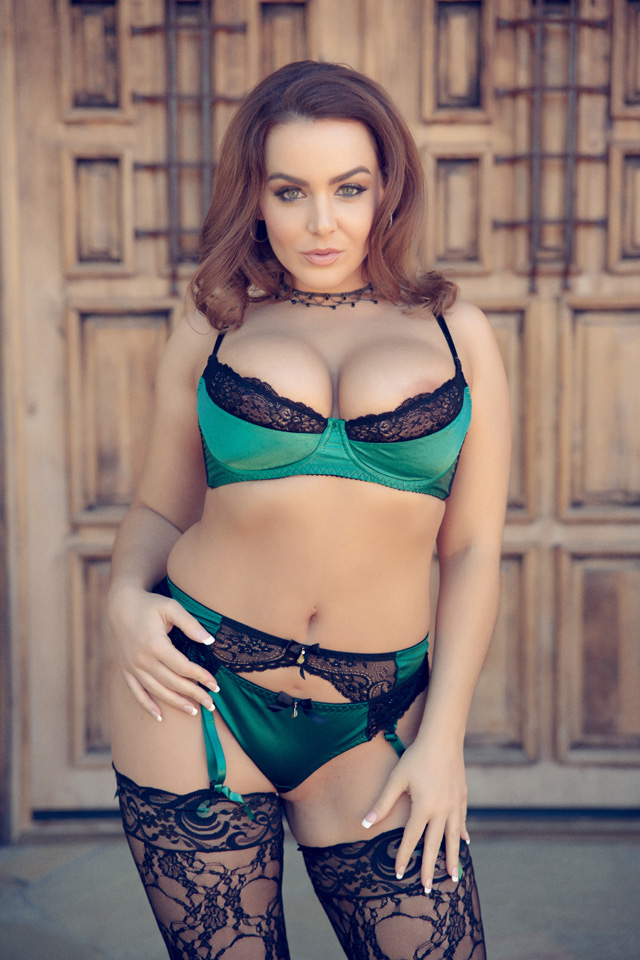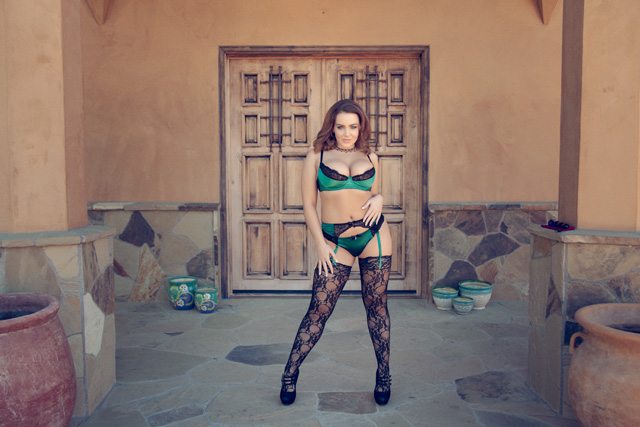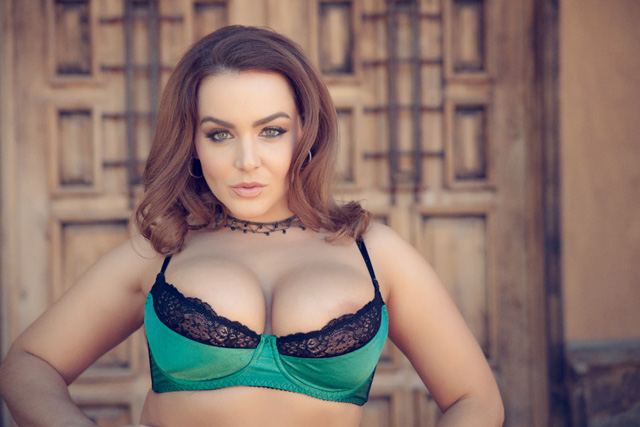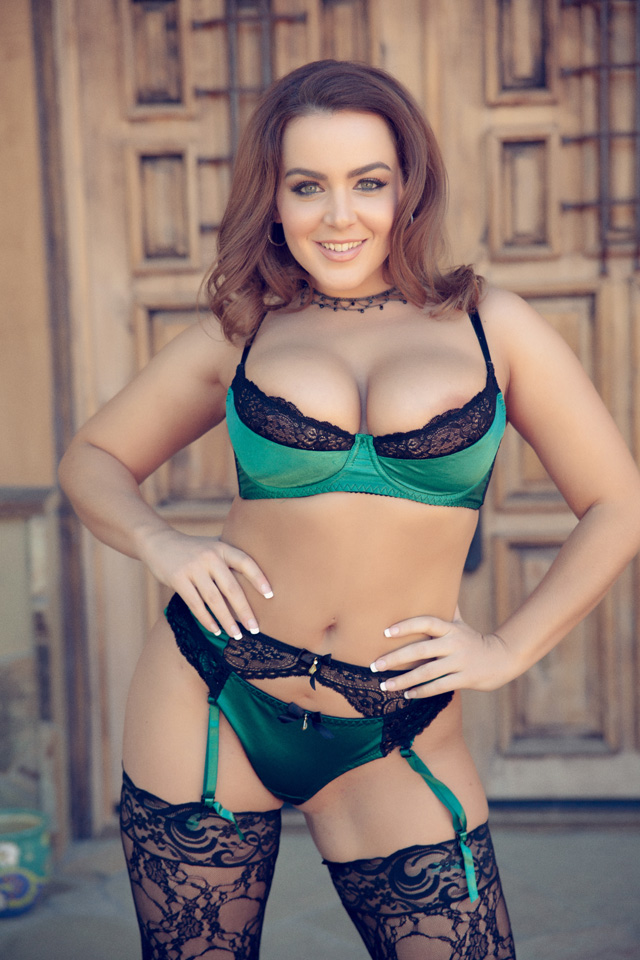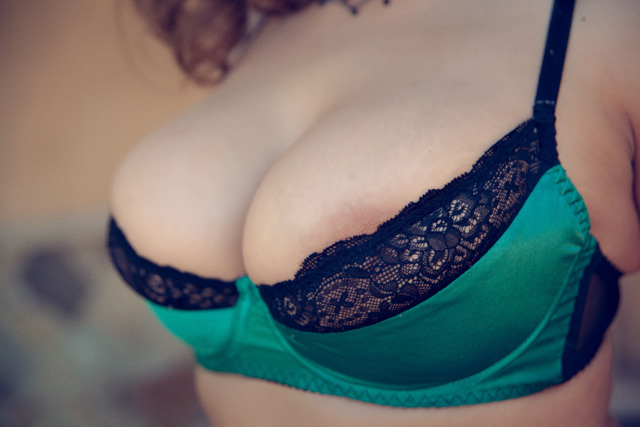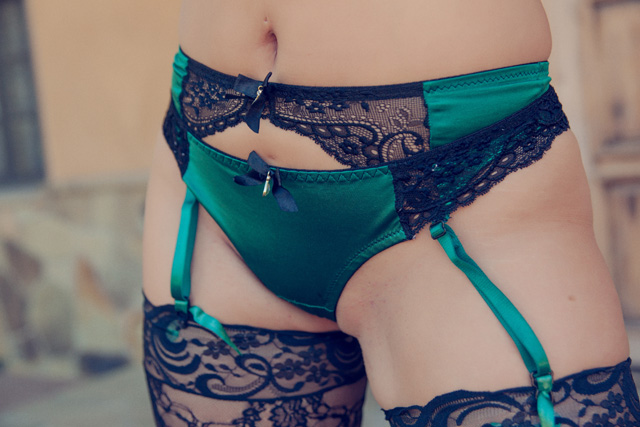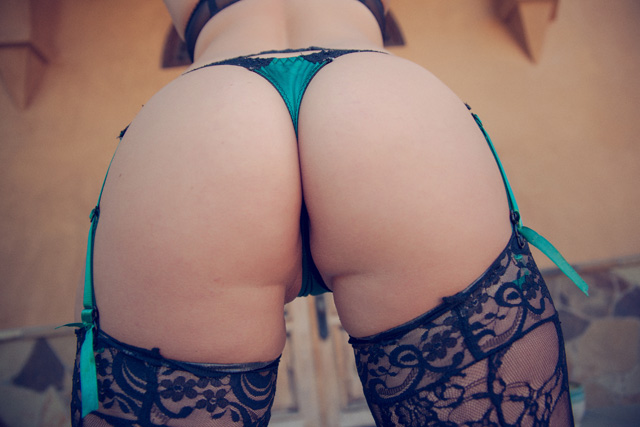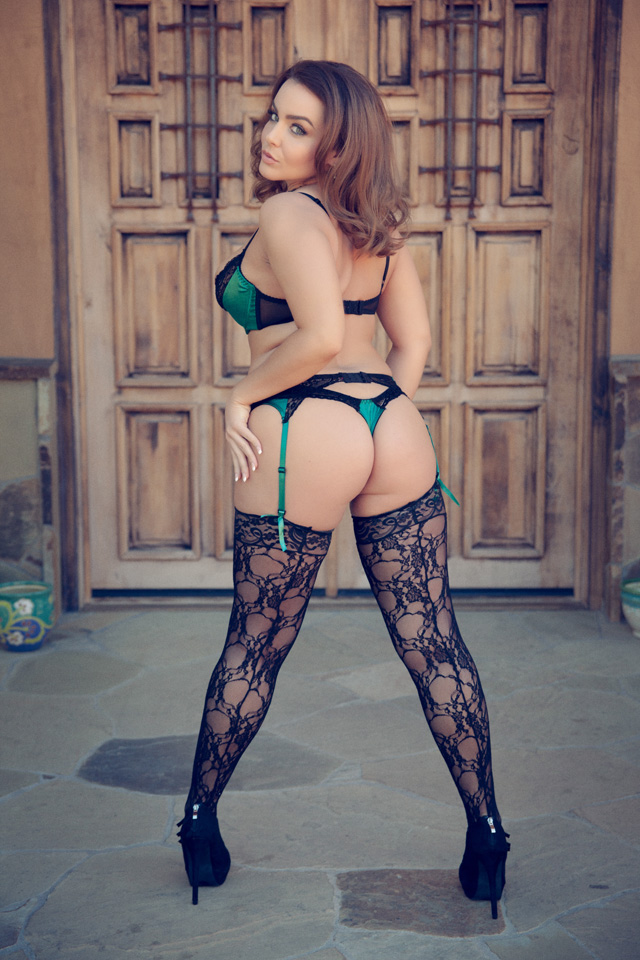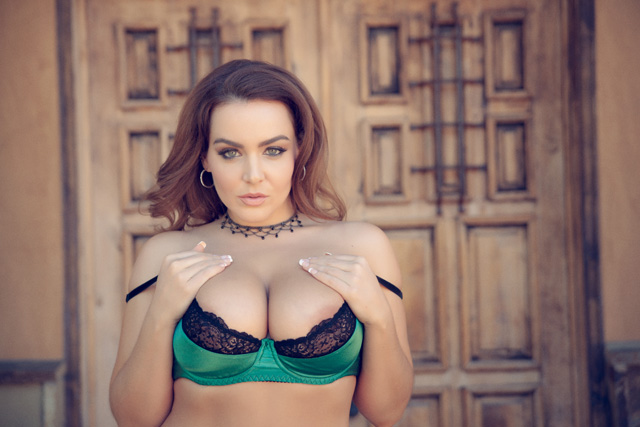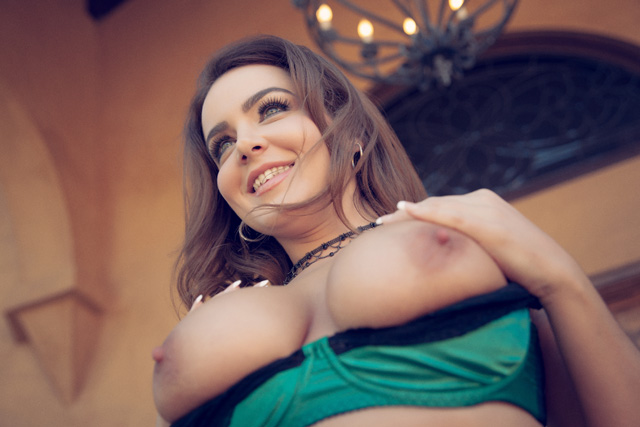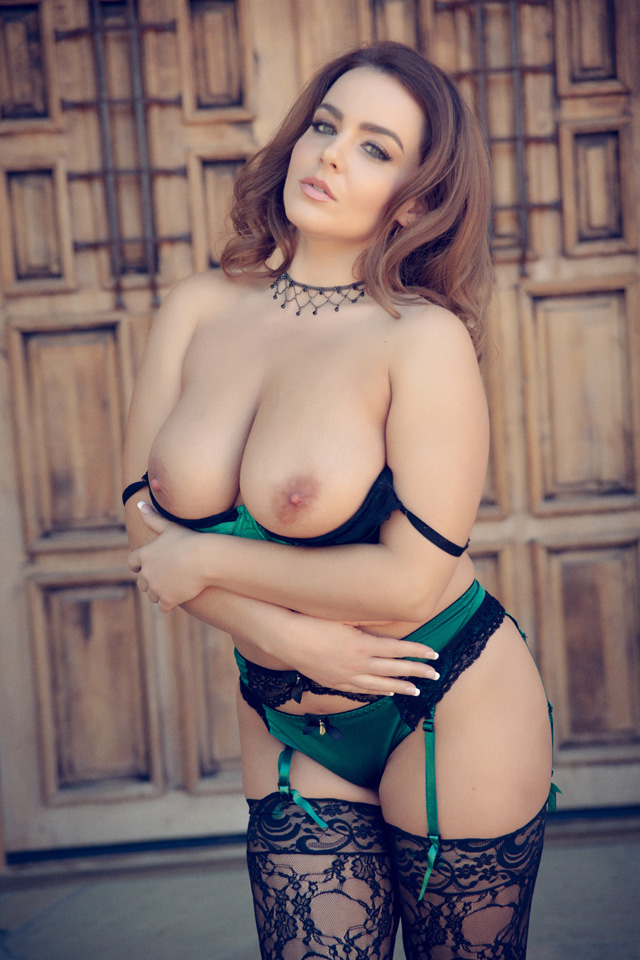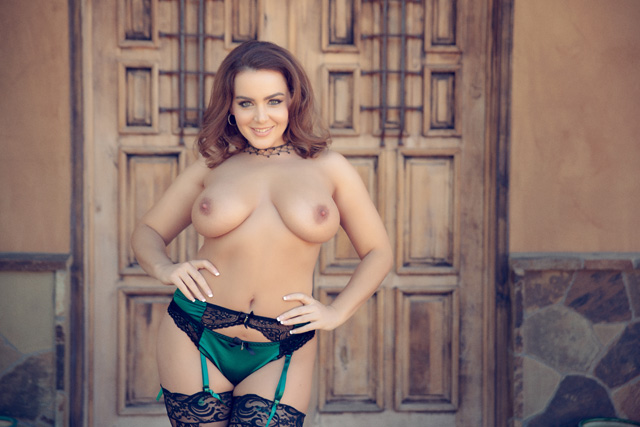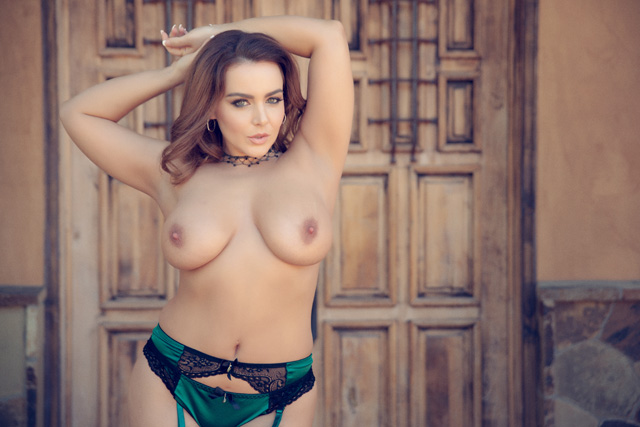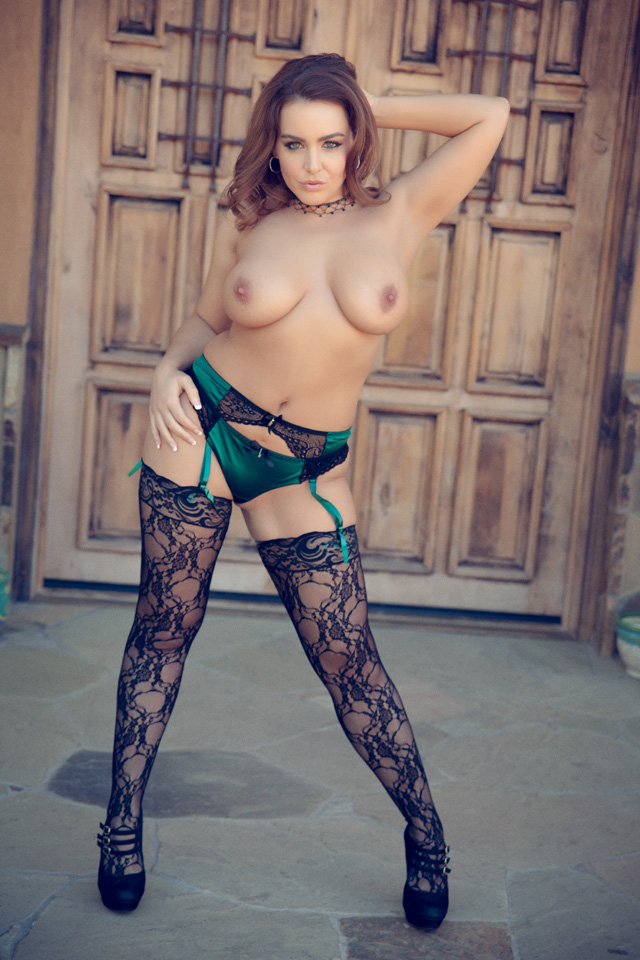 Natasha Nice is a bisexual beauty with Cuban & French heritage. She was born in Paris, France but currently resides in the USA. Her stunning all natural curves are parallel to her mesmerizing eyes, striking facial features and bubbly erotic personality! Natasha Nice is smart and articulate and can speak English and French fluently and is versed in Spanish. Natasha measures up at 34DD, 27, 37 with her goddess stature stacking up at 5'2″ and weighing 130 pounds. For more of sexy French born American pornstar Natasha Nice being naughty & nice visit her Official Site! Don't forget to send your AMA questions in to asknatashanice@porncorp.net for the hottest new Porn Corporation author Natasha Nice for our new column Ask Natasha Nice!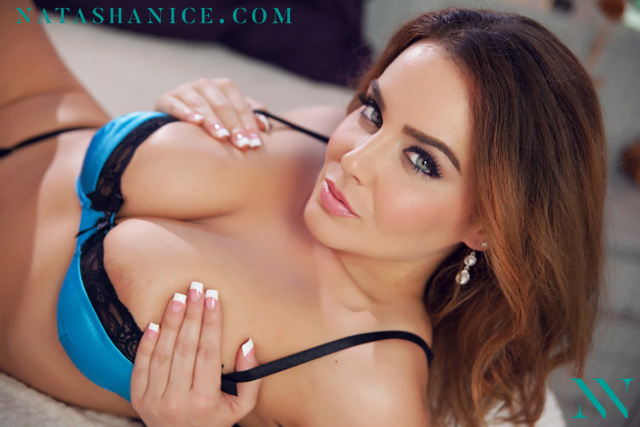 See more in Porn Corporation Girls or the new AMA category or return to the cover of Porn Corp.
View all of the articles starring busty goddess & all natural pornstar Natasha Nice.
For more hot topics check out our Pornstar Interviews or the Adult Industry categories.
Looking for more juicy articles?  Check out all the Porn News or New Porn Sites!
User Favorite categories:  Porn Parodies – 4K Porn – VR Porn – Comics – Games – Pornstars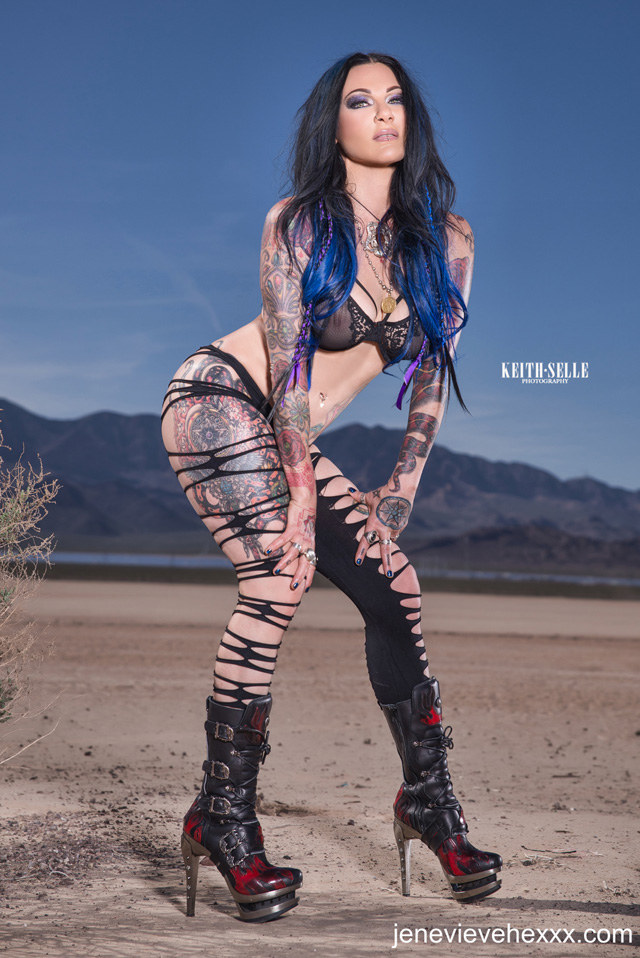 1. What was your first experience in the adult industry and how did you begin your porn career?
JENEVIEVE HEXXX:  First, I was given Joanna Angel's number and I sent her a selfie. She fucked me on film shortly after that message and viola!
2. Please tell us about your upbringing in a nutshell & where you grew up?
JENEVIEVE HEXXX:  I am of half human and half reptilian decent. I was born of a human mother in Connecticut but I was always very otherworldly. Strange supernatural experiences were quite normal when I was young. The humans encouraged my third eyesight though, and they always set the table for my spirit friends to eat (although they could not see them).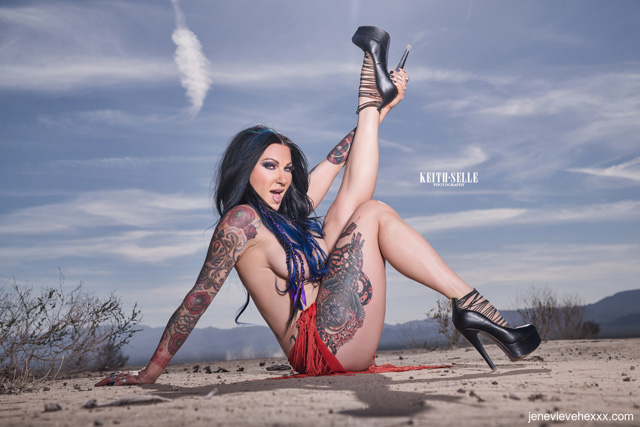 3. What are your religious beliefs? Are you a Wiccan, Satanist, Atheist, Judaism, Christian or something in between or different altogether?
JENEVIEVE HEXXX:  I'm quite something different altogether. In simplest terms, I'm Pagan.
4. Jenevieve, you've got us in a Hexxx! If you identify as a Witch surely you believe in Magic? Do you personally lean towards dark magic or light magic? Do you practice spells?
JENEVIEVE HEXXX:  This question is a loaded one. Magick is grey until you set an intention behind it. Yes, indeed I do believe in magick. In some way or other, doesn't everyone?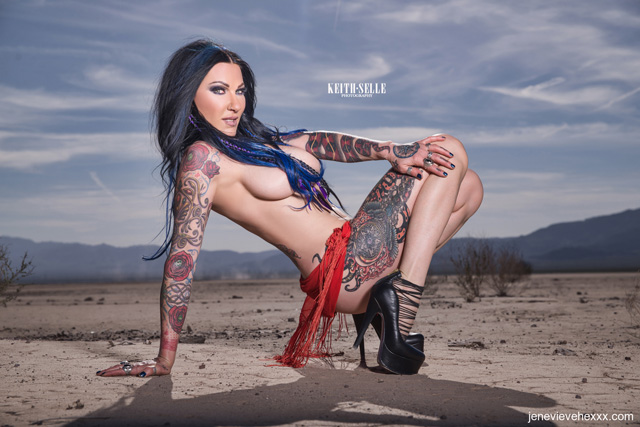 5. What are the biggest modern misconceptions about Witches that you encounter?
JENEVIEVE HEXXX:  The biggest misconception is that witches do the Devil's work. Next time you see a magickal new moon, and a warm sexy wind gives you inspiration, know it was from me. The devil had nothing to do with it.
6. I hear you're a snake girl. Me too! What are your favorite kinds of serpents? Do you have any snakes, reptiles, arachnids or other creatures as pets currently?
JENEVIEVE HEXXX:  I have 2 snakes. An Albino Boa and a Red Tail Boa. Their names are Pendragon and Odezza. They are approximately 7 feet in length.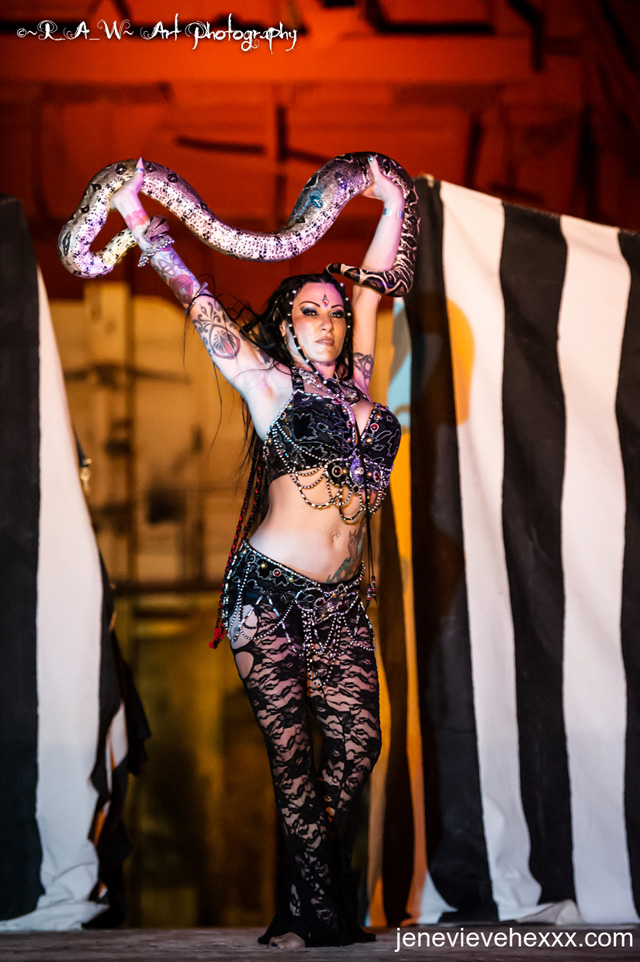 7. We know you do modeling with snakes. Do you have any wild stories you can share with our readers?
JENEVIEVE HEXXX:  I dance with snakes too! The modeling is just the precursor to the snake charming show. Every performance with them is a wild story. My serpents and I are in a trance on stage. We do mystical, hypnotic, and bewildering things with our bodies. They do bite though! Exhilarating!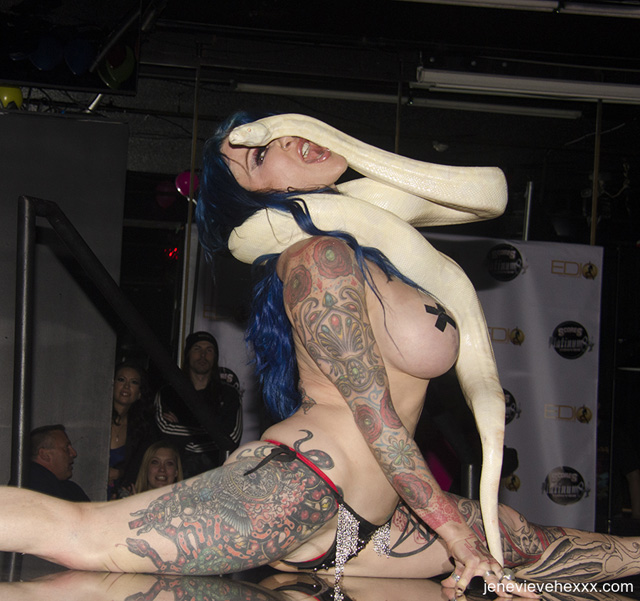 8. You've got some sick ink and are a multiple Inked Awards nominee including Best Tits. First of all, what size are your awesome tits? Also, please tell us about your tattoos and what they represent to you.
JENEVIEVE HEXXX:  My Tattoos are all based on mysticism. If I said what they all were, everyone would be on google for 2 hours to make sense of it all!  I've got Triple D boobage.
9. Do you have any upcoming tattoos in mind that you are planning on adding to your body art collection that you can tell us about?
JENEVIEVE HEXXX:  Not at the moment.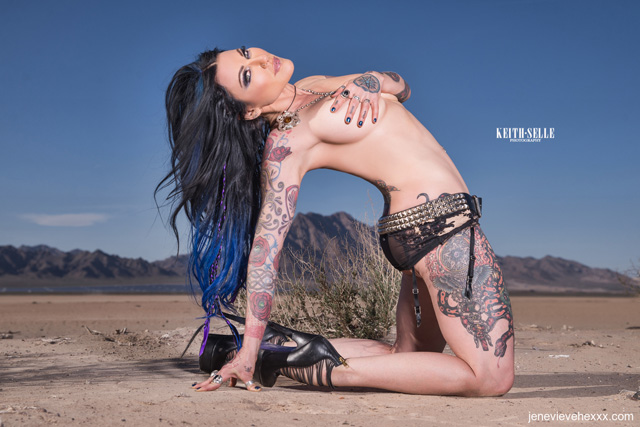 10. What is your sexual orientation?
JENEVIEVE HEXXX:  I identify as alien sex fiend.
11. What do you prefer cock or pussy? If you could only choose one for all of 2018 what would it be?
JENEVIEVE HEXXX:  I would do magick and create a morph genitalia called Cocussy.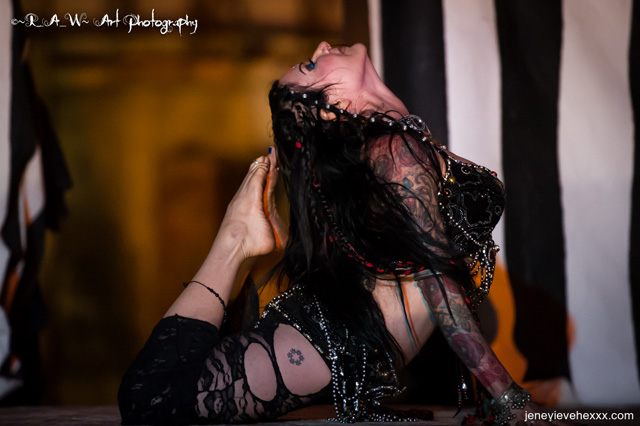 12. What are your biggest turn-ons? What kills the mood for you?
JENEVIEVE HEXXX:  I like wild sexual beasts who are authentic and slightly insane, with a side of creative genius. Someone who wants to get psychedelic in the magick forest with me.  I get turned off with by ignorance, bad vibes, and fake faces.
13. What is your favorite sexual act?
JENEVIEVE HEXXX:  I love it all. I don't have one favorite.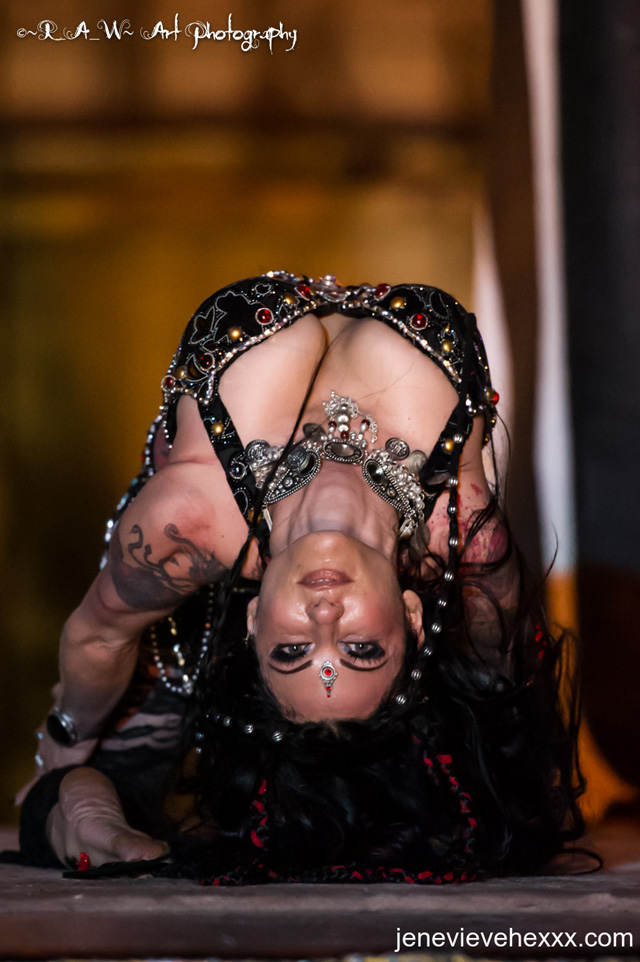 14. Please tell us your most outrageous sex story?
JENEVIEVE HEXXX:  Oh my, there are so many. Probably the time I was transported to an alien spaceship for an outer space orgy.
15. What is the craziest thing you have ever done?
JENEVIEVE HEXXX:  I am confused by the word crazy. I have no frame of reference for what's not crazy. Does that make me crazy?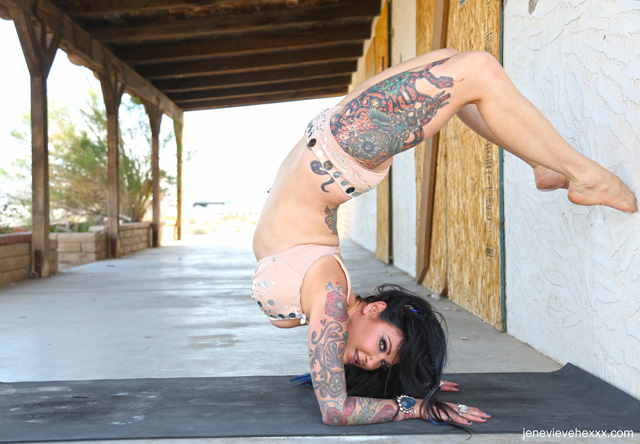 16. How far have you gone sexually? Have you ever had a threesome? Gangbang? Double penetration? Double anal? What haven't you done that we can expect to see on film in the future?
JENEVIEVE HEXXX:  Double anal sounds like it's out of my frequency, but never say never. Threesomes are weekly, and gangbangs may be just around the corner, down the rabbit hole.
17. When you aren't filming porn, doing witch stuff and wrangling snakes, what do you like to do in your free time? Any quirky hobbies or things you can't live without?
JENEVIEVE HEXXX:  I love this. You seem to know me. I'm a crazy tree hugger, organic, hippy witch. I'm usually in a forest doing mind expansion ceremonies or doing yoga 3 hours a day seeking to levitate. I will influence the world to fuck and dance with glee, and reverence for all life when I get there.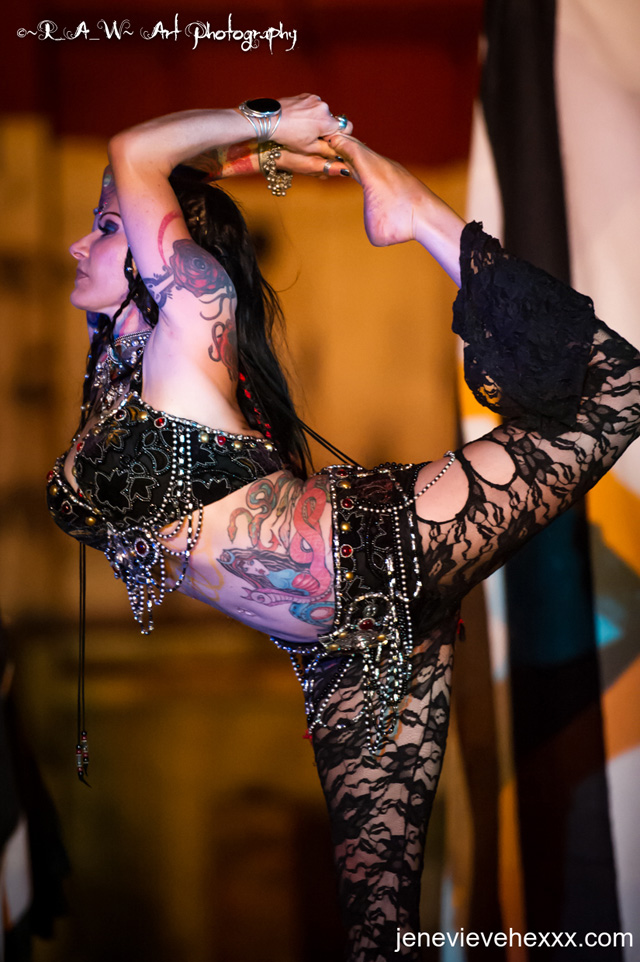 18. Are you filming any upcoming scenes right now you can share with us? Please tell us about your upcoming events, business plans, and career aspirations. Are you currently working on any other projects that you can let us in on?
JENEVIEVE HEXXX:  Inked 4 by Axel Braun will be out soon. I'm also producing and directing this year for my company "Triple Hexxx productions", crazy debaucherously magick porn!
I'll be shooting for two other companies which I will announce on my twitter soon. You will see me at AVN of course along with several feature dancing dates announced soon.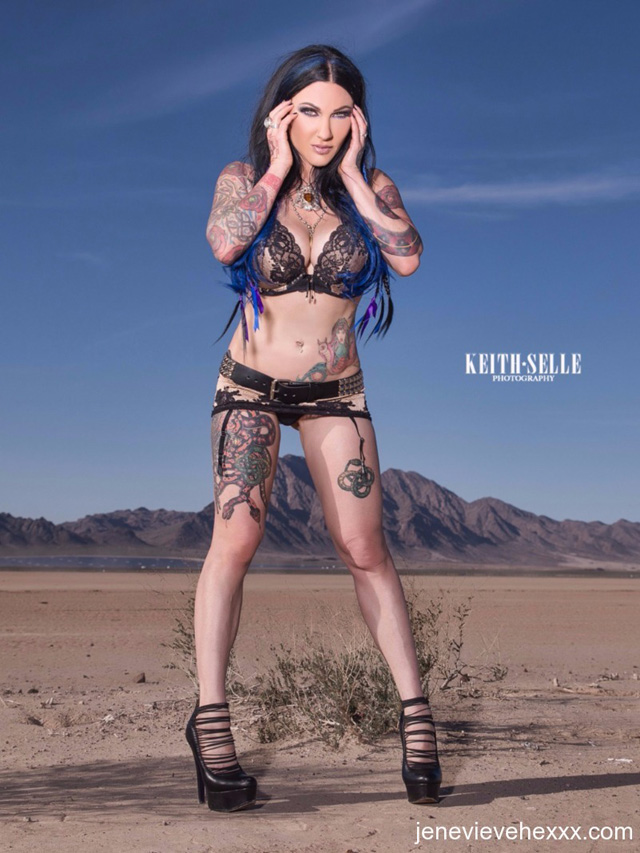 19. Where can your fans connect with you more? Please share with us your official site & social media accounts.
JENEVIEVE HEXXX:  Find me on at:  Twitter – Only Fans – Instagram – Snapchat: @Jenevievezaya – Is My Girl – My Official Site: JenHexxx.com
20. This is something I ask all of our interviewees but I am particularly curious about your answer, Jenevieve Hexxx… Please leave our readers with a true taste of delicious you, if you were ice cream what flavor would you be?
JENEVIEVE HEXXX: Vegan, deep, dark rose, blood, enchanting, raw cacao cream. A succulent immortality blend.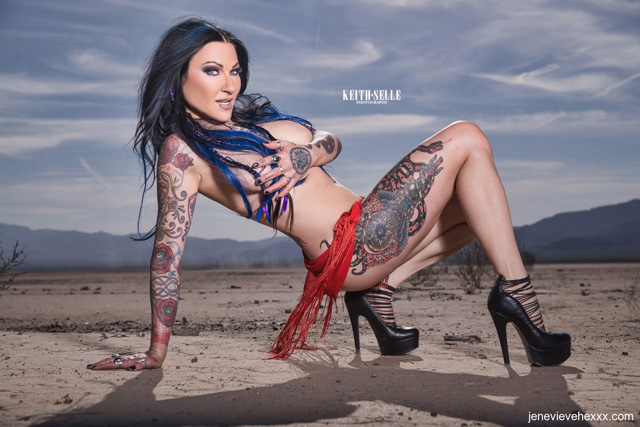 21. Is there anything else you would like to share with your fans, our readers or our associates in the adult industry?
JENEVIEVE HEXXX: No. Jen has left for yoga now…
Remember,  The Goddess is alive and magick is afoot.  Psychic readings and Tarot – Psychic Sorceress – Bewitching belly and snake dance – The Serpentine Sorceress  ~ ENTER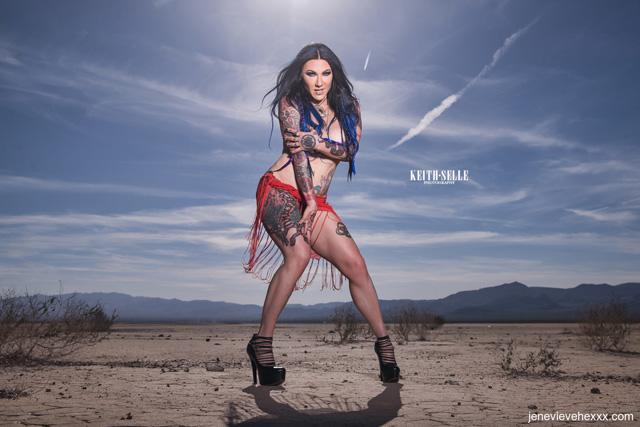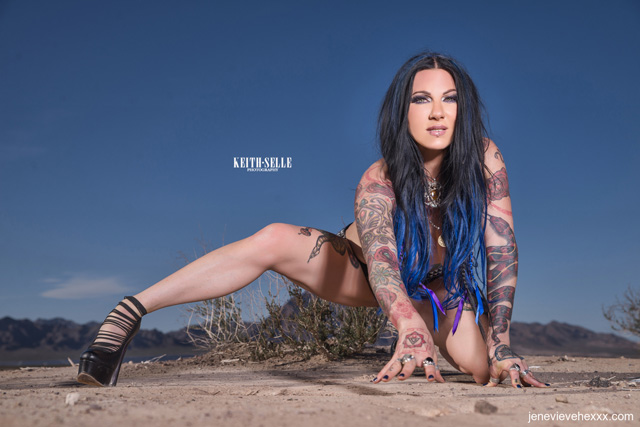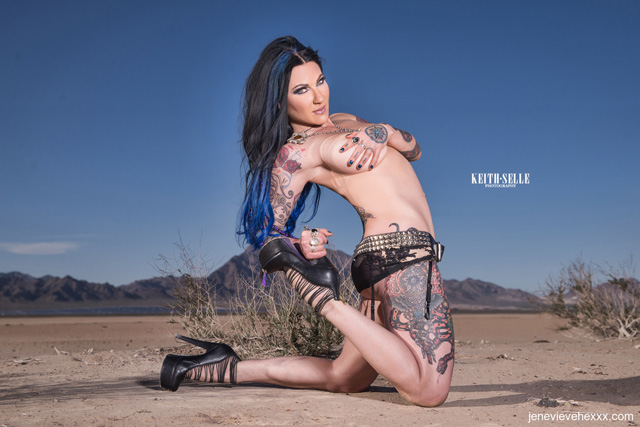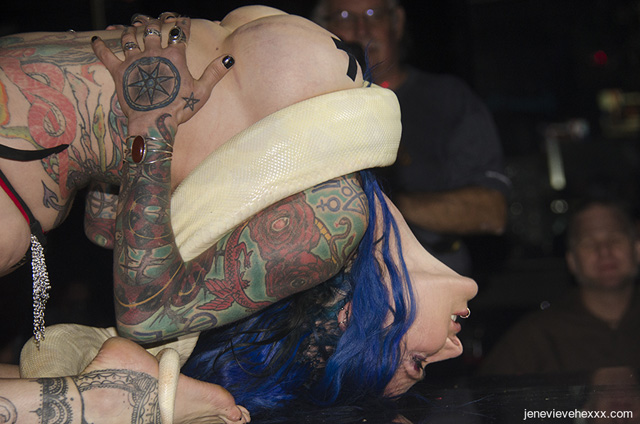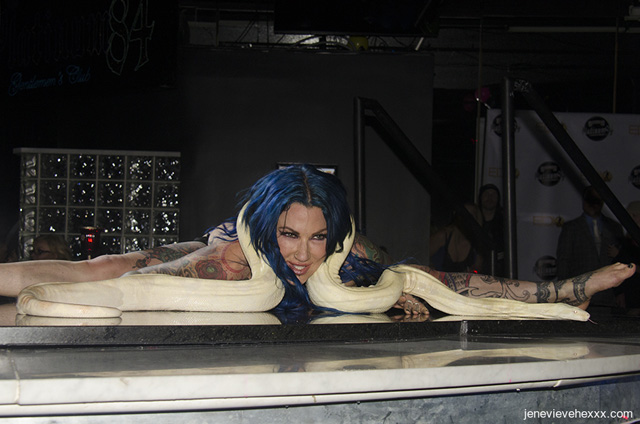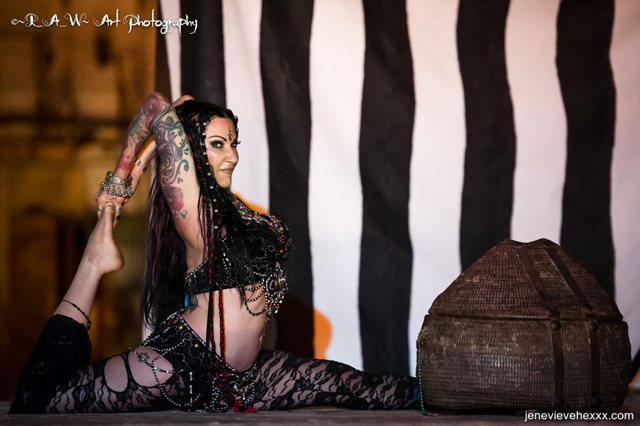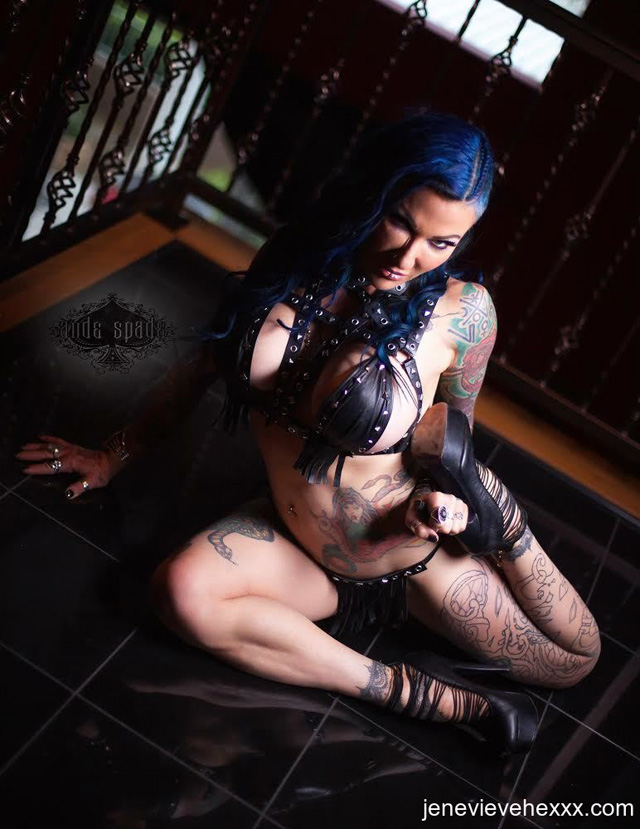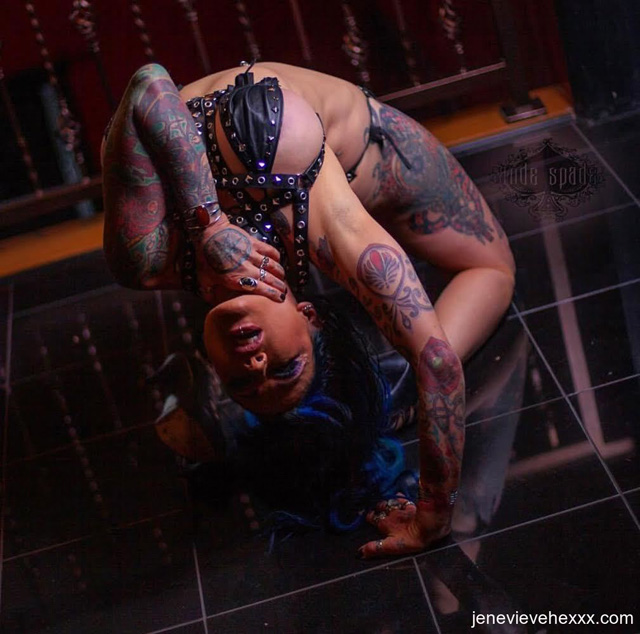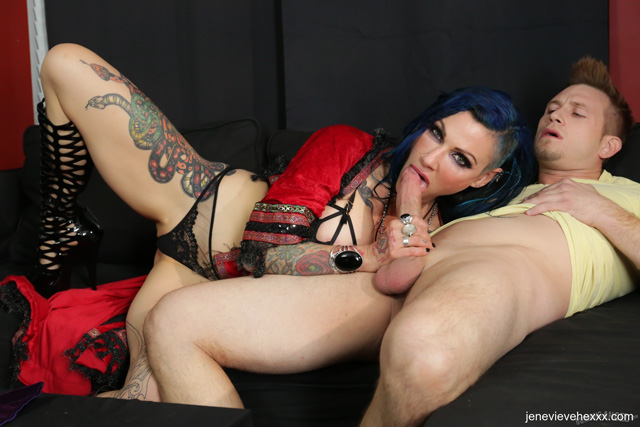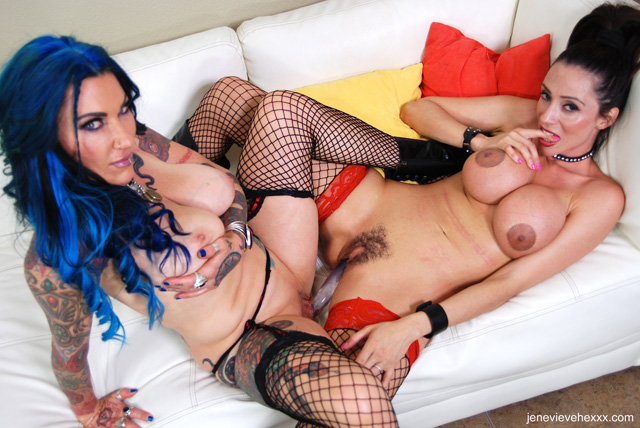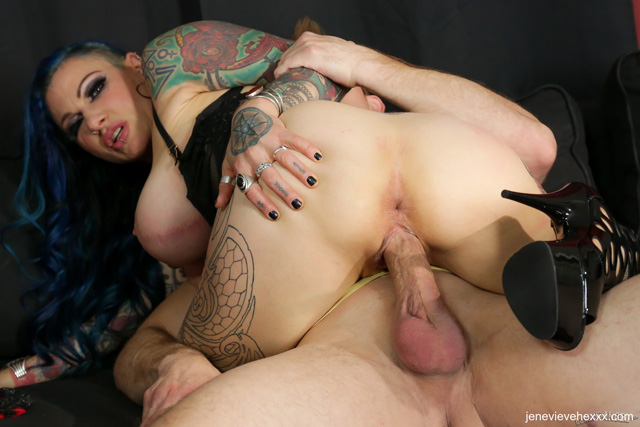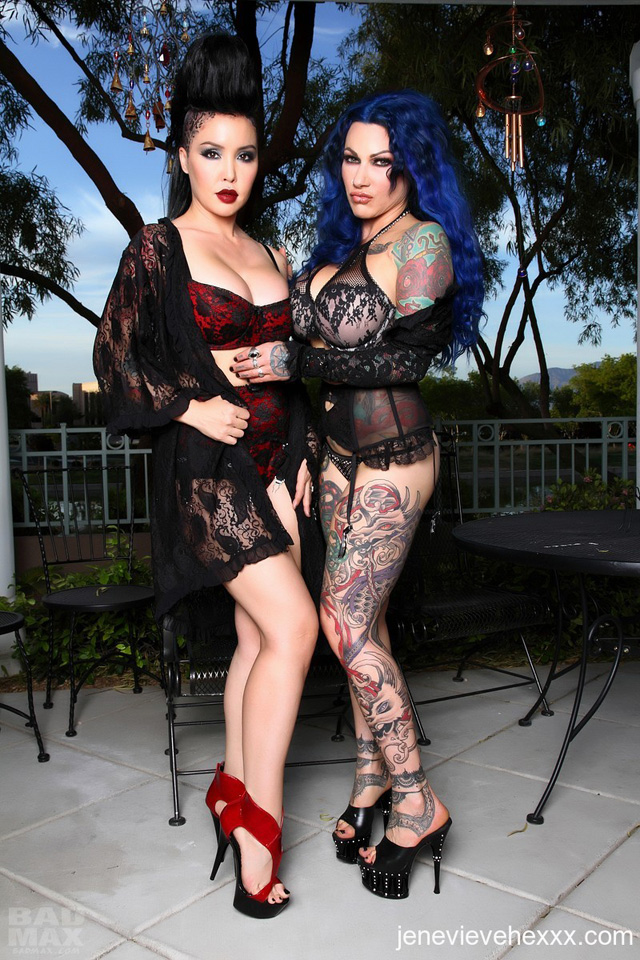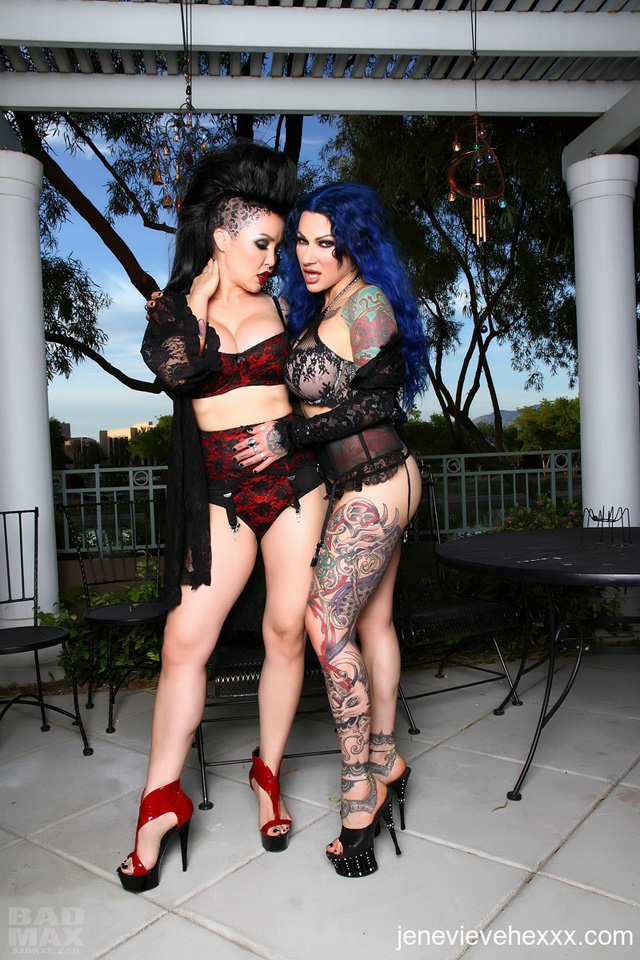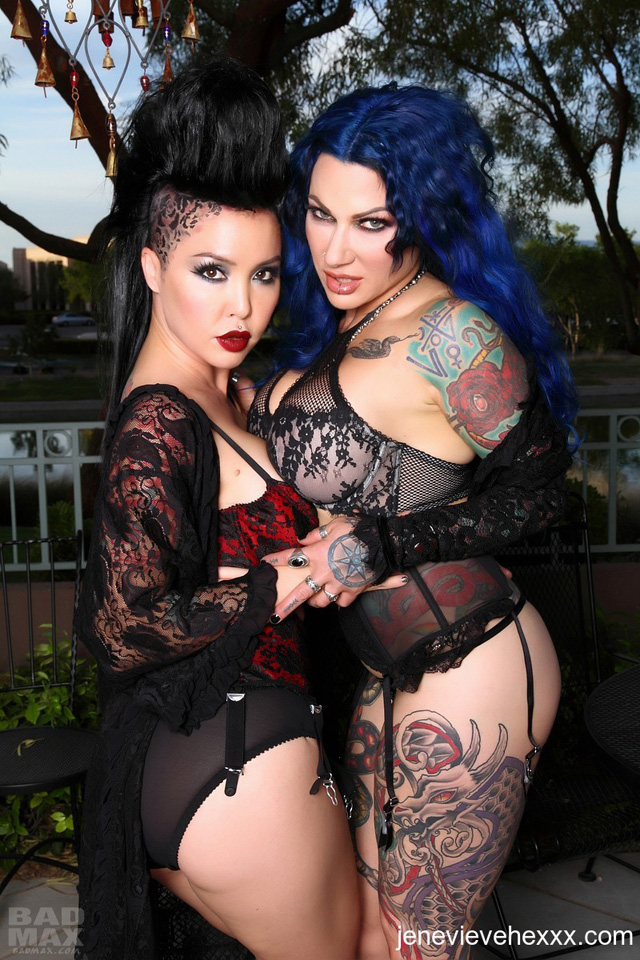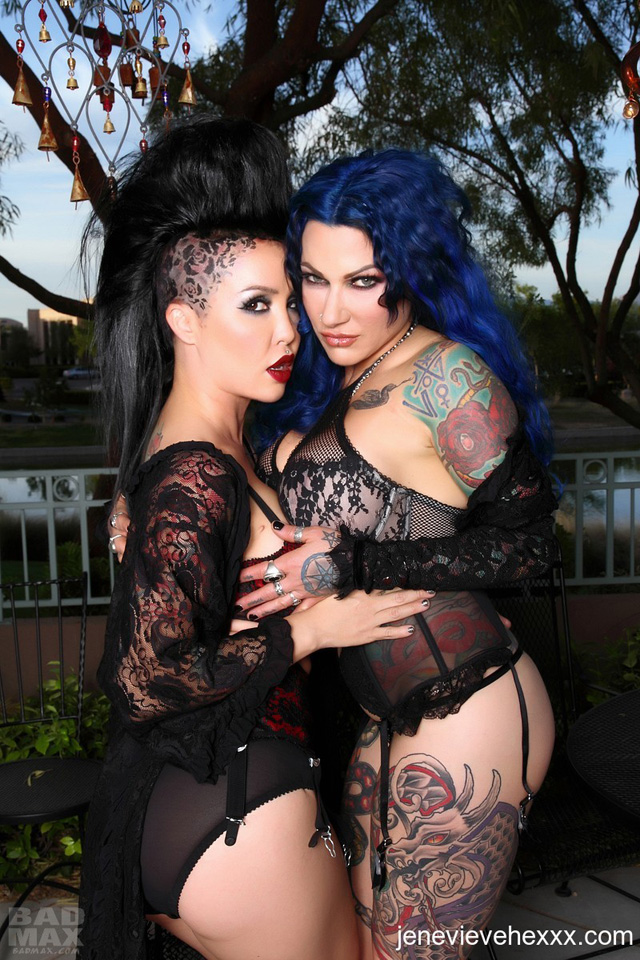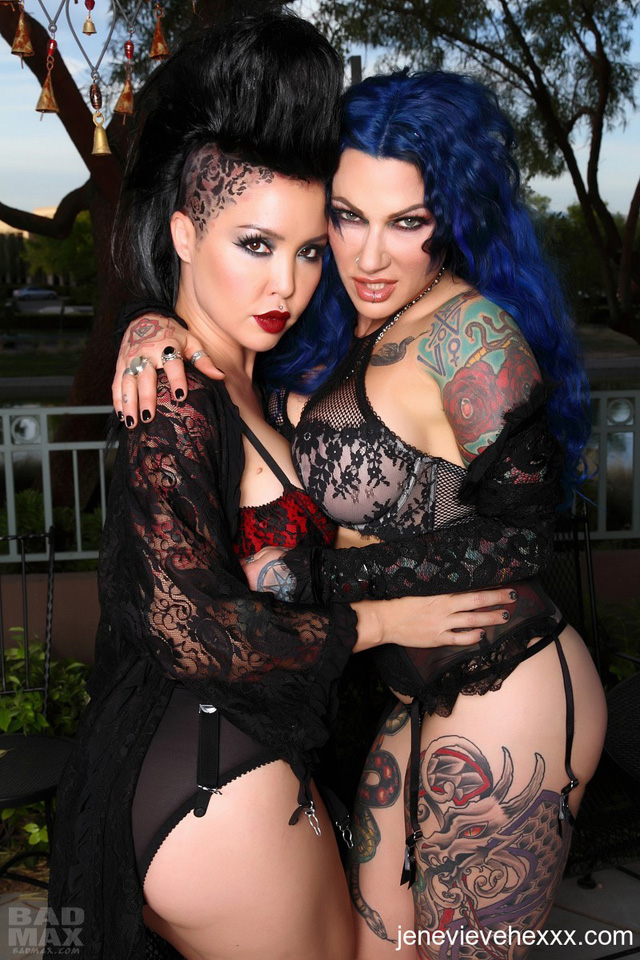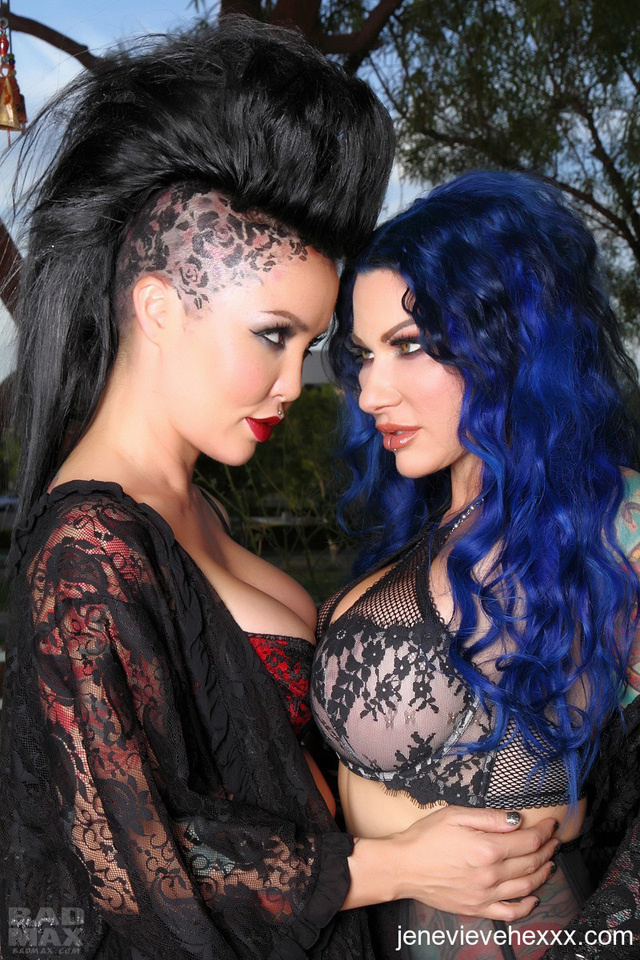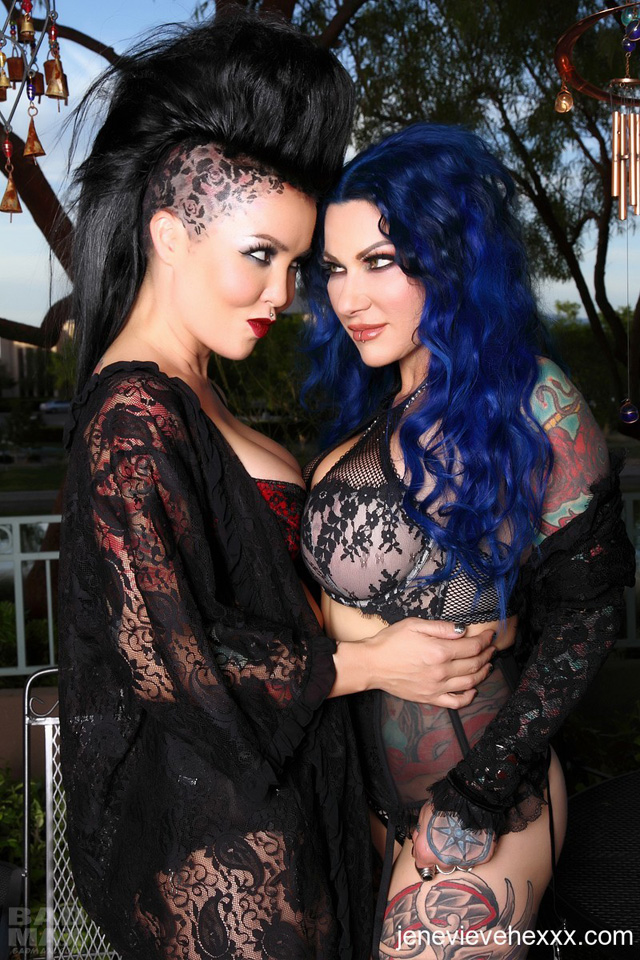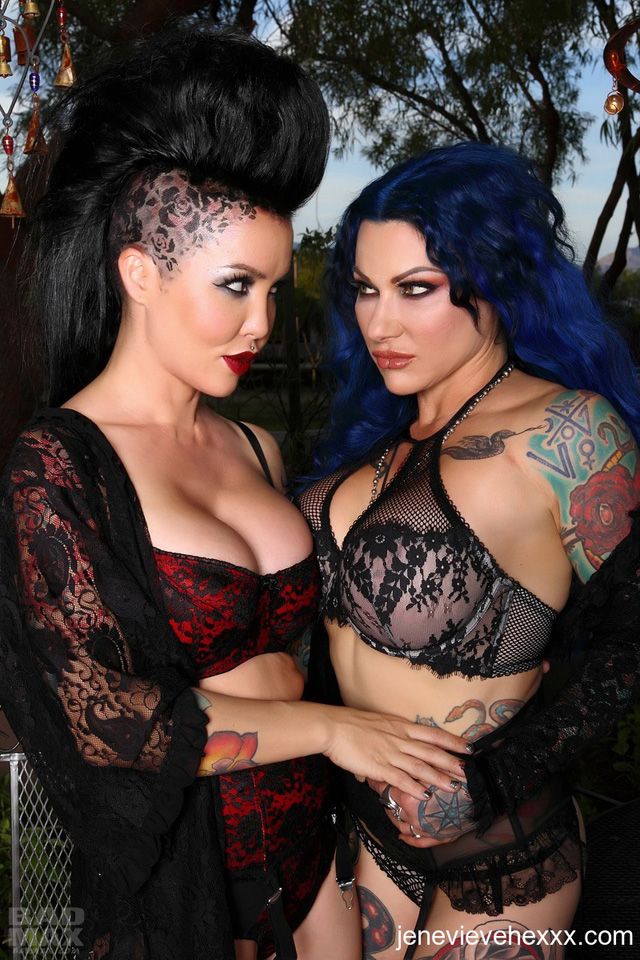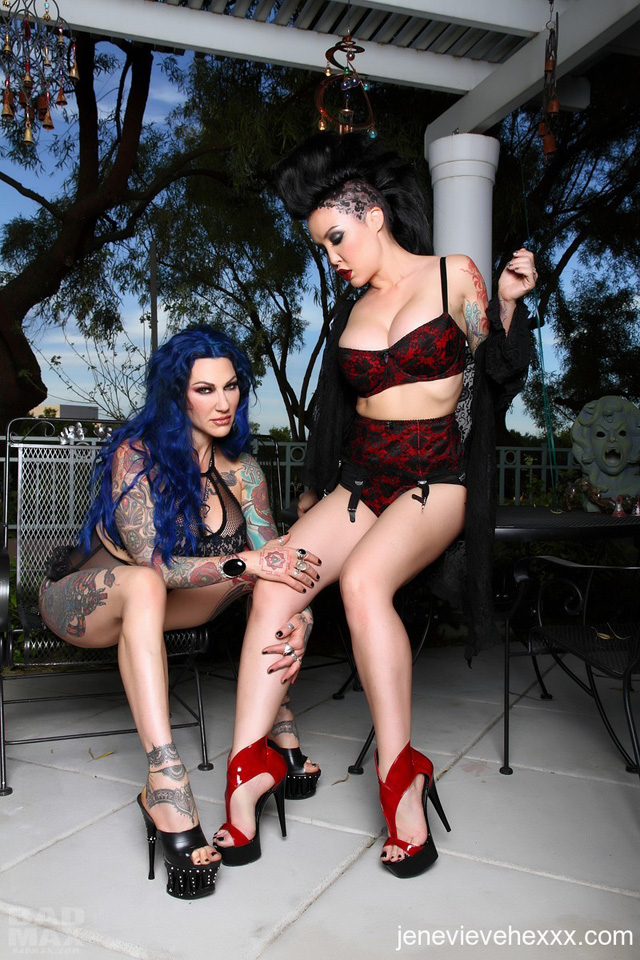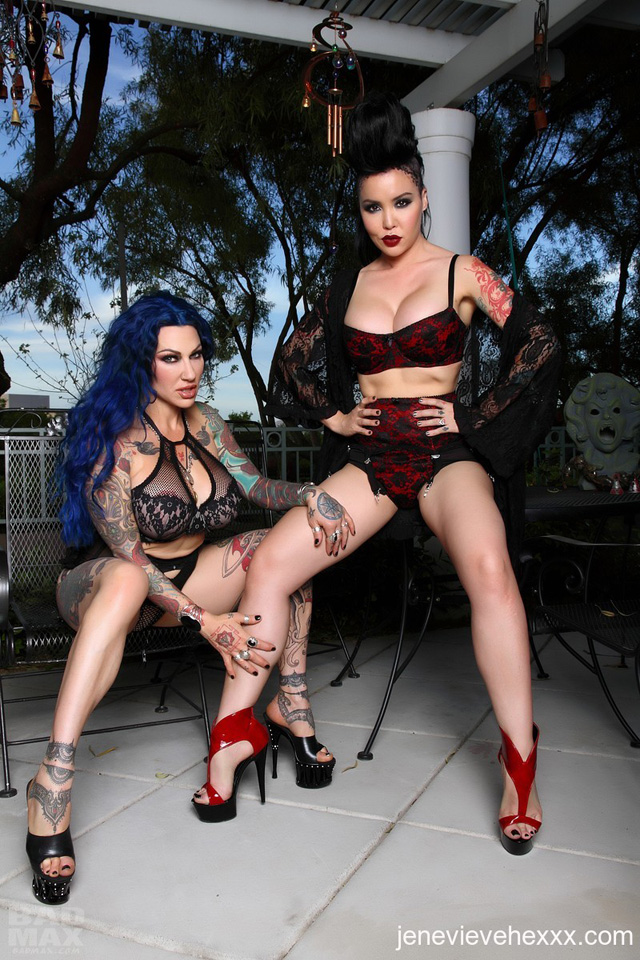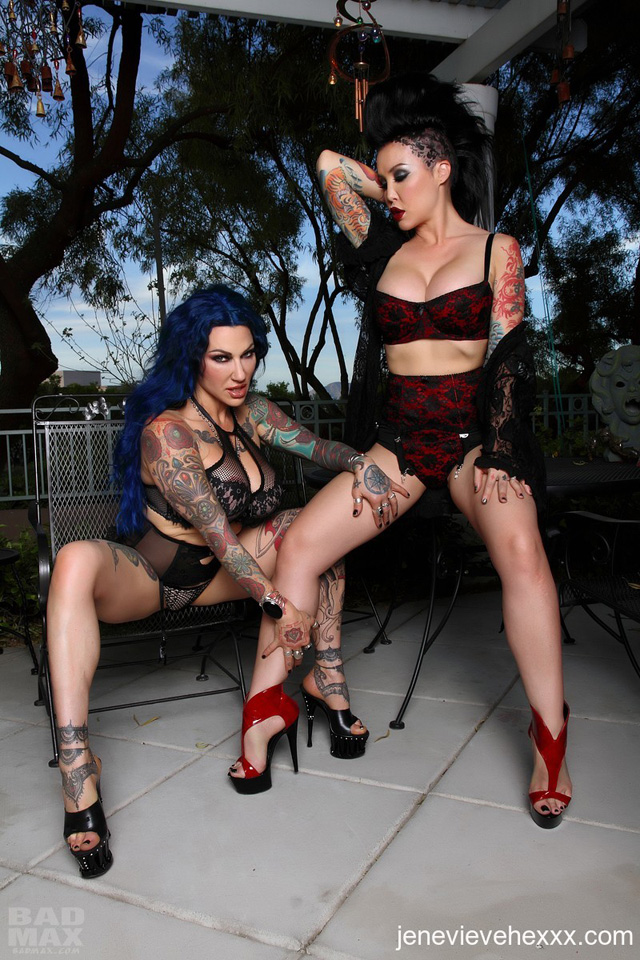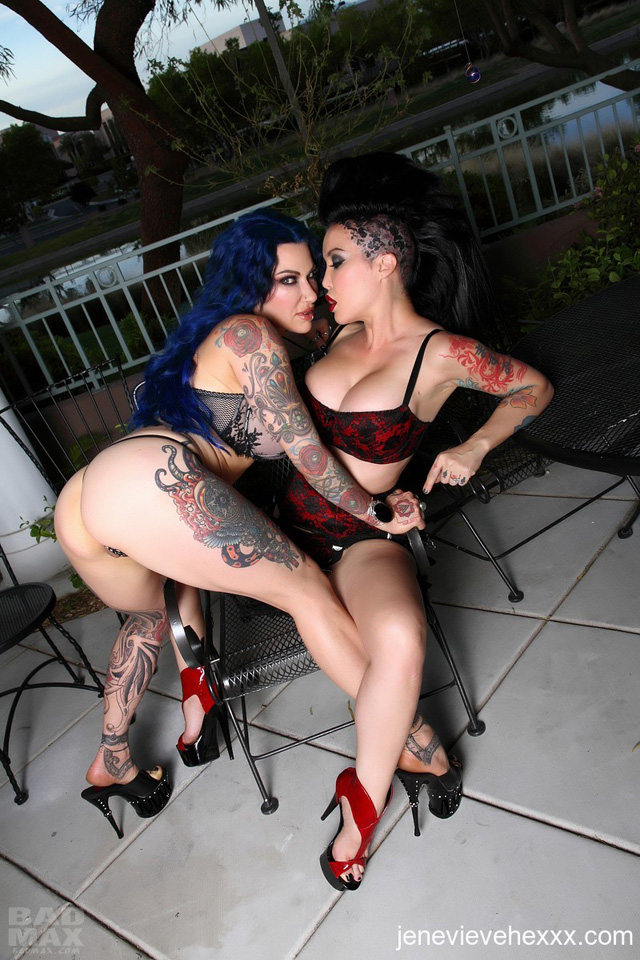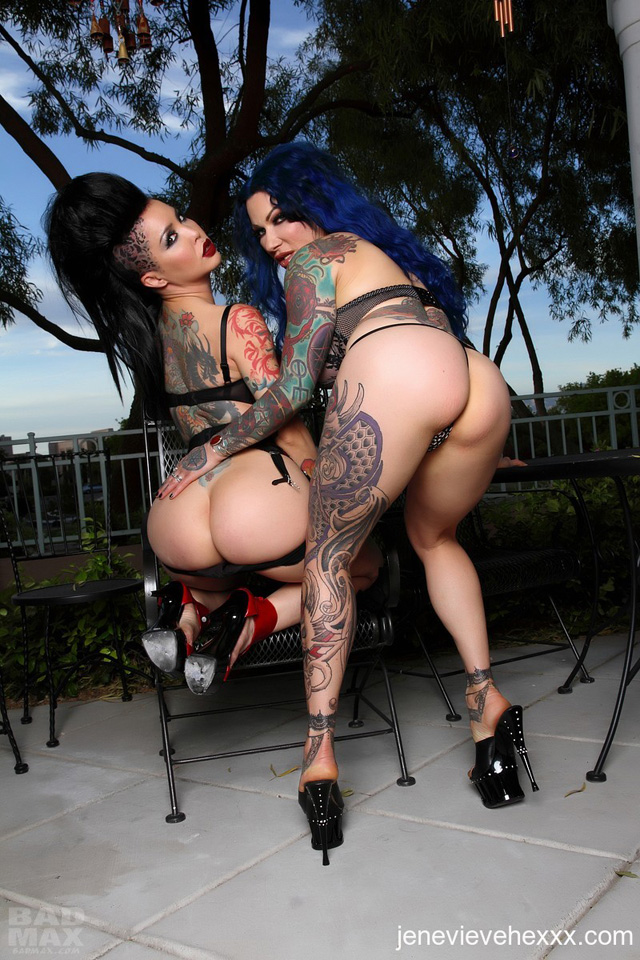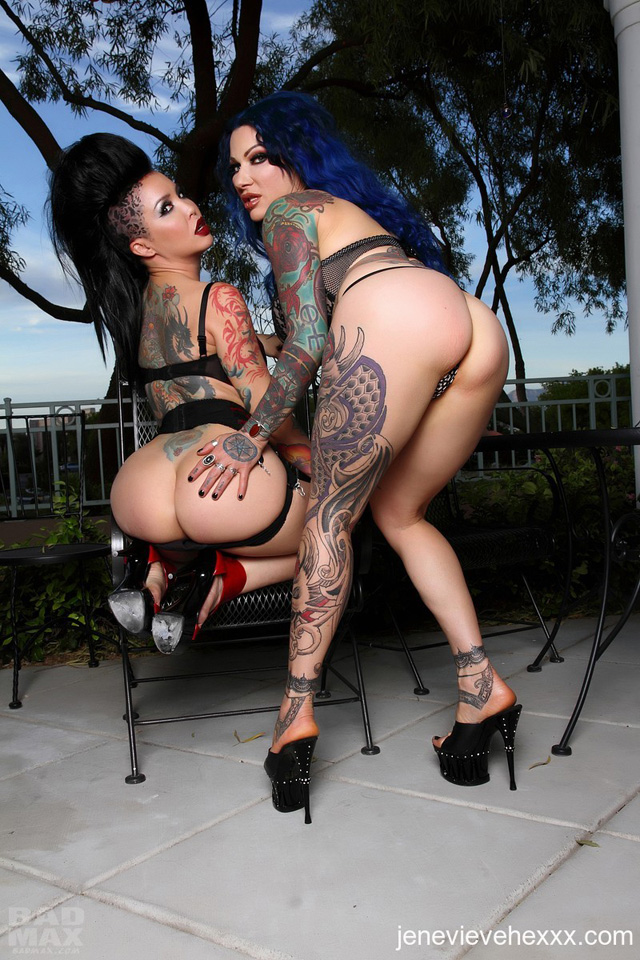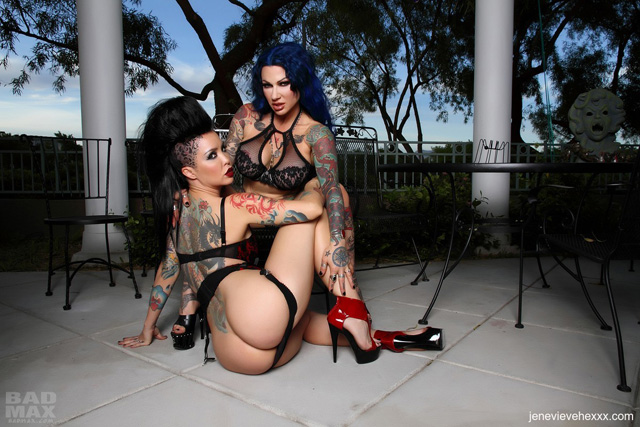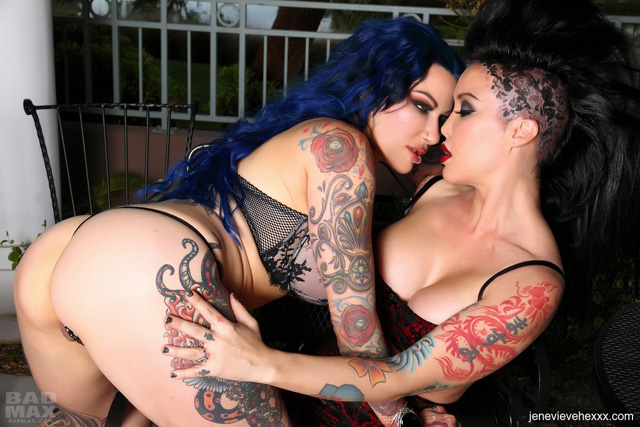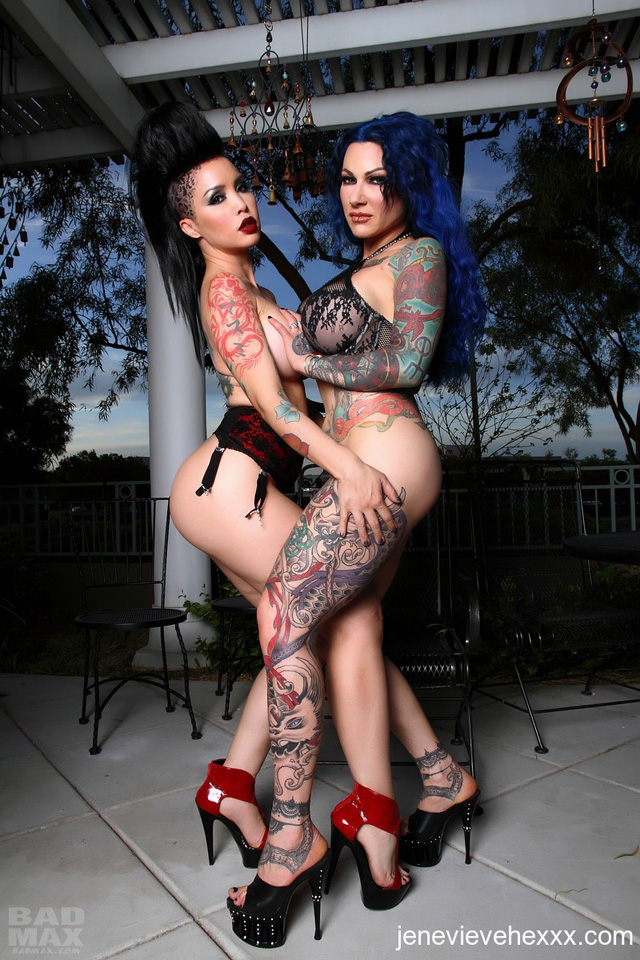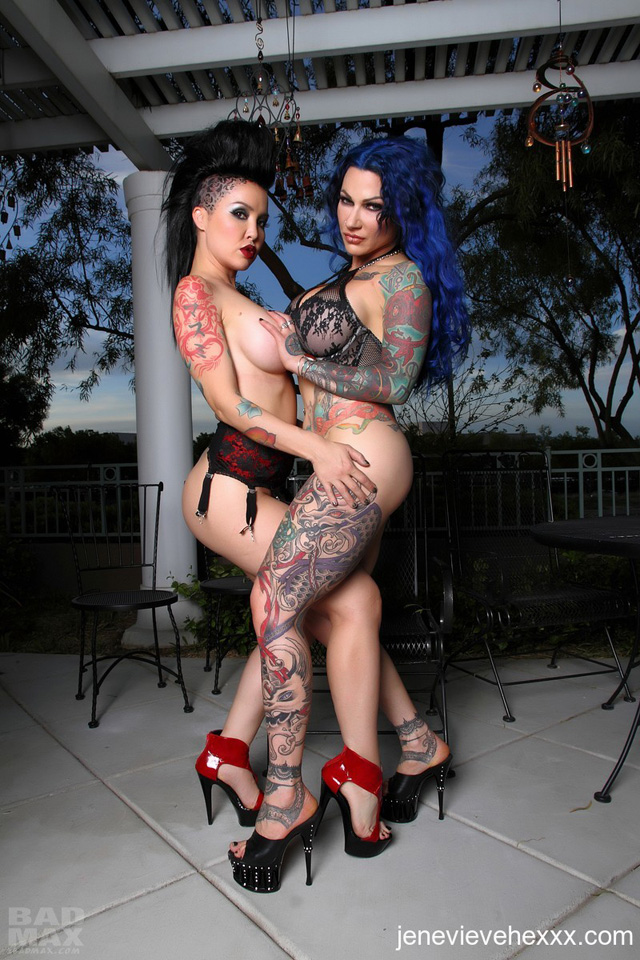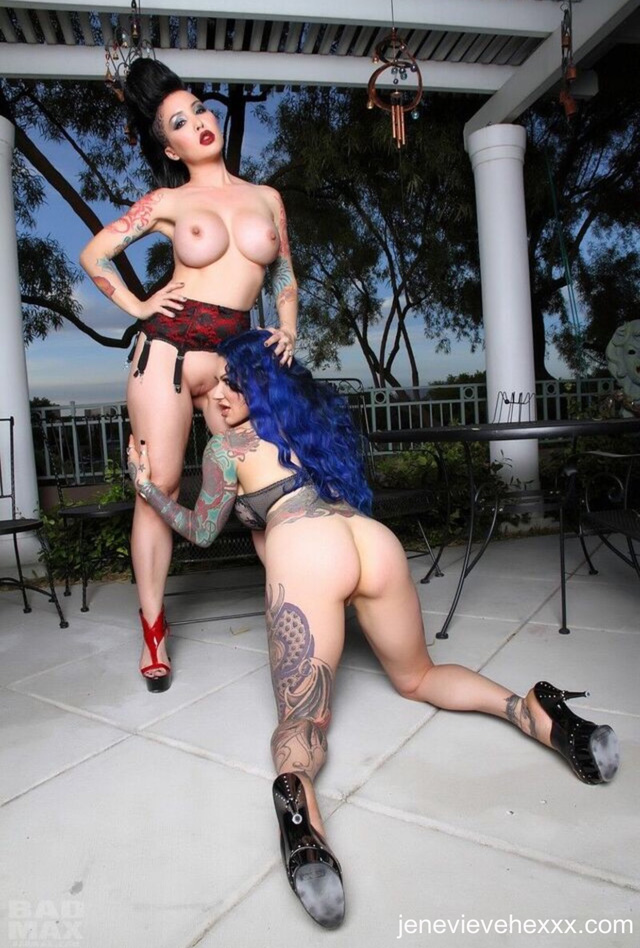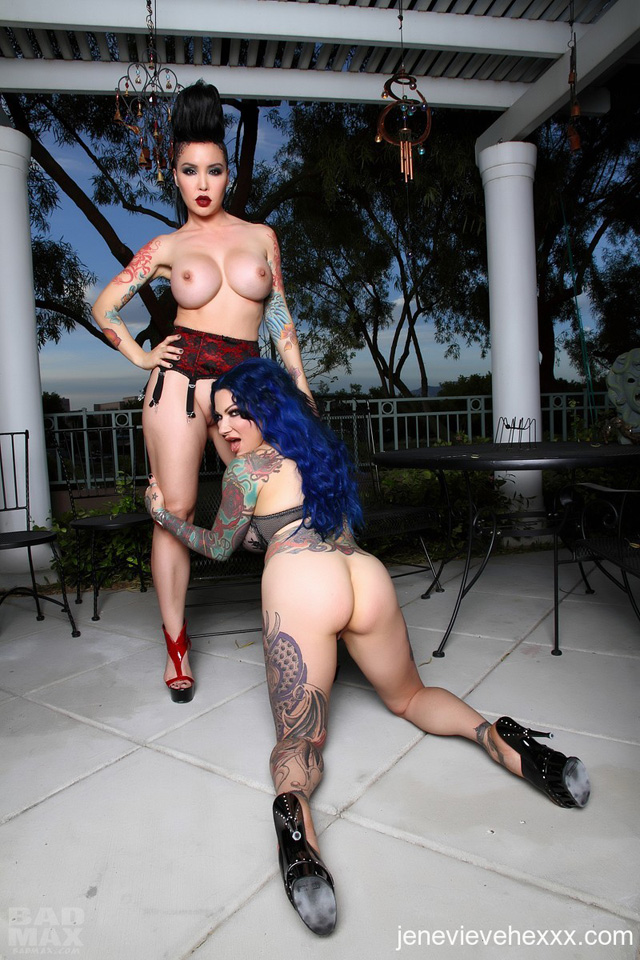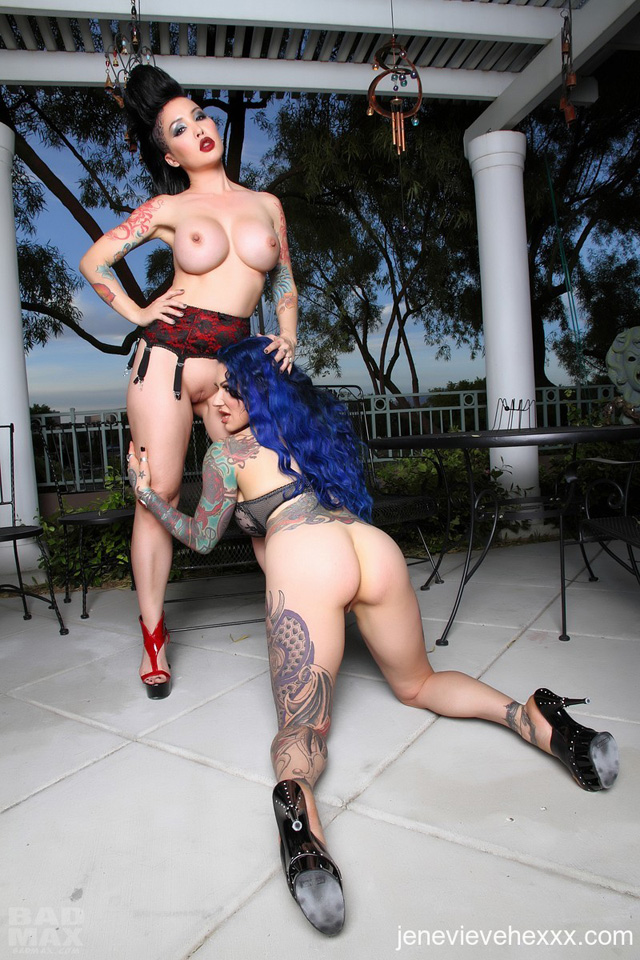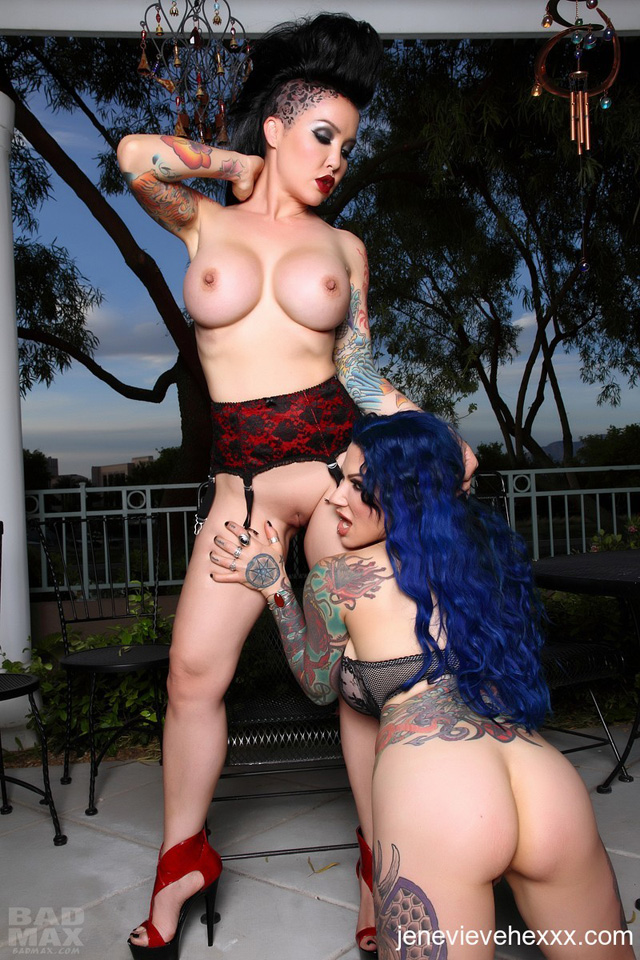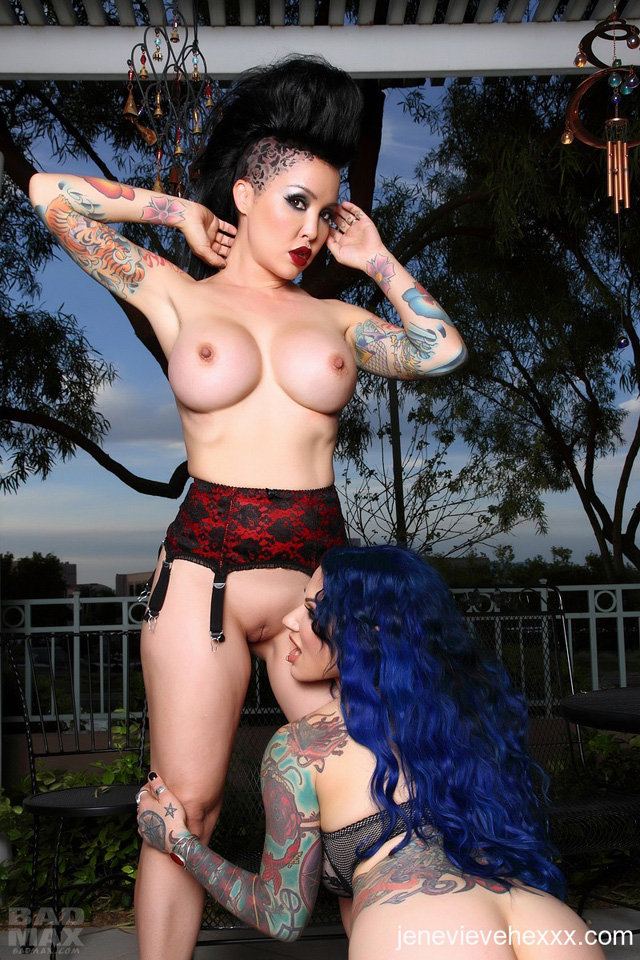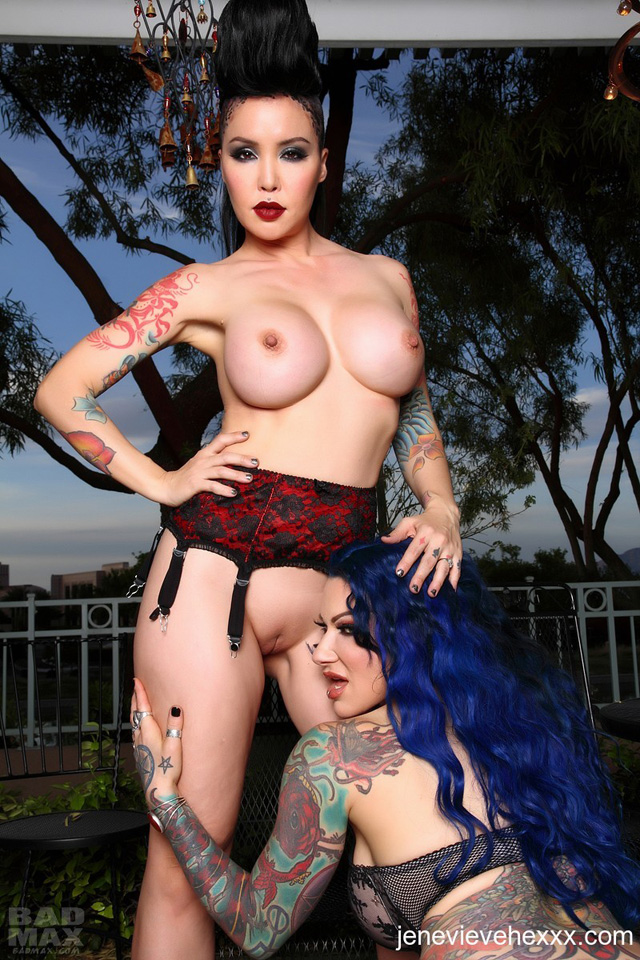 Are you ready to be enchanted by the one and only Jen Hexxx?  For more wild hardcore & lesbian sex with snake charming witchy babe Jenevieve Hexxx check out her Official Site!  Peep her sexy inked Asian lover & friend Masuimi Max aka Bad Max's Site too!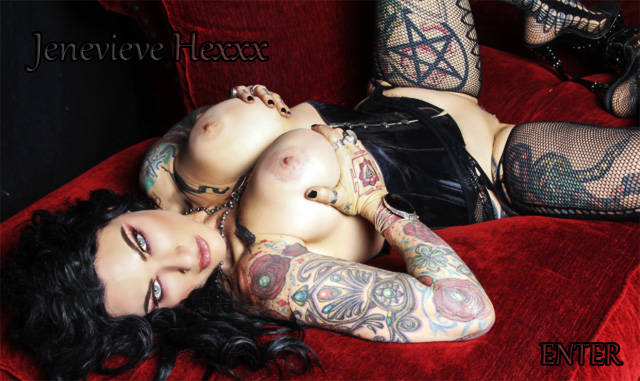 Continue reading Pornstar Interviews or return to cover of Porn Corporation magazine.
View more of Jenevieve Hexxx. Previous: Naughty & Nice: Jenevieve Hexxx & Lauren Phillips
More exclusive adult entertainer interviews:  Ryan Driller – Olive Glass – Sarah Vandella
Raven Bay – Jenna J Ross – Olivia Wilder –  Nikita Von James – Allison Moore – Karla Lane
Kayla Jane Danger – Natasha Starr – Karmen Karma – Leia Down – Mia Gold – Nora Noir
Looking for juicy editorials & interviews from the Adult Industry or Porn Corporation Girls?
Keep up on the latest & read our hottest topics:  New Porn Sites – Porn News & Adult Parodies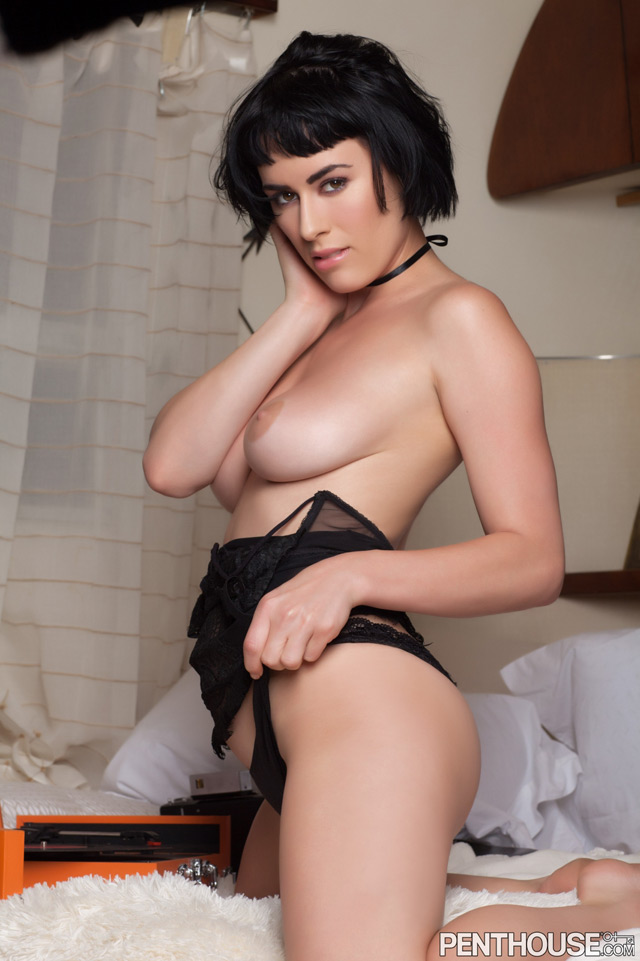 1. How did you begin your career in the adult industry and how long have you been performing?
OLIVE GLASS: I have been performing in the adult industry as a career since February, 2017! I dabbled it in here and there for fun and extra money before, but in February I made the happy decision to move to LA and really go for it!
2. Please tell us a little about your heritage & upbringing and how that has shaped you into the beautiful woman you are today. We hear you have a Mormon history. What was that like? We've also heard rumors that you are from/spent time in Australia. Are the rumors true? Please set the record straight.
OLIVE GLASS: You're right about the Mormonisn. I come from a branch of Mormonism that split from the church in the 1940's, and moved to a part of the desert near the border of Nevada. They call themselves the Apostolic United Brethren. I had a really odd upbringing, by typical American kid standards. I never felt like i truly fit in. Most of the girls I grew up with couldn't wait to get married as soon as humanly possible, have a bunch of kids, and settle down in the same community they grew up in; while there's nothing wrong with that desire, I have always been deeply curious about the world, and there wasn't anything I wanted more than to be a well-traveled, worldly woman whose presence demanded the respect of those around her. My community found my sense of adventure and ambition to be wildly blasphemous. No matter how hard they tried, I'm *far* from becoming a docile little fields wife. When I had the chance, I left home and created my life, just the way I always always wanted it. 🙂
I have seen the rumors online about me being from Australia!! I have absolutely no ties to Australia. I had a really good laugh over this question, though!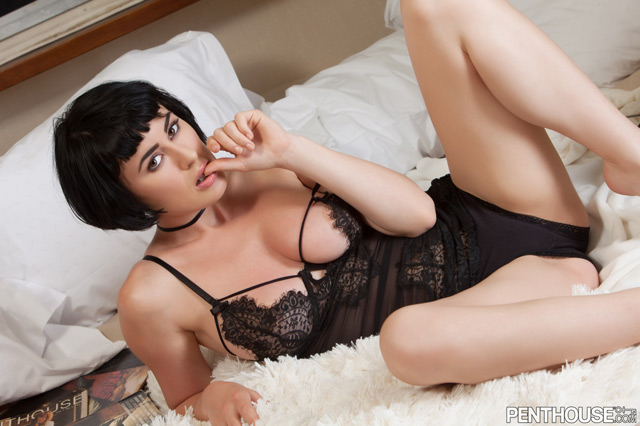 3. Olive, please share with our readers your stats. Boob size, height, etc. and what seems to be a well kept secret… what day is your birthday? We haven't been able to find out anywhere!
OLIVE GLASS: Here are the stats!
Height: 5′ 7″
Weight: 115 lbs
Cup Size: 32C
Waist: 24″
Hips: 31″
Dress: 2
Shoe: 7.5
…and my birthday is February 18, 1990 🙂 I'm an Aquarius/Pisces baby!
4. Let's turn it up a notch and give the fans what they really want! Sex talk with Olive Glass. What are your biggest turn-ons and what kills the heat in the bedroom for you?
OLIVE GLASS: I love love love trying new things. Like…you want to try that new vibrating butt plug? Let's do it! Always wanted to try a cock ring and never have? Let's do it. You want to go down on each other with mouths full of warm water just to see how it feels? If its weird, we can have a laugh and forget about it and just fuck… but if it works we just found something new and rad we didn't know we liked!
My biggest turn off was is when a guy takes things too seriously. Nothing will make me bummed out faster than someone who freaks out over little things that don't go their way; in or out of the bedroom. Sex is supposed to be fun!  Also, dudes who are afraid of period blood… get over it! It's not a big deal! Plus, I'm super horny on my period, so get on the bandwagon or leave.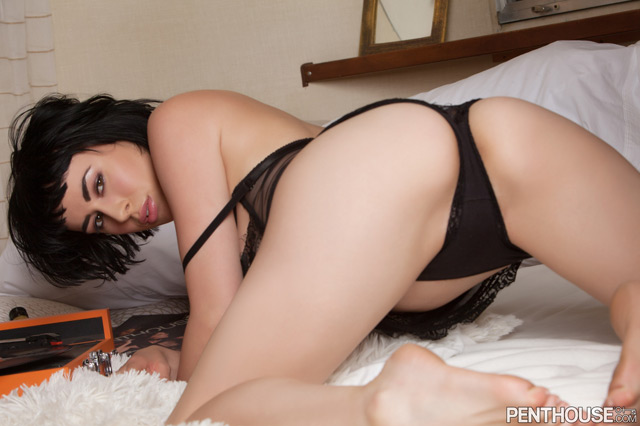 5. Have you ever had anal sex? Can we ever expect to see an Olive Glass anal sex scene or double penetration scene in the future?
OLIVE GLASS: I have had anal sex and love it! And yes you'll be seeing anal from me… but I'm not really sure when or where yet 😉 Keep an eye out though, because it's coming! I hope to one day have a DP scene. It's such a turn-on for me, so once I start doing anal, that's my next goal. It's always good to have goals. 😉
6. What is your favorite sexual position/sex acts?
OLIVE GLASS: I love rough sex! I also love being a sub to a daddy. My favorite position right now is doggy- I kind of go between different positions… like sometimes I'm obsessed with being an acrobat and trying out new weird shit, like hanging off doors or being upside down in some weird kinky way… and then sometimes I like the classics- doggy and missionary are pretty standard positions I always love!
7. Please share with us your wildest sex story!
OLIVE GLASS: I was working as a journalist for a well-known Latin men's magazine a few years ago in New York. Once I was at a red carpet for a reality TV show at this fancy hotel in Manhattan. It was packed. The bartender happened to be my crush, so when no one was looking, I grabbed him and pulled him into one of the closets and we fucked on top of a bunch of coats. Then we fixed our clothes and I fixed my makeup and we headed back to our positions in the party. We looked so sweaty!! I feel like everyone probably knew what we were up to.
8. Would you ever date or fuck a fan?
OLIVE GLASS: Well I hope that whoever I date or fuck is a fan of my work! Haha! So yes, I would.
9. We want to get to know the real you. Tell our readers what an average day in the life of Olive Glass consists of? Any rituals or things you can't live without?
OLIVE GLASS: I guess the first thing to know about me, is that I have like 20 projects going at one time, always. Painting, singing or acting lessons, ballet, photography… lots of art-related stuff. I wake up around 8 am, drink a cup of tea, and dive into my work. Then on days when I'm not traveling or shooting, I usually run errands, do computer work, garden, and make a big dinner. I stop work around 8 pm, and play! I love hitting up a couple cool spots in LA for drinks. You'll probably see me around East Hollywood on my days off.
10. What's your current love life status? Single and loving it or is there someone special?
OLIVE GLASS: Very single! Haha. I just moved to LA and just began my career in porn! I'm too busy working on being a badass bitch right now.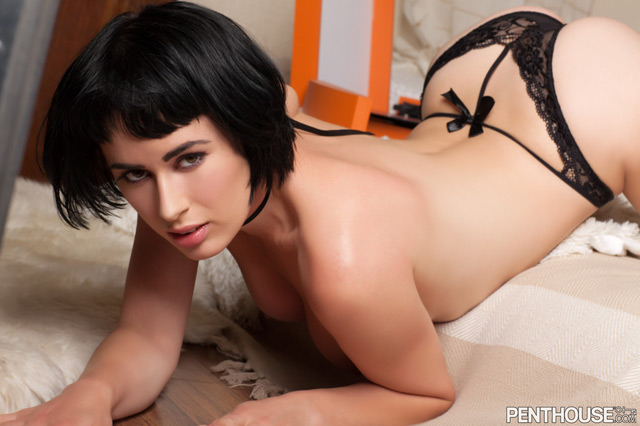 11. Do you have any pets? What is your favorite animal?
OLIVE GLASS: I have a beautiful old rescue kitty, her name is Shiva. She's my best friend and my favorite animal in the whole world.
12. In your spare time when you are not doing photo shoots and shooting porn films what do you enjoy spending your time doing?
OLIVE GLASS: Right now a lot of my energy is going towards my trip to Svalbard this Winter. I booked a tour guide to take me on a week long expedition across Svalbard, on two dogsleds. I will be bringing a few of my cameras and documenting the trip to create a coffee table book of my images and notes on the experience. It'll be my first book and my first time in the Arctic, so obviously I'm over the moon with excitement. Also, the tour just happened to fall on my birthday, so that's pretty cool.
13. What is the craziest thing you have ever done?
OLIVE GLASS: Probably booking this trip to Svalbard. Like, I'm going across the Arctic in my own dog sled with just myself and a local tour guide. That's crazy. Other than that, this one time I rode in a hot air balloon and it got blown about 10 miles off-course and ran out of gas, and we had to make an emergency landing in a middle school playground at like 8 am. It was kind of scary but also I couldn't stop laughing.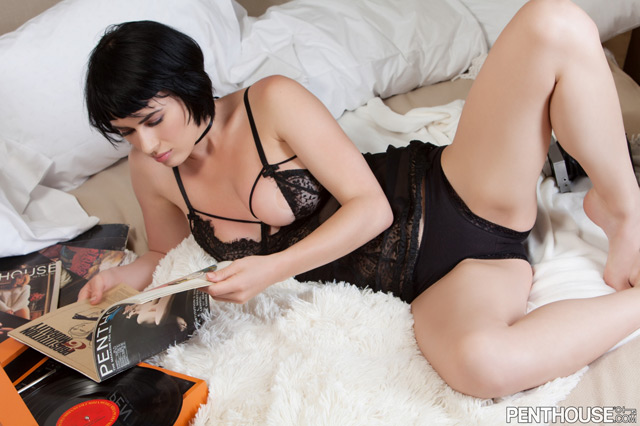 14. Congratulations on being crowned the prestigious Penthouse Pet of the Month for June 2017. Bob Guccione's legacy of Penthouse has always been my personal favorite adult publication and we know first-hand how great they are to work with. Please tell us how your experience as POTM has been so far?
OLIVE GLASS: I love being a Penthouse Pet!! The other pets are so lovely- I have met Riley Nixon and Christiana Cinn and Jenna Sativa recently on my first film for Penthouse, and we got along so well. Everyone who works at the offices are just so welcoming. I feel like I've joined a really empowering, loving porn family- and I'm a Penthouse pet forever! That's pretty special.
15. You're not just your average pornstar. You're quite possibly the only pornstar to have ever modeled in Vogue magazine. [Check Olive out in Vogue Italia.] You're a model, actress and artist with highly acclaimed mainstream accomplishments. Let's shed the light to your adult fans and talk about the other faucets of your career. Please share with our readers where they can see more of your mainstream modeling work so they can appreciate and encompass the full picture of you, Olive Glass.
OLIVE GLASS: Aw, thank you so much! I've been modeling for almost 8 years full-time now! While my focus is mostly on my porn career at this point in time, I'm still pursuing my mainstream work. For my mainstream work I go under the moniker "Glass Olive' (just switched it around for porn haha). I have a website: OfficialGlassOlive.com and my instagram is @glassolive. That's probably the best two resources for my more mainstream and art modeling work, outside of just googling my name.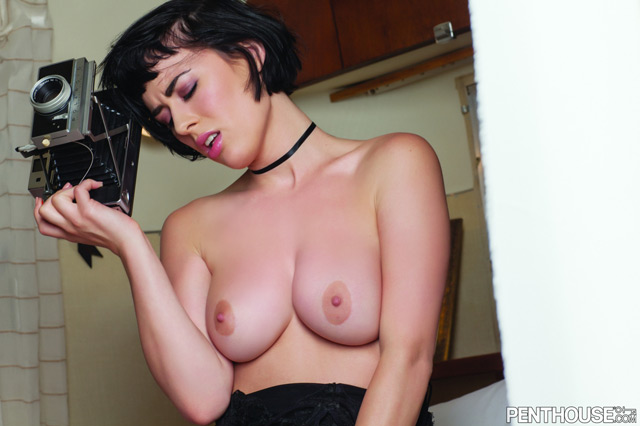 16. Who in your life has helped support and motivate you and what models/ actresses and photographers have been your inspiration and role models?
OLIVE GLASS: Aah, that's such a big question! I'm inspired by strong women. I'm inspired by people that work everyday to break boundaries of what they were told they could be. A lot of those people are in my life- like my mother, who is in stage 4 cancer and still gets up to garden every day, my dear friends in New York who are forming a powerful and talented community of sex-positive artists who are changing the art world, my best friend Annie who is an endlessly creative and loving spirit. My role models are my family 🙂 Other role models are from movies or books- like Miss Franny Fischer from my favorite TV series; and Lyra, the main character of the book series 'His Dark Materials'.
17. You share such emotion and can truly convey a story through your movements and expressions when shooting editorial photo sets and videography pieces. Can you please share with us your creative process while on set?
OLIVE GLASS: Every team I work with has different vibes. I just try to get in the groove of their pace and energy, and see how it effects me, then I do my best to physically express the emotions and reactions that bubble to the surface. Whoever said modeling is just standing around looking pretty was eating some strong drugs, because it's anything but that. It's often very draining, but so worth it. If I leave set- mainstream or porn- feeling like i truly connected with the team/performers to create something we all vibed with, I feel like I did my job right. Ideally that's every shoot, but sometimes it just doesn't work out. In the cases where I don't feel like I accomplished my goal, I spend some time thinking about where the disconnect might have been, and ways I can improve for next time.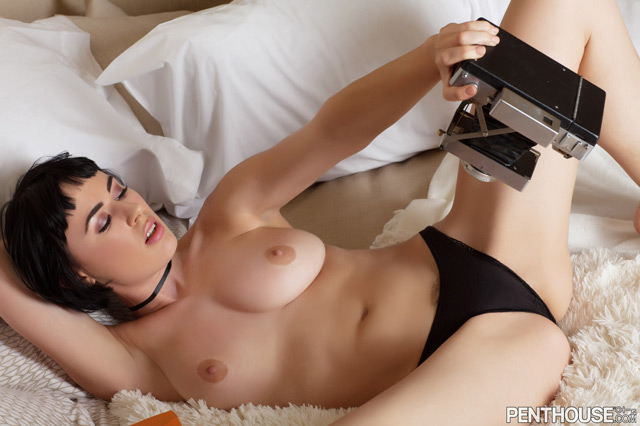 18. What kind of media is your favorite to shoot? We've watched you in everything from music videos, to stunning editorial magazine shoots to hardcore porn videos. What do you have the most fun shooting? What do you enjoy seeing the finished product of most?
OLIVE GLASS: I like all of them! I look for different outcomes to each genre. What I want from a fashion editorial is completely different than what I want from a porn film. Figuring out how to create a good product for different audiences is really fun to me. It feels really good when I hit the nail on the head, like I figured out a riddle. Although, I would say that I am partial to acting in indie films. There is nothing I love more than working on a film set where everyone is working hard to create a rad product. I love the feeling of a 'set family' and having time during the filming to get to know my character and sort of 'fall into' the story. I'm an actress at heart.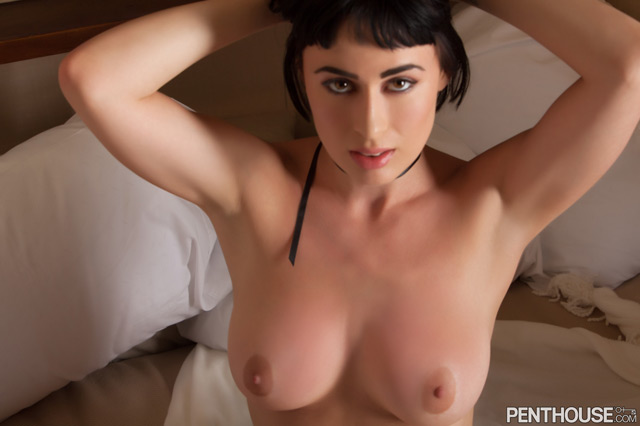 19. You were one of the hot bikini girls who flash their tits in the 2016 Netflix blockbuster The Do-Over from Adam Sandler. Great boob cameo by the way, your tits looked very perky as you were shaking them. So we have to ask, how did it feel to boo David Spade's flashed man parts while giving them a double thumbs-down?
OLIVE GLASS:  Ah! Haha, thank you! That was such a fun experience! David was hilarious in that scene- but he had on a cock sock, so I didn't really see anything. At least that's what they told me! He was a ways away from me, on a different yacht, so maybe he actually wasn't wearing anything and they just told me he was wearing a sock!
20. I am just teasing, but yes you have done that, booed David Spade's crotch. Those guys are hilarious, how was it working with Adam Sandler and David Spade?
OLIVE GLASS:  I adore Adam Sandler- such a sweet man. I really loved working with his team! They are all really tight, and you can tell that they have a blast working together. We shot in Savannah, Georgia as well as an Juan, Puerto Rico- so it felt a little bit like a vacation!
21. Do you have people in real life recognize you? Do they ever approach you?
OLIVE GLASS: Yeah they do! I get approached from time to time- not often, but more lately than ever before. Everyone has been really sweet and fun to talk to. I probably get more excited than they do to meet a fan in person! It's such a treat.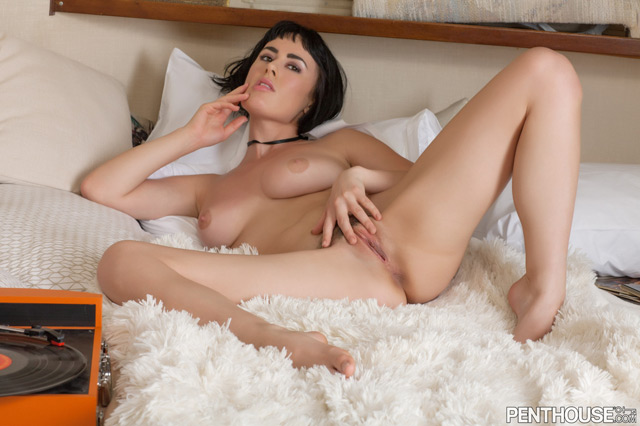 22. Whisper a secret in our ear, please share with us something most people do not know about you?
OLIVE GLASS: I can write backwards and forwards with both hands, at the same time.
23. Please tell us about your upcoming events, business plans and career aspirations. Are you currently working on any other projects that you can let us in on?
OLIVE GLASS:  Well right now, I'm excited for the release of my first Wicked feature- Spoiled. I'm looking forward to attending my first industry events, and this winter I'll be going to AVN for the first time! I'm so excited for that.  This winter, I will also be doing some traveling in Norway and the Scandinavian countries, in order to create a book of photos and stories about my trip.
24. Leave us with a true taste of the refined babe we know & love, Olive Glass. We would like to know if you were ice cream, what flavor would you be?
OLIVE GLASS: Coconut ice cream with vegan butter pecan!! Yummmm.
25. Is there anything you would like to share with your fans and our readers?
OLIVE GLASS: Thanks for following my work! can't wait to meet you all at AVN!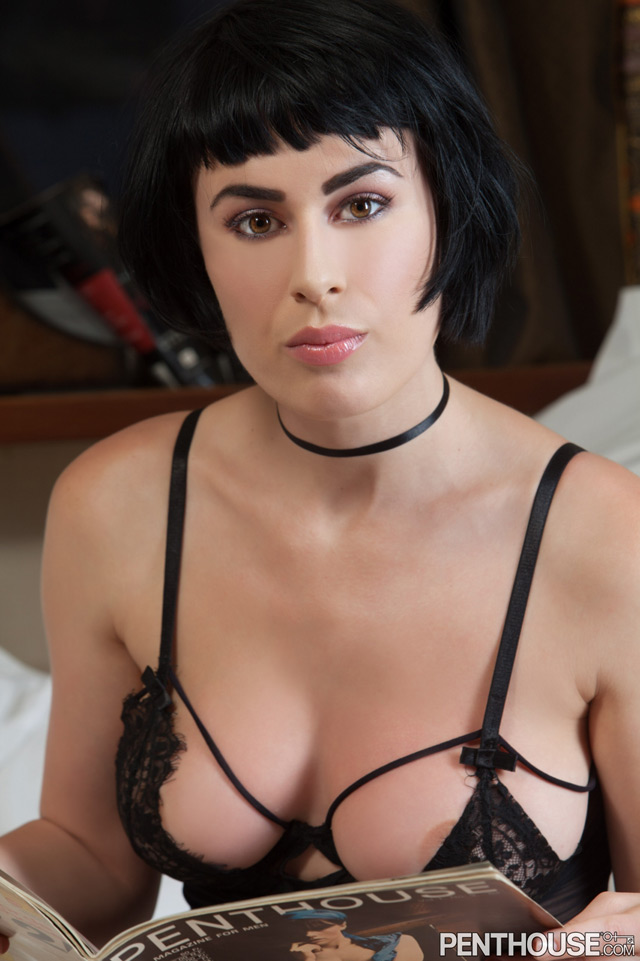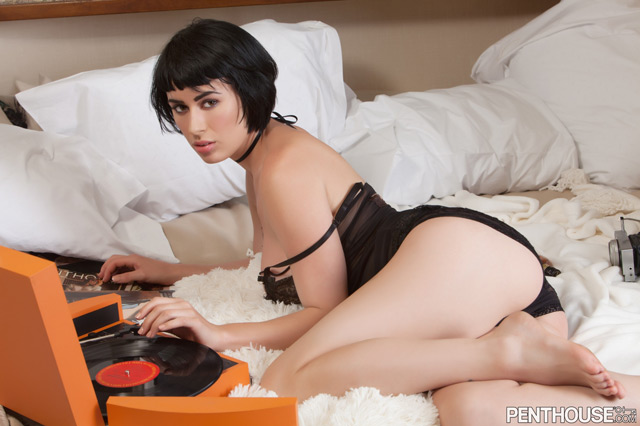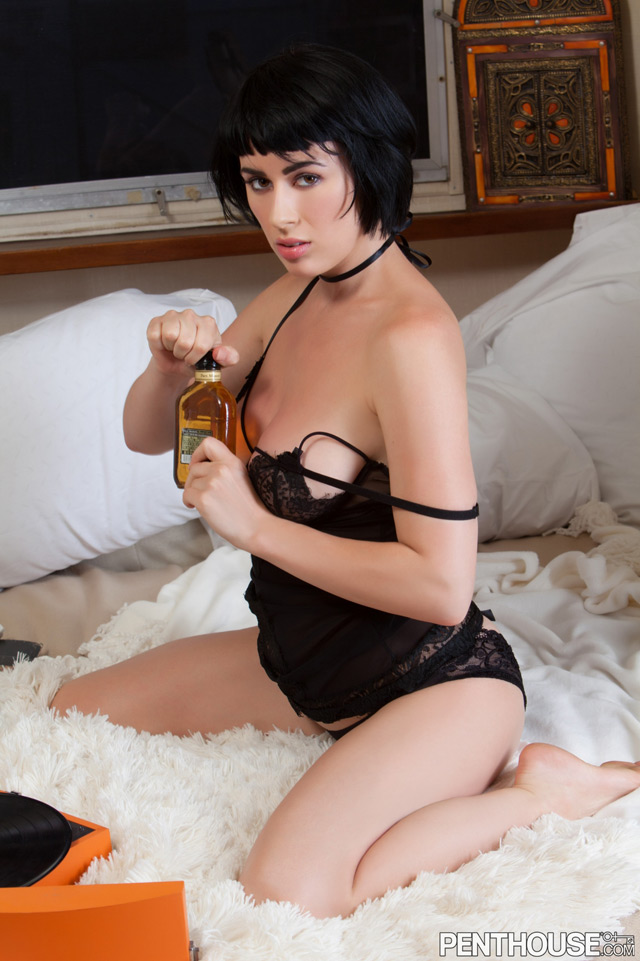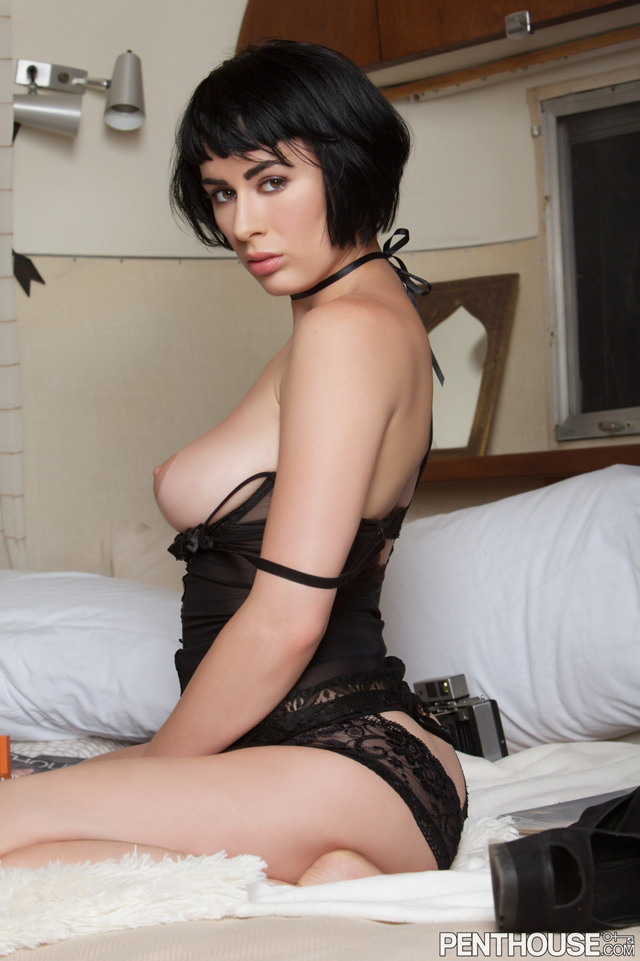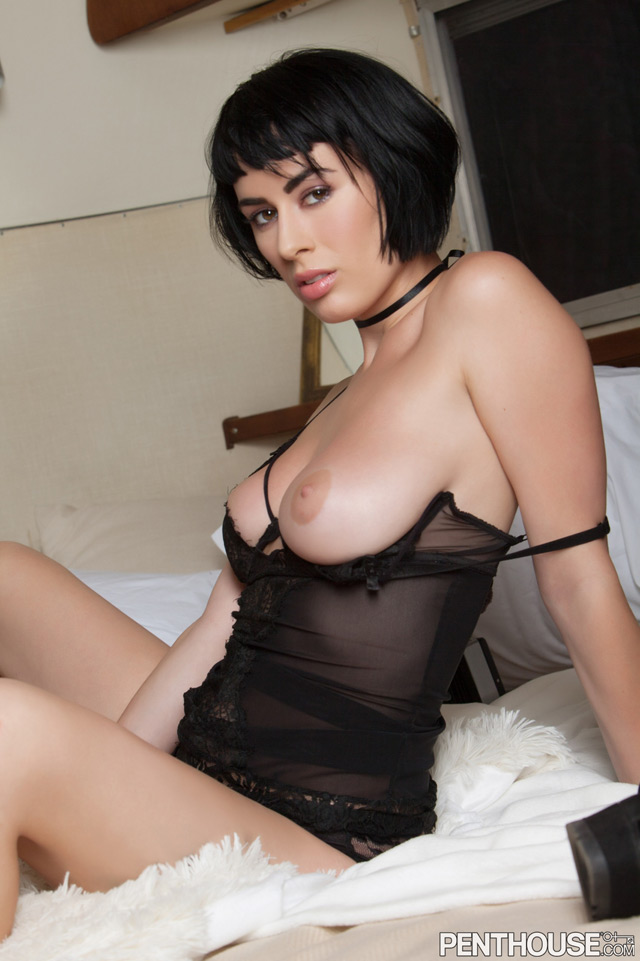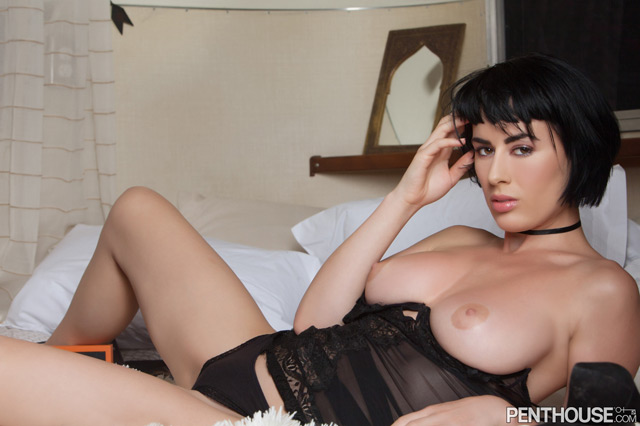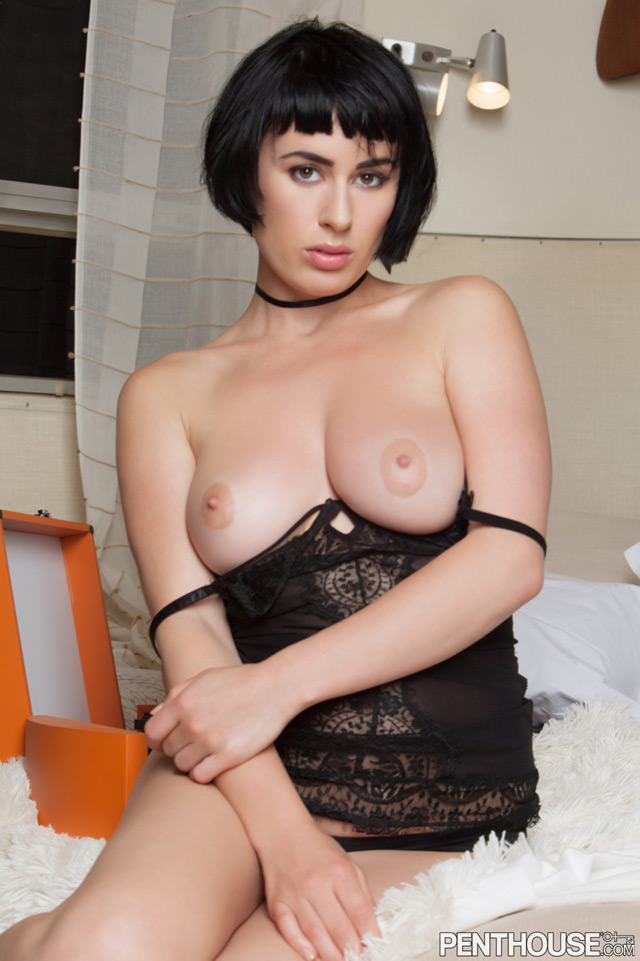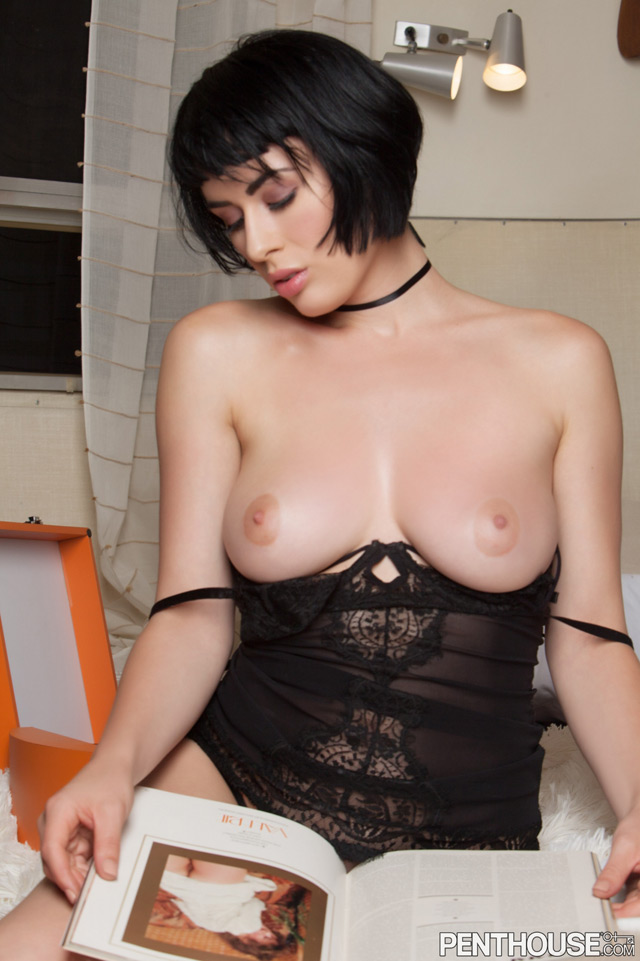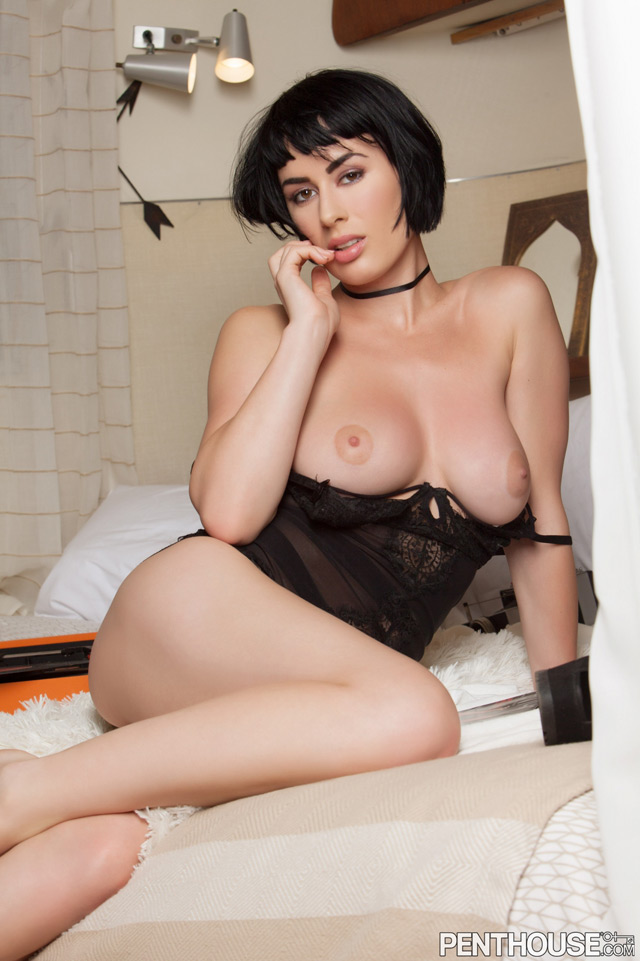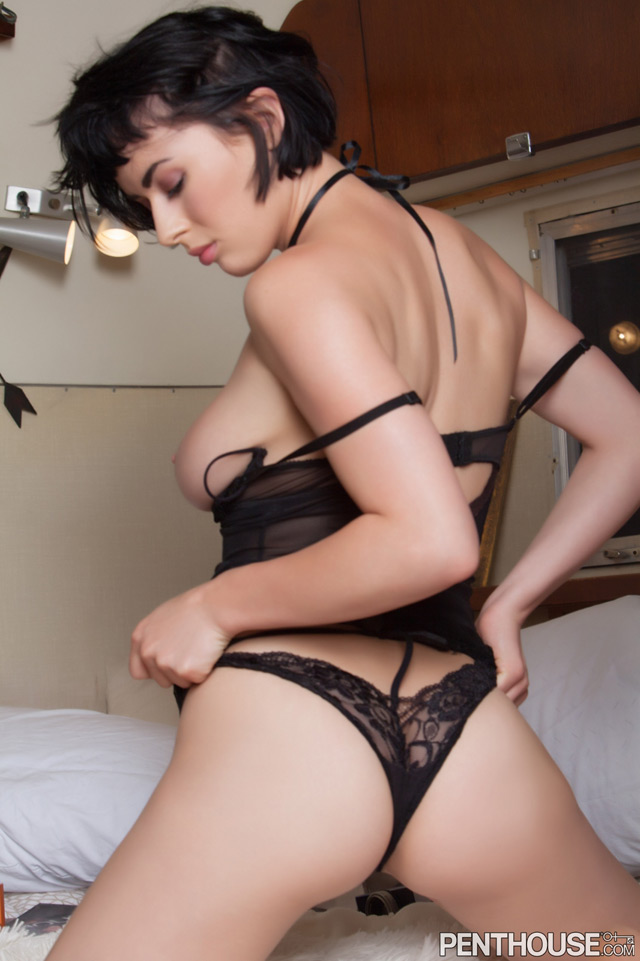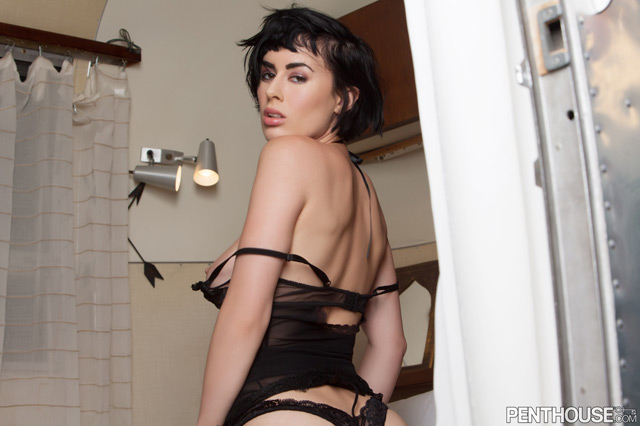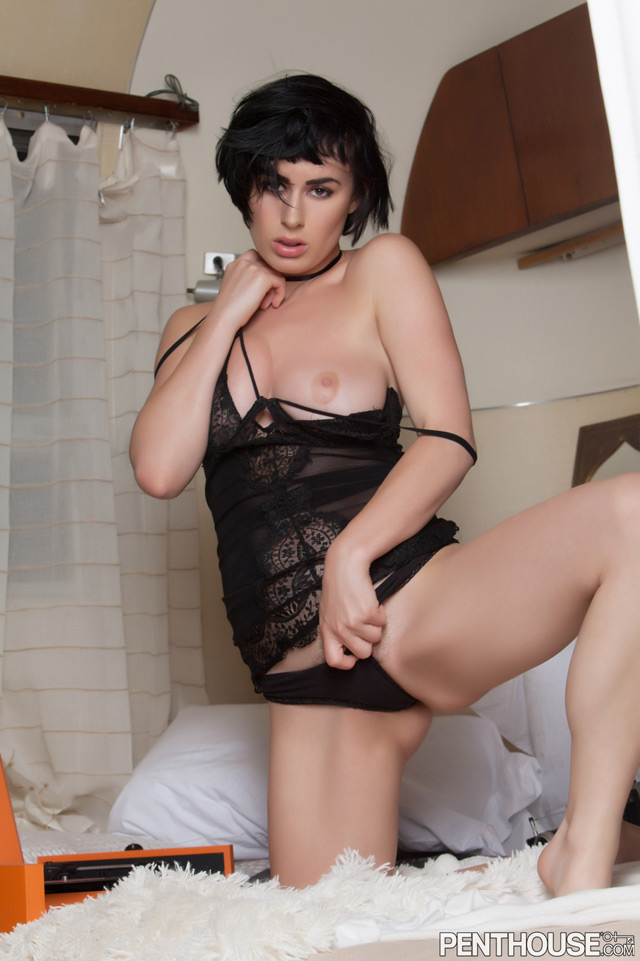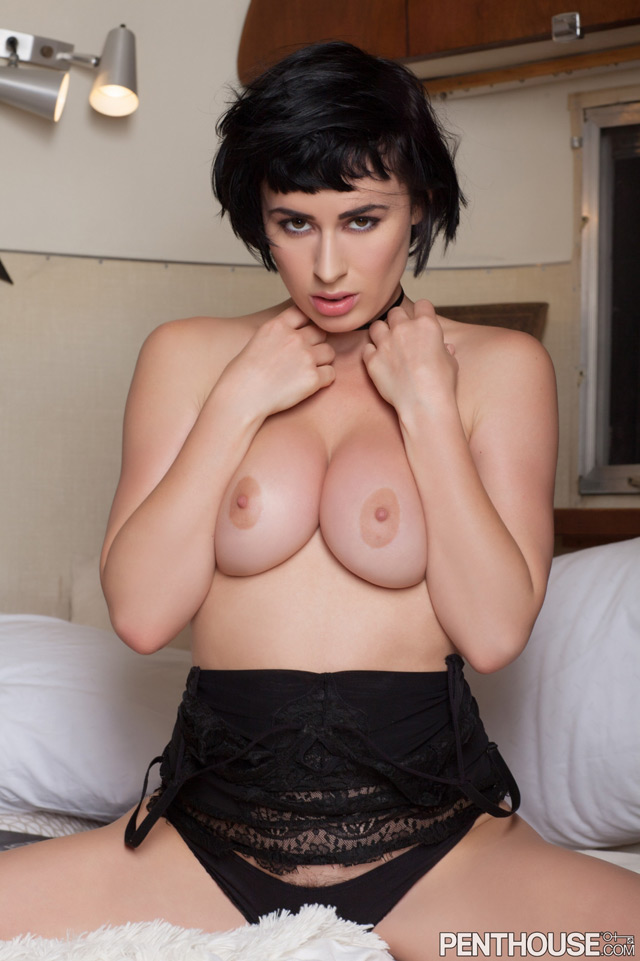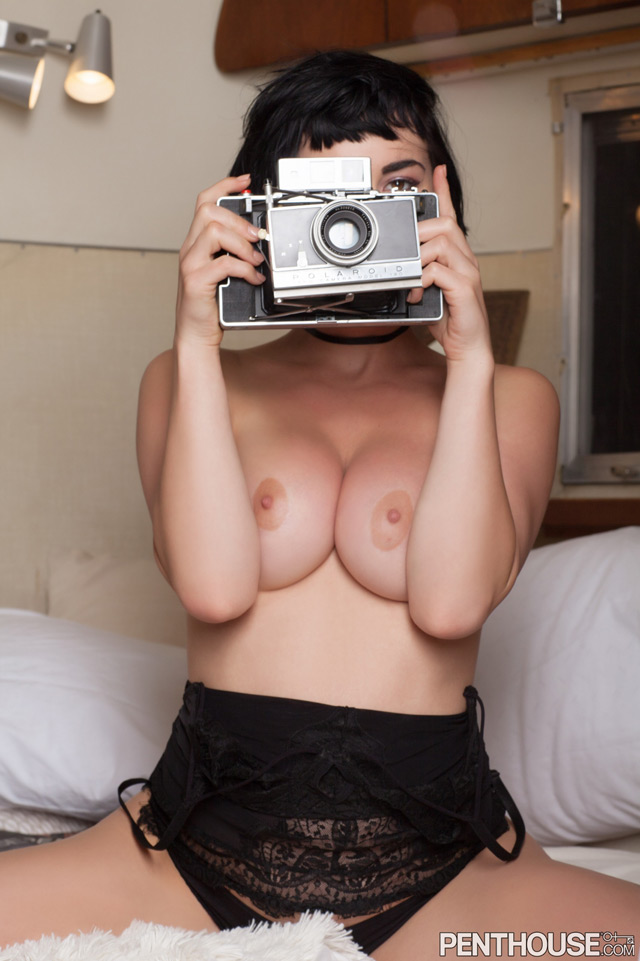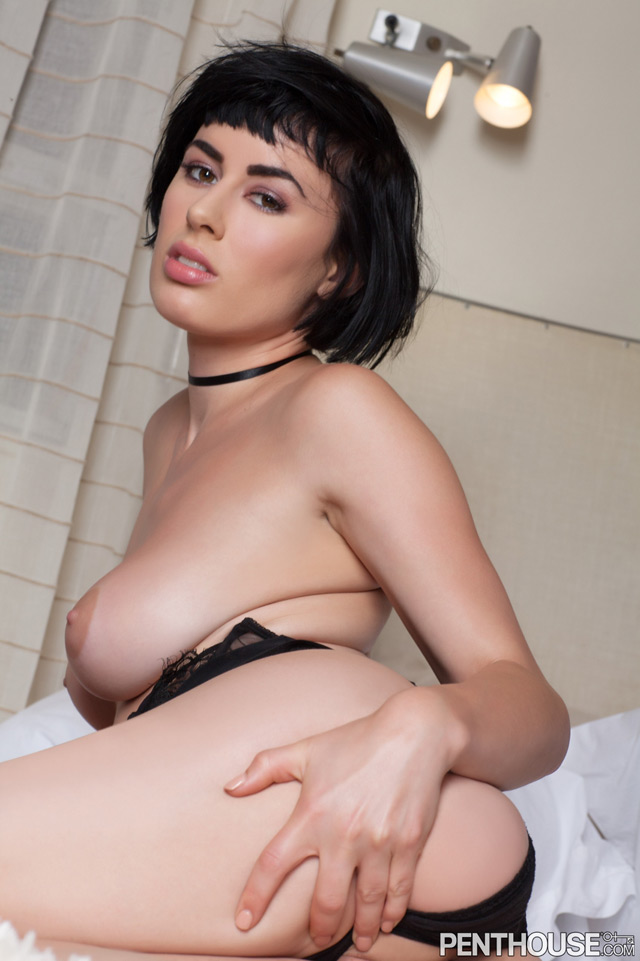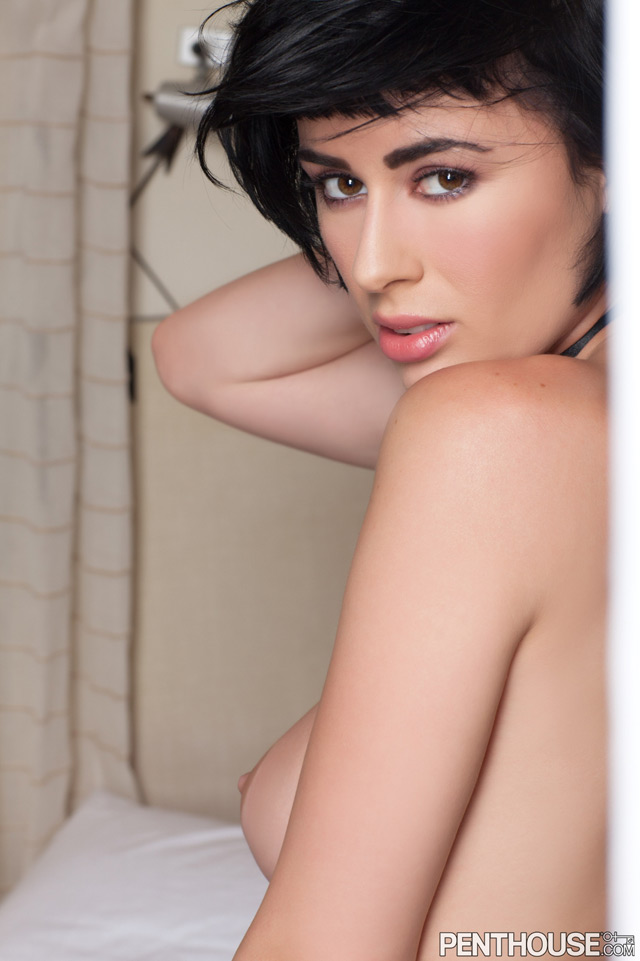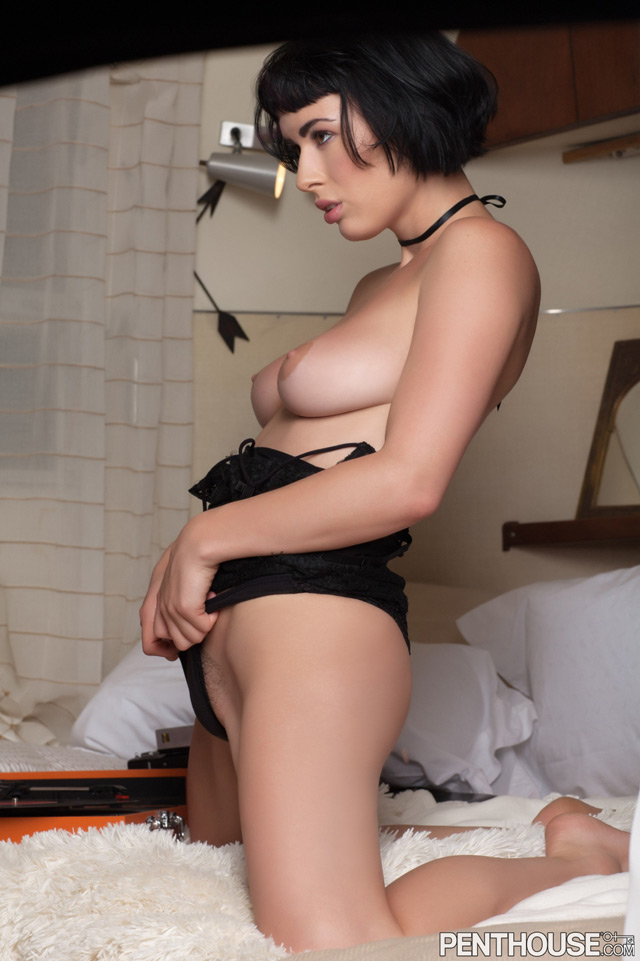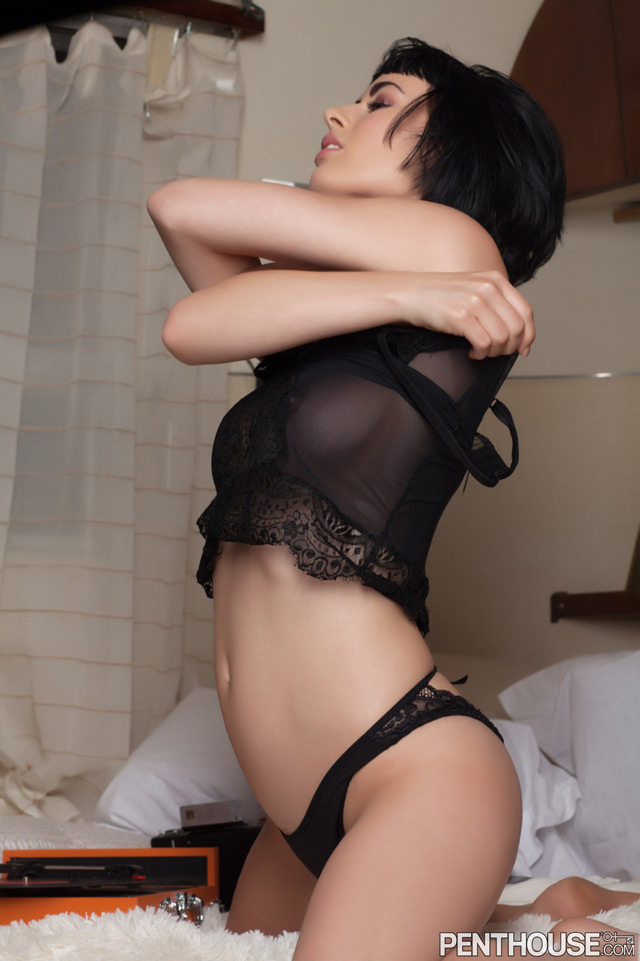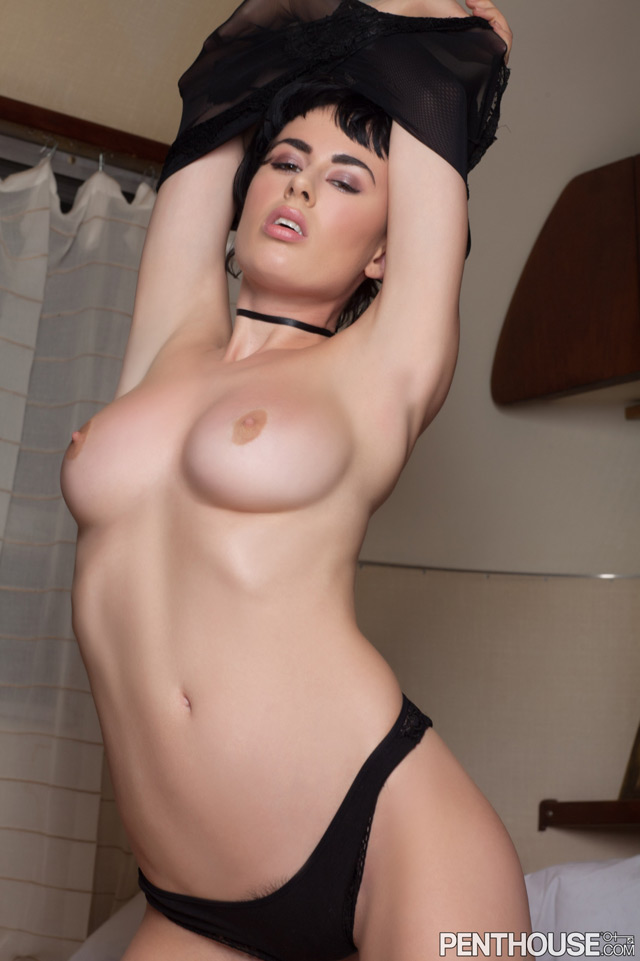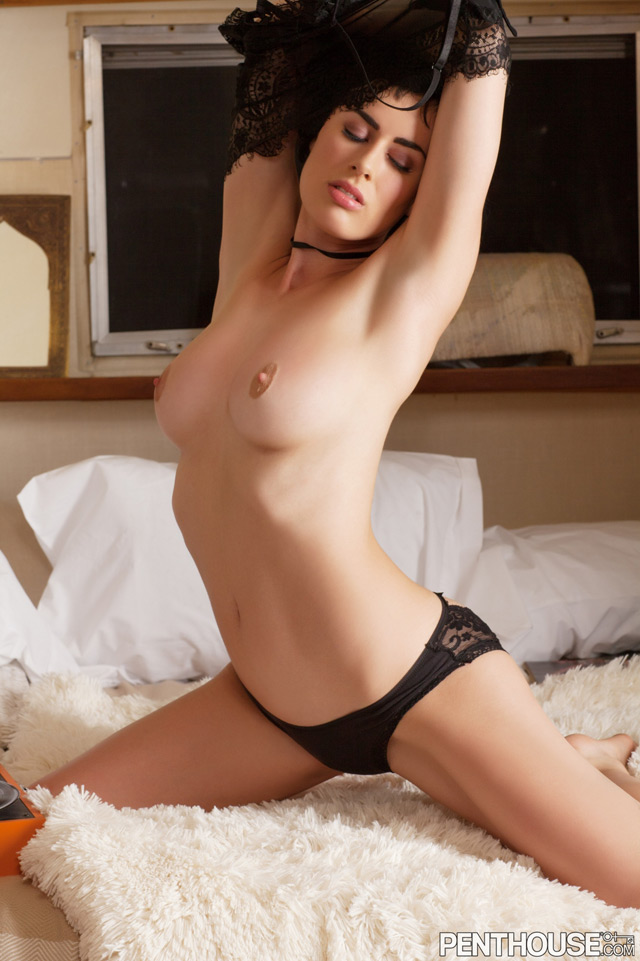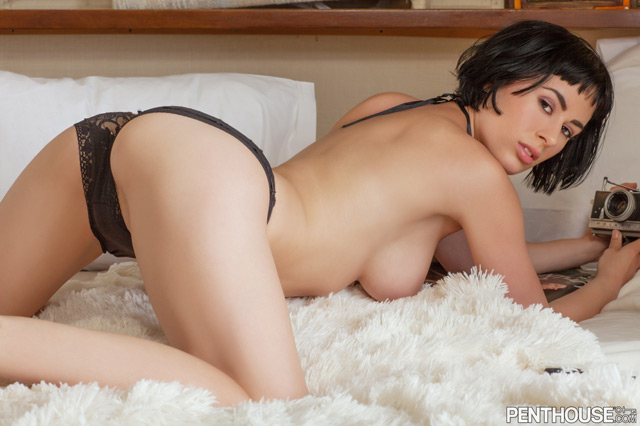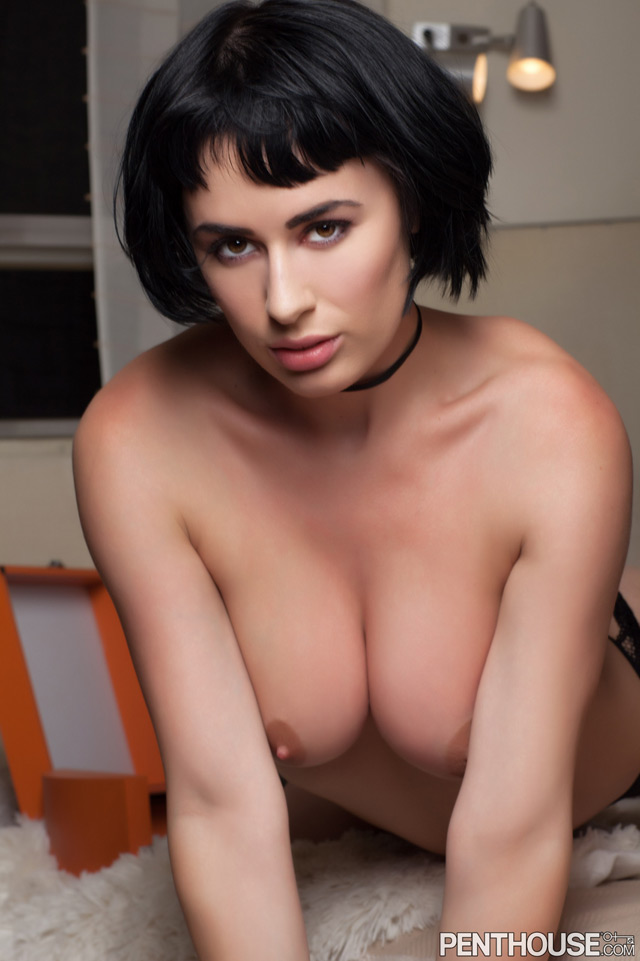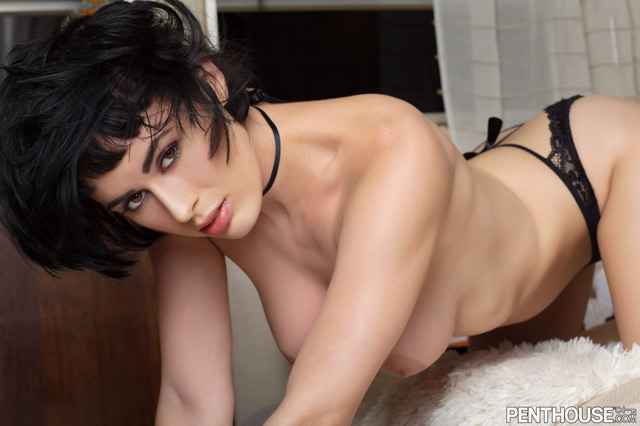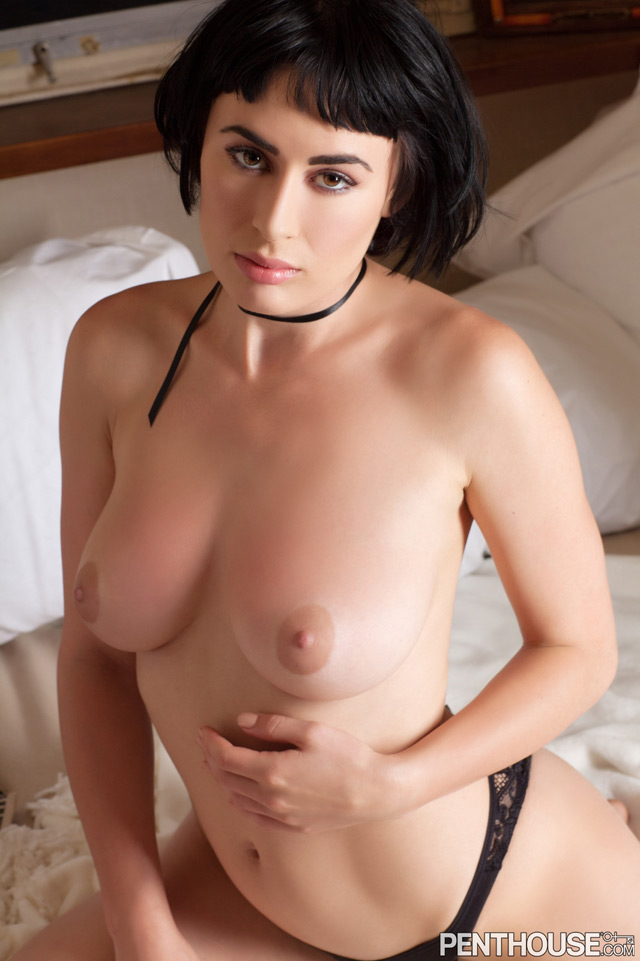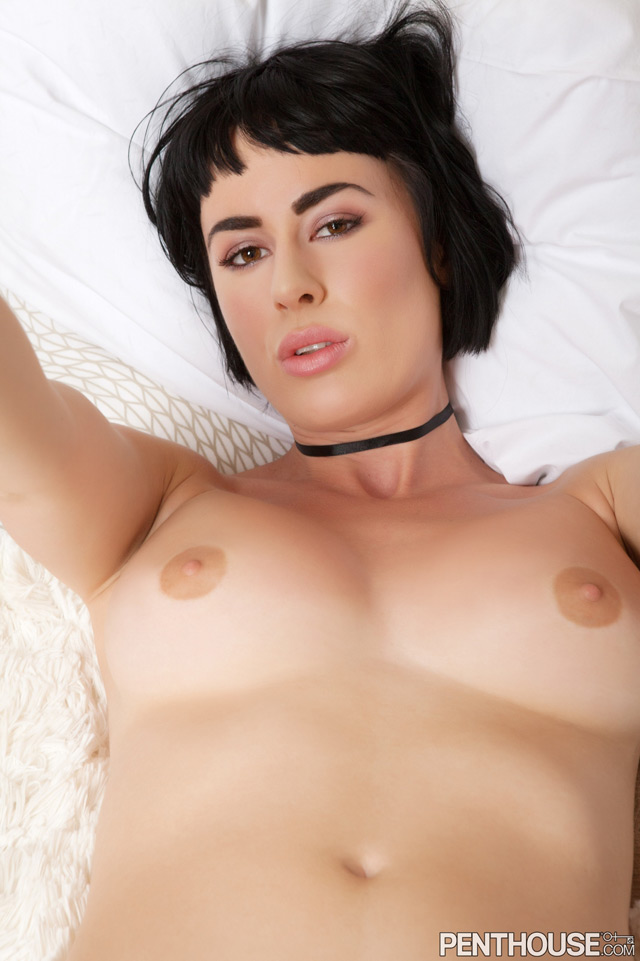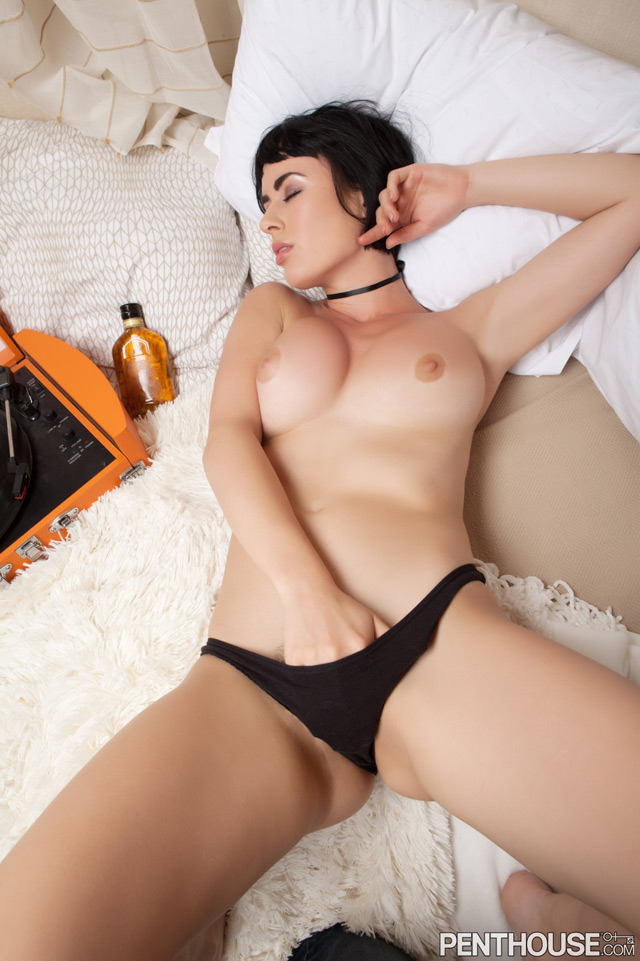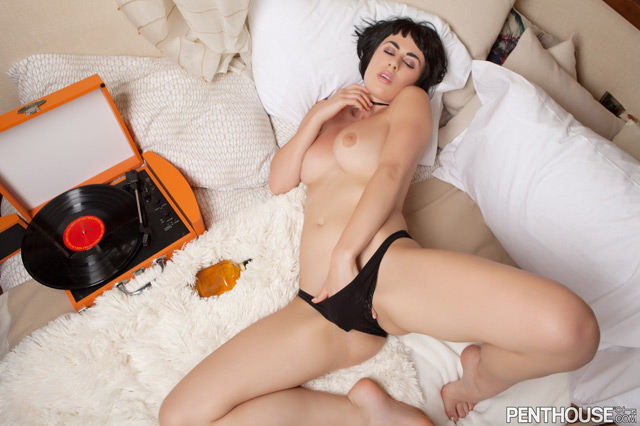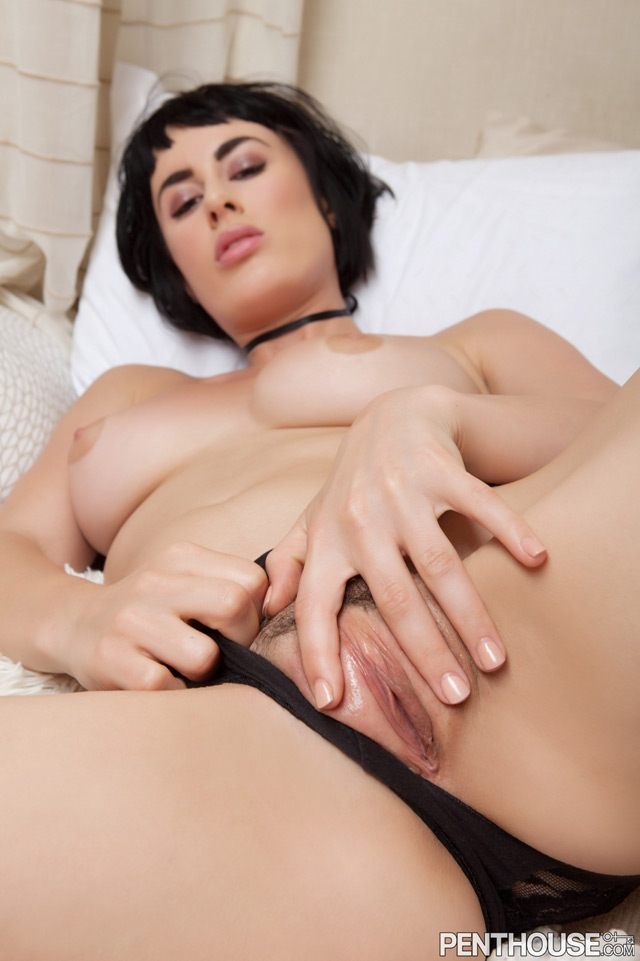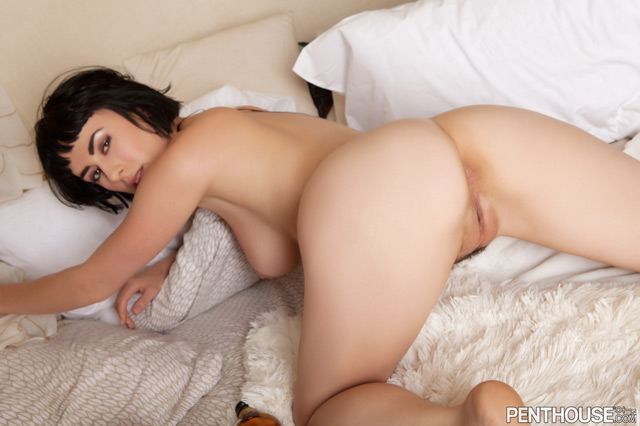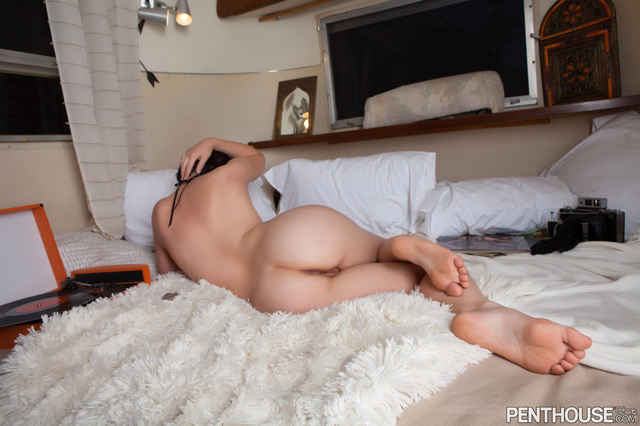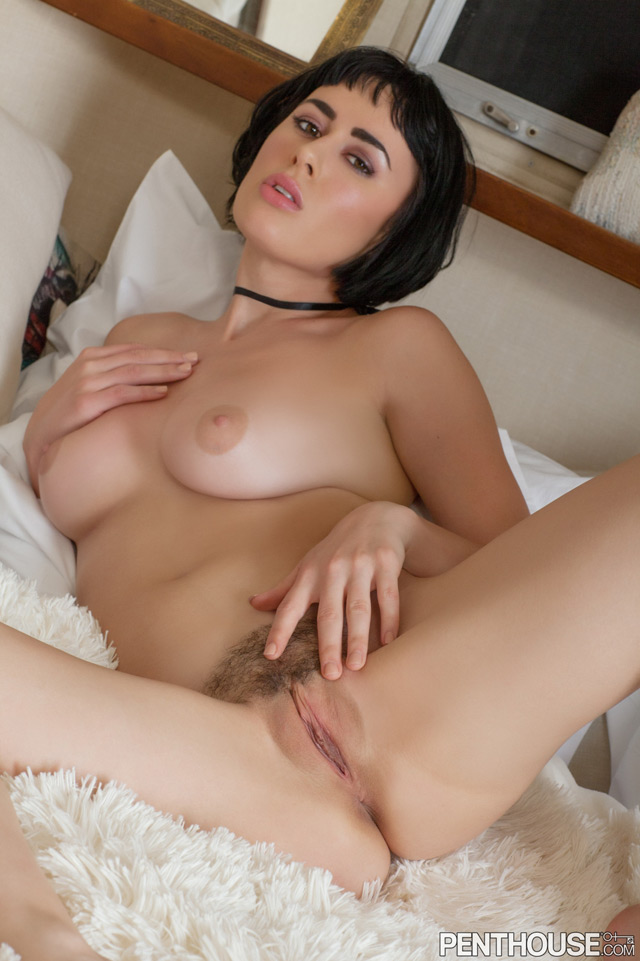 We hope you enjoyed pornstar Olive Glass and accomplished actress/model & artist Glass Olive's interview for Porn Corporation showcasing a Penthouse pictorial of the nude June 2017 Pet reading a vintage Penthouse magazine in a retro Airstream trailer in the shoot Incendiary Bedtime.  View all of Olive's erotic photos & videos shot as POTM inside Penthouse.  Inside the member's area you can access nearly 50 years of Penthouse Pets, thousands of nude & erotic photos sets and hardcore videos shot in 4K, 3D, HD!  What are you waiting for?  Unlock a new lifestyle and experience Life on Top inside Penthouse.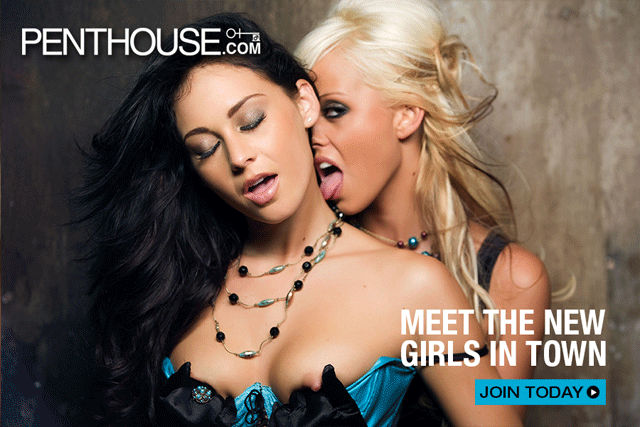 Continue reading Pornstar Interviews or return to cover of Porn Corporation magazine.
Previous featured Pornstar Interview:  Sarah Vandella Interview For Porn Corporation
Top Related Olive Glass showcase:  Olive Glass Penthouse Pet For June 2017
View all of the articles starring Olive Glass or Penthouse featured in our archives.
Recent Penthouse Pet news:  Manda Kay Penthouse Pet For July 2017
Looking for juicy editorials & interviews from the Adult Industry or Porn Corporation Girls?
Keep up on the latest & read our hottest topics:  New Porn Sites – Porn News & Adult Parodies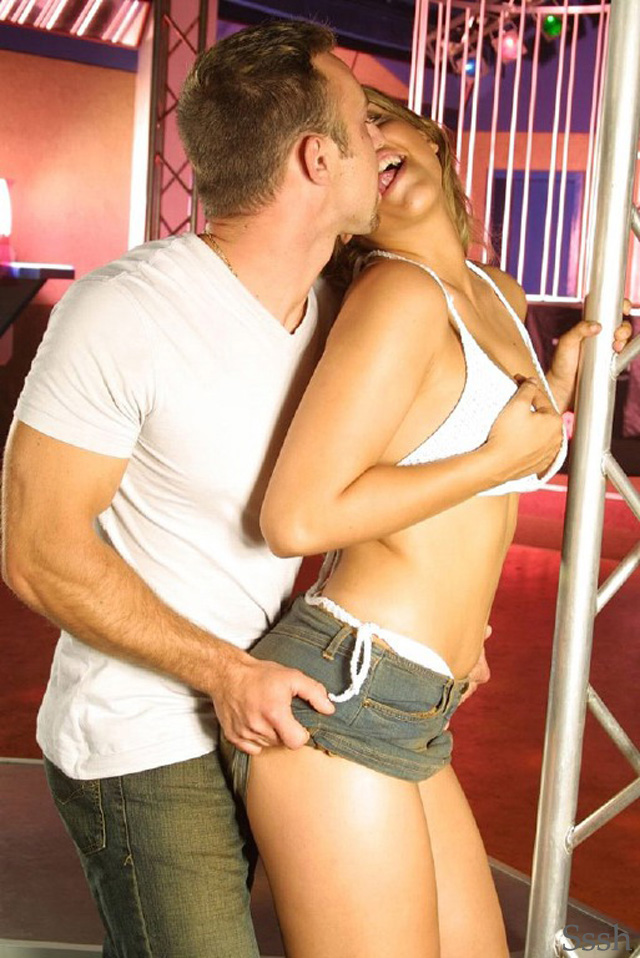 December 21, 2015 – Be Careful Ladies, Your Slut Shaming Can Come From Anywhere
by Coleen Singer at Sssh.com Porn For Women
I thought I had found a friend in him. A new friend, with a nice guy. He was so sweet. When I was in between homes before moving into my new flat, he offered his flat up to me – even though he wasn't in the city. He said he would mail me his keys. We were friends, and in a new city filled with unfamiliar faces, a new friend is always appreciated – especially one that was kind too.
He knew I was a sex writer, seemed to be cool with it. I talk about sex openly, not only because I love talking about it but mainly because I want to demystify talking about sex. It shouldn't be this taboo thing we giggle with our girlfriends about. We should be able to talk about it openly and without guilt, judgement or shame – the same as you would talk about anything really. This isn't always a simple task as I would've imagined. Talk about sex casually and men will most likely think you're either a) Hitting on them; b) Will sleep with anyone. Women will most likely think a) You're a slut; b) Trying to sleep with their men. Not all men and women of course. But many.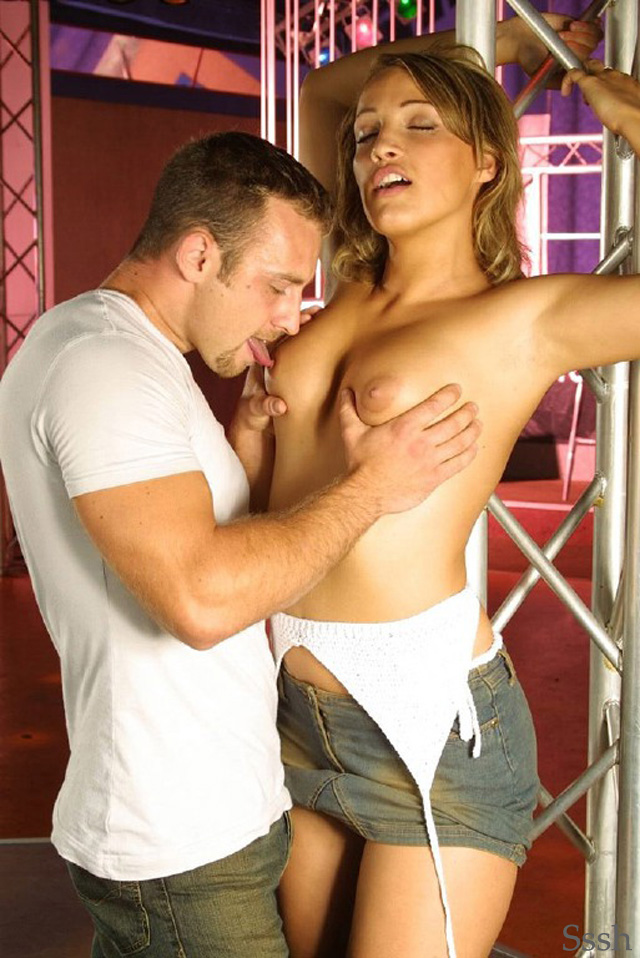 Open-minded lad
He seemed cool with it though. We would screen capture funny Tinder profiles to send to each other. Or pick Tinder dates and dare each other to go on them. We talked openly about sex and dating and past relationships. Just as friends do. Friendship wise, this was going great.
Until of course that one time he tried to go home with me. I said, "No." He sulked for a few days. We were both drunk, so I gave him a pass, because, alcohol. The things got a little weird. Just a tad bit at first, I hardly noticed. A sly phrase thrown in when I was going on a date – "Well, he gets your time."
When things took a turn
Then there was the porn film festival (Yes that's a thing), and I asked him to come along to watch some films. These were more artsy films, or political in nature, it wasn't the usual wham-bam-thank-you-mam of usual porn films. And his response shocked me.
"God, you're obsessed!" he wrote in Whatsapp.
"With what? Sex?" I replied, hoping he'd say anything but…
"Yes!"
"I'm a sex writer, what do you expect?"
"Haha! I'm kidding!" he deflected. A quick glimpse into his psyche, and then it was gone. I should've taken notice but he apologized and I wanted to believe he was not that guy. He reined it in, and things went on as usual.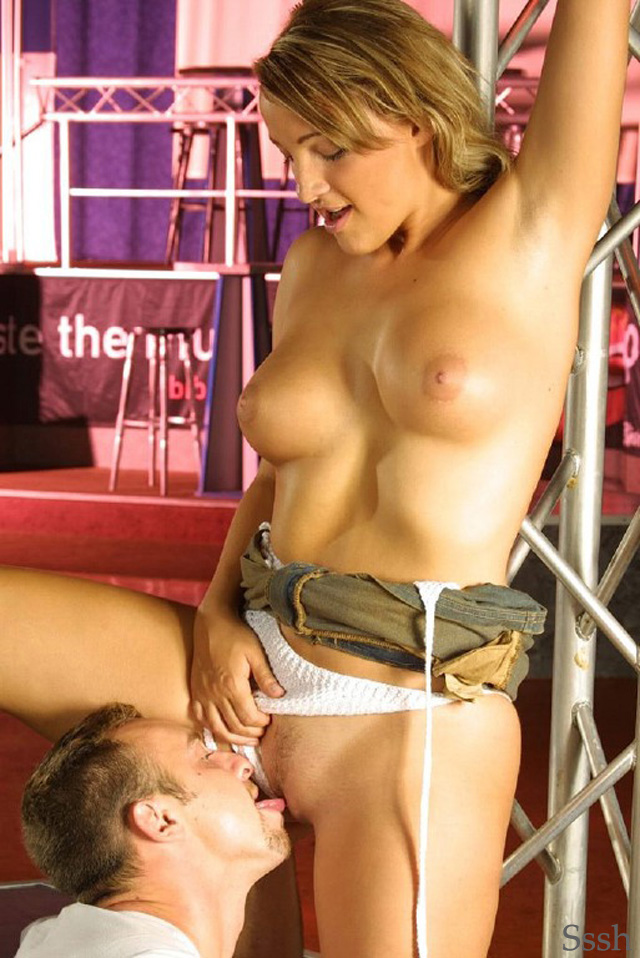 We are more than friends?
Of course it wouldn't stay that way! Duh. Later that week he tried kissing me and when I refused and firmly stated that we're just friends, he told me he didn't believe me. Because according to him, he felt something between us. Basically he wanted to bang me, and my not wanting it was getting in his way. I don't know why the signs that were clearing blaring a red and loud, "Get out! Get out now!!" didn't phase me. Probably because of the past months of hanging out and the good times we had, I didn't want to hurt his feelings. He seemed mature and if I could salvage the friendship, I wanted to.
That slut call
A week later, we were planning for the weekend. I had a party on Saturday and he wanted to see me Sunday for a walk (we did this quite often). Knowing I might end up hungover on Sunday, I told him, "I dunno about Sunday! Depends on how Saturday goes!" I would be down for a walk if I weren't hungover, but if I were, then I'd prefer to just eat lots of carbs and hibernate with Netflix (who wouldn't?).
His response?
"You're such a slut! Not. lol"
This is when my brain finally clicked on (gee thanks brain). This man was slut shaming me because I didn't want to sleep with him. He imagined me going to a party and fucking everyone but him and that pissed him off, because somehow I owed him sex for being nice to me?
I stopped talking to him after that. He apologized again and again. But even his apology was annoying. He thought he hurt my feelings. You didn't hurt my feelings fool! You annoyed me! You overstepped. You put on your Mr. Nice Guy mask and pretended to be a good friend and when you didn't get what you wanted, you thought you'd bring me down a peg or two by first passive aggressively trying to shame me, then out-rightly calling me a slut and then trying to brush it off as a joke.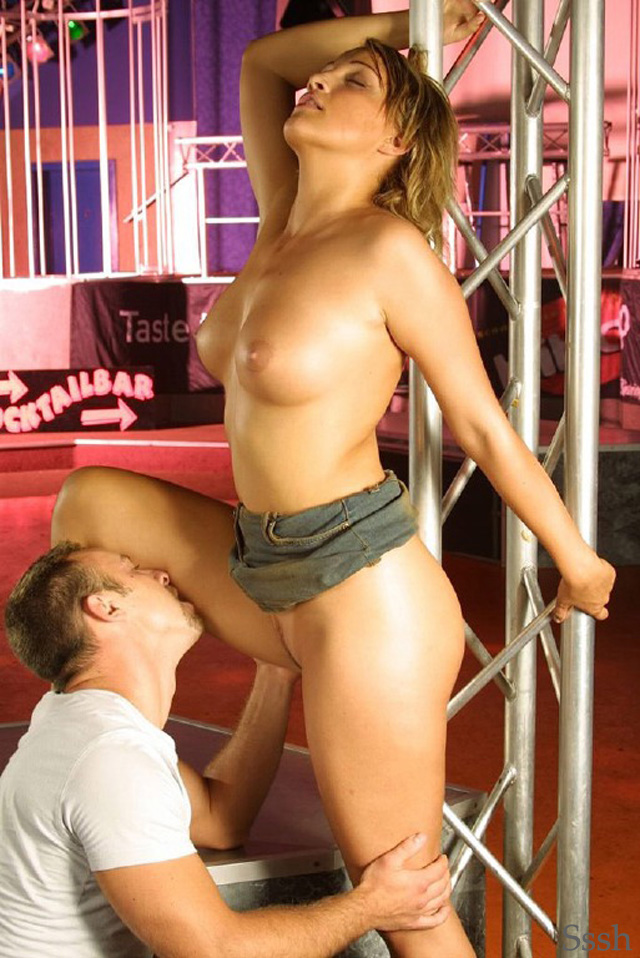 No shame in the sex game
I know what I do, and I choose to do it because I love what I do. I see no shame in liking sex, in thinking that it is a normal part of life. Whether I want to have sex daily, all the time, with everyone, or not, is no ones business but my own. And I most certainly don't need a baby-like, immature, passive aggressive, man-boy trying to manipulate me to fuck him.
Basically ladies, what i'm trying to say here in my long winded way is, don't let assholes like these take away your shine. Be vigilant with people (both men and women do this) who will likely throw shade at you, overtly or covertly because they're not getting something they want out of you. They want to bend your will to suit theirs. Don't let them. Go out and be free to fuck! Amen.

About The Author:
Coleen Singer is a writer, photographer, film editor and all-around geeky gal at Sssh.com, where she often waxes eloquent about sex, porn, sex toys, censorship, the literary and pandering evils of Fifty Shades of Grey and other topics not likely to be found on the Pulitzer Prize shortlist. She is also the editor and curator of EroticScribes.com. When she is not doing all of the above, Singer is an amateur stock-car racer and enjoys modifying vintage 1970s cars for the racetrack. Oh, she also likes porn.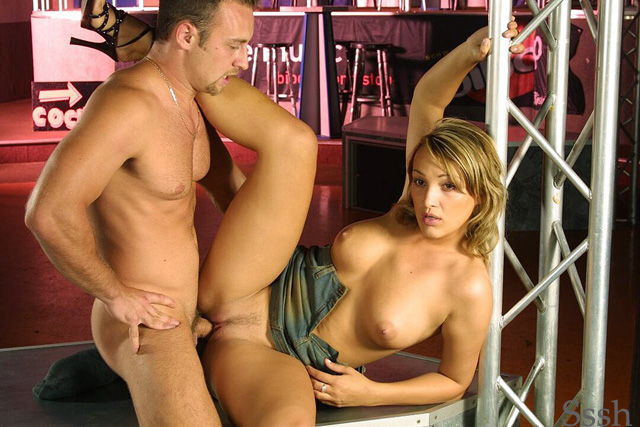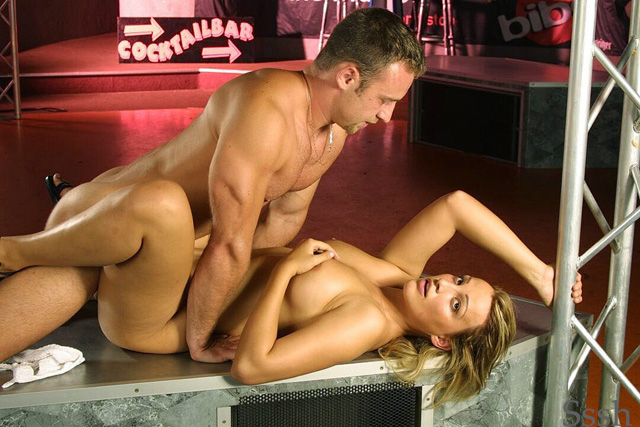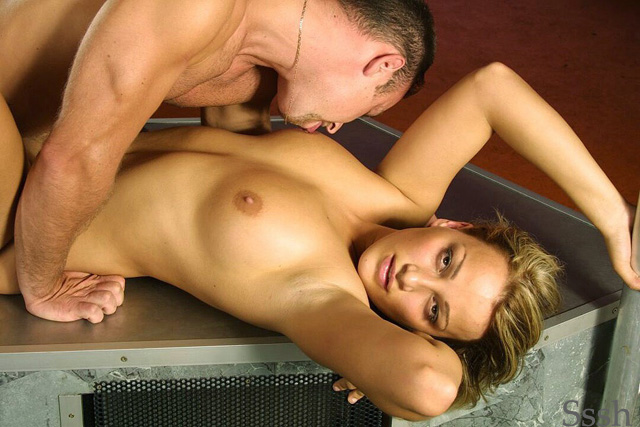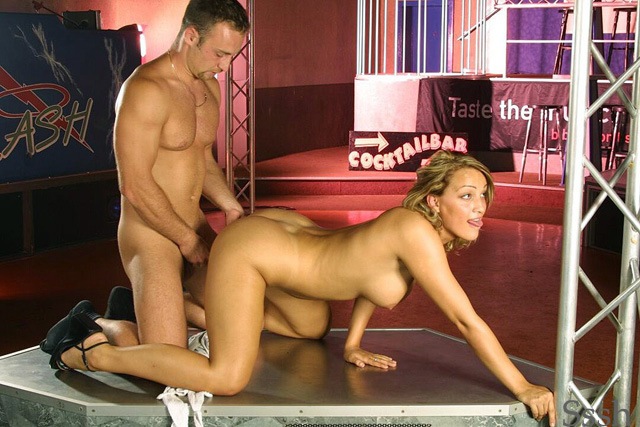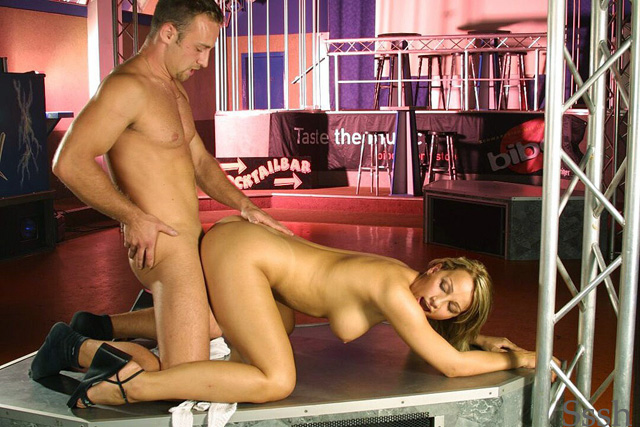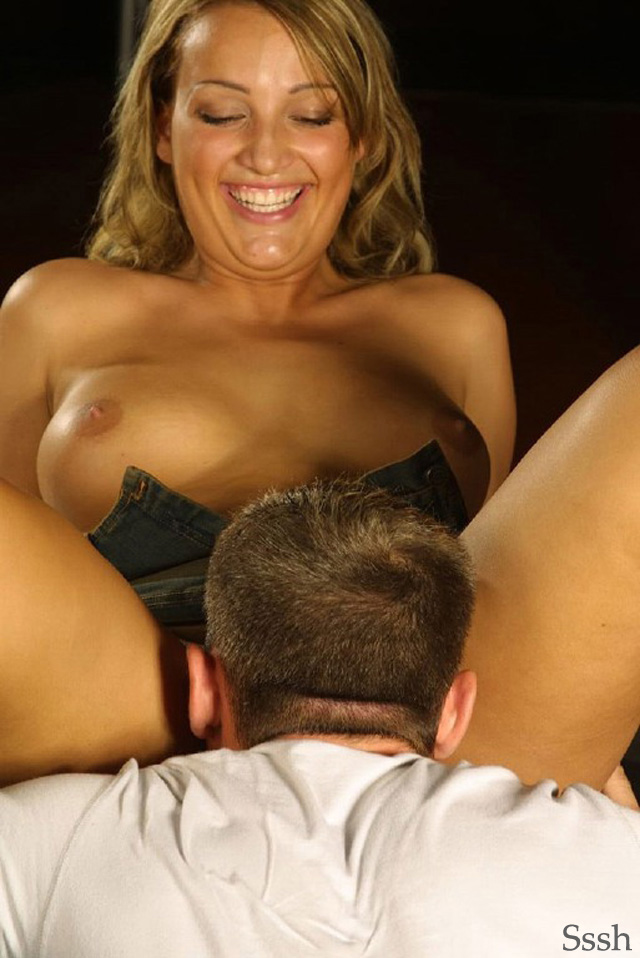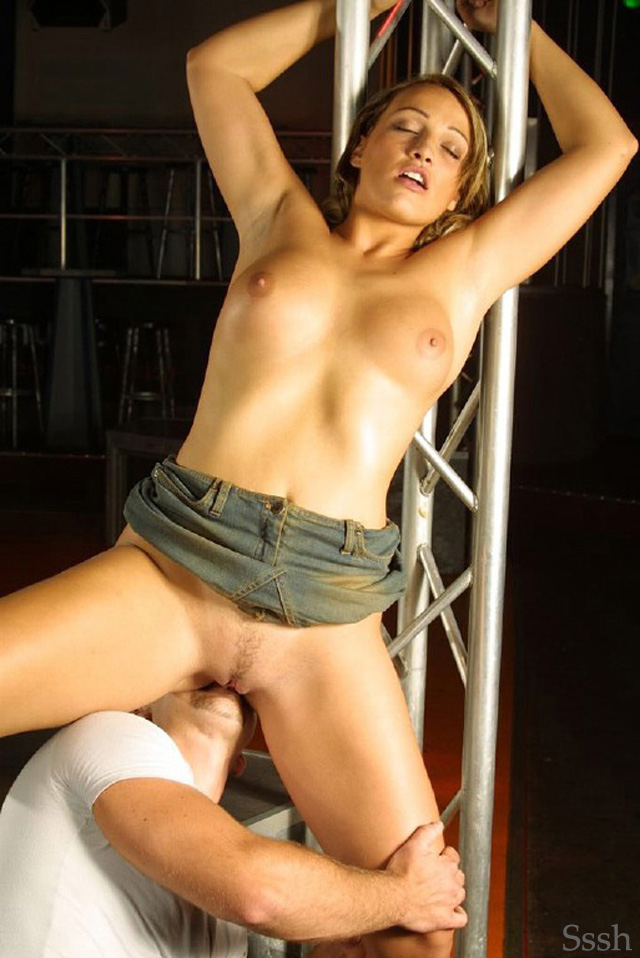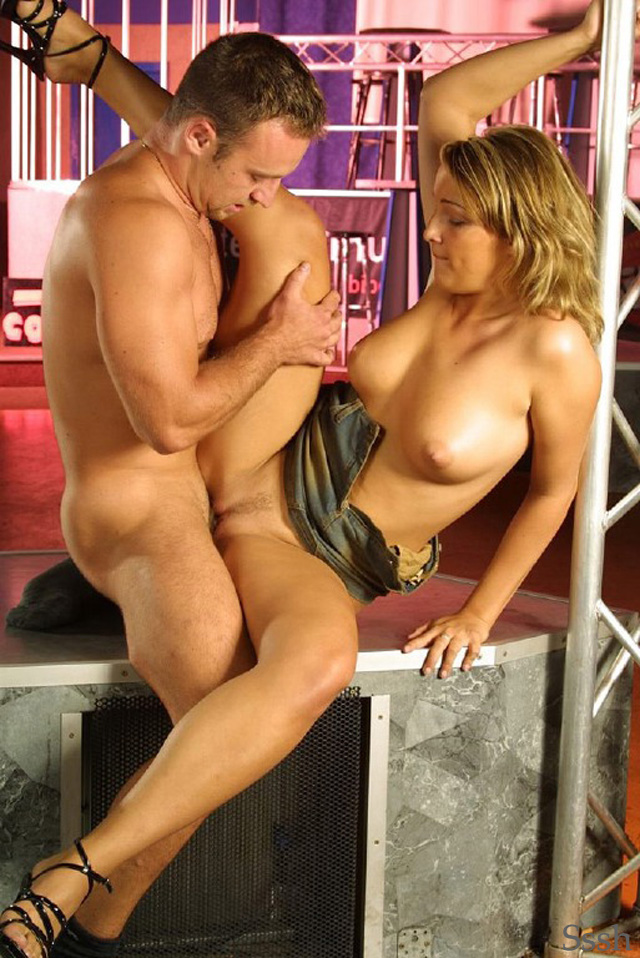 Check out the best porn for women and couples by smart and horny author, film editor & photographer Coleen Singer at Sssh.com!  With the top erotic site for couples and women as featured in ABC Nightline… Explore your naughty side in a safe and erotic place where you can feel free to admit you're horny and want sex!  Don't worry we'll keep your dirty little secret… Sssh!
Return to the cover of Porn Corporation magazine or view the new Adult Industry category.
Related recent adult industry features:  Interview With Angie Rowntree Of Sssh.com
View all the articles written by sex author Coleen Singer or see more from Sssh.
Are Women Really Hornier In Our 30's? – Irony, Thy Name Is…. Jackie Collins?
Need more juicy content?  Read our Porn News – Pornstar Interviews or New Porn Sites!
Feeling naughty this week in the holiday spirit?  Check out all our Christmas Porn!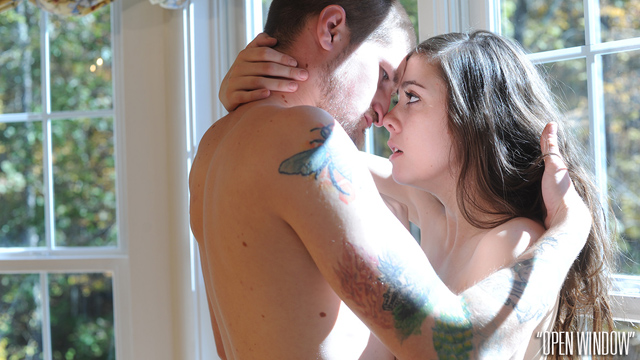 Angie Rowntree sat down with Porn Corporation correspondent Ashley Von for an in depth and intimate 1 on 1 interview on her creation of Sssh, the leading porn site for women and couples, business in the adult industry and sex talk on women!
Ashley Von:  Angie Rowntree, You're one of the pioneers in creating an erotic site for women by women that also prides itself in being authentic couple friendly porn. How and when did Sssh.com come into creation?
Angie Rowntree:  I launched Sssh.com in 1999, for a very simple reason: When I looked around the web at all the different porn sites, and looked around the adult video market at all the different titles and series, I didn't see much which would appeal to women. Back then, most people didn't think there was any such thing as a market for "porn for women," but I didn't believe them. I thought the problem wasn't women don't want to watch porn; to me the problem was not enough people were making porn which would appeal to women. If we give women a reason to watch, something they want to watch, and they will watch; that's how I approached it.
From the start, I knew it might be a mistake to create content based solely on what appealed to me, so I began surveying members and asking them for feedback right away. I've stuck with this approach for 16 years now, because it works. Our movies and content are 100% based on the fantasies and desires of our members.
Ashley Von:  Sssh isn't just "porn for women" and doesn't play on just one angle of eroticism. Can you please tell me more about the community within Sssh and what it stands for?
Angie Rowntree:  At its core, the Sssh community is all about communication. Users and members communicate what they want to see to me as a filmmaker. We then create that fantasy as faithfully as possible and make it come to life. It's the same way we approach all of our content, not just movies. We aspire to make Sssh a site that our members have a hand in creating.
A lot of our members watch as couples, so while I've definitely tailored the site to appeal to women, it's not like men don't get a say in what I make; I listen to their feedback, too, especially when it's coming in the context of feedback about what both members of the couple want to see.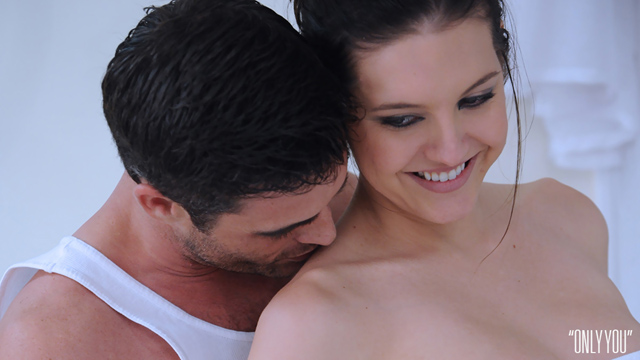 Ashley Von:  When you are filming, how does Sssh create the erotic romance that comes through on screen to make the chemistry pop in your movies? Are the actors and actresses real couples?
Angie Rowntree:  As often as possible, I do use real couples. There's something about the intimacy and the partners' knowledge of each other in a couple which really translates onto film and makes for a very compelling sex scene.
When I can't use a real-life couple, I look for performers who have worked together before and who enjoy working together. I want the whole experience to be fun for everyone, performers and viewers alike – so it just makes sense to do everything I can to make sure everyone is happy to be there and happy to be working with each other.
Frankly, fun is something I think is missing from a lot of porn. For some reason, a lot of directors seem to think it isn't sexy for people to smile or laugh during sex, but to me, if the performers are clearly enjoying themselves, it makes it that much easier for the viewers to enjoy too.
At the most fundamental level, this is really what I'm trying to convey in my movies: Mutual pleasure. Not just pleasure for one member of the couple or another, but pleasure for both of them, and to communicate that each of them cares about the other one having a good time. They aren't just "getting off;" they're getting off together. To me, there's a BIG difference between those two things.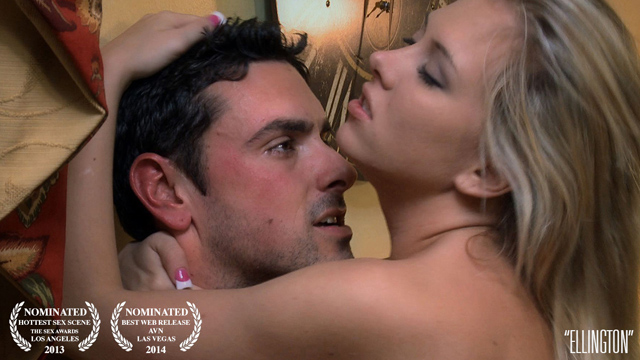 Ashley Von:  A widespread misconception is that porn is created just for men. Statistically speaking, I am a woman and so are you and I think it's safe to say we both watch adult movies. So we are batting a thousand here. Do you think that all women masturbate and how many women would you estimate actually watch porn?
Angie Rowntree:  I'm always hesitant to use the word "all" because it's such a big, inclusive word. Having said that, I think just about all people masturbate, be they men or women. As for what percentage of women watch porn, I have no idea. My offhand bet is the percentage is higher among younger women, just because the social stigma attached to being a woman who watches porn seems to have eroded a bit over recent years, but hard, reliable data is tough to come by, so it's very difficult to say what the percentages are, or whether I'm correct in my guess.
One thing is for sure, though: A lot more women are watching porn these days than anybody believed would ever watch porn back when I launched Sssh.com. Back then, everybody thought I was nuts for believing there was even a market for porn among women.
Ashley Von:  When you watch porn what kind of adult content is your personal favorite?
Angie Rowntree:  Honestly, I just don't get to watch porn very often these days, because I'm simply too busy making movies and managing the day to day operations of my company. When I do watch, my favorite directors definitely include Candida Royalle and Jacky St. James, who also happen to be two of the most intelligent, eloquent and insightful women to ever step behind the camera on a porn set. I also enjoy my husband's movies, BDSM has a beauty and erotism to it that I love.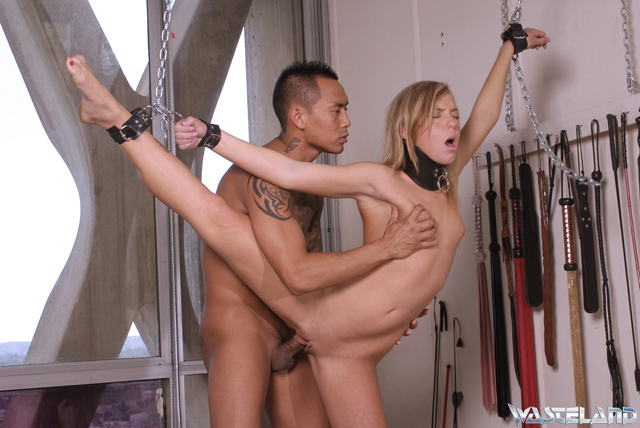 Ashley Von:  Do you think most women who watch erotic movies watch them alone or with their partners?
Angie Rowntree:  Based on our surveys and member feedback, it's really very mixed – and again, we do see variation which seems to correlate with the age of the viewers. Among women over 30, the percentage watching with a partner is higher than women under 30, and if you think about it, that makes intuitive sense, in part because among couples who have been together longer, I think there's more comfort in approaching the whole subject of watching porn together, because the relationship is more established.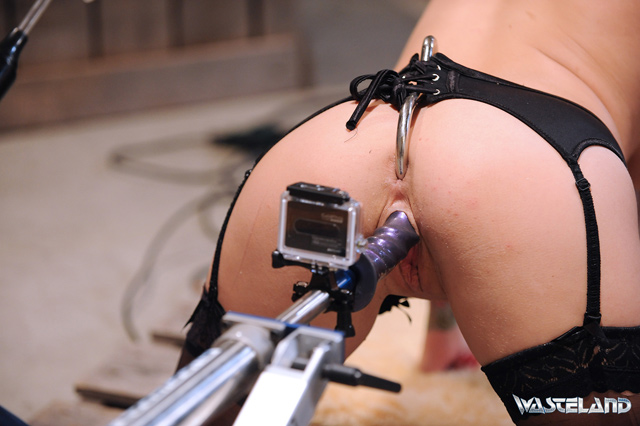 Ashley Von:  Angie, you are married to Colin Rowntree, creator of Wasteland. A BDSM porn site and you have created the #1 erotic site for women, Sssh.com. Together you are trailblazers in the adult industry. How long have you been married and what do you believe makes a successful marriage?
Angie Rowntree:  Colin and I have been married for 20 years. I'm no expert, and I'm not sure the same things work for every couple, but I can certainly tell you what makes our marriage successful: Mutual respect, shared interests and open communication. If you have those three things, I think you've always got a good chance to create something really special and lasting.
Ashley Von:  How important in a marriage do you think it is to continue exploring your sexuality together and what role does watching couple friendly porn take in that?
Angie Rowntree:  For me, it has been important – but just as there's no "one size fits all" approach which is guaranteed to work when you're making porn for women, there's probably no such thing as an ideal approach to exploring your sexuality as a couple, either. For example, if the woman in a couple wants to watch porn but her husband isn't comfortable with the idea, it's not necessarily the best idea to keep trying to overcome his reticence.
It all comes down to people communicating with each other honestly and openly. Once you've had the conversation, if both of you like the idea of watching porn together, and you share common tastes and fantasies, it can be a wonderful enhancement to a couple's sex life. But watching porn is not for everyone; if you get the idea it's not for your partner, rather than trying to talk them into doing it, it might be best to just let it drop and leave porn as something you watch on your own.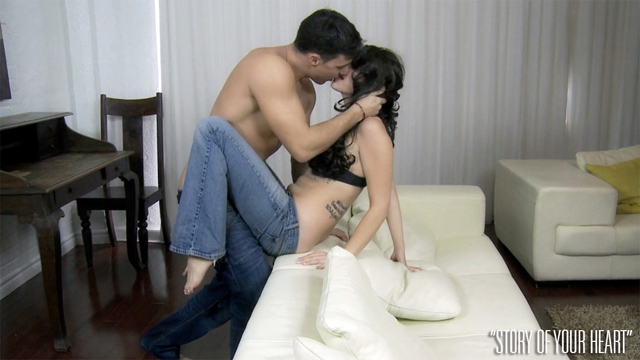 Ashley Von:  If a man wants to introduce watching erotic movies with his wife how should he go about it? When watching porn with your girlfriend or wife for the first time, what are the faux pas?
Angie Rowntree:  It has to start with a conversation, and probably should be approached with caution, as well. I'd suggest a guy start by talking around the idea of watching porn together. Rather than straight out asking if she wants to watch porn with you, ask what she thinks about couples who watch porn together – and try to make sure that question comes up organically, not out of the blue while you're talking about utility bills or something. If she reacts negatively and says she thinks porn is disgusting, you might want to just drop it right there. If she's more open to the idea, or better yet, reveals it is something she has done before and enjoyed, then you can further explore the possibility.
When it comes to taking a shot at watching porn together for the first time, the number one thing I'd say is to get a good idea of what she doesn't want to see before you fire up the video. The last thing you want to do is make that first experience something uncomfortable or unpleasant for her, because if you do, it will probably be both the first and last time you watch porn with her.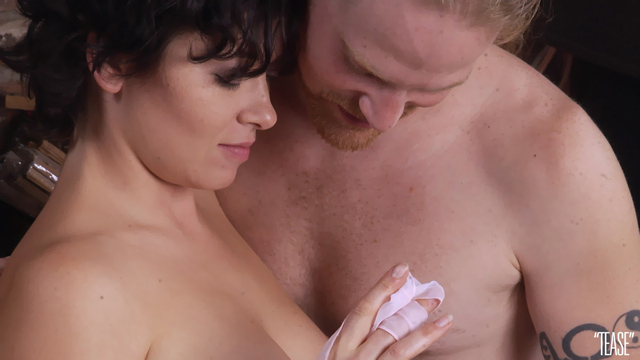 Ashley Von:  It's time for girl talk… sex toys & lingerie! What sex toy would you recommend to your female members as a must have?
Angie Rowntree:  Hmmm…. Well, again, it's important to remember we're all individuals, so what I recommend might be loved by one woman and totally freak out the next. With that caveat in mind, I'm a big proponent of "Rabbit" vibrators. Some women I've talked to have been a bit taken aback by the initial appearance, but once they put them into use, they forget all about what it looks like and can't get enough of how it makes them feel.
They are so many devices and toys out there these days, I can't even keep track. I might have to do a #SexTalkTuesday on this subject so I can get some advice, myself, and catch up with the latest gizmos! ☺
Ashley Von:  If one of your member's partner's wants to buy his wife or girlfriend sex toys or lingerie, what would you tell them to avoid? Please give our male readers a hint on what women like and what women don't want!
Angie Rowntree:  My advice? Since I'm such an advocate of communication, this isn't going to come as a surprise: Before you buy anything, talk to her about sex toys and lingerie. You might find she has definite likes or dislikes – or you might find that if you had come home with a sex toy as a fun surprise, you'd be sleeping on the couch for a week.
I know it sounds like a cop-out, but the truth is there's just no such thing as 'what women want.' Just like men, we're complicated creatures, individuals who vary greatly in our personalities, tastes and desires. To me, the biggest mistake a man can make is to think because one woman he knows likes something, every woman he encounters will like that same thing. Any man who has had sex with more than a few women should already know this; just because one of them thinks he's a real Casanova, it doesn't mean the next one is going to swoon every time he touches her.
We're not Volkswagens; there's just no such thing as universal sexual apparatus which makes all women's engines purr the same way. 😉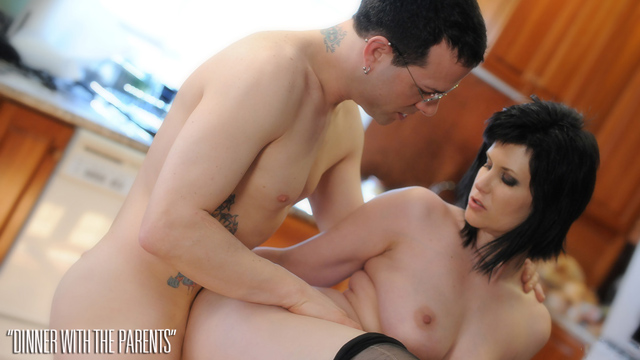 Ashley Von:  Angie, as the creator of Sssh, erotic website and community for women that bases it's updates and content on what your member's want; you must get a feel for what turns girls on. What do you think are the biggest turn-ons for women?
Angie Rowntree:  I've been a broken record with the "it depends" responses in this interview, so instead of repeating myself on that, I'm going to generalize a bit here. ☺
The number one thing women tell me they want to see sex being enjoyed, not the depiction of a woman to whom sex is happening to.
What I shoot for in my movies, regardless of the sex acts involved, is presenting sex which isn't just enjoyable to watch, but which is actually enjoyable for the performers at the time of filming. Granted, there are things you have to do during filming which we don't deal with in our real sex lives – like stopping so the camera can be repositioned, or the lights adjusted – but the goal is to make the sex as "real" as possible with minimal interruptions.
I believe this is what women like about Sssh; I 'keep it real,' so to speak.
As for specific sex acts and preferences, our surveys indicate women generally prefer less in the way of close-up penetration shots than is typical in porn and could do without seeing semen all over women's faces at the end of the scene. This isn't to say there are no women who like to see those things, but in general, this is what our data shows.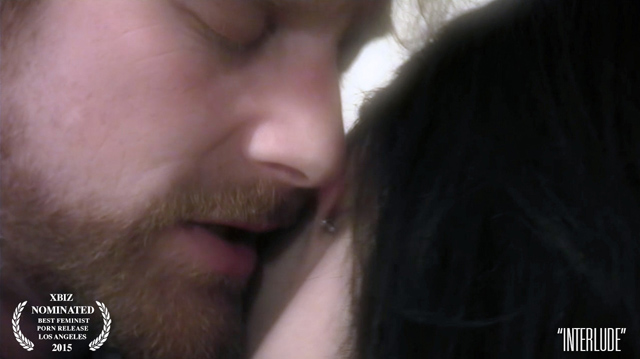 Ashley Von:  Of course, nothing is set in stone. Every woman and couple is different and can enjoy exploring new and different things and decide later if they like them or not. In general though, what you believe are the biggest turn offs to women that men think are actually arousing their partners?
Angie Rowntree:  I'll refer back to my previous answer a bit here and say, in general, women aren't as wild about "facials". Whether the misconception is really driven by how common facials are in porn, or just by wishful thinking on the part of men who'd like to give it a try, I'm not sure.
Beyond that, there are also things a lot of women do like, but which any given man just might not be as adept at as he thinks. Cunnilingus, for instance; we all know it can be amazing when it's done right, but can be downright disappointing, even highly irritating, when done wrong.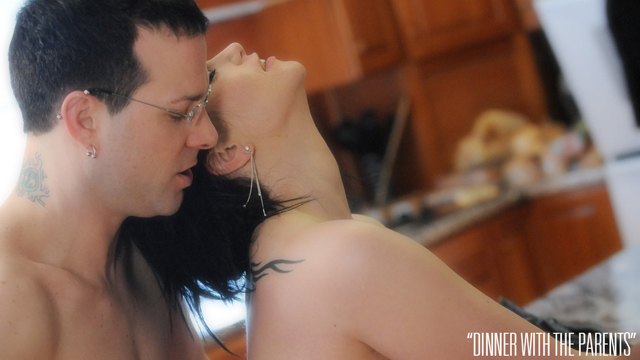 Ashley Von:  Dirty talk. Do women love it or hate it? Please guide our readers through the art of making sensual dirty talk in the bedroom that can appeal to a woman who doesn't usually enjoy dirty talk.
Angie Rowntree:  When it comes to women and dirty talk, some absolutely love it, others might kick you out of bed, get dressed, leave your house and never come back. 😉
My advice with dirty talk is to ease into it, for sure, and don't just jump in there and start calling your girlfriend a slut, or aggressively giving her commands on what to do. This is just too likely to backfire. Trying to get a sense of what a woman likes, on the other hand, is probably always going to be appreciated, or at least not strongly objected to.
Just don't jump right to "Yeaaaah, you like that, don't you bitch?" Maybe lead with "Tell me what you like; I want to make you cum," or something like that, and just see if she's inclined to respond. A lot of times, lovers who like to be talked to also like to do some dirty talking of their own, so if she doesn't seem comfortable telling you what she's into, she might not want to hear much coming from your mouth during sex, either.

Ashley Von:  Let's talk business. You're a successful entrepreneur and Sssh is booming! Your site has been featured in Cosmo, Elle Magazine, Glamour, ABC Nightline, CNBC, The Examiner, Psychology Today, Time and BBC to name only a few. Did you ever expect Sssh to get this popular?
Angie Rowntree:  I've always believed there was a strong market for porn among women; someone just needed to make the right kind of porn.
My hope for the future is that Sssh will continue to grow and evolve, as a website and as a brand, gathering a bigger and bigger audience along the way.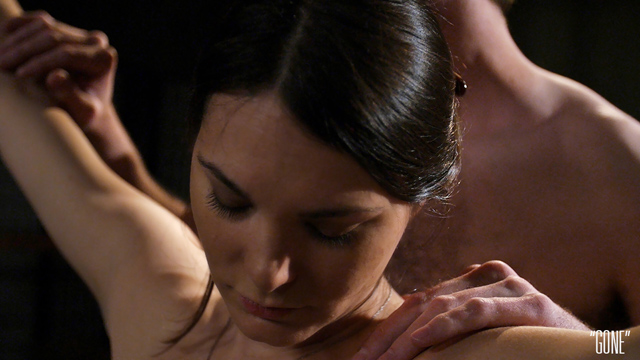 Ashley Von:  Please tell us about your upcoming events, business plans and career aspirations. Are you currently working on any projects that you can let us in on?
Angie Rowntree:  I have a number of new projects in the works, including the most ambitious movie I've made so far, called Gone, which was released on September 25. I'm really proud of the work both the creative team, crew and actors have put in. The script is just remarkable; it's not going to be just a good porn movie, it's going to be a good movie by any measure.
*Look out for the upcoming Porn Corporation review on the highly acclaimed Gone movie from Sssh!*
In January, there's a novel coming out in which the protagonist works at Sssh, and I'm really excited about that, as well. Sssh will be the backdrop and context of the whole story, so it's more than just a location or a detail about the main character's professional life; it's really central to the theme of the book, as well.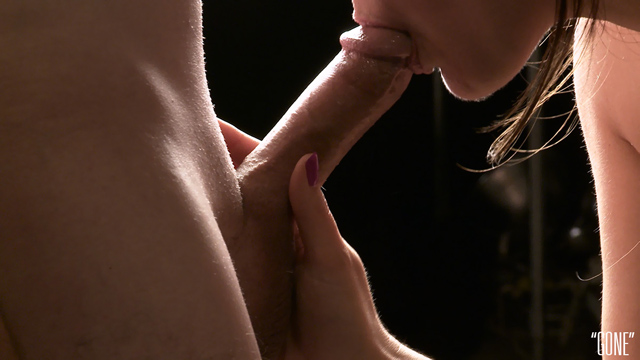 Ashley Von:  Let's leave on a fun question, the signature touch we ask all the pornstars that we interview. Angie Rowntree, if you were ice cream what flavor would you be?
Angie Rowntree:  You know, when most people think of vanilla, they have this idea like it's the most basic, plain, uninteresting flavor in the world. But, in reality, vanilla is incredibly exotic, wonderfully varied, rich and deep. The more you find out about vanilla, the less plain it seems. It's also the second most expensive spice in the world (behind saffron) – another thing people don't know about vanilla.
I like to think I'm a little like vanilla. To those who have no idea what I do for a living, I'm just some nice person who lives up the street. They probably think I'm a homemaker with a dull, routine life, married to some similarly bland office-worker who's responsible for bringing home the bacon and paying all the bills. It's only once you look a little closer that you realize there's a bit more to me than meets the eye.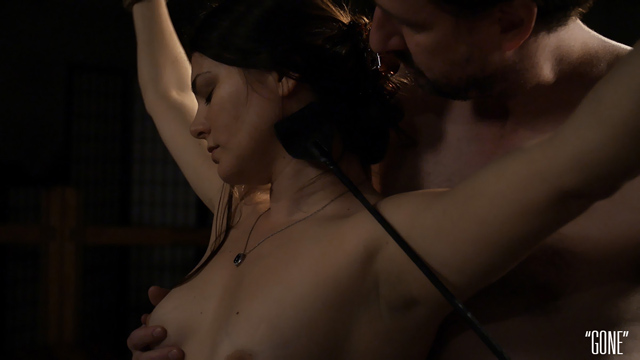 Ashley Von:  Is there anything else you would like to share with our readers?
Angie Rowntree:  More than any government regulation or social stigma, the biggest problem facing the adult industry today is online piracy. I don't really blame individual users for taking advantage of the fact there's so much free porn out there on the web, but what a lot of viewers might not realize is so much of this free porn was posted by people who pirated it, not by the legitimate copyright owners. Piracy is simply killing the adult industry; so many of my friends and peers have gone out of business in the last 6-8 years that it's mindboggling. Others have survived but are struggling.
It wasn't at all this way 10 years ago, much less 20 years ago when I first got involved in the industry, and rampant piracy is the reason. I simply can't stress this enough: piracy isn't just a reason the adult entertainment industry is suffering so badly as a business sector right now, it's the reason.
Please respect the studios and performers that make these movies for your enjoyment and pay for your porn.
Return to the cover of Porn Corporation magazine or view the new Adult Industry category.
Previous article in the Adult Industry category: Are Women Really Hornier In Our 30's?
Looking for more juicy content?  Read our Porn News or Pornstar Interviews:
Raven Bay – Jenna Ross – Olivia Wilder –  Nikita Von James – Allison Moore – Karla Lane
Kayla Jane Danger – Natasha Starr – Karmen Karma – Leia Down – Mia Gold – Nora Noir
Read Opinions & Editorials Written By Pornstars in Porn Corporation Girls.
Need more naughty gossip?  View all the New Porn Sites released.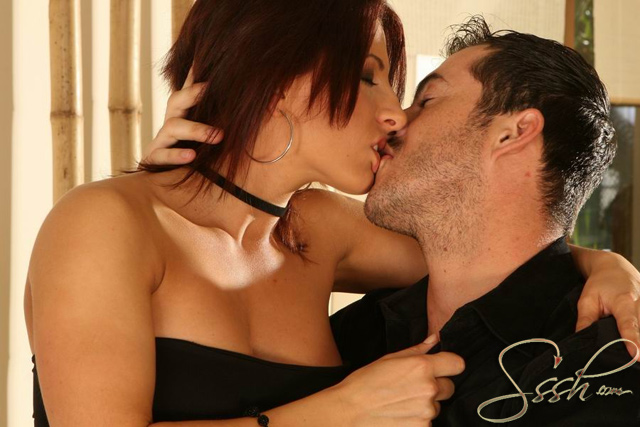 September 18, 2015 – Are Women Really Hornier In Their 30's? – Sexy editorial by Coleen Singer from Sssh.com – Porn For Women and Couples
So, I've been in my '30s' for a couple of years now and for the past few years I've noticed a change in my body when it comes to sex. And by that, I mean, I'm horny like, all the fucking time. It didn't start out that way, I had my regular sex drive when I first turned 30, but then as the years creeped up, I notice that I am just turned on a lot more. In fact when it's the time of the month when I'm ovulating (or during that 'fertile' week) my horniness gets ramped up to level 100.
In my 20s I used to be more discerning about whom I slept with. He had to have certain qualities and sexiness for me to get undressed. Now, any dude that is attractive and isn't a jerk is good enough for me to bed. Yup. I'm slutty as hell, I would definitely make my 20 year-old self blush and frown in disapproval, and I'm ok with that.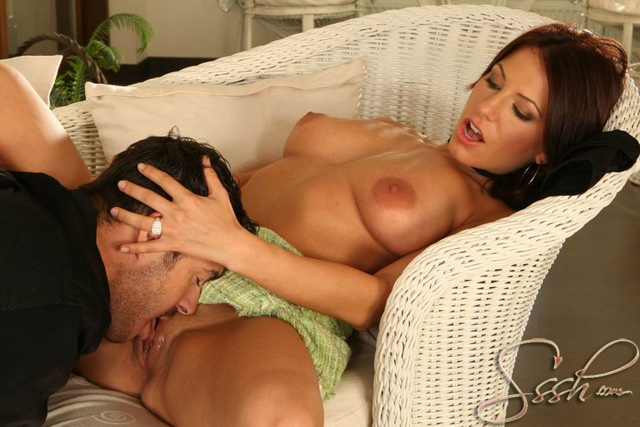 Thanks to Tinder, I can now have my pick of men – and yeah I love Tinder – though I did have to change my age to get actual swipes! Sad I know. But who cares right? I'm good in bed, and those men are getting a treat.
So I notice that in my last few dates I am literally staring at their lips because I am just aching to kiss them. Its gotten so bad that when I realized I didn't want to fuck one of my Tinder dates, I felt relieved. Like, "Phew! Not broken!" I still have some discernment.
It's like my body is going, "Girl, better get yourself pregnant and start popping out them babies! Time's running out!" and then cranked up the horniness so I would just get anyone's sperm to impregnate me. Thank god for condoms and birth control.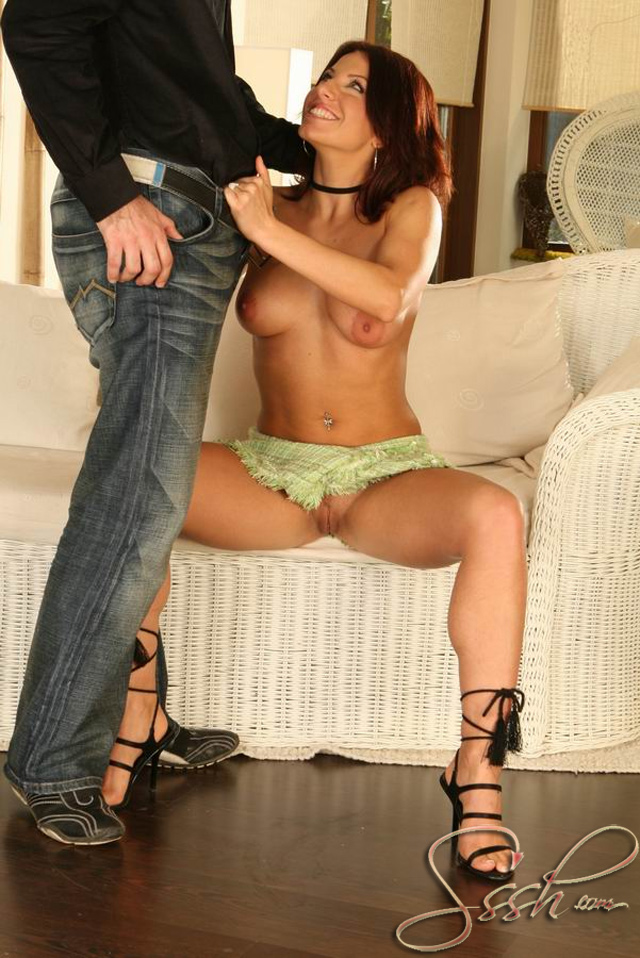 I can't say I regret anything – except that at this rate I also have a lot more bad sex. I am actually quite appalled at how bad some men are at sex. It's amazing. You have one job, pump, and you have no rhythm? I mean, you've been having sex for quite a while I'm assuming. Aside from that, I am thoroughly enjoying the feeling of being turned on. It is so delicious and so… moist.
A guy friend of mine in his late 30s actually complained that his girlfriend (in her early 30s) wanted sex all the time. He said that he was just tired but she wanted to fuck always, so much so he thought maybe she was trying to 'overcompensate' or something – his words not mine. Seeing that at the time I was still in my 20s, I thought agreed with him because what did I know. Now that I'm at that age too I totally understand her. I want to bone all the time too.
If you're in your 20s, I'm sure you're having a ball of a time, but just wait till you're in your 30s ladies. It will sneak up on you and hit you like a sledgehammer. And suddenly you'll be the horniest dog in the room. Enjoy every minute of it!

About The Author:
Coleen Singer is a writer, photographer, film editor and all-around geeky gal at Sssh.com, where she often waxes eloquent about sex, porn, sex toys, censorship, the literary and pandering evils of Fifty Shades of Grey and other topics not likely to be found on the Pulitzer Prize shortlist. She is also the editor and curator of EroticScribes.com. When she is not doing all of the above, Singer is an amateur stock-car racer and enjoys modifying vintage 1970s cars for the racetrack. Oh, she also likes porn.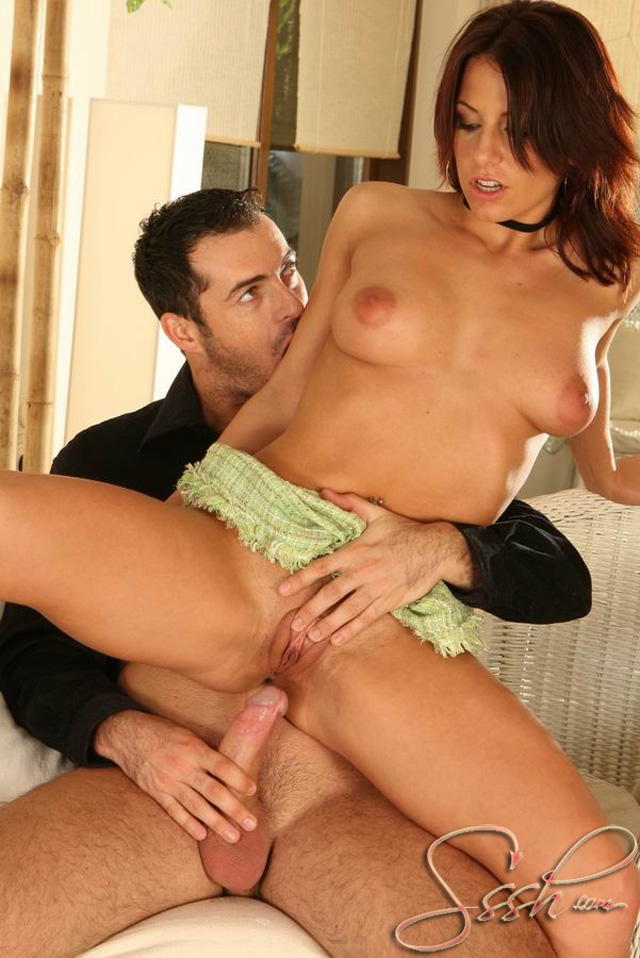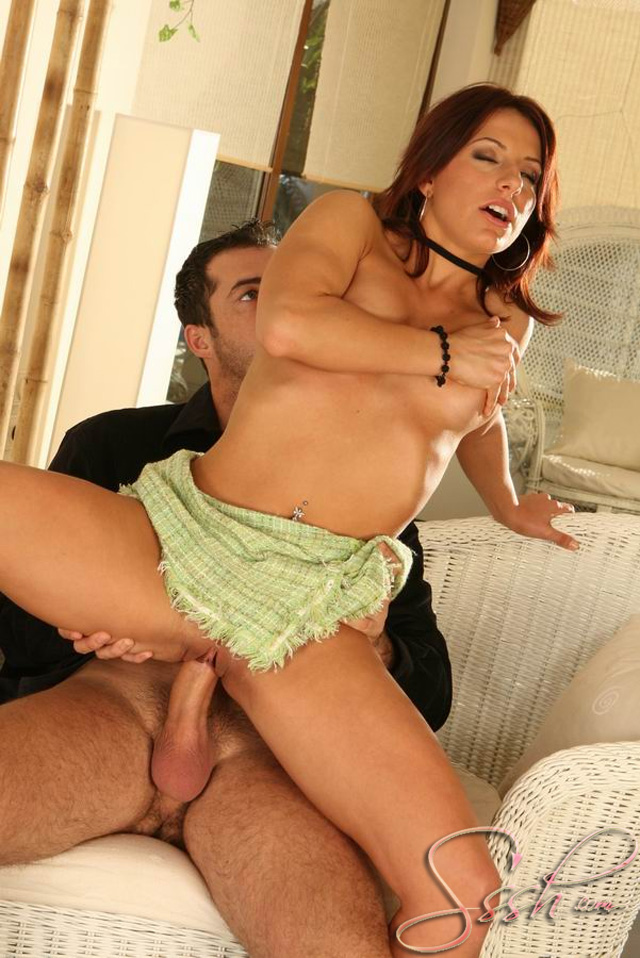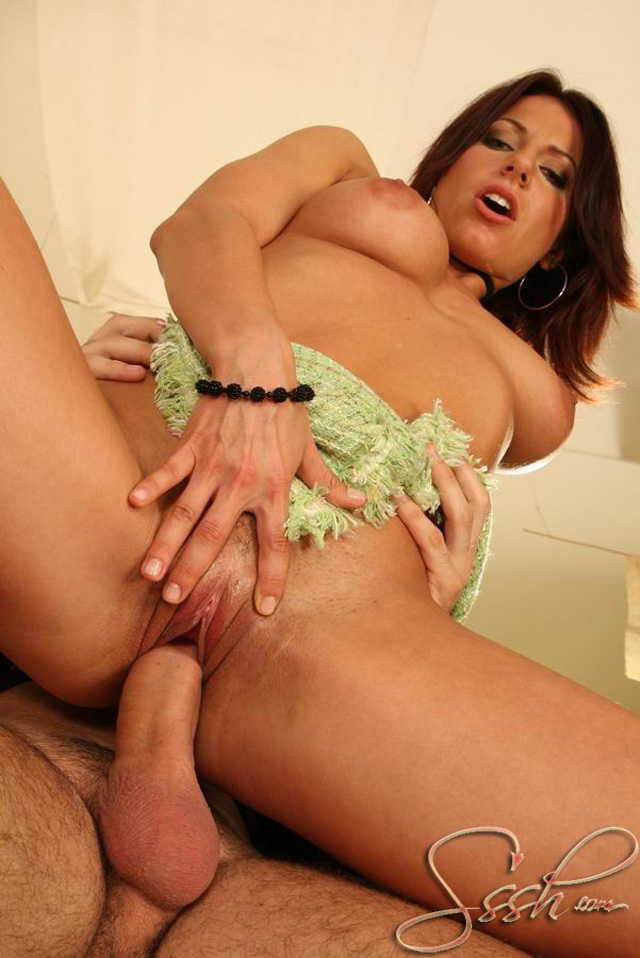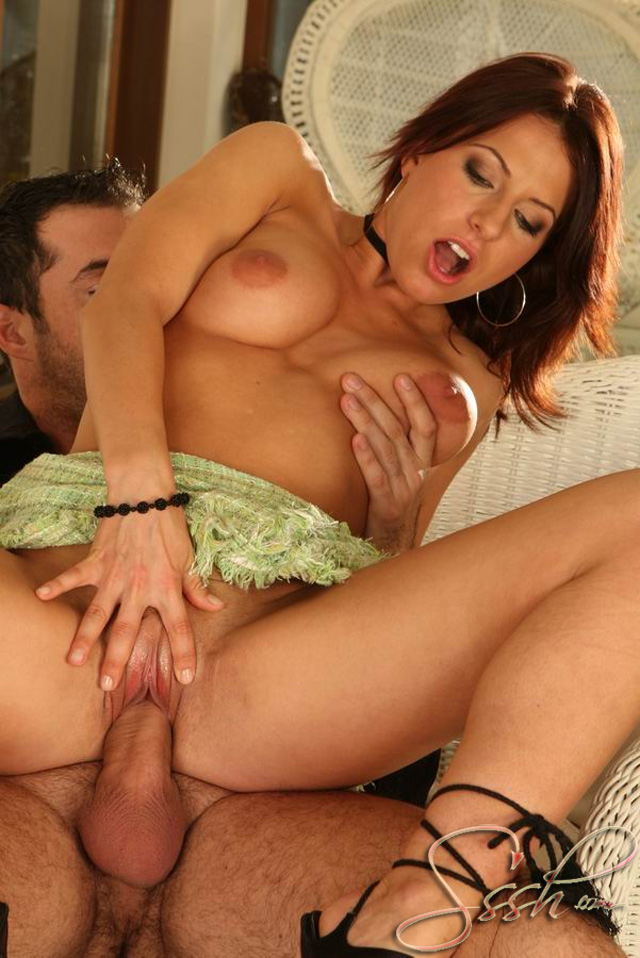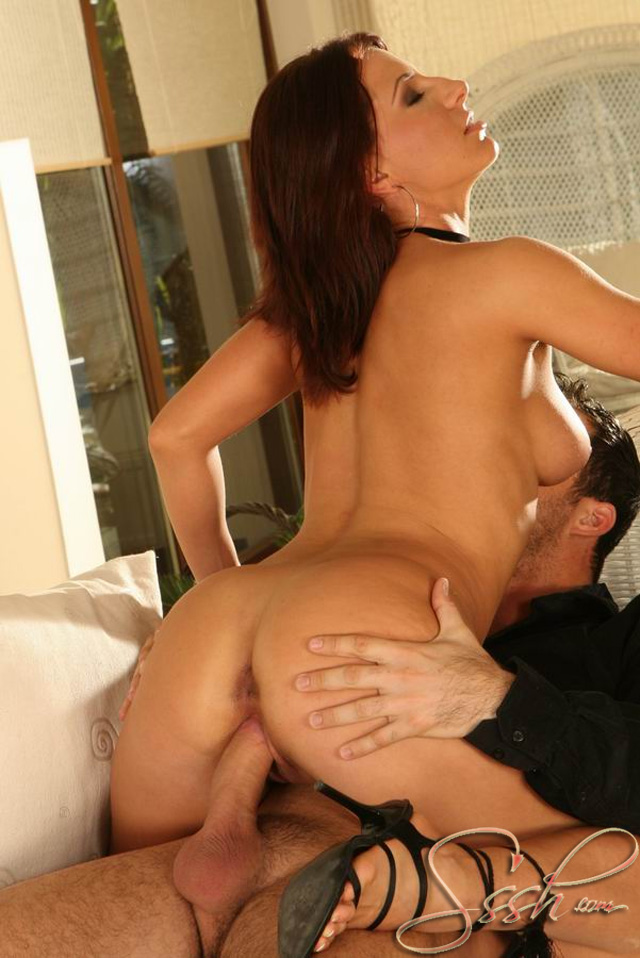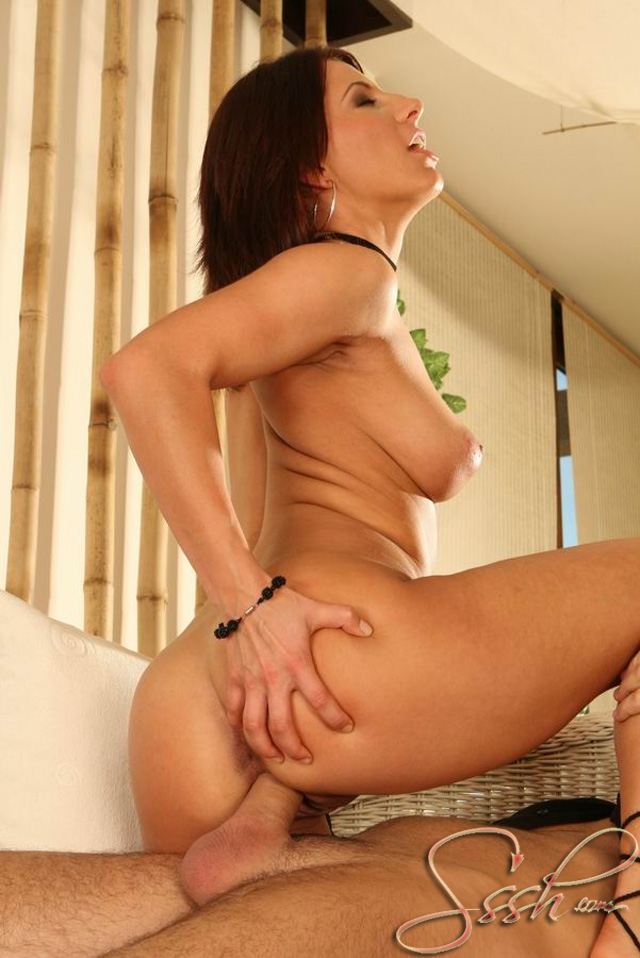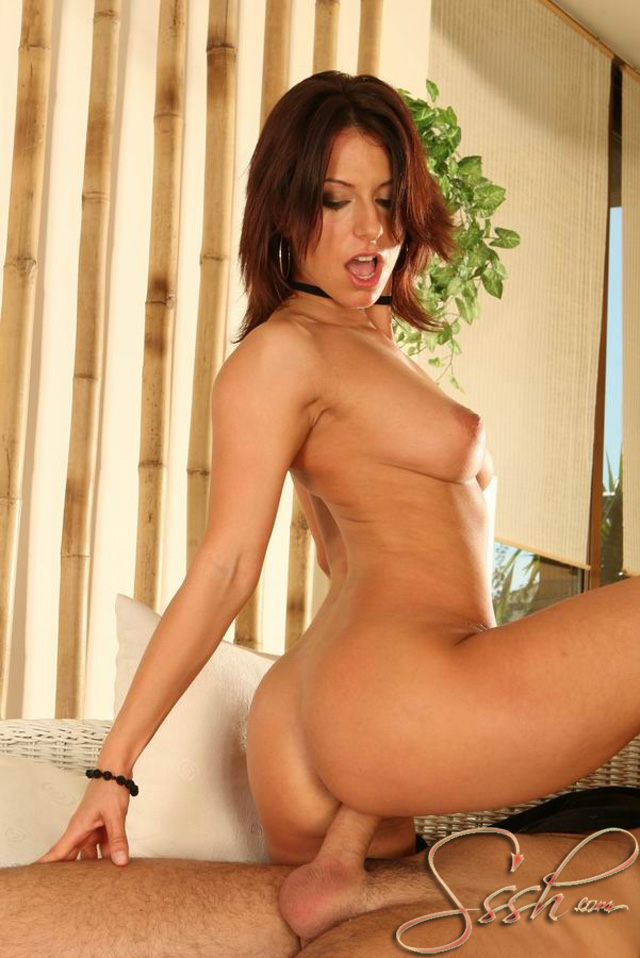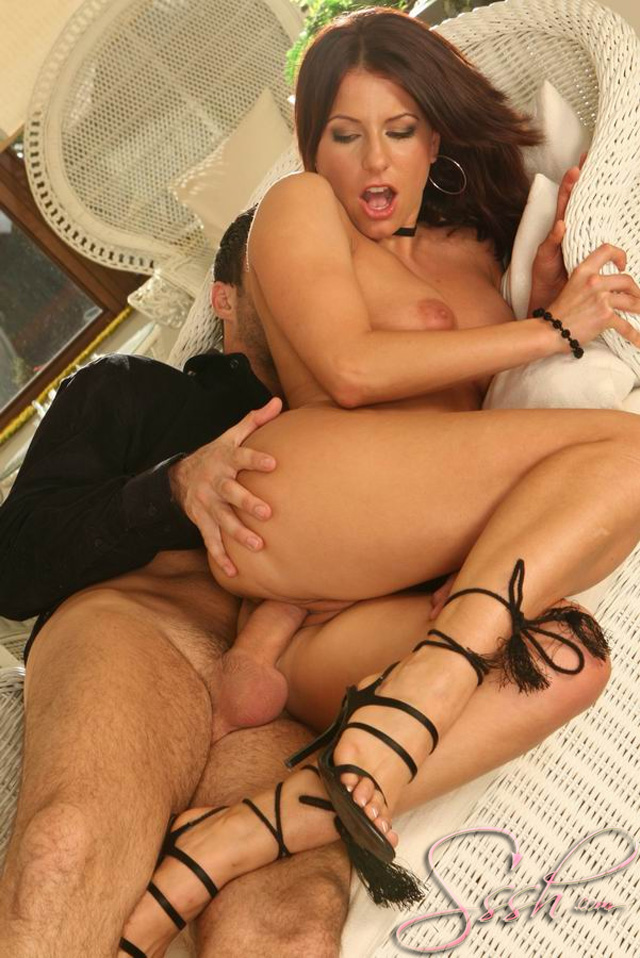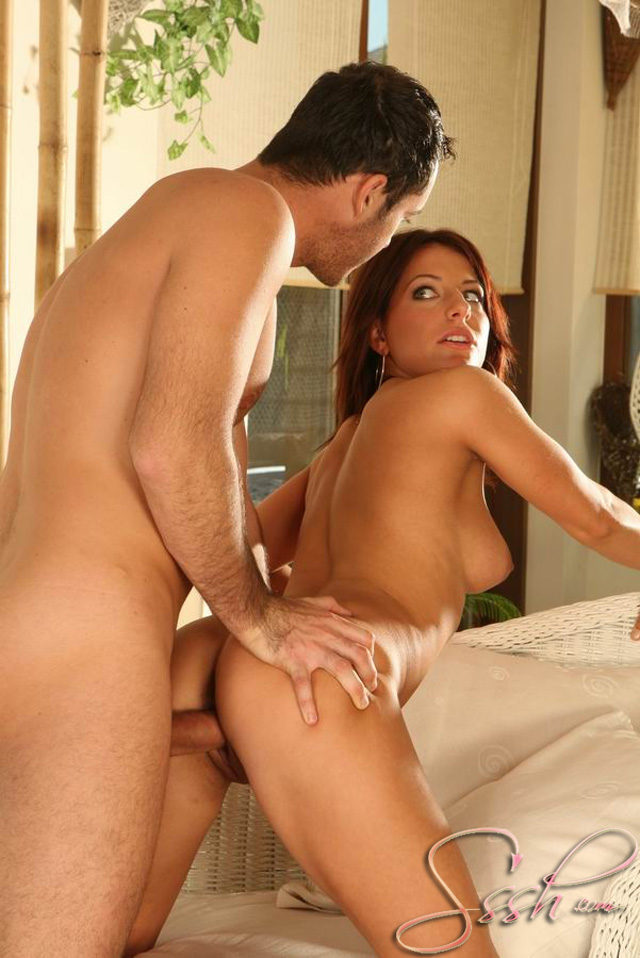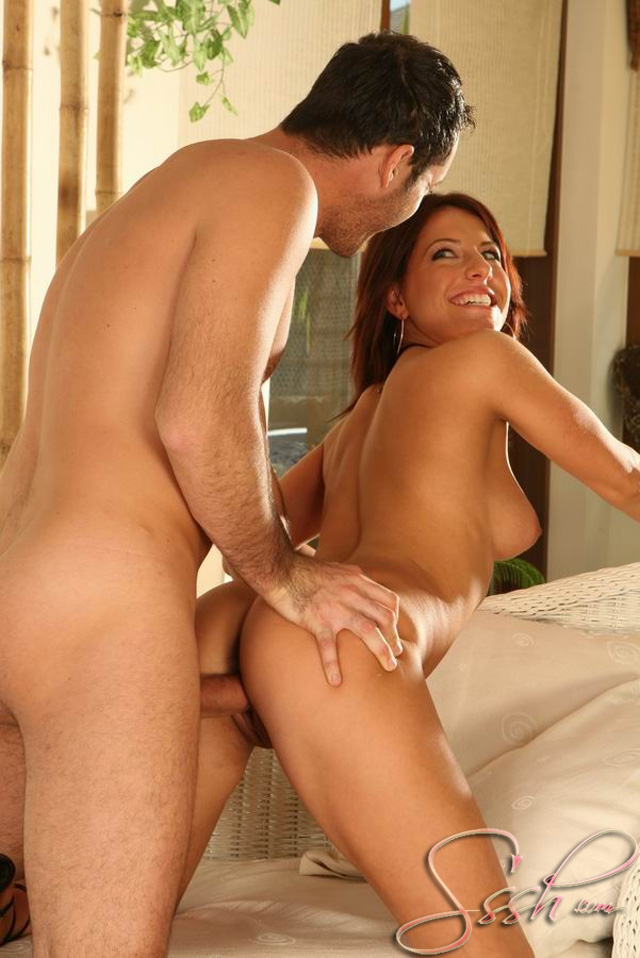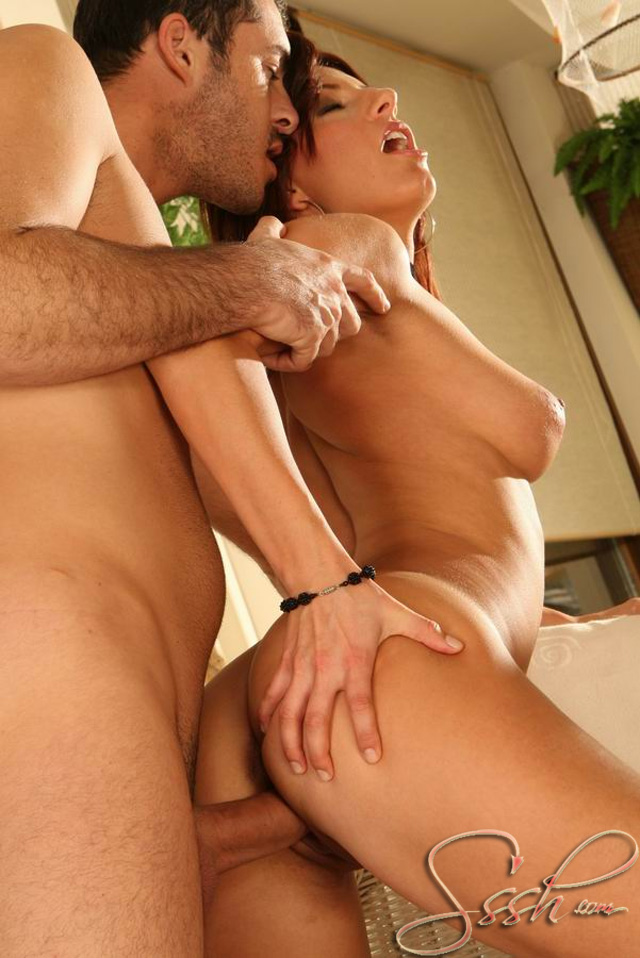 Check out the best porn for women and couples by smart and horny author, film editor & photographer Coleen Singer at Sssh.com!  With the top erotic site for couples and women as featured in ABC Nightline… Explore your naughty side in a safe and erotic place where you can feel free to admit you're horny and want sex!  Don't worry we'll keep your dirty little secret… Sssh!
Return to the cover of Porn Corporation magazine or view the new Adult Industry category.
Previous article written by Coleen Singer: Irony, Thy Name Is…. Jackie Collins?
Read Opinions & Editorials Written By Pornstars in Porn Corporation Girls.
Looking for more juicy content?  Read our Pornstar Interviews or Porn News!
Need more naughty gossip?  View all the New Porn Sites released.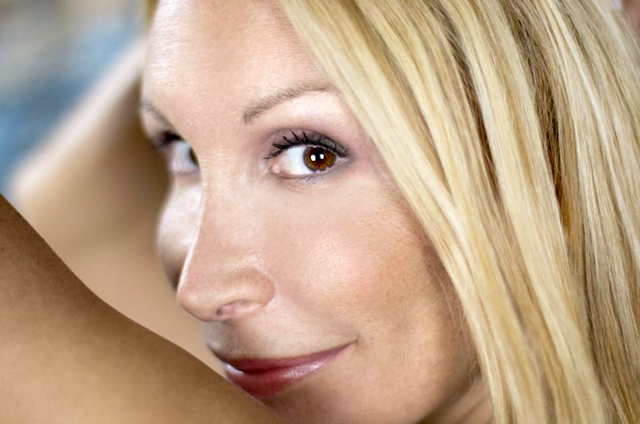 Ashley Von:  Taylor Lianne Chandler, congratulations on your adult debut starring in "Going For The Gold" and your premiere as "The World's First Intersex Porn Star!"  I am thrilled to be interviewing you for Porn Corporation.  Can you please explain to our readers a little more about what the term intersex means?
Taylor Chandler:  Sure, intersex is a blanket term that replaced hermaphrodite. No mammal can be a hermaphrodite, only worms.  There are many variations that fall under intersex.  It basically means there is some from of birth anomaly involving both genders either externally or outwardly or both.  Some are pronounced, some don't show up till puberty and others are sometimes never known and a person passes away and it is discovered in autopsy.  Unlike transgender when is classified in the DSM as a psychologically disease, this is classified as a physical trait in the ICD.
Ashley Von:  How does it feel to know you are leading an era of awareness and the beginning of a new generation in adult history by being the world's first intersex porn star?
Taylor Chandler:  I don't think it has sunk in yet… LOL.  After getting corrective surgery decades ago I was just a female in my eyes, I love that I have the ability to bring awareness to birth challenges on the gender spectrum, but I am saddened that the leading organizations here in DC lent me no support.  HRC, Gladd, LGBTIQ.  Gay marriage is great, but the T, I, and Q might as well be silent in the title.  Chad Griffith has done nothing for our community.  I met him at the HRC National dinner.  No one loves Chad more than Chad.  It is sad to me there are not more people Transgender, Intersex or in Question representing the masses.  We make up large percentages of suicide, homelessness and unemployment.  What have they done for us lately?
Ashley Von:  When and how did you know that you were an intersex individual and what was that like growing up?
Taylor Chandler:  I knew I was a girl from the moment I could speak.  Never said I wanted to be, I knew I was.  I dressed and acted like a girl till 3rd grade.  I was the victim of sexual abuse starting at 1-1/2 years old.  I used to sit on the corner of my heel to prevent going the the bathroom because it hurt so bad.  Later an uncle molested me.  I was brought to an endocrinologist and genealogist and it was determined the scaring on my penis was from a doctor sewing up an underdeveloped vagina.  Further testing determined I had a uterus.  I had gonadal tissue and ovarian tissue meshed, but neither developed.  Thus started testosterone blockers and estrogen, not to alter anything but keep my levels stable.  I came from a powerful family where things like this were not talked about and doctors were quacks and what did they know, but I knew.  I finally knew I wasn't a freak and that I was born this way.  Growing up was a constant battle with my grandparents.  They used money and conditions as a means of control to get what they wanted.  I couldn't wait to be free of them.  I would listen by the water to Christopher Cross "sailing" knowing it would take me somewhere say where no one could ever hurt me again or make me feel less than.
Ashley Von:  Have you always been the beautiful woman you are today or have you ever felt like you were sexually ambiguous?
Taylor Chandler:  I have gone through many metamorphosis, some cosmetic, but most forced upon me by a horrific accident in 2001 that destroyed my face, lacerated me from my head to toe, fractured many bones and crushed my pelvis.  I even had a silicone implant in my right vocal cord that allows me to talk.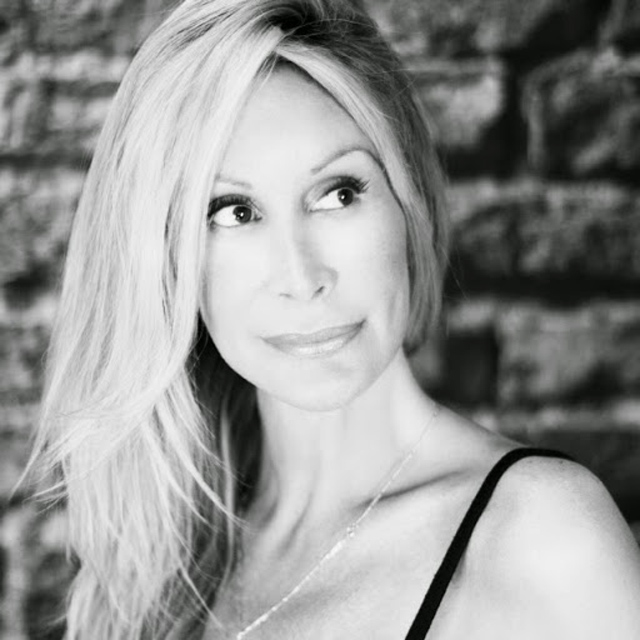 Ashley Von:  To set the record straight for your fans, please tell us about your relationship with Olympic swimmer Michael Phelps.  How did the two of you meet, how long were you involved with one another and how serious did the relationship get?
Taylor Chandler:  He is an amazing man. I will always hold parts of my relationship with him dear to my heart. We met on Tinder in early August.  Between both our traveling schedules it took time to take it to another level.  Anyone that has online dated knows it develops quickly.  You share and divulge things you wouldn't at a dinner table.  We got off of Tinder quick and started texting and calling which accelerates everything.  I ran him to make sure it really was.  The down side or upside of working in crisis management depending on how you look at it.  We had so much in common from feelings of abandonment by our fathers to horse racing, to feeling cheated out of childhoods to unlucky in love and no trusting people.  By the time I got around to coming to his house the first of 5 times we knew each other and were completely comfortable.  We didn't have sex during halftime, but later that day we did.  It was the fist time I felt intimacy and free with a man, as he went down on me, we 69, he got on top and entered me, beside me asking to watch his penis going inside me.  It was all new, exciting and what I had been waiting for my whole life, a connection.  He opened me up sexually.  Orgasms with him were almost crippling.  His body is amazing from head to toe with the exception of his toe nails… LOL.  We started talking in August, sleeping together in September and then he got the DUI and left for rehab the night of the 5th early morning of the 6th.  Before leaving 3 articles came out, calling me his girlfriend, his cougar, etc.  I asked him if what we had was ruined.  He said absolutely not, that he just wouldn't have his phone and here was another email address, but he wasn't sure when he could get in touch.  When he left for rehab, we were together and I was standing by my man, which I did for 7 weeks.
Ashley Von:  If you don't mind me asking the dirty details Taylor, please tell us… How many times did you sleep with Michael Phelps and what was he like in bed?  Was the sex gold medal worthy?
Taylor Chandler:  I really don't know if I could put a number on it.  Between penetration and multiple sexual acts there are so many.  He is the best lover I have ever had.  I will always miss that.  He knows how to please a woman every inch and he knows what to do with his penis to leave you begging and wanting more.  The first thing he ever did was go down on me followed by sixty nine which I had never done before.  I was so nervous.  He flipped me over and entered me and our bodies were one and all was right with the universe.  He didn't cum inside me to avoid getting pregnant, so all you nay sayers out there he did not know.  He is as good in bed as he is in the pool.  He is gold medal worthy.  That thing could be a rudder, maybe that's what helps him win.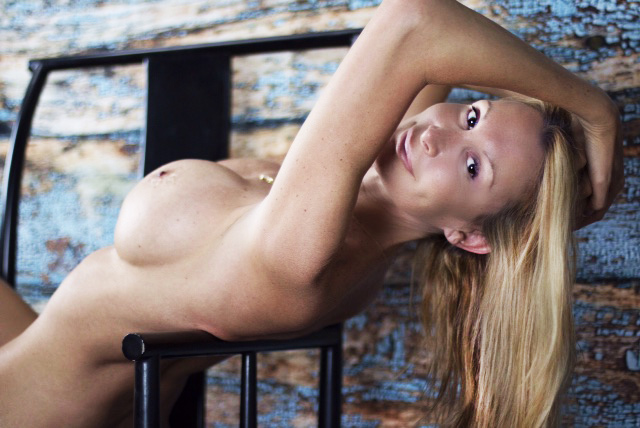 Ashley Von:  Please correct me if I am wrong but it's to my understanding that you never intended on becoming a celebrity.  It was after your relationship with Michael Phelps was made public that the paparazzi and media started to harass you.  What was that like and how did your life change?
Taylor Chandler:  Michael and I had many conversations about this. He wanted to go out to eat & get drinks.  I liked it just being us free of the world. I grew up with a famous father. Things were new with us.  I knew there would be interest in who the latest on his arm was.  We even talked about red carpets how I wouldn't walk with him, I would stay with handlers or go in a private entrance, Maybe down the road that would have changed, but not now.  Losing my privacy about killed me.  No one could understand why I was so upset. You're dating Michael Phelps you should be happy. As an interpreter privacy and invisibility is everything, work started drying up. People started recognizing me. Life as I knew it was over.  Then the tabloids and newspapers started calling.  Michael promised me Octagon would help me, they did nothing.  I spent most of October medicated in bed. By November I had gone from a size 6 to a zero.  It got so bad knowing my past was going to come out I tried to kill myself.  That seemed easier then living in a world of judgement.
Ashley Von:  Prior to meeting Michael Phelps and becoming a celebrity premiering with your first sex tape, what was an average day in the life of Taylor Chandler?  Where did you work and what were your hobbies?
Taylor Chandler:  It was always different, that's why I loved interpreting.  One day I could be work 14 hours at a three letter agency, then next day I could be filling in at DC schools with the students I loved so much.  Not a day goes by I don't miss them.  Then I could be working an 8 hour shift at the hospital.  There is a lot of variety in interpreting.  I can't really say when I would due to confidentiality and HIPAA.  I have been on the senate floor the house and most committees during votes.  My hobbies were being outdoors,hiking, running, taking my friend's dog for a walk, exploring all the historical places here you learned in school.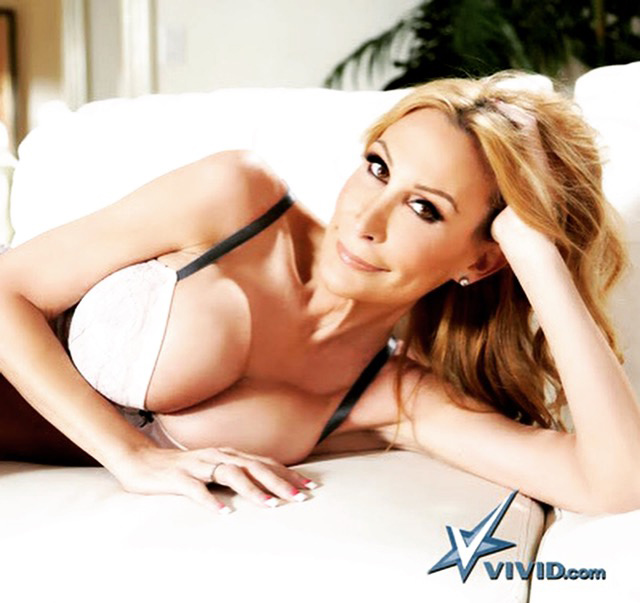 Ashley Von:  Let's talk a little about the release of your recent sex tape "Going For The Gold" shot by Vivid Entertainment co-starring Ty Roderick.  We know the crew over at Vivid are top notch and are the absolute best of the best.  How was this experience for you?
Taylor Chandler:  I couldn't have asked for a better team and experience. I was very nervous but everyone was mindful of that and made me feel comfortable. There were times where Ty wiped tears away so they wouldn't be captured on camera.  This wasn't just a porn for me. I was reliving my relationship with Michael, the horrible night of September 30. It was emotional to say the least. During takes I went back to the utility room where Cammy, my makeup and hair miracle worker made me feel comfortable.  I didn't see her as porn. She was so good to me, playing music I loved.  In between scenes I listened to Carrie Underwood, Something in the Water, Everyone did their best to make this the best possible experience ever and it shows on tape. I knew Ty, we liked each other.  Making love to him the first time and exploring each other is real duplicating what it was like with Michael.

Ashley Von:  Granted sex on screen and off screen is completely different but if you had to compare sex with Michael Phelps VS. Ty Roderick, who did you enjoy sleeping with more?  On that note, how does sex on set and sex in real life differentiate to you.
Taylor Chandler:  Nothing against Ty, but no one will ever take the place of Michael.  Sex with him was raw, real and loving in a way I have never experience.  He didn't see me as being different he saw me as whole.  I am relating that to my accident and scars. not my vagina. Ty and I's relationship suffered sleeping together on tape.  Too many people, no intimacy, move here, hold there.  I could get lost in his eyes but snapped back in to reality with the voice of the director.   That day was so emotional for me reliving everything with Michael.  I think it was the nail in the coffin for Ty and I.  I still love and care about him and he is my friend.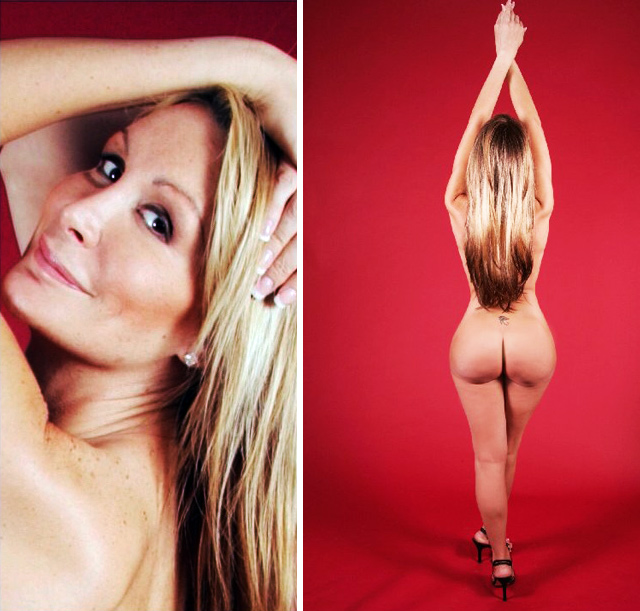 Ashley Von:  Enough about boys!  It's time for girl talk.  We want to know more about you and specifically what makes you horny!  Please Taylor tell us what are your biggest turn-ons and what gives you goosebumps?
Taylor Chandler:  Body, that is why I like them young.  I like everything tight and taught.  I love flat stomachs, great smiles and cute feet.  Michael is all that.  Only one other guy in my life did that for me Billy Marx Tucker in the 80's…LOL!  My ex husband Patrick had the most beautiful feet and smile. I prefer a dick that is user friendly, not to big, not to small. Just right. I like a man tan and built. In a black man I like how they are naturally muscular.  Prior to being with Michael I thought they were more sensuous satisfying lovers.
Ashley Von:  What about mood killers?  What qualities or actions would you consider a deal breaker or major turn-offs?
Taylor Chandler:  Coming too soon before I get mine.  Terrible at eating pussy.  I like my pussy ate rough and slapped, but during love making I like it gentle.  If someone smells or wears socks during sex, bye!
Ashley Von:  Taylor, we have to know, being an intersex woman, is there any special or kinky things you can do?  For example does being intersex give you any extra pleasure sexually during intercourse or is is strictly a chromosomal thing that only seems to matter in the doctor's office?
Taylor Chandler:  Hmmm, I never gave it much thought. It is harder for me to come.  I am guessing that is a mental thing after years of a body at war with itself.  I like my pussy slapped and spanked I can come that way even…lol.
Ashley Von:  Asides from all the media blitz, ex-relationships and sex tapes.  Please Taylor tell our readers something special or personal about yourself that we all don't know?!
Taylor Chandler:  I have known my ex-husband Patrick since third grade, I fell in love with him in high school.  We reconnected on Facebook and got married.  I have slept with a member of Nsync.  The sex was so good we broke a mirror, knocked a painting off the wall and ripped the towel holder off the wall.  No one can eat pussy like him!!!
Ashley Von:  Your sex tape "Going For The Gold" has been a big hit internationally.  Can we expect a sequel produced by Vivid or are you planning on filming any more sex videos?  Will there ever be a Taylor Chandler official pornstar website?
Taylor Chandler:  I looked at this as a one and done, of course Steve didn't see it that way.  I told the love story of Michael and I, whats left?  I never thought I would do this one, so I won't say no to a sequel.  I am a business woman at heart so a porn website might be in the works.  I don't see myself as a porn star.  I see my self as a girl that filmed a love story about her and her boyfriend.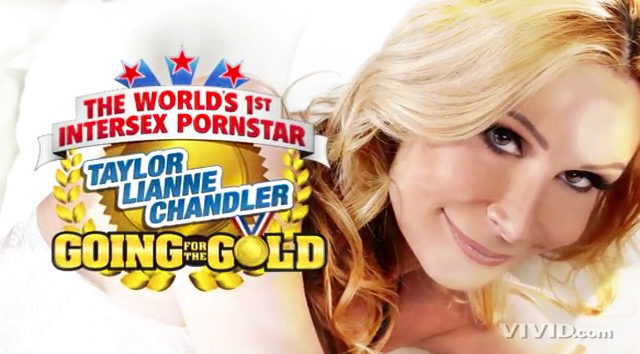 Ashley Von:  Please tell us about your upcoming events, business plans and adult and mainstream career aspirations. Are you currently working on any other projects that you can let us in on?
Taylor Chandler:  Book two of my whole life is in the works.  People have already expressed the right to the option to make it into a movie.  Lots of traveling to promote my many ventures.  I want a girls vacation, tropical, drinks, dancing on the beach, no paparazzi.  I am looking to go more into TV and magazines.
Ashley Von:  Last but certainly not least we would love to leave our readers with a sweet taste of the real Taylor Lianne Chandler.  If you were ice cream, what flavor would you be?
Taylor Chandler:  French Vanilla, I am French Canadian.
Ashley Von:  Thank you Taylor for doing this amazing interview with us!  Is there anything else you would like to share and tell your fans and our readers before you go?
Taylor Chandler: I look forward to meeting all of you in my travels.  I hope you all have a blessed year and I hope I make it happier!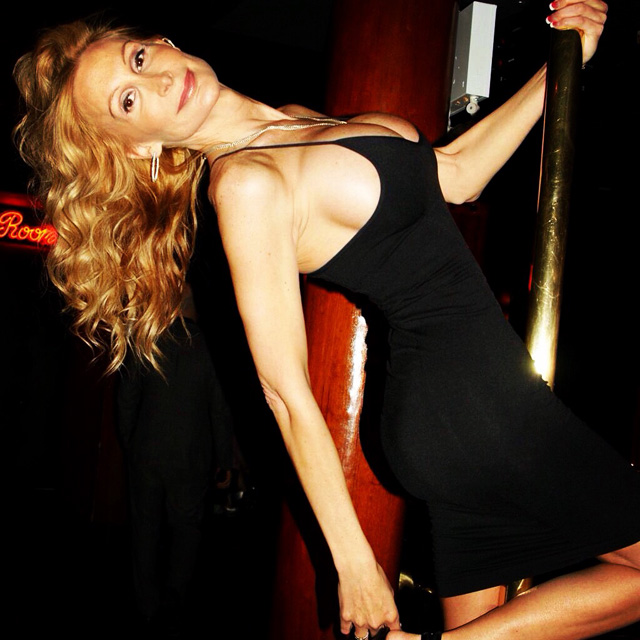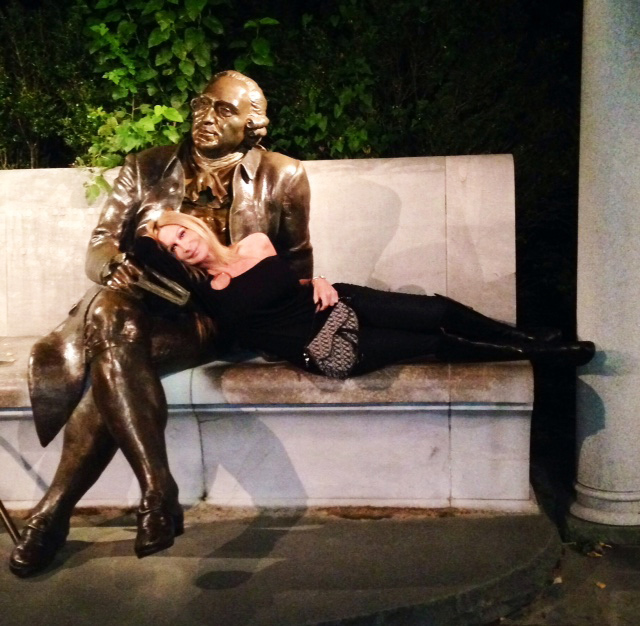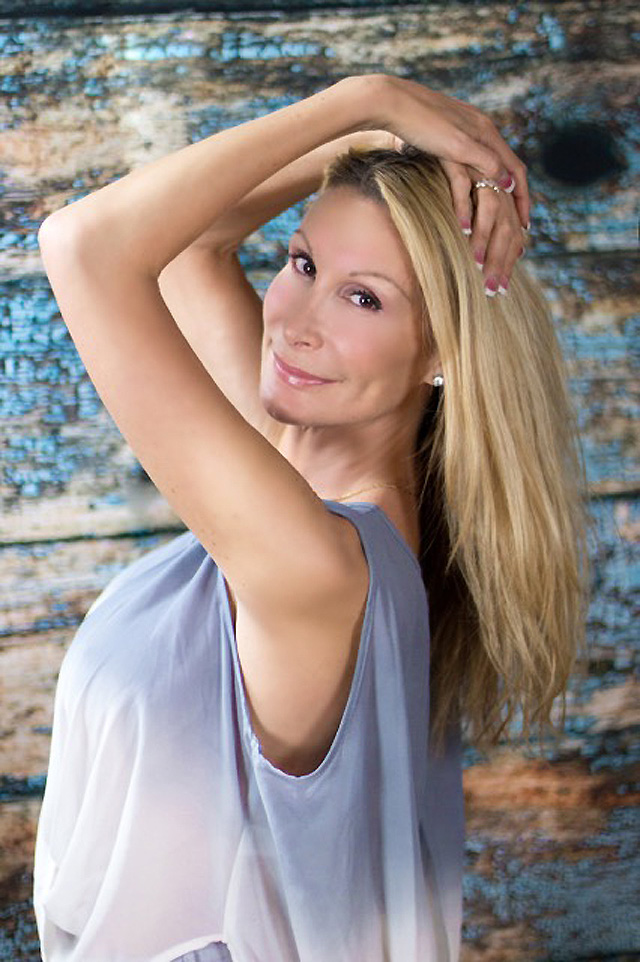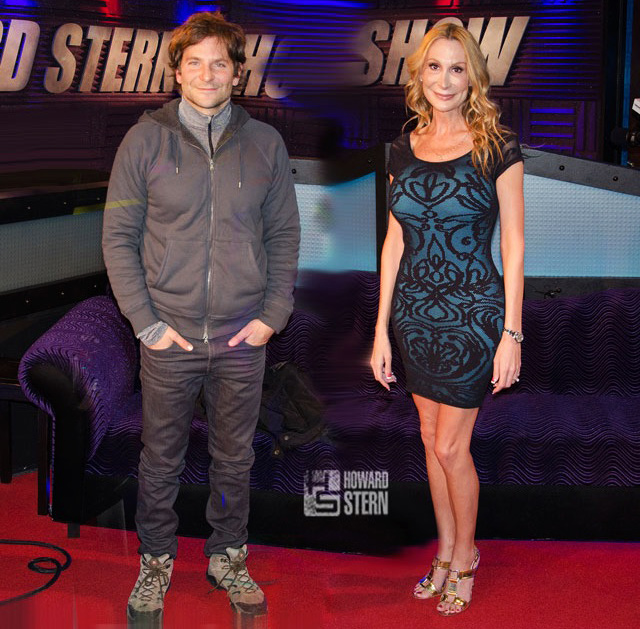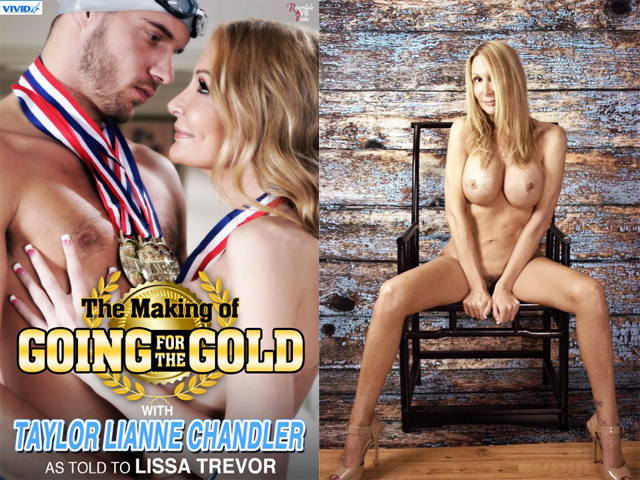 Watch Taylor Lianne Chandler's sex tape Going For The Gold depicting her relationship with swimmer Micheal Phelps only on Vivid Celeb right now for only $4.95 to gain access to Taylor's intersex porn video and all the celebrity sex tapes!  For more information on Taylor Chandler's porn movie read our article, "Taylor Chandler: World's First Intersex Pornstar!" or visit Vivid.com or Join Vivid Celeb for $4.95 to watch the full mind blowing intersex porn video Going For The Gold starring Taylor Lianne Chandler in her adult video debut right now!  WATCH HER SEX TAPE!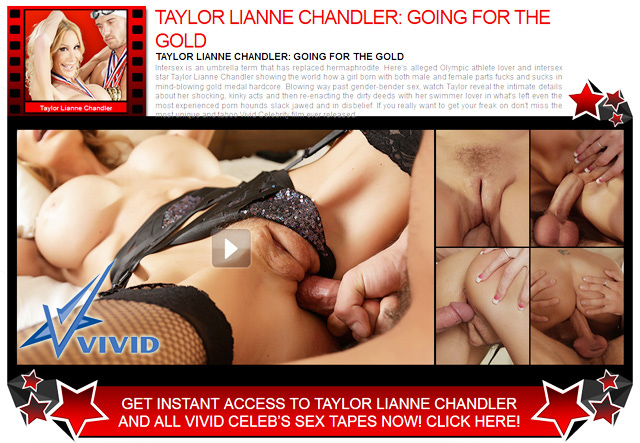 Return to the cover of Porn Corporation or view the Celebrity Girls or Pornstar Interviews categories!
Related:  Taylor Chandler: World's First Intersex Pornstar! – View all the articles starring Vivid.

Keep up on the latest & read our hottest topics:  New Porn Sites – Porn News & Adult Parodies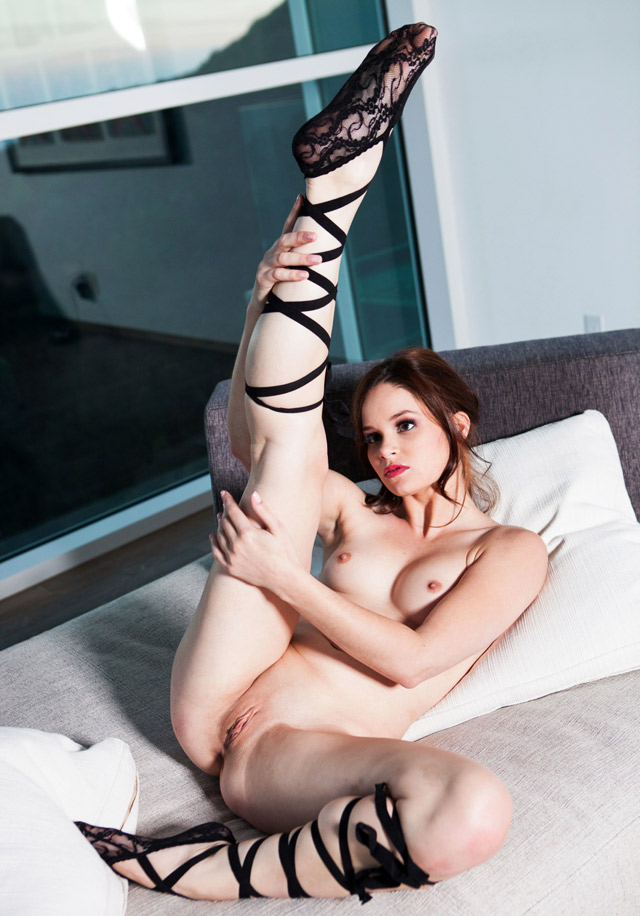 1.  How long have you been performing in the adult industry?  What were your deciding factors to begin a career as a pornstar?
JENNA ROSS:  It will be three years this August 29th that I've been in the adult industry. I decided to give porn a try, after I moved from my hometown near Boston, Massachusetts to Orlando, Florida. I was tired of being a waitress and wanted to drastically change the pace of my life. I'd already been doing nude modeling for about a year and porn seemed the next logical step for me.
2.  Jenna J. Ross, we just have to ask…  Is that your real name and what does the J. stand for?
JENNA ROSS:  No, Jenna J. Ross is not my legal name. The J stands for Jinx, which was a part of my original stage name and I didn't want to lose that.
3.  You have a very sweet, petite & unique appearance and we absolutely love that.  Where were you born and what is your heritage?
JENNA ROSS:  I was born in Boston, Massachusetts and heritage wise I'm 1/2 Portuguese, 1/4 French and a 1/4 Irish.
4.  Our favorite part of your signature look that makes you so sexy is the gap between your front teeth.  Do you love it as much as your fans and have you always felt the same way about having a gap?
JENNA ROSS:  I love my gap now and I've totally embraced how unique it makes me look. As an exhibitionist, I love to stand out and draw attention, so my gap plays well into that part of my personality. Although, while I was growing up it was more of a source of torment (small children are brutally honest), but by the time I was 16 I was quite secure and comfortable with it.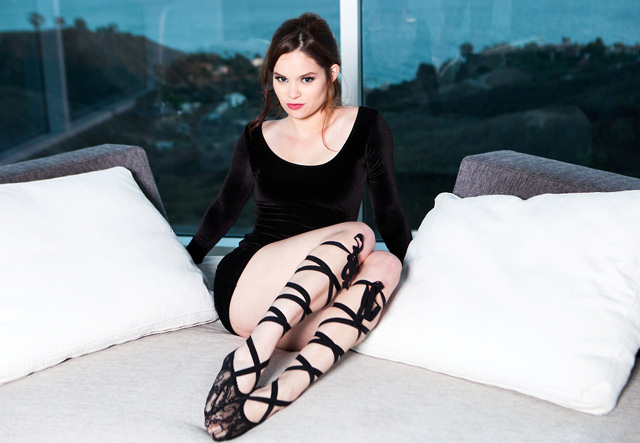 5.  Do you prefer filming solo, lesbian, straight or group sex scenes and why?
JENNA ROSS:  Each one of those scenarios is such a different sexual experience that I don't feel that they can be compared. I really enjoy each one for the different kind of sexual pleasure they each bring me. In terms of threesomes and groups, I feel that everyone involved needs to be on the same page and equally as into the experience for the real magic to happen.
6.   We want to know what truly drives Jenna J. Ross crazy in bed.  What are you're biggest turn-ons?
JENNA ROSS:  One of my weirdest turn-ons is having my ear nibbled on. I'm always a tease and definitely enjoy being teased as well. Draw it out because the wait always makes it so much better.
7.  Deal-breakers and turn offs?  What kills the vibe for you?
JENNA ROSS:  Rudeness, unwarranted cockiness, and girls who don't actually like girls kill my vibe.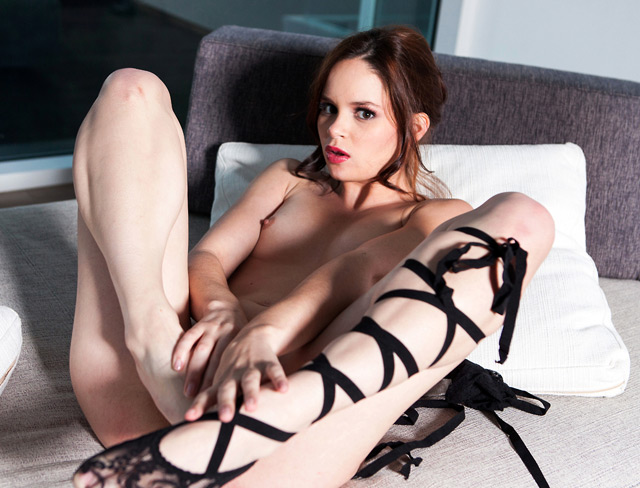 8.  What is the craziest thing you have ever done in real life?
JENNA ROSS:  That's a long list. The top three would have to be fucking in the photo lab of my school, having sex in the snow, and the multiple hook-ups in my town's public library.
9.  Speaking in hardcore terms, as we all know there is no boundary in porn these days from gangbangs to double anal!  How far have you gone sexually and how far will you go with your career?
JENNA ROSS:  When there is a camera involved I'm only comfortable performing sex acts I've already tried in my personal life. Perhaps one-day the things I try in private will find their way towards the front of the camera. I guess you'll have to keep watching to find out what's next.
10.  We are shocked that you don't already have an official Jenna J. Ross website!  When are you going to give us and your fans an official site to worship you at?
JENNA ROSS:  You can worship me via my Amazon Wishlist.  As for a website, I have no plans to start one as of now.
11.   Are you currently shooting any new films or upcoming scenes you can share with us?
JENNA ROSS:  I just finished a movie all about me from Adult Empire. I'm pretty excited about it so be sure to keep an eye out for that!
*Read our exclusive preview article of Jenna J Ross presented by Adult Empire Films including hardcore photos,  2 minute trailer video & opportunity to get your copy!*

12.  In your free time when you are not busy doing photo shoots and filming adult videos.  What are your hobbies and what do you enjoy doing?
JENNA ROSS:  I love taking photos, going hiking, being outdoors, reading, and playing video games, overall lots of different things.
13.  Do you have a love interest in your life currently or are you enjoying life as a single girl?
JENNA ROSS:  I don't believe in dating. I think all you need is a good friendship and an amazing sexual chemistry.
14.  Please tell us about your upcoming events, business plans and adult career aspirations. Are you currently working on any other projects that you can let us in on?
JENNA ROSS:  I have a new DVD entitled Jenna J. Ross from Adult Empire coming out soon! Be sure to watch for it because you'll see me in a whole new light.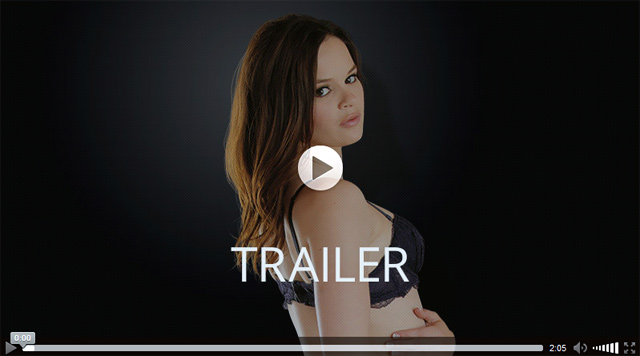 15.  Leave us with a true taste of Jenna J. Ross.  If you were ice cream what flavor would you be?
JENNA ROSS:  Cotton Candy, because I love bright colors and I'm super sweet and unique. 🙂
16.  Is there anything you would like to share with your fans and our readers?
JENNA ROSS: 
Follow my social media:
Twitter- http://twitter.com/JennaJRoss
Instagram- http://instagram.com/jennajross
Tumblr- http://jennajrossxxx.tumblr.com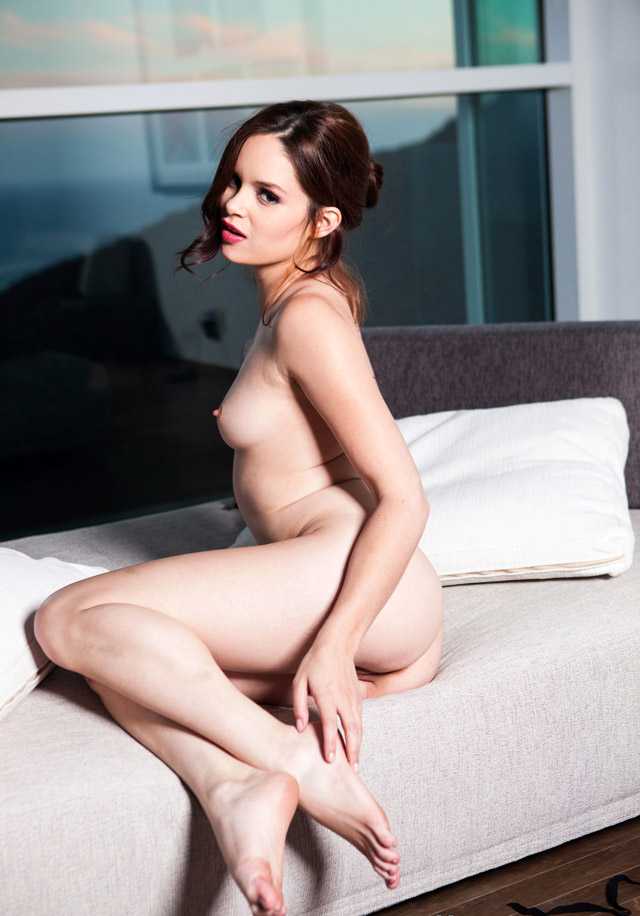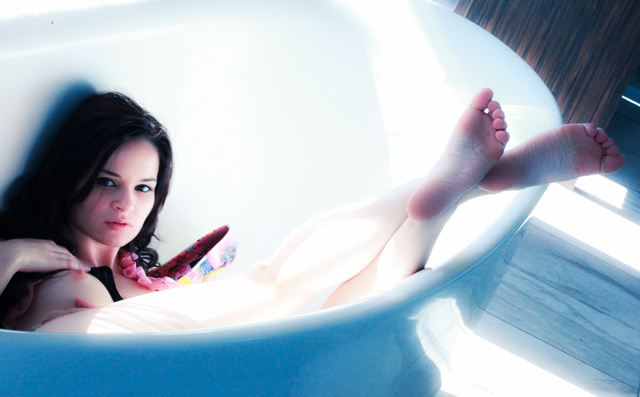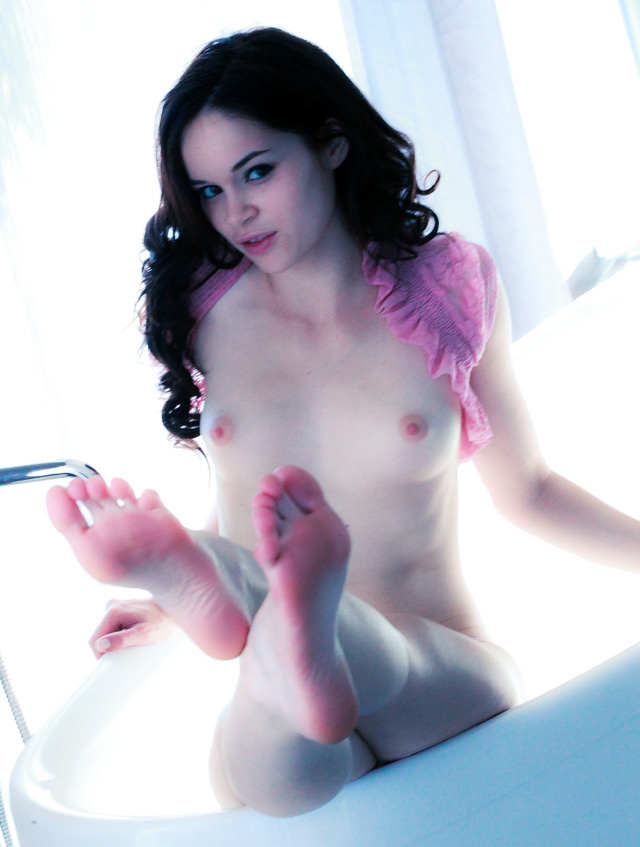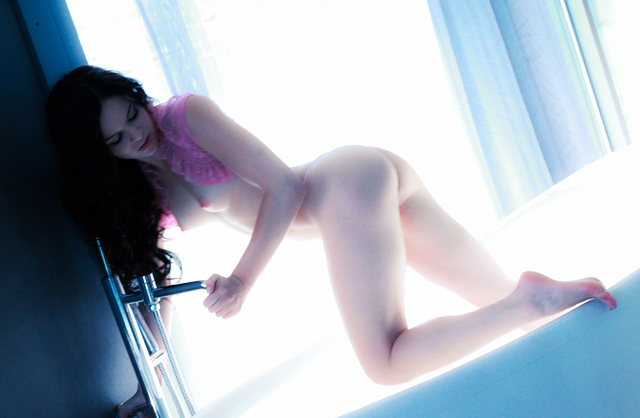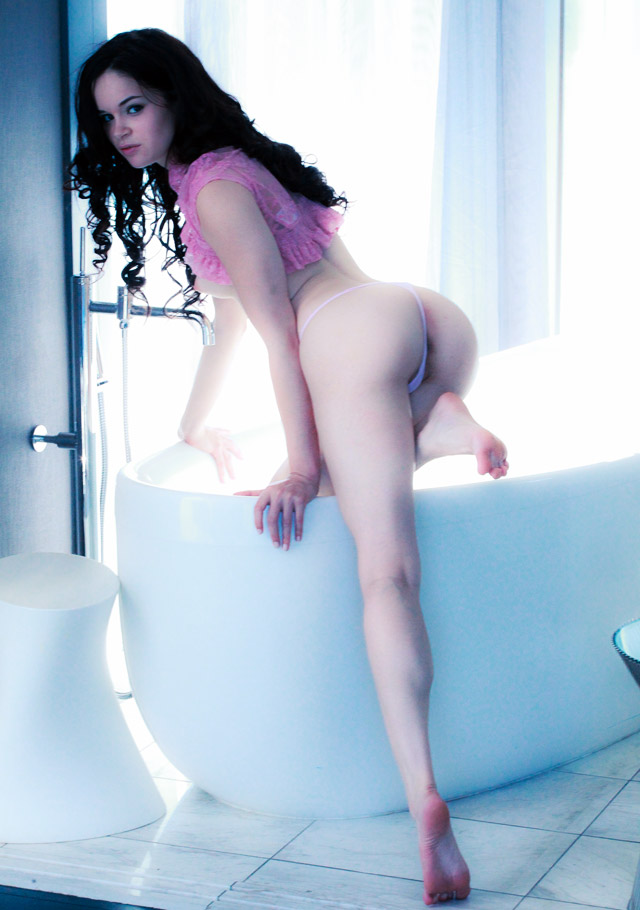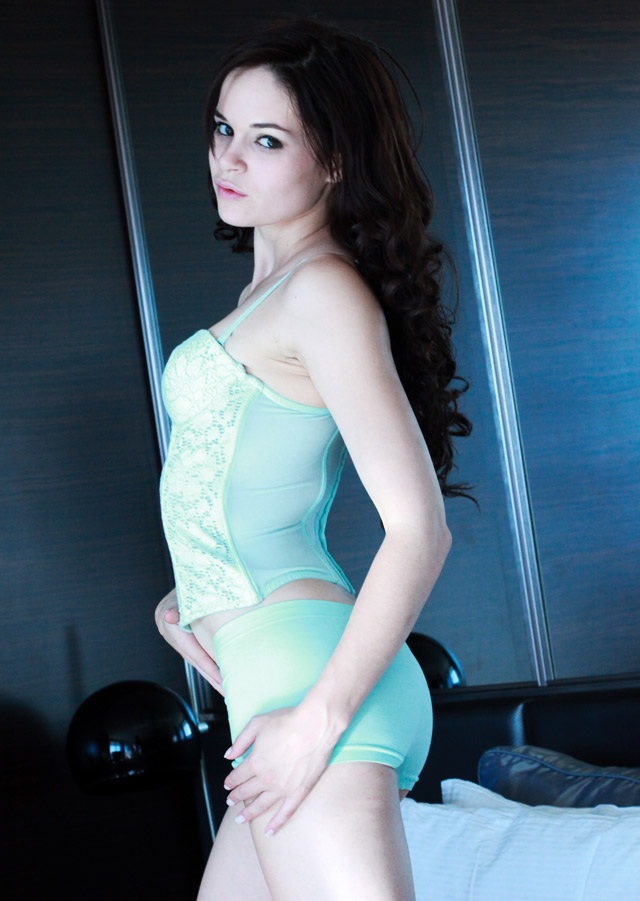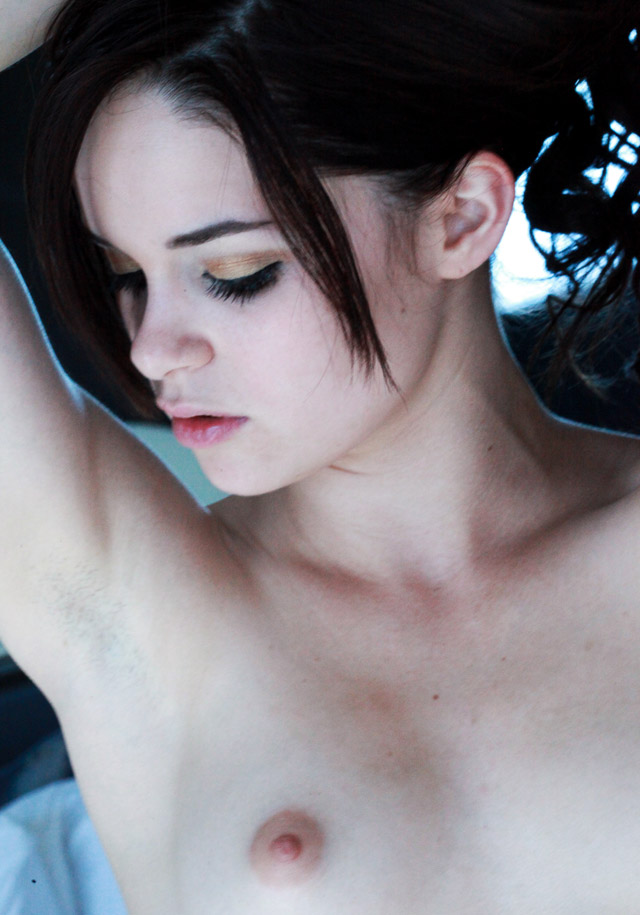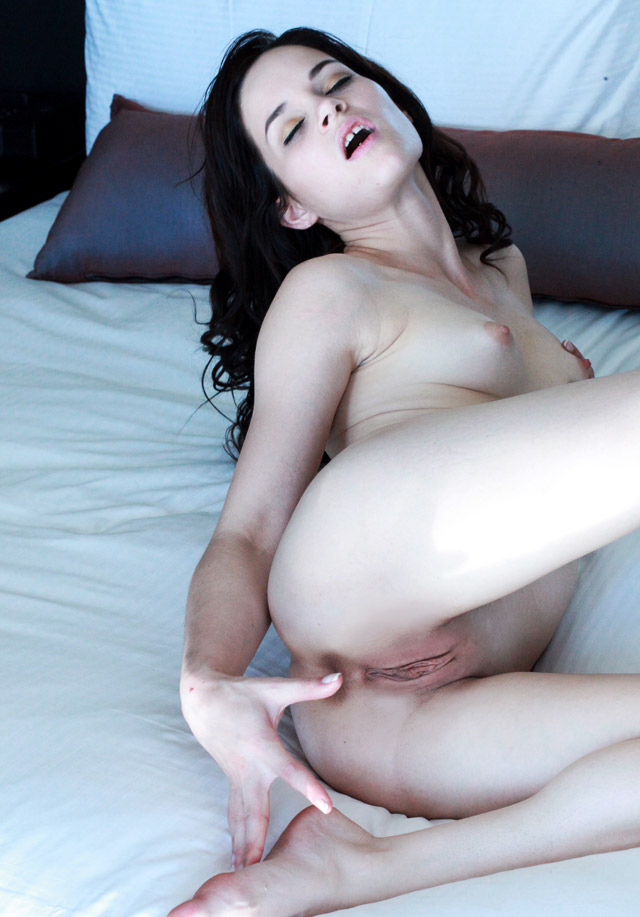 Photography of Jenna J Ross showcased in this article was taken by Kayla Jane Danger for the erotic solo and lesbian, foot fetish & ass worship website My Doll Parts.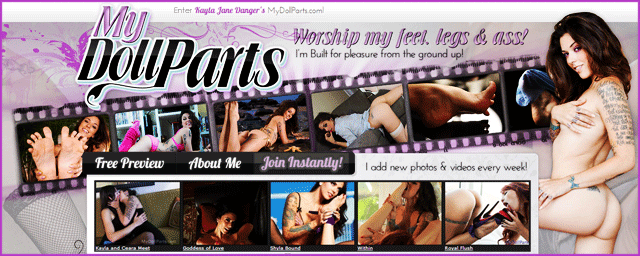 Continue reading under our Pornstar Interviews category or return to the cover of Porn Corporation.
View all the articles showcasing pornstar Jenna J Ross or see more Porn Corporation Girls!
Sneak peek Jenna's upcoming feature DVD:  Adult Empire Films Presents Jenna J Ross

Interviews: Olivia Wilder –  Nikita Von James – Allison Moore – Karla Lane – Kayla Jane Danger
Natasha Starr – Karmen Karma – Leia Down – Mia Gold – Nora Noir – Porn Fansigns
Keep up on the latest & read our hottest topics:  New Porn Sites – Porn News & Adult Parodies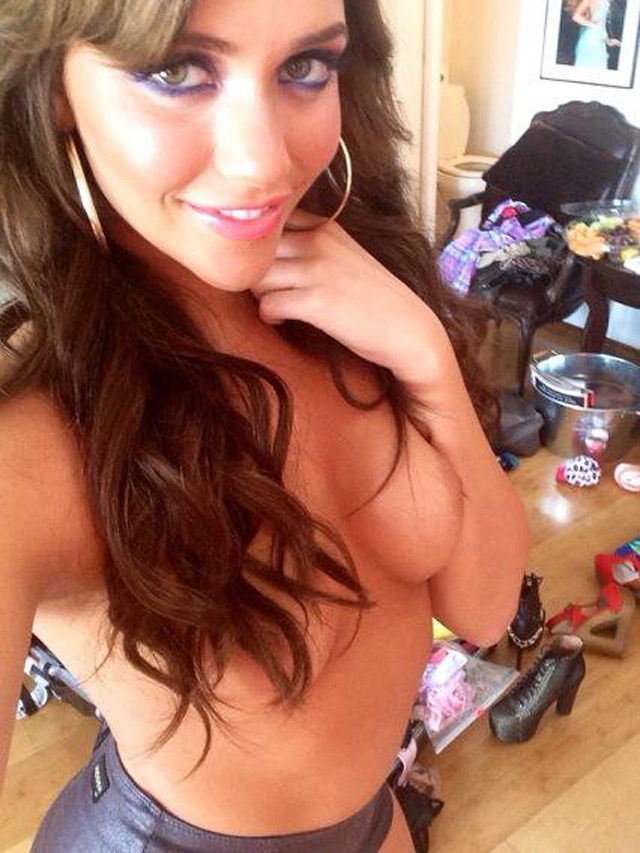 Mia Malkova makes a change in style swapping her blonde locks to a rich brunette proving that this hottie can rock any style!  This brings up the age old question, do blondes have more fun? Somehow I doubt this applies to bubbly award winning pornstar Mia Malkova!  It's a fresh change so it will be a little while before you can watch porn videos starring a brunette Mia Malkova peep her new selfie photos grabbed from her Twitter stream.  For more follow her @MiaMalkova on Twitter & check out our latest news @PornCorp – Show your love for Mia's new style by Buying Mia Malkova a gift from her Amazon Wishlist!  We look forward to seeing Mia as a brunette porn movies but in the mean time check out her newest scene released today inside Naughty America!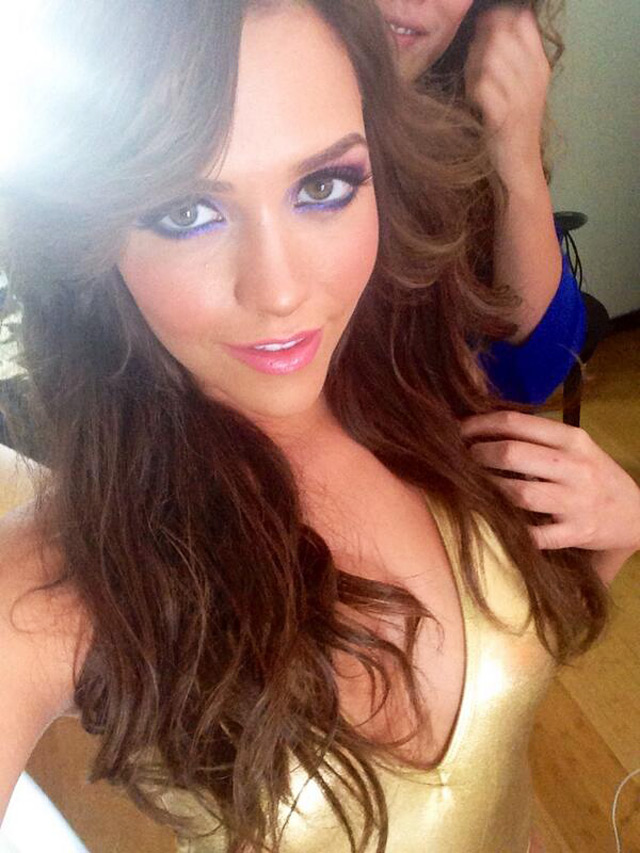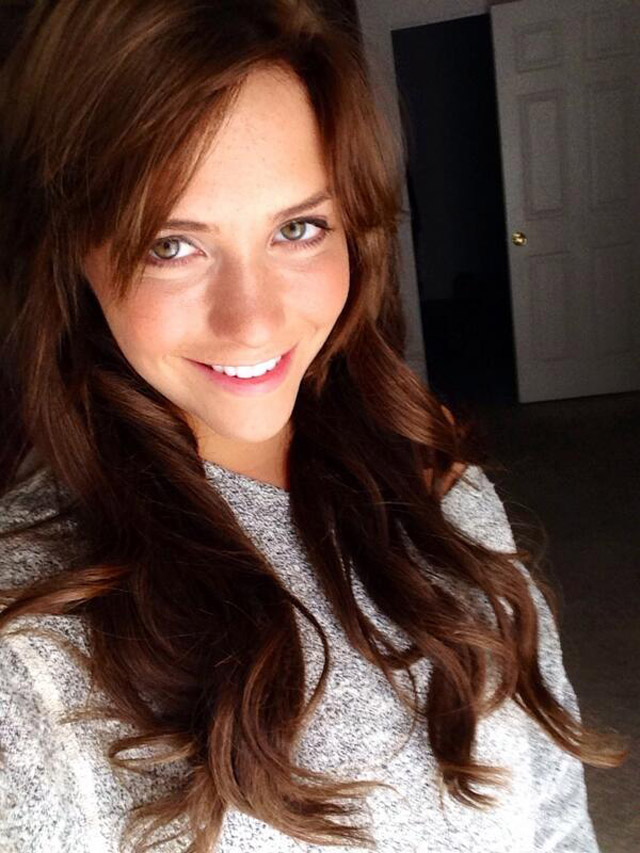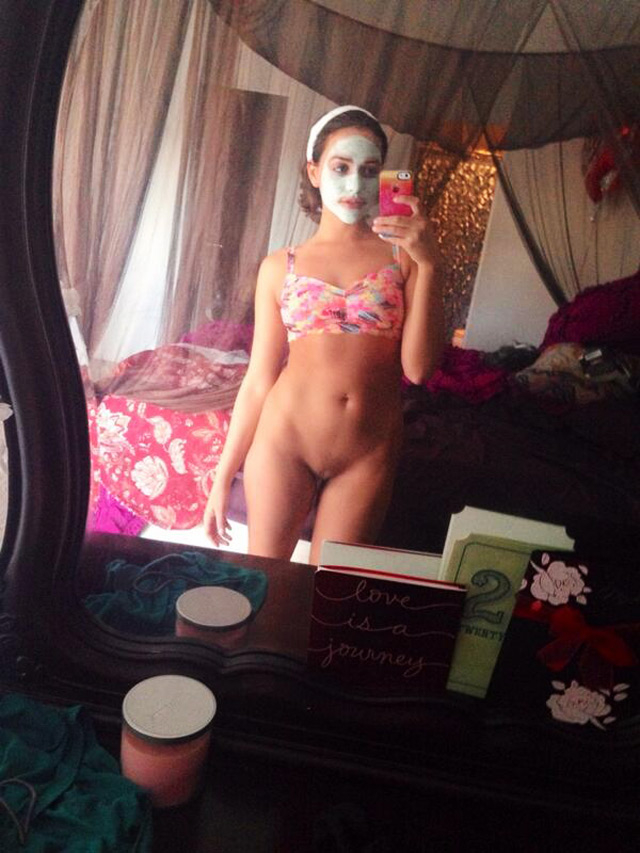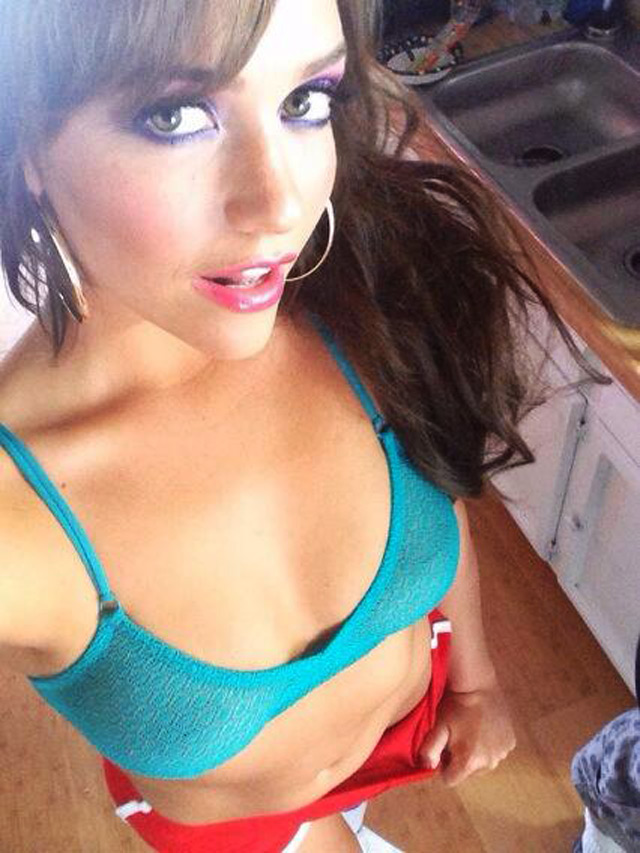 Lovin' these sexy self shot photos of Mia Malkova?  Check out more in her social media feed & follow her @MiaMalkova on Twitter and send me a tweet @PornCorp to say hi or tell us whether you like Mia more as a blonde or a brunette!  Show your love for Mia Malkova's new hairstyle by hooking her up with a gift from her Wishlist!  Here is Mia's latest porn video in her new My Wife's Hot Friend episode from Naughty America released today with male co-star Bill Bailey.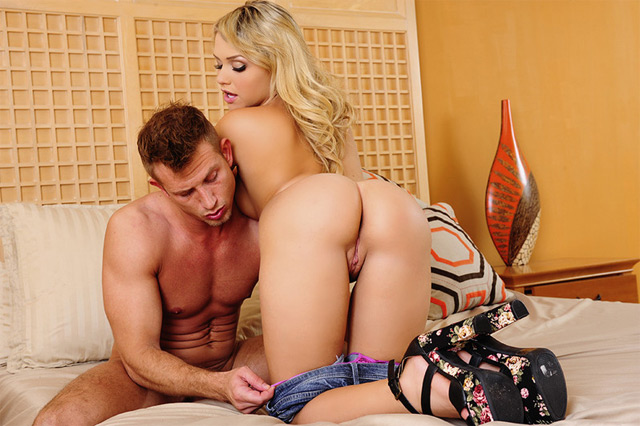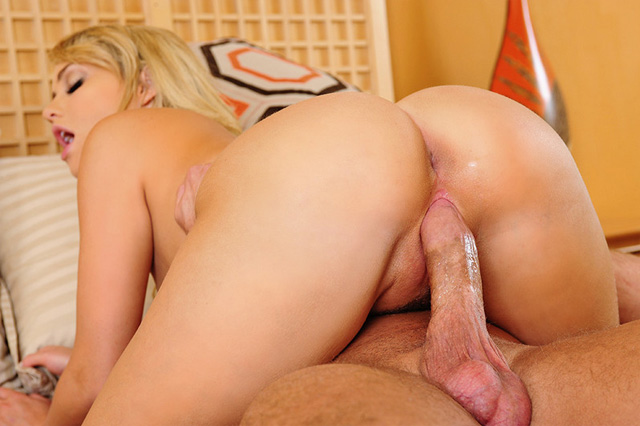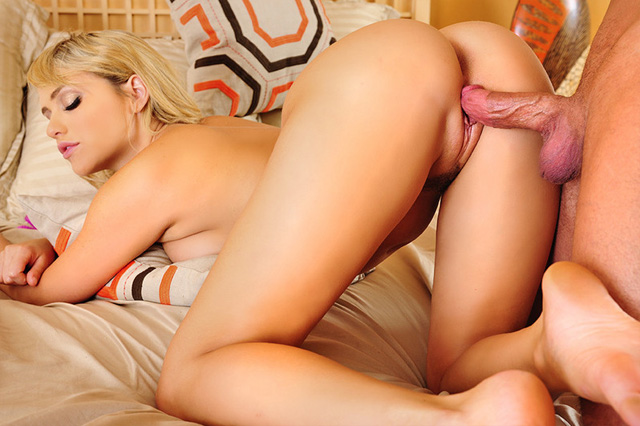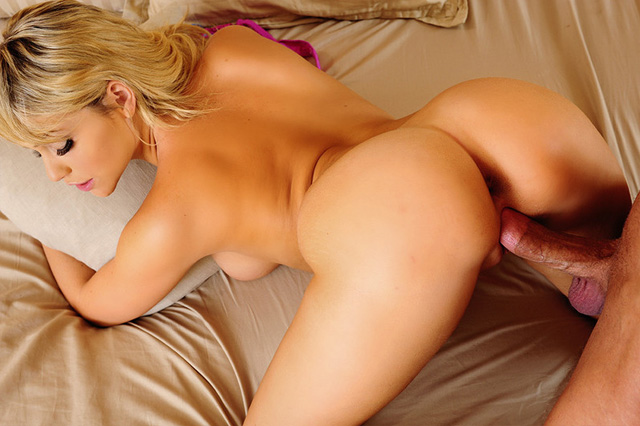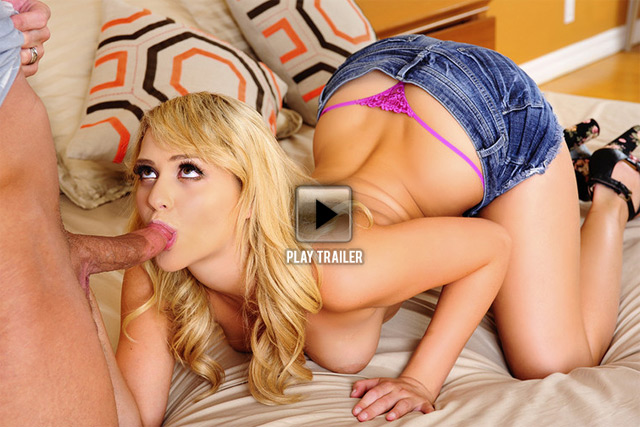 WATCH THE TRAILER of Mia Malkova in one of her last new scenes as a blonde as she fucks her friend's husband while over borrowing a pair of high heels from his wife!  Watch Mia as she gets naughty as Bill pounds her she fingers herself in the ass!  I suspect Mia Malkova's first anal scene will be coming up shortly, hopefully as a brunette!  Watch the full video of Mia's newest scene inside Naughty America for only $1.95!  Catch more of Mia on social @MiaMalkova 😛

Continue reading in the Porn Corporation Girls category or return to the cover of Porn Corporation.
See all the articles featuring pornstar babe Mia Malkova on our site!

View all the Naughty America articles or see the latest top news from Naughty America:
4K Porn Video – Ultra High Definition Is Here! – Ultra High Definition 4K Porn To Be Released