Browsing articles tagged with " Los Angeles"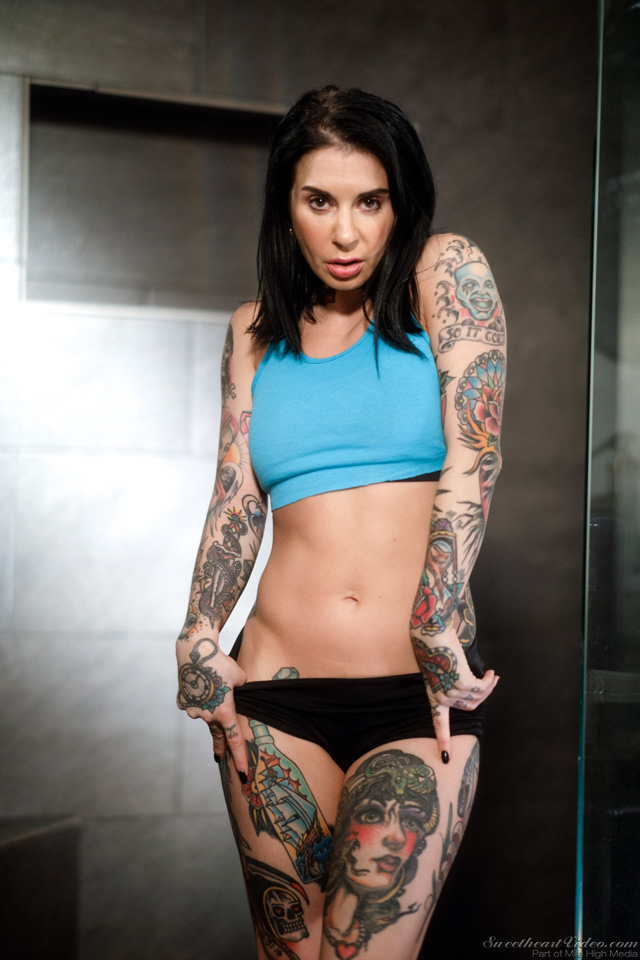 Talk Derby To Me continues with part 2 in Ex's & Oh's.  In this episode Allie Cat [Joanna Angel] confronts The Pussy Posse captain Gia Paige for bullying their sweet team assistant Elsa Jean.  Watch as the competition is stiff and it's down to a challenge.  Gia VS. Allie's team.  In 2 weeks they will rise to the occasion with an old fashioned skate off and who ever wins gets the spot of team captain and who ever loses leaves!  Allison needs to touch up on her skating skills & Elsa needs to toughen up and they decide to team up to train before Allie hits the shower.  In the shower, Stoya.  The boss and ex-lover of Allie slips in and joins her to re-kindle a wild lust that only long time lovers can prove.  Watch as they finger, fuck and lick each other under the water streaming in the shower to multiple shaking orgasms!  Play the free video trailer from episode 2 "Ex's & Oh's" from the hot new roller derby parody Talk Derby To Me written by Ricky Greenwood.  Get your pass to Sweetheart Video to watch this wild new feature series & all the hottest lesbian porn movies!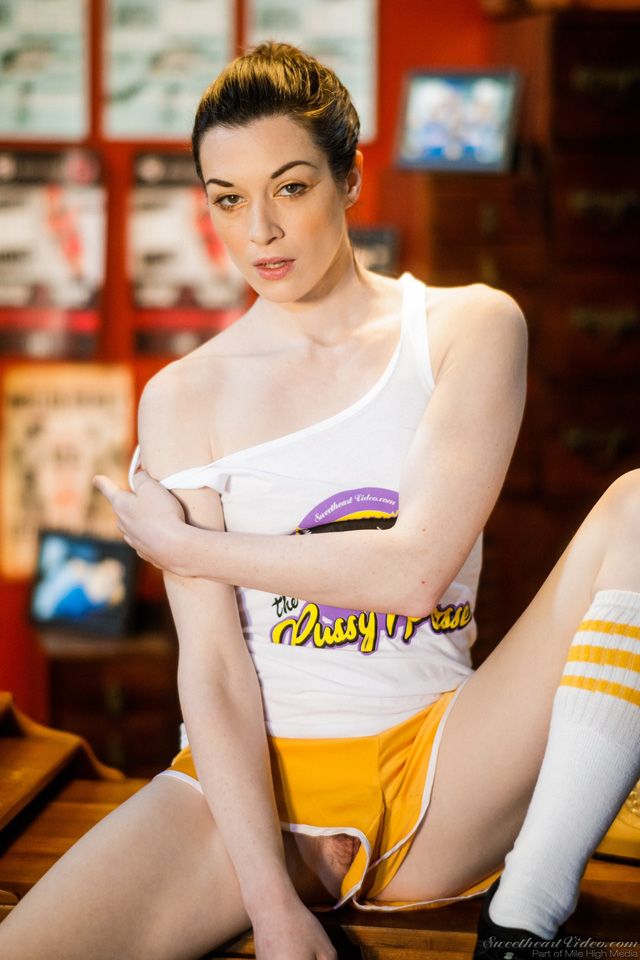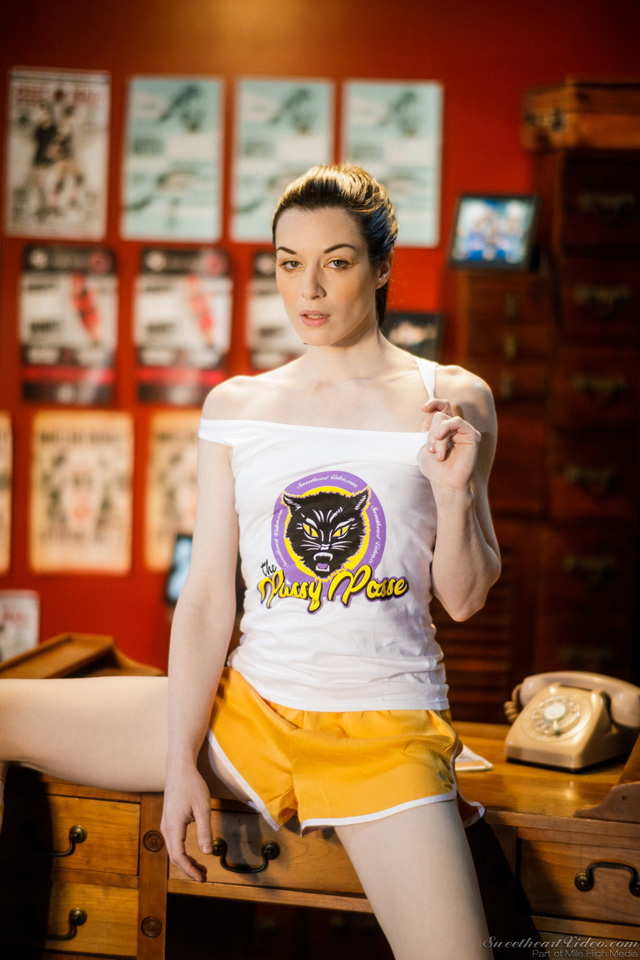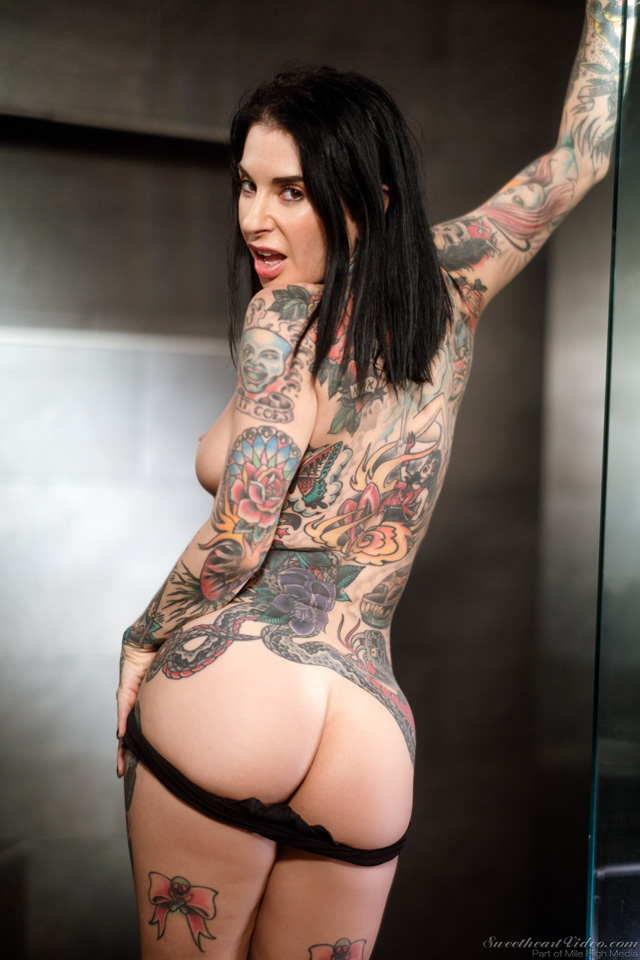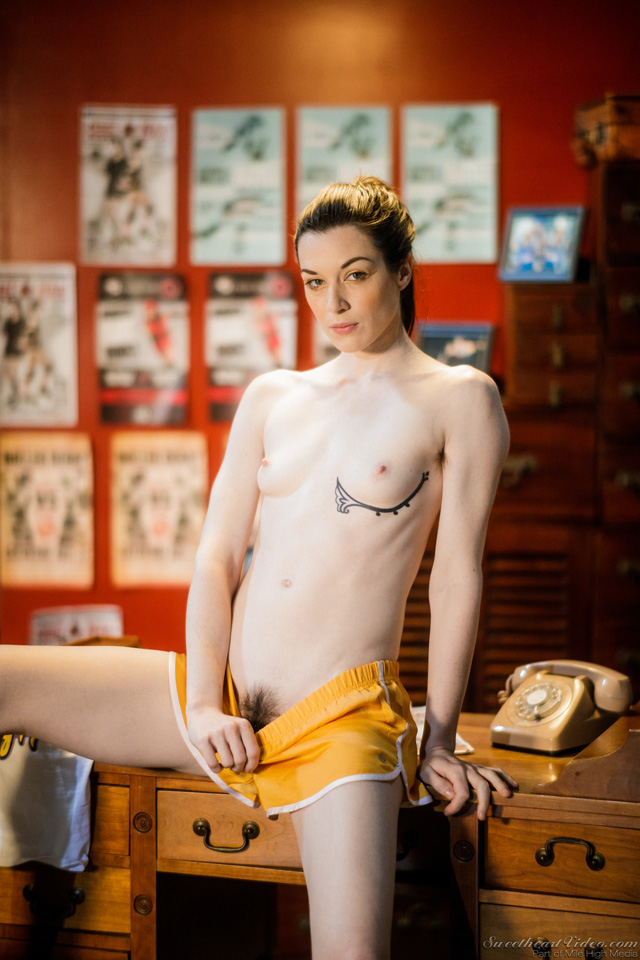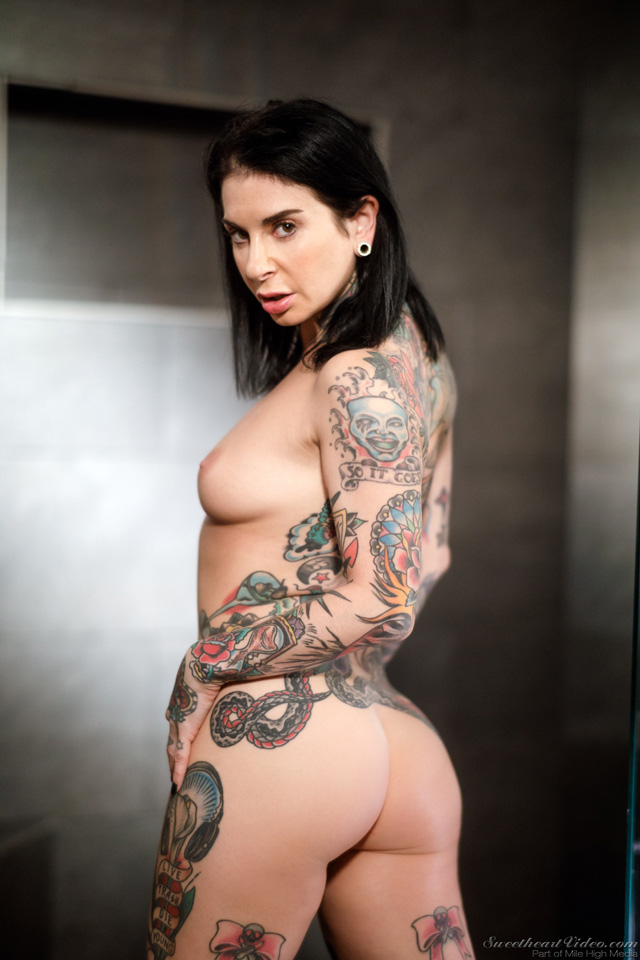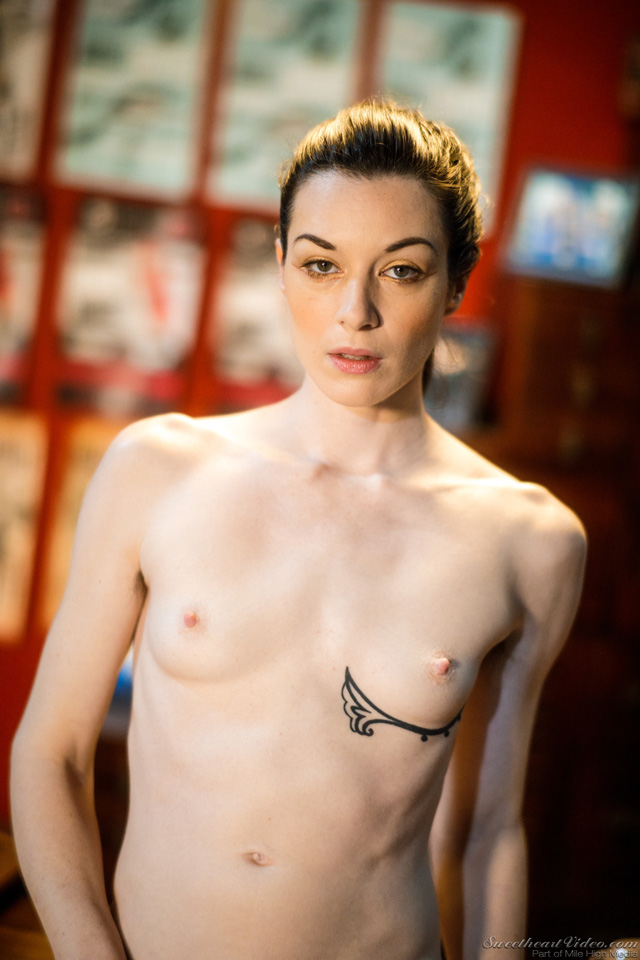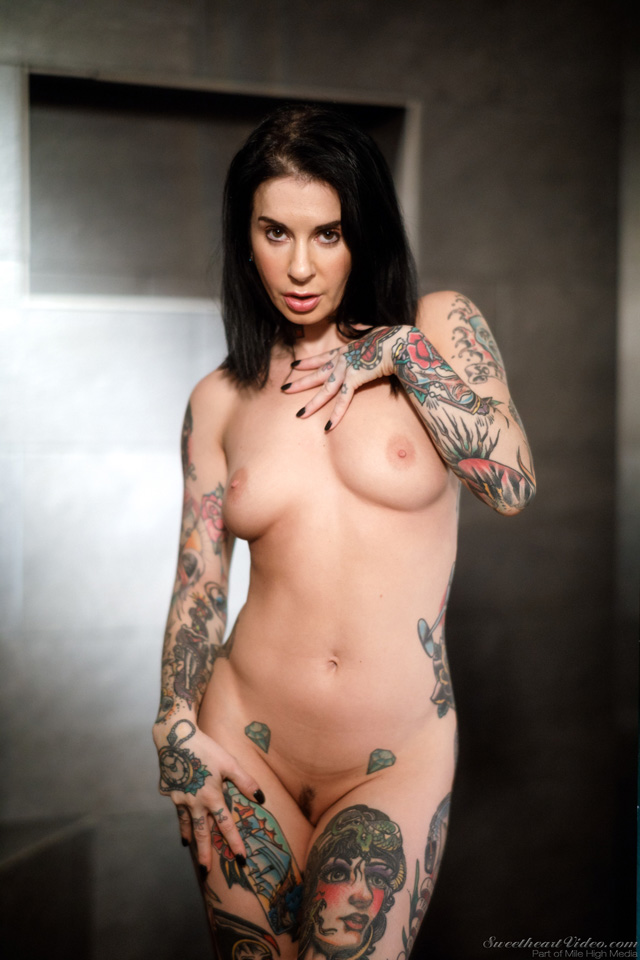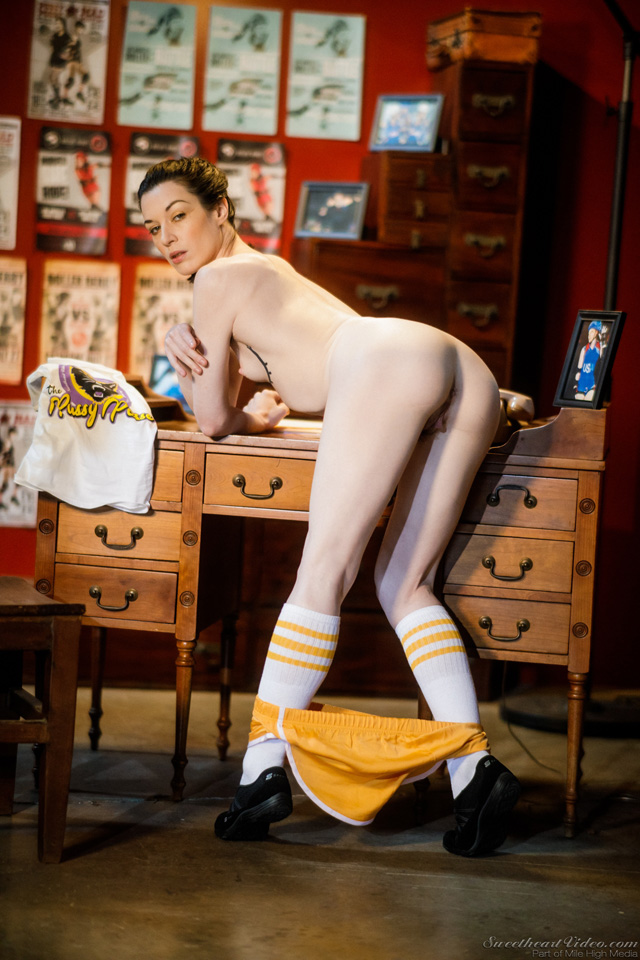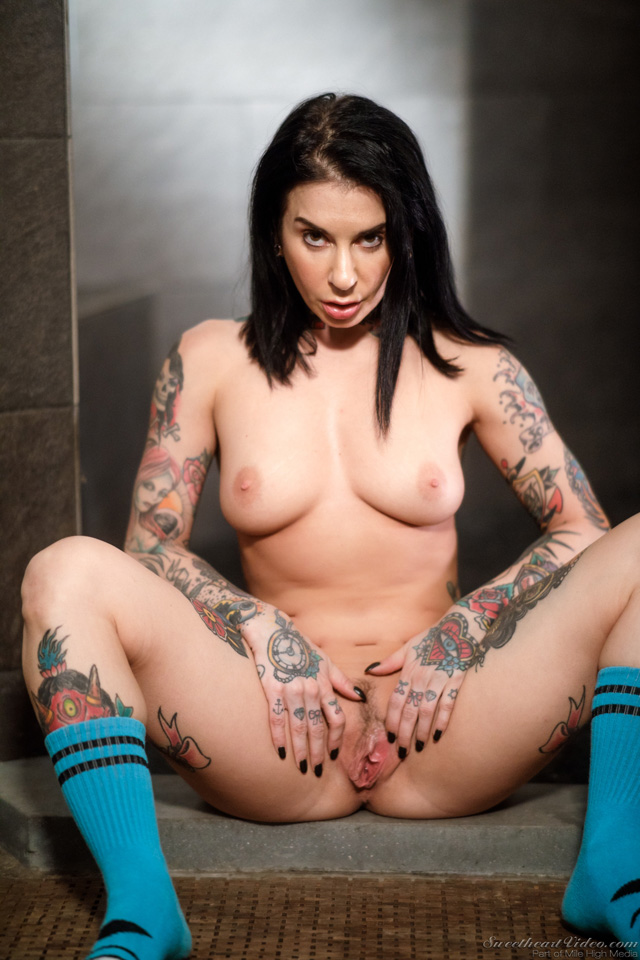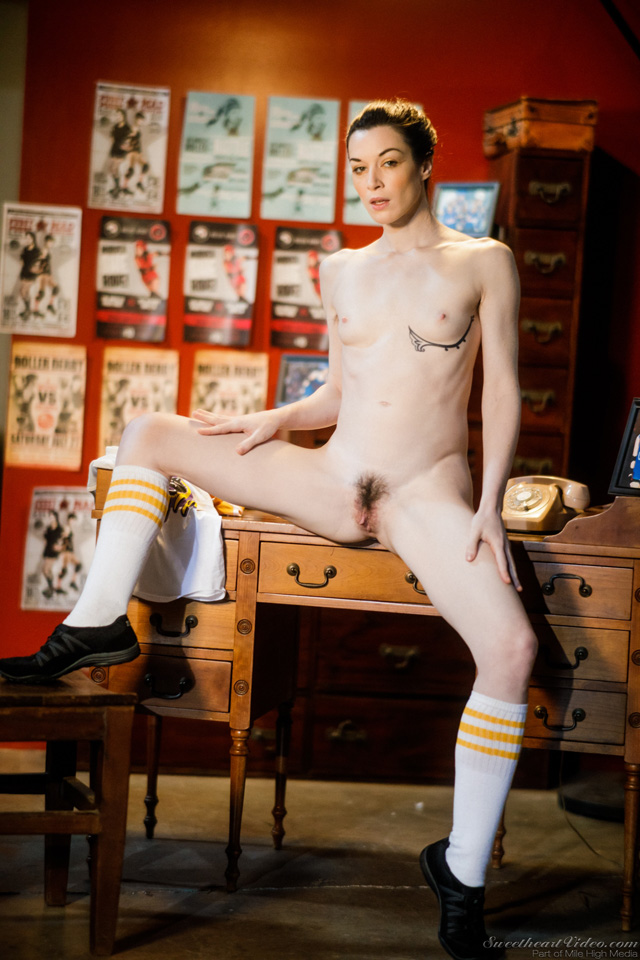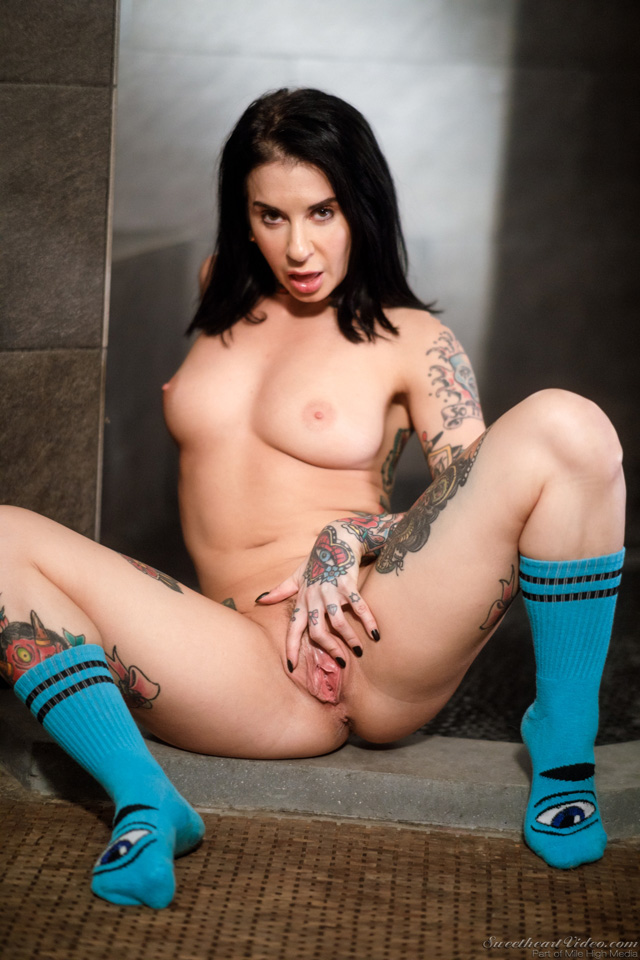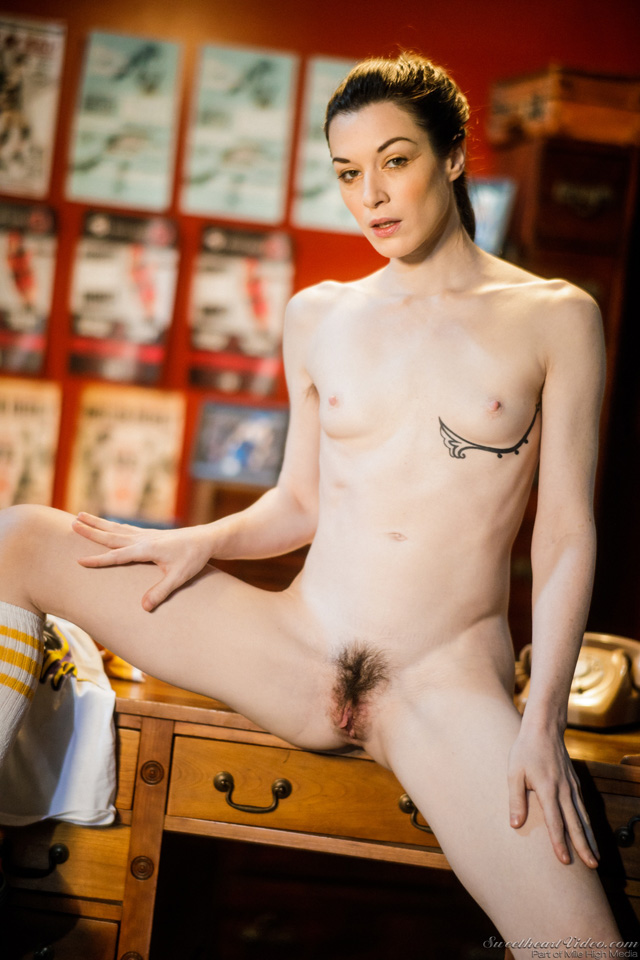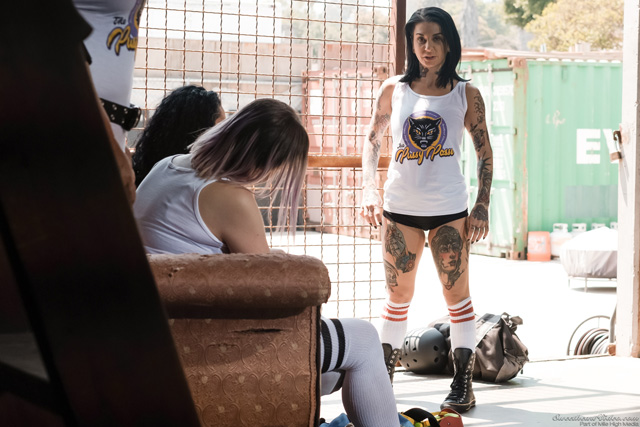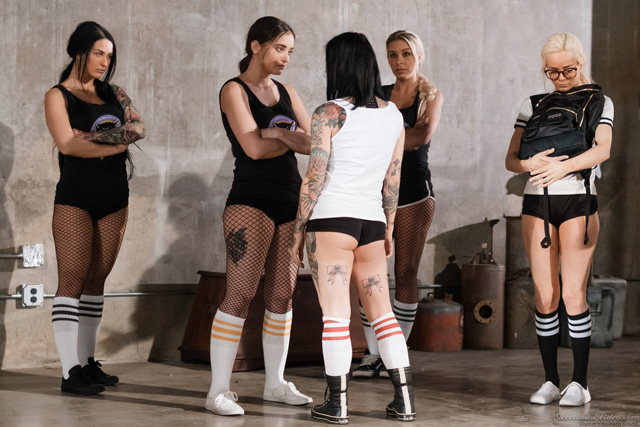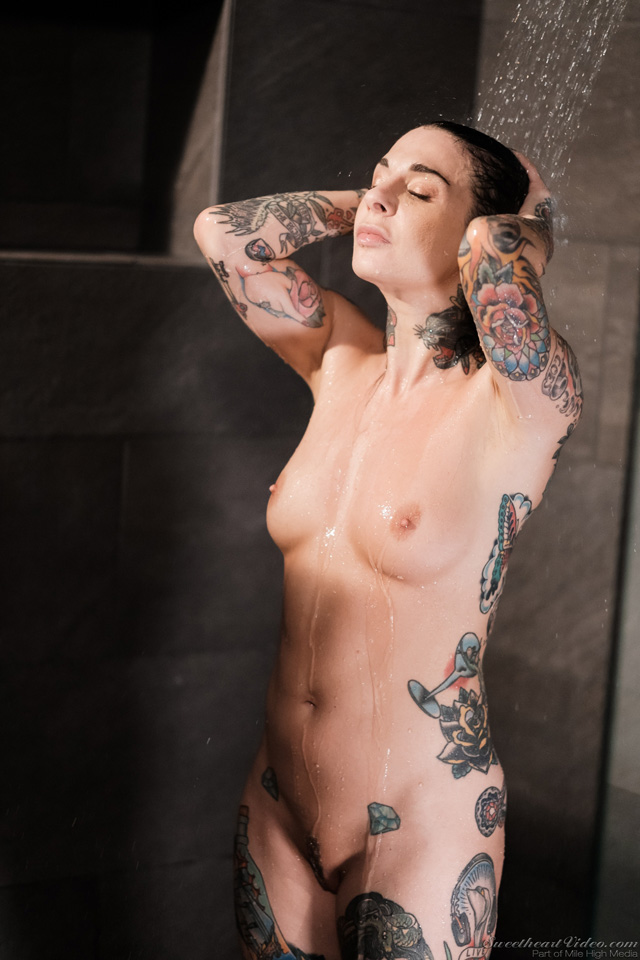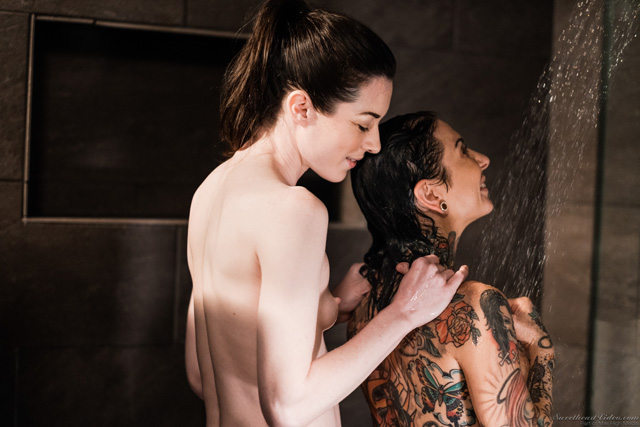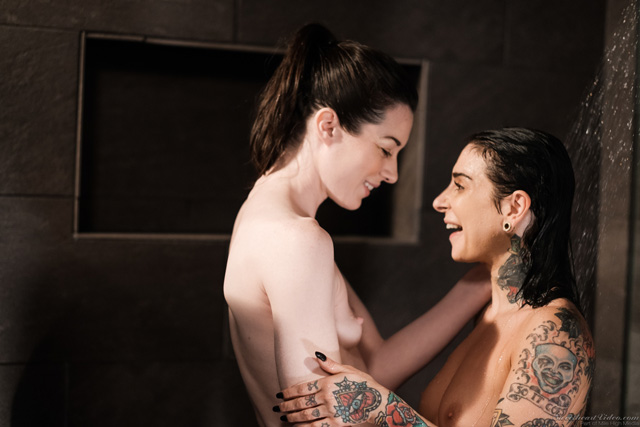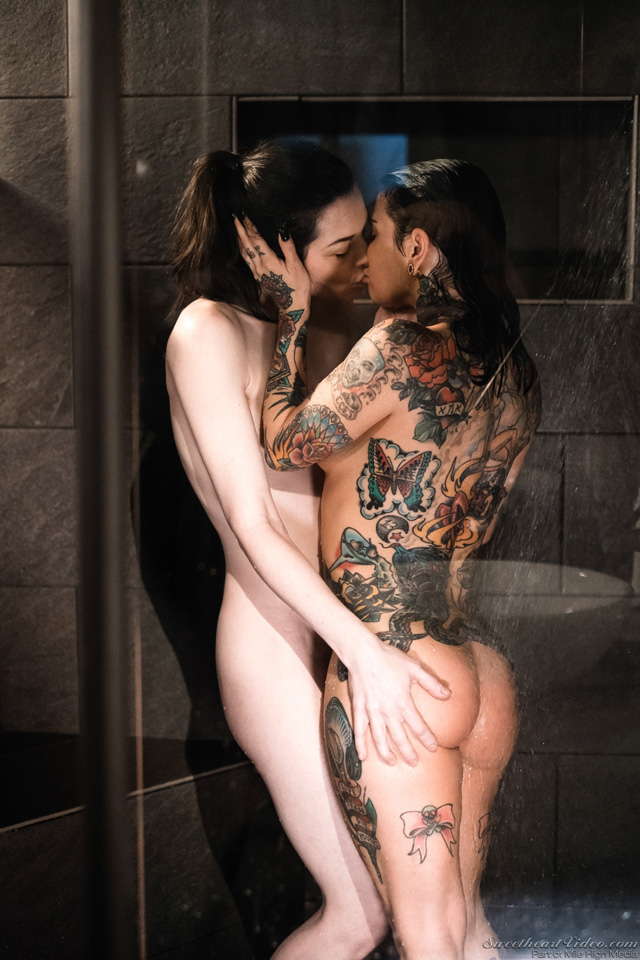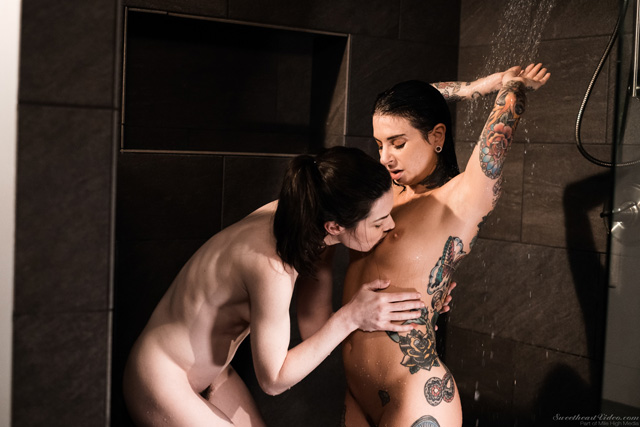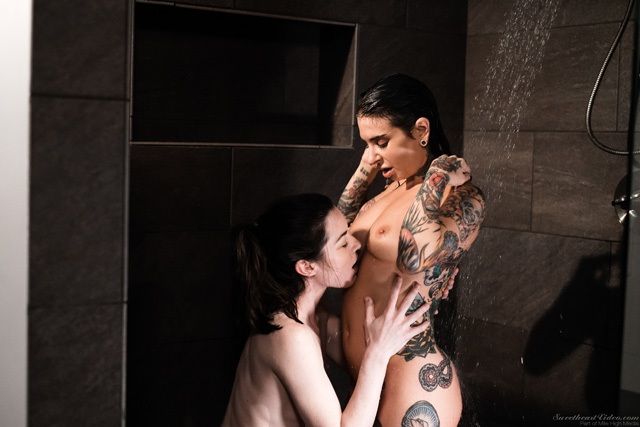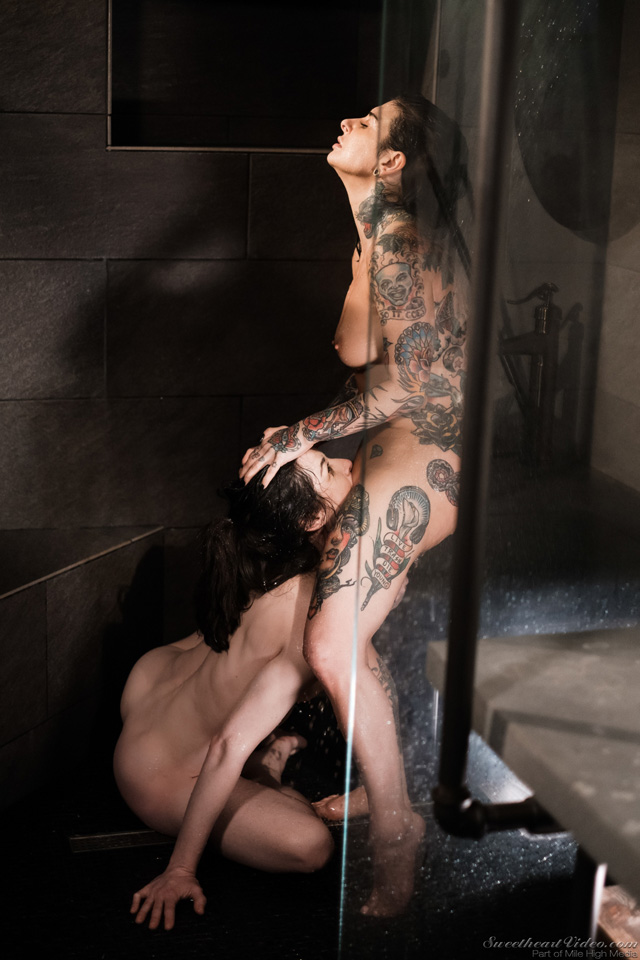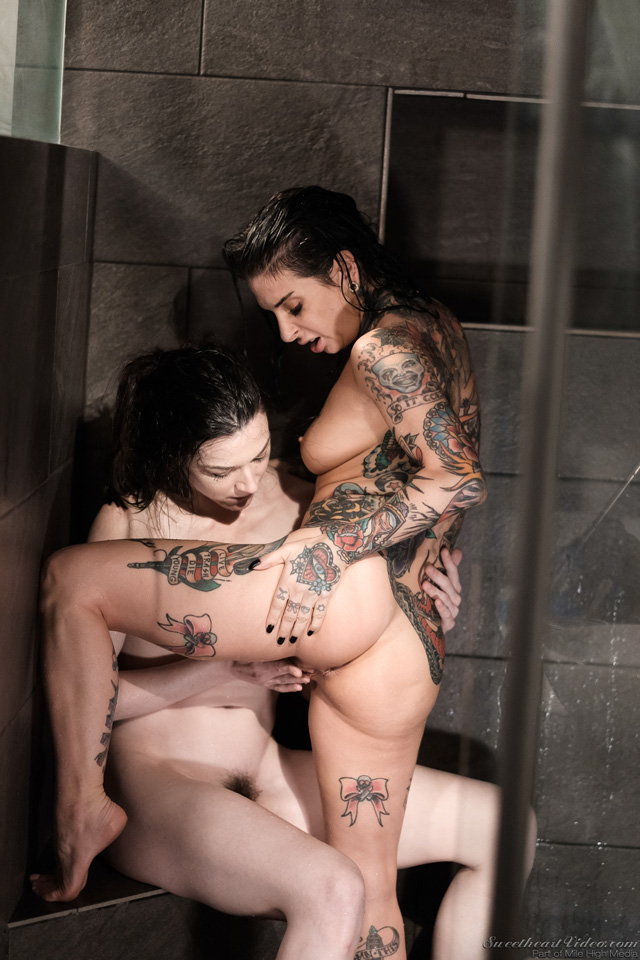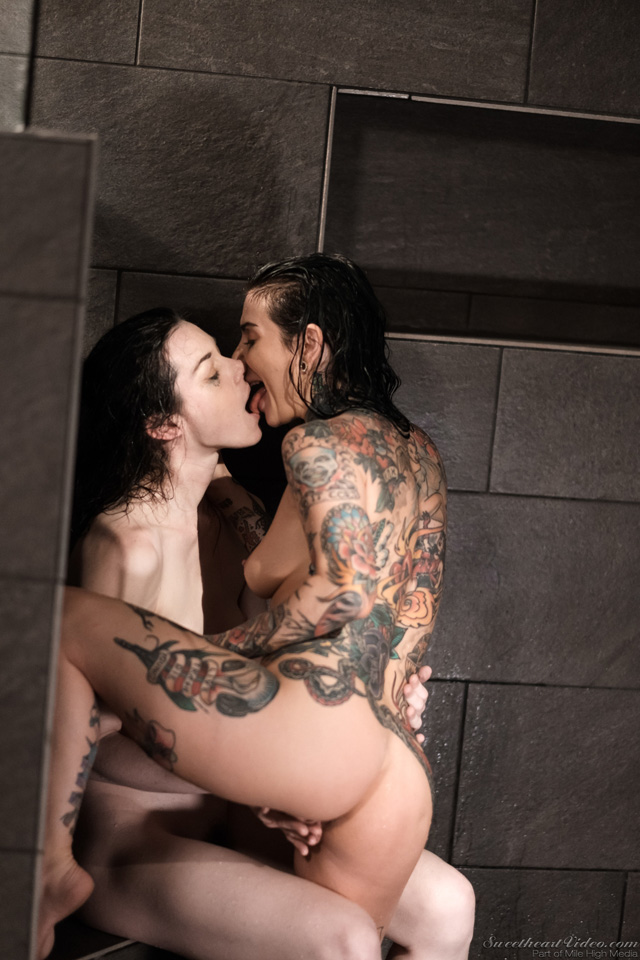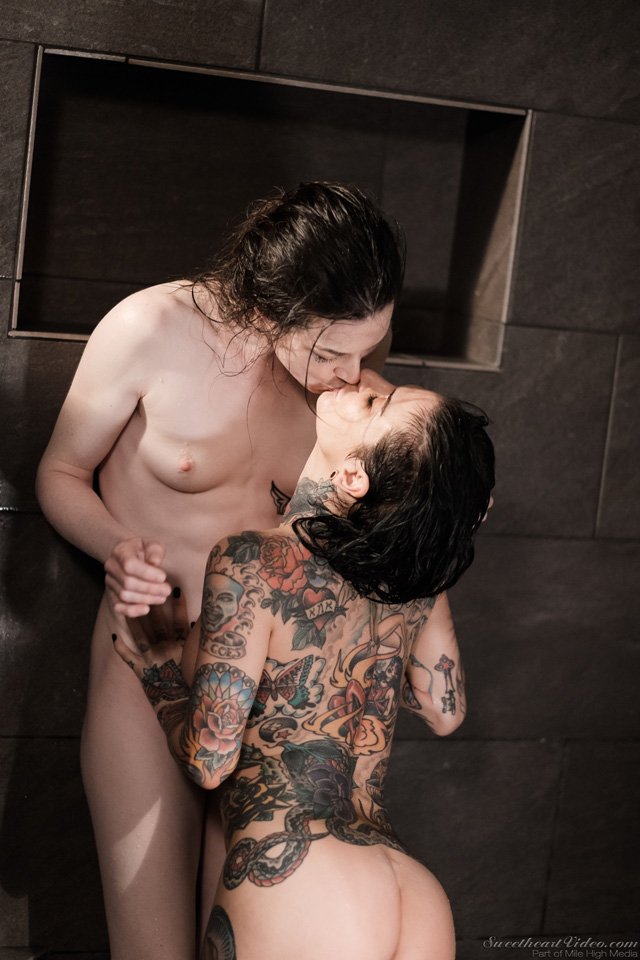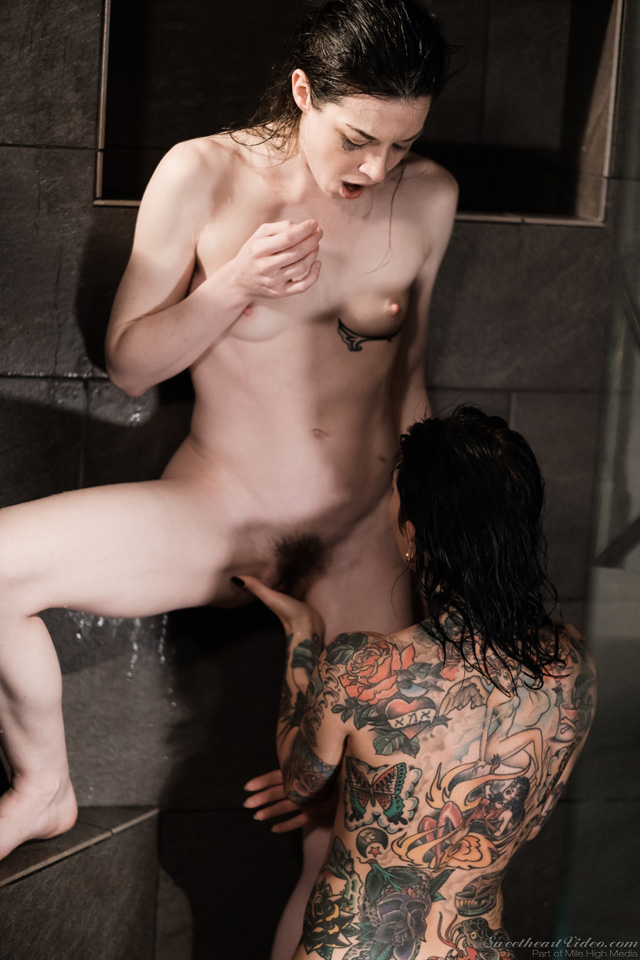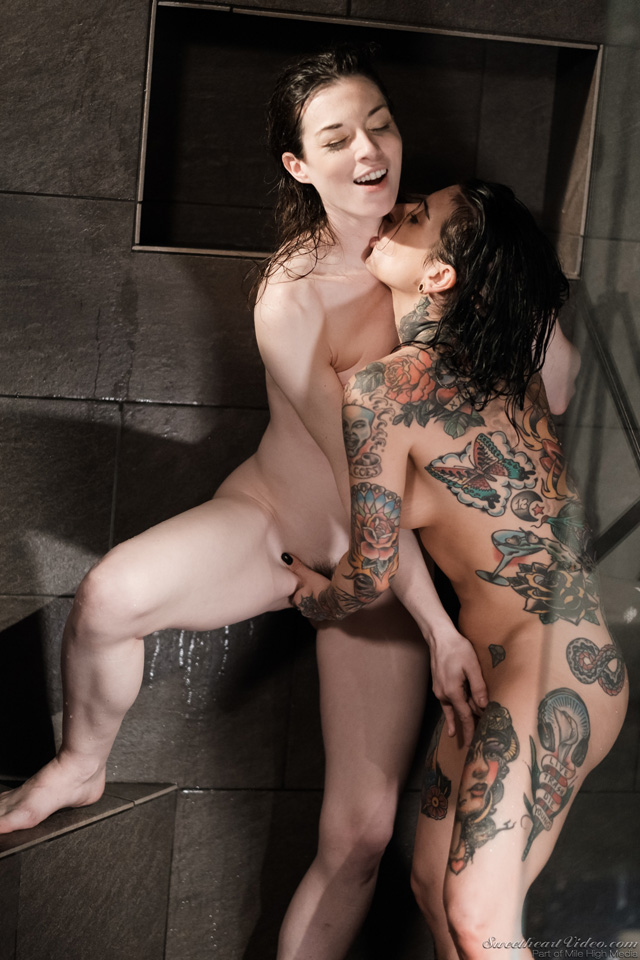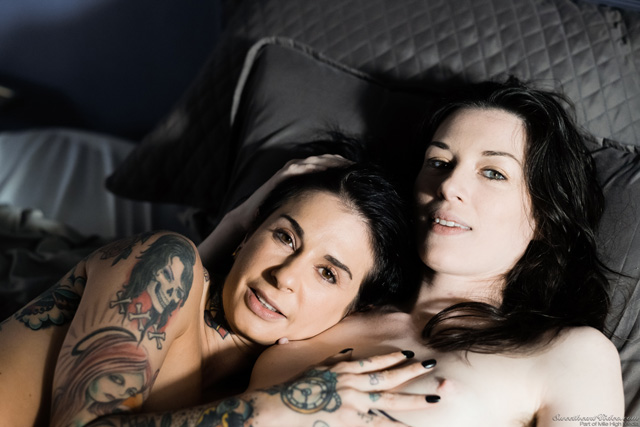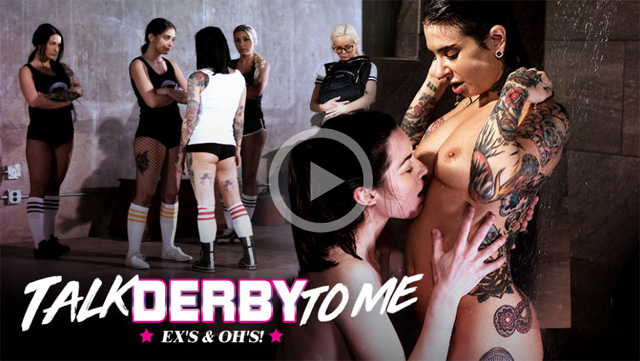 Watch the free video from episode 2, Ex's & Oh's starring Stoya & Joanna Angel fucking under the warm water together after Allison hits the showers after practice and facing the new challenge for team captain in the wild new hit parody feature Talk Derby To Me.  This 4 episode mini-series consists of an all-star lesbian cast including Stoya, Joanna Angel, Gia Paige, Katrina Jade, Carmen Caliente, Elsa Jean, Arabelle Raphael & Sovreign Syre.  Written & directed by Ricky Greenwood.  Get your pass to Sweetheart Video for all the action packed roller derby lesbian porn!

Continue reading in XXX Parody or Lesbian categories or return to the cover of Porn Corporation.
Previous episode in this featured series:  Talk Derby To Me: Lesbian Locker Room Rollergirls
View more of Stoya or Joanna Angel or Sweetheart Video or see more Rollergirls porn!
Brand New Must See Top Release: Wastelands: Cyberpunk Sci-Fi Lesbian Feature Film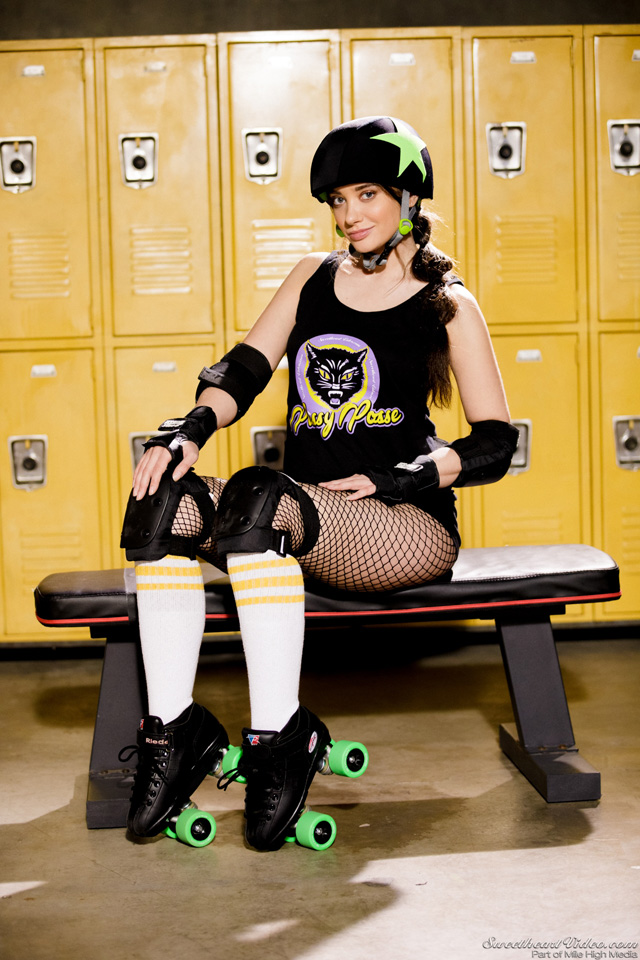 Talk Derby To Me is the brand new roller derby girls lesbian action drama feature from Sweetheart Video.  Meet the team, the LA Pussy Posse is composed of team captain Gia Paige and her girlfriend Black Widow [Katrina Jade] and the new girl on the team a fiery blonde Latina known as Lollipop [Carmen Caliente].  Allison Decker aka. Allie Cat [Joanna Angel] wants to prove her rightful spot on the Pussy Posse and Gia must fight for her spot as captain in a skating competition!  Enraged about the challenge presented by opposing Allie Cat, Gia goes back to the locker room after a vicious practice with her GF Black Widow to release some steam with hot lesbian sex!  Their new teammate Lollipop walks in and feels left out so she jumps in the action for a wild threesome.  Watch the free video trailer from scene 1 "Welcome To The Pussy Posse" in the brand new mini-series Talk Derby To Me!  Get your pass to Sweetheart Video for access to all the upcoming roller derby slut scenes and watch this steamy locker room sex with Carmen Caliente, Katrina Jade & Gia Paige now…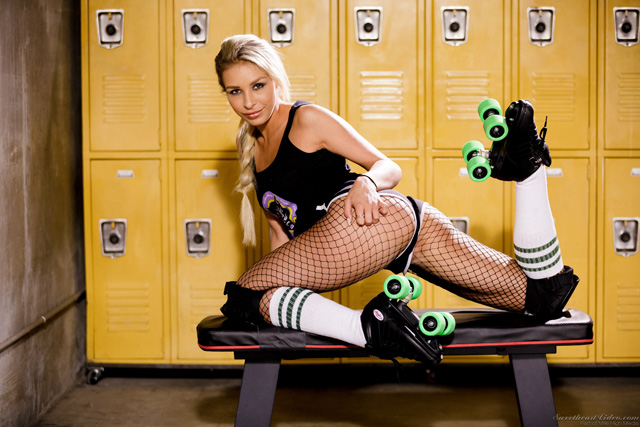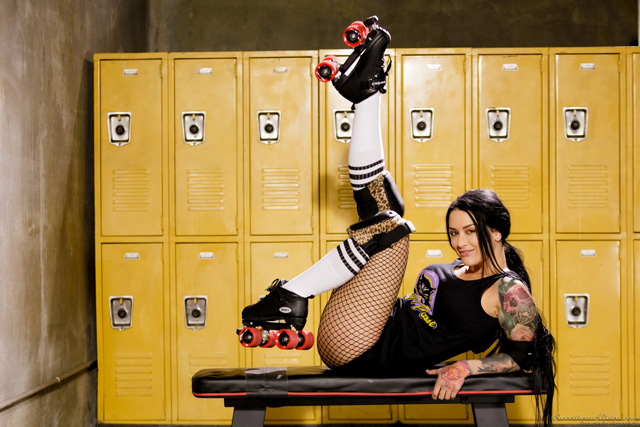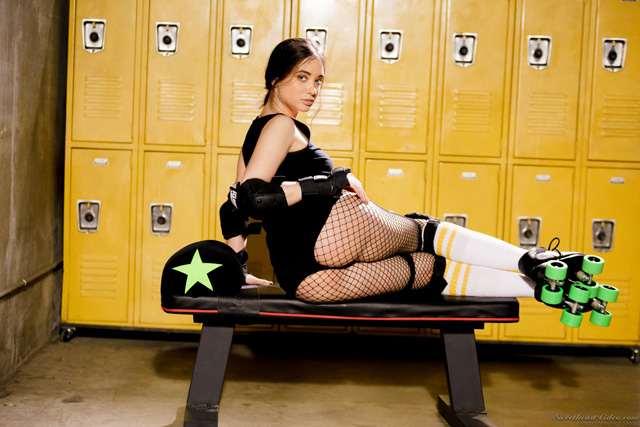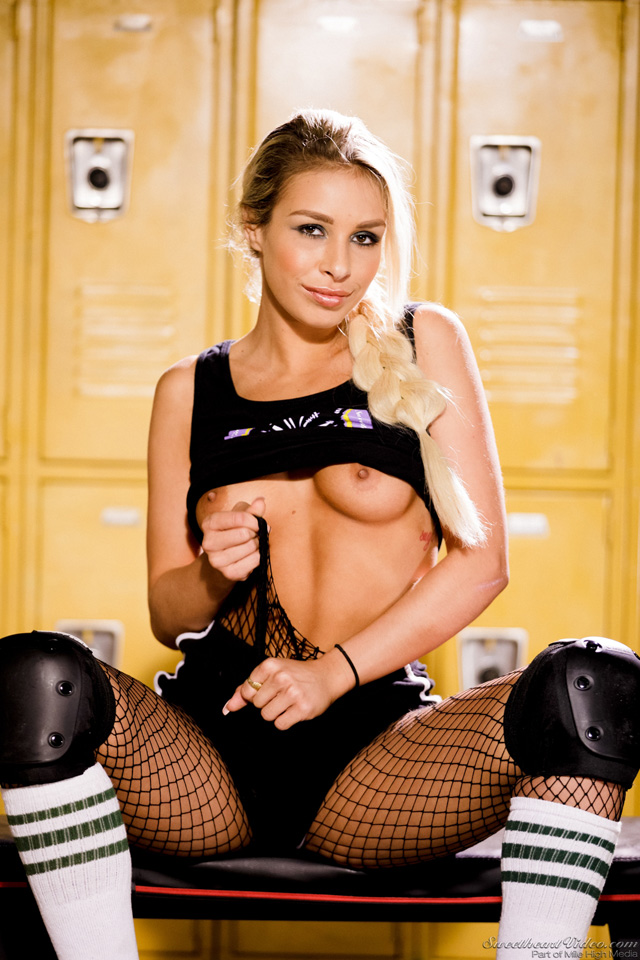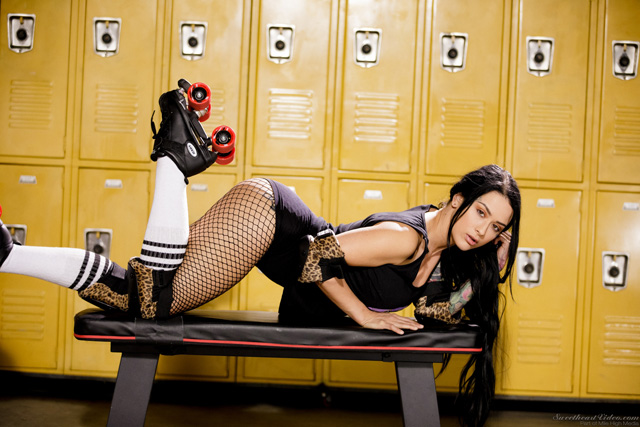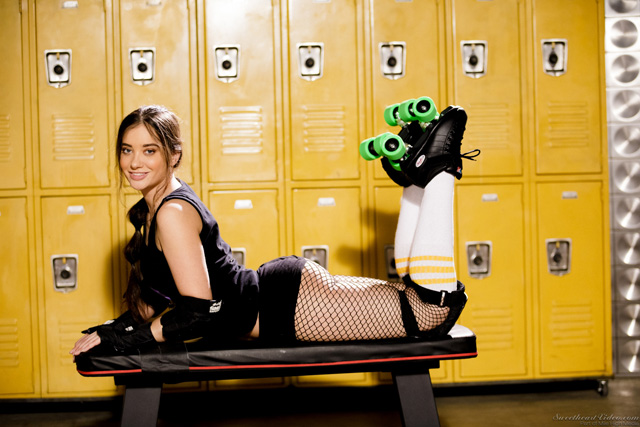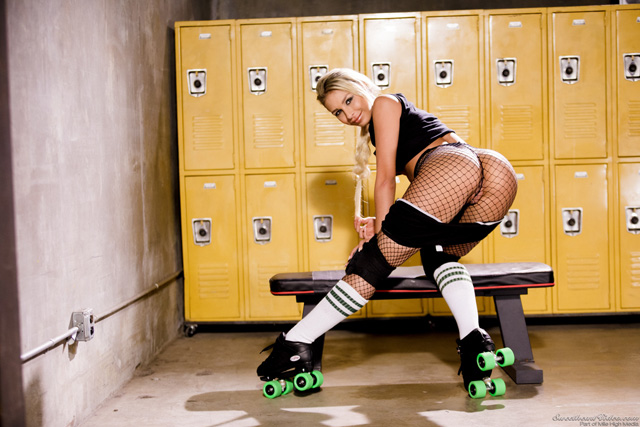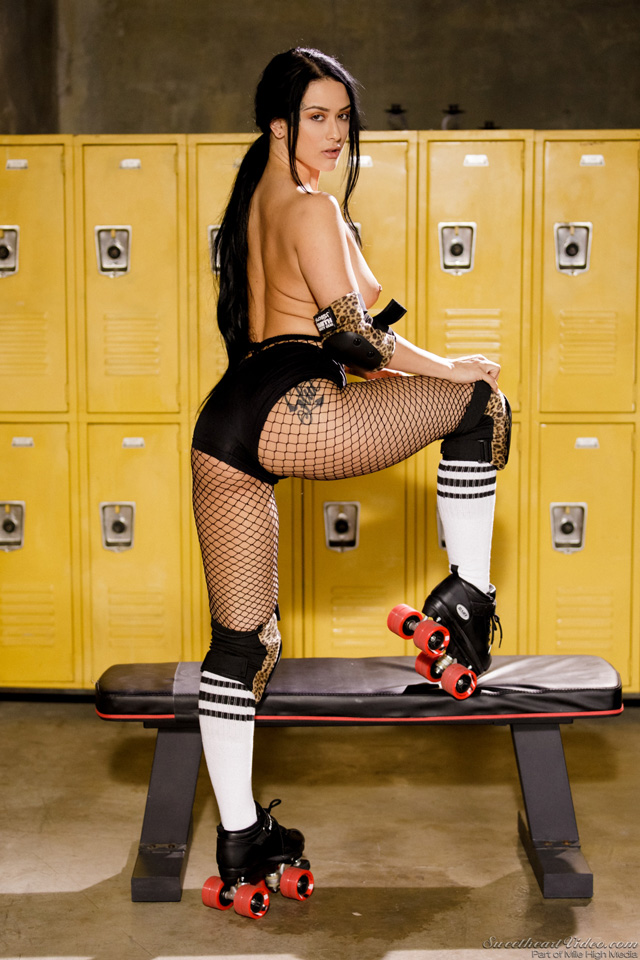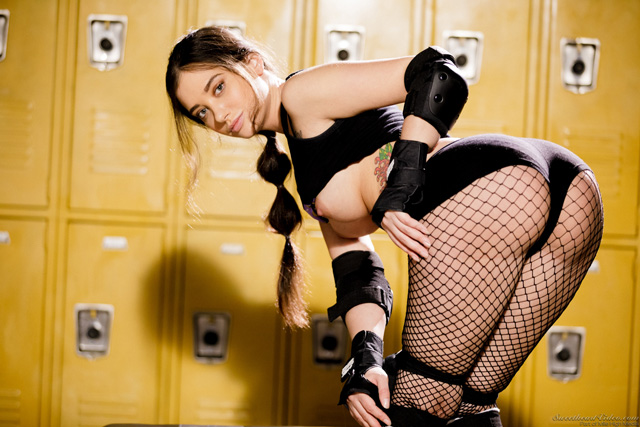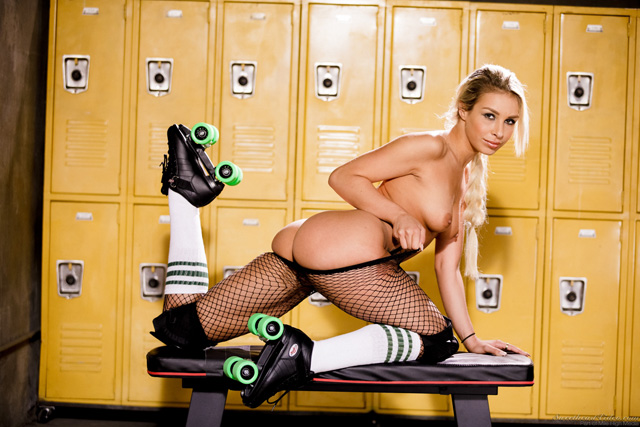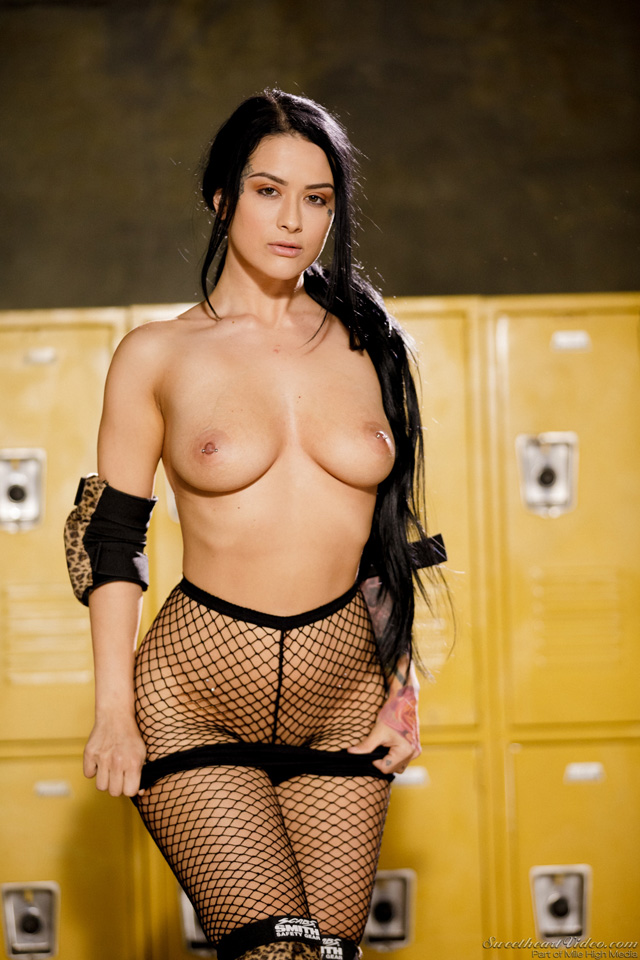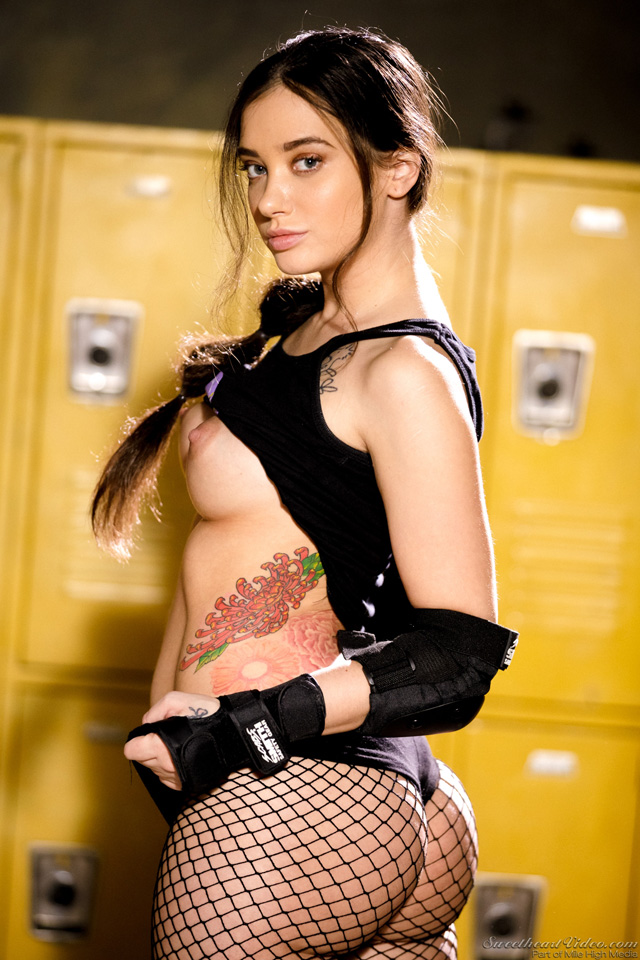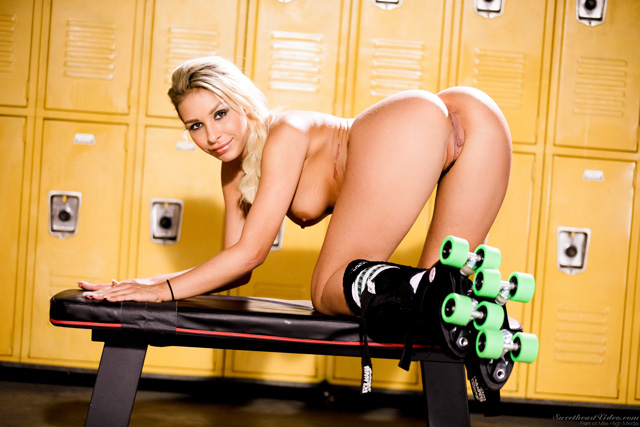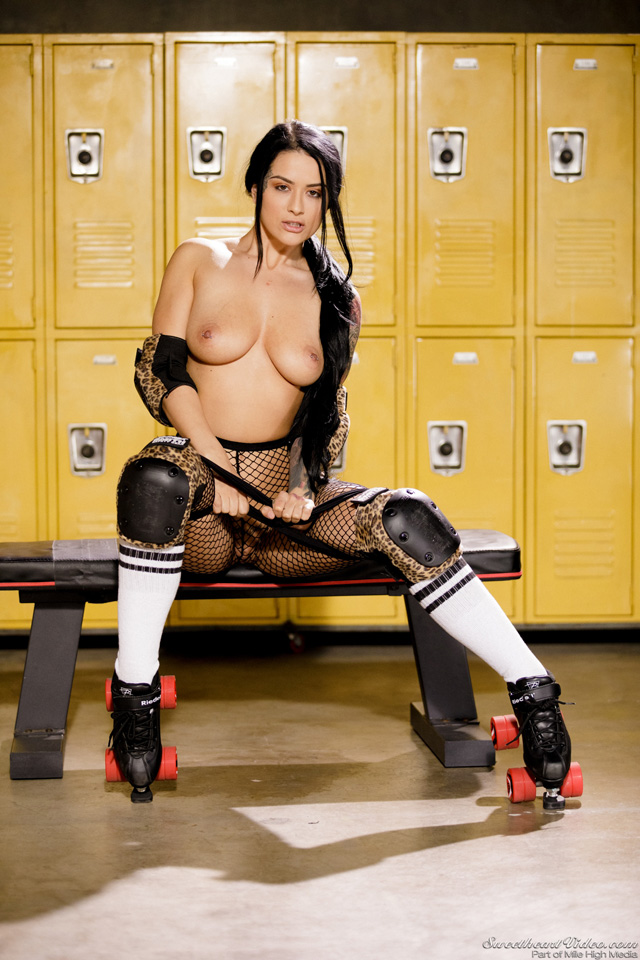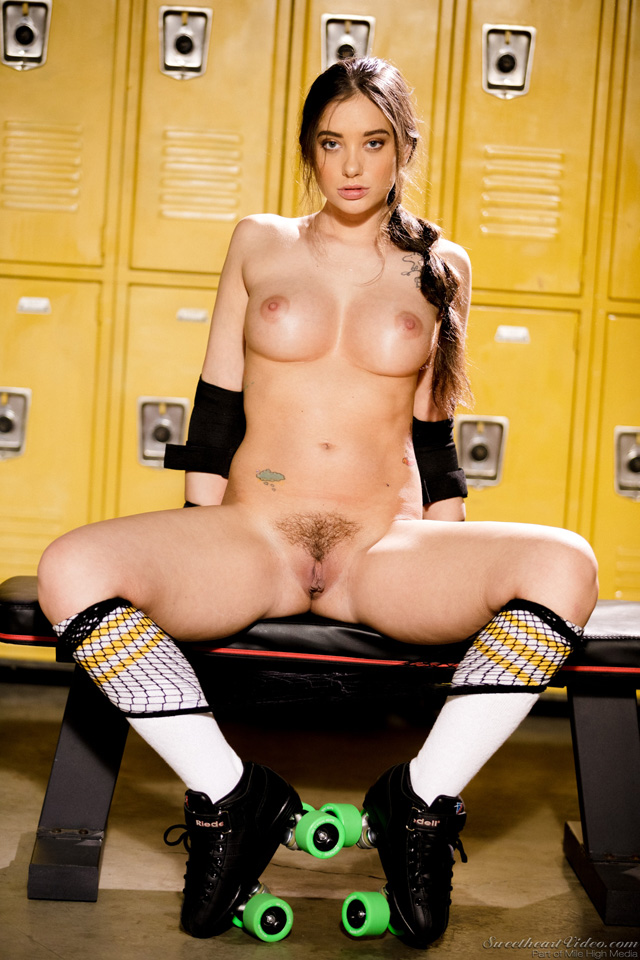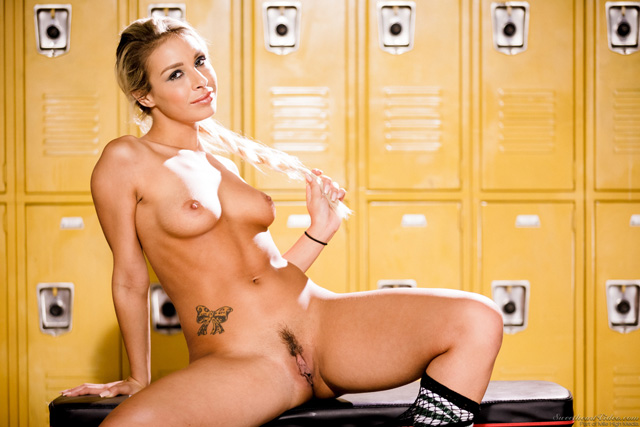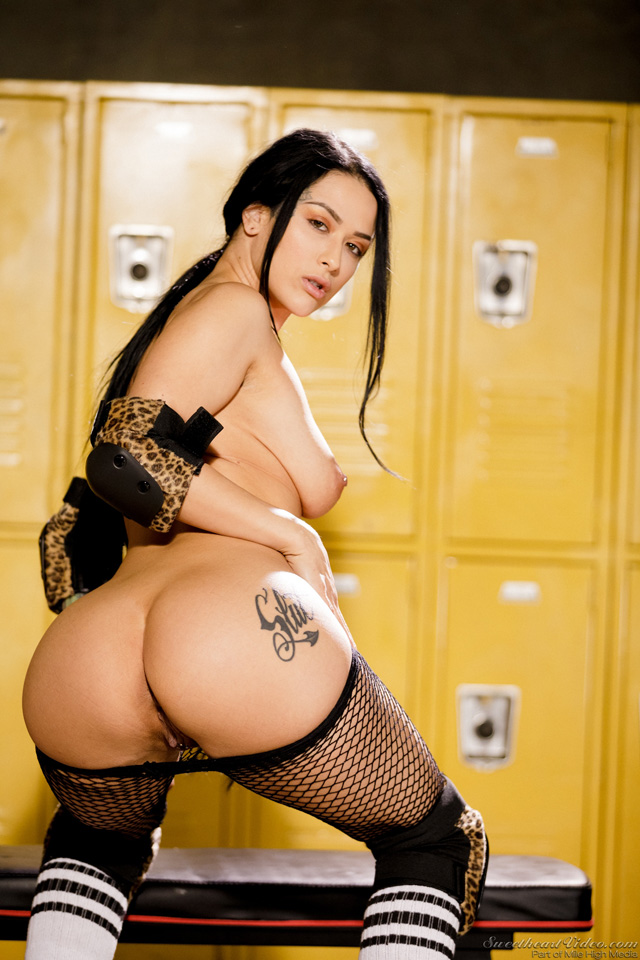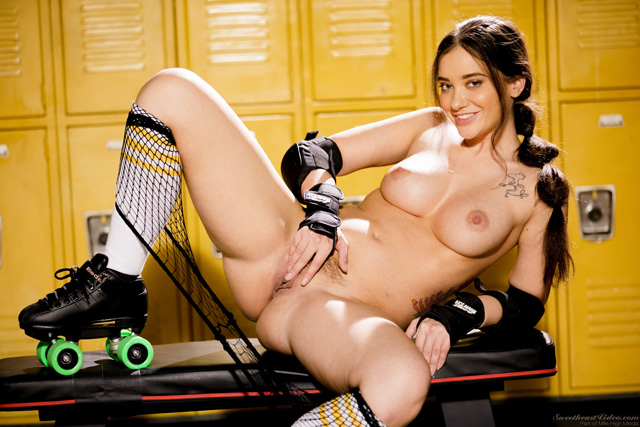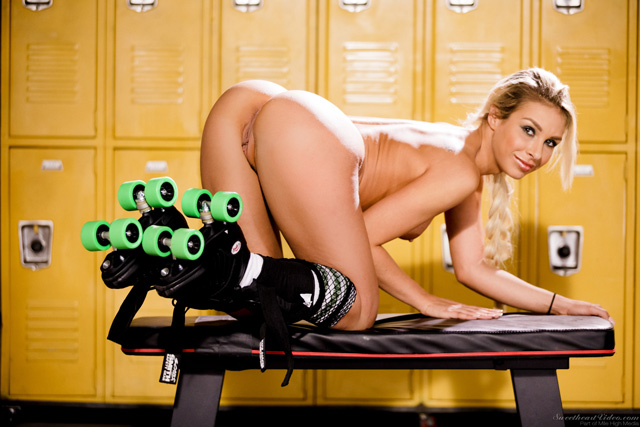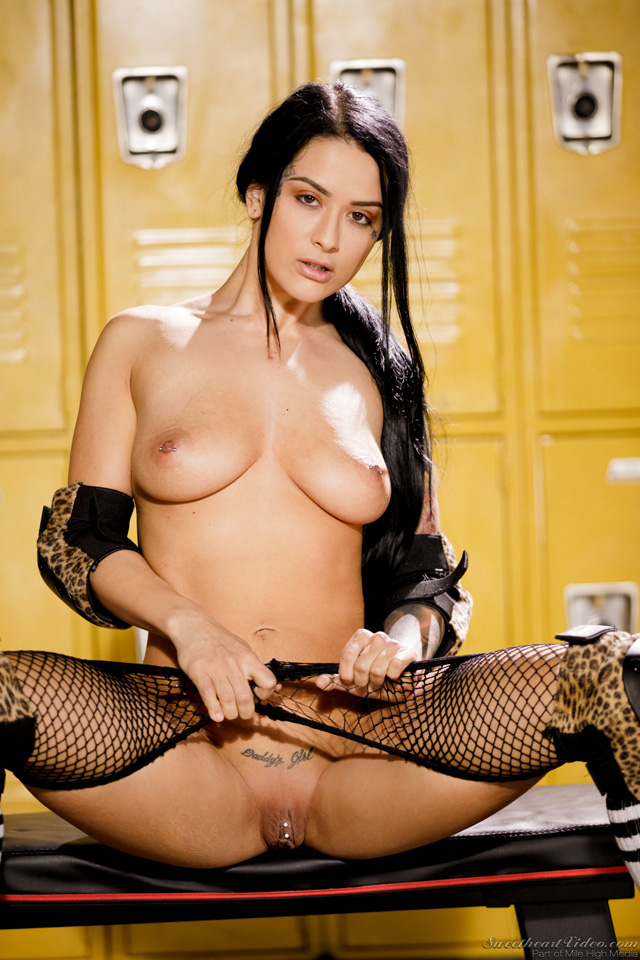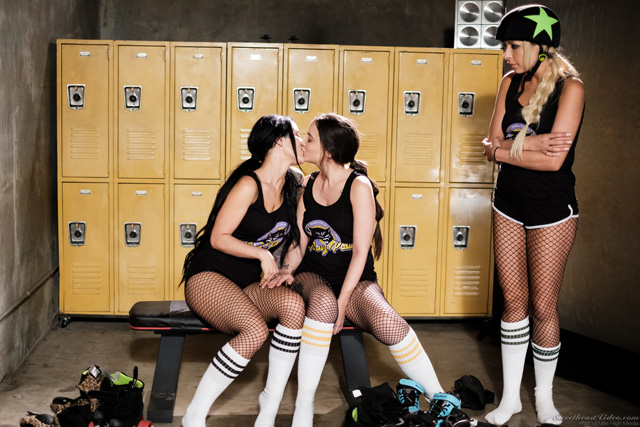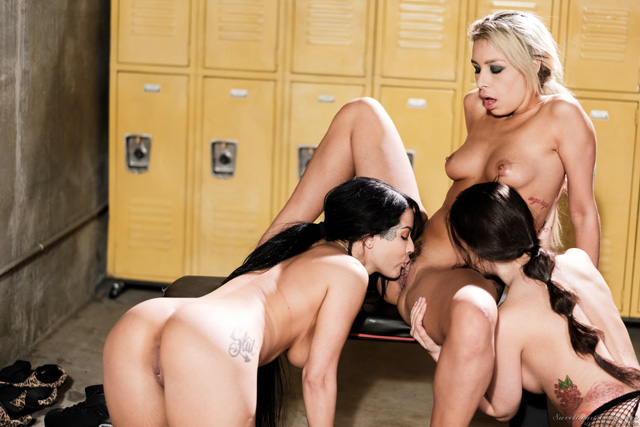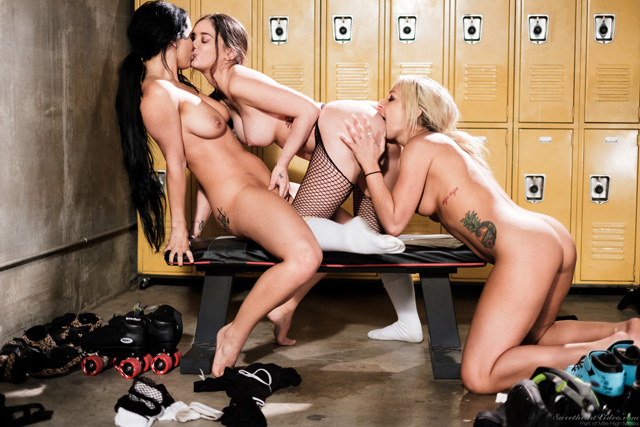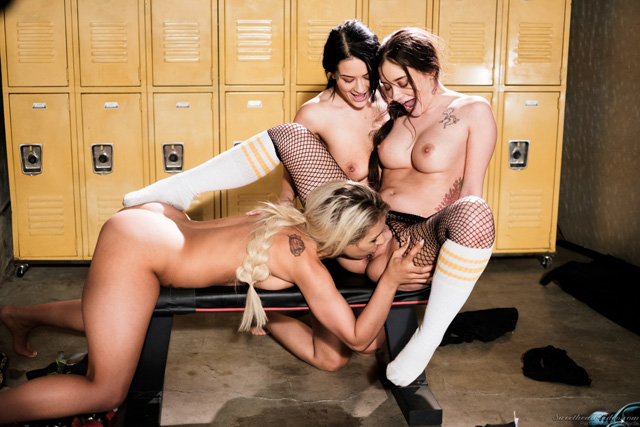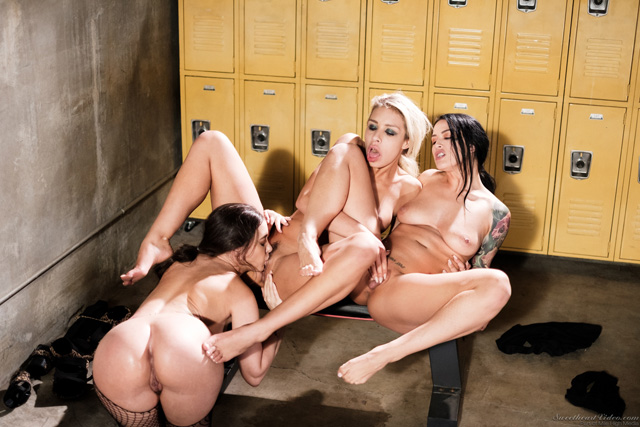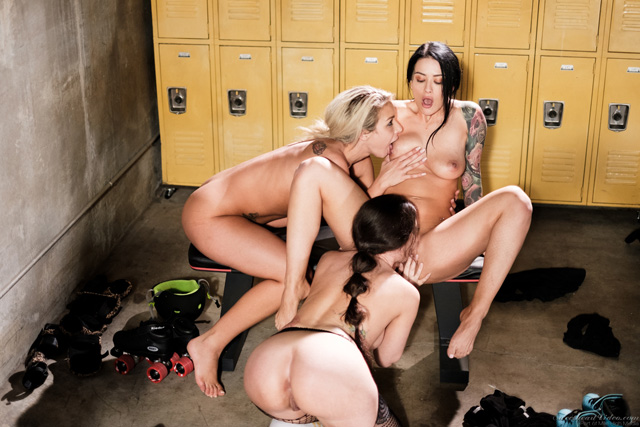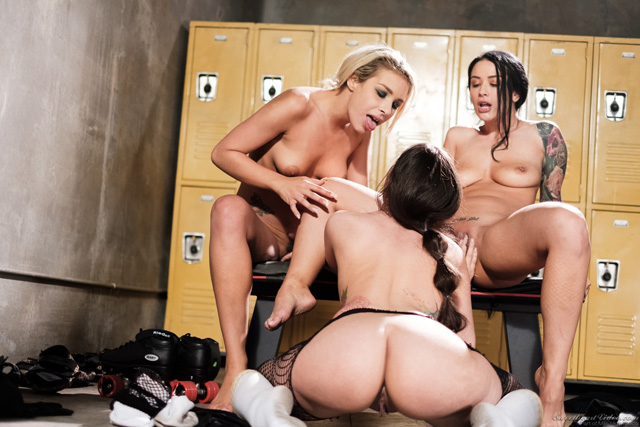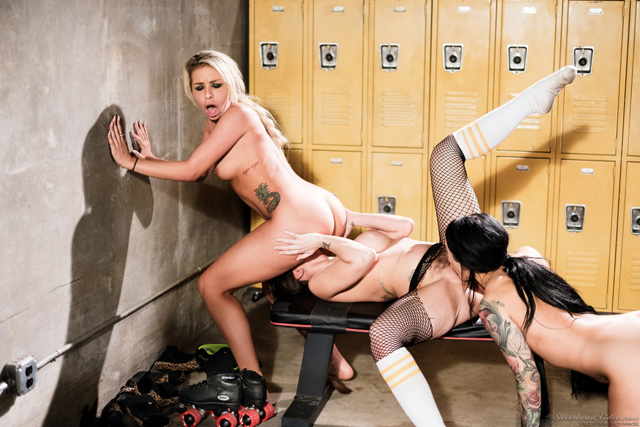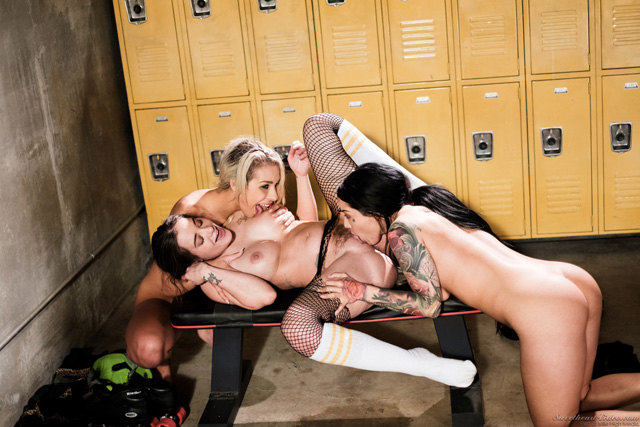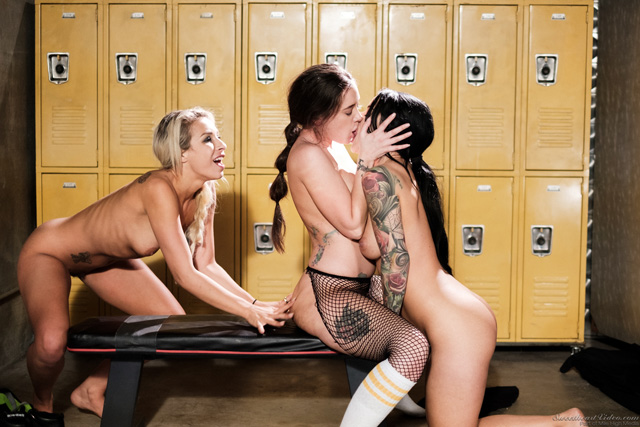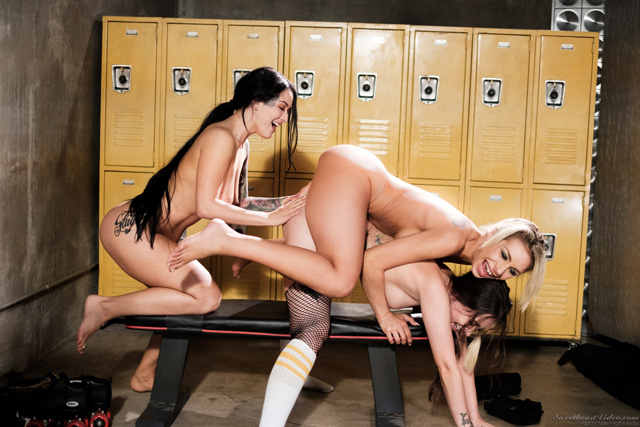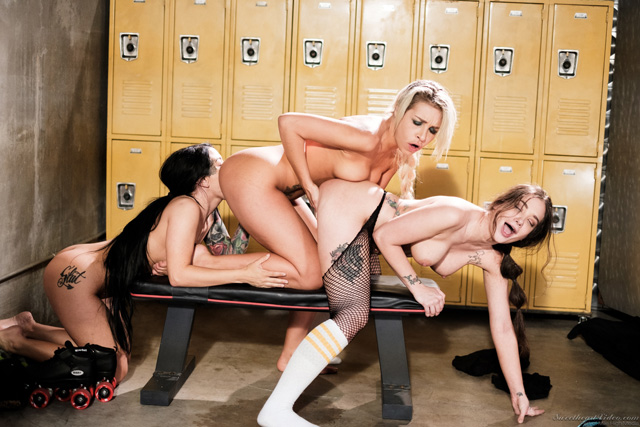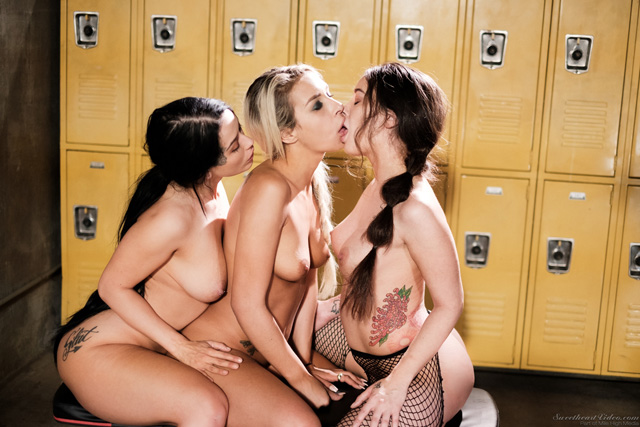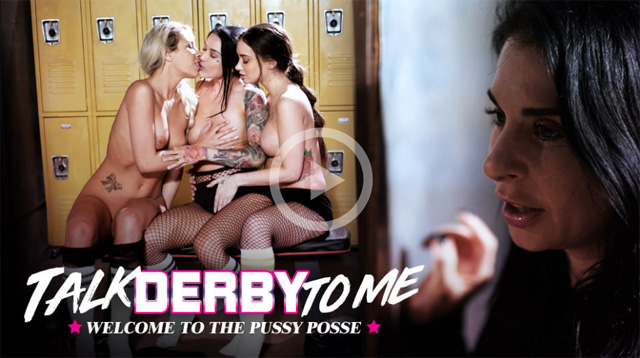 Watch the free video from episode 1, Welcome to the Pussy Posse of the wild new hit parody feature Talk Derby To Me from Sweetheart Video!  This 4 scene mini-series has an all star lesbian cast including Stoya, Joanna Angel, Gia Paige, Katrina Jade, Carmen Caliente, Elsa Jean, Sovreign Syre & Arabelle Raphael.  Written & directed by Ricky Greenwood.  Get your pass to Sweetheart Video for all the action packed roller derby lesbian porn in Talk Derby To Me!

Continue reading in XXX Parody or Lesbian categories or return to the cover of Porn Corporation.
Previously featured parody:  Jessica Jones Porn Parody: Jessica Bones XXX
View more of Carmen Caliente – Katrina Jade – Gia Paige or Sweetheart Video in our archives.
See more Rollergirls porn!  Peep: Dreamy Roller Girls Mia Malkova & Staci Carr Threesome
Brand New Must See Top Release: Wastelands: Cyberpunk Sci-Fi Lesbian Feature Film
Hot categories: Pornstar Interviews –  4K Porn – Gloryhole – Adult Comics – Porn Games
1. How long have you been performing in the adult industry and how did you begin your career?
JOHNNY GOODLUCK: My first shoot was for Hustler with my now wife, Draven Star, 4 years ago. Basically, I was just a behind the scenes guy who was in the right place at the right time. We filmed the scene on Draven's birthday too which made it all the more fun.
2. What are your best tips and advice for men wanting to get into the adult industry?
JOHNNY GOODLUCK: Make your own content. Study. Educate yourself, especially on safety and preparedness. Get tested regularly! That's exactly what I did and do. To be a proficient performer, you must be self-sufficient. The most important thing is to be a good person, have good energy, be positive, and be kind. It's a competitive job, and it's important to be someone that people want to work with, than to be someone who has a huge dick. That's how you'll be rehired over and over.
3. Men often think you have the best job in the world, but we know it's not always as simple and easy as people assume and it is hard work. Please elaborate to our readers the reality of your job.
JOHNNY GOODLUCK: For one, it's not that easy to jerk off next to 25 other guys you know, and ejaculate when instructed too. Porn is very directed. While the people I work with are gorgeous and amazing, I seldom think about my desire to have sex with them at work. I'm more worried about lighting, angles, timing, and consistency.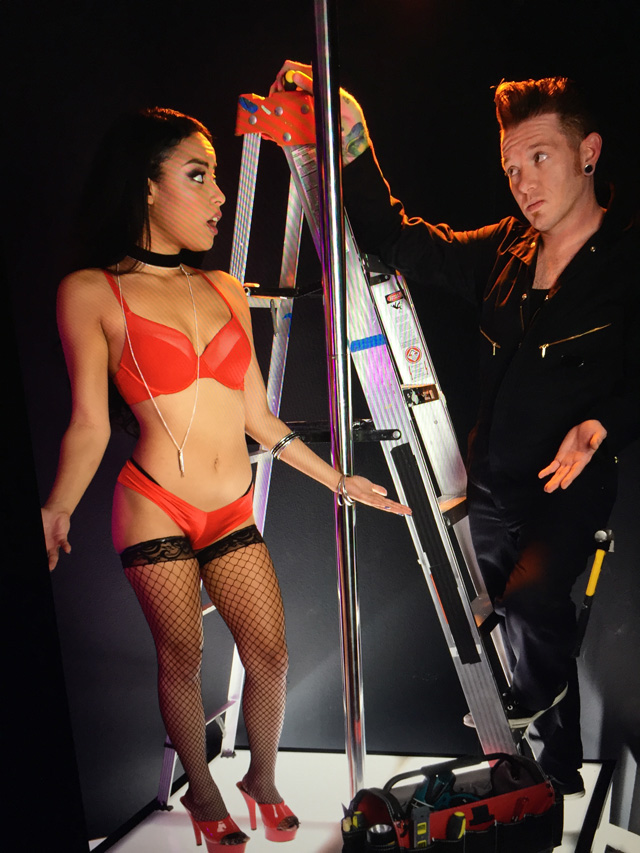 4. We want to know more about the man behind the cock! So Johnny, where did you grow up. Please share with us a little bit about your heritage and upbringing.
JOHNNY GOODLUCK: I'm an east coast boy! Born and raised in Baltimore, MD. I grew up playing lacrosse, crabbing, and playing ghetto games.
5. Are the rumors true Johnny? Are you really Goodluck? Please tell us how you selected your cool stage name.
JOHNNY GOODLUCK: My name was a reaction from my wife Draven when I said "what about using the name Johnny?! It's perfect. Like a John, trick, mark, etc…. paid to cum etc…". Her response was "Goodluck!" Meaning "Goodluck with that!" Fun fact; The owner of Burning Angel chose my badge names my first two years at AVN. Before Johnny Goodluck existed, my first badge said "The Destroyer".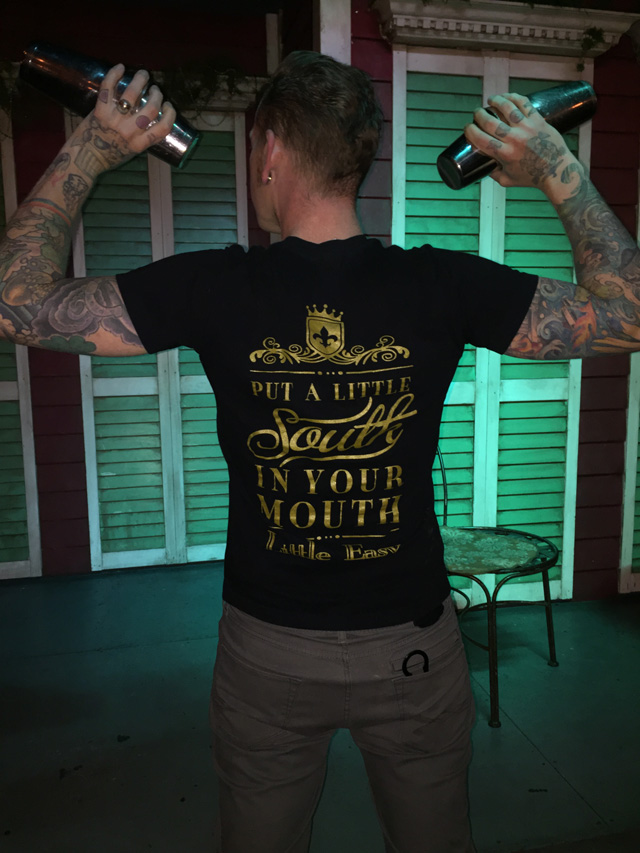 6. Prior to being a pornstar and working your behind the scenes jobs in the adult industry what did you do career-wise?
JOHNNY GOODLUCK: I was a very well-known chef on the east coast, and am still quite reputable in the restaurant world. One of the few pornstars who maintains an average Joe's job. I have put the kitchen on pause for the social experience of bartending.
7. Let's talk sex! What is your favorite position or sexual act?
JOHNNY GOODLUCK: I absolutely love eating pussy. I have dedicatedly become notorious for my oral skills. In my personal life, I can go for hours, as long as my partner is enjoying herself. My greatest joy is making a woman cum without any self-satisfaction on her part. Speaking of which, I'm thirsty!
8. How big is your dick?
JOHNNY GOODLUCK: I would say average porn sized. It's between 7 and 8 inches, pretty curved upward, and well cut.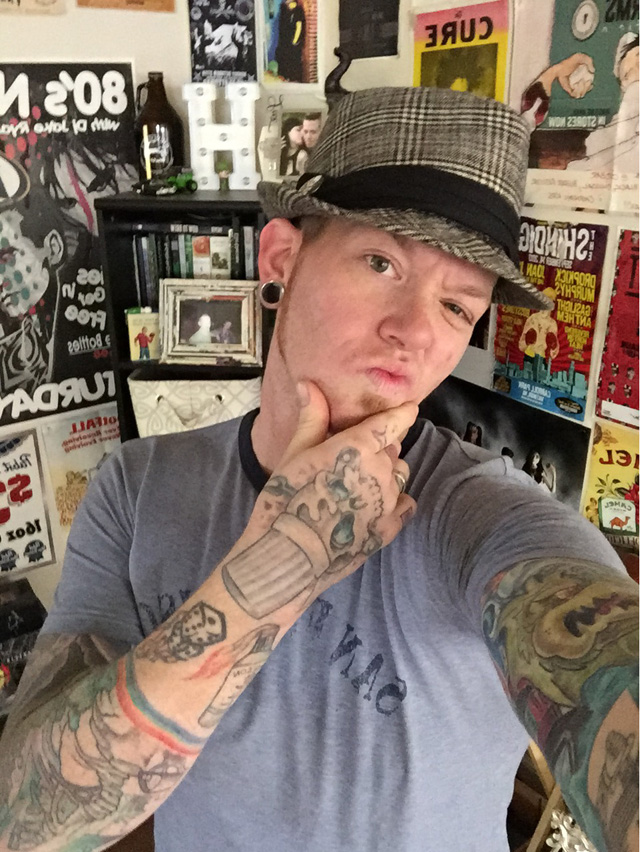 9. What is your ultimate sexual fantasy?
JOHNNY GOODLUCK: It's pretty much already accomplished. I'm literally living the dream. I love sex in public places.
10. How often do you masturbate and what's your go to routine for getting yourself off?
JOHNNY GOODLUCK: I accidentally masturbate? I usually get turned on randomly while researching or editing scenes. Porn has corrupted how I function. I usually just end up sitting at my desk like a normal porn viewer. Sometimes I like to get on my knees, it makes it more intense for me to pop.
11. What do you prefer in women… blondes, brunettes or redheads?
JOHNNY GOODLUCK: I have no general preference. I prefer particular energies. I prefer people that are excited to engage. I don't go after characteristics.
12. Who are your favorite female performers to work with and what are your favorite scenes up to date that you have filmed and why?
JOHNNY GOODLUCK: This is two questions!
1 – Karma Rx is my jam. She's so awesome to shoot with and has a great attitude. I also have really enjoyed my work with Daizy Cooper. She's a sweet babe who is good to Daddy.
2- Anything I shoot with PureTaboo is the coolest. The scenes are so thought out and intense. It inspires me as a writer to do better and put more realism into my work.
13. Who are the girls that you really want to work with right now but haven't got a chance to film with yet?
JOHNNY GOODLUCK: That's a tough one. I'd still like to get my paws on Katrina Jade.
14. How many women have you had sex with? How many women did you sleep with before becoming a pornstar? How many times do you have sex a week on average?
JOHNNY GOODLUCK: This is where I shine. I've kept track very well. I've had sex with about 250 women. About 120 of them were before porn. The world average is 7 sex partners in the life of a man. I hit that by the end of freshman year of high school.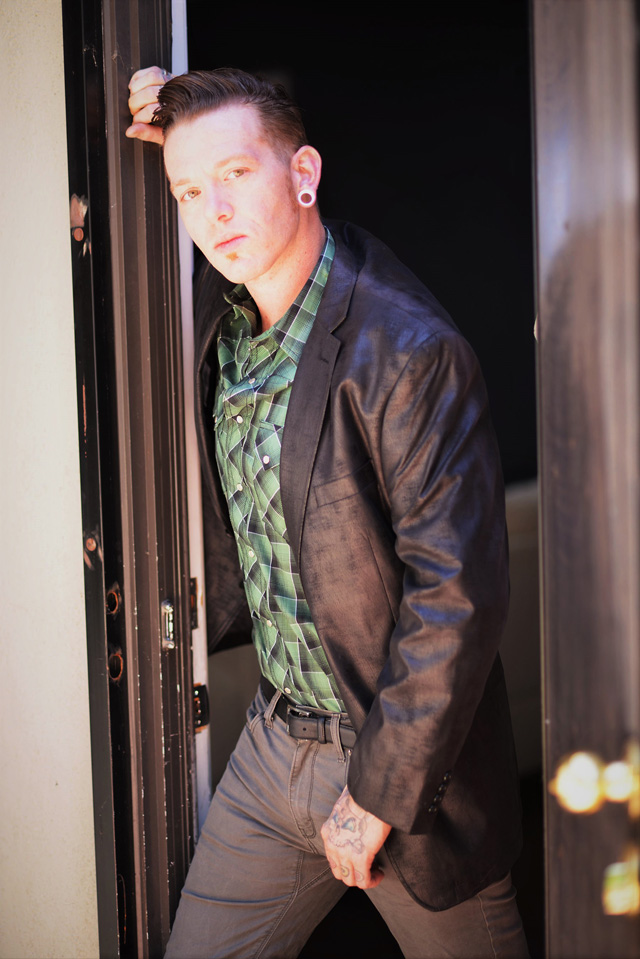 15. Are you currently dating anyone or are you single?
JOHNNY GOODLUCK: I'm married to Draven mother fucking Star. This is a well known fact. We've been together since before Johnny Goodluck existed. She's a staple in Burning Angels' catalogue and a wonderful wife. We do however enjoy getting nasty with others on the regular. Sometimes we film it. Sometimes, well, you couldn't imagine.
16. Would you ever fuck a female fan you met in your personal life or in a fuck a fan contest?
JOHNNY GOODLUCK: I would! I'm totally up for that. If you're that impressed you deserve a shot, and you'd probably have more fun than you normally would. I wish I could have a fuck a fan contest! That would be hot! Should I?
17. Who are your favorite companies to film with and who are you dying to film with but haven't got a chance to yet?
JOHNNY GOODLUCK: I love filming with Wicked. I think Quasar is a great director. I was a PA for him, but never fucked on film for him.
18. How do you stay in shape [other then having super hot sex for money!]? Do you workout at the gym or like to hike? What's your go to for fitness?
JOHNNY GOODLUCK: I do push-ups every day. Pelvic workouts help too!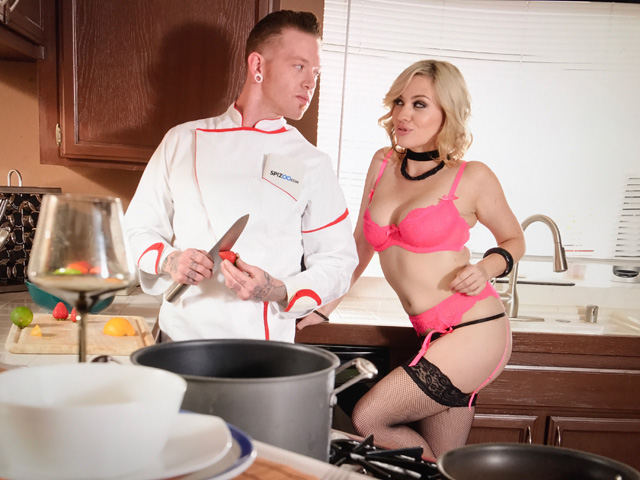 19. What kind of palette do you have for culinary preferences? Favorite foods, diets, things you just can't live without? What fuels you Johnny?
JOHNNY GOODLUCK: I am a chef and I will eat it all! I love fat. I love butter. I can't leave out ribeyes, potatoes and gravy. I'll take anything fried! I love a good cheesesteak, cobb salads, Kool Aid, and cheddar pretzel Combos!
20. We heard you are a really good chef. If you were having a women who you really admired over for dinner for the first time what would you cook for her?
JOHNNY GOODLUCK: Whatever she wanted! That's the beauty of being a versed chef. I can cook anything! What do you want? Let me make that for you, babe.
21. When you're not having sex with the world's hottest women, what do you like to do for fun? Do you have any hobbies, pets or interests? What does a typical non-work day in the life of Johnny Goodluck look like?
JOHNNY GOODLUCK: I sleep! Between bartending, shooting, booming, cooking, editing, and planning there isn't much else to do! I drum, and socialize. I like to explore new venues and bars. I love checking out culture and I live off of social experiences
22. What's the craziest thing you have ever done?
JOHNNY GOODLUCK: What's considered crazy? One time I beat up my cousin and called the cops on him.
One time I deep fried a BBQ brisket sandwich. They were both interesting and off-putting experiences that were of my best interest at the time. I once had sex in the back of a U-Haul with my girlfriend at the time. We were dropped it off in the rental parking lot and decided might as well make a mess for them in the back before we leave.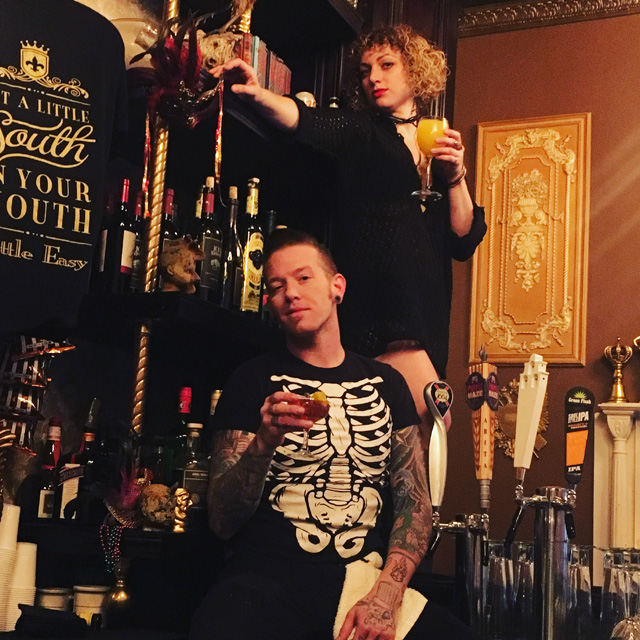 23. When can we expect to see an official Johnny Goodluck website?
JOHNNY GOODLUCK: Very, very, soon. Before fall of this year.
24. Where can fans find more of you! Please share with us all of your official social media accounts.
JOHNNY GOODLUCK: Instagram: MrJohnnyGoodluck – Twitter: @mrgoodluckxxx – Snapchat: jhandeler
25. Please tell us about your upcoming appearances & events, business plans and career aspirations. Are you currently working on any other projects?
JOHNNY GOODLUCK: I'll be at the inked awards in November 2018! I always attend the AVN awards, and I am very easy to find at a bar in Los Angeles!
26. Leave your fans with a true taste of Johnny Goodluck, always wanting more! If you were ice cream what flavor would you be?
JOHNNY GOODLUCK: Baby, I'm not ice cream. I'm The Ice cream man! Stop me when I'm passing by.
All my flavors are guaranteed to satisfy.
27. Is there anything else you would like to share with your fans, our readers or your comrades in the adult industry?
JOHNNY GOODLUCK: Keep cranking that shaft and pushing that pussy to the limit. Whether you're in front of the camera, in front of a monitor, on your phone, in the bathroom, or behind the scenes. Like Draven says, " Stay filthy, ya'll".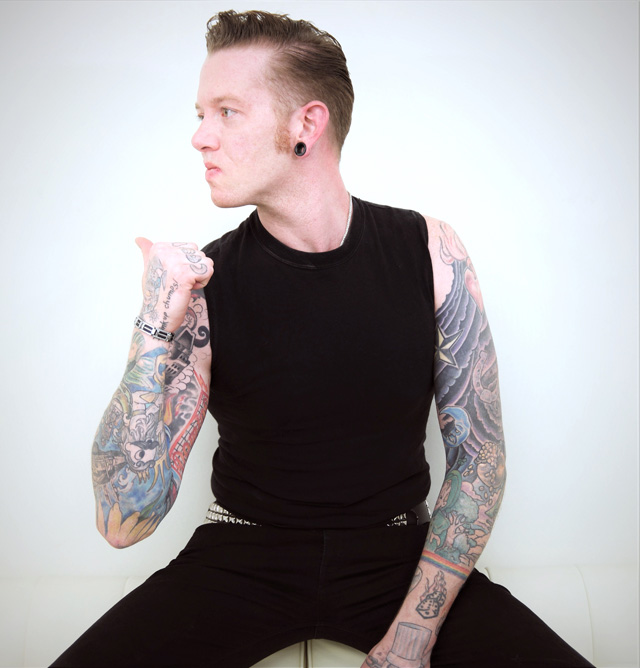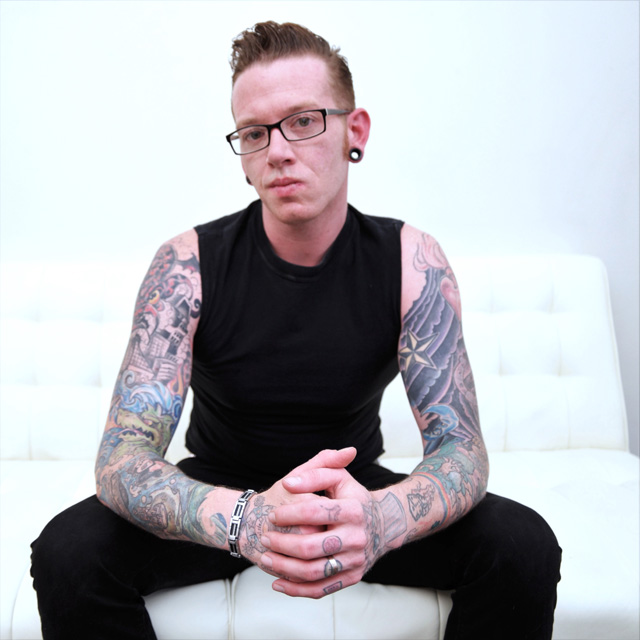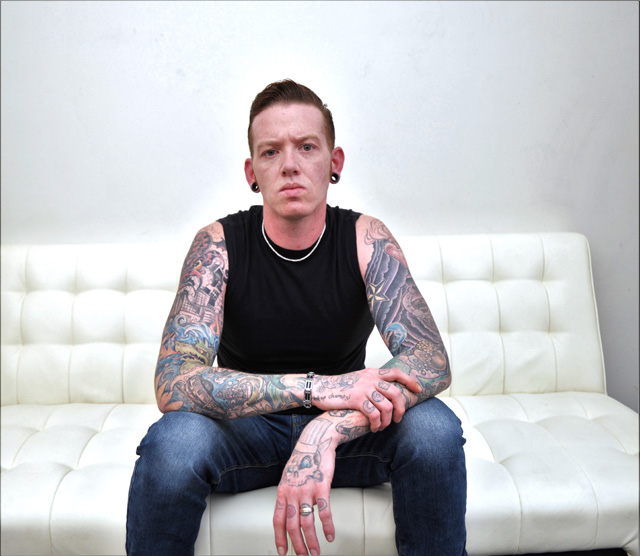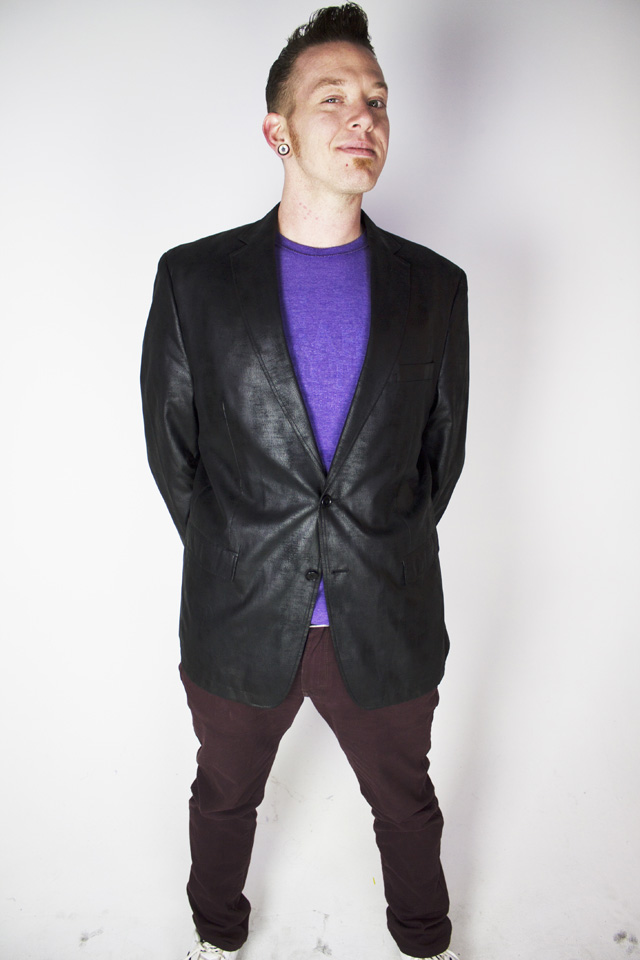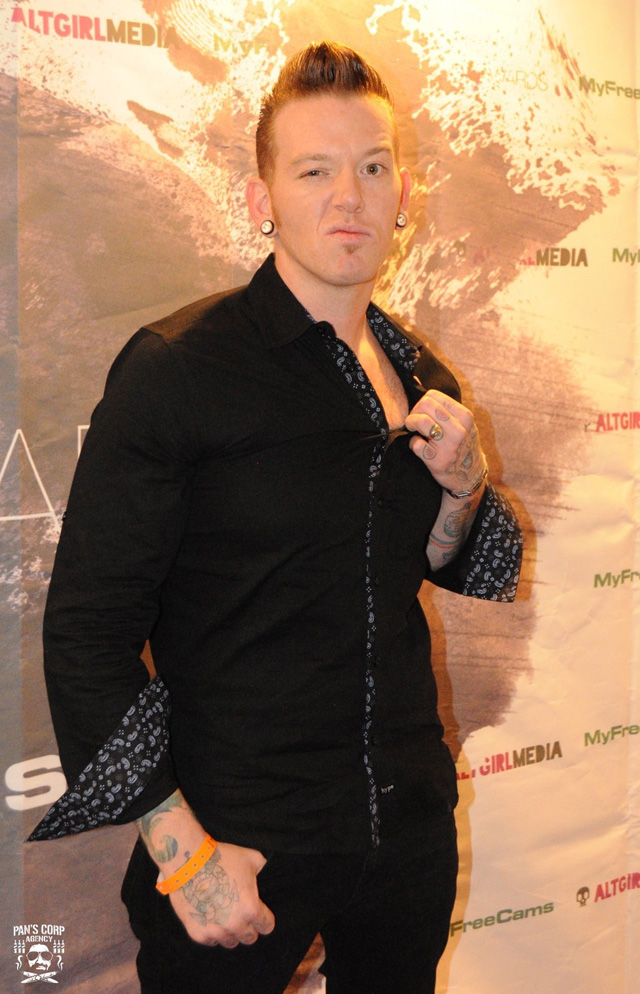 Johnny is currently nominated as the Best Male Newcomer from Urban X Awards and Best Male Clip Artist from the Inked Awards.  If you're a Goodluck fan go vote for him to show support and if he's fresh meat to you go check out his scenes & find out why he's nominated as the best! Enter Johnny's "Cheers To Goodluck" contest and go vote for him in the Inked Awards to win 2 rounds of drinks out on him in LA. at the Mr. Furley's in Sherman Oaks, CA.  A winner will be chosen at random by August 7th, voting ends on August 2nd so don't miss out!  Please note that travel & expenses are not covered, just drinks and good company!  You can vote everyday, so every vote gets you more chances to win.  To enter Johnny's contest screenshot your vote and email it to CheersToGoodluck@gmail.com and spend a night out on the town with Mr. Goodluck!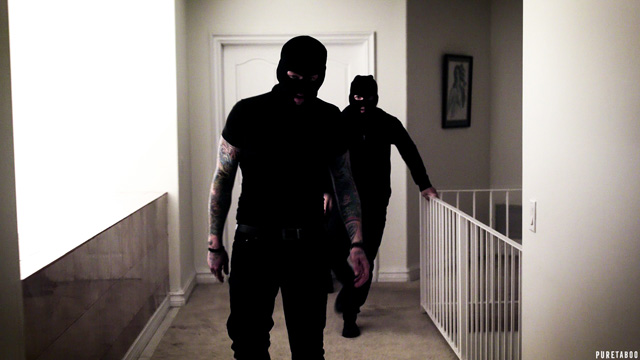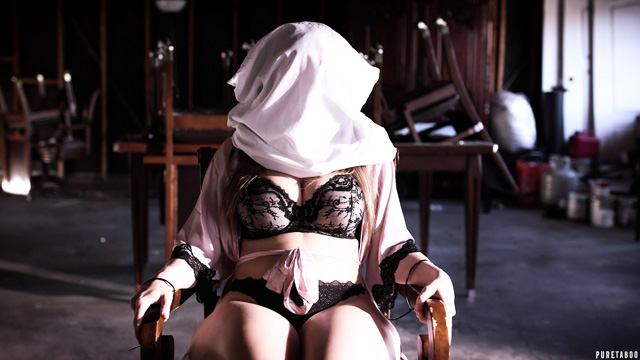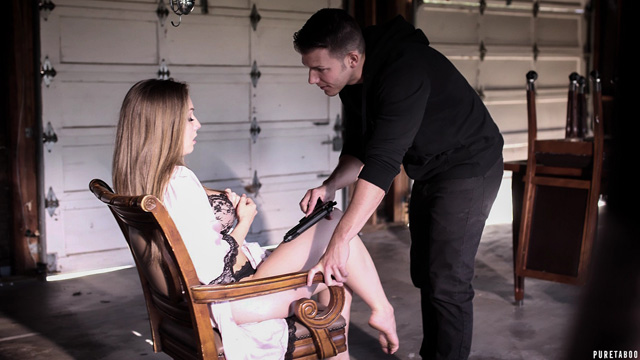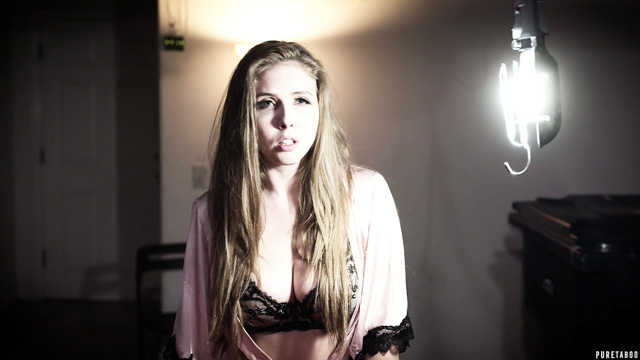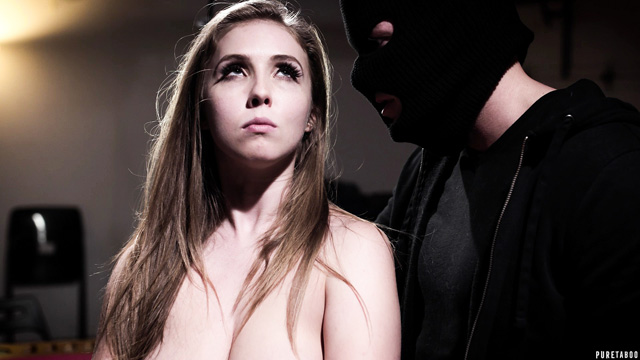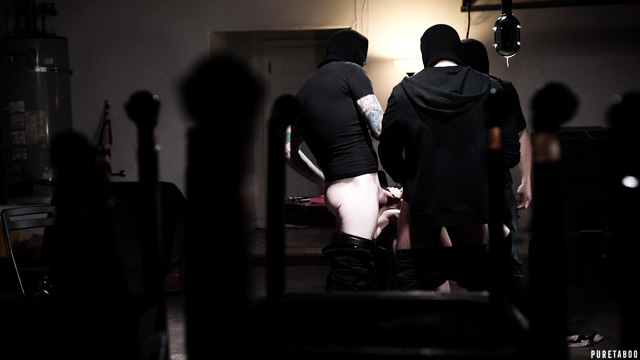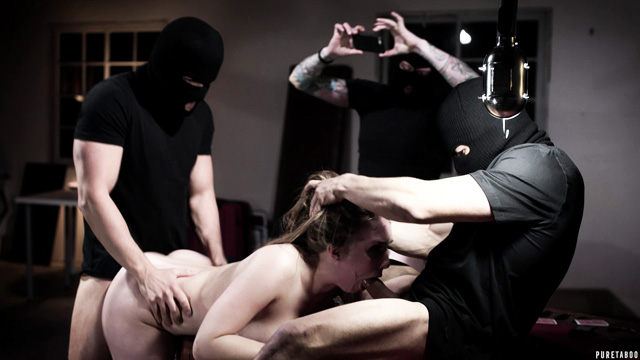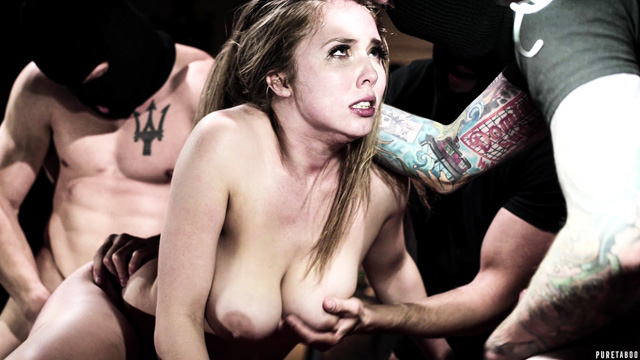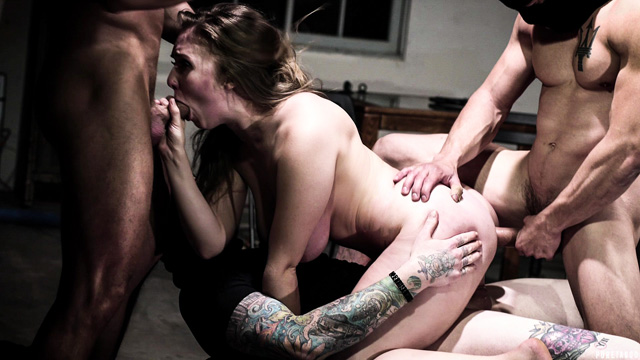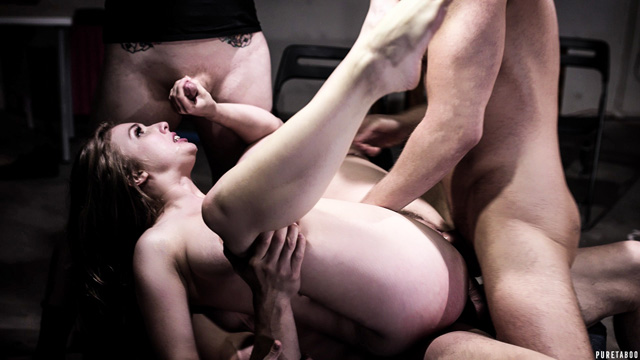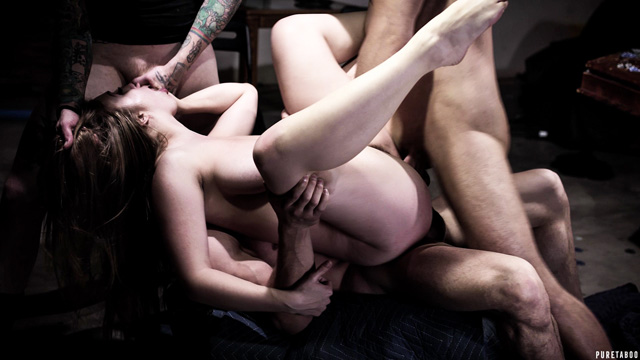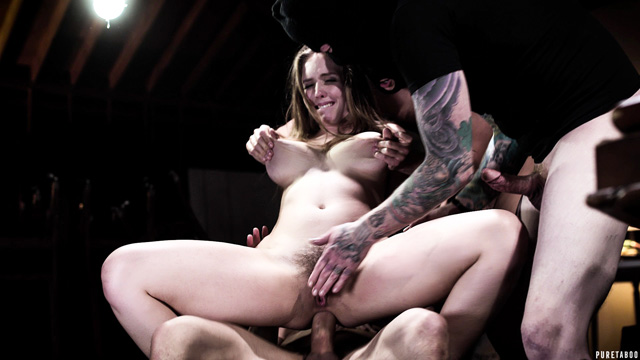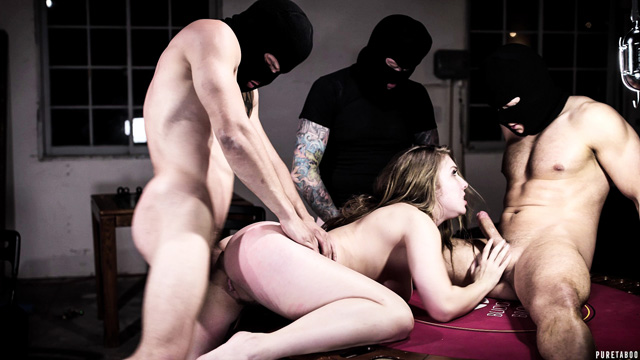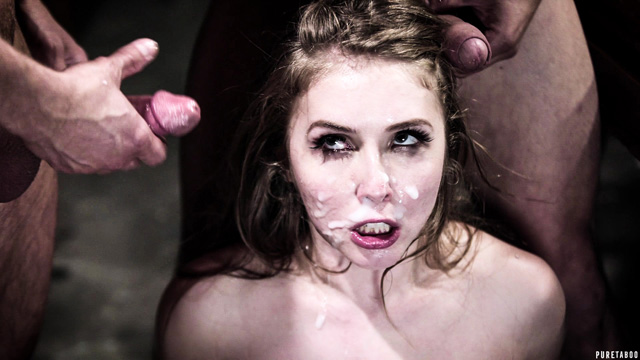 Check out Johnny Goodluck's latest Pure Taboo scene "Airtight Invasion" written by & starring the beautiful all natural babe Lena Paul in this wild & taboo gangbang!  Watch her as she gets defiled by 3 criminals, portrayed by Johnny Goodluck, Bambino and Cody Steele in this twisted plot written about a real life trauma from pornstar Lena stemming from a recurring dream she experienced after being assaulted.  In this feature Lena wishes to share her contribution in the #MeToo movement and wishes to empower women who fantasize about gangbangs while bringing to light the seriousness of assault and most importantly dropping any shame to women who have been assaulted.  Luckily for us Goodluck fans, although the marauders are masked, we can always recognize Johnny thanks to his sweet tats and other sweet parts too. 😉 Check out all of Johnny's scenes at Pure Taboo & look out for his upcoming films.  Don't forget to vote everyday & Enter to Win drinks with Johnny in his Cheers To Goodluck contest with the details above this XXX scene you can only watch at Pure Taboo.

Continue reading Pornstar Interviews or Contests categories or return to cover of Porn Corporation.
Need more tips from the guys?  Read Porn Stud Ryan Driller's Interview For Porn Corporation
Peep Karen Fisher's Interview For Porn Corporation to check out our last published interview.
More recent interviews:  Brandi Bae – Anna Claire Clouds – Jenevieve Hexxx – Sarah Vandella
Catch up on the hottest topics: New Sites – Porn News – Parodies – 4K – VR – Comics – Games
Hot New Feature:  Pornstar Natasha Nice AMA!  Nastasha Nice Answers All Your Wild Questions
Looking for the hottest new porn site?  Check out Cum 4K!  It's the world's best creampie site.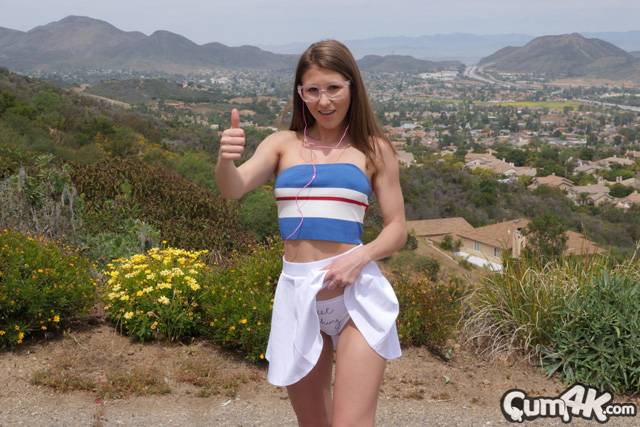 Paige Owens is a sweet little hitch hiking teen up in the suburban hills in LA and needs a ride downtown.  This car can't just pass her by and leave her there.  Watch as Paige gets picked up but he wants something in return!  Tight little Paige Owens fucks him in the back of his car for a ride and he takes advantage with insane surprise creampies!  Watch him fuck her while she is filled with cum and then give her a facial too as he drains his balls all over & in hot stranger Paige for a ride!  Want to fill her with your sperm too?  Get your $1 PASS to the brand new creampie porn site Cum 4K…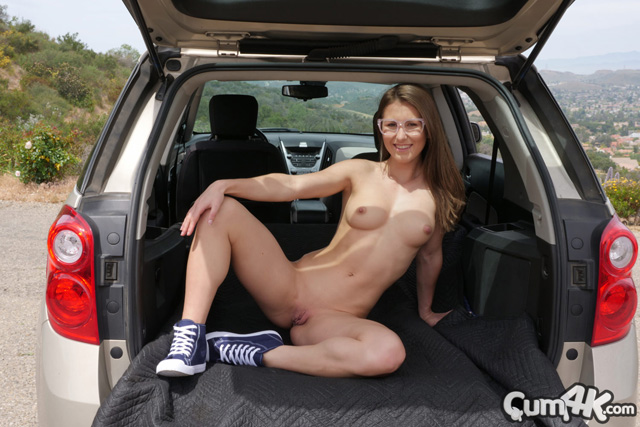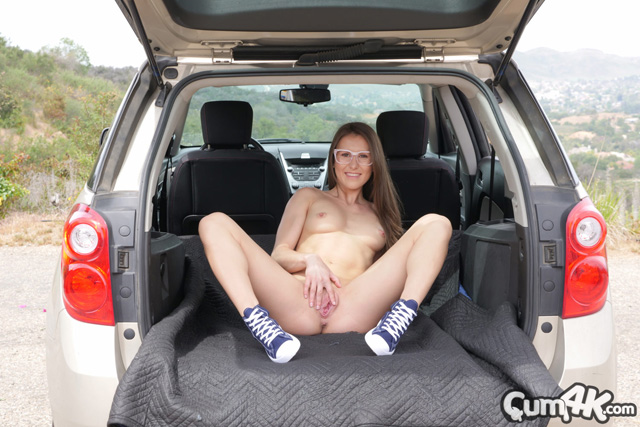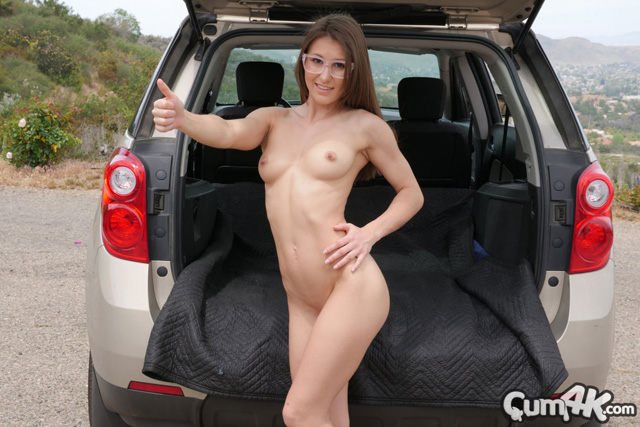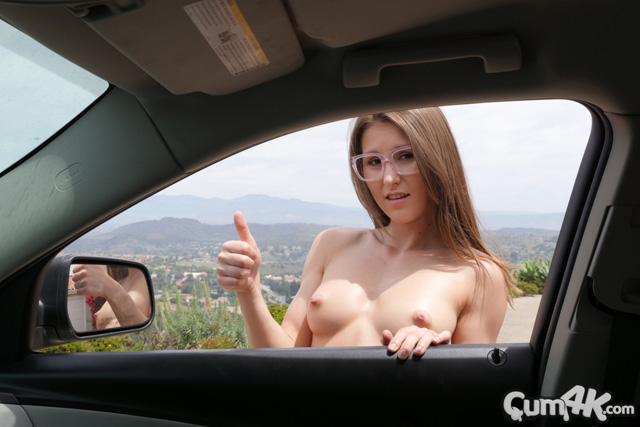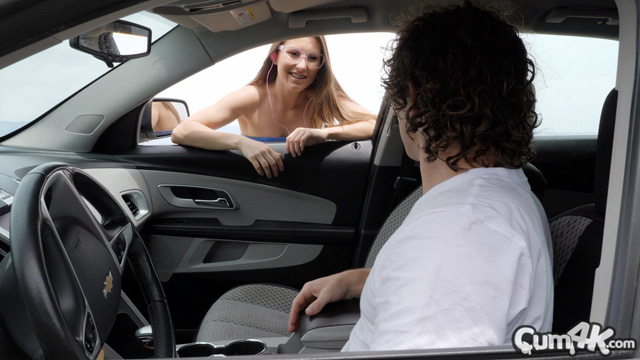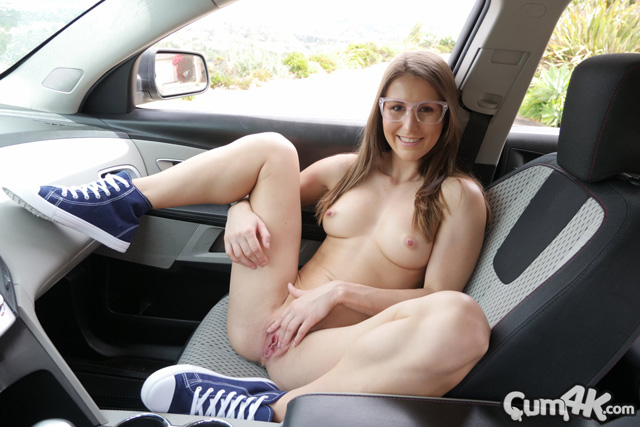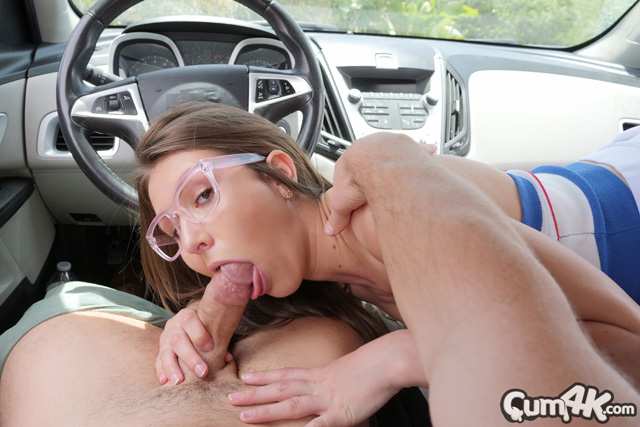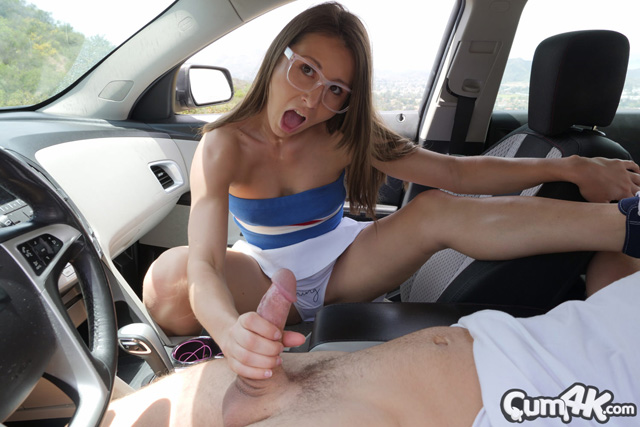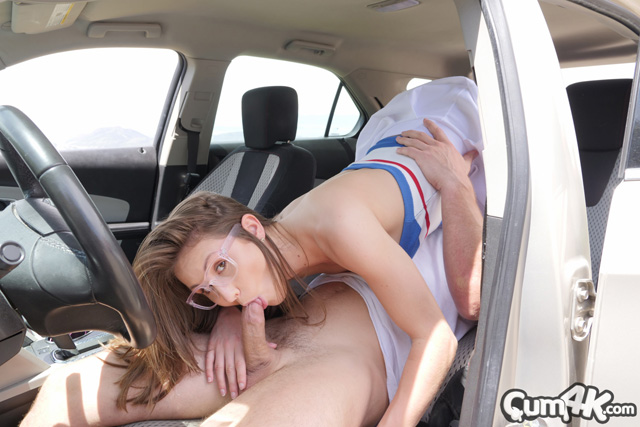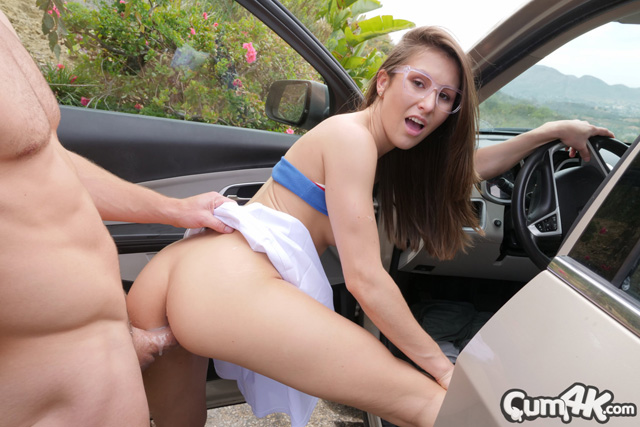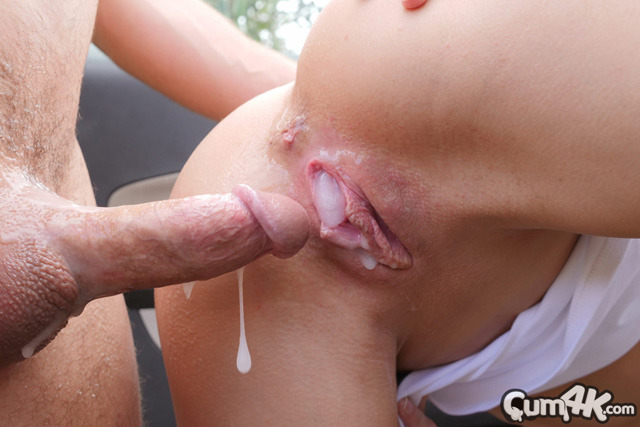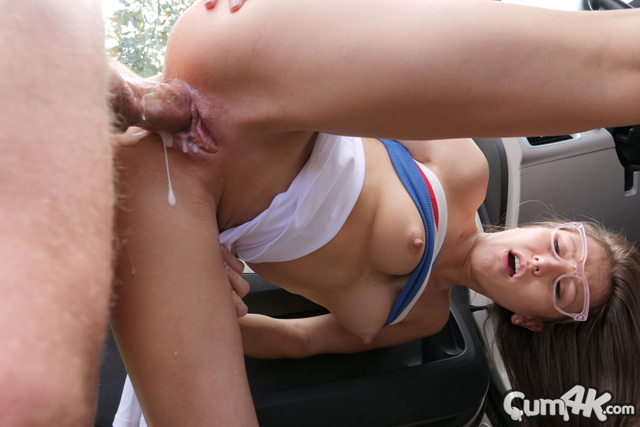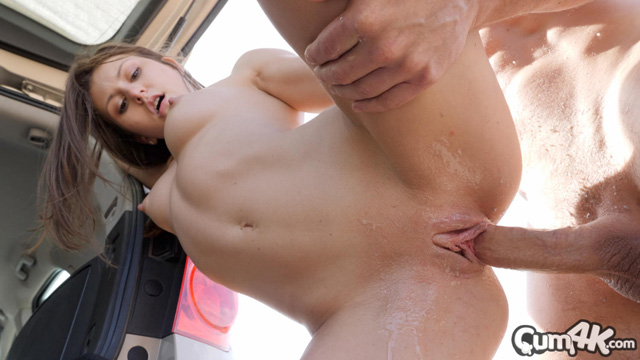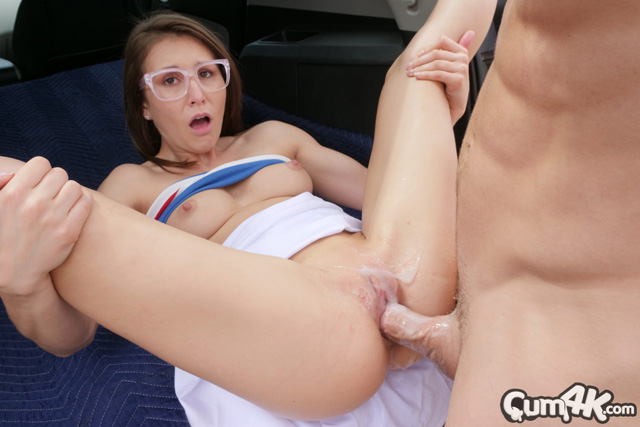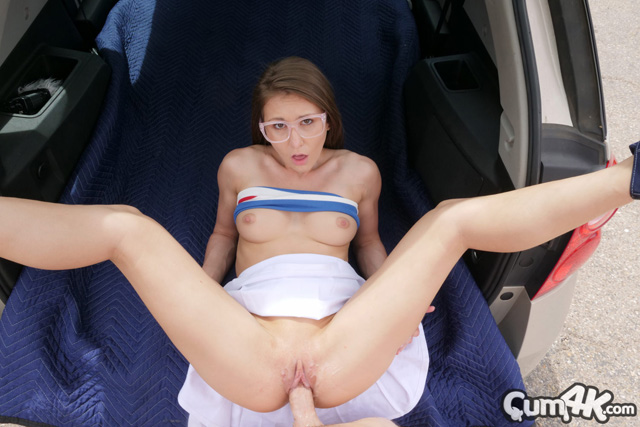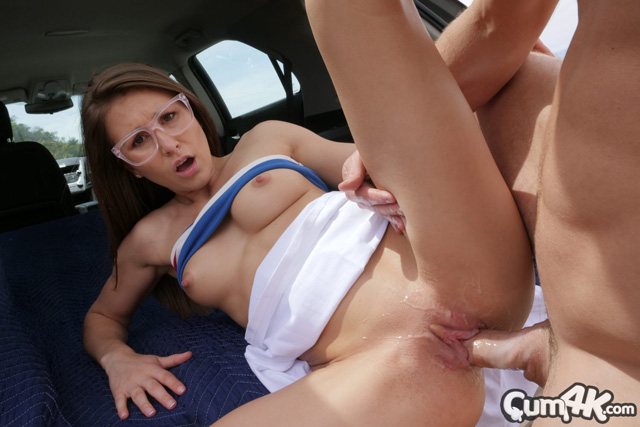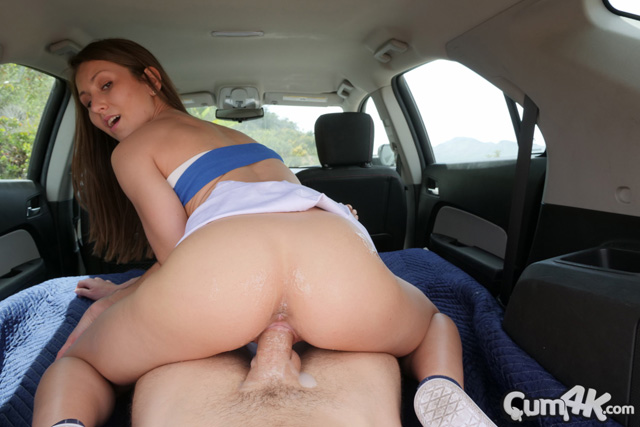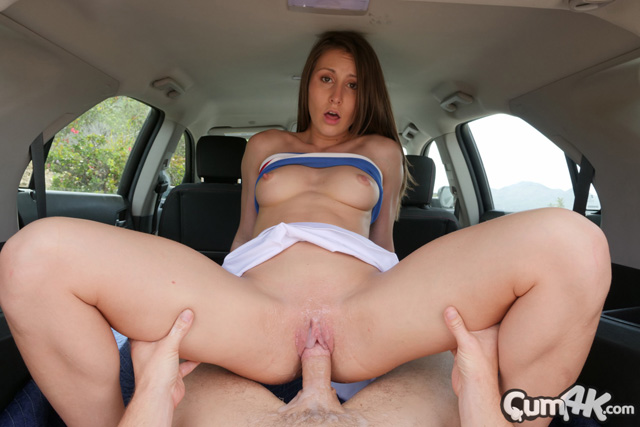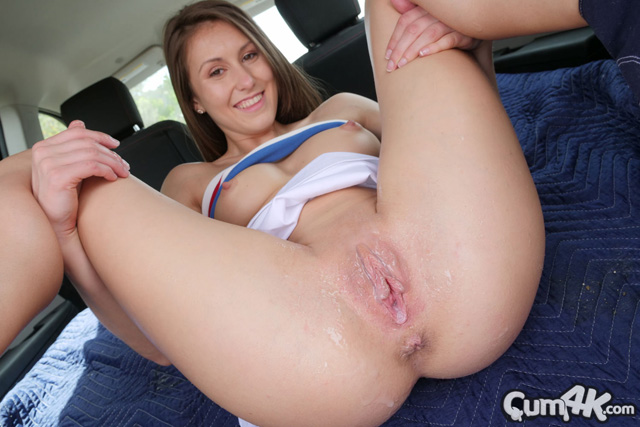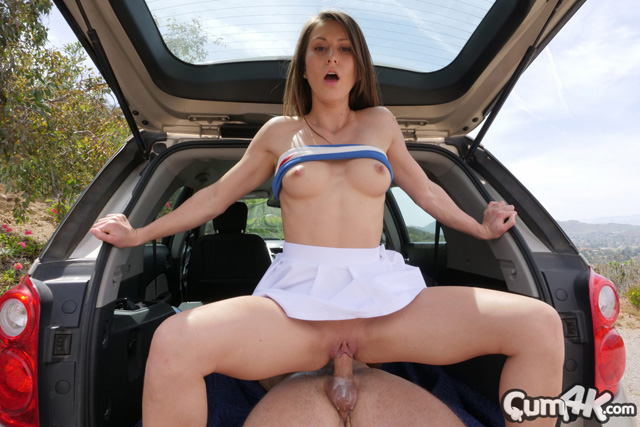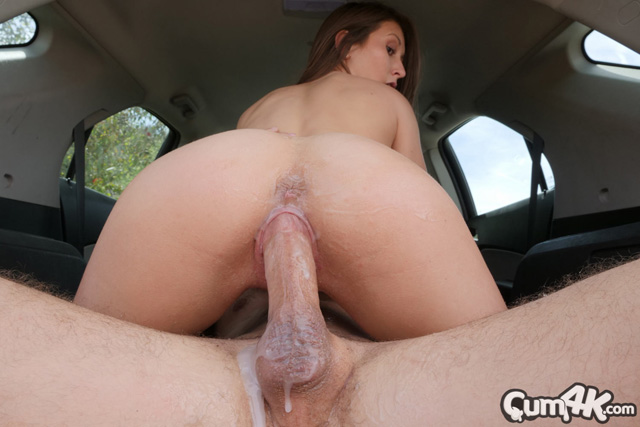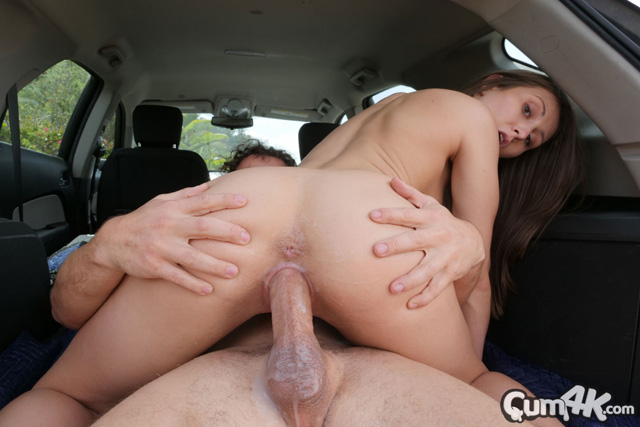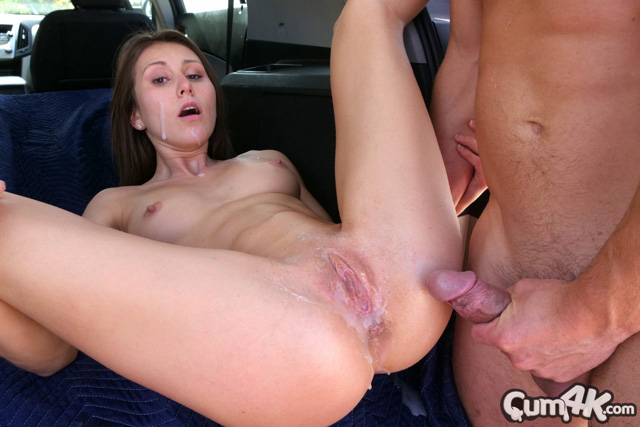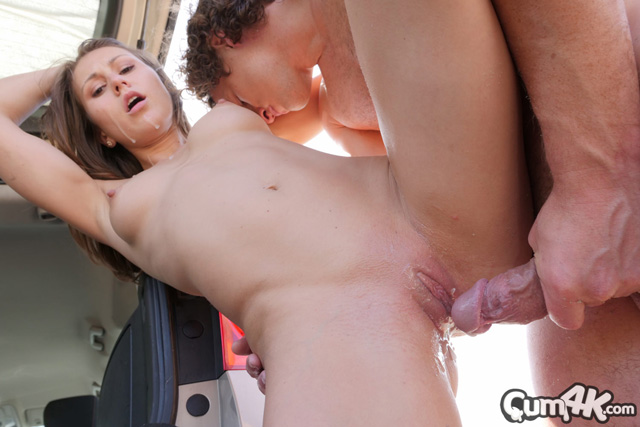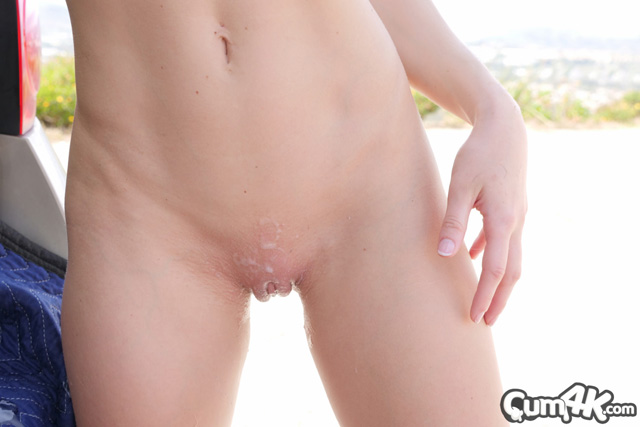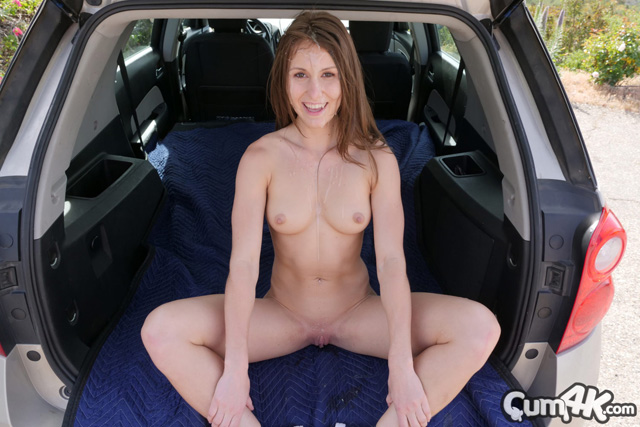 Watch horny hitch hiker Paige Owens get blasted with jizz all over her tight body and inside her pussy with wild internal cumshots when she gets a ride from a stranger who fills her with creampies in public in the back of his car!  Get your $1 PASS to Cum 4K the brand hottest brand new 4K creampie porn site!  Watch insane cumshot videos with 2-3 cumshots in every episode!  Inside the member's area you will enjoy 2-3 new updates weekly, unlimited streaming & downloads in all available formats including HD, SD, MPEG, WMV, iPhone, iPad, BlackBerry, Android.  Cum 4K offers 24/7 member support by web, e-mail and a 1-800 phone line along with 100% discreet billing so you can rest assured your personal business stays private.  Ready to get messy and fill these cumdumpsters with all of your sperm?  Get your $1 PASS to the world's best creampie porn site!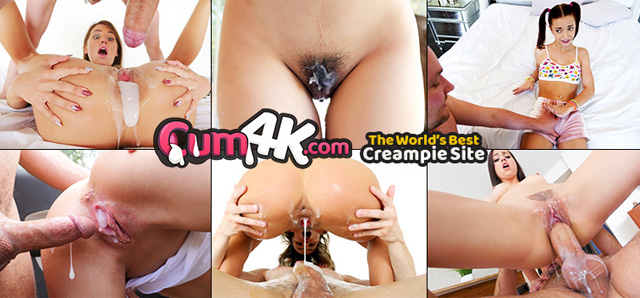 View more in the 4K Porn or Public Sex categories or return to the cover of Porn Corporation.
Check out more of cutie Paige Owens or see more Cum 4K or Porn News or New Porn Sites!
Previous Cum 4K feature:  Emily Willis Inseminated With Creampies By Daddy
More Cum?  Bust a load in our Cumshots & Gloryhole & Bukkake & Gangbang categories.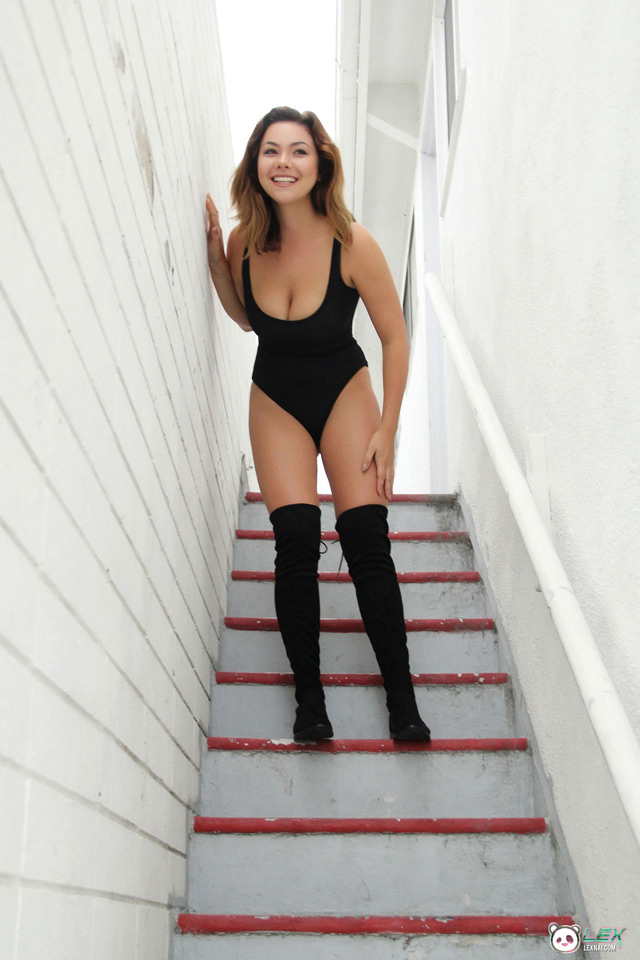 Lex Nai shows off her curves in an LA alley staircase entering the back of her apartment building.  Watch as she struts in wearing a black unitard as she flashes you in the entrance way.  Don't you want to get wild with this horny, fun, busty solo girl?  Enter her Official Site.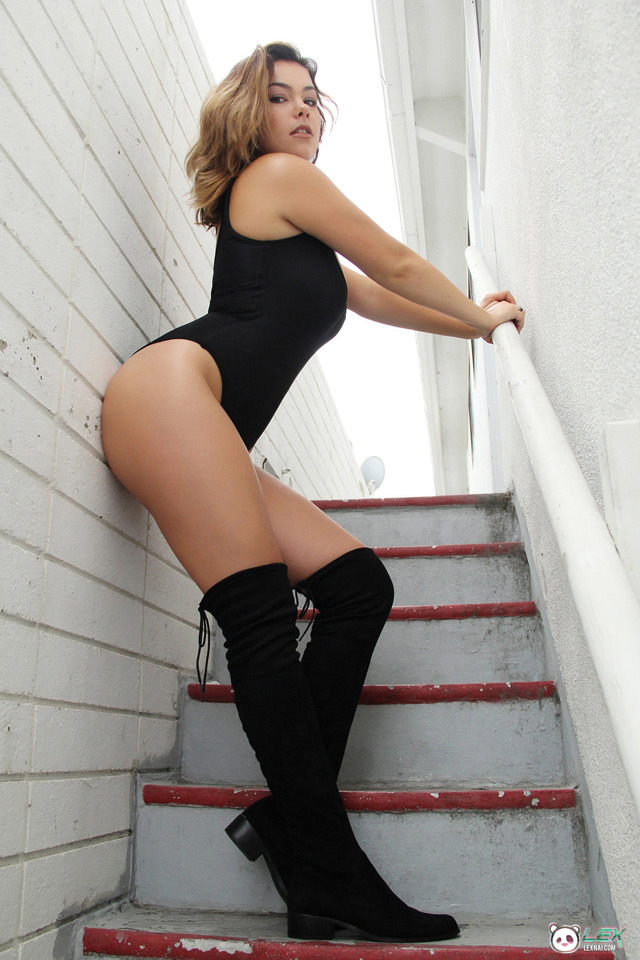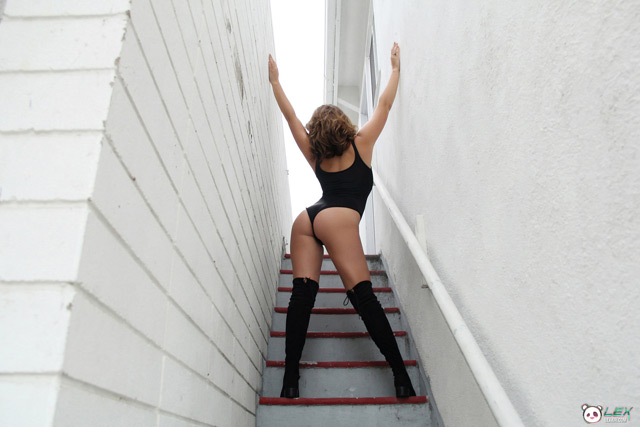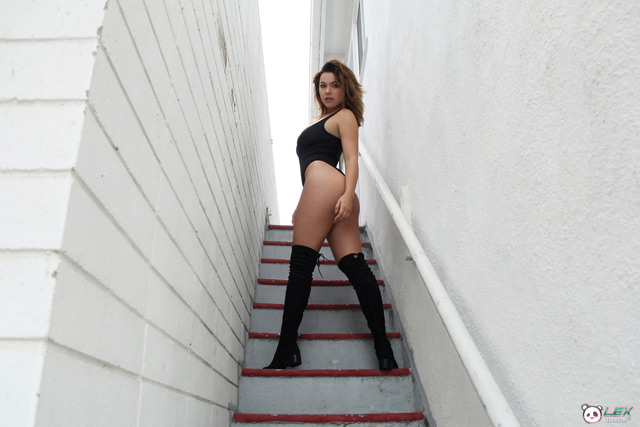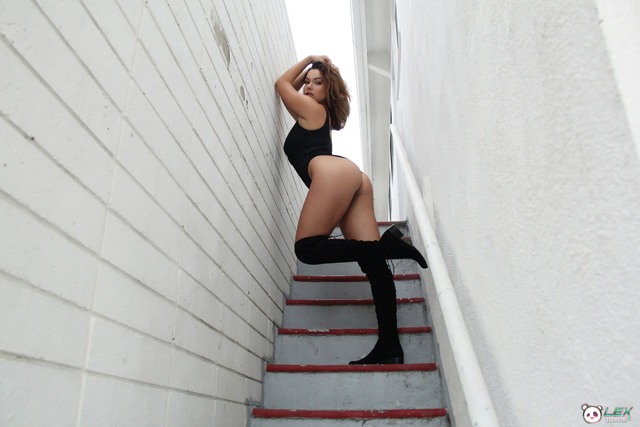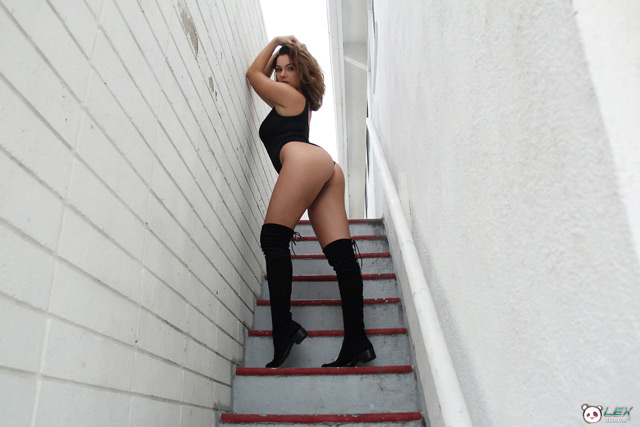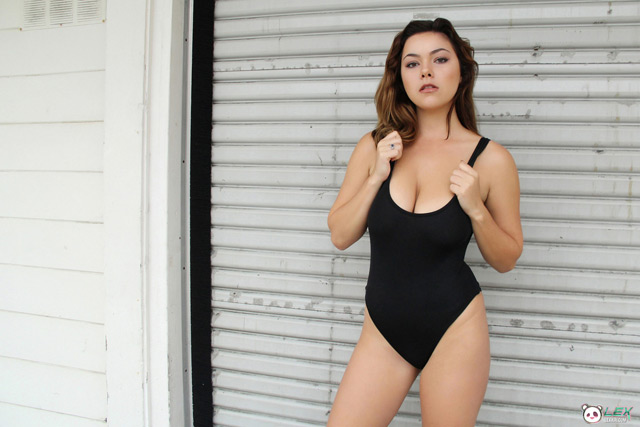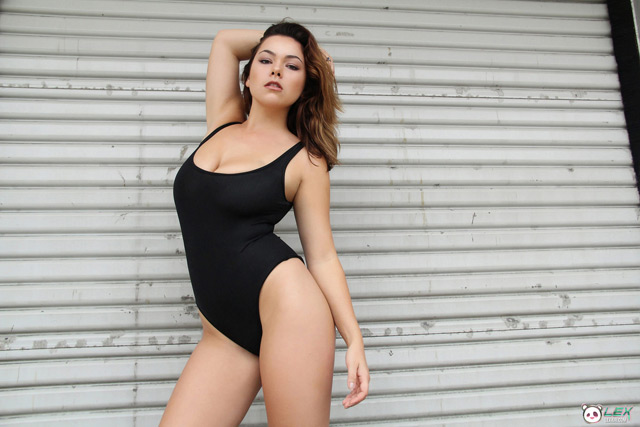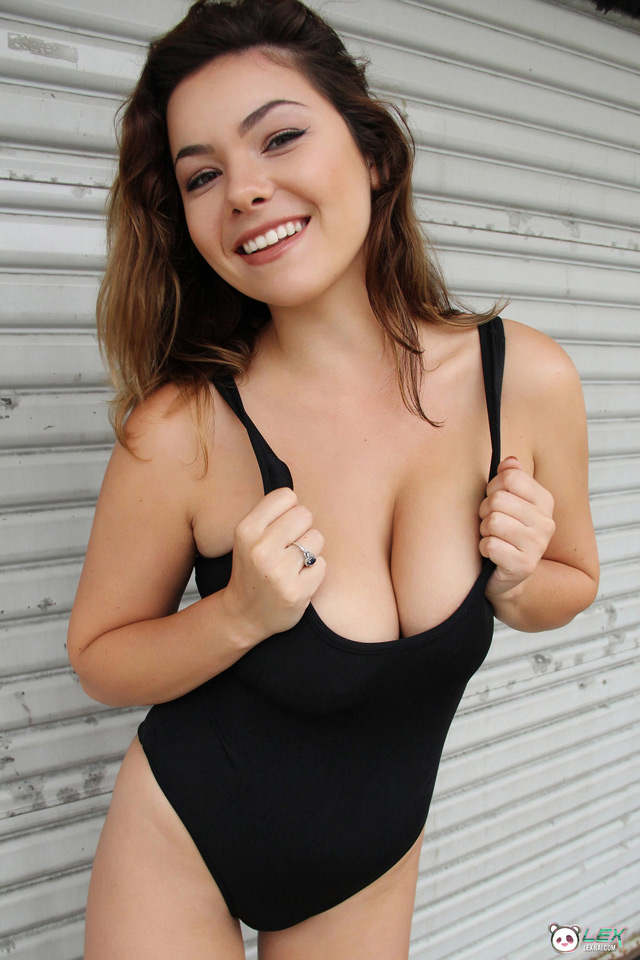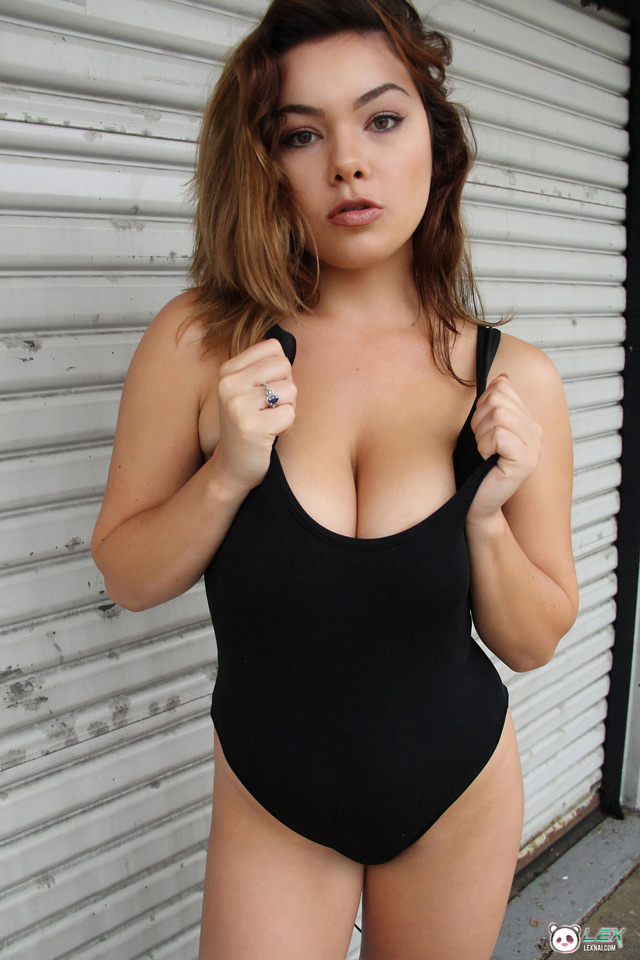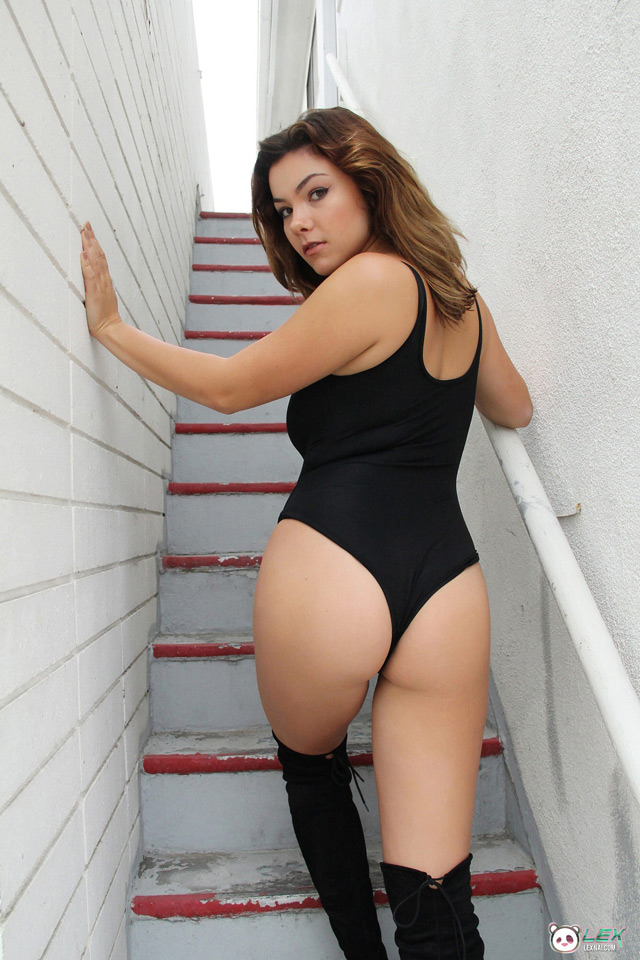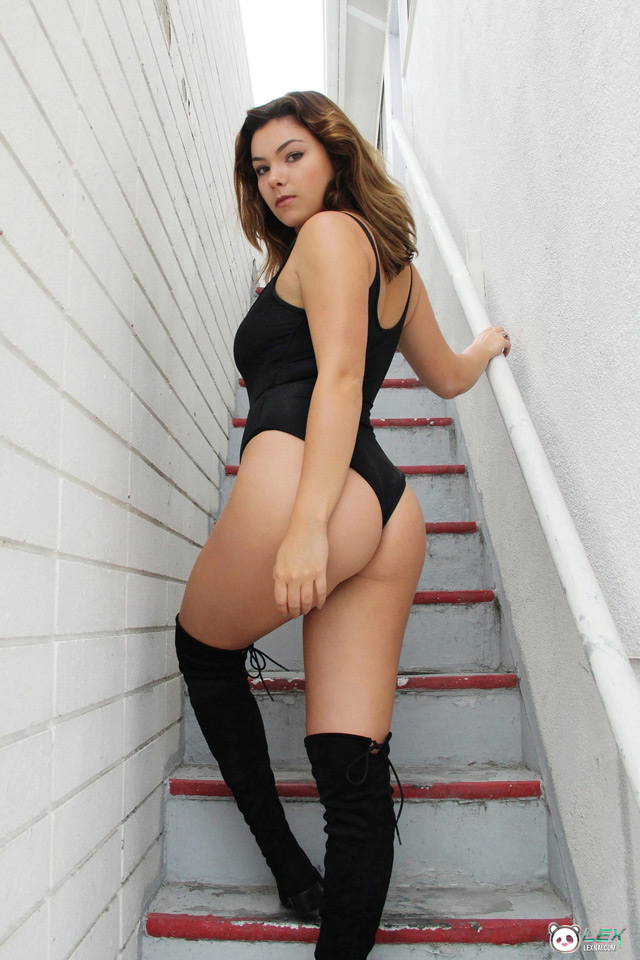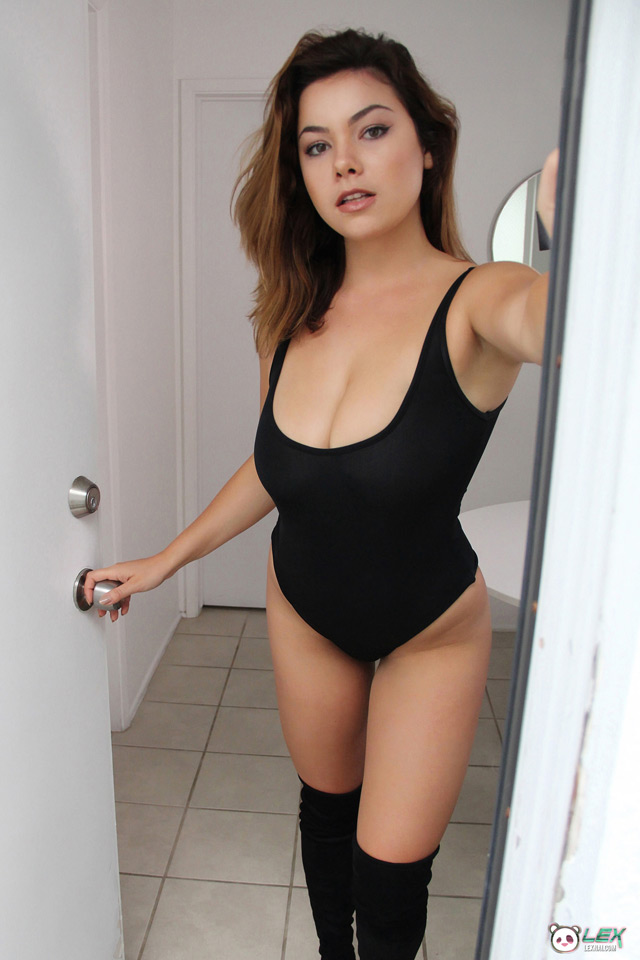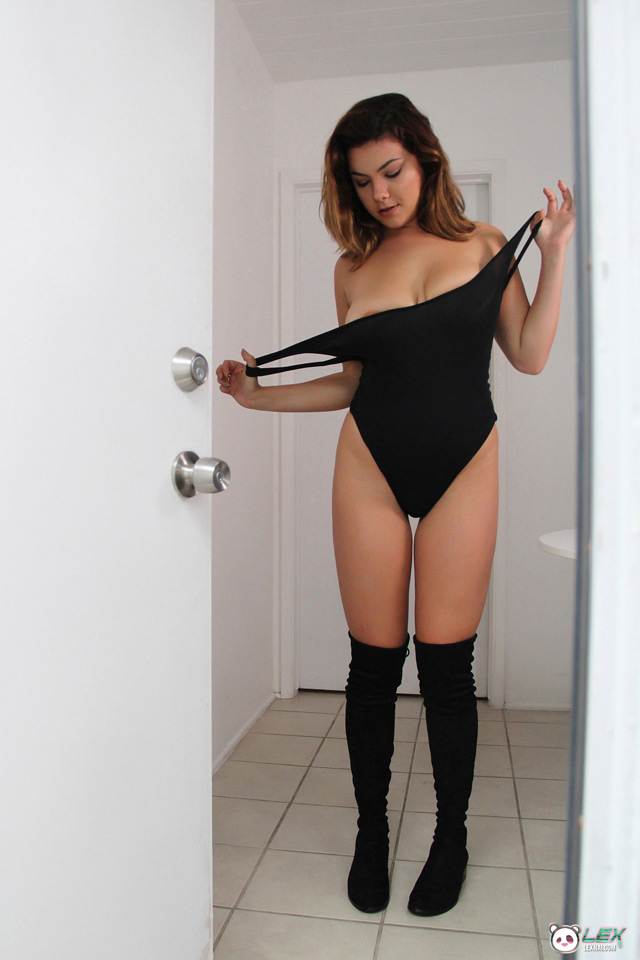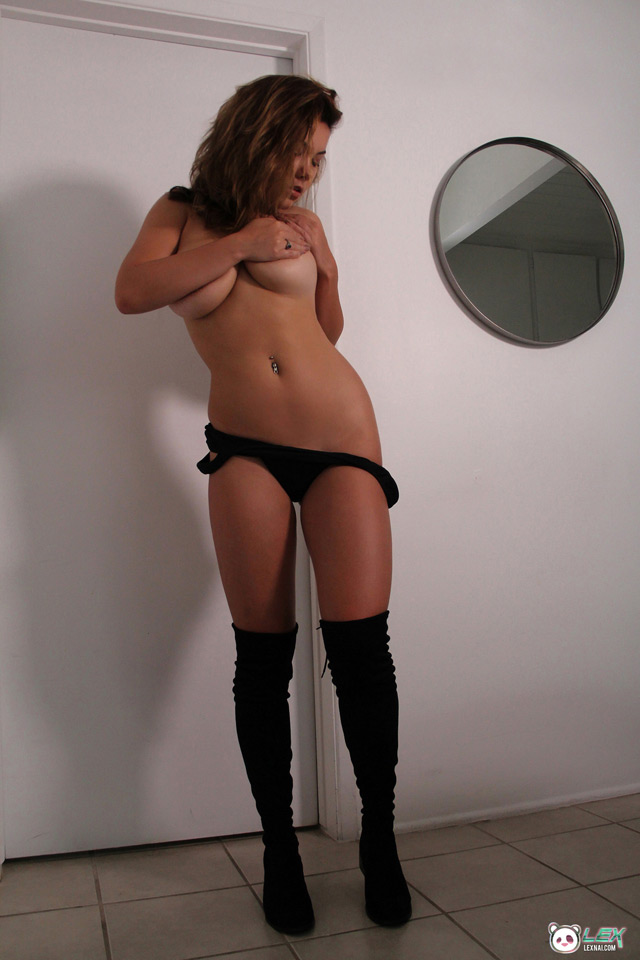 Do you want to see more of sexy Lex Nai stripping nude and flashing in her apartment's back entrance and flashing in the alley staircase downtown Los Angeles?  Enter Lex Nai's official site and join for access to all her naughty selfies, photos & videos.  Are you ready for Lex?  She's wild, uncensored & crazy hot!  Get inside Lex Nai now…
Continue reading in the Solo Girls category or return to the cover of Porn Corporation magazine.
See more busty girls in our Big Tits category.  View all the articles starring Lex Nai.
Previous Lex Nai featured photo set:  Lex Nai Has Curves In All The Right Places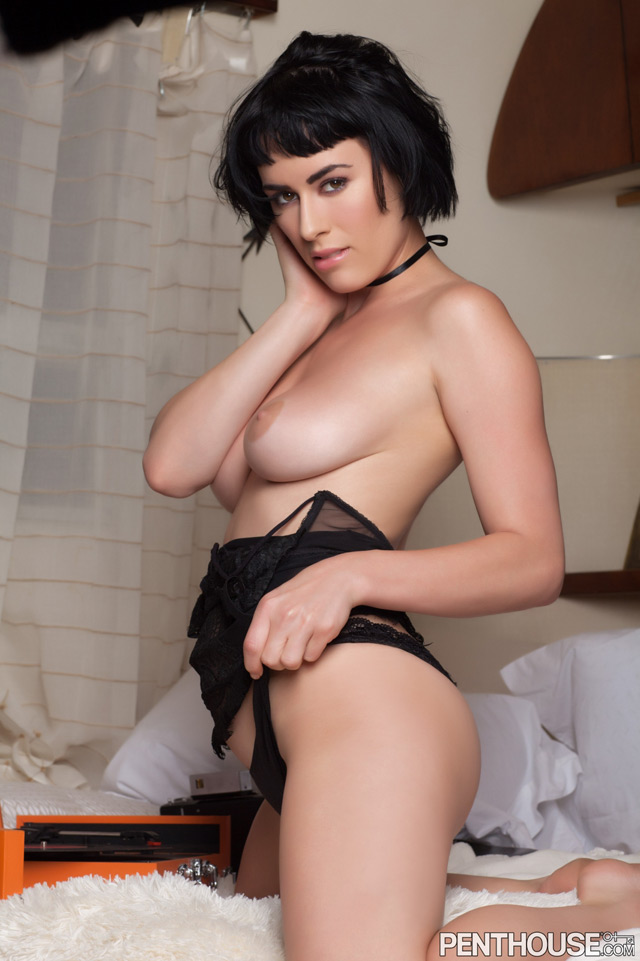 1. How did you begin your career in the adult industry and how long have you been performing?
OLIVE GLASS: I have been performing in the adult industry as a career since February, 2017! I dabbled it in here and there for fun and extra money before, but in February I made the happy decision to move to LA and really go for it!
2. Please tell us a little about your heritage & upbringing and how that has shaped you into the beautiful woman you are today. We hear you have a Mormon history. What was that like? We've also heard rumors that you are from/spent time in Australia. Are the rumors true? Please set the record straight.
OLIVE GLASS: You're right about the Mormonisn. I come from a branch of Mormonism that split from the church in the 1940's, and moved to a part of the desert near the border of Nevada. They call themselves the Apostolic United Brethren. I had a really odd upbringing, by typical American kid standards. I never felt like i truly fit in. Most of the girls I grew up with couldn't wait to get married as soon as humanly possible, have a bunch of kids, and settle down in the same community they grew up in; while there's nothing wrong with that desire, I have always been deeply curious about the world, and there wasn't anything I wanted more than to be a well-traveled, worldly woman whose presence demanded the respect of those around her. My community found my sense of adventure and ambition to be wildly blasphemous. No matter how hard they tried, I'm *far* from becoming a docile little fields wife. When I had the chance, I left home and created my life, just the way I always always wanted it. 🙂
I have seen the rumors online about me being from Australia!! I have absolutely no ties to Australia. I had a really good laugh over this question, though!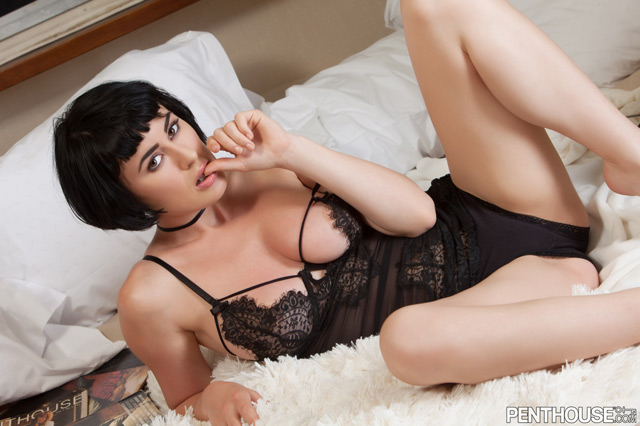 3. Olive, please share with our readers your stats. Boob size, height, etc. and what seems to be a well kept secret… what day is your birthday? We haven't been able to find out anywhere!
OLIVE GLASS: Here are the stats!
Height: 5′ 7″
Weight: 115 lbs
Cup Size: 32C
Waist: 24″
Hips: 31″
Dress: 2
Shoe: 7.5
…and my birthday is February 18, 1990 🙂 I'm an Aquarius/Pisces baby!
4. Let's turn it up a notch and give the fans what they really want! Sex talk with Olive Glass. What are your biggest turn-ons and what kills the heat in the bedroom for you?
OLIVE GLASS: I love love love trying new things. Like…you want to try that new vibrating butt plug? Let's do it! Always wanted to try a cock ring and never have? Let's do it. You want to go down on each other with mouths full of warm water just to see how it feels? If its weird, we can have a laugh and forget about it and just fuck… but if it works we just found something new and rad we didn't know we liked!
My biggest turn off was is when a guy takes things too seriously. Nothing will make me bummed out faster than someone who freaks out over little things that don't go their way; in or out of the bedroom. Sex is supposed to be fun!  Also, dudes who are afraid of period blood… get over it! It's not a big deal! Plus, I'm super horny on my period, so get on the bandwagon or leave.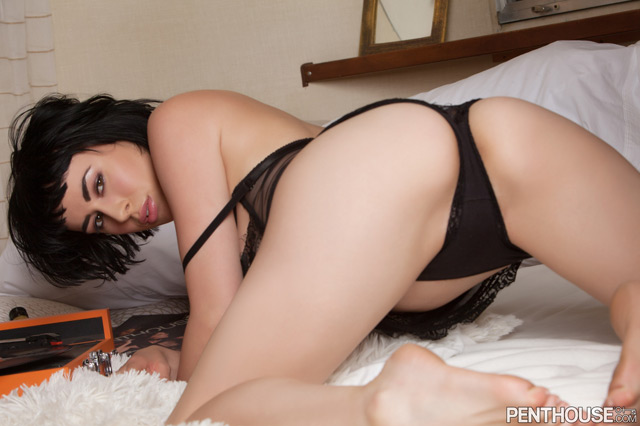 5. Have you ever had anal sex? Can we ever expect to see an Olive Glass anal sex scene or double penetration scene in the future?
OLIVE GLASS: I have had anal sex and love it! And yes you'll be seeing anal from me… but I'm not really sure when or where yet 😉 Keep an eye out though, because it's coming! I hope to one day have a DP scene. It's such a turn-on for me, so once I start doing anal, that's my next goal. It's always good to have goals. 😉
6. What is your favorite sexual position/sex acts?
OLIVE GLASS: I love rough sex! I also love being a sub to a daddy. My favorite position right now is doggy- I kind of go between different positions… like sometimes I'm obsessed with being an acrobat and trying out new weird shit, like hanging off doors or being upside down in some weird kinky way… and then sometimes I like the classics- doggy and missionary are pretty standard positions I always love!
7. Please share with us your wildest sex story!
OLIVE GLASS: I was working as a journalist for a well-known Latin men's magazine a few years ago in New York. Once I was at a red carpet for a reality TV show at this fancy hotel in Manhattan. It was packed. The bartender happened to be my crush, so when no one was looking, I grabbed him and pulled him into one of the closets and we fucked on top of a bunch of coats. Then we fixed our clothes and I fixed my makeup and we headed back to our positions in the party. We looked so sweaty!! I feel like everyone probably knew what we were up to.
8. Would you ever date or fuck a fan?
OLIVE GLASS: Well I hope that whoever I date or fuck is a fan of my work! Haha! So yes, I would.
9. We want to get to know the real you. Tell our readers what an average day in the life of Olive Glass consists of? Any rituals or things you can't live without?
OLIVE GLASS: I guess the first thing to know about me, is that I have like 20 projects going at one time, always. Painting, singing or acting lessons, ballet, photography… lots of art-related stuff. I wake up around 8 am, drink a cup of tea, and dive into my work. Then on days when I'm not traveling or shooting, I usually run errands, do computer work, garden, and make a big dinner. I stop work around 8 pm, and play! I love hitting up a couple cool spots in LA for drinks. You'll probably see me around East Hollywood on my days off.
10. What's your current love life status? Single and loving it or is there someone special?
OLIVE GLASS: Very single! Haha. I just moved to LA and just began my career in porn! I'm too busy working on being a badass bitch right now.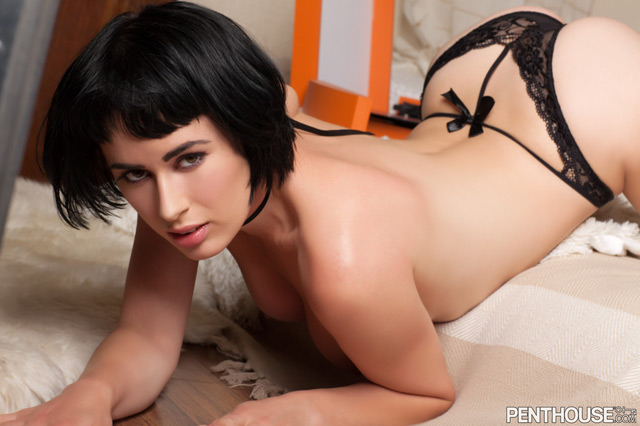 11. Do you have any pets? What is your favorite animal?
OLIVE GLASS: I have a beautiful old rescue kitty, her name is Shiva. She's my best friend and my favorite animal in the whole world.
12. In your spare time when you are not doing photo shoots and shooting porn films what do you enjoy spending your time doing?
OLIVE GLASS: Right now a lot of my energy is going towards my trip to Svalbard this Winter. I booked a tour guide to take me on a week long expedition across Svalbard, on two dogsleds. I will be bringing a few of my cameras and documenting the trip to create a coffee table book of my images and notes on the experience. It'll be my first book and my first time in the Arctic, so obviously I'm over the moon with excitement. Also, the tour just happened to fall on my birthday, so that's pretty cool.
13. What is the craziest thing you have ever done?
OLIVE GLASS: Probably booking this trip to Svalbard. Like, I'm going across the Arctic in my own dog sled with just myself and a local tour guide. That's crazy. Other than that, this one time I rode in a hot air balloon and it got blown about 10 miles off-course and ran out of gas, and we had to make an emergency landing in a middle school playground at like 8 am. It was kind of scary but also I couldn't stop laughing.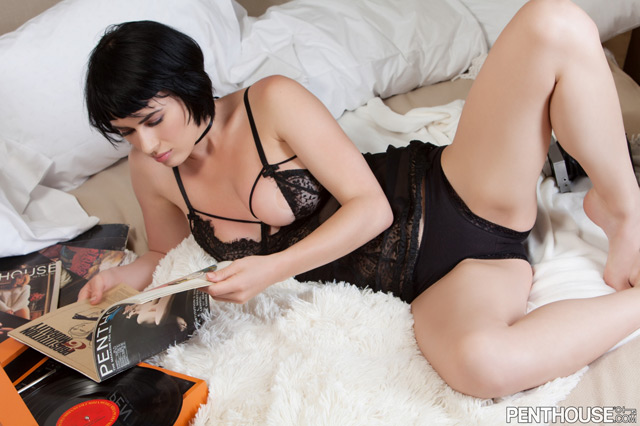 14. Congratulations on being crowned the prestigious Penthouse Pet of the Month for June 2017. Bob Guccione's legacy of Penthouse has always been my personal favorite adult publication and we know first-hand how great they are to work with. Please tell us how your experience as POTM has been so far?
OLIVE GLASS: I love being a Penthouse Pet!! The other pets are so lovely- I have met Riley Nixon and Christiana Cinn and Jenna Sativa recently on my first film for Penthouse, and we got along so well. Everyone who works at the offices are just so welcoming. I feel like I've joined a really empowering, loving porn family- and I'm a Penthouse pet forever! That's pretty special.
15. You're not just your average pornstar. You're quite possibly the only pornstar to have ever modeled in Vogue magazine. [Check Olive out in Vogue Italia.] You're a model, actress and artist with highly acclaimed mainstream accomplishments. Let's shed the light to your adult fans and talk about the other faucets of your career. Please share with our readers where they can see more of your mainstream modeling work so they can appreciate and encompass the full picture of you, Olive Glass.
OLIVE GLASS: Aw, thank you so much! I've been modeling for almost 8 years full-time now! While my focus is mostly on my porn career at this point in time, I'm still pursuing my mainstream work. For my mainstream work I go under the moniker "Glass Olive' (just switched it around for porn haha). I have a website: OfficialGlassOlive.com and my instagram is @glassolive. That's probably the best two resources for my more mainstream and art modeling work, outside of just googling my name.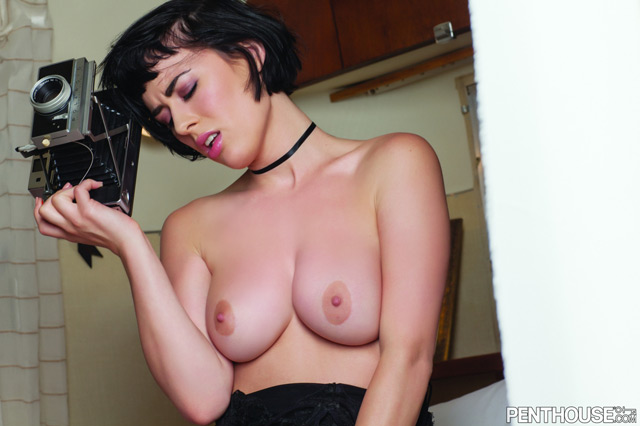 16. Who in your life has helped support and motivate you and what models/ actresses and photographers have been your inspiration and role models?
OLIVE GLASS: Aah, that's such a big question! I'm inspired by strong women. I'm inspired by people that work everyday to break boundaries of what they were told they could be. A lot of those people are in my life- like my mother, who is in stage 4 cancer and still gets up to garden every day, my dear friends in New York who are forming a powerful and talented community of sex-positive artists who are changing the art world, my best friend Annie who is an endlessly creative and loving spirit. My role models are my family 🙂 Other role models are from movies or books- like Miss Franny Fischer from my favorite TV series; and Lyra, the main character of the book series 'His Dark Materials'.
17. You share such emotion and can truly convey a story through your movements and expressions when shooting editorial photo sets and videography pieces. Can you please share with us your creative process while on set?
OLIVE GLASS: Every team I work with has different vibes. I just try to get in the groove of their pace and energy, and see how it effects me, then I do my best to physically express the emotions and reactions that bubble to the surface. Whoever said modeling is just standing around looking pretty was eating some strong drugs, because it's anything but that. It's often very draining, but so worth it. If I leave set- mainstream or porn- feeling like i truly connected with the team/performers to create something we all vibed with, I feel like I did my job right. Ideally that's every shoot, but sometimes it just doesn't work out. In the cases where I don't feel like I accomplished my goal, I spend some time thinking about where the disconnect might have been, and ways I can improve for next time.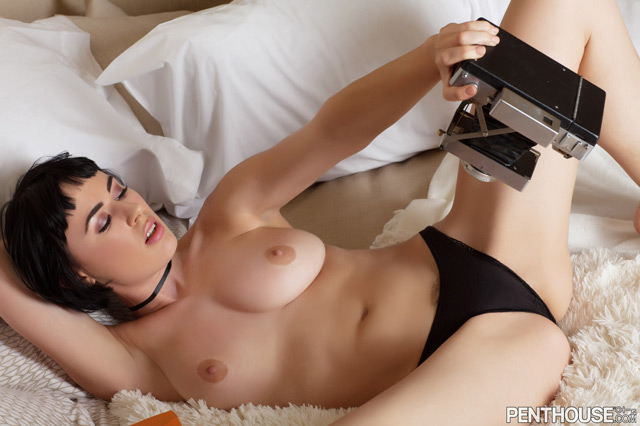 18. What kind of media is your favorite to shoot? We've watched you in everything from music videos, to stunning editorial magazine shoots to hardcore porn videos. What do you have the most fun shooting? What do you enjoy seeing the finished product of most?
OLIVE GLASS: I like all of them! I look for different outcomes to each genre. What I want from a fashion editorial is completely different than what I want from a porn film. Figuring out how to create a good product for different audiences is really fun to me. It feels really good when I hit the nail on the head, like I figured out a riddle. Although, I would say that I am partial to acting in indie films. There is nothing I love more than working on a film set where everyone is working hard to create a rad product. I love the feeling of a 'set family' and having time during the filming to get to know my character and sort of 'fall into' the story. I'm an actress at heart.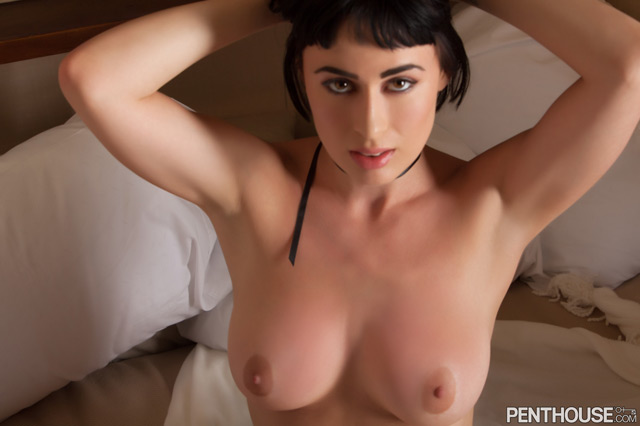 19. You were one of the hot bikini girls who flash their tits in the 2016 Netflix blockbuster The Do-Over from Adam Sandler. Great boob cameo by the way, your tits looked very perky as you were shaking them. So we have to ask, how did it feel to boo David Spade's flashed man parts while giving them a double thumbs-down?
OLIVE GLASS:  Ah! Haha, thank you! That was such a fun experience! David was hilarious in that scene- but he had on a cock sock, so I didn't really see anything. At least that's what they told me! He was a ways away from me, on a different yacht, so maybe he actually wasn't wearing anything and they just told me he was wearing a sock!
20. I am just teasing, but yes you have done that, booed David Spade's crotch. Those guys are hilarious, how was it working with Adam Sandler and David Spade?
OLIVE GLASS:  I adore Adam Sandler- such a sweet man. I really loved working with his team! They are all really tight, and you can tell that they have a blast working together. We shot in Savannah, Georgia as well as an Juan, Puerto Rico- so it felt a little bit like a vacation!
21. Do you have people in real life recognize you? Do they ever approach you?
OLIVE GLASS: Yeah they do! I get approached from time to time- not often, but more lately than ever before. Everyone has been really sweet and fun to talk to. I probably get more excited than they do to meet a fan in person! It's such a treat.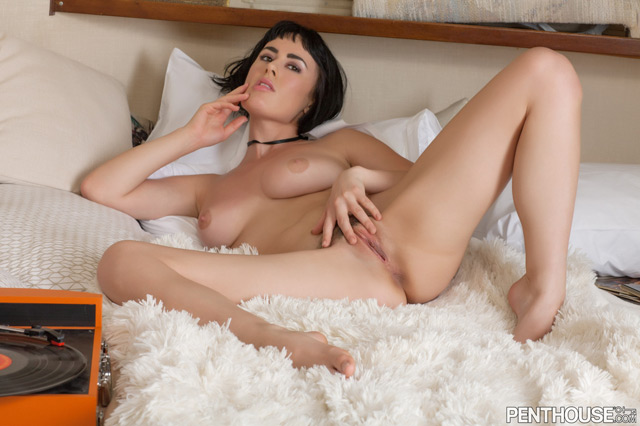 22. Whisper a secret in our ear, please share with us something most people do not know about you?
OLIVE GLASS: I can write backwards and forwards with both hands, at the same time.
23. Please tell us about your upcoming events, business plans and career aspirations. Are you currently working on any other projects that you can let us in on?
OLIVE GLASS:  Well right now, I'm excited for the release of my first Wicked feature- Spoiled. I'm looking forward to attending my first industry events, and this winter I'll be going to AVN for the first time! I'm so excited for that.  This winter, I will also be doing some traveling in Norway and the Scandinavian countries, in order to create a book of photos and stories about my trip.
24. Leave us with a true taste of the refined babe we know & love, Olive Glass. We would like to know if you were ice cream, what flavor would you be?
OLIVE GLASS: Coconut ice cream with vegan butter pecan!! Yummmm.
25. Is there anything you would like to share with your fans and our readers?
OLIVE GLASS: Thanks for following my work! can't wait to meet you all at AVN!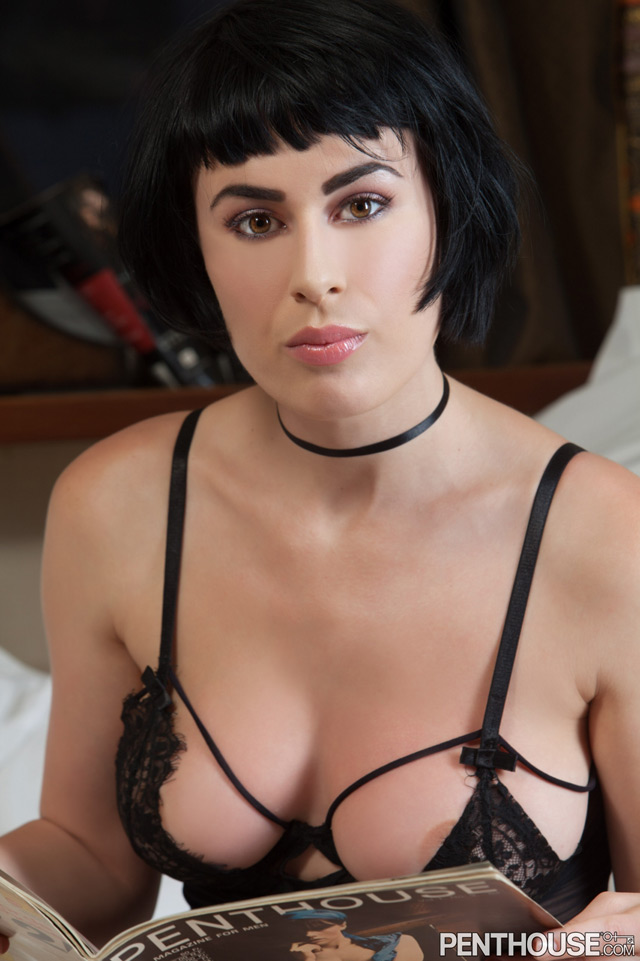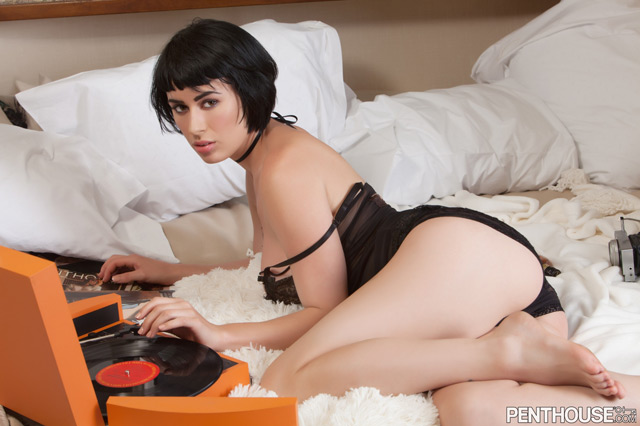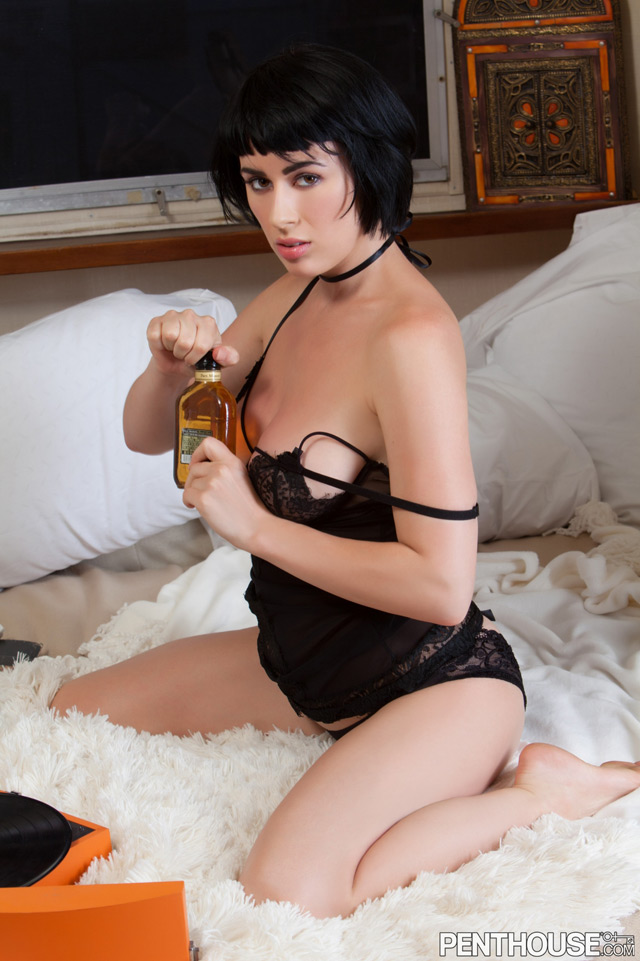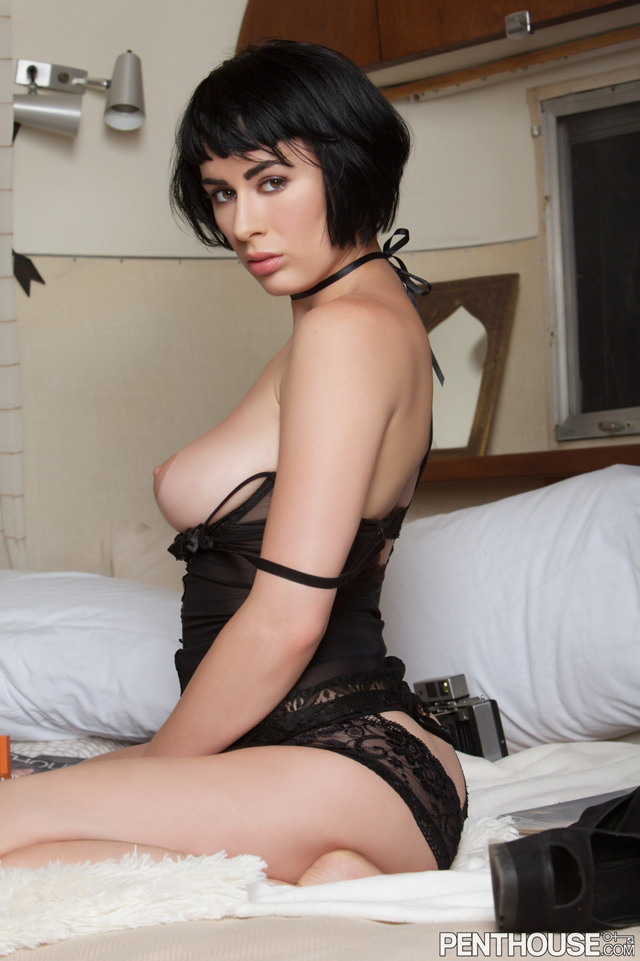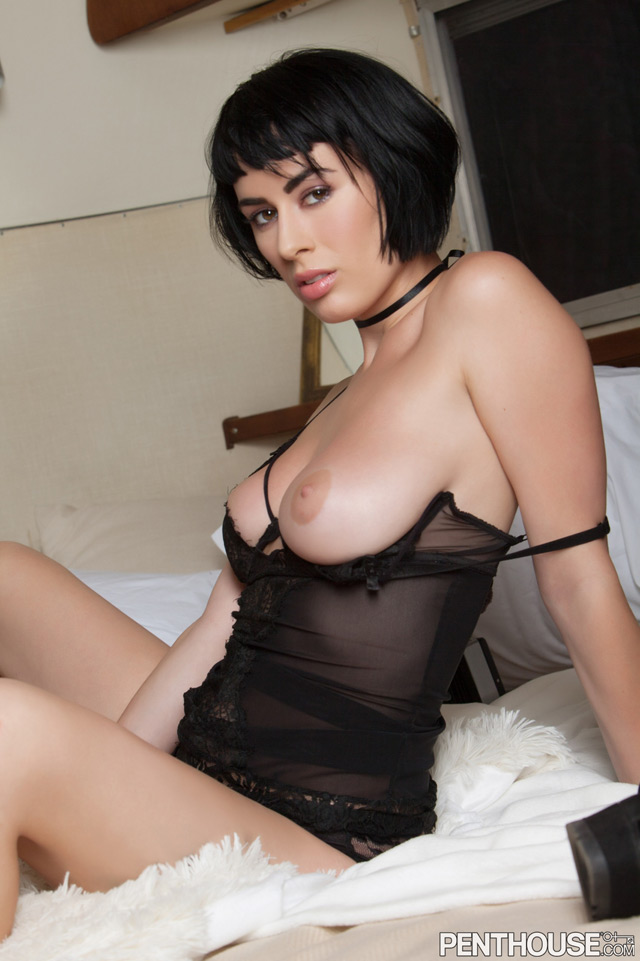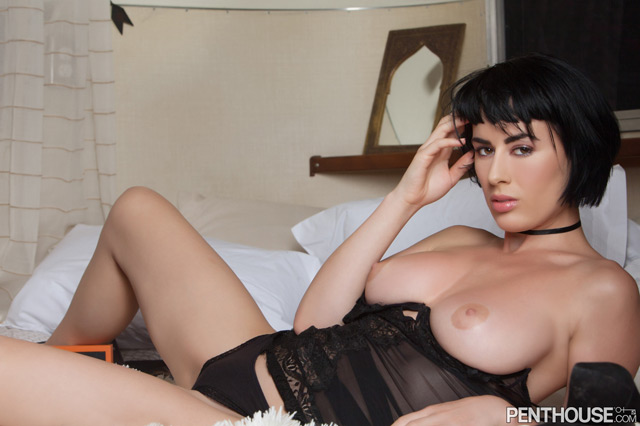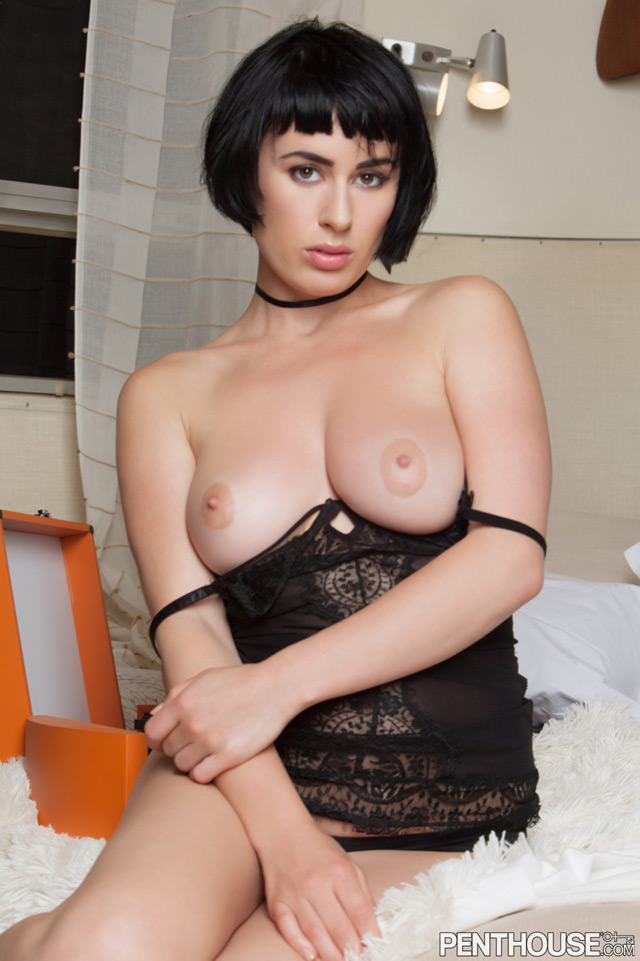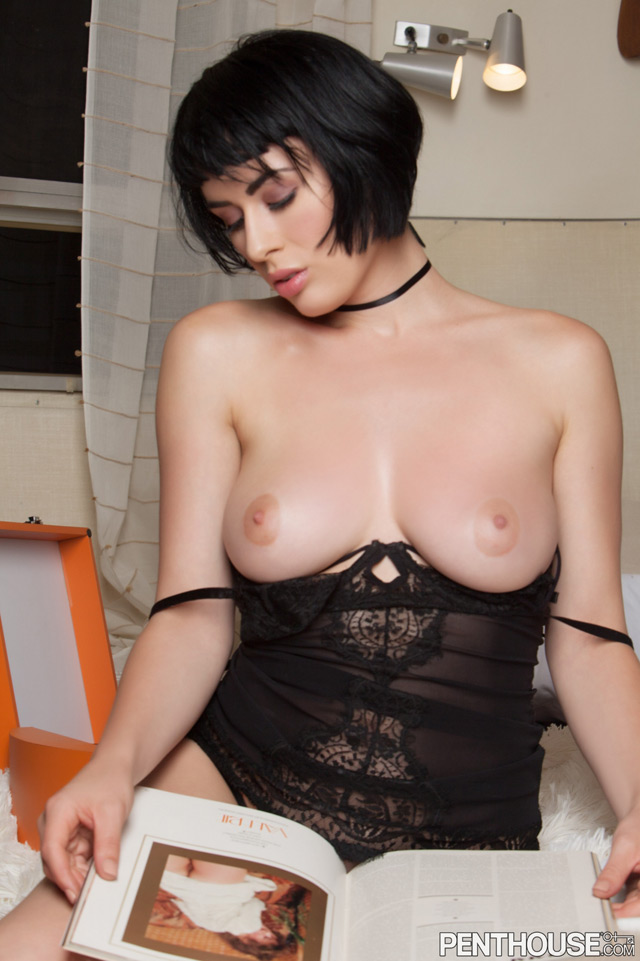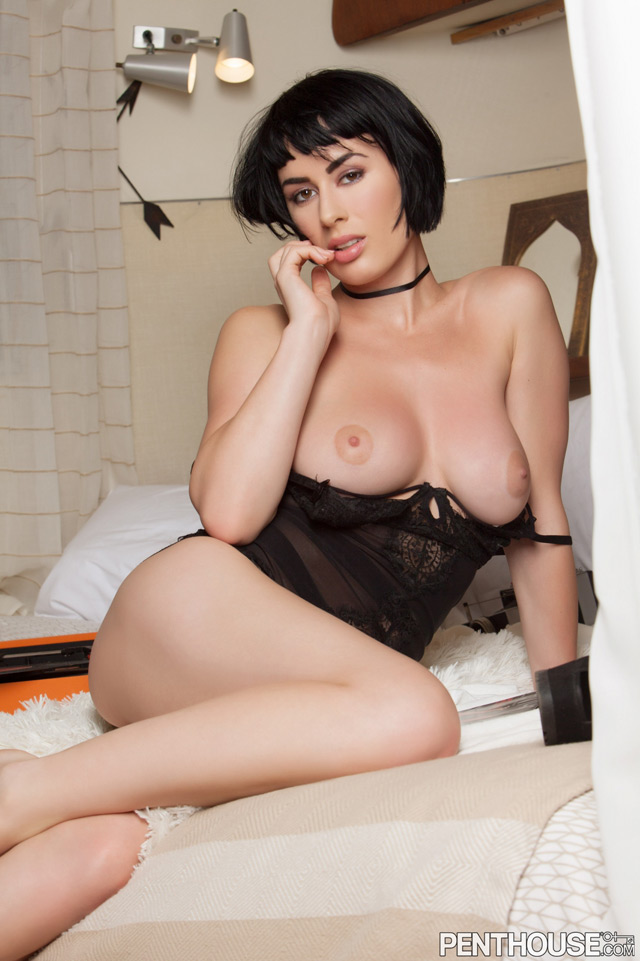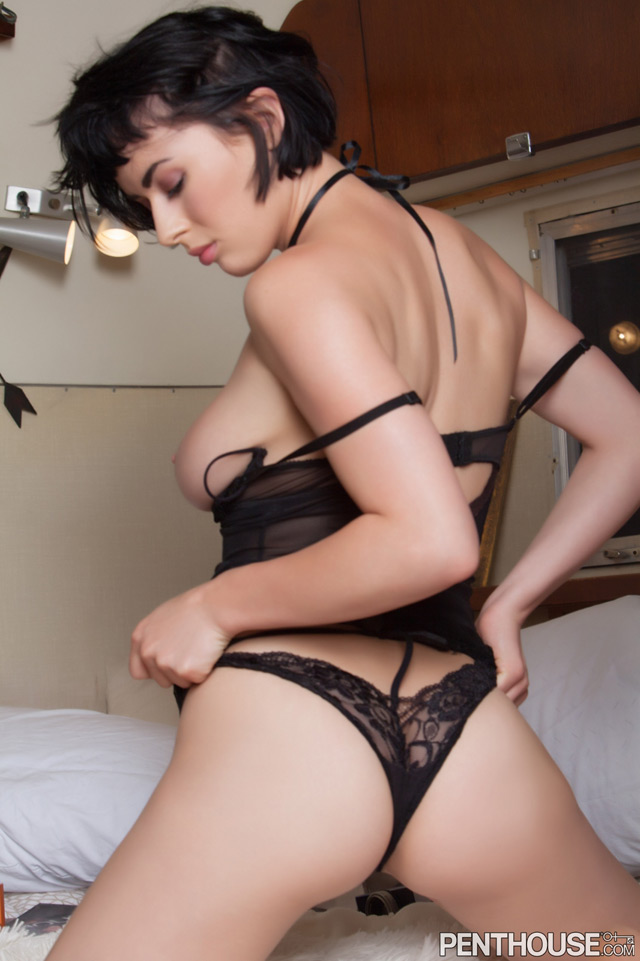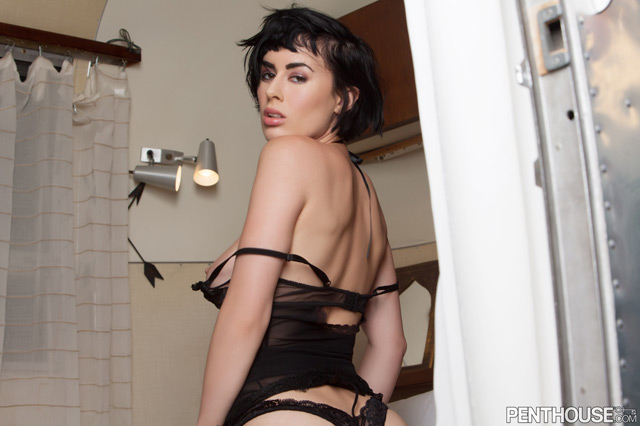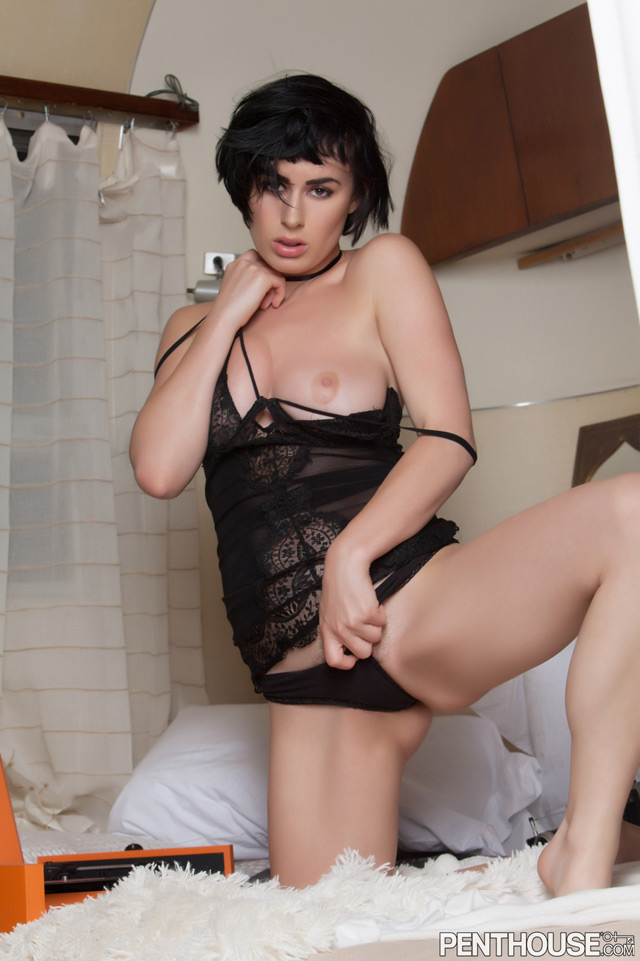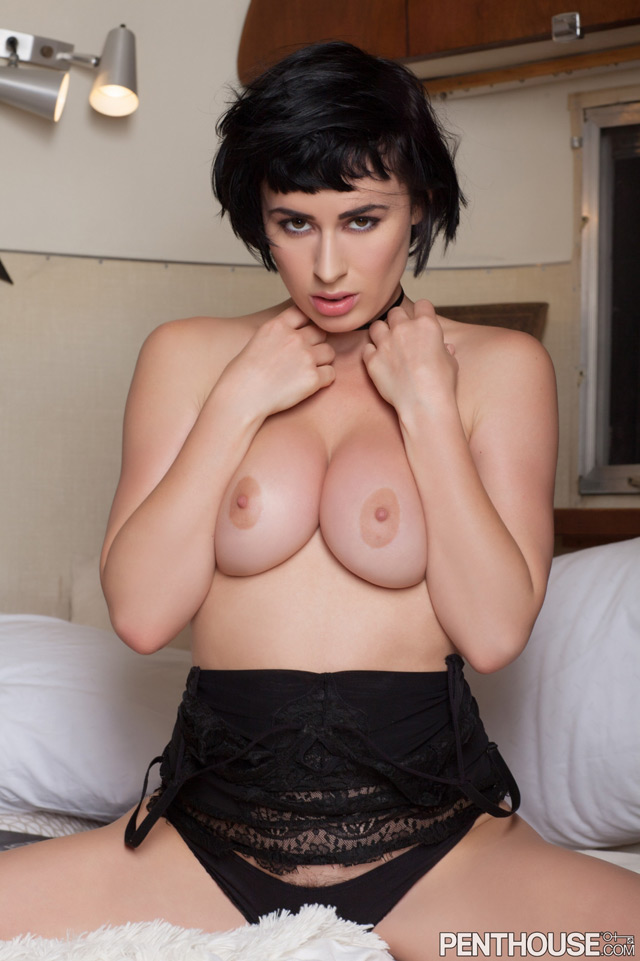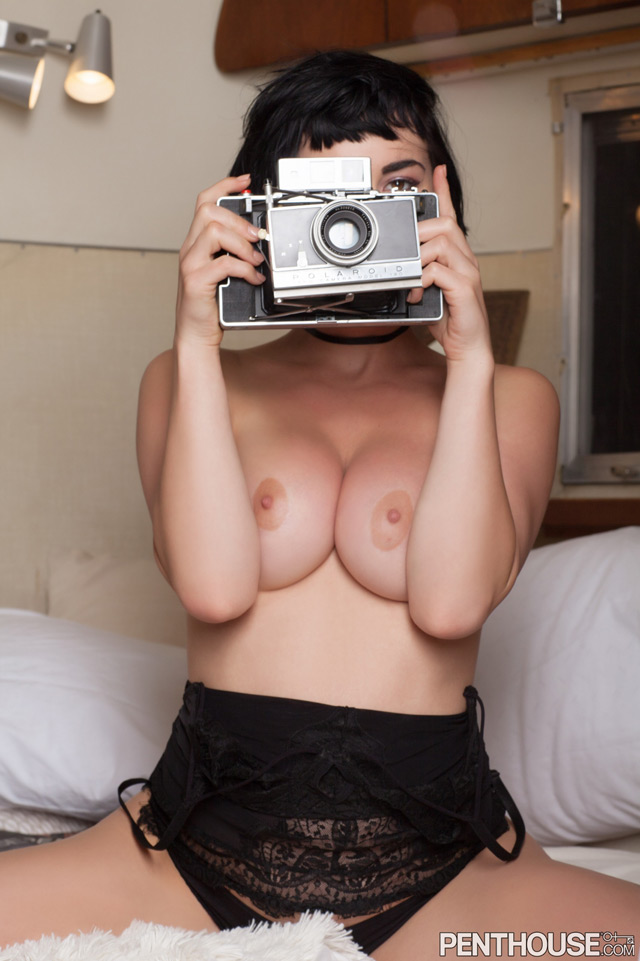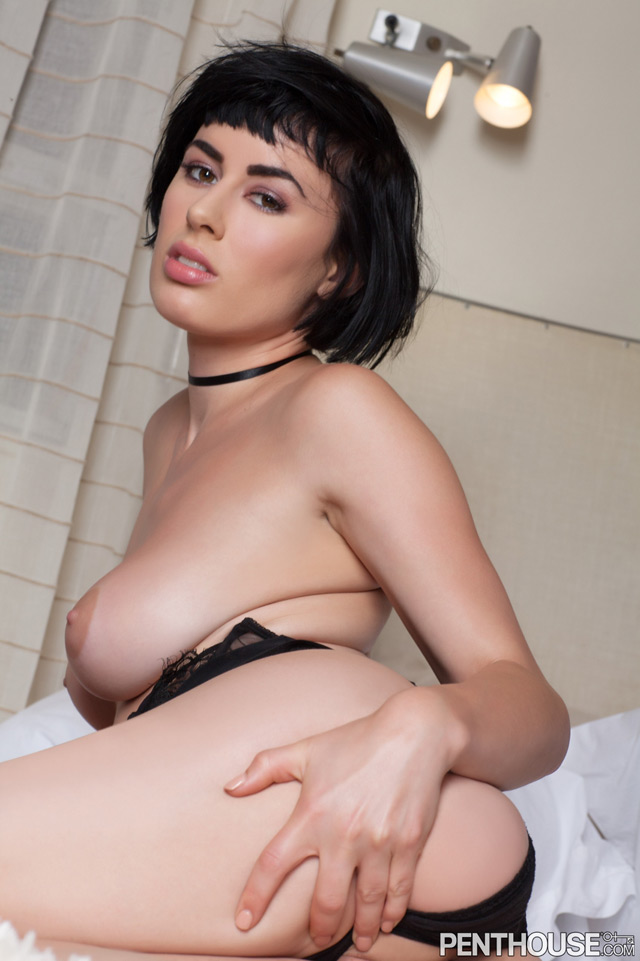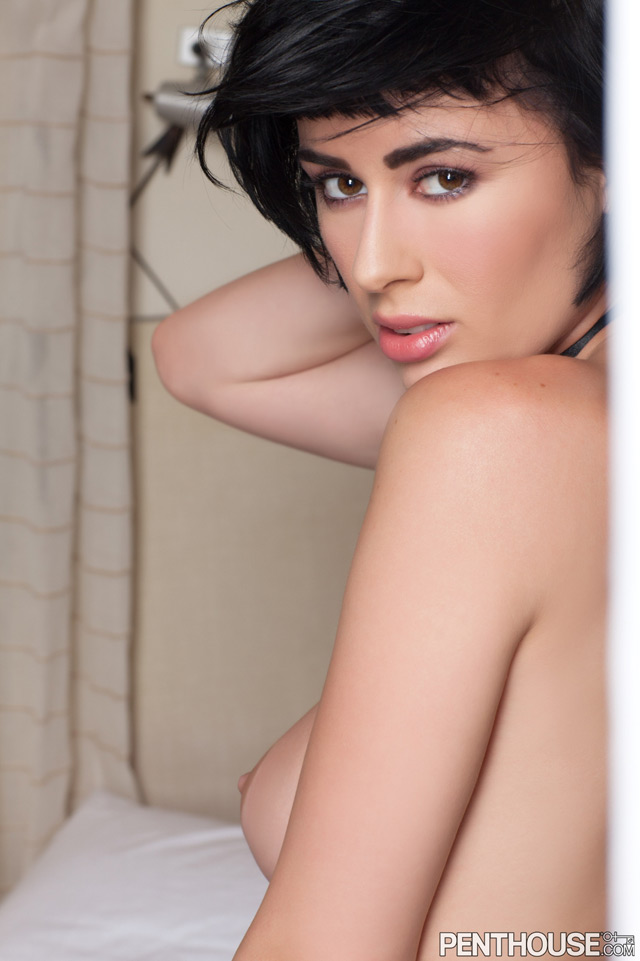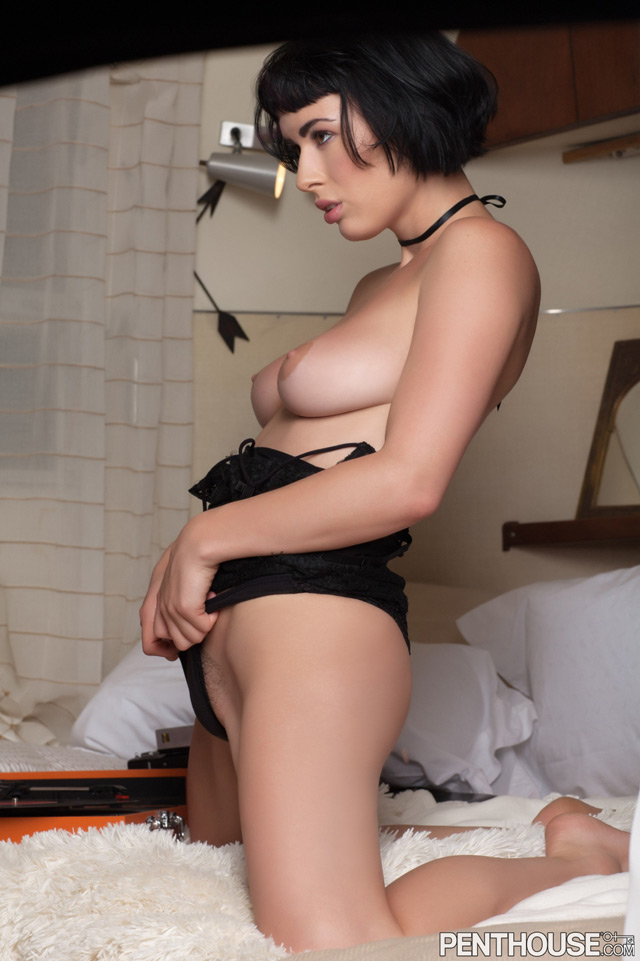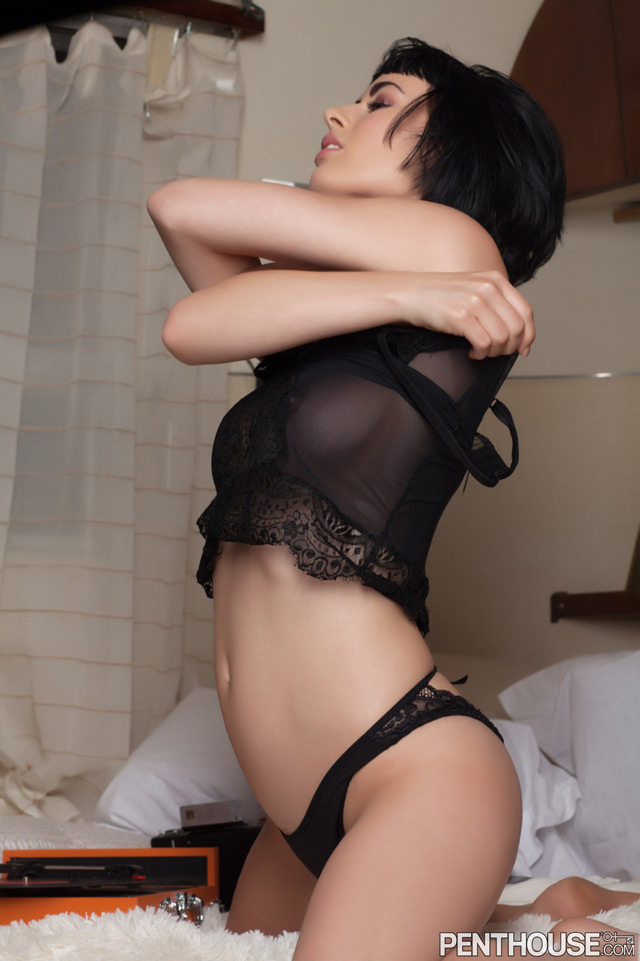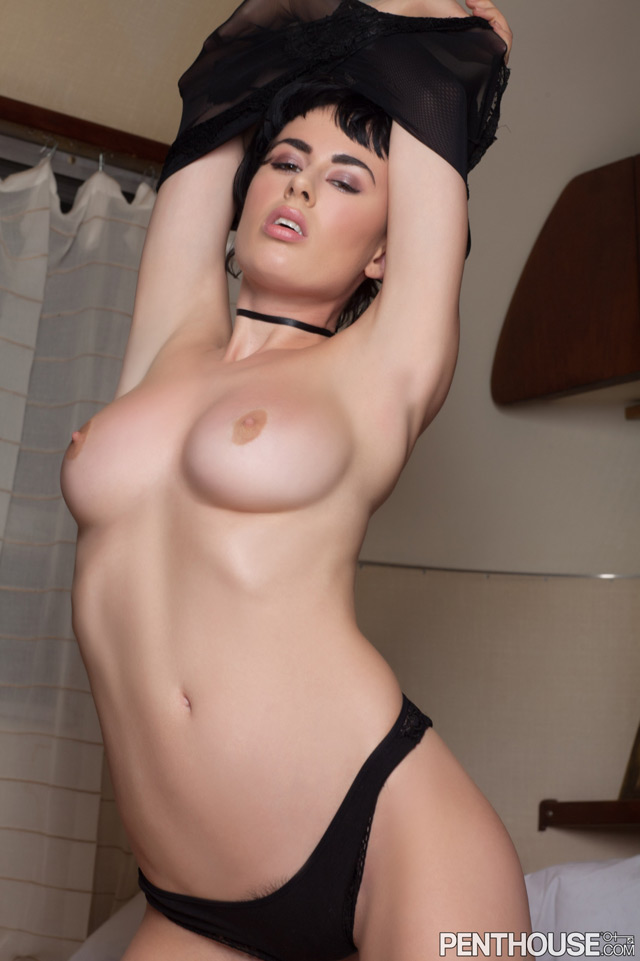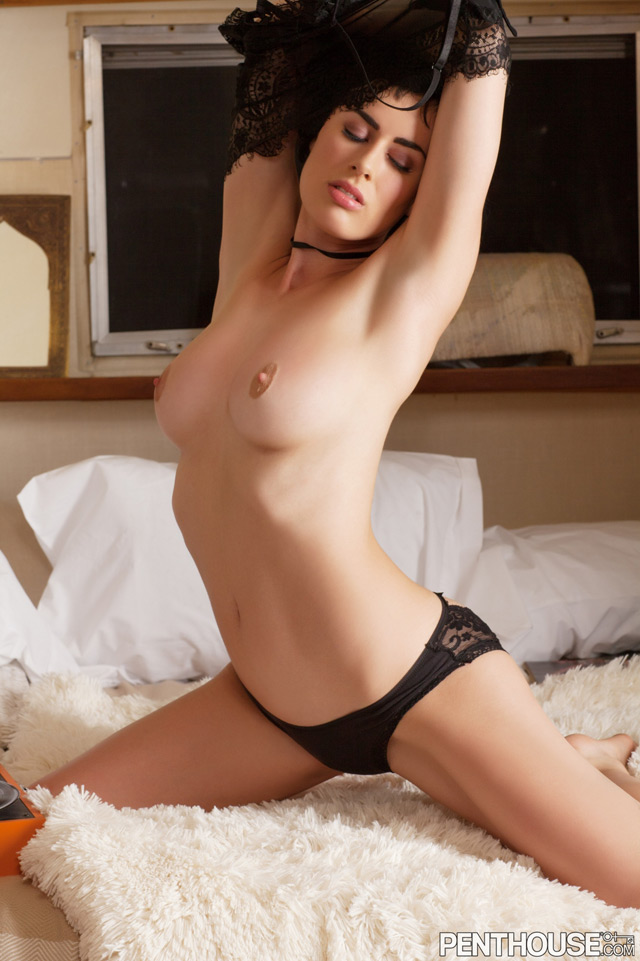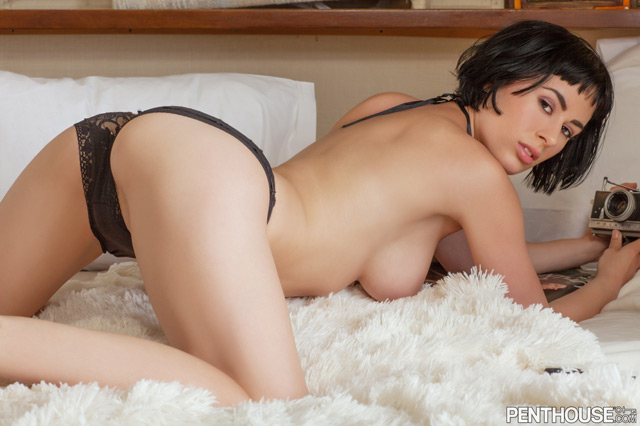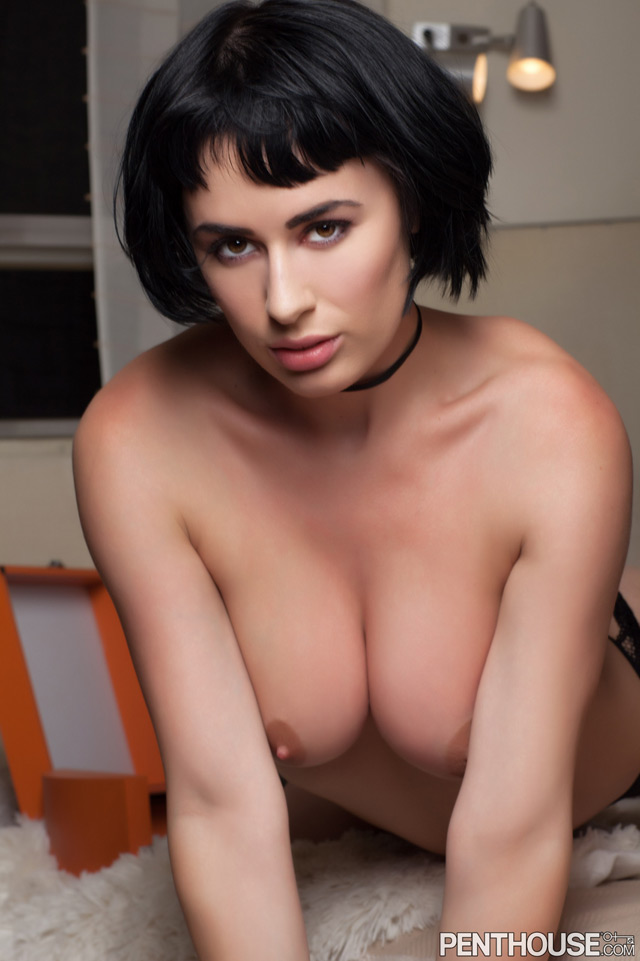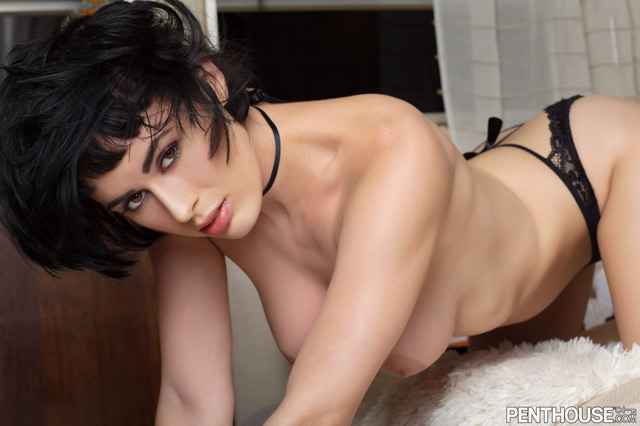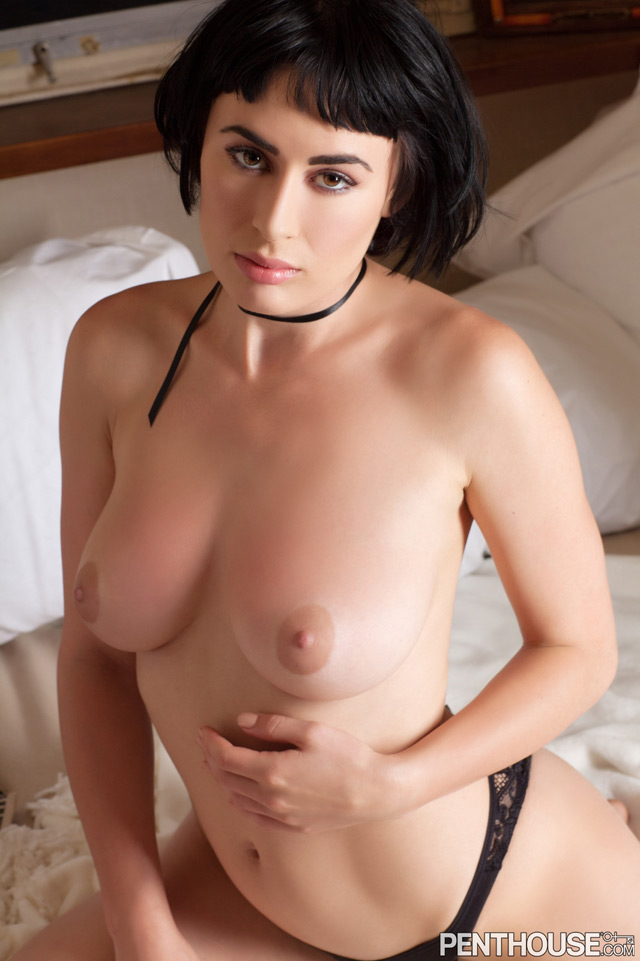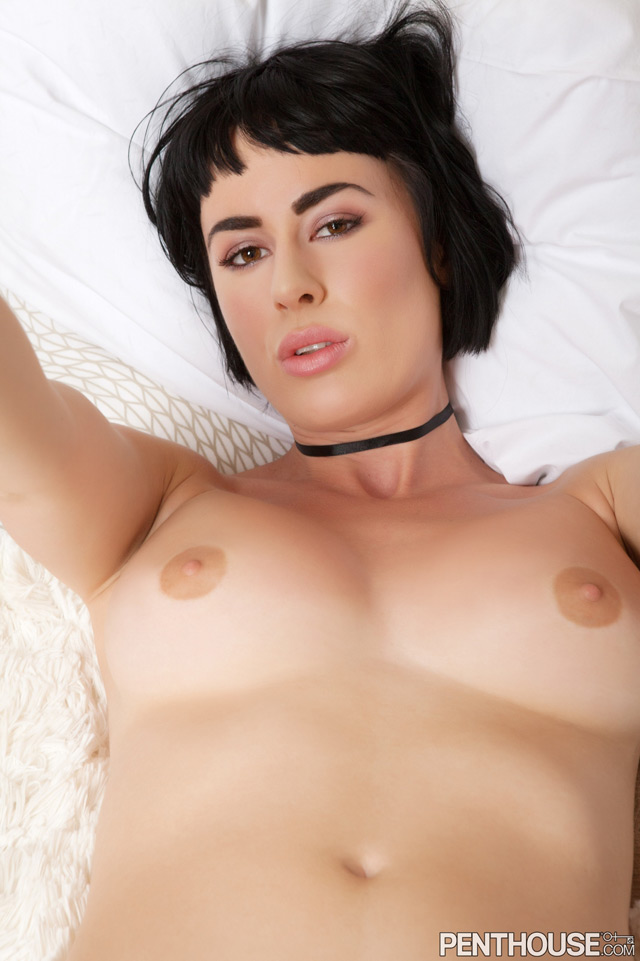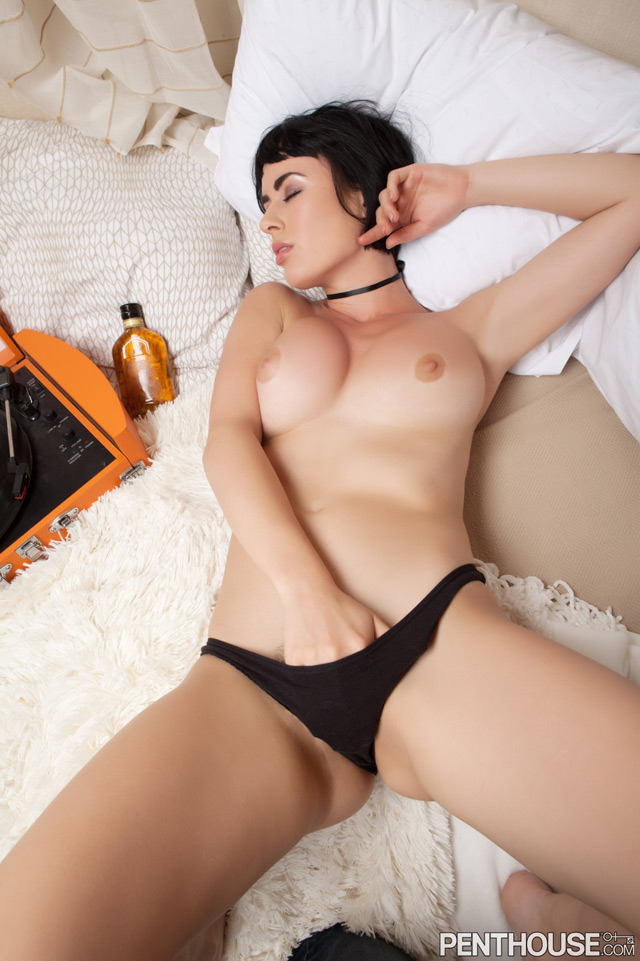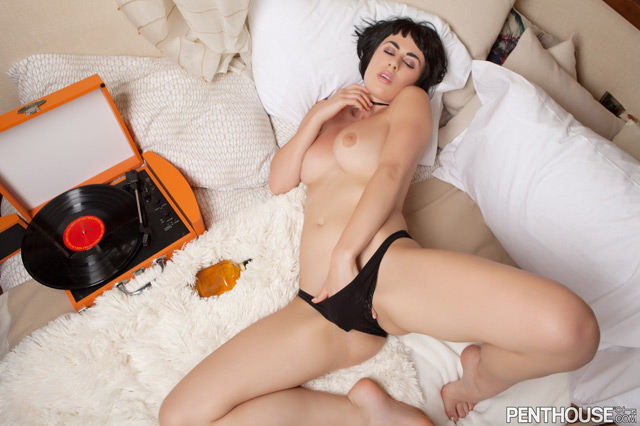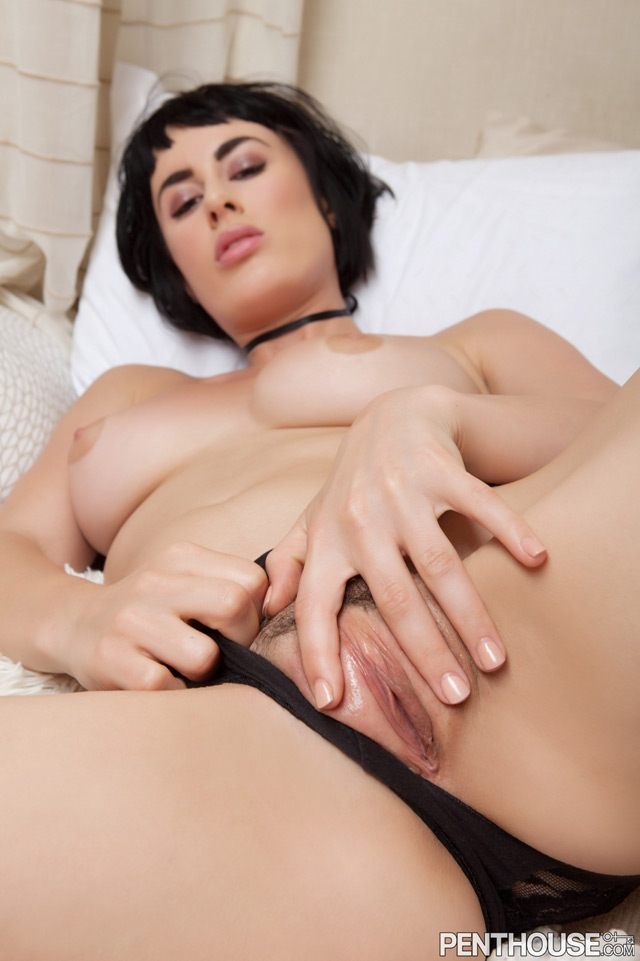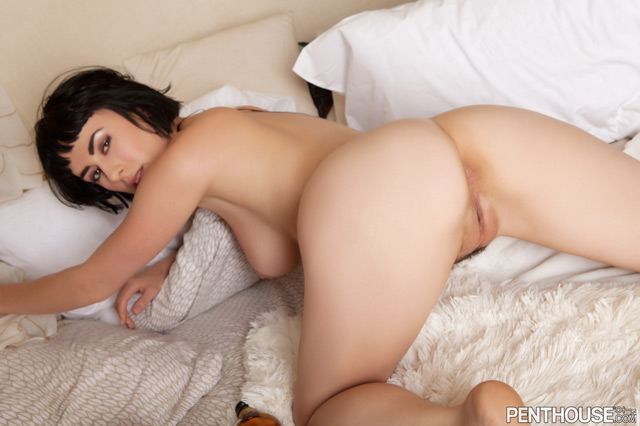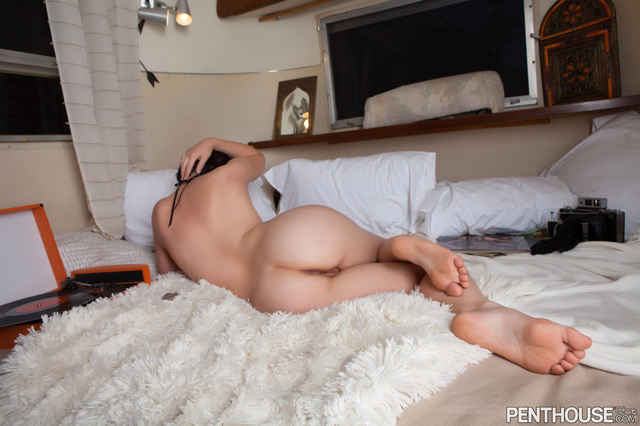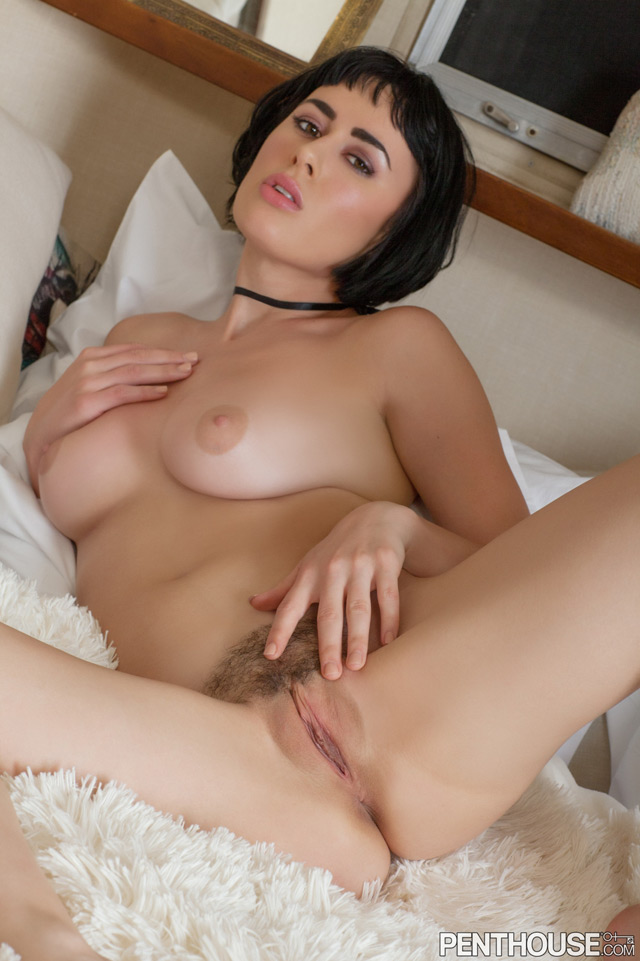 We hope you enjoyed pornstar Olive Glass and accomplished actress/model & artist Glass Olive's interview for Porn Corporation showcasing a Penthouse pictorial of the nude June 2017 Pet reading a vintage Penthouse magazine in a retro Airstream trailer in the shoot Incendiary Bedtime.  View all of Olive's erotic photos & videos shot as POTM inside Penthouse.  Inside the member's area you can access nearly 50 years of Penthouse Pets, thousands of nude & erotic photos sets and hardcore videos shot in 4K, 3D, HD!  What are you waiting for?  Unlock a new lifestyle and experience Life on Top inside Penthouse.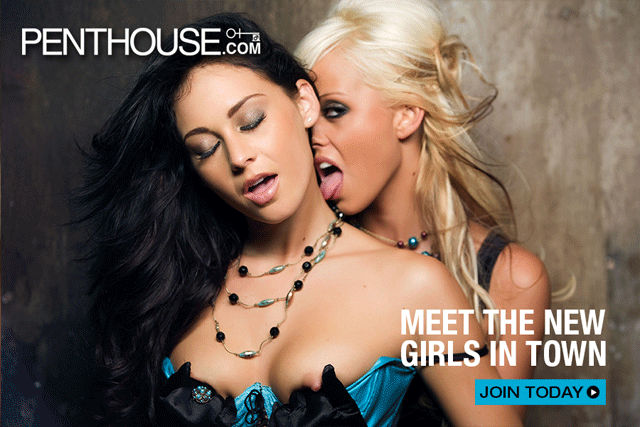 Continue reading Pornstar Interviews or return to cover of Porn Corporation magazine.
Previous featured Pornstar Interview:  Sarah Vandella Interview For Porn Corporation
Top Related Olive Glass showcase:  Olive Glass Penthouse Pet For June 2017
View all of the articles starring Olive Glass or Penthouse featured in our archives.
Recent Penthouse Pet news:  Manda Kay Penthouse Pet For July 2017
Looking for juicy editorials & interviews from the Adult Industry or Porn Corporation Girls?
Keep up on the latest & read our hottest topics:  New Porn Sites – Porn News & Adult Parodies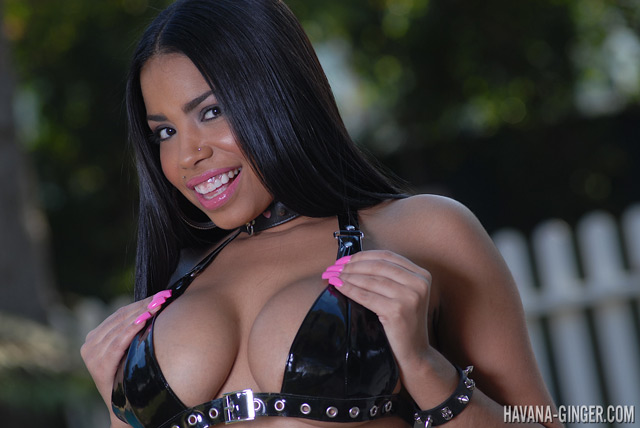 Cuban American pornstar Havana Ginger launches a brand new official site!  This sexy big tit babe is sweet & spicy.  Havana was born on February 27, 1984 in Los Angeles, California.  She stacks up at 5'3″, 121 lbs and measures up at a stunning 34E-22-35!  Enter Havana Ginger's hot new site to get up close & personal with the horny Cuban Muffin & access Pornstar Platinum.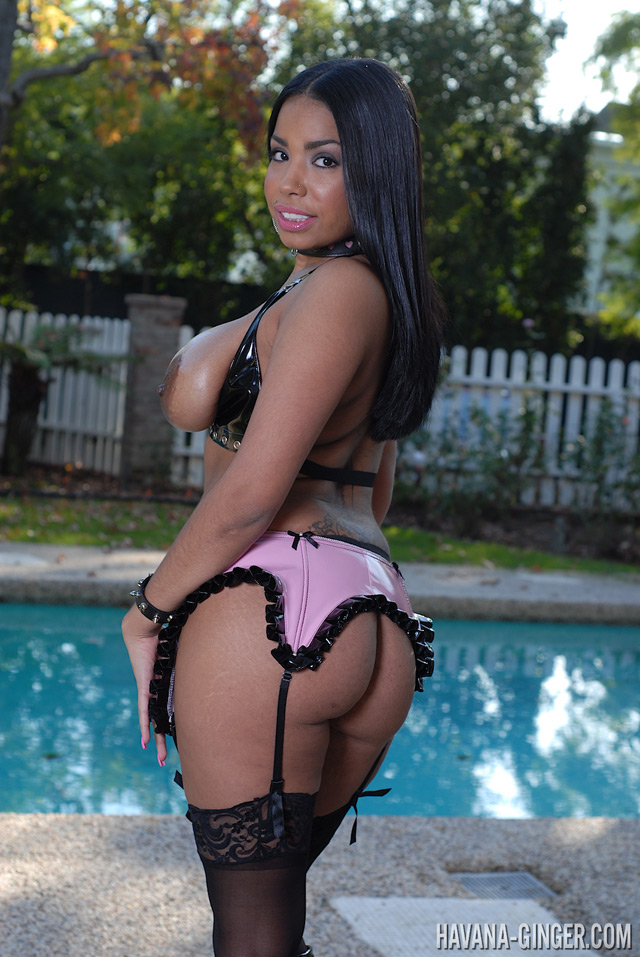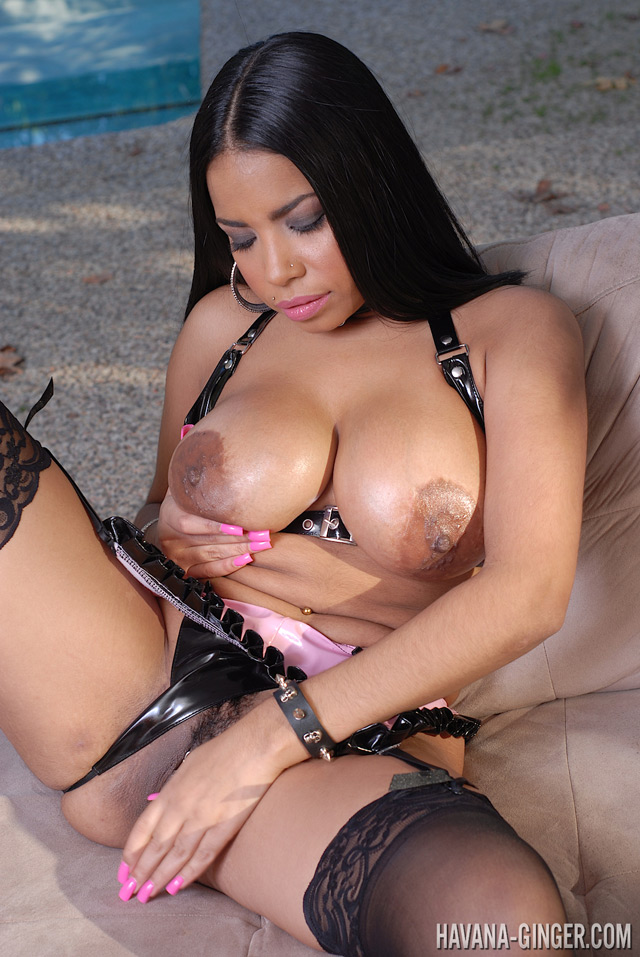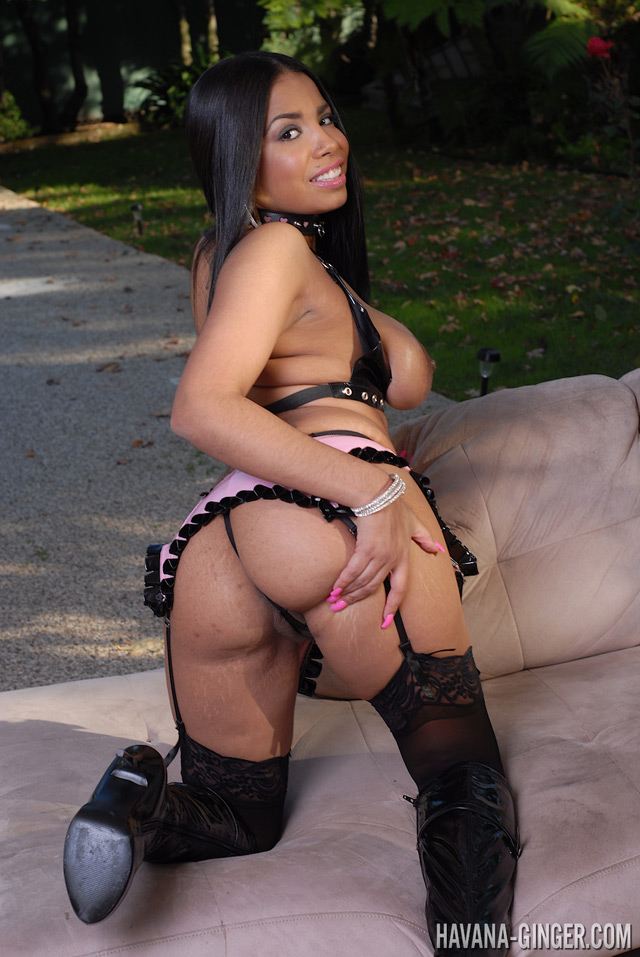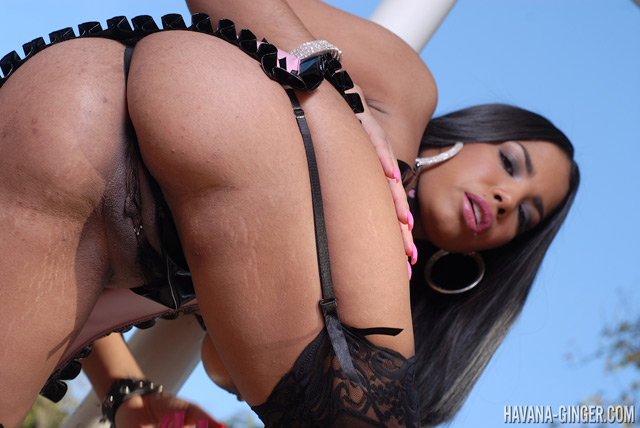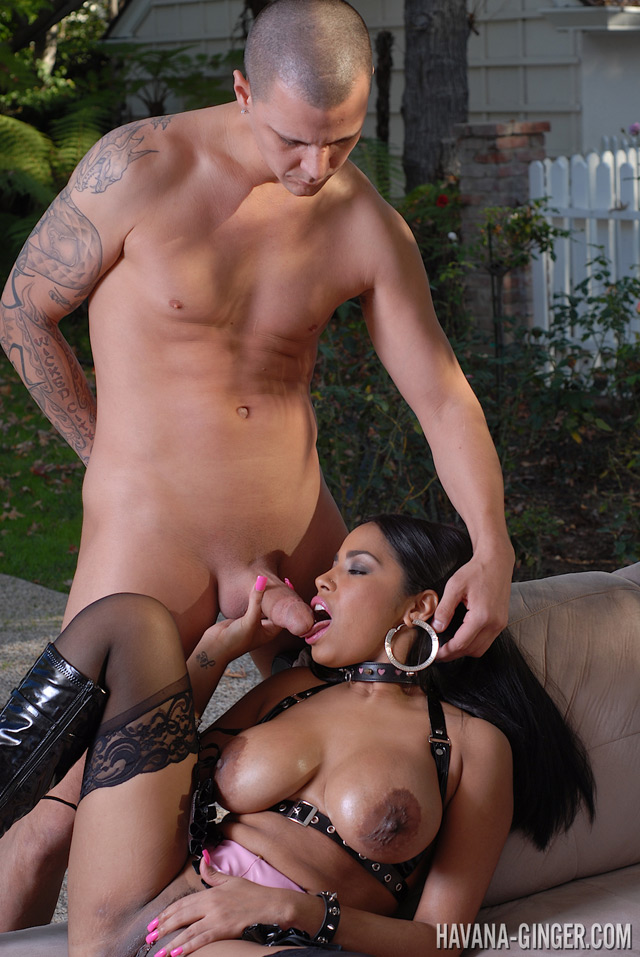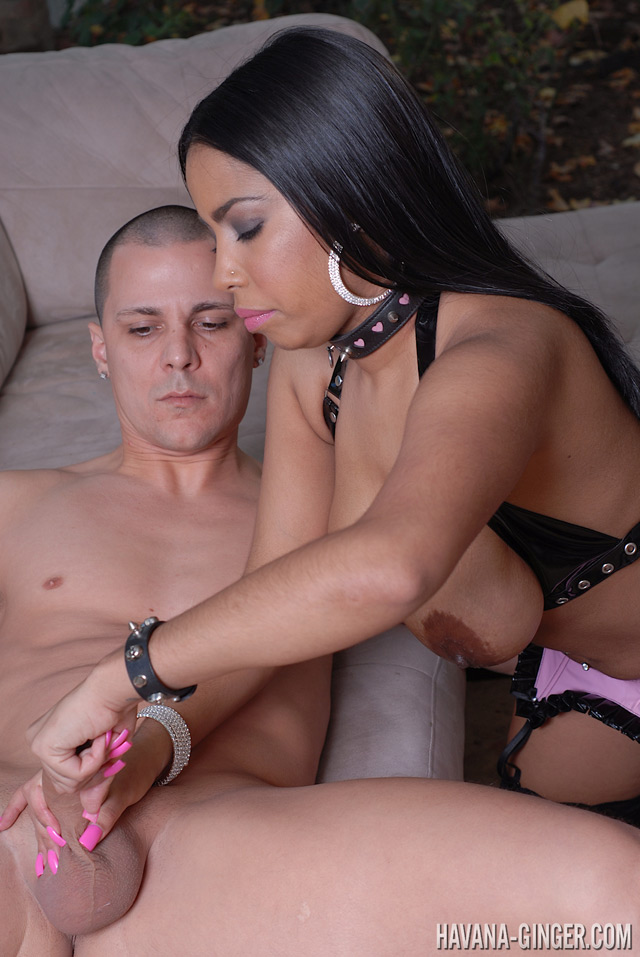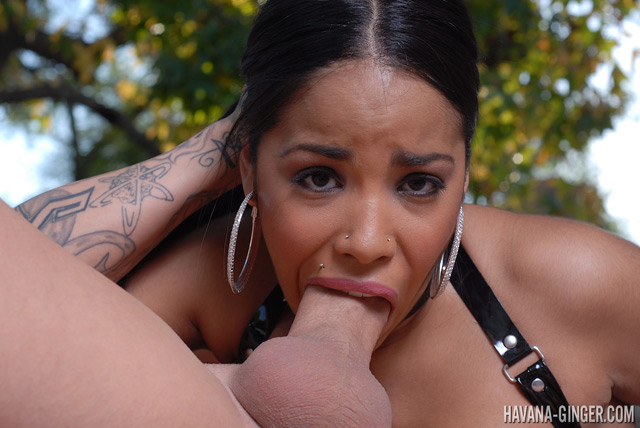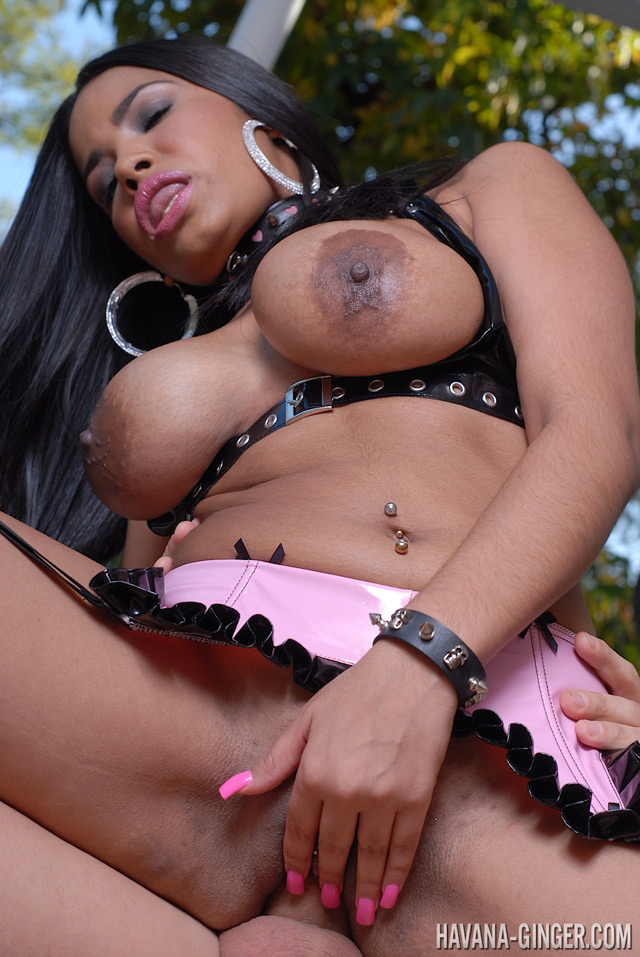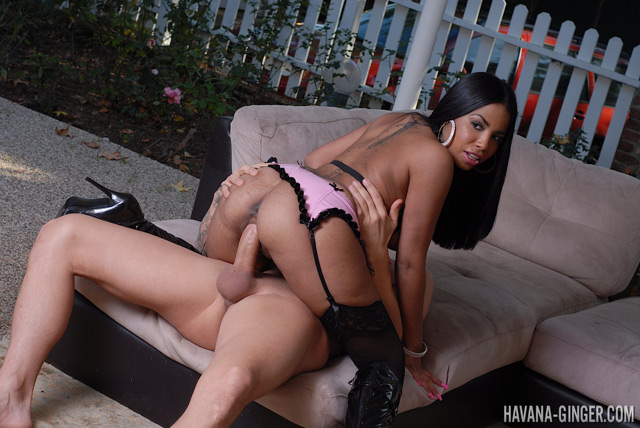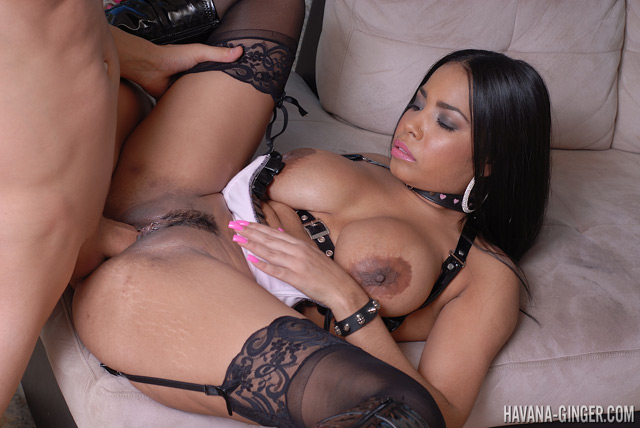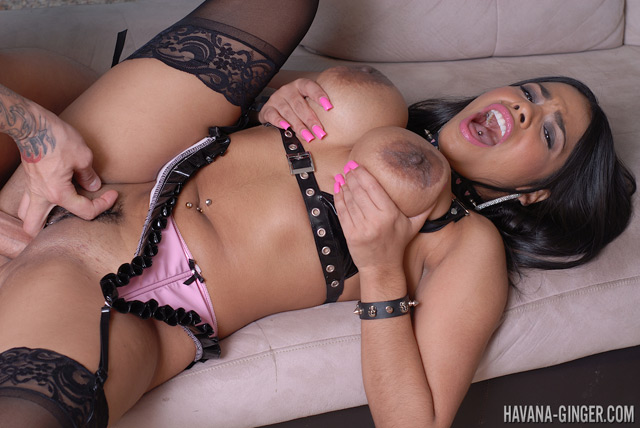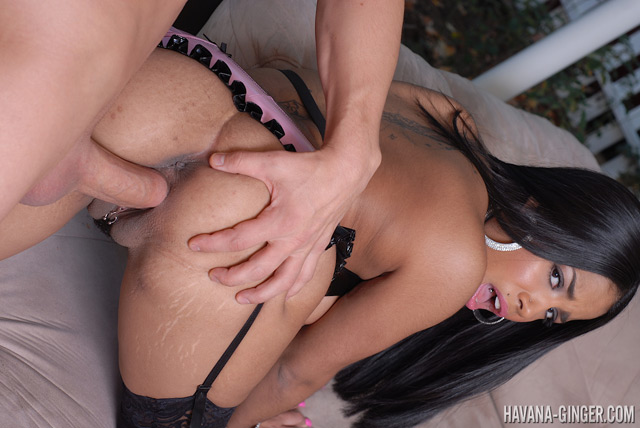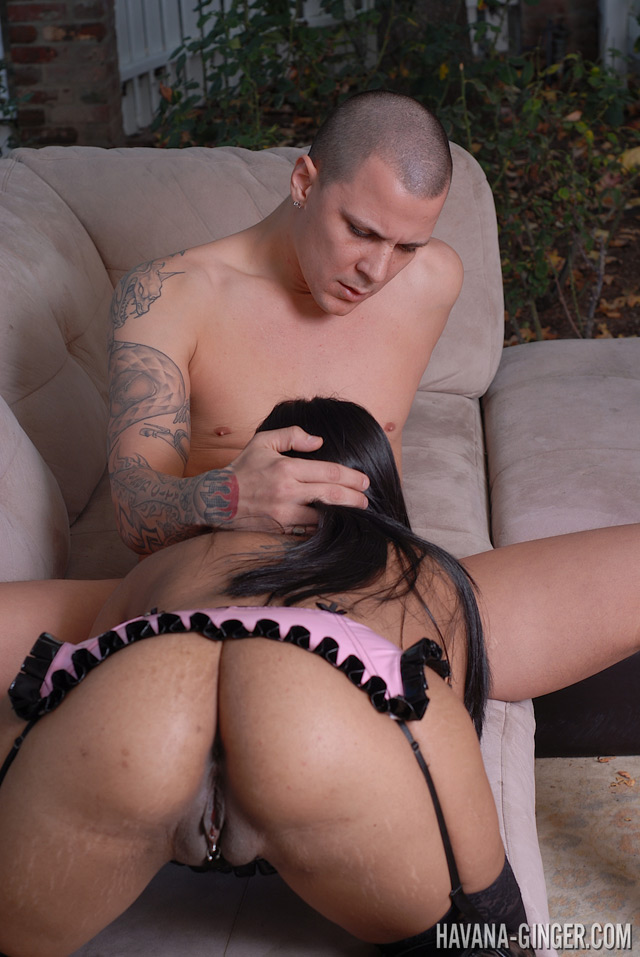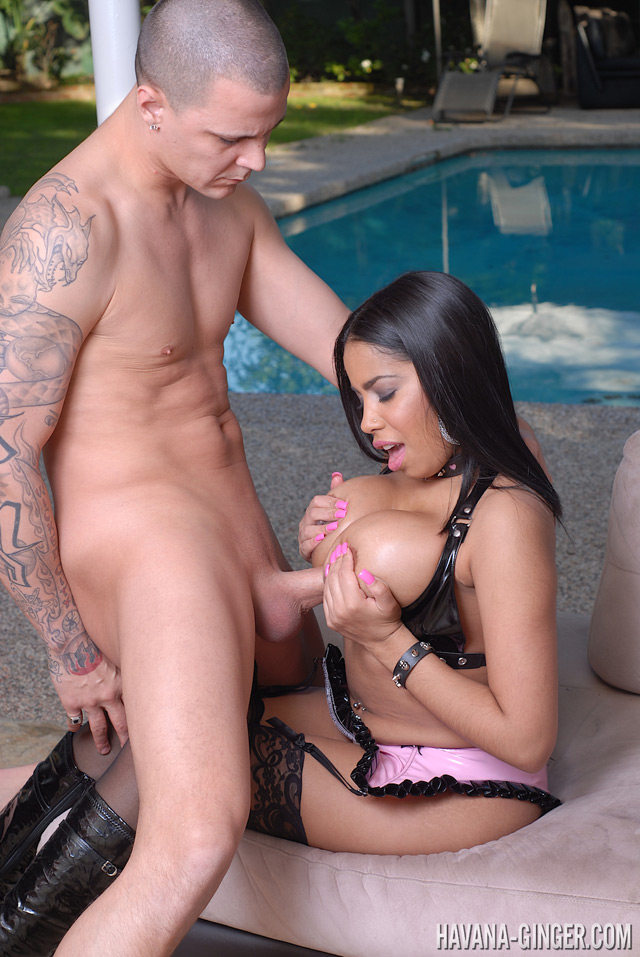 Enter Havana Ginger's Official Site and get up close and personal with the Cuban Muffin!  Join for as low as $2.95 for full access to the Pornstar Platinum network including the official site of Ariella Ferrera, Savana Styles, Christie Stevens, Nina Elle, Courtney Taylor, Brooke Wylde, Katerina Kay, Raven Bay, Alura Jensen, Kendra Lust, Claudia Valentine, Nikita Von James, Veronica Avluv, Katie Summers, Angelina Valentine, Ava Devine & more!

Previous new pornstar site to launch:  Jezebelle Bond Launches New Official Site
View all the articles starring Pornstar Platinum on our site.  Top Pornstar Platinum articles:
Raven Bay Interview For Porn Corporation – Raven Bay XXX Launches Official Site
Ariella Ferrera Launches Official Site – Nikita Von James Interview For Porn Corporation
Amy Brooke XXX Launches New Official Site – Eva Notty Launches Her Official Website
Keep up on the latest & read our hottest topics:  New Porn Sites – Porn News & Adult Parodies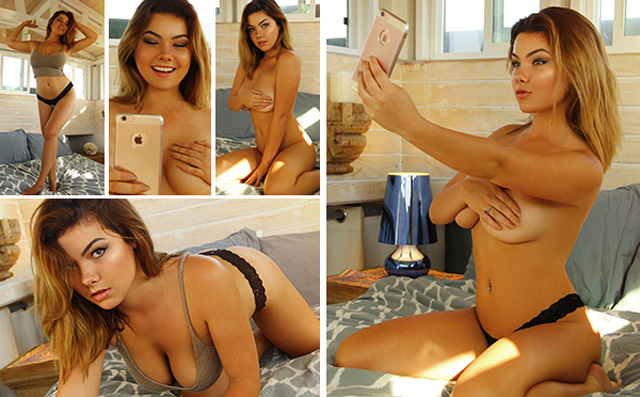 Nude adult model & social media star Lex Nai launches a brand new official site!  You may recognize this sexy babe from Instagram, Facebook, You Tube or from a previous shoot under the aliases Alexis Naiomi, Alexis Paton or Nikki Yann.  All natural Eurasian hottie Lex Nai was born on July 25, 1995 in Los Angeles, California.  Want to get down & dirty and party with Lex?  Visit her scorching hot new site Lex Nai and get up close & personal with this busty, fun loving beauty!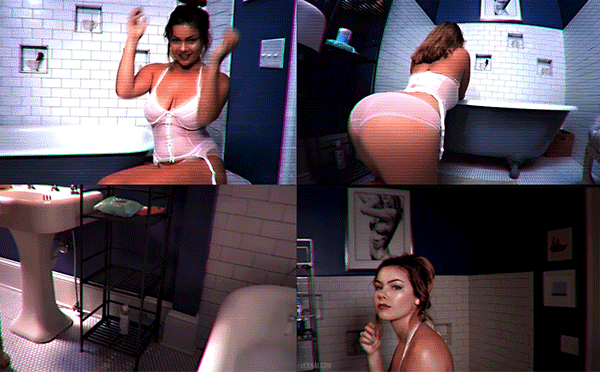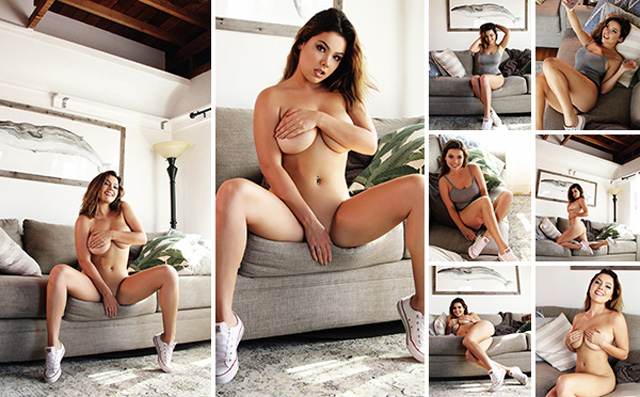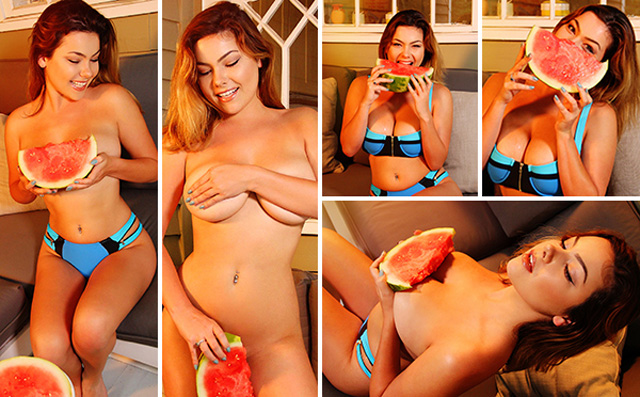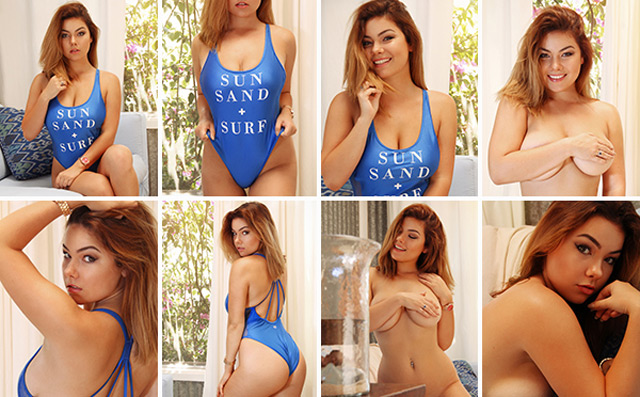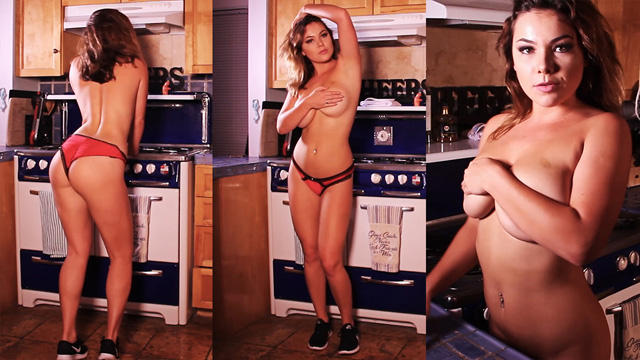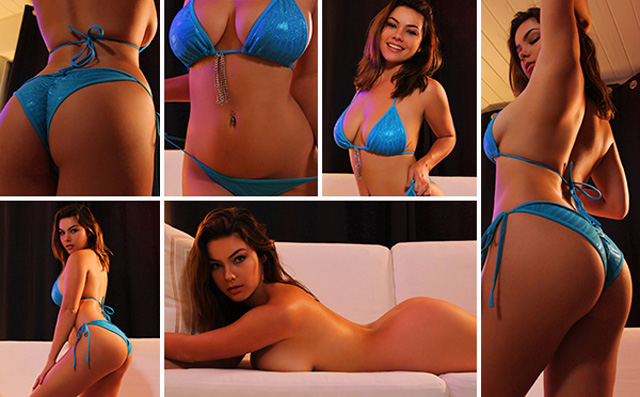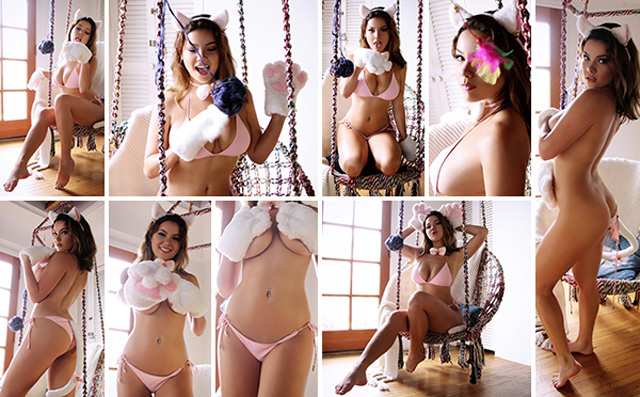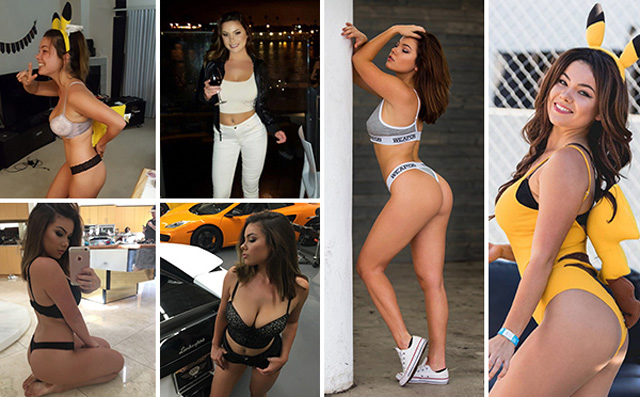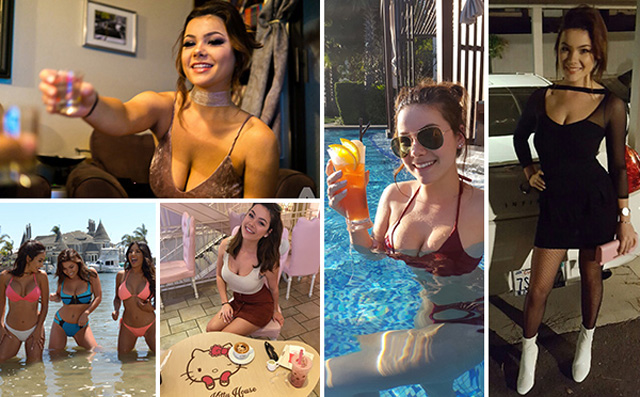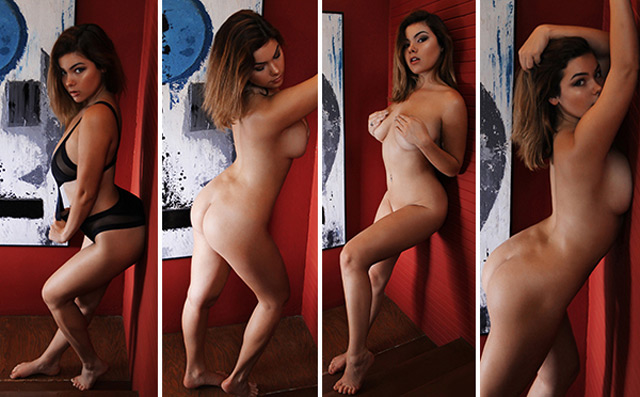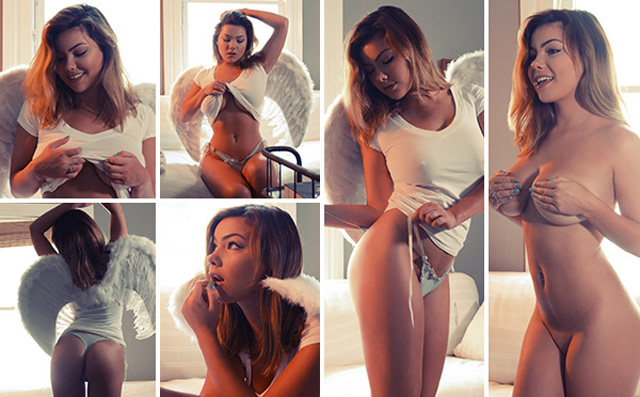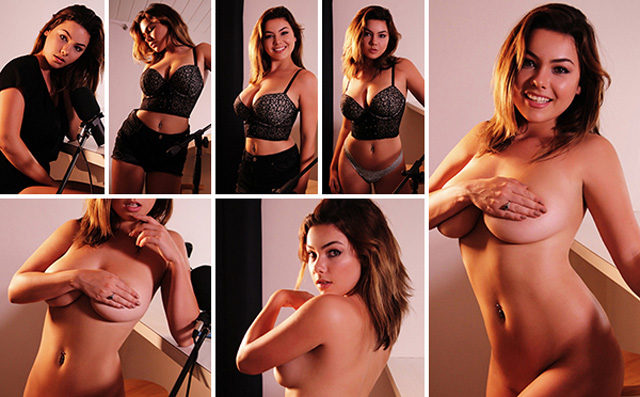 Enter busty model hottie Lex Nai's brand new official site and be the first inside her member's area to enjoy exclusive sexy videos and photo sets, live cam shows with Lex Nai and all her sexy friends with daily shows, uncensored cuts of Lex's YouTube videos and other cuts that were too sexy for social media!  Enjoy everything Lex Nai has to bare from your computer or mobile device.  What are you waiting for?  Lex is not your average model, get to know this amazing bubbly girl but watch out this fun loving firecracker has a true wild side!  Visit her hot new site Lex Nai!

Continue reading in the Solo Girls category or return to the cover of Porn Corporation magazine.
View all of the hottest New Porn Sites or read all of the latest Porn News.
Previous new solo site to debut: Bliss Dulce: New Official Site Of Colombian Babe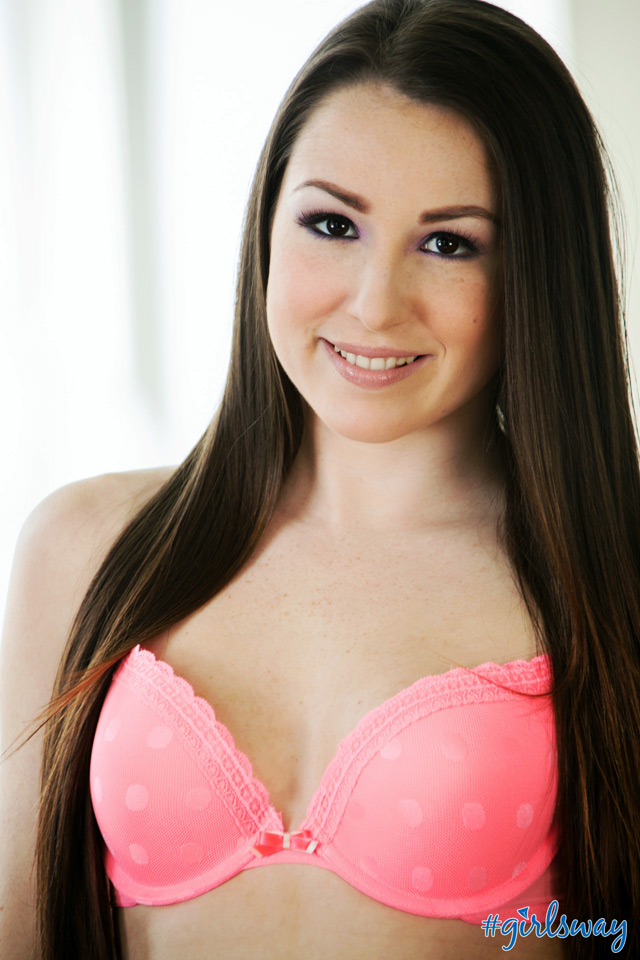 Lola Foxx has the honor of being titled the first Girlsway Girl Of The Month. Each month Girlsway will feature one amazing pornstar known for their incredible lesbian sex scenes and feature a number of new exclusive Girlsway lesbian porn videos and photo sets of the GOTM model. The Girl Of The Month featured model will be announced the first Tuesday of each month and at the end of the year the fans and YOU will get to vote to crown one lucky featured babe to be the official Girlsway "Girl of the Year" and this model will receive bragging rights of the title and be the winner of a grand prize!  Join Girlsway for only $1.00 to watch all the lesbian porn inside.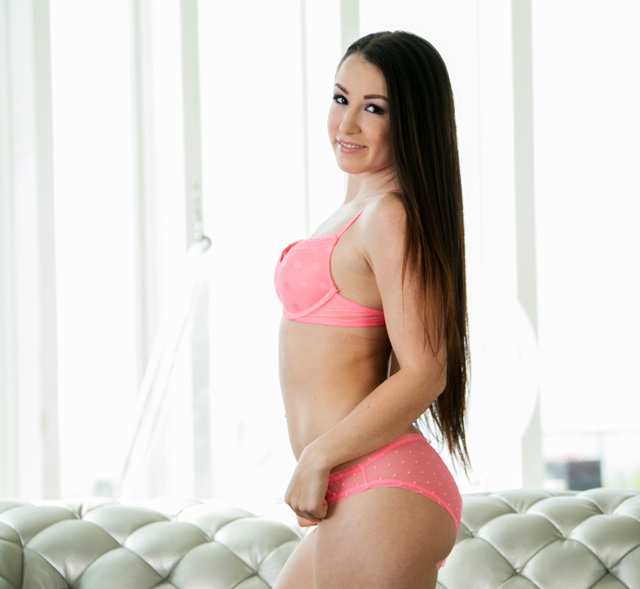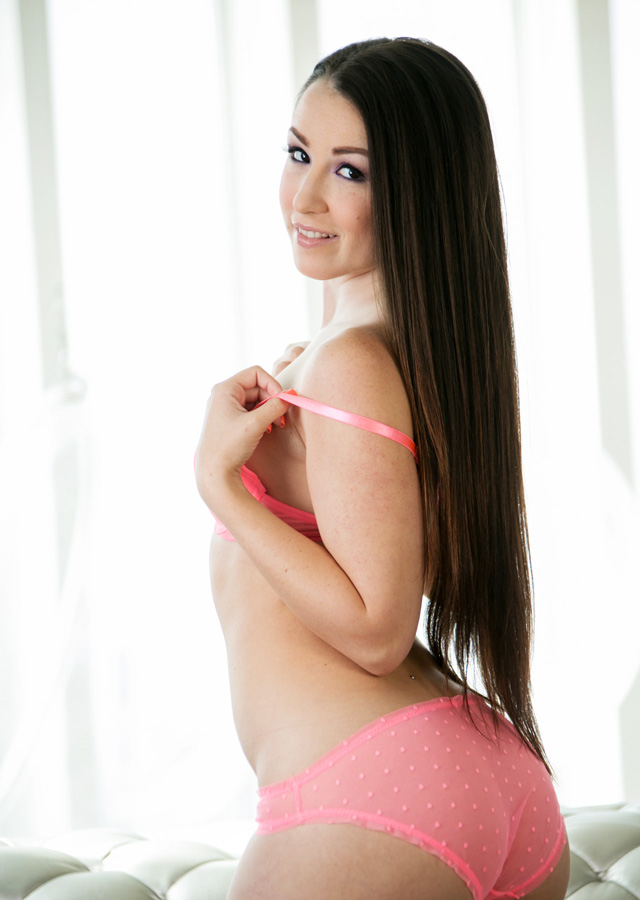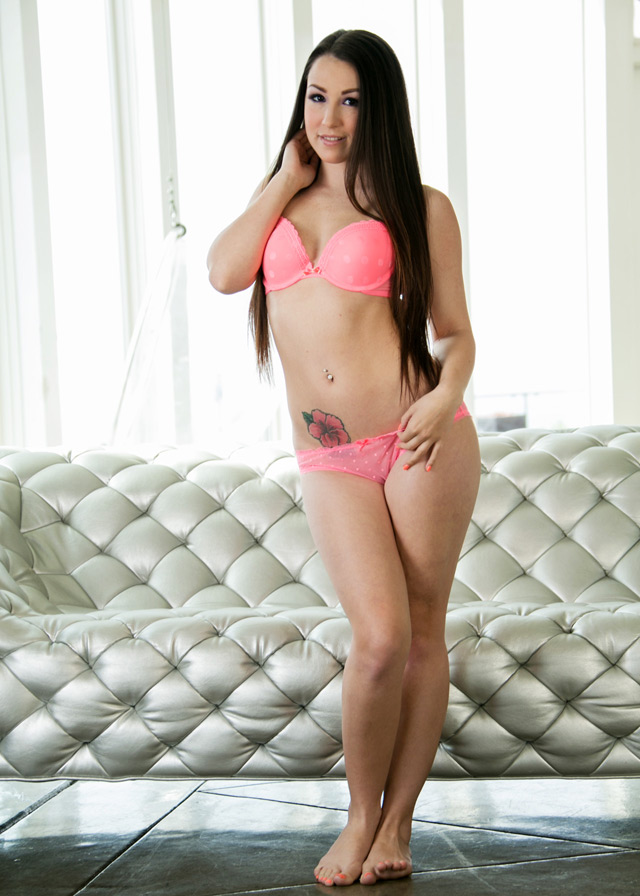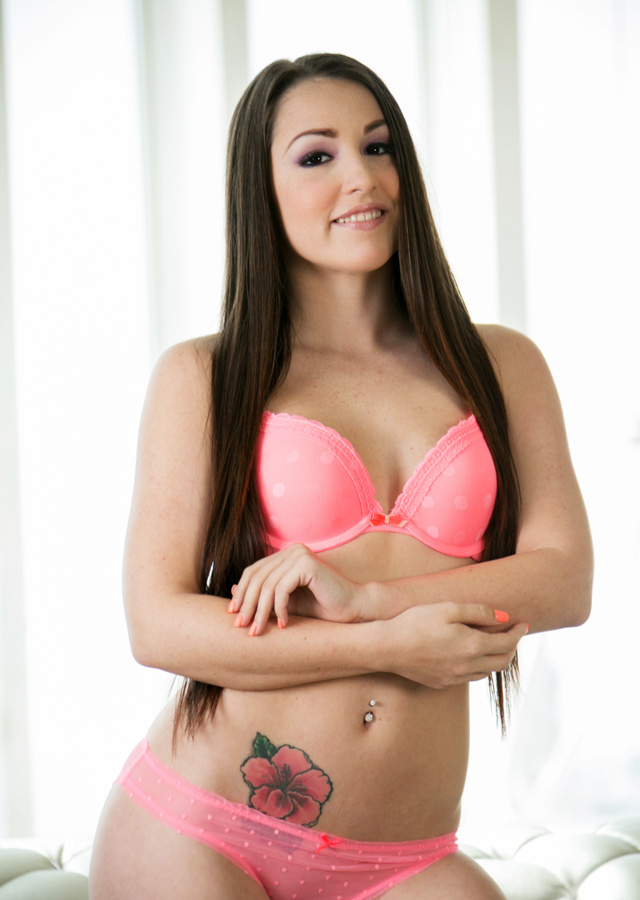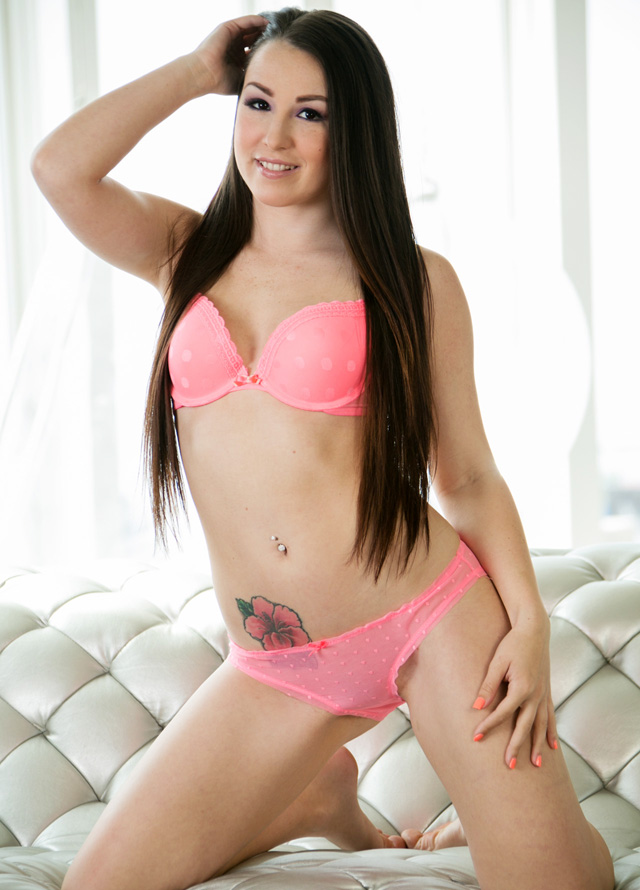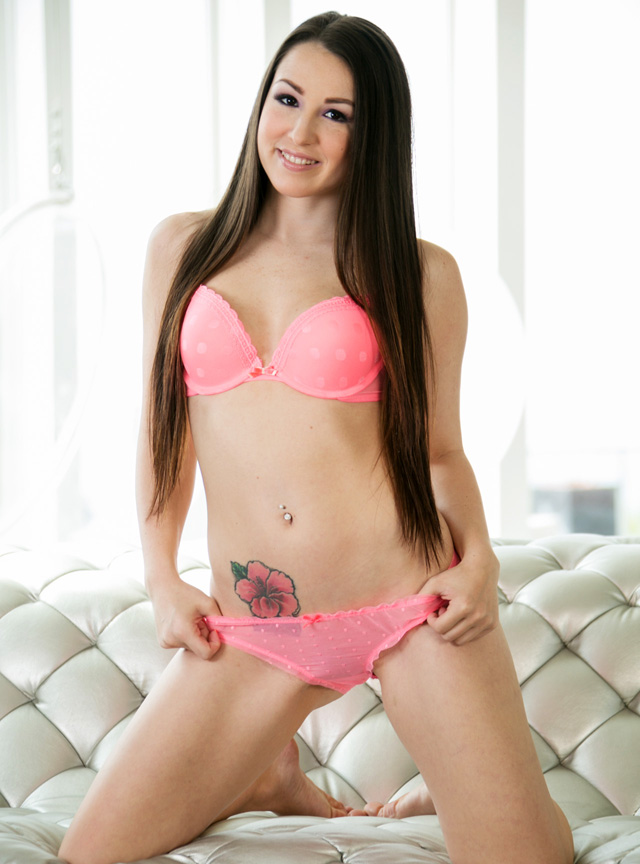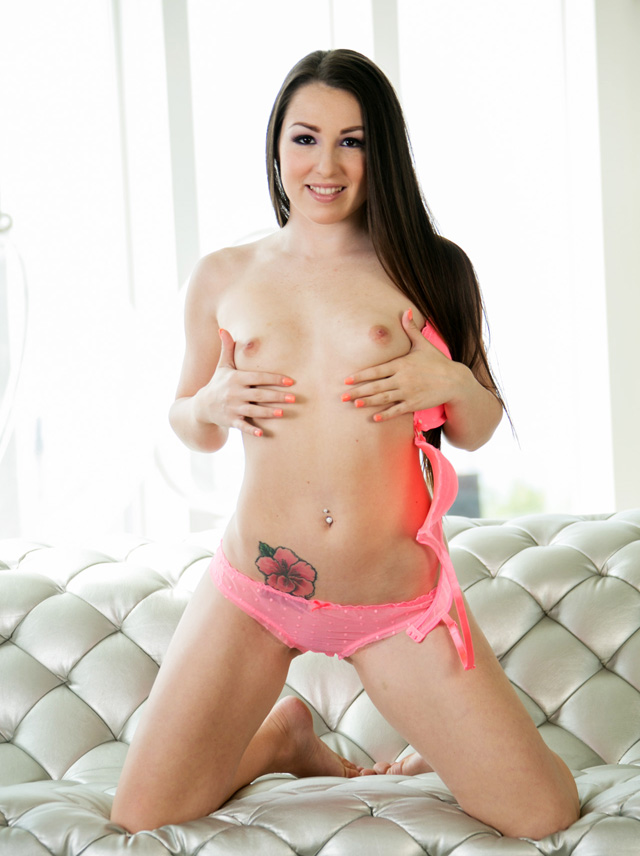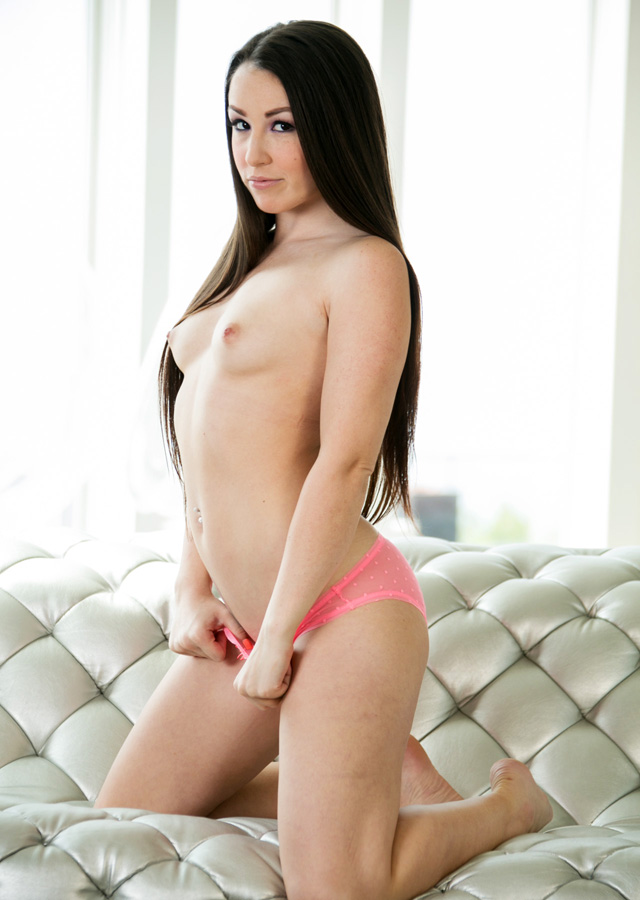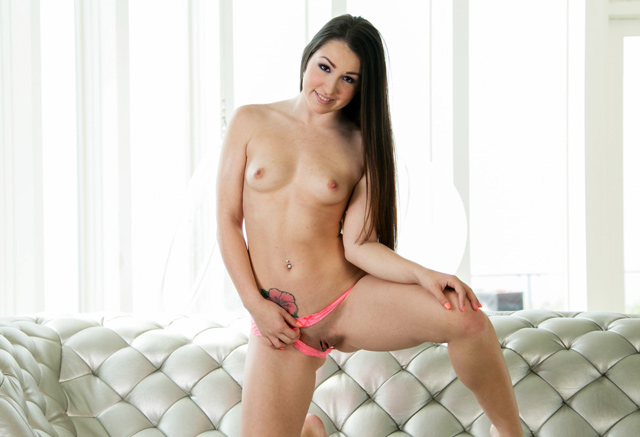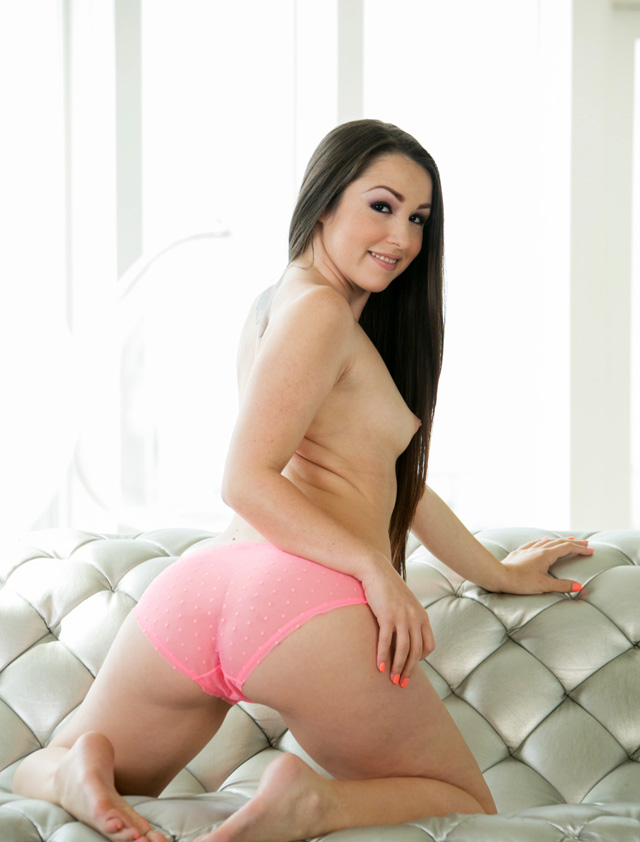 LA born Italian American hottie Lola Foxx is the January 2015 Girlsway Girl of the Month!  This 23 year old sweetheart was born on November 1st, 1991 as a Capricorn.  Lola Foxx is a short 5'0″ cutie with a sweet bubble butt booty weighing in at 105 pounds and measuring up at 32C-24-33.  Lola Foxx currently has 17 lesbian sex videos live on with Girlsway network with special features from Mommy's Girls, Sex Tape Lesbians, Web Young and her first anal scene ever from Girls Try Anal with Adriana Chechik popping Lola's anal toy cherry for the first time on film.  Lola's most recent scene co-stars MILF Lisa Ann in one of her last porn scenes ever before her recent retirement!  You will also find a scene starring Lola Foxx inside Web Young that is created from a member's fantasy script.  Inside Girlsway you will find hundreds of exclusive high resolution glamor and lesbian sex photos of Lola Foxx and all her sexy girlfriends.  Are you ready to get down & dirty with one of the hottest lesbian performers?  View Lola's Girlsway profile & see all of her scenes here.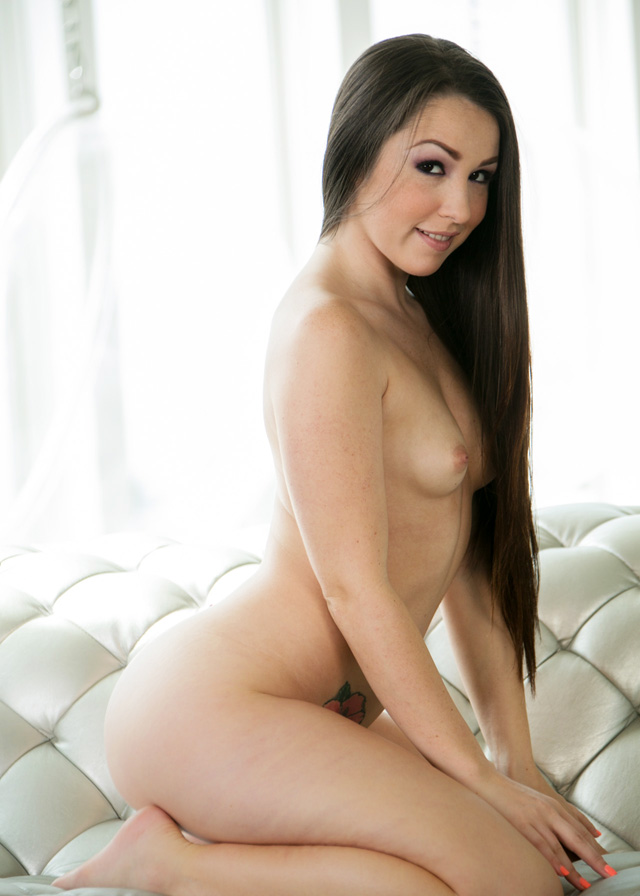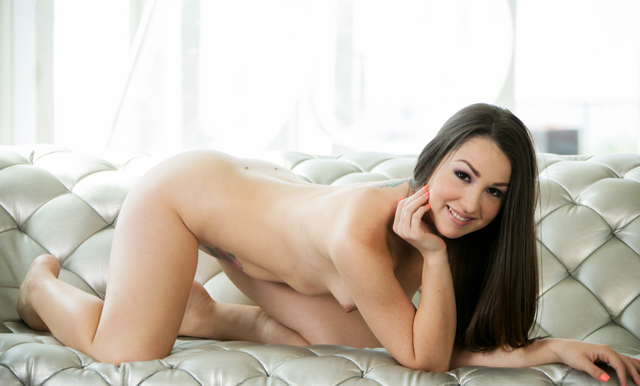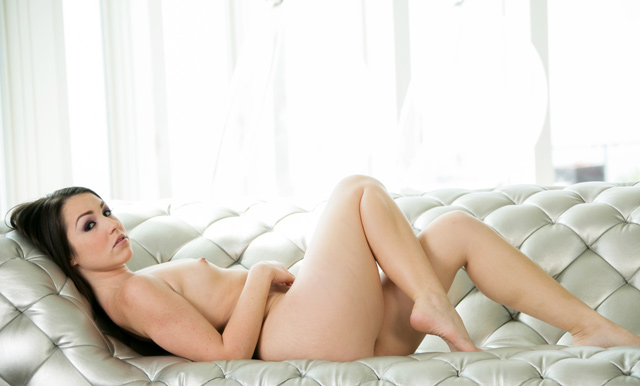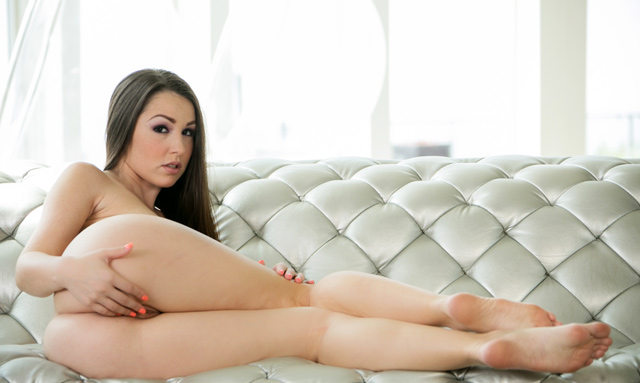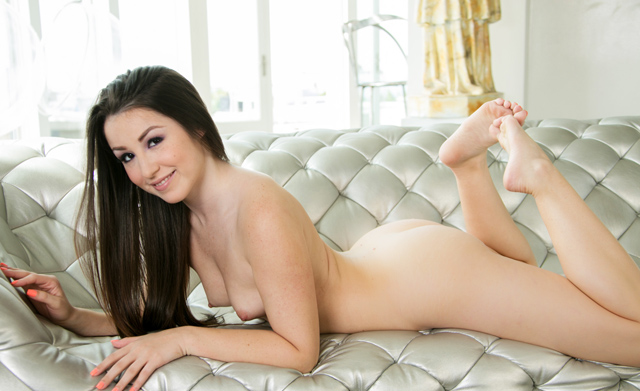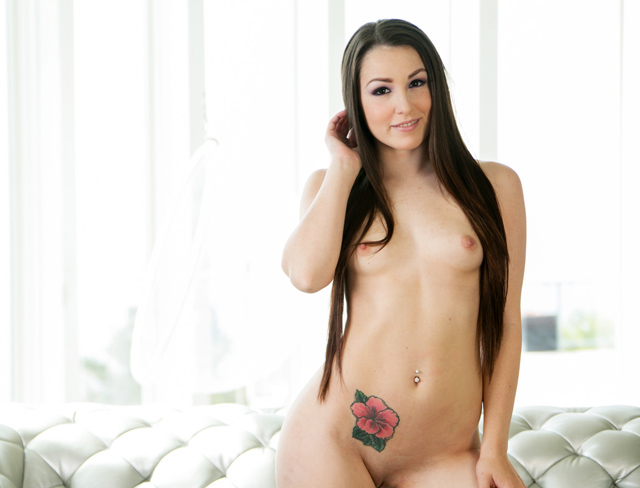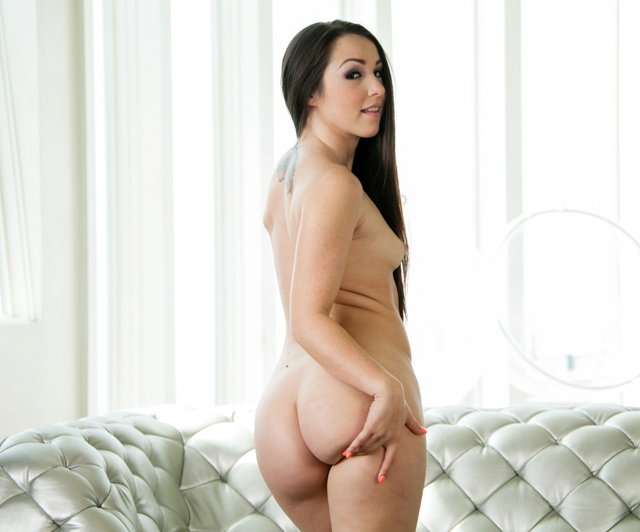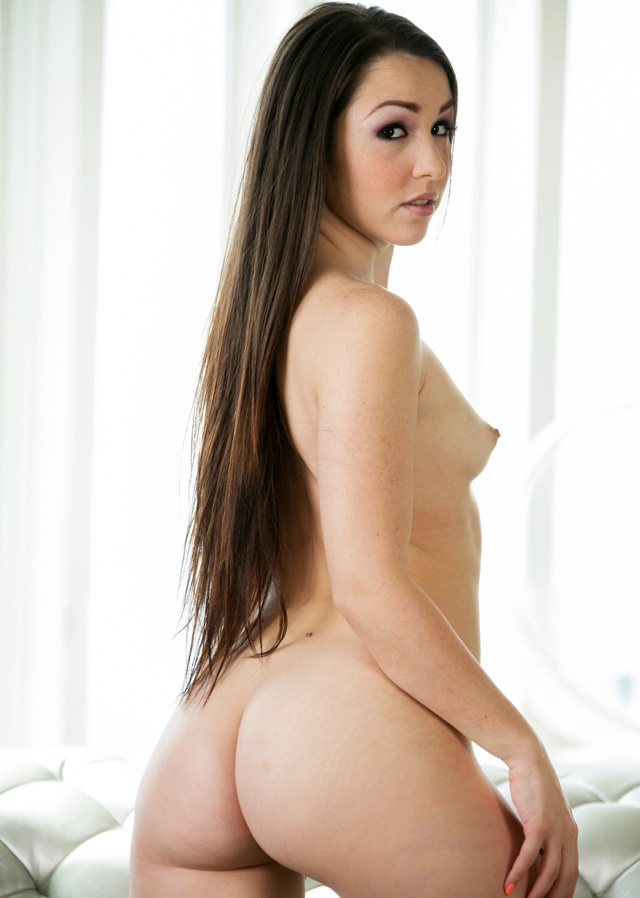 In one of Lola's newest scenes entitled, "Lady Lessons – The Guest of Honor" from the Web Young series Lola co-stars with Aubrey Star, Charlotte Stokely & Abby Cross in a 4 girl lesbian orgy.  Play free streaming video from this lesbian teen foursome or get your $1 Pass to GirlsWay to watch the full video now along with access to the best lesbian porn network on the web!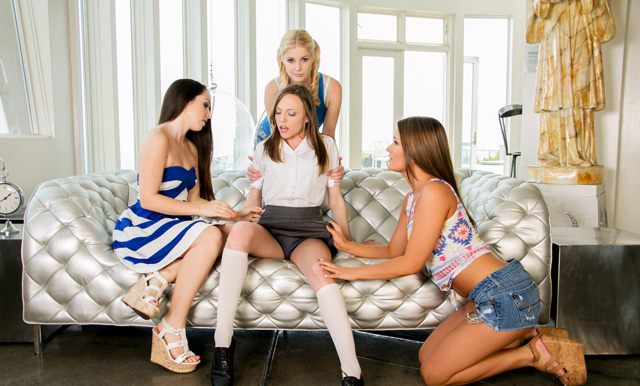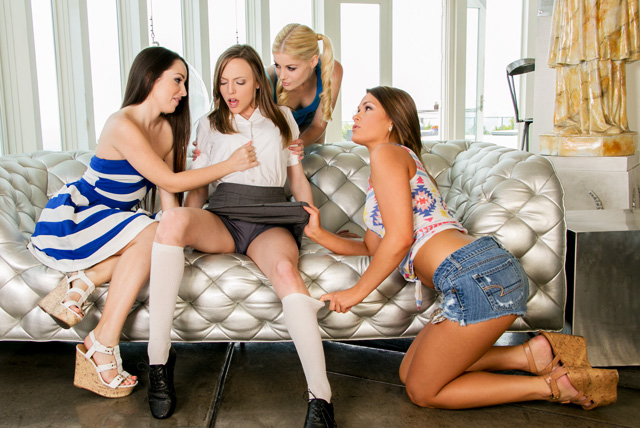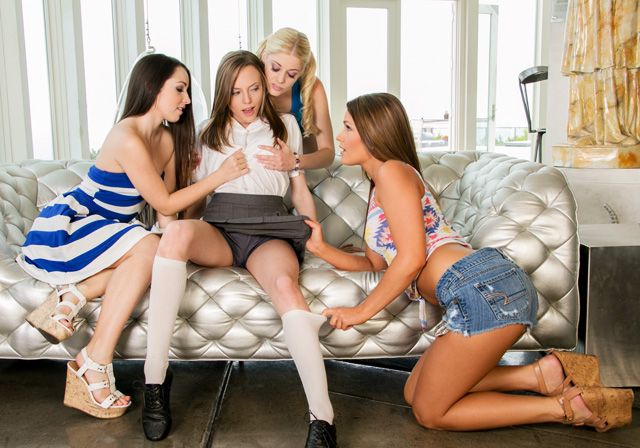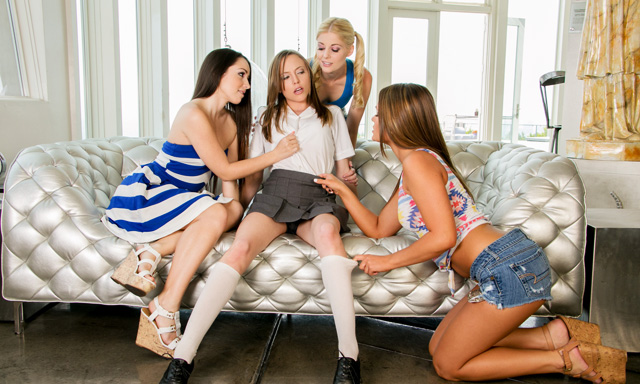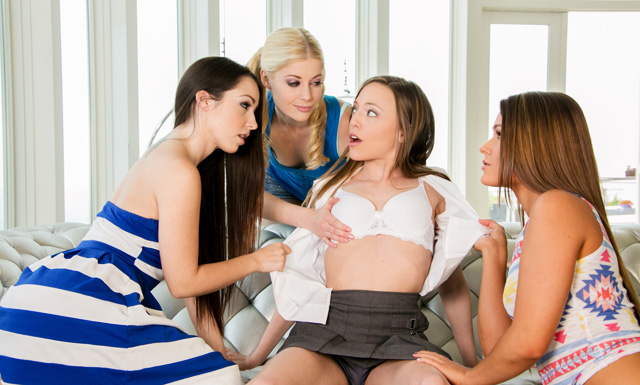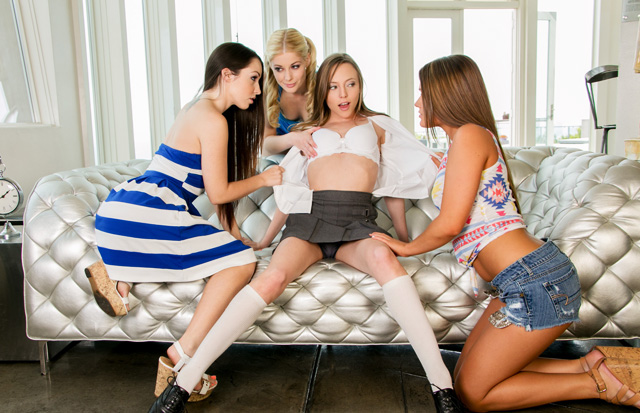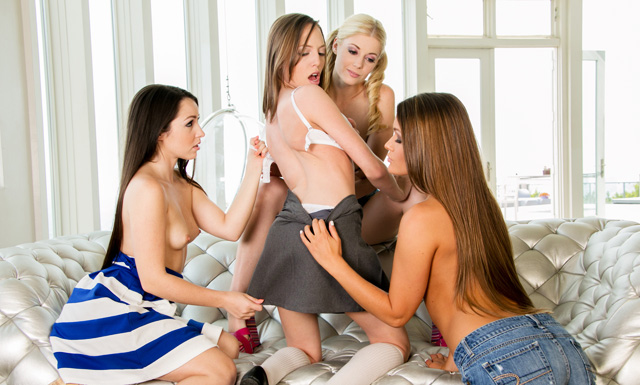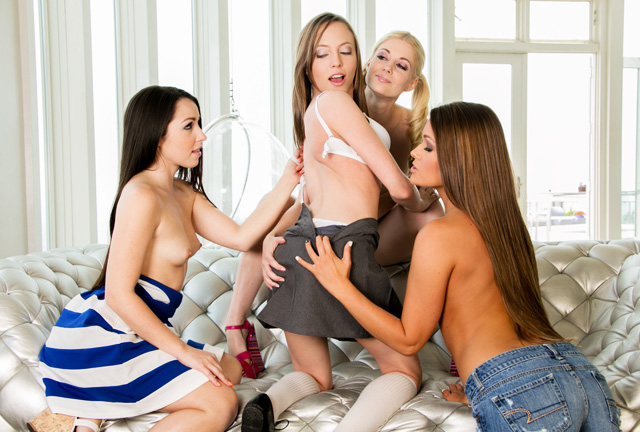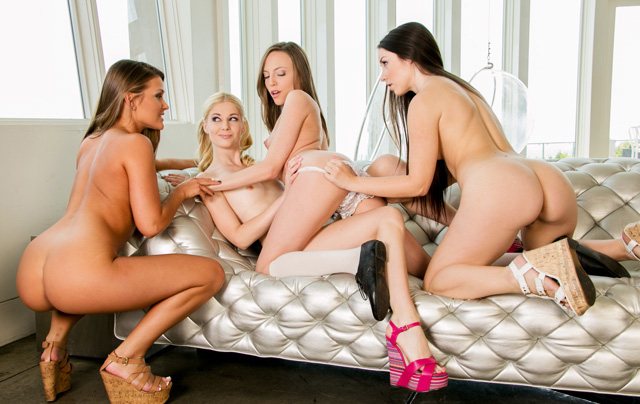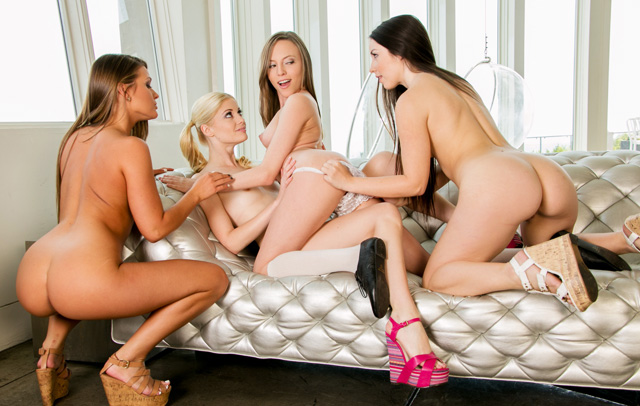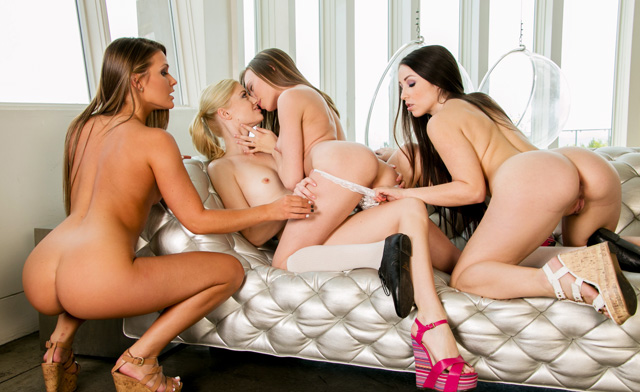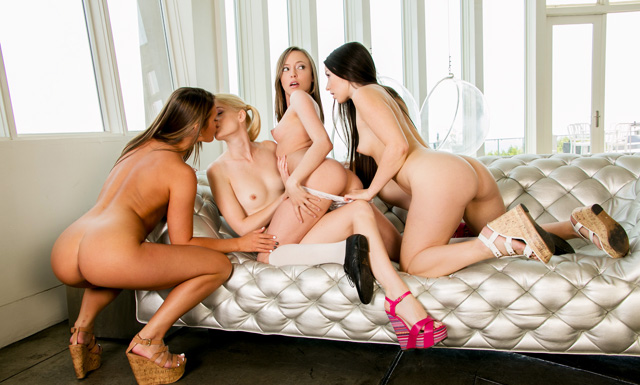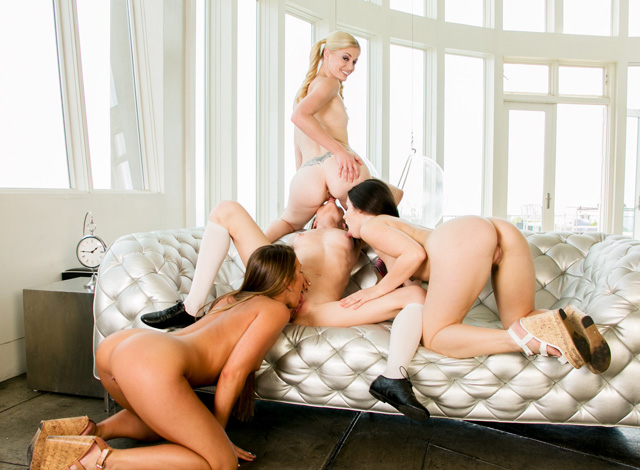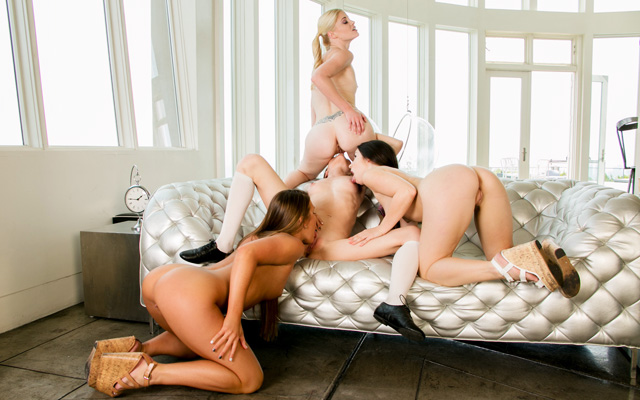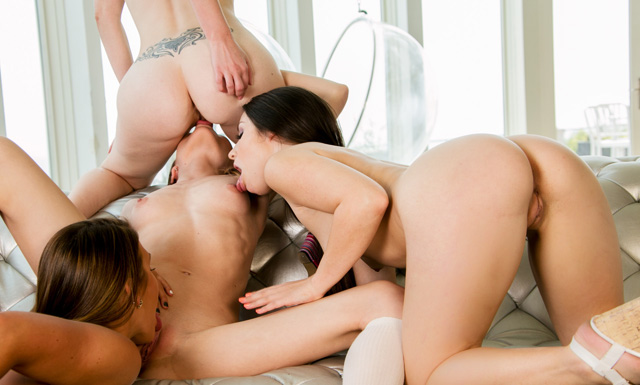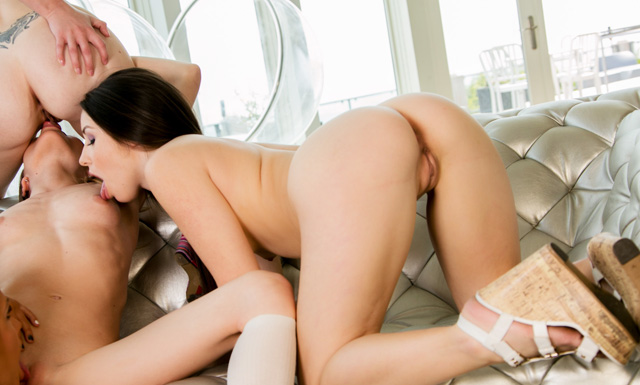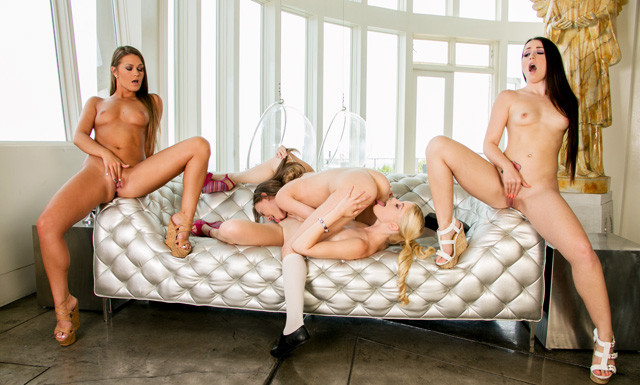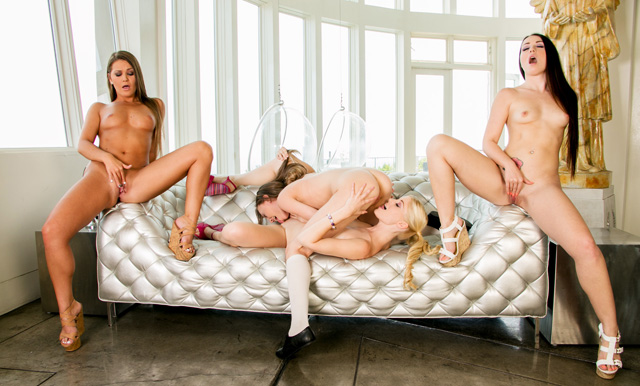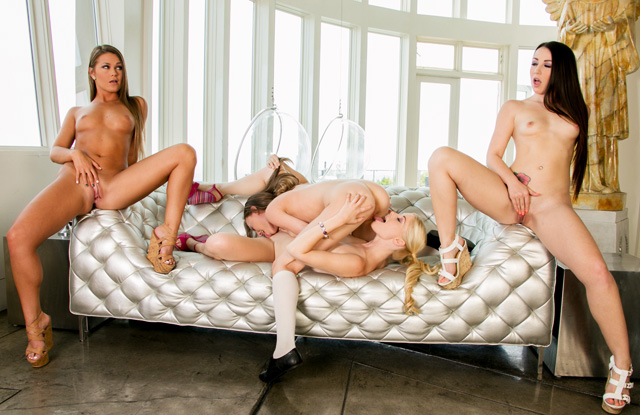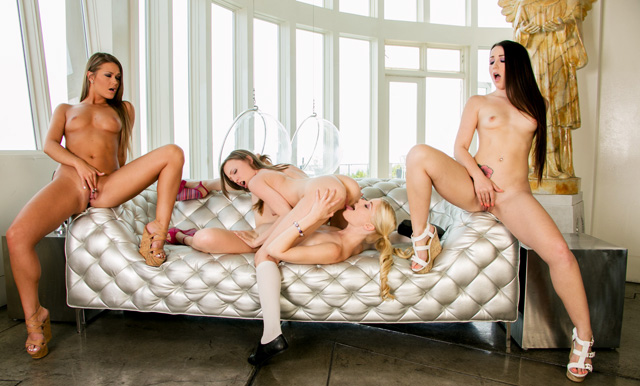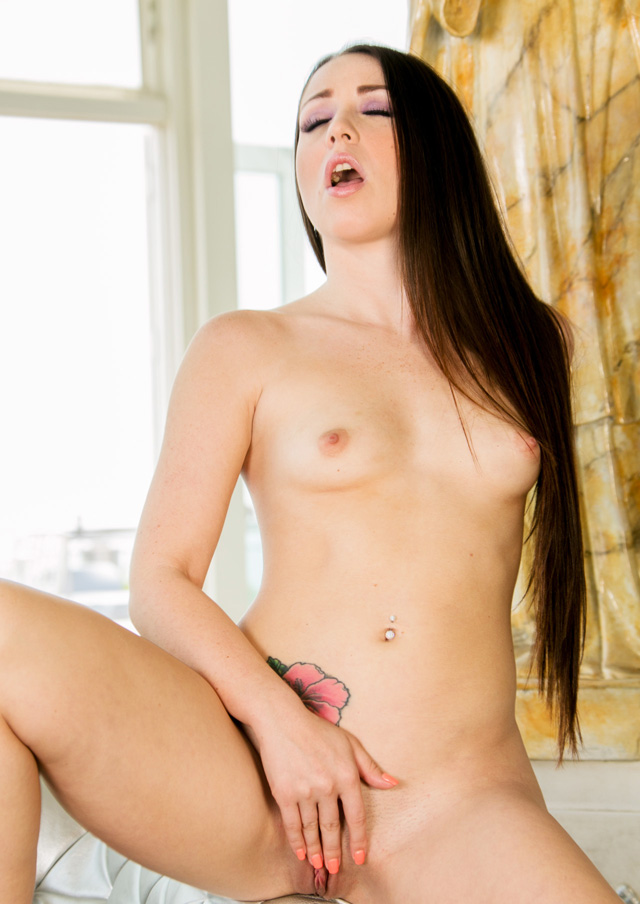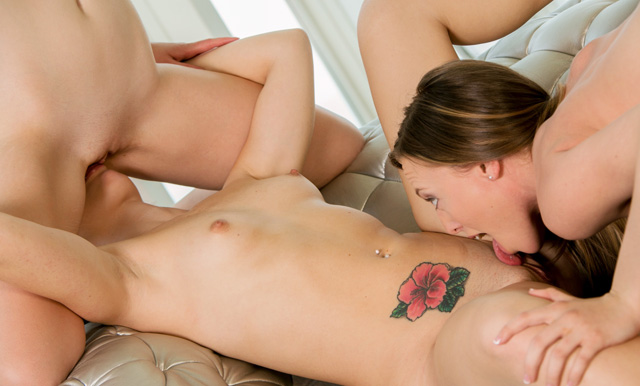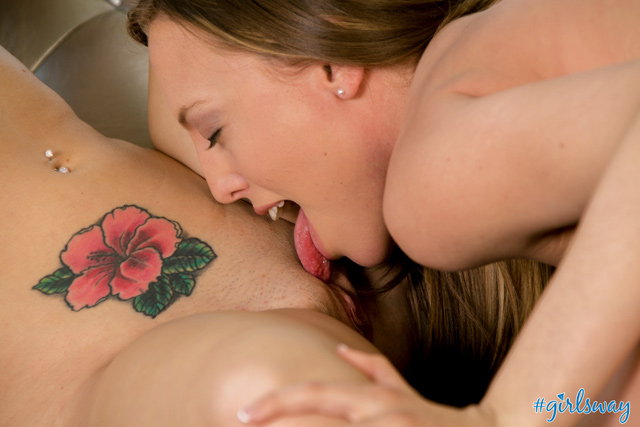 Free Streaming Video of Lola Foxx, Charlotte Stokely, Abby Cross & Aubrey Star in the newest update of Web Young.  Get your $1 PASS to Girlsway for the best lesbian porn movies online!

More videos: Free Streaming Video of Lola Foxx & Dakota James Pussy Eating
Girls Way gives you access to 4 hot lesbian sites including Mommy's Girl [preview], Sex Tape Lesbians [preview],  Web Young [preview] & Girls Try Anal [preview].  Get Your $1 Pass now to watch all of Lola Foxx's exclusive lesbian porn videos!  ENTER GIRLSWAY HERE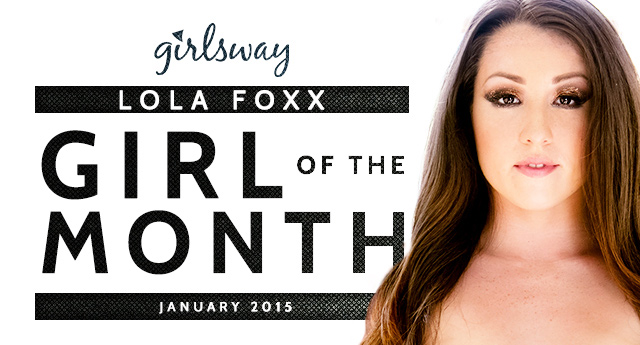 Continue reading in the Lesbian category or return to the cover of Porn Corporation magazine.
See more babes in the Pornstars category or view all the articles starring Lola Foxx.
View all of the Porn News here or check out:  Lola Foxx VIP: New Official Pornstar Site
Read all of the Girlsway articles.  Girls Way: New Lesbian Porn Mega Site Network!
New Lesbian Porn Site: Mommy's Girl – New Porn Site: Sex Tape Lesbians
New Porn Site: Web Young – Get Your $1 Pass to Girlsway Right Now!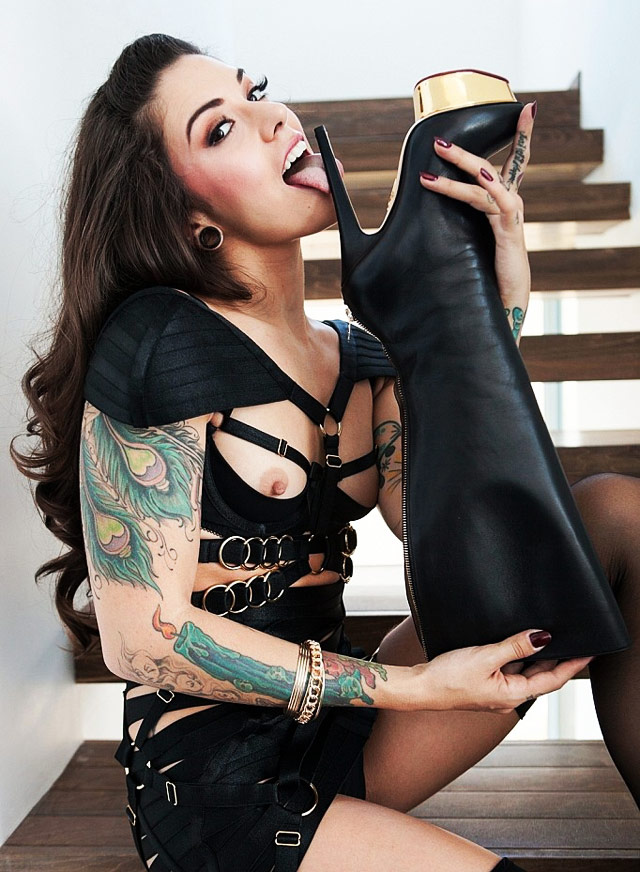 1. When did you begin performing in adult situations and when did your love for fetish truly begin?
KAYLA-JANE:  I started performing in adult productions when I was 18 years old! My love for fetish has come over time. It started out without really understanding why I had certain sexual reactions and attractions; I just went with it as part of my early sex play, thinking of it as nothing more than generally "kinky". As I entered my adulthood, I had more outlets to express and explore my fetish inclinations and did. I used dancing at fetish parties & clubs to participate in BDSM activities, learn, train and find my place in the community.
2. Kayla-Jane, we know your a dangerous girl, so tell us what is the craziest thing you have ever done in your life?
KAYLA-JANE:  Craziest, in my life…that's a tough one. I spent a day shooting for a public nudity website walking around downtown Long Beach California during lunchtime. It was a blast, very exhilarating, empowering, and a fun day in the sun. Seeing as how that is totally illegal in Los Angeles and technically something I could have been arrested for, I guess that qualifies as dangerous!
3. We know you're into femdom, foot fetish and lingerie, but please tell us in depth some of your deepest fetishes and why you love them!
KAYLA-JANE:  I think my love of these three things are derived from a feminization fetish. It's not just a male fetish, but I absolutely fetishize the 'ultimate female' in my eyes, dressing up in lingerie, extremely high heels, making myself up and doing my hair arouses me completely. When I transform, it is when I feel most powerful, and most Dominant, although I am always and Alpha Female and Dominant personality. I do switch when it comes to my partner—he's an Alpha male and we have a great power exchange, but he never really submits, if you know what I mean. When it comes to feet, to me it's not even a fetish; it is a way of life. Foot worship is part of foreplay and my feet are an erogenous zone—it just comes naturally to use them in my sex life and sexual exploration on camera! To see exactly what I mean, please check out my site MyDollParts.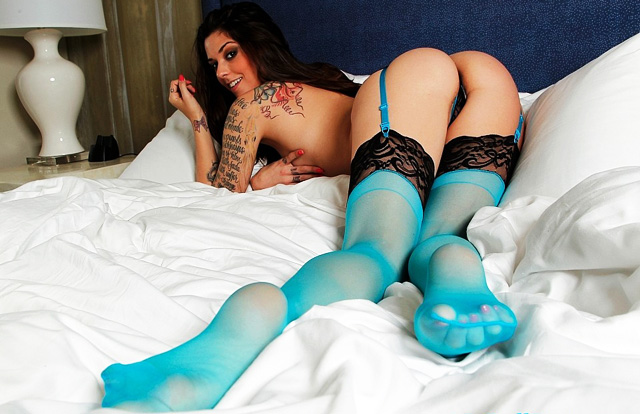 4. Please describe what it feels like to you when another person submits oneself as a slave under your control.
KAYLA-JANE:  It really depends on what kind of submission it is. There are many submissives and not all are slaves to me, even if they submit to me. But taking control over someone in general is a very personal and powerful thing. It's more than a notch on my belt, but the beginning of a relationship, no matter how brief or long. Although, I really only accept the submission of those who plan on staying under my control for the long term. All around it is a warm feeling, like acquiring anything new, all the potential that servitude holds—it's very exciting.
5. You're a fashionable girl, let's cool it down for a minute and talk style. What are your must haves and your personal fashion faux-pas?
KAYLA-JANE:  Must haves…high heels! In general when I am out and about, I am in high heels. You know something is wrong or I am on the run when I am wearing flats, although my few pairs of Jordans, and my Charlotte Olympia kitty flats are the only ones I will wear with pride! I think every girl should own a pair of Jordans, but I believe the same about key designers, although I do understand the price restriction for some. I am happy you mention faux pas, because I will say there are two looks most common on hipster girls that really needs to go—mom jean shorts, and geenie pants…COME ON LADIES – it's just not cute. It blows my mind when cute girls dress in these ridiculous bottoms—there are pants and shorts for every figure and those do no justice to ANY figures.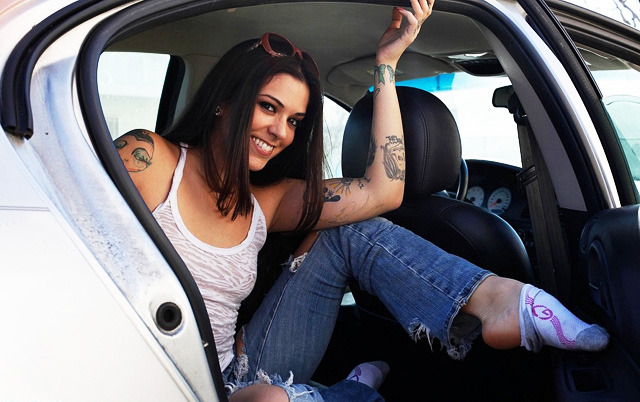 6. Ink. You're covered in it! Please tell me about your tattoos, what does the one on your arm say and what do your other tattoos represent to you?
KAYLA-JANE:  Most of my tattoos are drawings or paintings that I have done throughout my life and decided to get tattooed on me. I tend to lose sketchbooks, portfolios, etc. over the years, but once they are inked on, they are much harder to lose! The writing on my left arm is from "Ariel's Song" from Shakespeare's The Tempest. I suggest everyone reading this looks it up and contemplates the meaning for themselves—don't worry, you don't need to read the whole book for context, just Ariel's Song. I end the quote short at "rich and strange", which happens to be what my man and I call ourselves now—his name is Rich and I am strange. I do love that I can take a walk down memory lane and remember all the people in my life and the places I have been, when I look at each tattoo. I will be getting tattooed for a long time to come—it's part of why you don't see me totally grilled yet.
7. Do you have any piercings or have you had any piercings in the past?
KAYLA-JANE:  Yea, I had my belly button pierced in my early teens like every girl of my generation and my ears pierced when I was a kid. But it was around the time I started checking out BMEzine and stretching my ears when I was 14/15 that I really got into it, and got in trouble for piercing my own lip. Then after I turned 18, I had my nipples pierced. I also had my clitoral hood (sometimes called the "Christina") and my rook, and nose pierced, and I loved every one of them. Unfortunately, the genital piercing got fucked out of me…literally. It healed quickly, but if you ever see a close up pics of my waxed mound, you will see the tiny circular scar. My nipple rings got caught on everything, so eventually I just took them out. My belly ring I chose to take out when I was about 20 because I was just over it, and after I had to take my nose ring out for a photo shoot, I just decided not to put it back in. Now, all I've got left are my ears stretched to 5/8ths of an inch, and I'm not going bigger—they have been this size about 7 years.
8. What were you like growing up? Were you a rebellious girl or a good girl? Getting A's or skipping class?
KAYLA-JANE:  Actually, I was a bit of both. I am a Gemini and have always embodied the concept to a "T". I was absolutely rebellious. At 15, I got my first tattoo and also lived on my own. But, I also graduated high school early, and although I didn't graduate college, I did go straight into college right after graduating high school. Generally, everyone had the wrong idea about me—I was either an angel or the devil…and that pretty much covers how people still see me.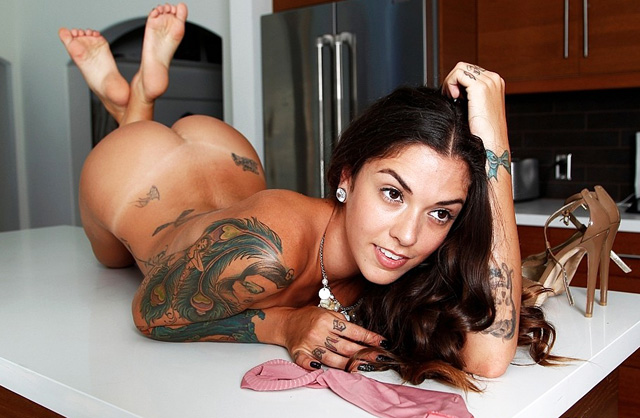 9. Back to naughty talk! You're mostly known for your lesbian and solo performances. Please tell us the difference for you between having sex with a woman or a man?
KAYLA-JANE:  Ahh women and men, Mars, Venus…really though, there are a million differences. I will speak to my current situation. My partner of 5 years is a man—he's heterosexual and I'm queer. Just because I am dating and exclusively having sex with a man doesn't change my sexual preference. So when I get into a scene with a woman I really have chemistry with, my sexual energy is just as strong as it is with my man. But there's a connection he and I have that goes beyond anything sexual, although it certainly enhances our sexual relationship. I'm probably more dominating with other women than with my man. As an Alpha Female I tend to assert that in all aspects of my dealings with other women, in and out of bed.
10. Is sex the same for you on camera as it is in your personal life off camera? How does it differentiate for you?
KAYLA-JANE:  Well, I don't have sex with men on camera so my personal life is vastly different. My sex life has always been the thing of porno fantasy, whether before I was monogamous or after—which makes me a very lucky girl.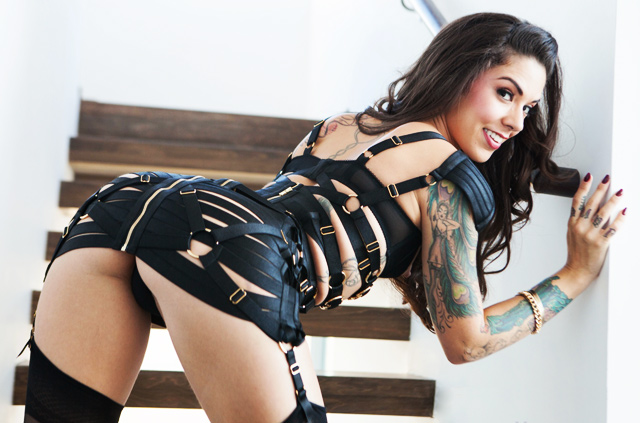 11. A few more juicy details. Are you currently seeing anyone or just hosting a number of pets and subs?
KAYLA-JANE:  As I have mentioned, I am taken when it comes to Love, Sex, Life Partnership and am not looking for anyone to date, see romantically or sexually, but I am always looking for submissives to fill positions whether online or in person. They can submit themselves at SpoilKayla.com—they need to give me their information, like their interests, why and how they are interested in serving me and all that good stuff. Right now, I have a few positions open and a few good pets in my pen.
12. A taste of danger to leave on! If you were ice cream, what flavor would you be Kayla-Jane?
KAYLA-JANE:  Cherry Amaretto with Dark Chocolate Chip—something unexpected, decadent and naughty.
13. Is there anything else you would like to say to your fans and tell our readers? Perhaps a glimpse of what the future holds for the lovely Miss Kayla-Jane Danger?
KAYLA-JANE:  If you want the front row seats for the future of KJD Media (my production company) and myself, I suggest you follow me on both my Twitter accounts @KJDangerdoll and @KJDMedia. [Follow us @PornCorp] My novel "Pleasure Or Pain
" has just been released on Amazon.com
for Kindle and there will be more books in the future to look forward to, as well as the DVD productions I have alluded to. We are hoping for big things and our fans, members and your readers are a huge part of that becoming a reality!
ENTER Kayla Jane Danger's Official Site & get up close and personal inside My Doll Parts!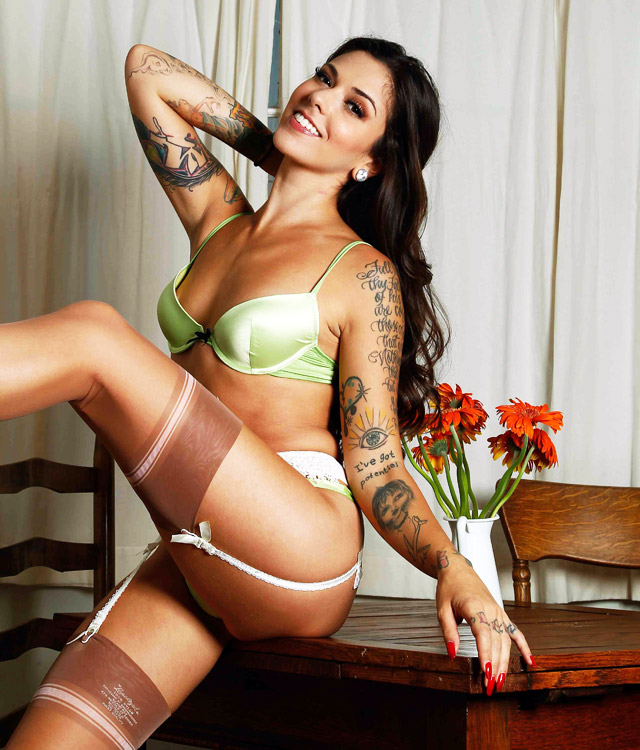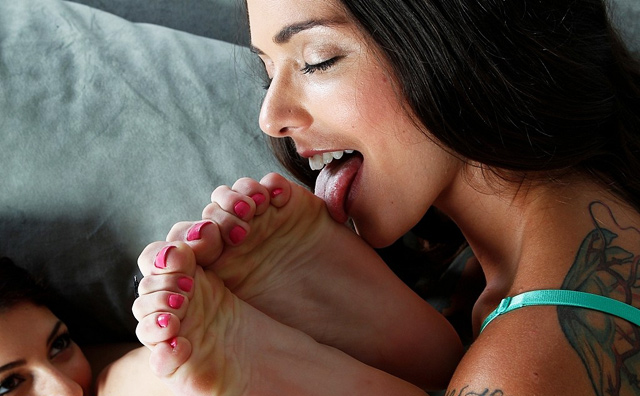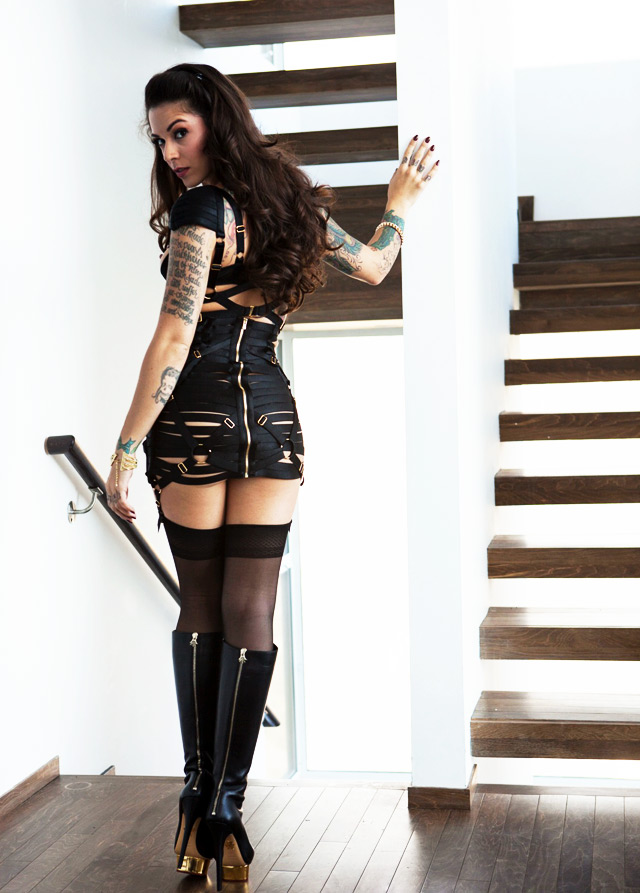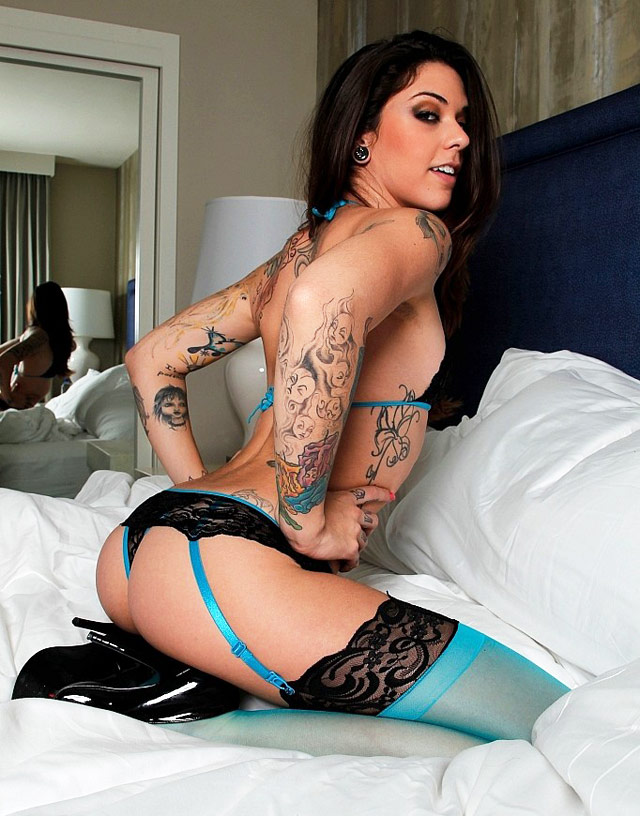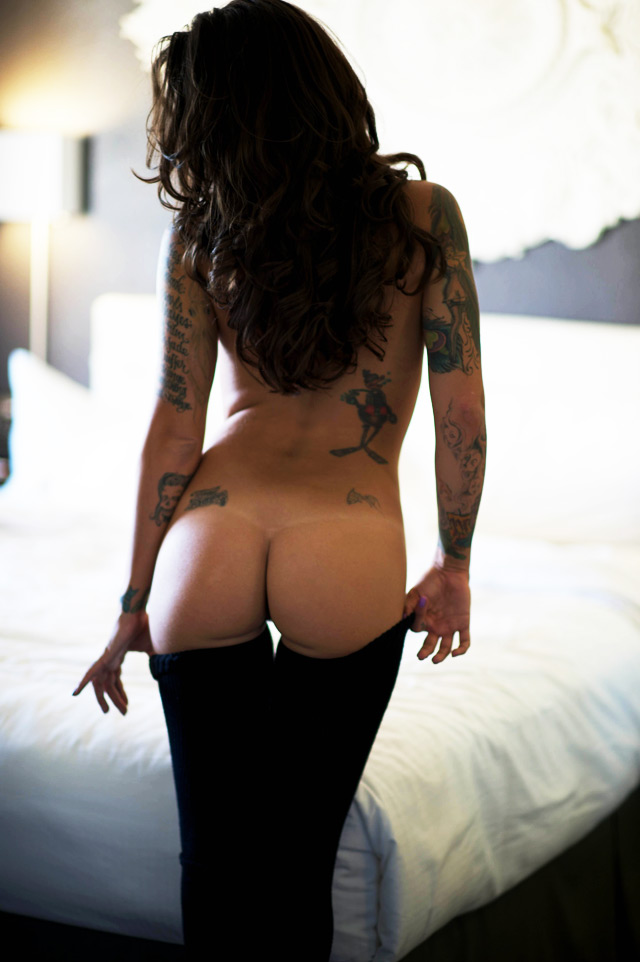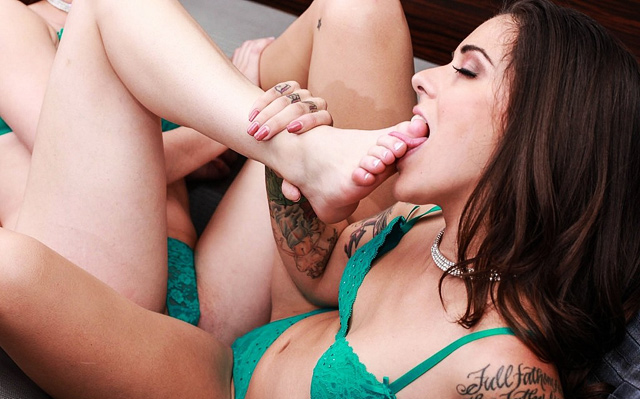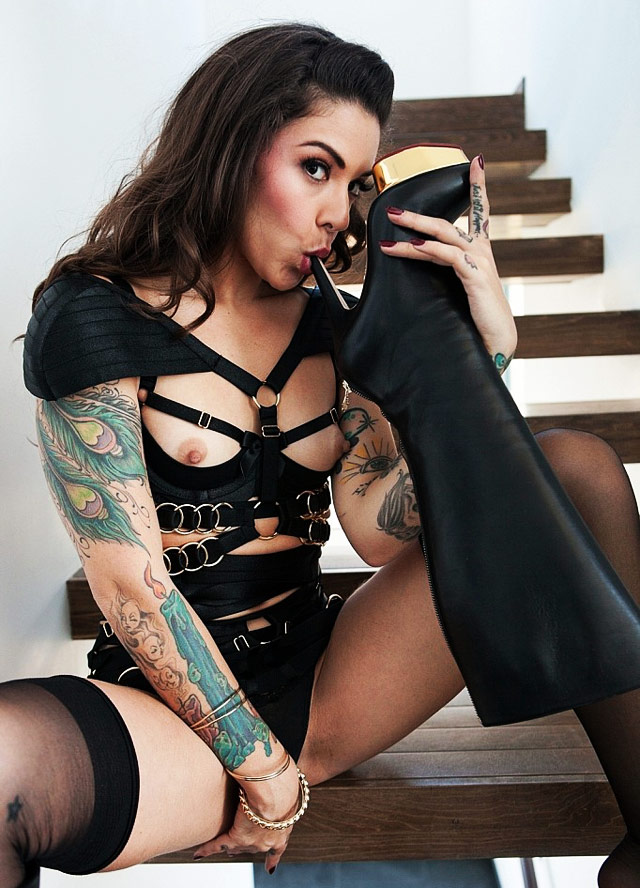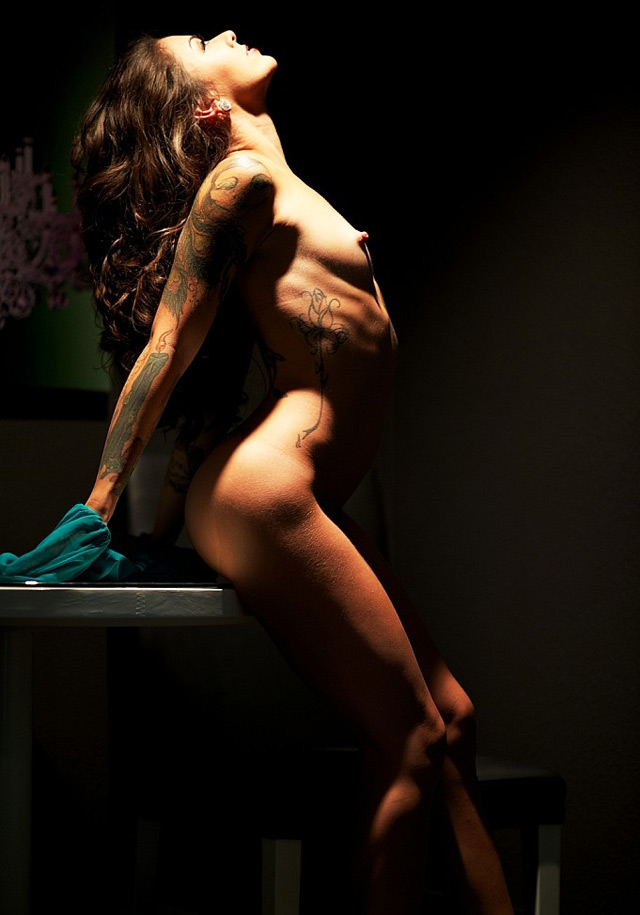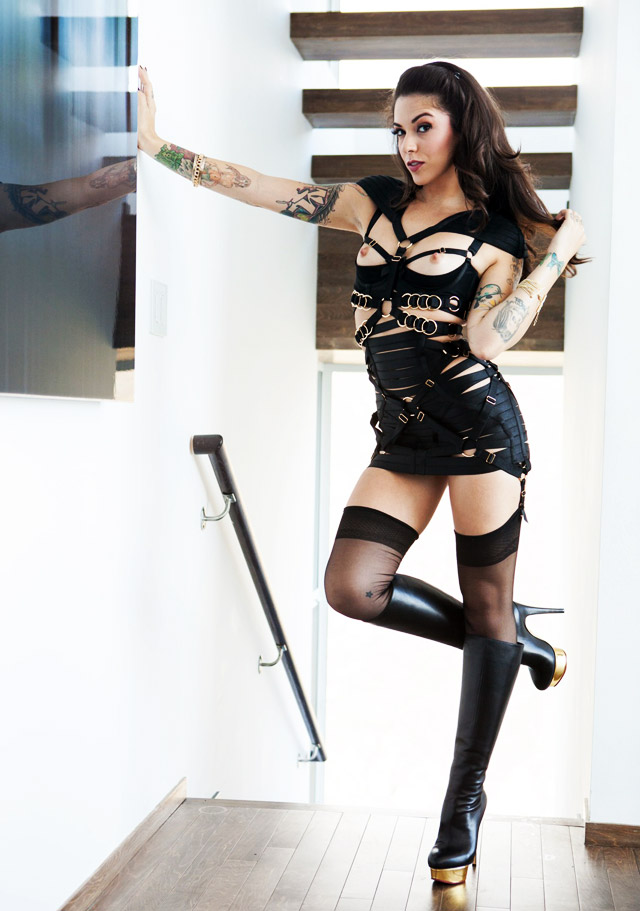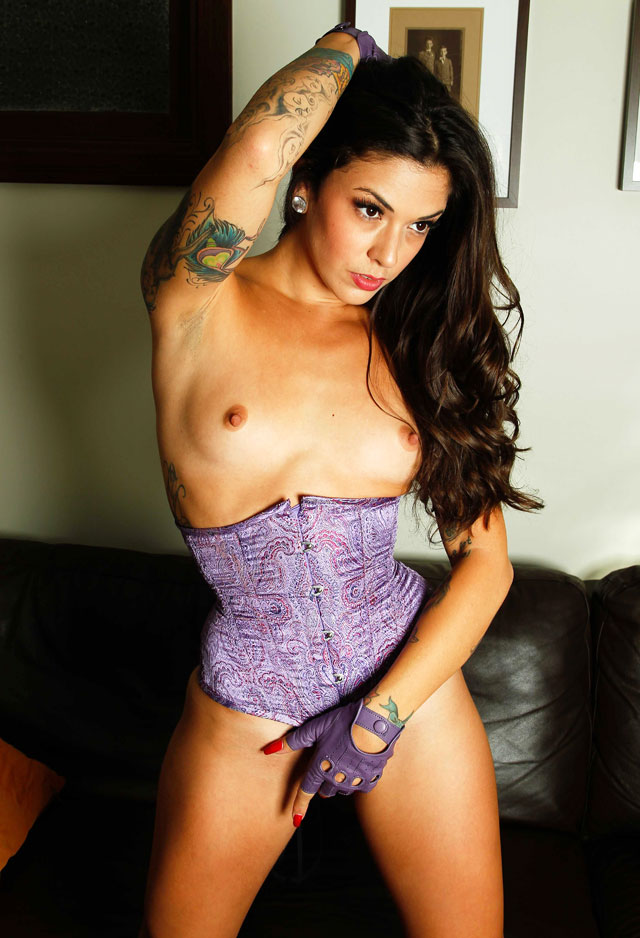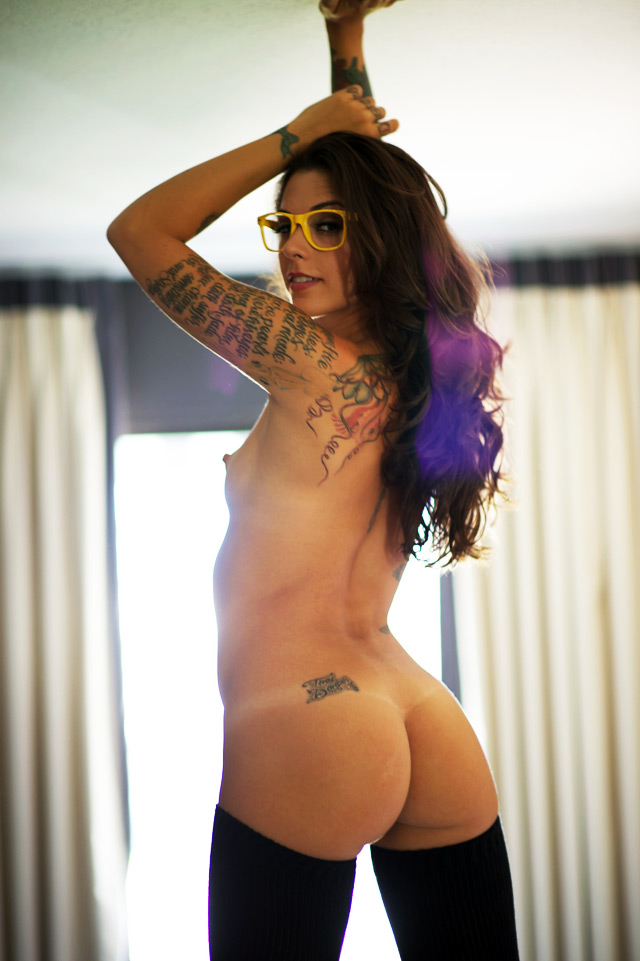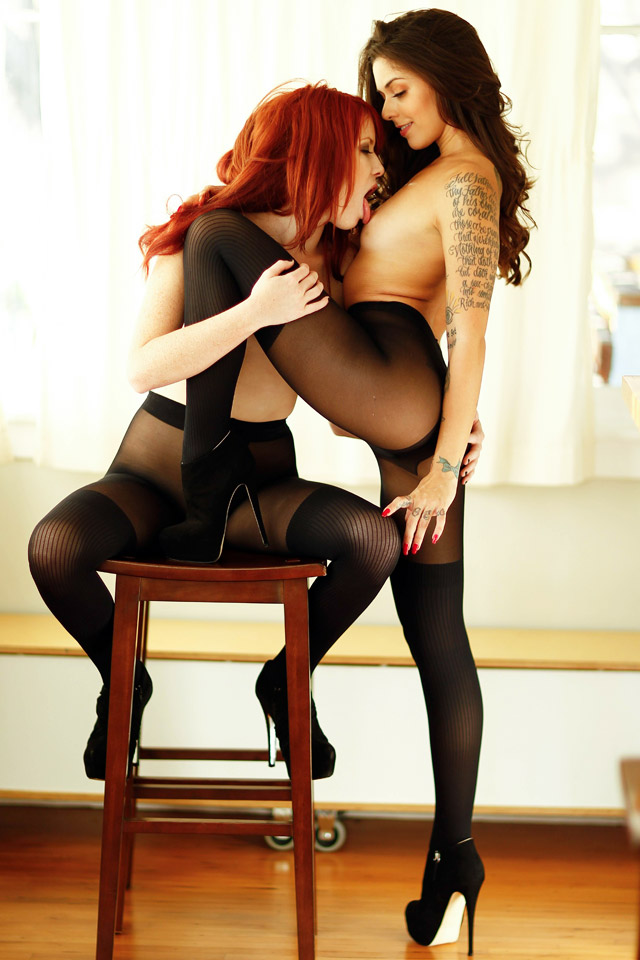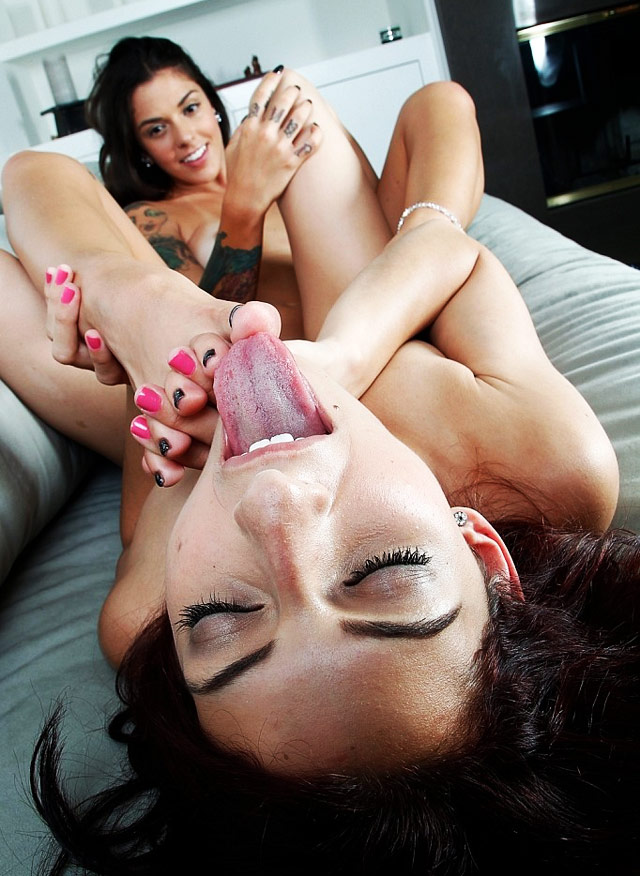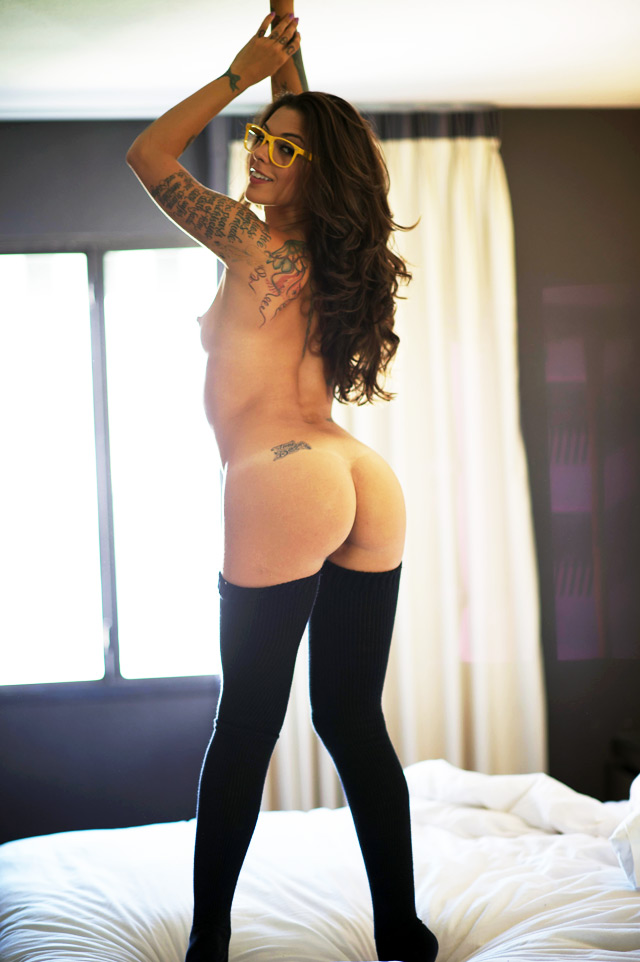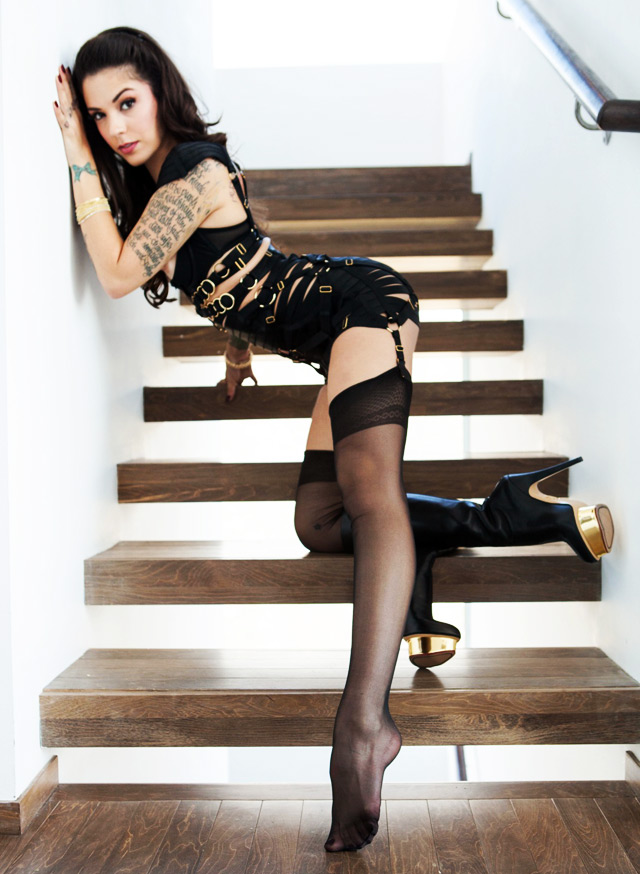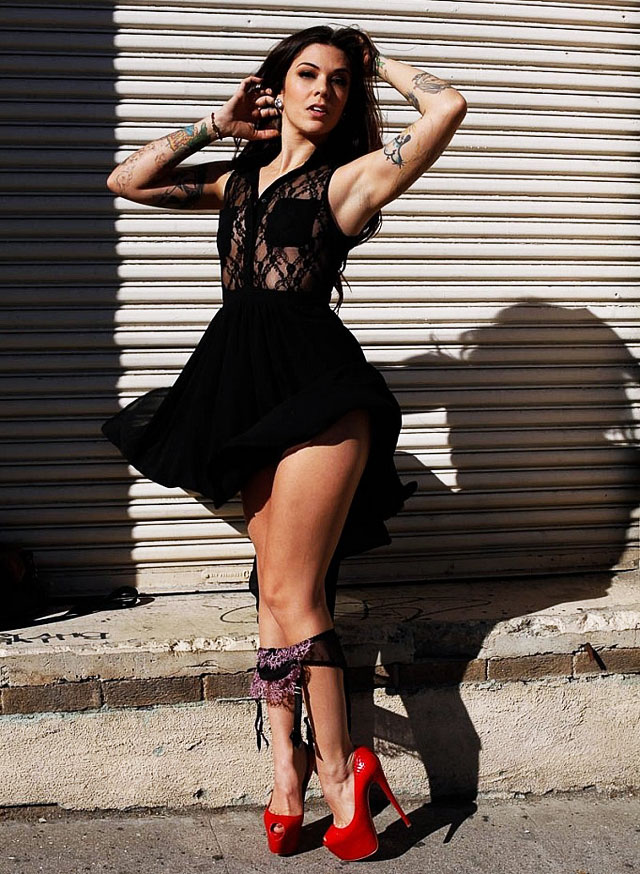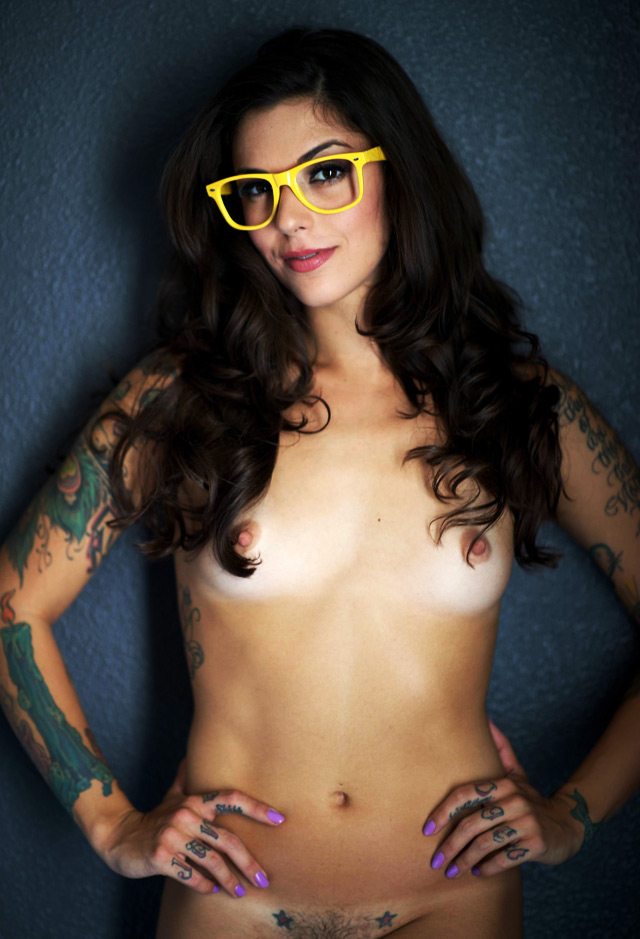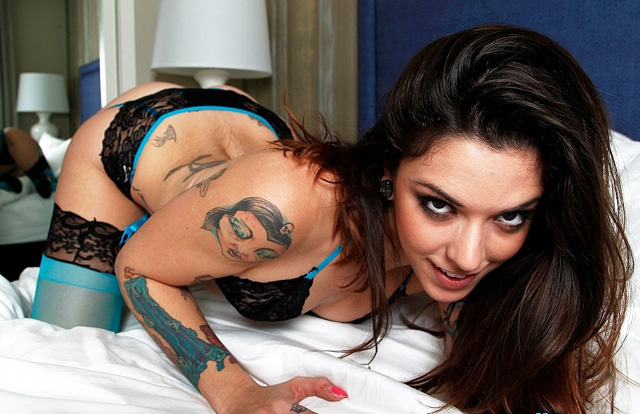 ENTER Kayla Jane Danger's Official Site & get up close and personal inside My Doll Parts!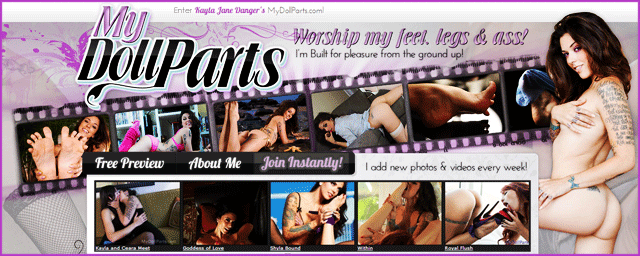 Continue reading in the Pornstar Interviews category or return to the cover of Porn Corporation.
More Interviews:  Natasha Starr – Karmen Karma – Cosplayer Leia Down – Mia Gold – Nora Noir