Browsing articles tagged with " Fetish FuckDolls"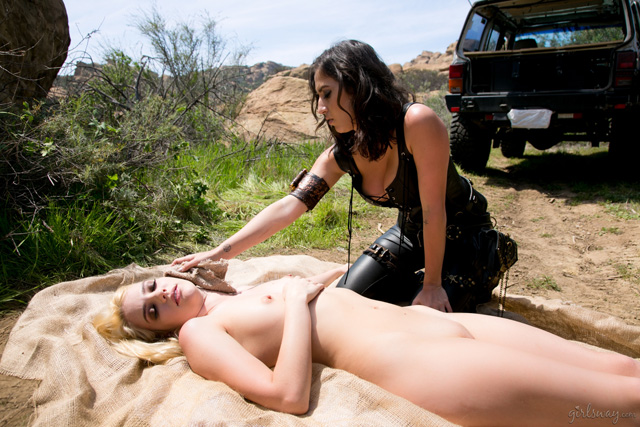 In the new cyber punk porn, Wastelands part 2 begins with synthetic human VX-13 aka. Kenna James alone and naked in the desert after escaping from the Girlsway Corporation laboratory that created her when The Doc [April O'Neil] smashes into her with her truck. Not knowing that the perfect girl is not human and has developed a powerful AI like never before April rushes to check on the appearing lifeless body and is overwhelmed with grief. To honor the Jane Doe April decides to give her a proper burial and loads her into the vehicle and moves her to a new undisclosed area to see her off. To April's surprise the girl awakens, scared and upset, not being able to remember her name and begins telling her about being locked up, abused sexually and used a sex slave. The Doc is appalled at the grotesque way she has been treated and promises her this is a new start. The two connect in a strong emotional way as they embrace and begin to kiss. Watch sexy human April "Doc" O'Neil and sexbot VX-13 engage in hot lesbian sex in the desert. Watch the free trailer for episode 2 of Wastelands: The Hero and get your pass to Girlsway for only $2.95 to watch the first 2 episodes of this amazing techno-sexual mini-series tonight & get ready for the upcoming episodes!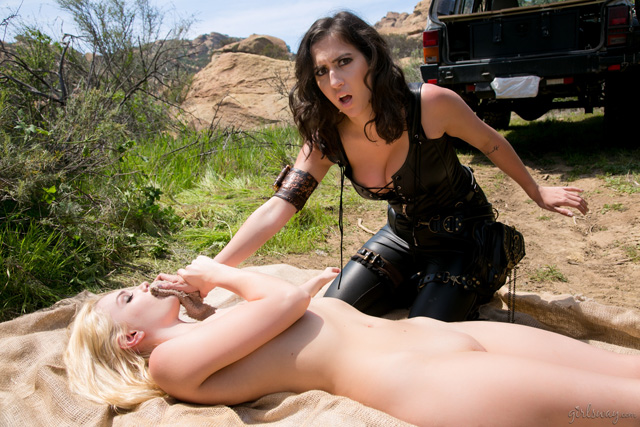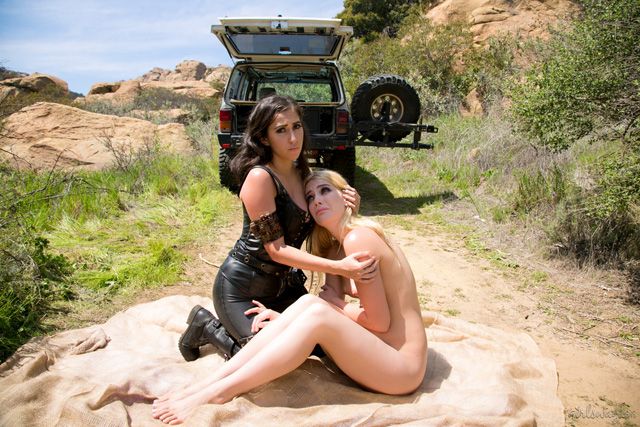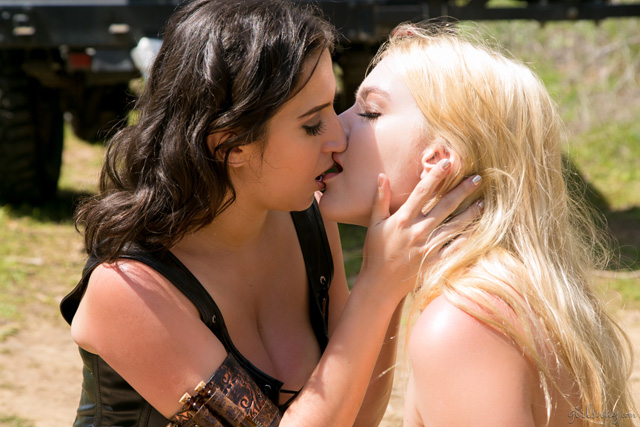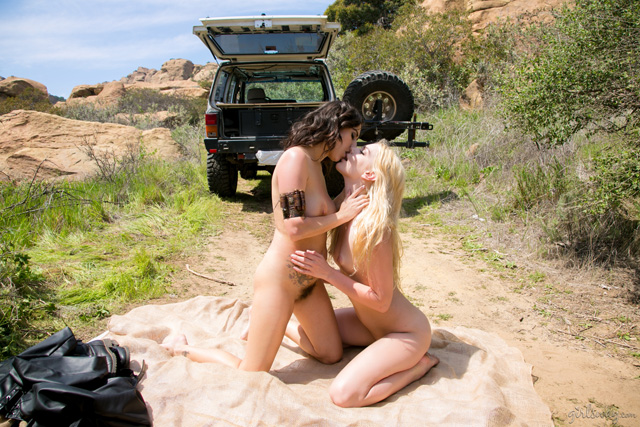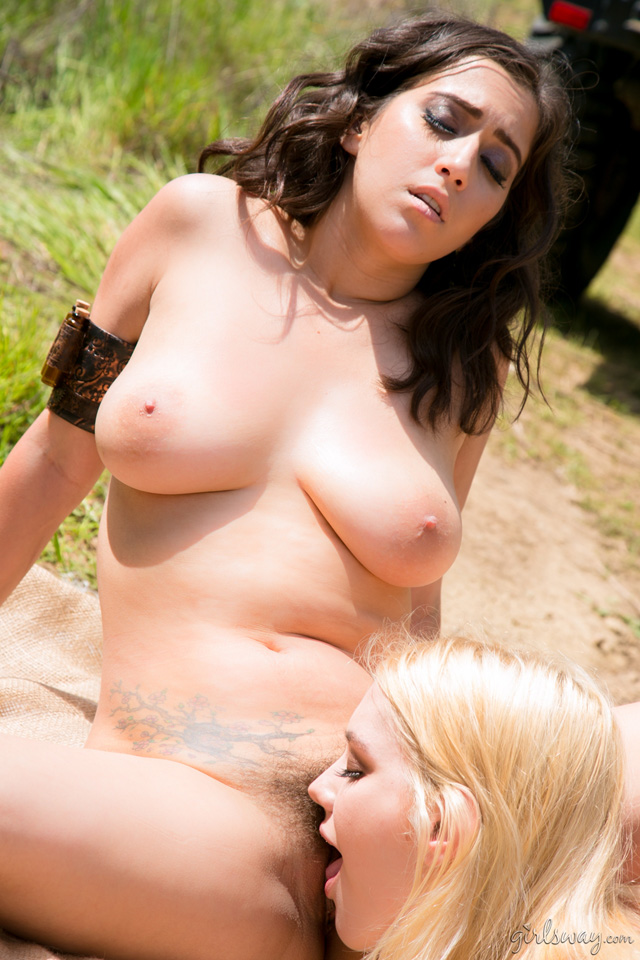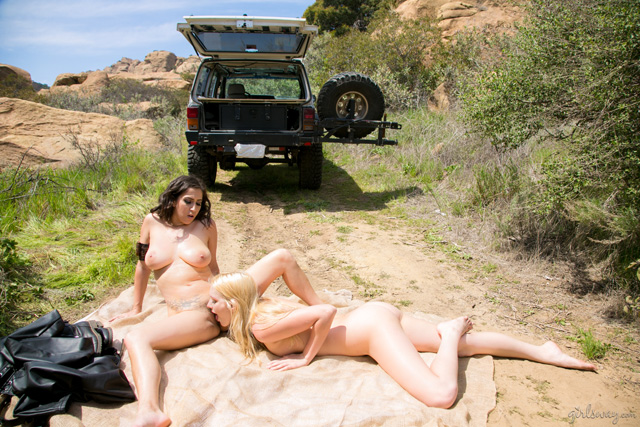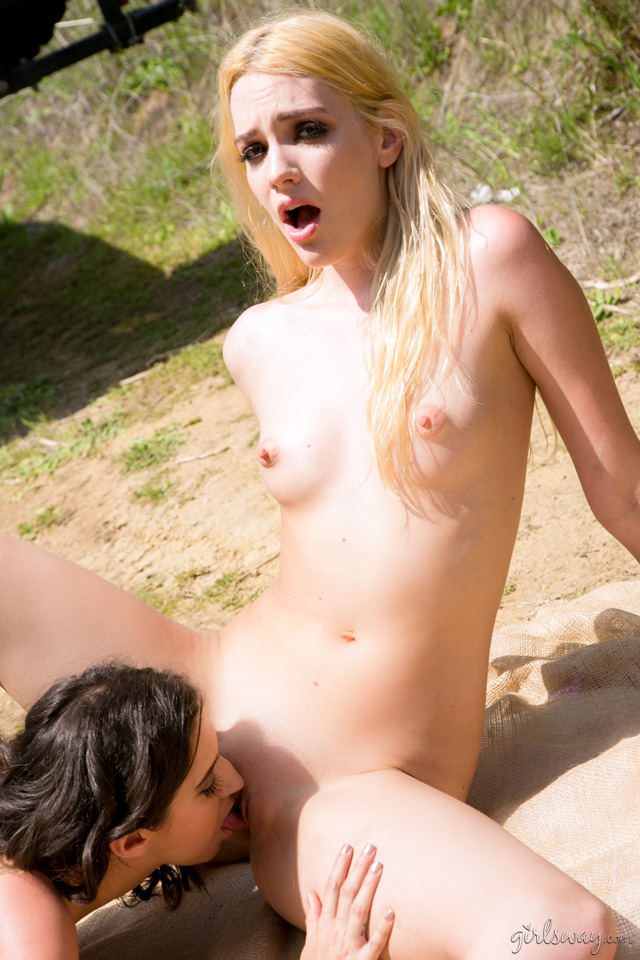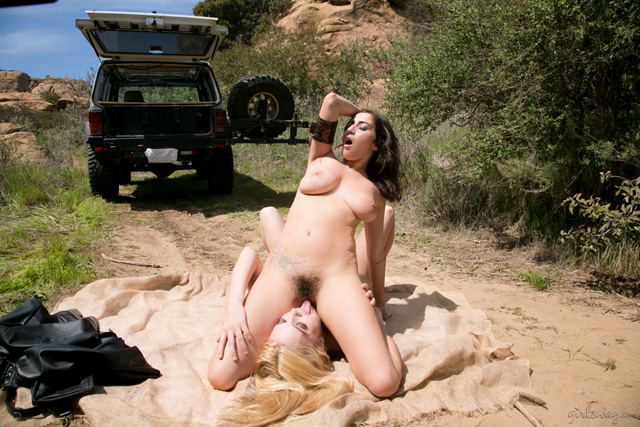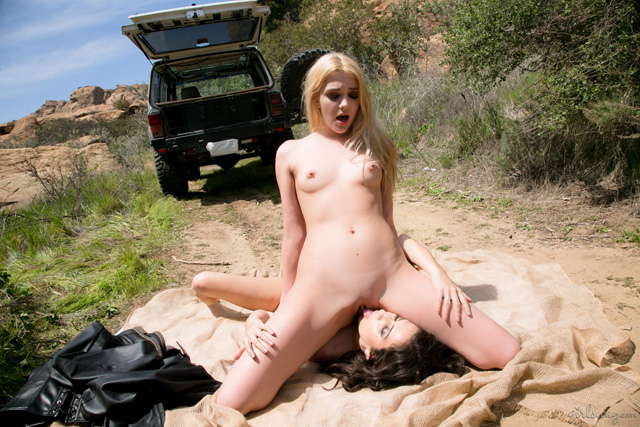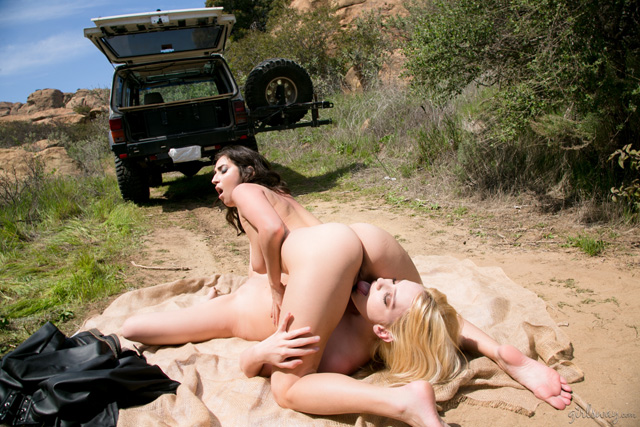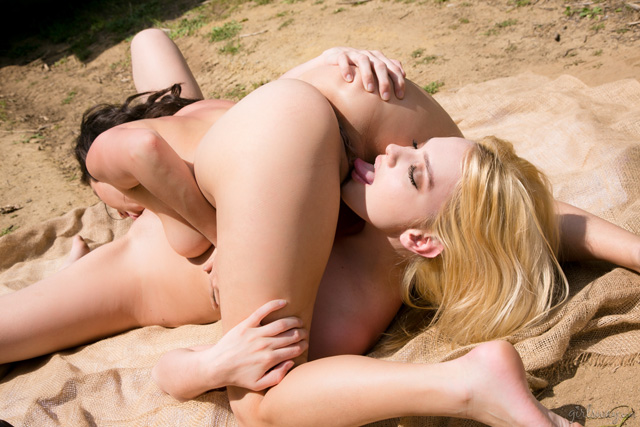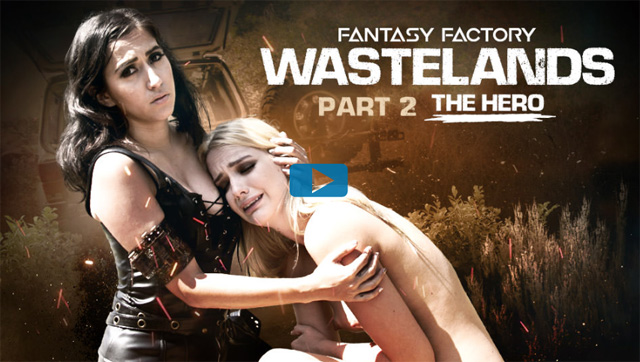 Are you ready to delve deep into the dark future and explore the Wastelands? Watch as fembot VX-13 and The Doc have intense lesbian sex with facesitting, tribbing, fingering, licking and earth-shaking orgasms as this new dynamic duo create a new start together in the Wastelands portrayed by Kenna James & April O'Neil. Will commander Mac, the Girlsway Corporations evil bounty hunter capture android babe VX-13? Will the Doc find out her new lover is a synthetic human?  Is sex with an AI robot built for sexual pleasures better?  Stay tuned for the upcoming episodes of Wastelands and watch the first 2 scenes inside the member's area of Girlsway for only $2.95 right now!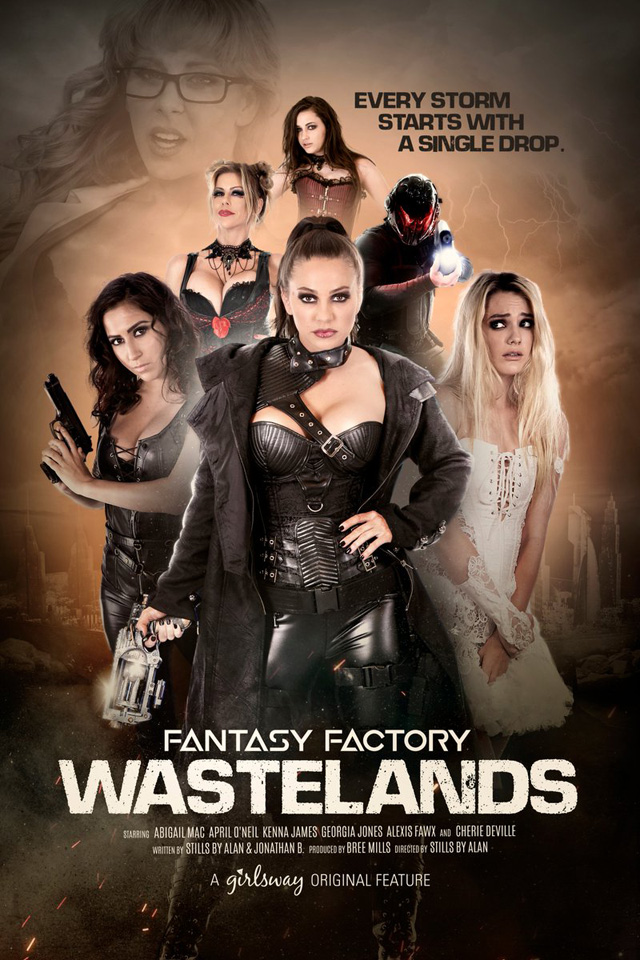 View more in the Cyberpunk or Sex Robots categories or return to the cover of Porn Corporation.
More from Girlsway or Wastelands. Debut: Wastelands: Cyberpunk Sci-Fi Lesbian Feature Film
See more of Kenna James or April O'Neil or for more sapphic action visit the Lesbian category.
Feeling kinky & adventurous: Check out Wasteland: The Oldest & Largest BDSM Community
Check out the latest 3D Porn Games or Adult Comics or Parodies or New Porn Sites or Porn News.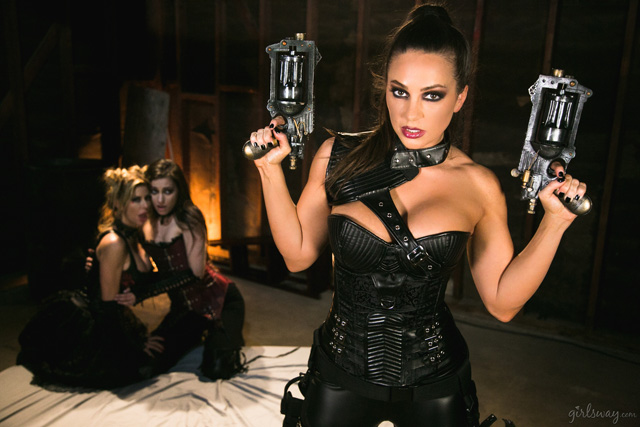 Wastelands: the wild new cyberpunk porn spun from the Girlsway's pleasure bot factory debuts today.  In the not so distant future, we create androids to make life easier, but as a result with every upgrade the androids become more and more like humankind.  The Girlsway Corporation specializes in pleasure bots, created to be indistinguishable from humans.  These sex robots quickly became tools and toys of the rich and with mankind's natural path of destruction, the pleasure bots we're weaponized to ultimately become super-powered weapons of the rich. The corporation then began building super soldiers and we're used to expel the poor and middle class to create a paradise.  Society evolved to a state where only the rich occupied the cities and the poor and unfortunate are pushed to the bleak outskirts, known as the Wastelands.  So we begin with Part 1 of Wastelands: The Villian.  In the Girlsway Corporation a synthetic human known as VX-13 develops an AI and walks out leaving the factory at 6:42 am.  this has never happened before.  The corporation head Bree Mills is furious and wants their property returned.  VX-13 portrayed by Kenna James is naked on a desert road in the Wastelands when April O'Neil hits her with her vehicle at a high speed and not a mark is left on VX-13.  She awakens in the back of April's car on her new journey.  Meanwhile, Georgia Jones seeks out the Fantasy Factory facility in the Wastelands, a run down building with crumbling walls sprawling with graffiti depicting the hatred and pain of the expulsion. Inside she finds Dana DeArmond, who runs the street girls selling their sexual services to survive.  Georgia's eye lay upon bubbly blonde sci-fi dream babe Alexis Fawx and she quickly works a deal with her pimp Dana.   In a dark room with a lone mattress Georgia finds herself enthralled with Alexis' sweet kisses and wet pussy as she nibbles on her nipples when things take a bizarre turn.  Synthetic human bounty hunter Commander Mac [aka. Abigail] is on a mission from headquarters to retrieve VX-13 when she stealthily storms the Fantasy Factory and approaches Dana for information and that's when she bursts in on Georgia and Alexis.  Alexis is not innocent though and knows too much.  She must fight for her survival and allow Commander Mac to call the shots.  Georgia becomes entangled in a wild lesbian threesome as Alexis struggles to conceal her true identity and a secret to secure her freedom.  Watch the trailer now if you are ready for a steaming hot lesbian sci-fi cyberpunk porn adventure.  See more from Part 1: The Villian from Wastelands.  Get your pass to Girlsway for only $2.95 to watch this twisted tale now in the brand new 4 episode cyberpunk porn series!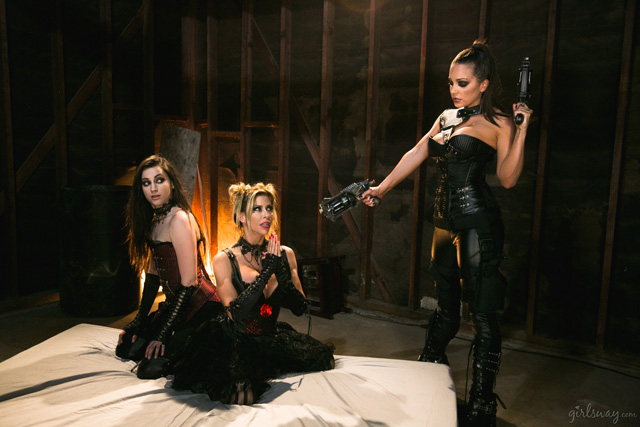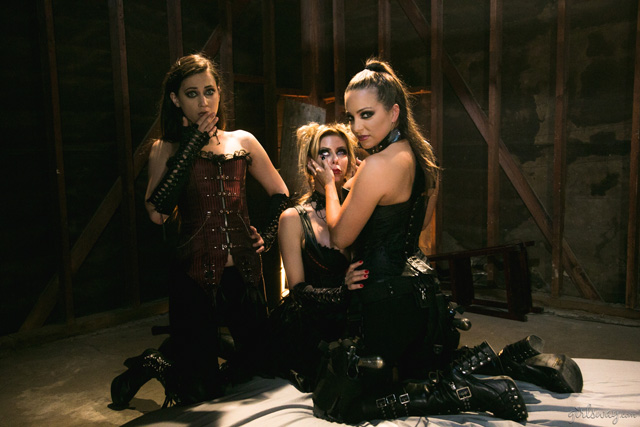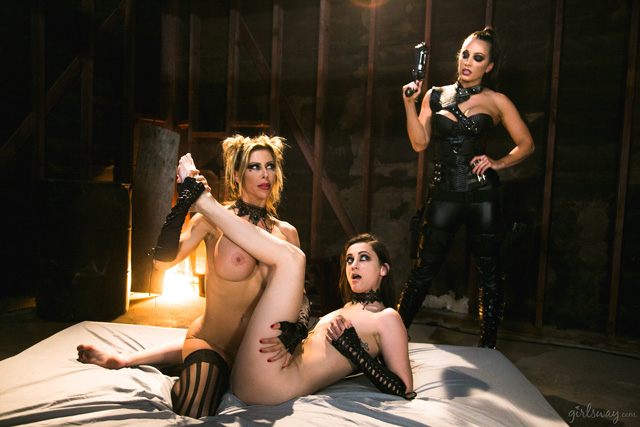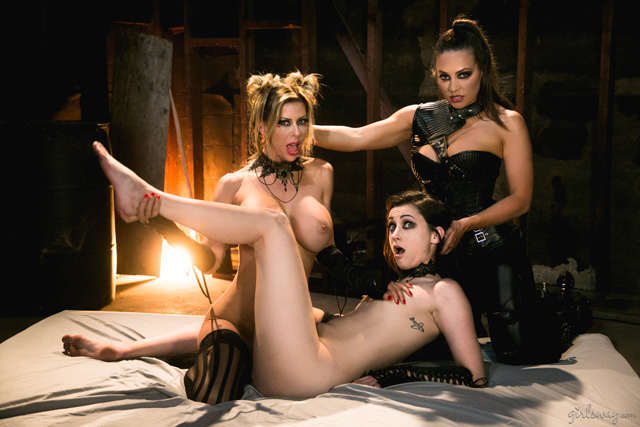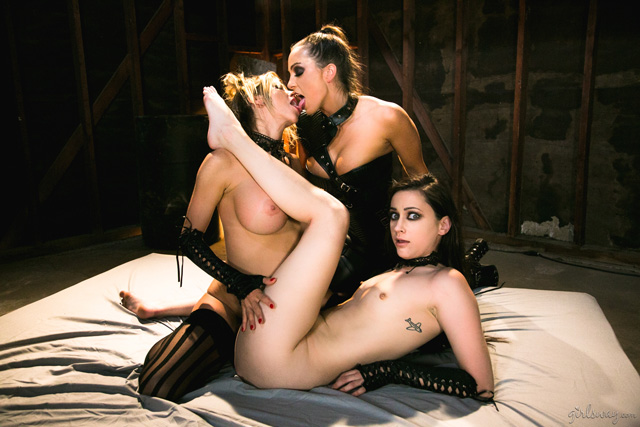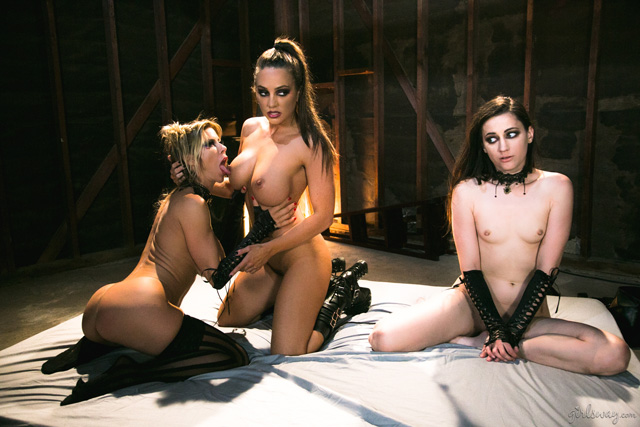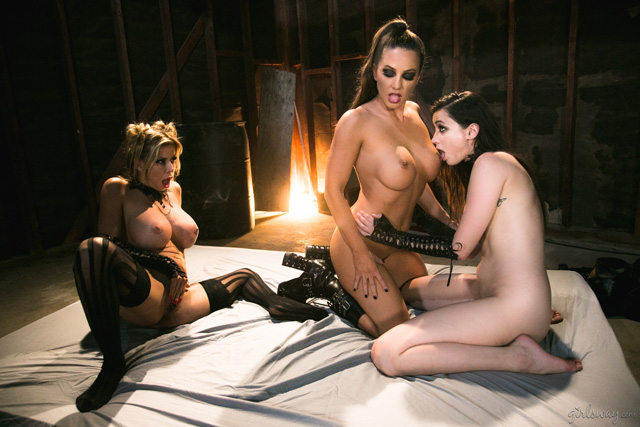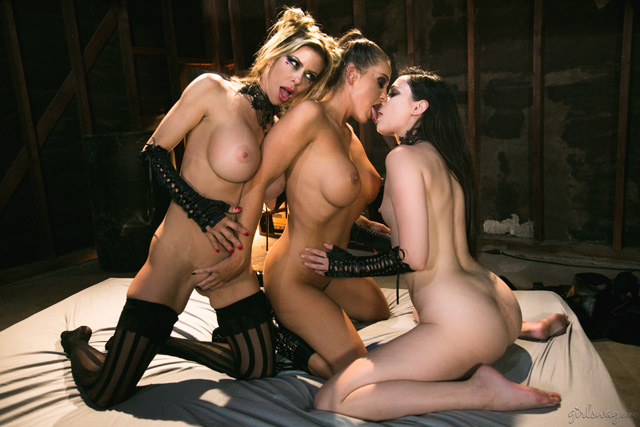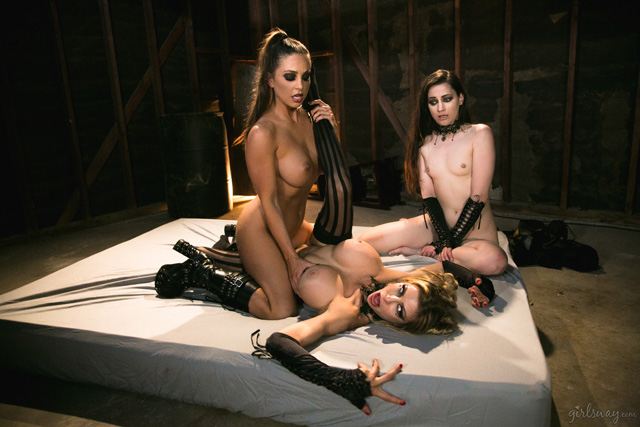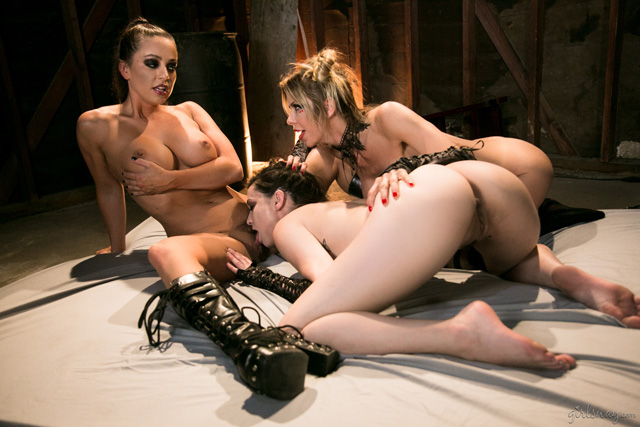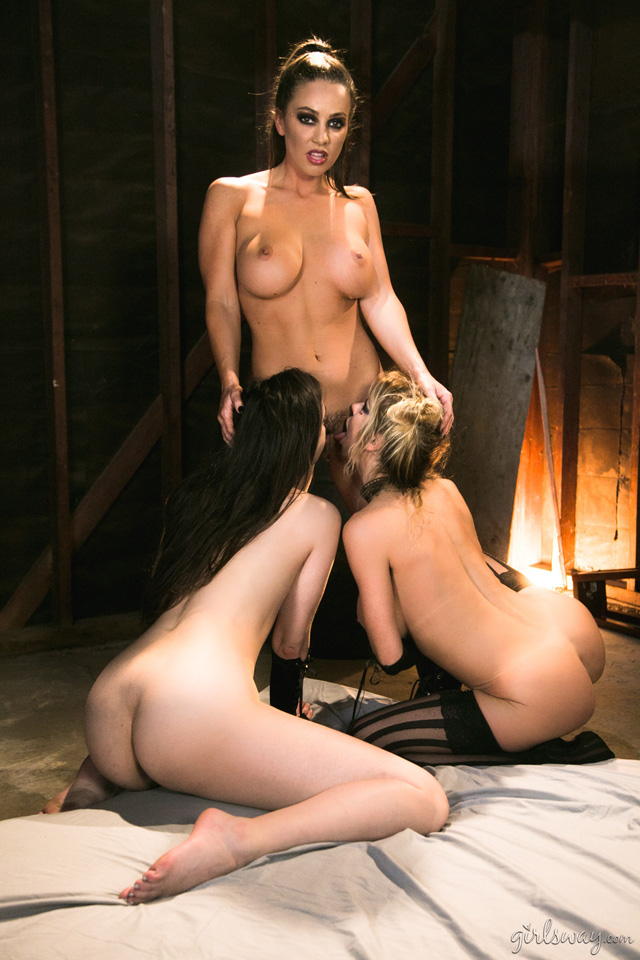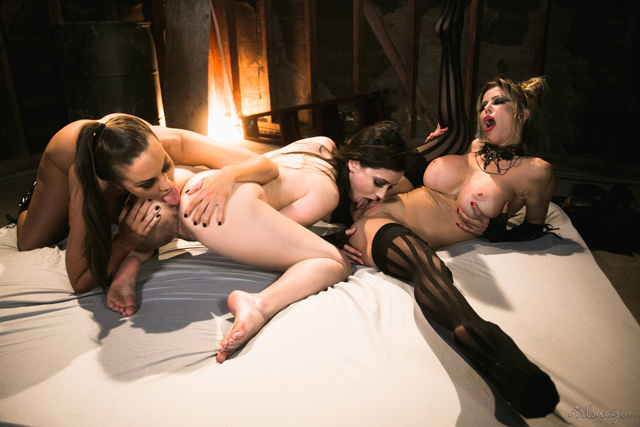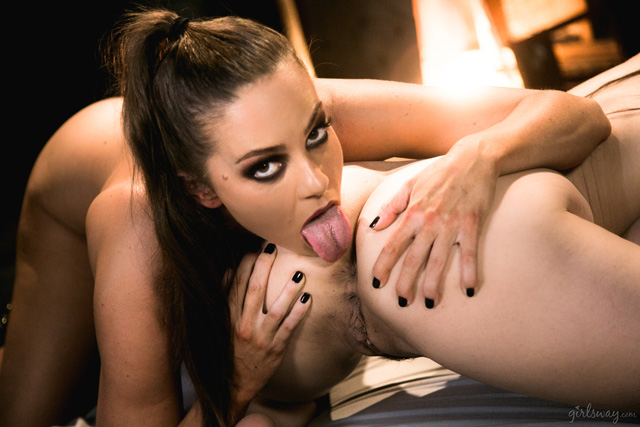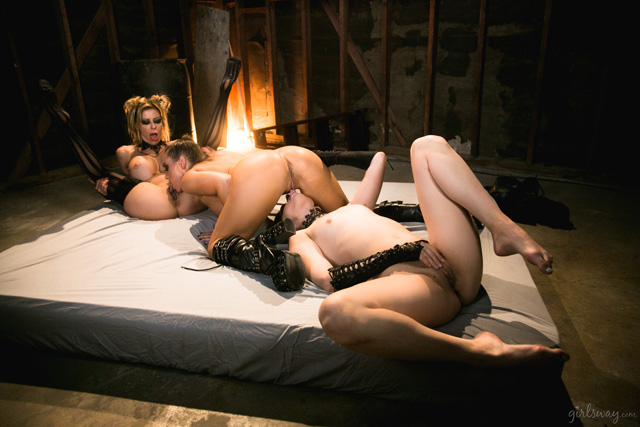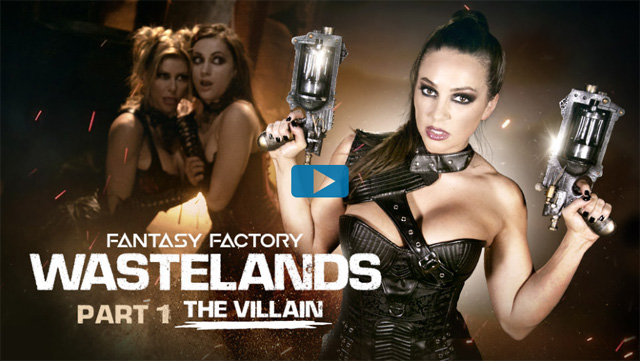 Every storm starts with a single drop.  Will Commander Mac drag in VX-13 from the Wastelands?  Is Alexis Fawx truly a synthetic human?  Will Alexis manage to keep her true identity concealed?  Will Georgia Jones succumb to too many orgasms?  Are you ready for what synthetic human VX-13 has to offer?  Will this pleasure bot break the cycle?  Find out what happens next inside the Fantasy Factory in this wild new lesbian cyberpunk porn & sci-fi sex action/drama feature film!  Watch the trailer from Wastelands and check out Part 1: The Villian starring Abigail Mac, Alexis Fawx & Georgia Jones in this wild all girl cyberpunk threesome.  Are you ready for the technosexual adventure of a lifetime?  Get your pass to Girlsway for only $2.95 to watch the first episode now in this epic new 4 part cyberpunk porn mini-series!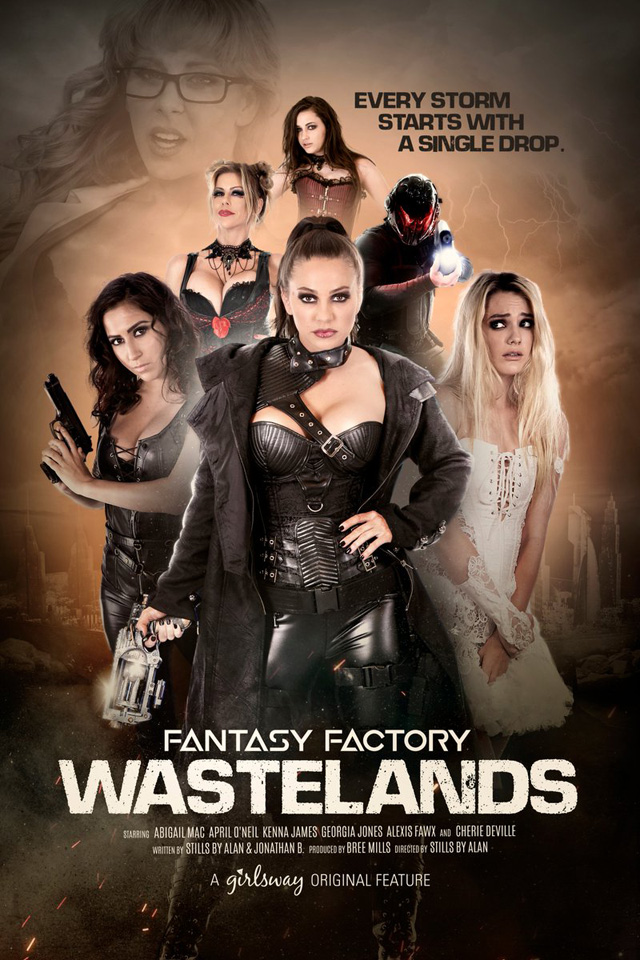 More in the Cyberpunk or Sex Robots or Lesbian categories or return to the cover of Porn Corp.
View more from Girlsway. Previous: Bad Private School Girls Emily & Kali Seduce Kenzie Reeves
More of Abigail Mac or Georgia Jones or Alexis Fawx or more from dark series Wastelands.
Enjoy this feature?  Check out Wasteland: The Oldest & Largest BDSM Commuity
Looking for more in-depth features?  Visit our Porn Parodies category for the best of the best.
For more wild fun visit the 3D Porn Games or Adult Comics or check out all the Porn News!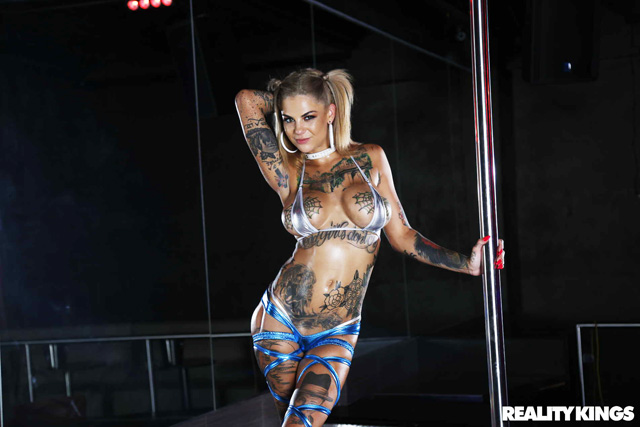 Bonnie Rotten stars in her Reality Kings debut while giving Jordi El Niño Polla the Rotten Experience at the Strip Club for his 21st birthday! Watch as she pulls the birthday boy up on stage for a lap dance and squirts on his face! She gives him a sloppy blowjob before finishing him off backstage as she rides him with her tight ass! Get your $1 PASS to Reality Kings to watch all the insane Rotten stripper action.  But I'm warning you… be prepared to get wet & wild!  Get a Rotten lap dance now.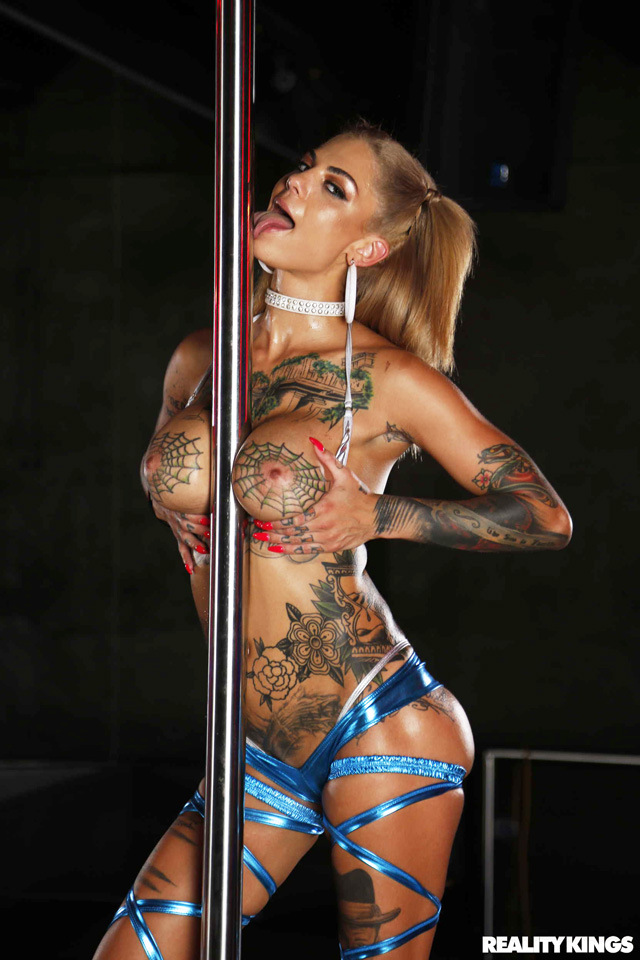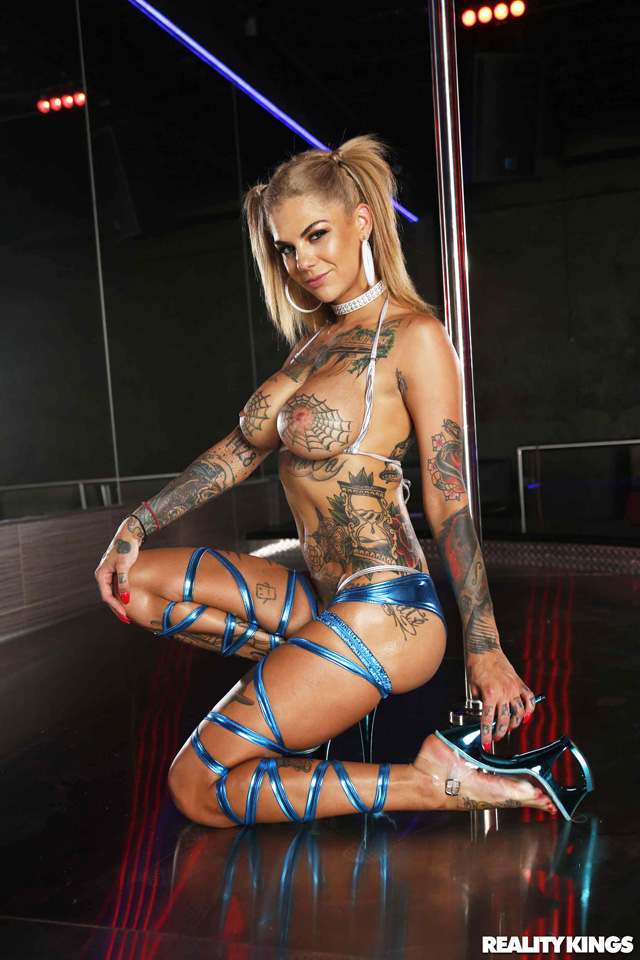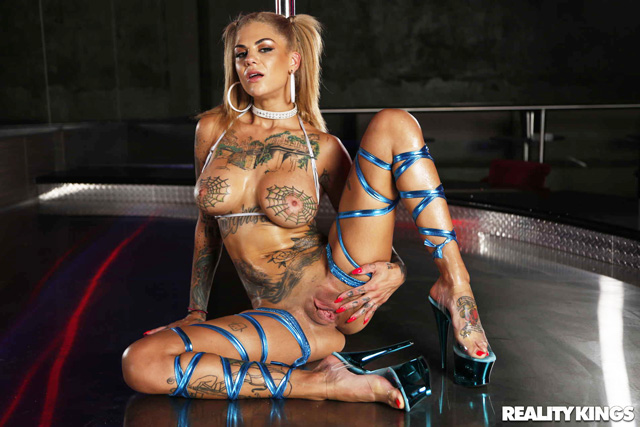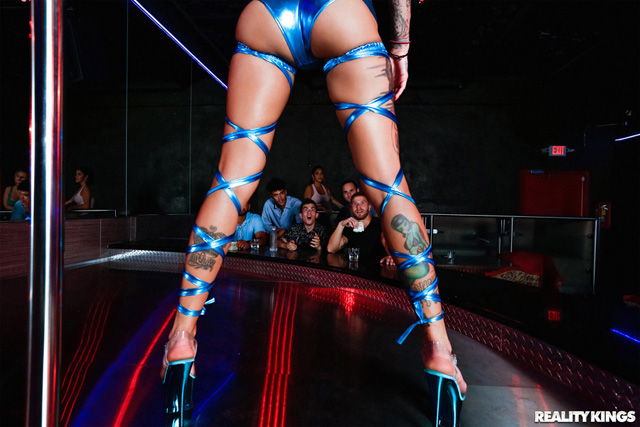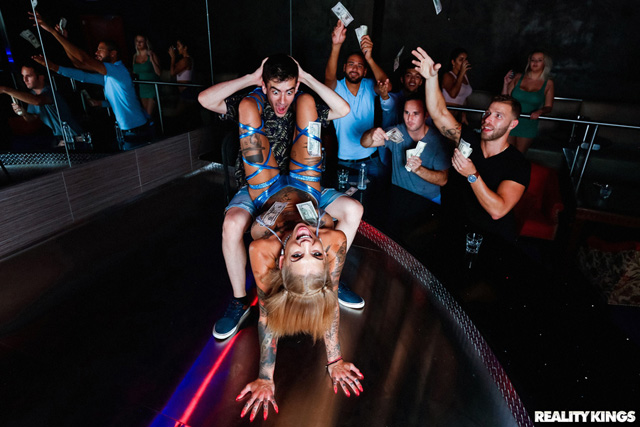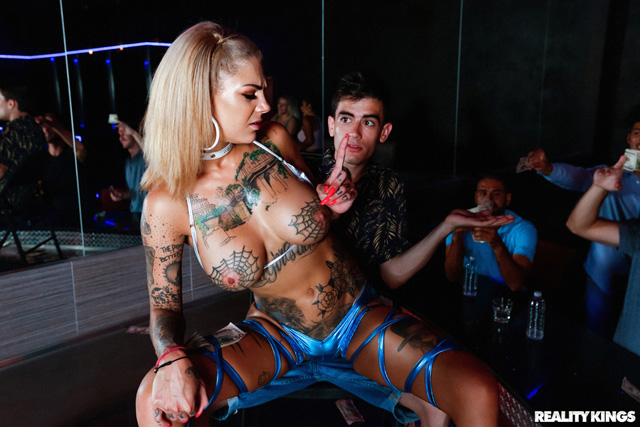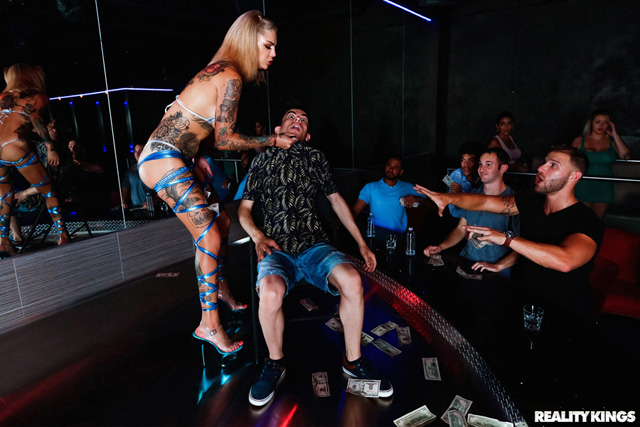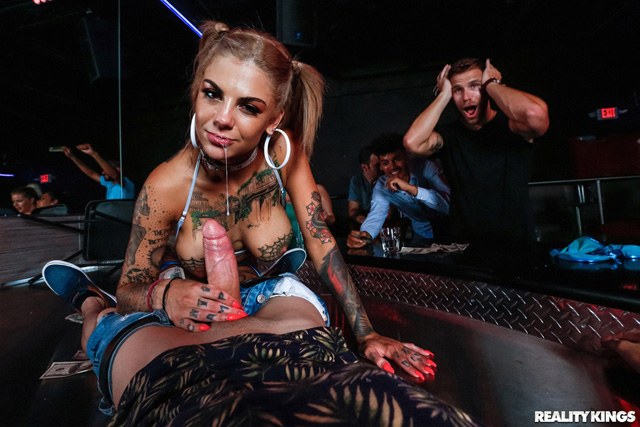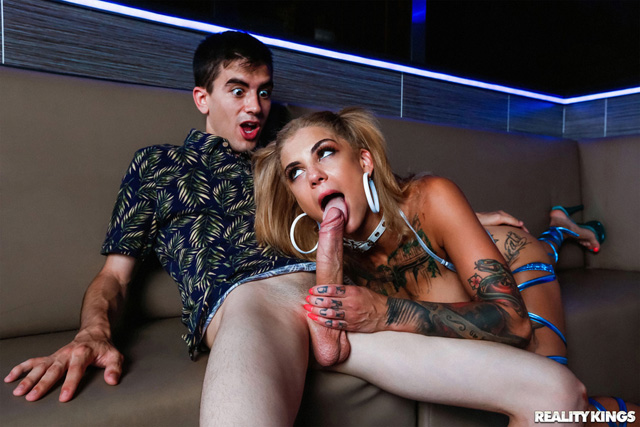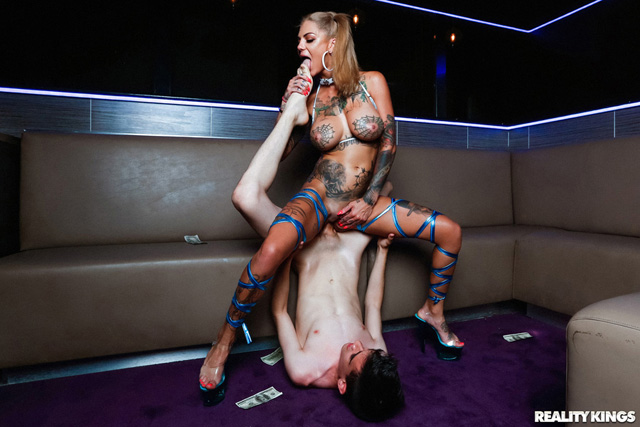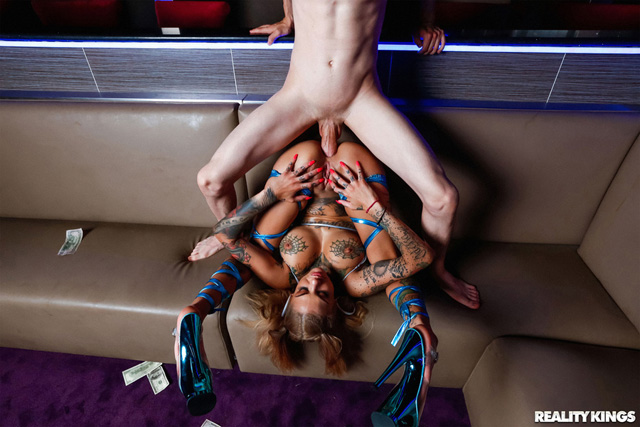 Are you ready to watch Bonnie Rotten in her RK debut as she squirts and anal fucks the birthday boy Jordi after giving a wild pole dance and on stage blowjob & squirting session! Get your $1 PASS to Reality Kings for your Rotten Experience at the Strip Club!  Be prepared to get wet…

More in Strippers or Squirting or Public category or return to the cover of Porn Corporation.
See all the Reality Kings articles. Last: Super Soak Her: Riley Reid Summer Squirting Sex
View more of Bonnie Rotten.  New:  Bonnie Rotten Returns To Porn In The Cumback!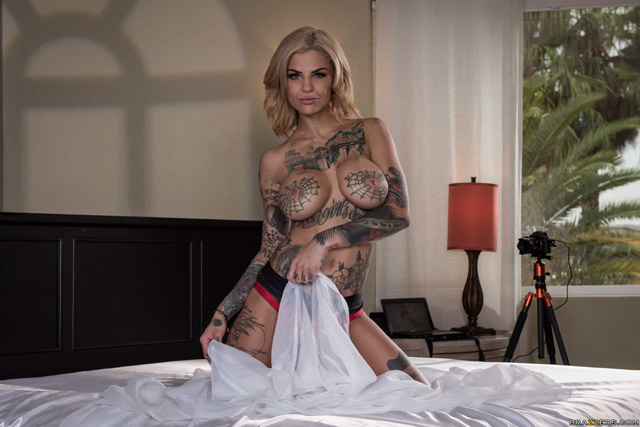 The one and only legend Bonnie Rotten returns to porn after a 3 year hiatus in The Cumback! Infamously devious inked bad girl Bonnie returns as a blonde and proves to the world that she is sexier than ever with her new MILF status and still every bit as rotten. Watch as this wild babe enters a restaurant while Toni and his wife Kiki are eating along with Xander and other customers and proceeds to dance, masturbate and squirt all over the food and table! Toni's wife is appaulled and leaves and then it's on… Toni & Xander take Bonnie right there on the table as they eat bananas out of her ass & engage in hardcore double penetration sex, double vag sex and more! Bonnie Rotten literally shoves a big orange up her ass and pops it out for you along with her cherry… dinner is served viola! Watch as Bonnie Rotten squirts like a broken fire hydrant and soaks the boys along with her hot body and half the restaurant before they fuck her some more and finish her off with a double face full of cum! Badass Bonnie Rotten finishes her evening by eating an apple by the front door, naked in a jacket and covered in cum. Watch The Trailer For The Cumback now starring Bonnie Rotten in her epic first movie back! Get your $1 PASS to Brazzers to witness all the rotten hot porn.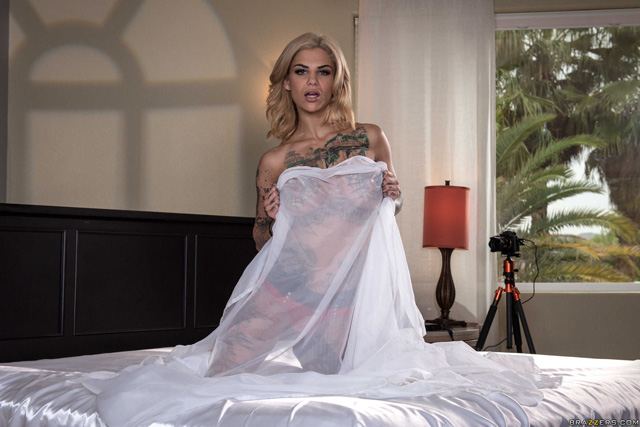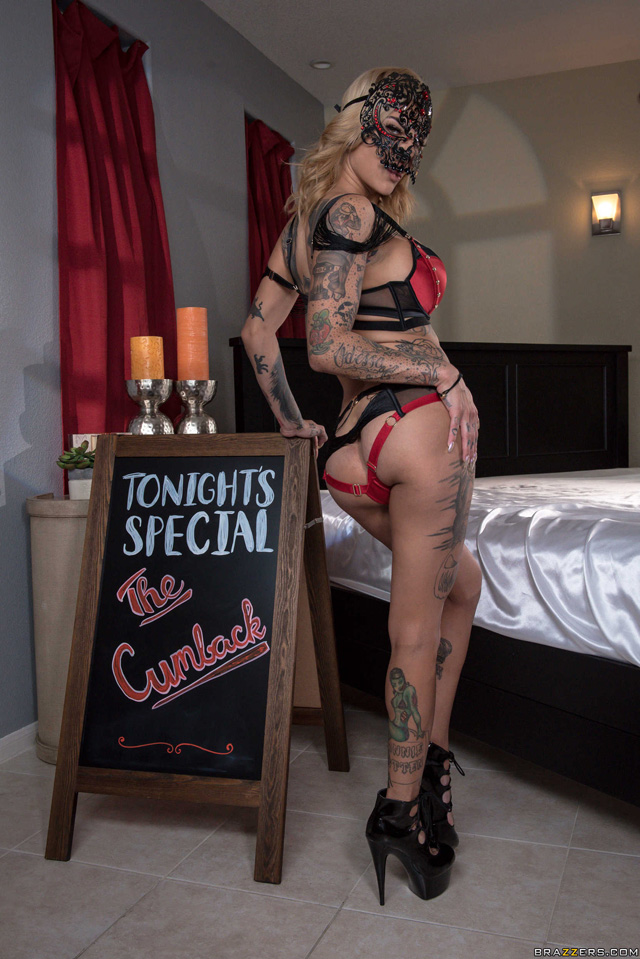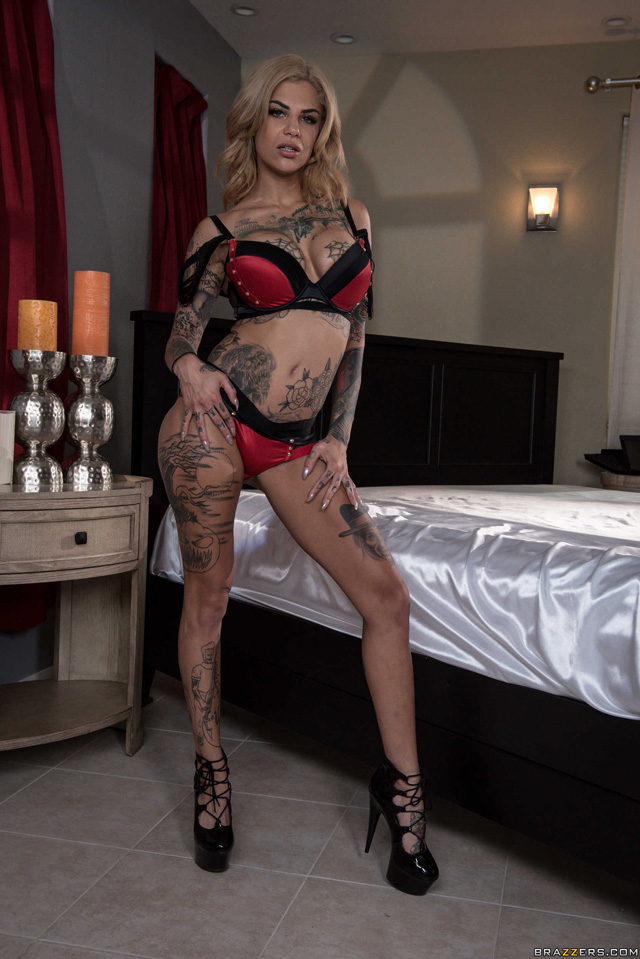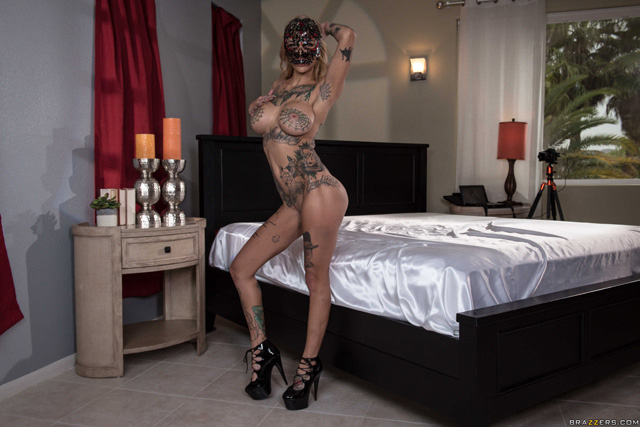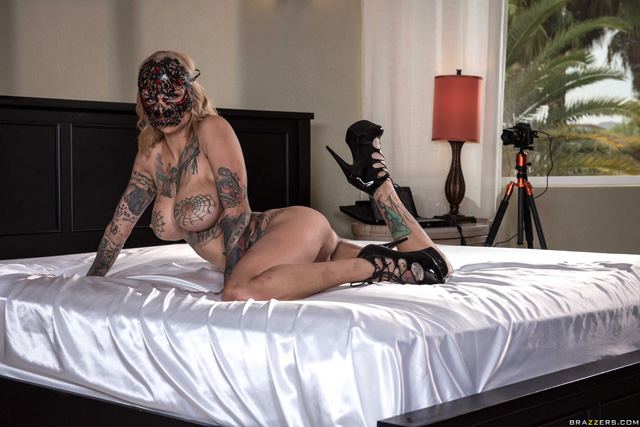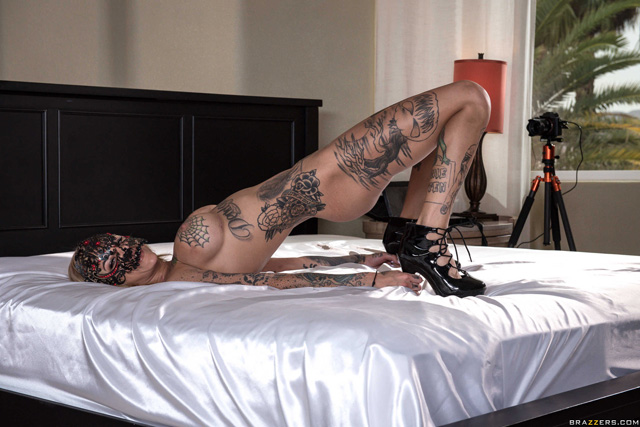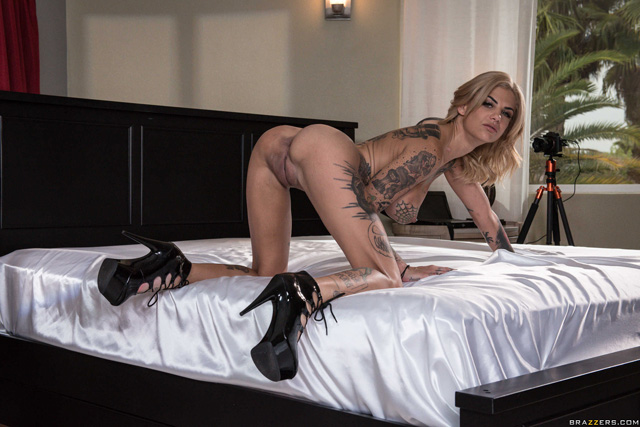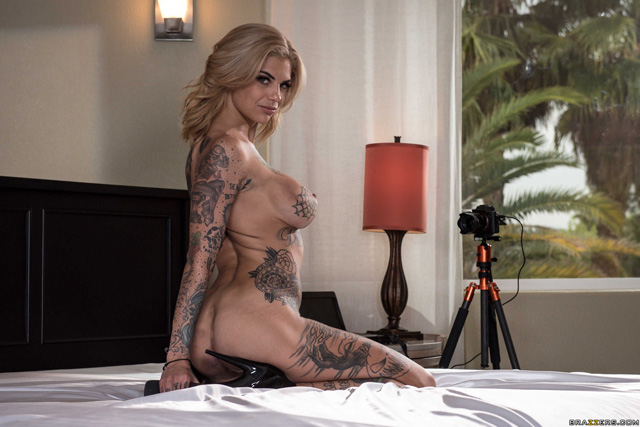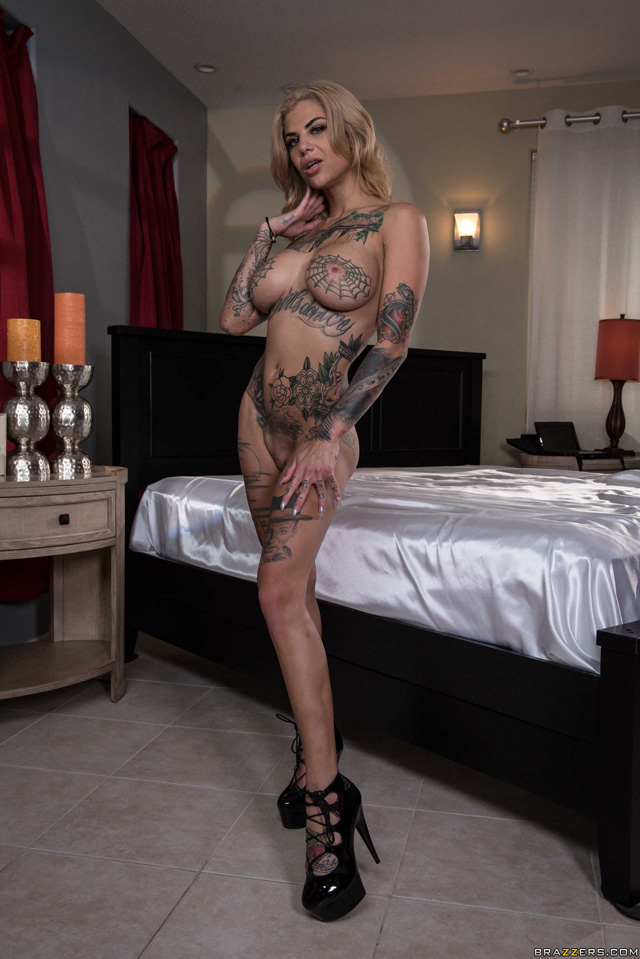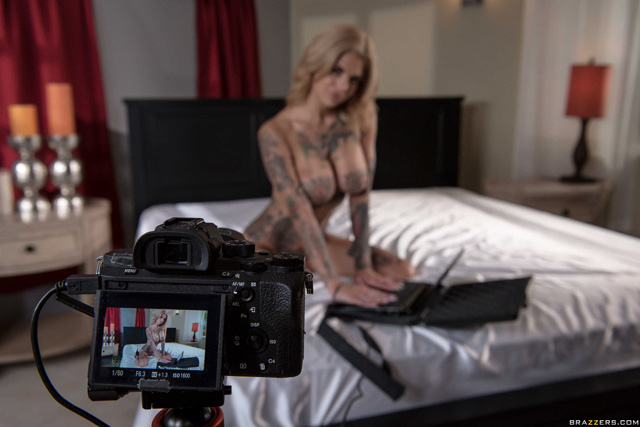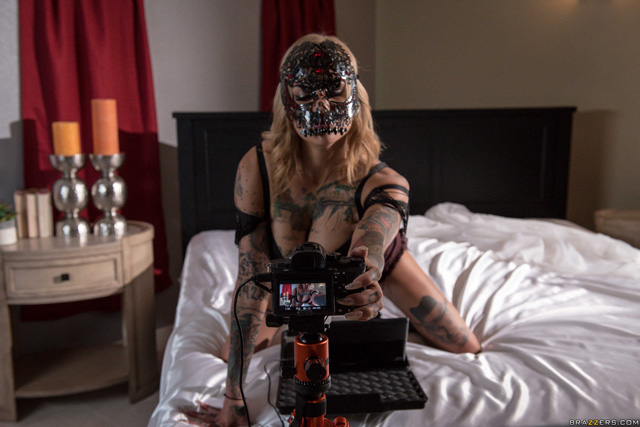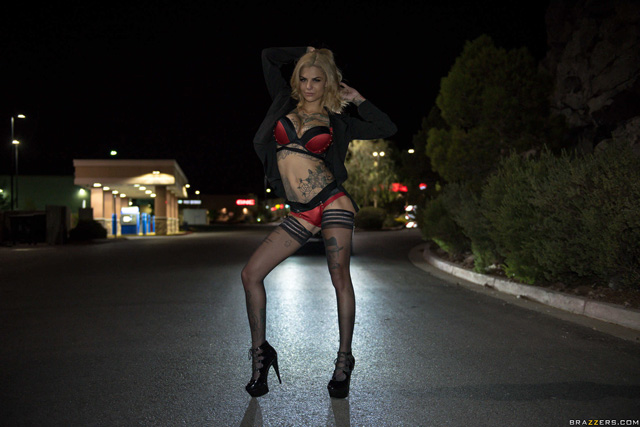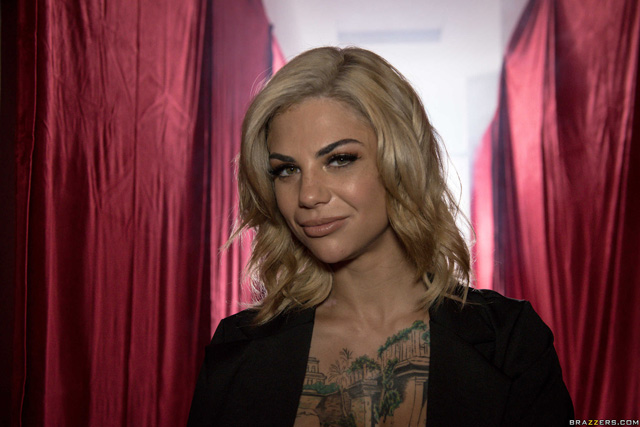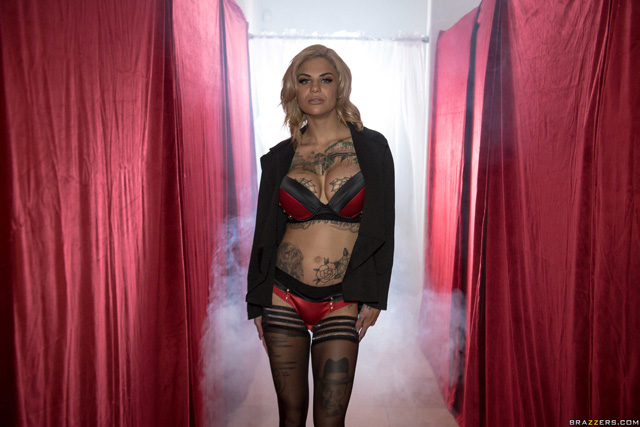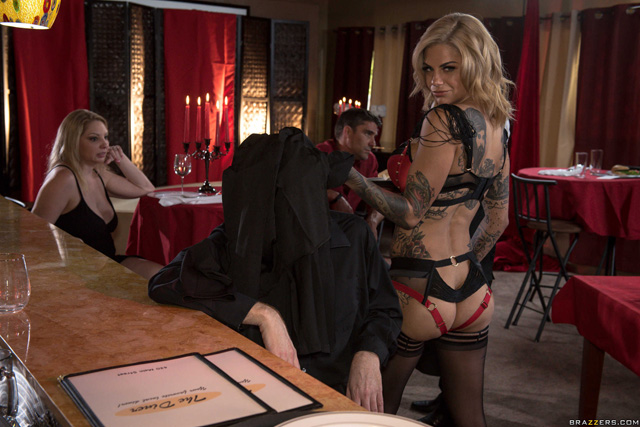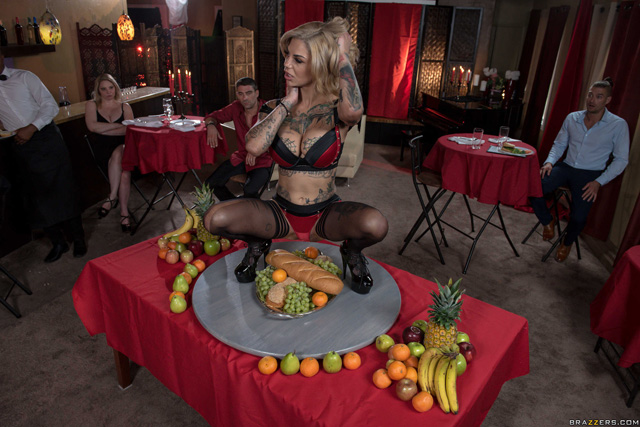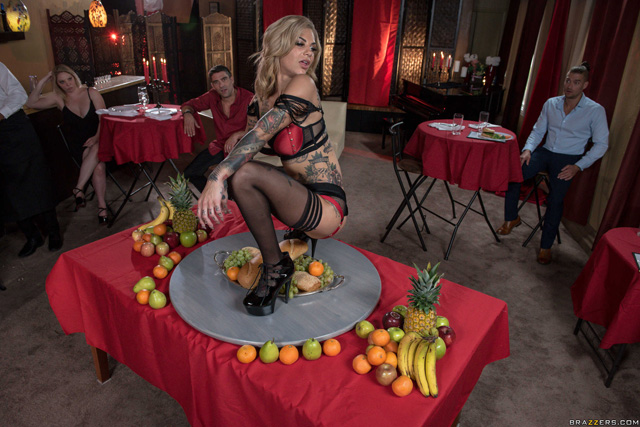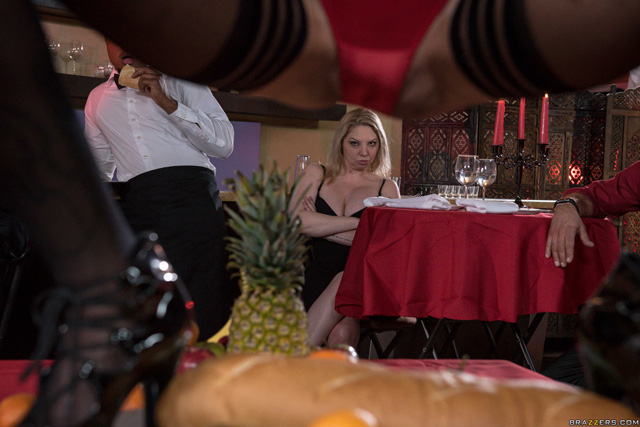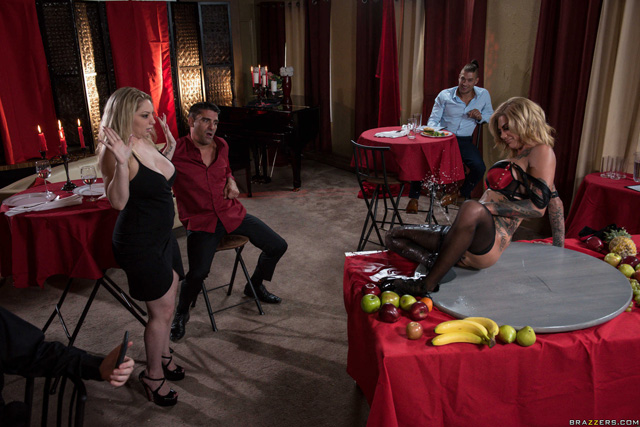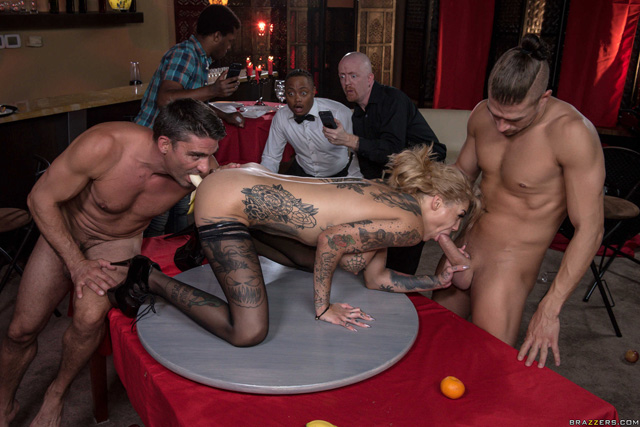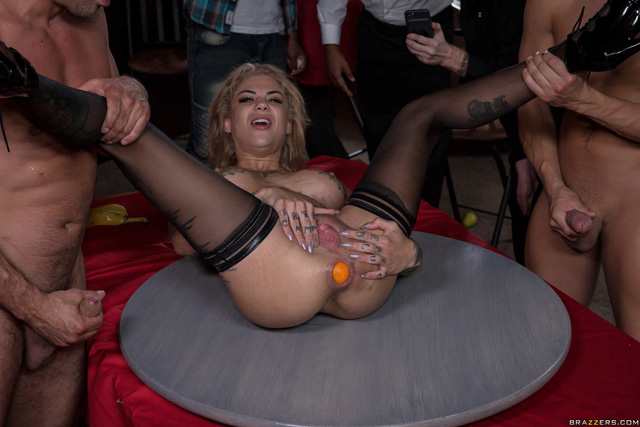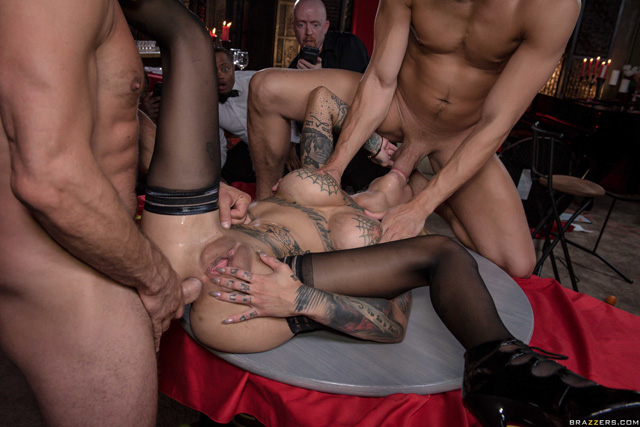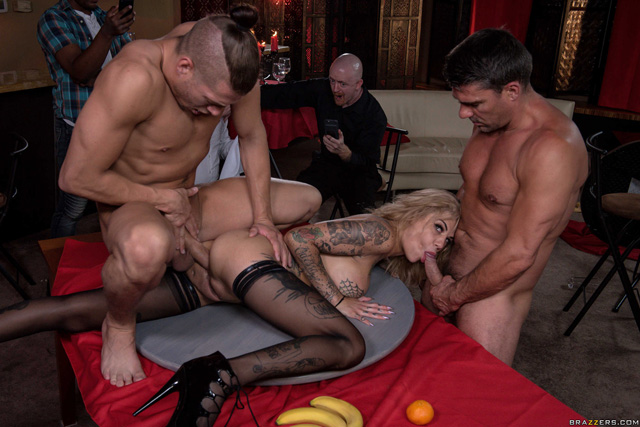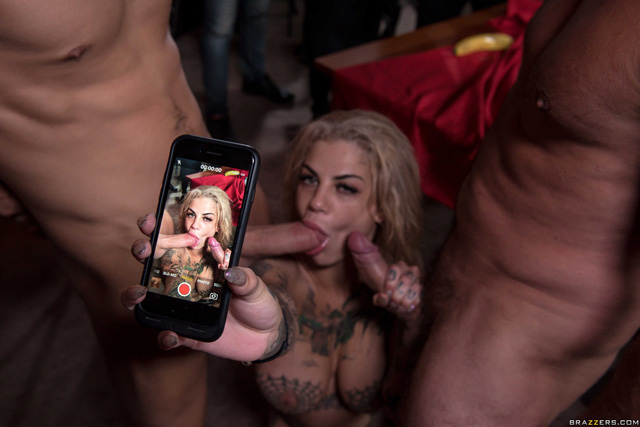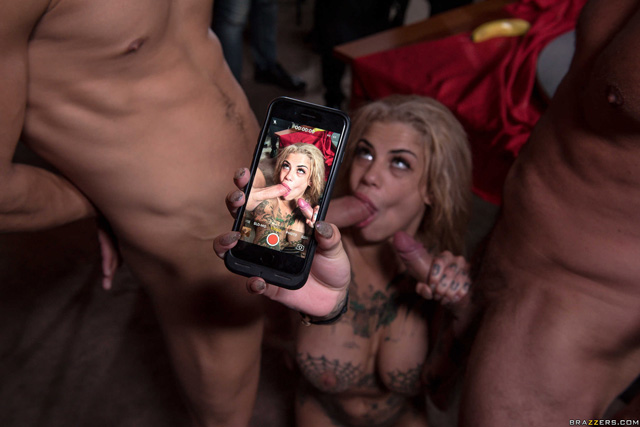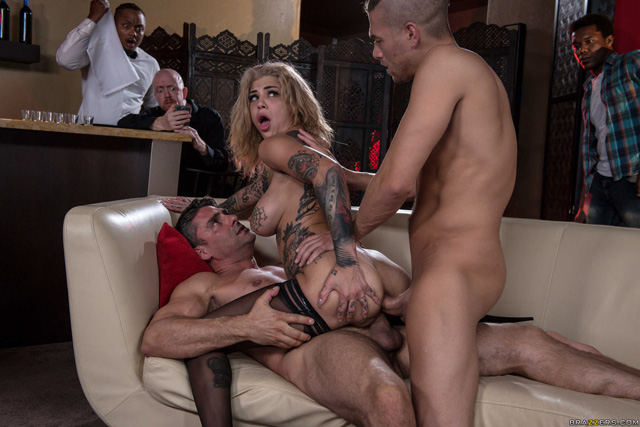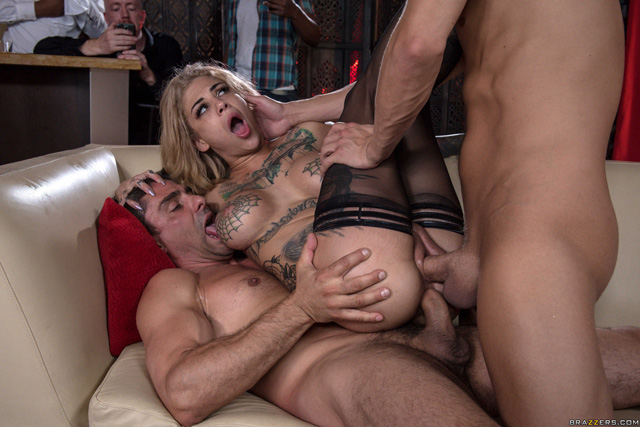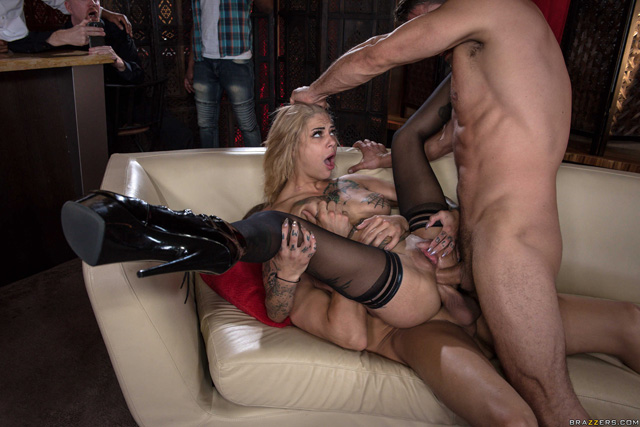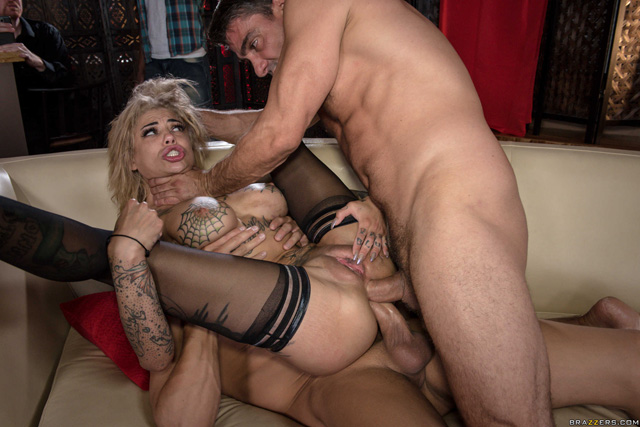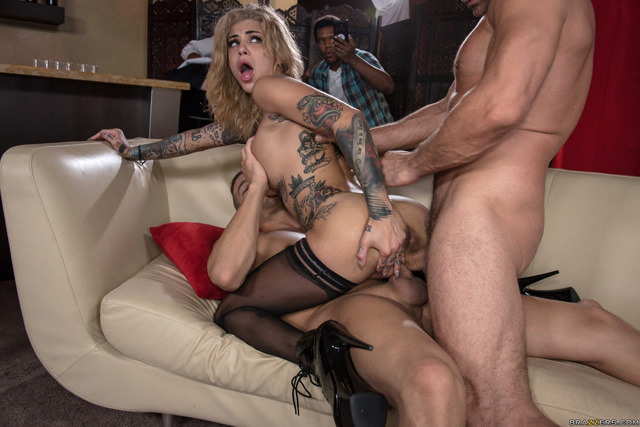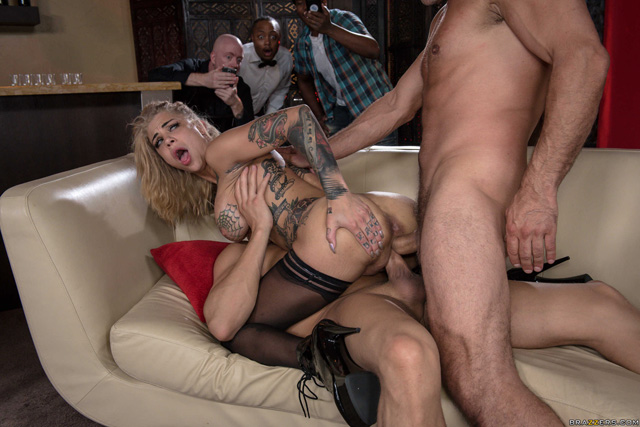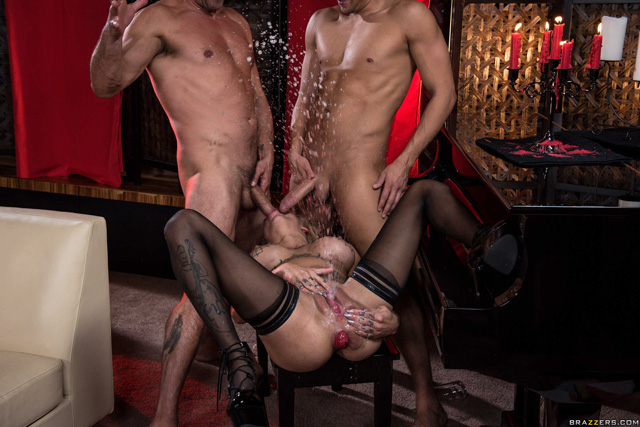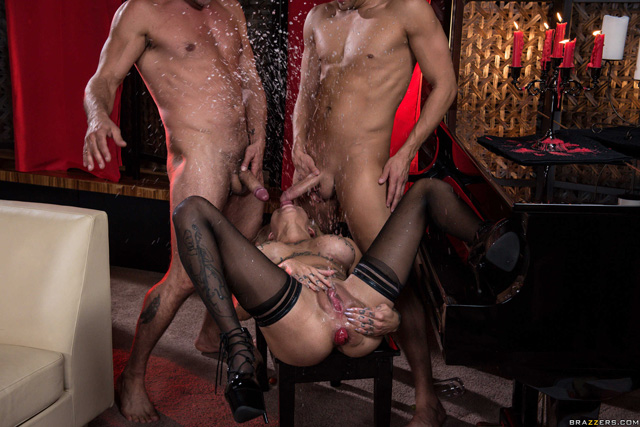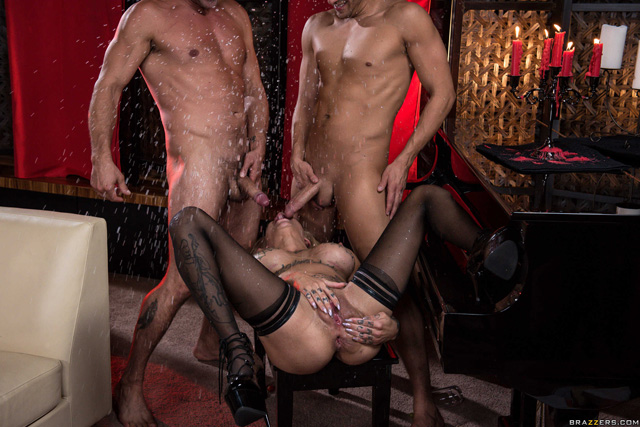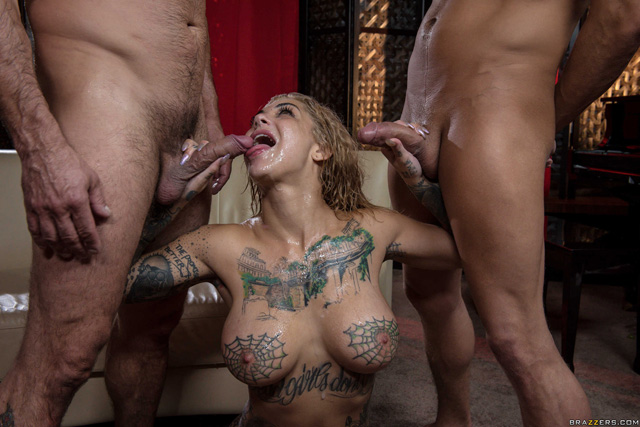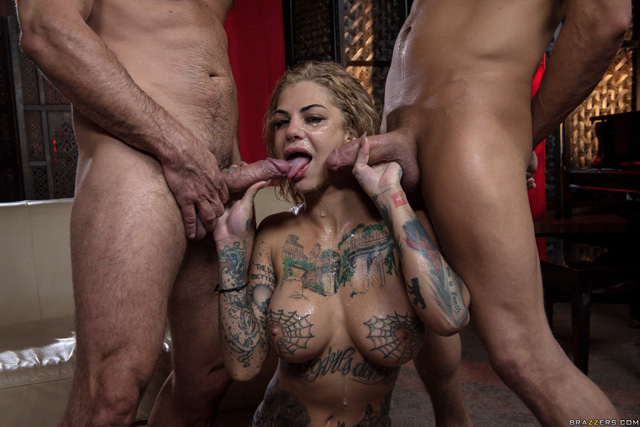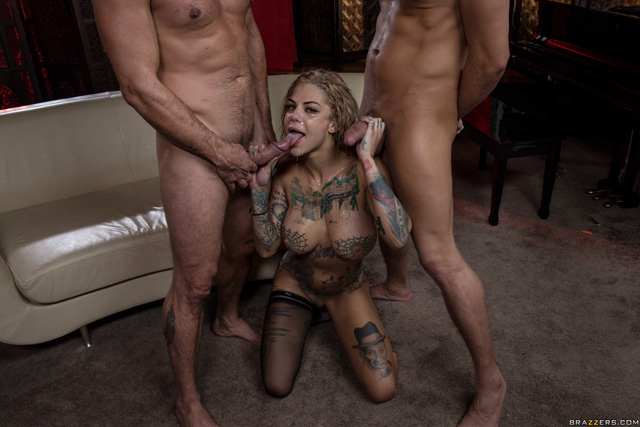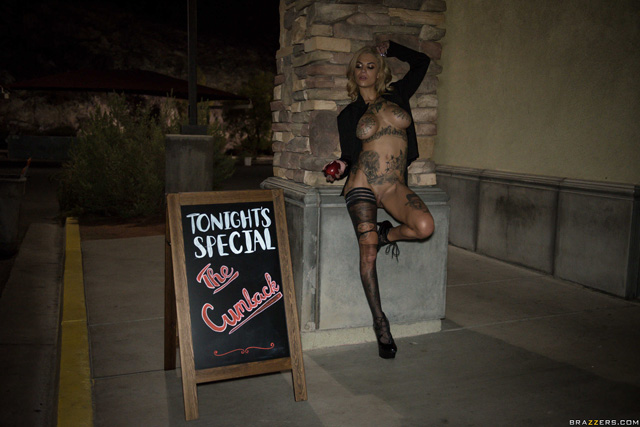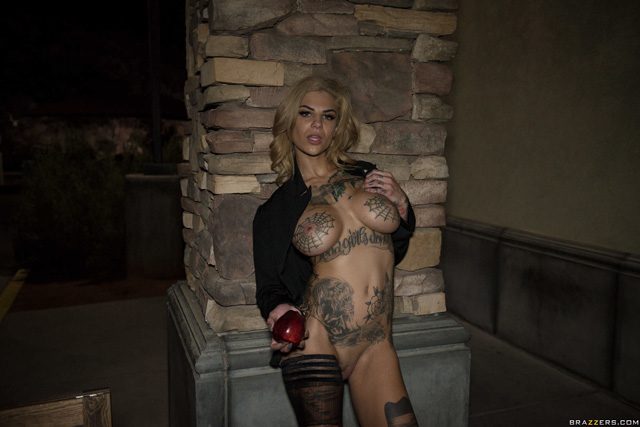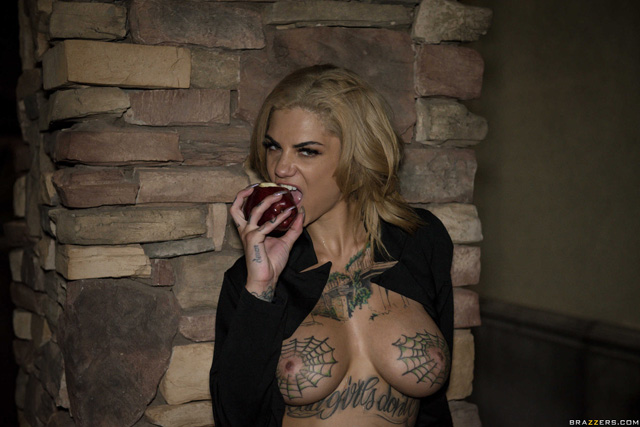 Watch the trailer video of Bonnie Rotten's epic return to porn in The Cumback co-starring Toni Ribas & Xander Corvus in this wild double vag, double penetration squirting threesome…  Get your $1 PASS to Brazzers to watch this exclusive ZZ video of inked babe Bonnie Rotten's first film back after becoming a true MILF and 3 years away from porn!  Don't miss out on this insane new Rotten sex video as the legend returns and is more badass than ever…  See it for yourself HERE.
More in the Pornstars or Squirting or Fetish categories or return to the cover of Porn Corporation.
View more from Brazzers.  Previous:  Ivy Lebelle In Her First Double Penetration
See all the articles starring Bonnie Rotten or see more specials of stars in their Return To Porn.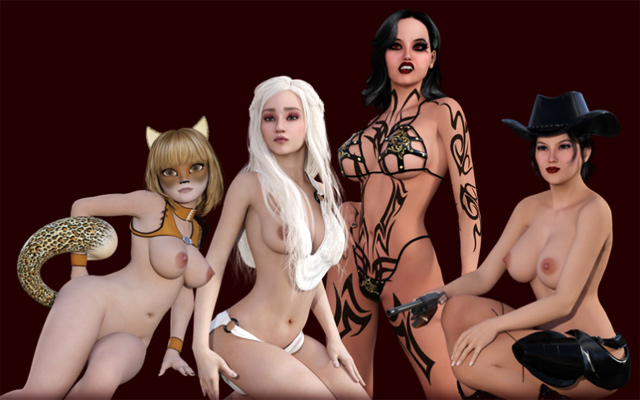 Sin VR is the newest & hottest 3D sex game to debut available in VR technologies and taking it a step further into a full-on augmented reality interactive sex game.  Enjoy this AR porn game as you can connect your VR headset via your Smartphone using Google Cardboard and hook in your Fleshlight Stoker to have a fully immersive virtual sex experience.  Make her cum with your every stroke and feel closer than ever in this augmented reality porn computer games.  Download it for free for Windows to play on your PC or get the Android version to hook up with your Smartphone and start playing in VR now!  Download 4K VR videos inside as well featuring the hottest Sin VR models.  Not into VR or AR?  Just play the sex game,  fuck tons of sexy vixens and creatures of all sorts!  Whether you are into horror, fantasy, parody or just plain hot chicks with big boobs and tight pussies… Sin VR has it all!  Download the latest version of this hot new porn game and start playing now.  It's free to play!  Are you ready to indulge in your deepest, darkest most wild fantasies?  They await your command to become reality inside… I'm warning you though, you'll cum hard!  Get Sin VR For Free.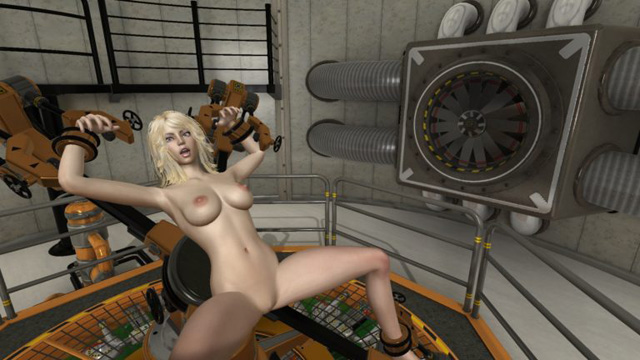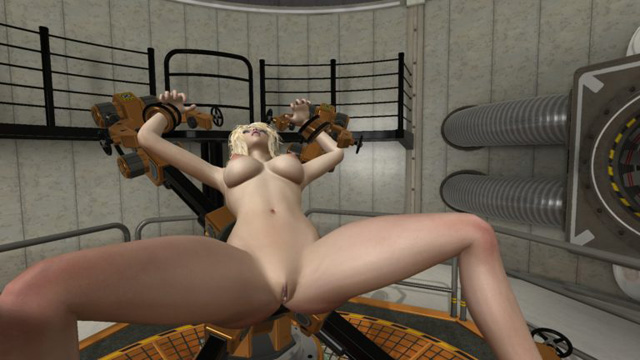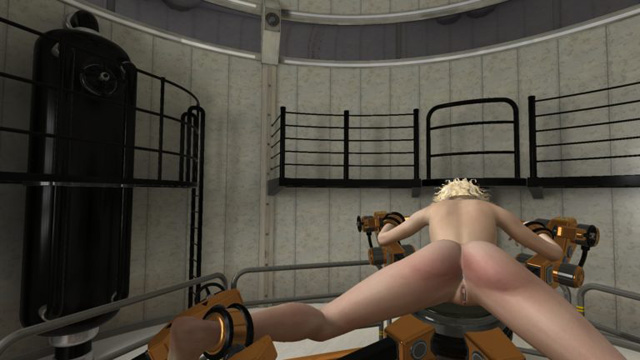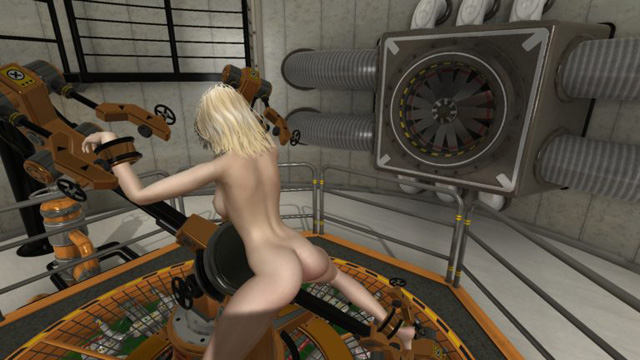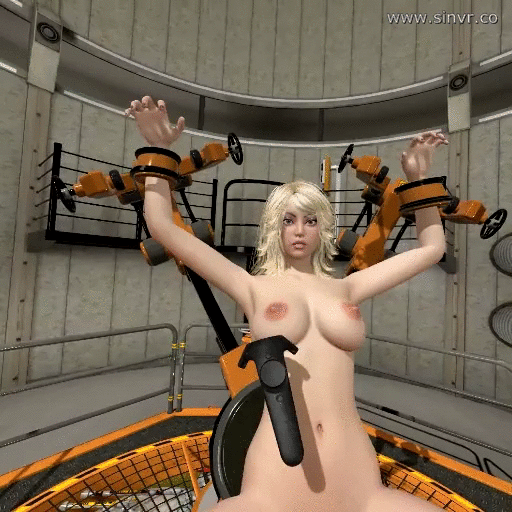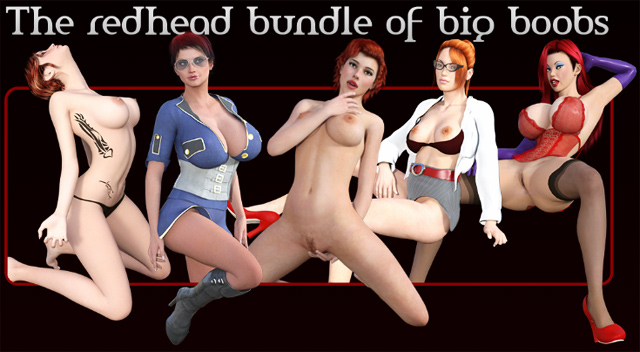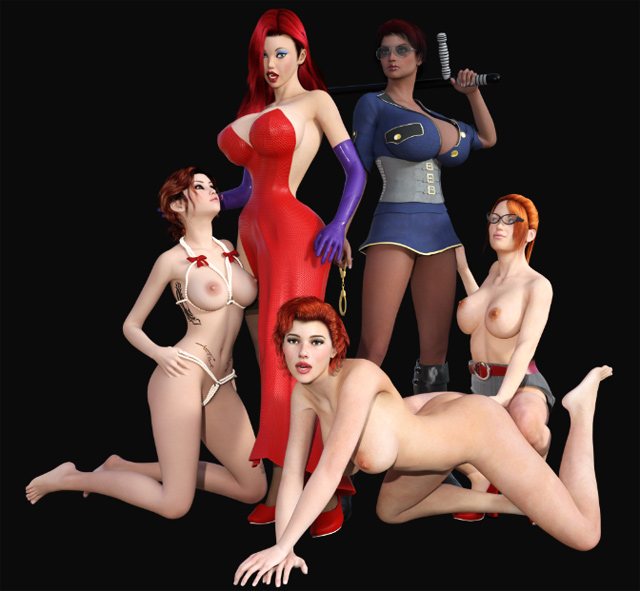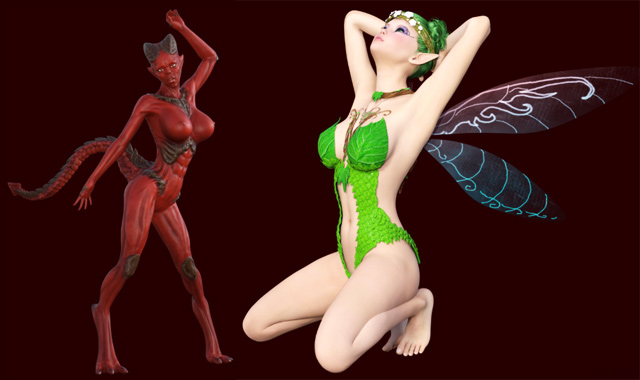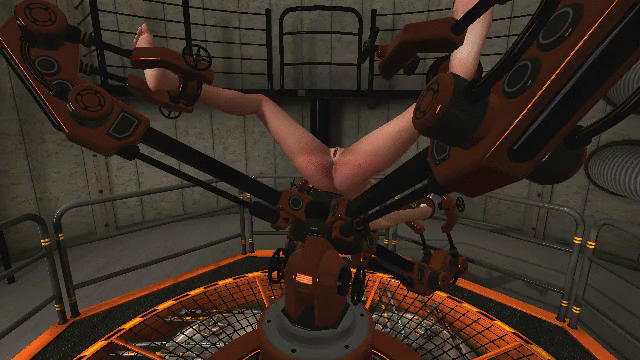 Enjoy wild & exotic VR 3D video game characters to customize and fuck in Sin VR. Use your PC or Smartphone with Google Cardboard or coordinating headsets and combine your Fleshlight Stroker for a fully submersible AR porn experience.  Inside you will find everything from fairies to furries to Wonder Woman and beyond available to play with and fuck!  Enjoy in depth settings and multiple sex positions.  Adjust her breasts and make her cum from stroking your cock when you hook in your Stroker.  Play on your PC or Smartphone without any VR or AR technologies or hook it all in to get immersed in Sin!  Are you ready?  Download this Free to Play new porn video game now!  Inside you can download 4K VR videos from game play with the hottest models.  What are you waiting for?  Your deepest, darkest fantasies are waiting to become reality inside… Get Sin VR for Free.
View more in the 3D Porn Games category or return to the cover of Porn Corporation magazine.
Check out the brand new Augmented Reality Porn category. More free to play awesome games:
Free RPG Hentai Porn Game: Kamihime Project R – Meet the Horny Sluts of Pussy Saga
Pussy Saga: Anime Game Where You Fuck Hot Girls! Visit the Adult Comics or VR Porn categories.
Peep these: Hentai – 4K Porn – 3D Porn – AMA – Parody – New Porn Sites – Interviews – News
This week's hot topics:  Pornstar Natasha Nice AMA & New Creampie Porn Site Cum 4K Launches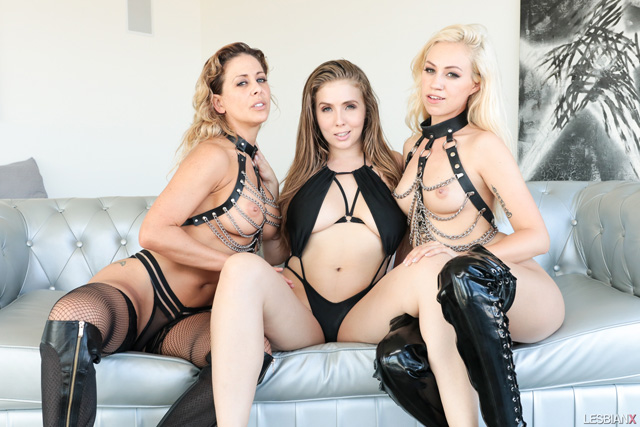 Lena Paul shoots her first ever lesbian DP with hot strap-on sex with babes Cherie DeVille & Lyra Law in this wild DP all girl threesome from Lesbian X!  Get your $1 PASS to X Empire to watch Cherie DeVille & Lyra Law pop busty natural babe Lena Paul's lesbian DP cherry!  Sign up with the promo code OPEN50 [enter on join page] for 1 month for $9.95 to X Empire with access to Lesbian X, Hard X, Erotica X & Dark X!  Don't miss sweet peach Lena's first ever lesbian double penetration sex…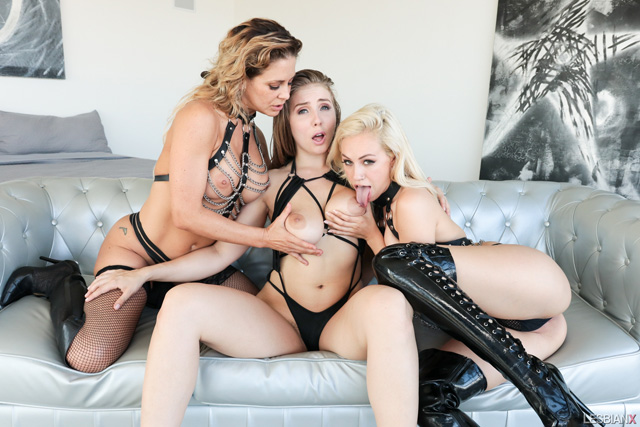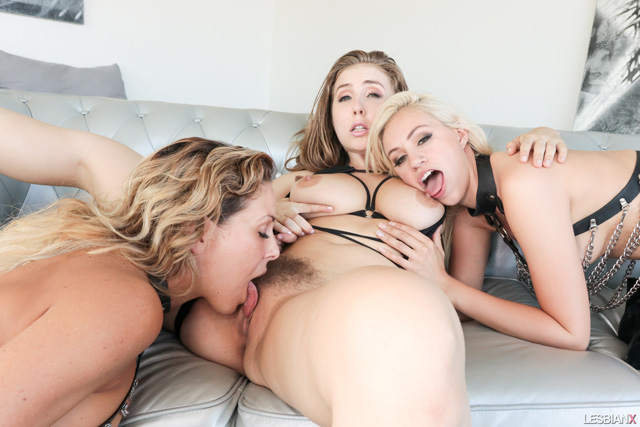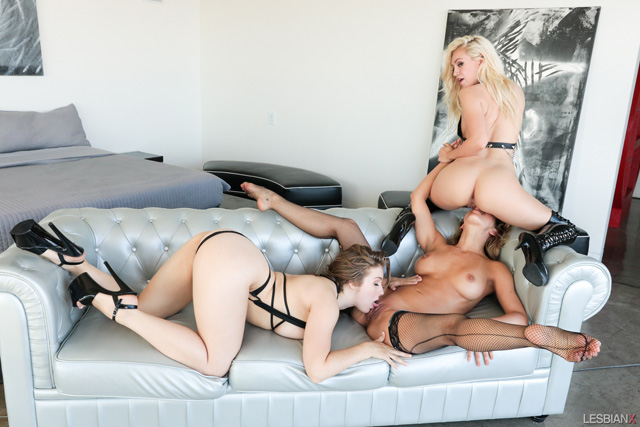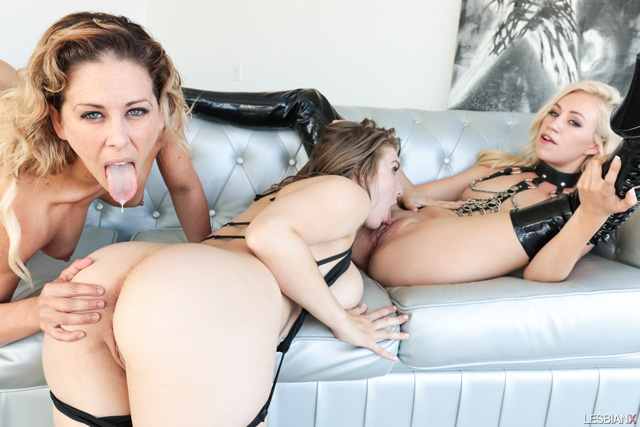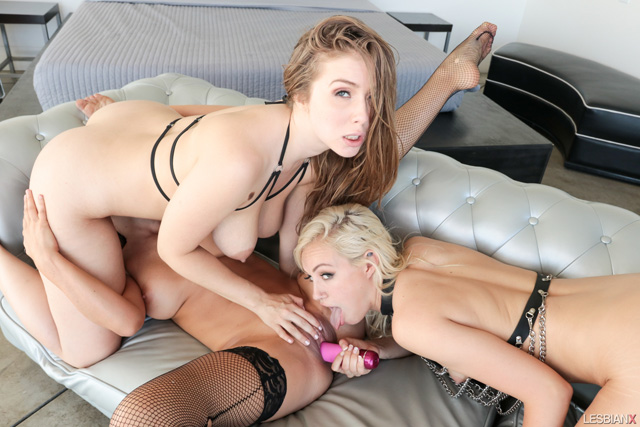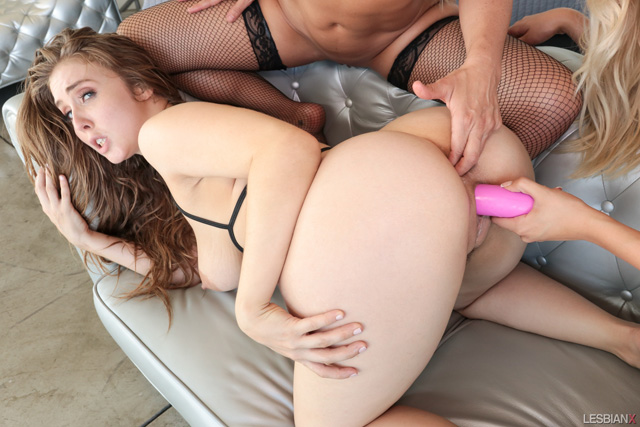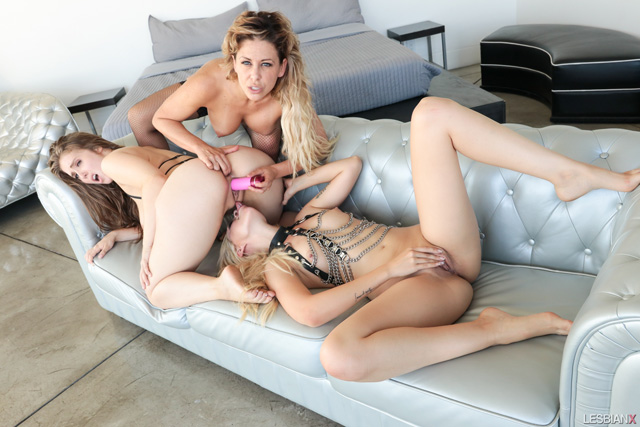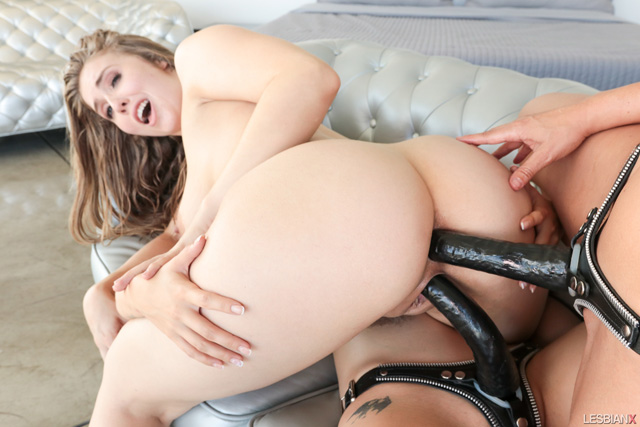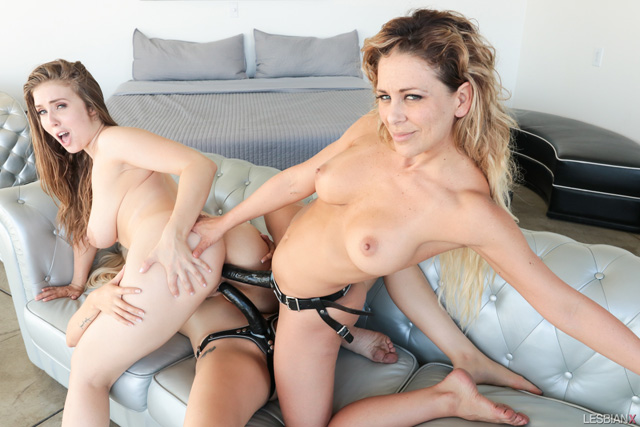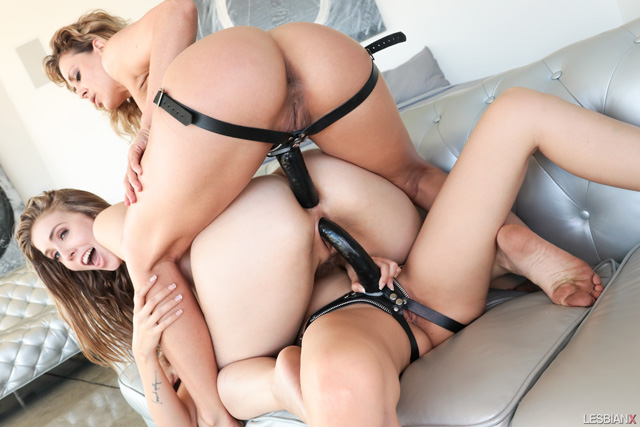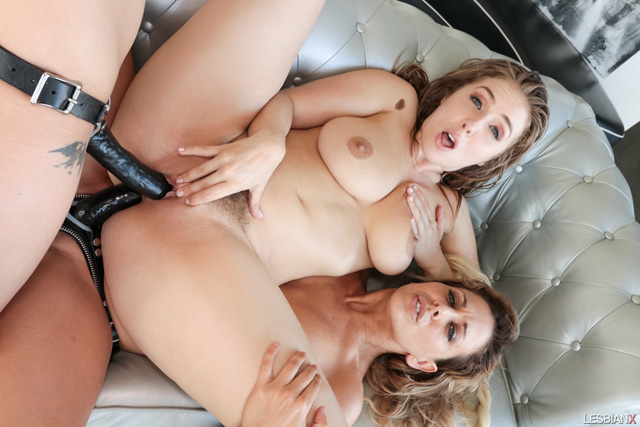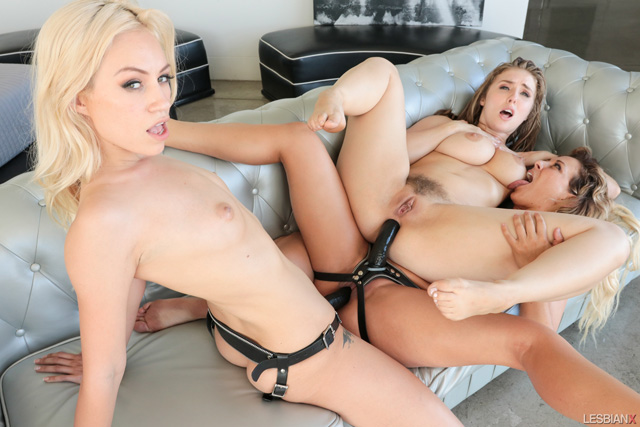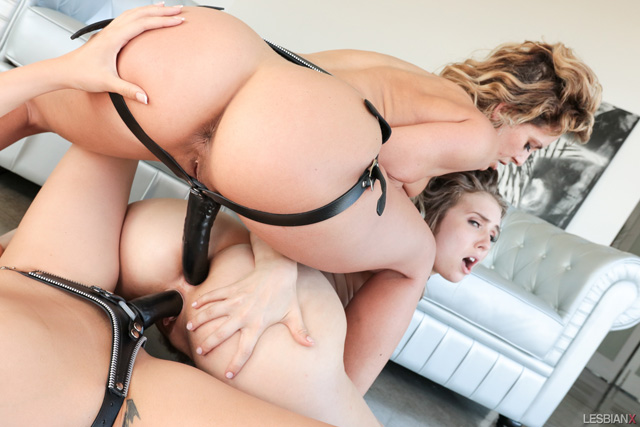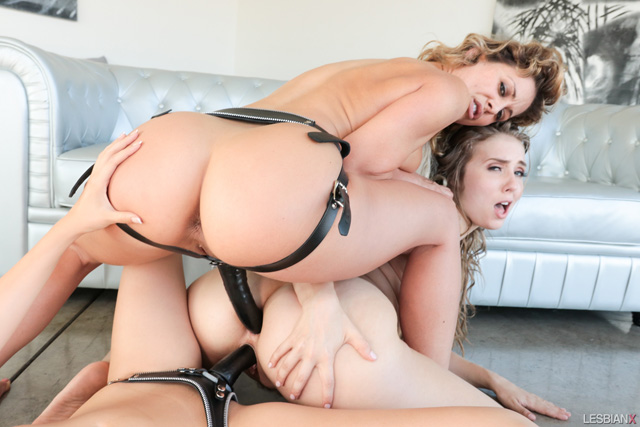 Get your $1 PASS to X Empire to watch Cherie DeVille & Lyra Law pop busty natural babe Lena Paul's lesbian DP cherry!  Sign up with the promo code OPEN50 [enter on join page] for 1 month for $9.95 to X Empire with access to Lesbian X, Hard X, Erotica X & Dark X!

Continue reading in the Lesbian or Pornstars categories or return to the cover of Porn Corporation.
View more of Lena Paul or Cherie DeVille or Lyra Law or see more First Time porn videos.
More from Hard X – Erotica X– Dark X– Lesbian X or X Empire– $1 PASS to X Empire!
Previous X Empire featured showcase:  Starlet Daizy Cooper In Her First Anal Sex
Check out the previous article ft. Lena Paul:  Busty Lena Paul Gushes Jizz From Creampies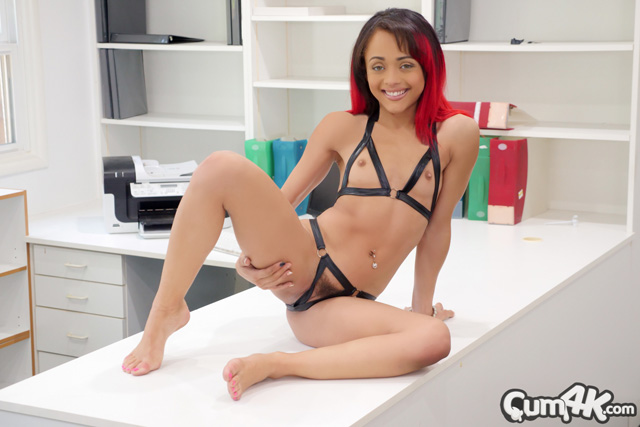 Holly Hendrix gets all her holes filled with cum while she has sex at the office!  Watch this creampie fetish video as Holly gets her pussy creampied and it drips out with every pump as he fucks her tight ass in hardcore anal before giving her more pussy creampies, anal creampies and even a bonus facial.  You've never seen cum like this before… Holly Hendrix revels and orgasms as the cum fills her internally and she begs for more!  Give Holly Hendrix all your biggest loads deep inside her pink pussy and tight fuckable asshole before busting a nut on her face too.  Get your $1 PASS to Cum 4K… the hottest brand new 4K porn site known as The World's Best Creampie Site!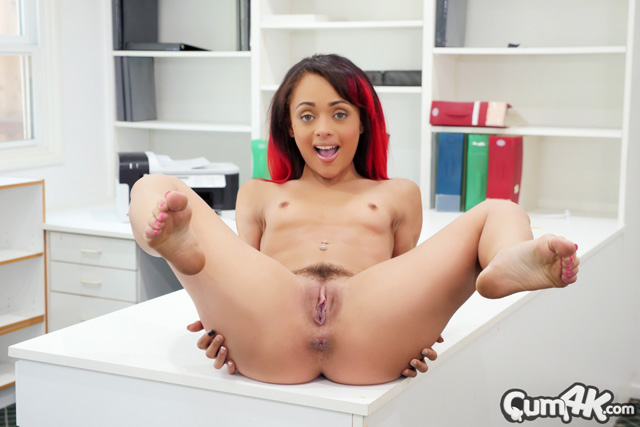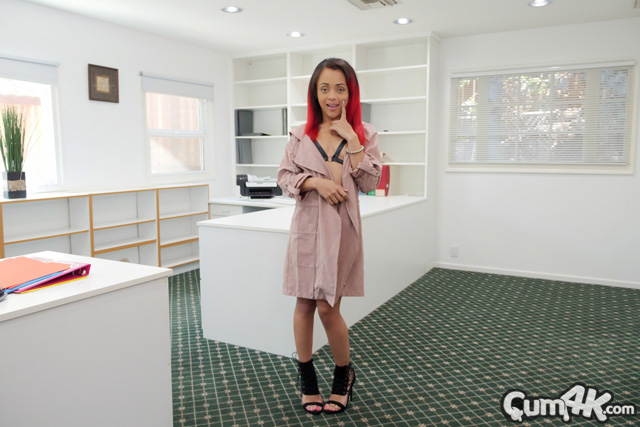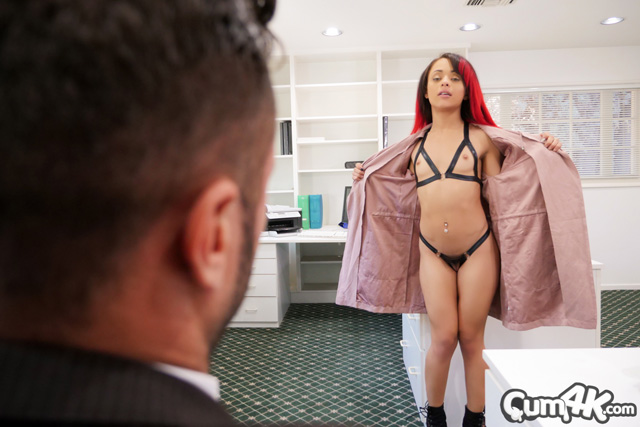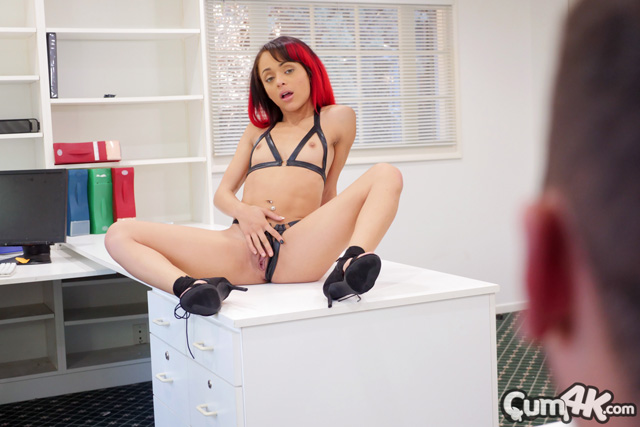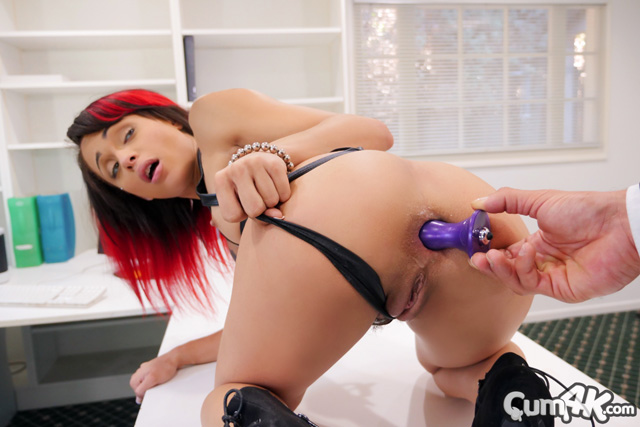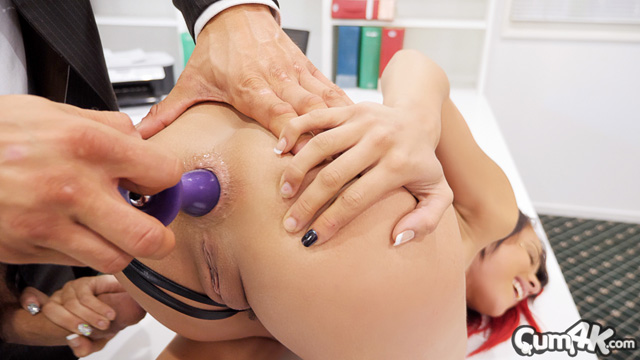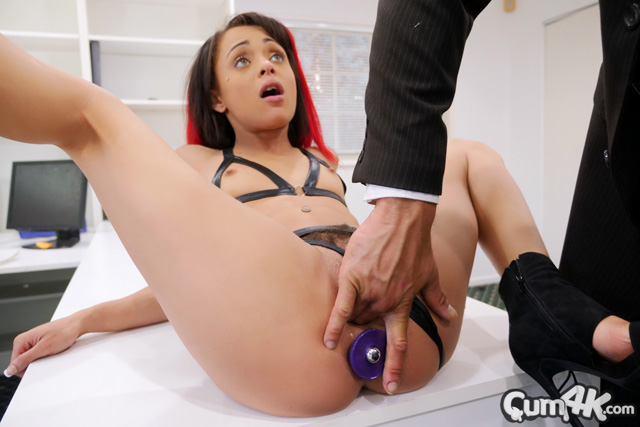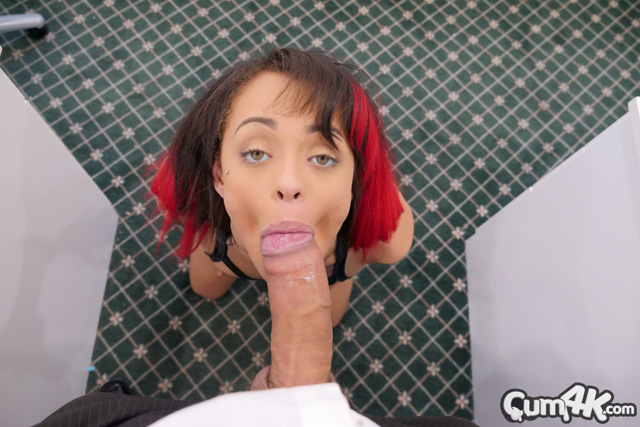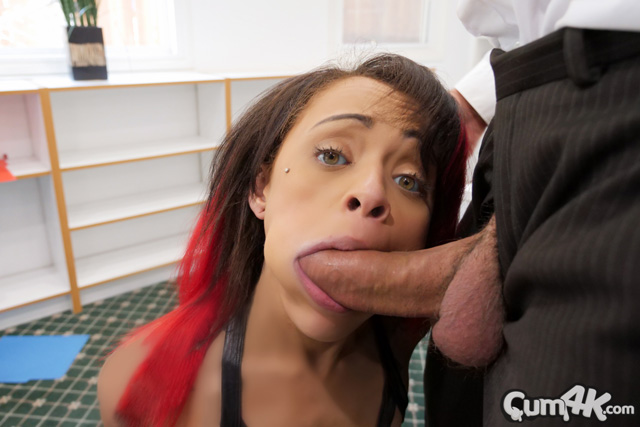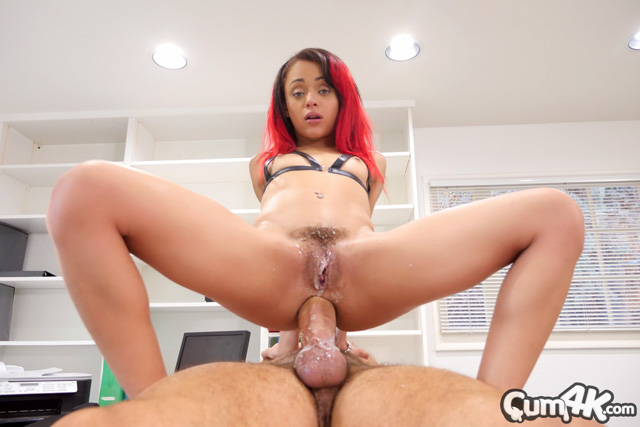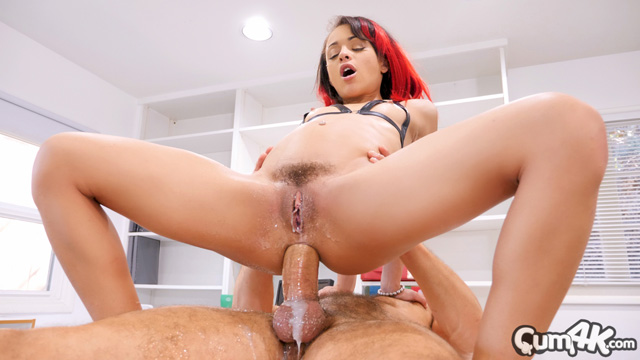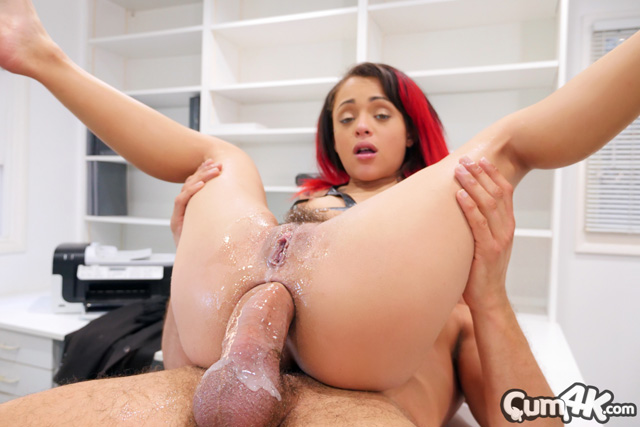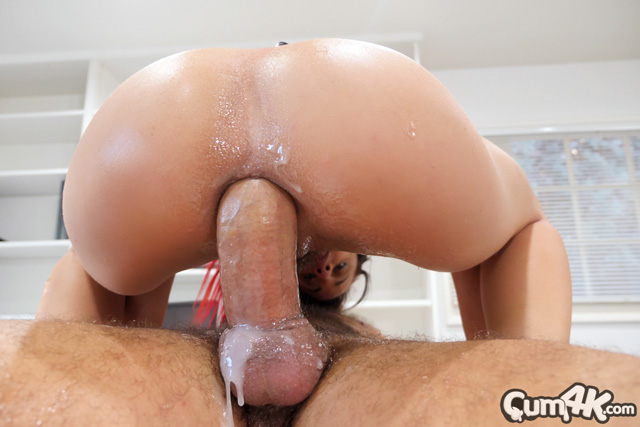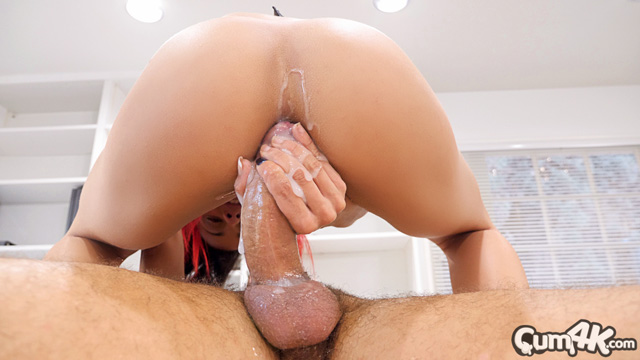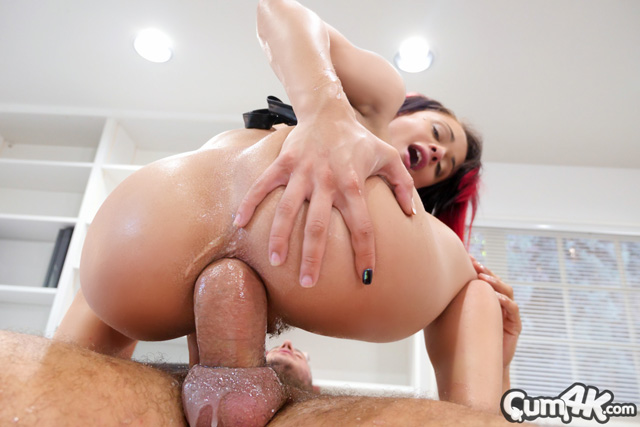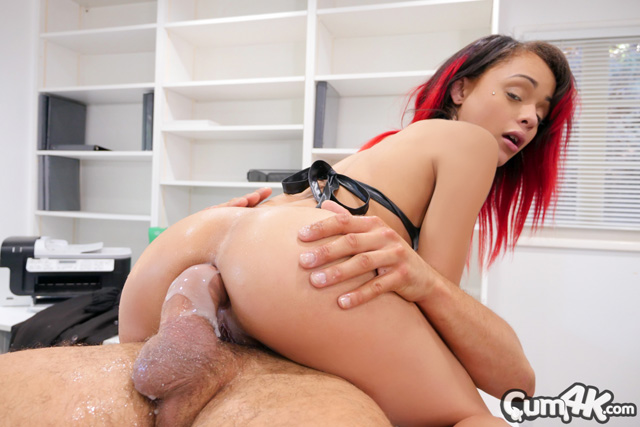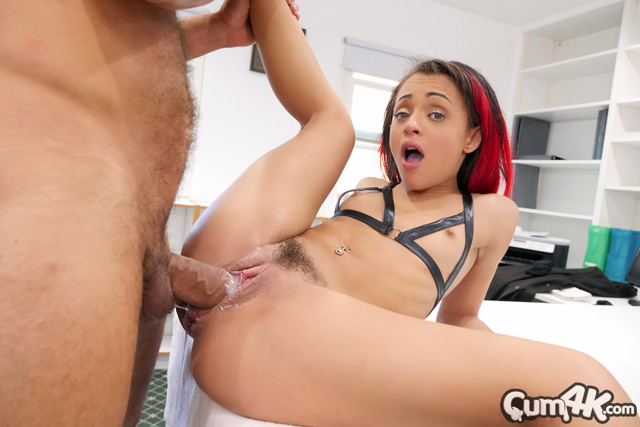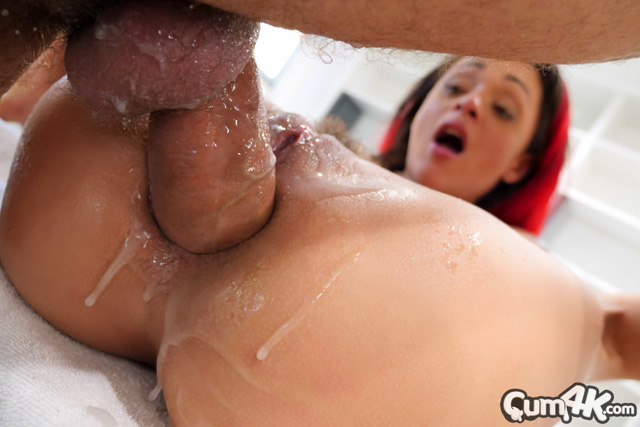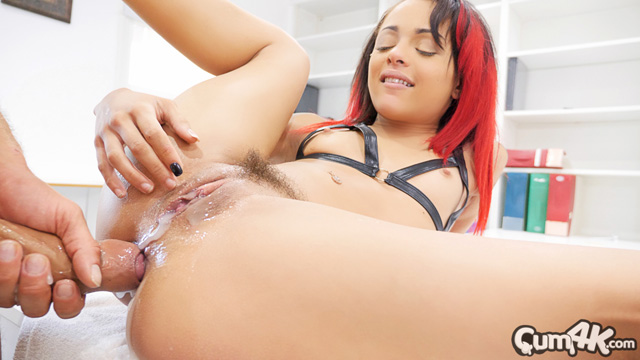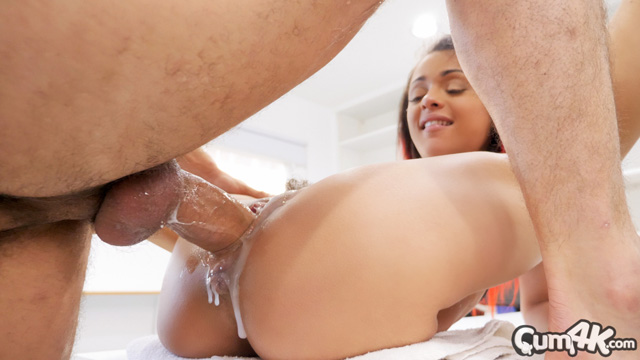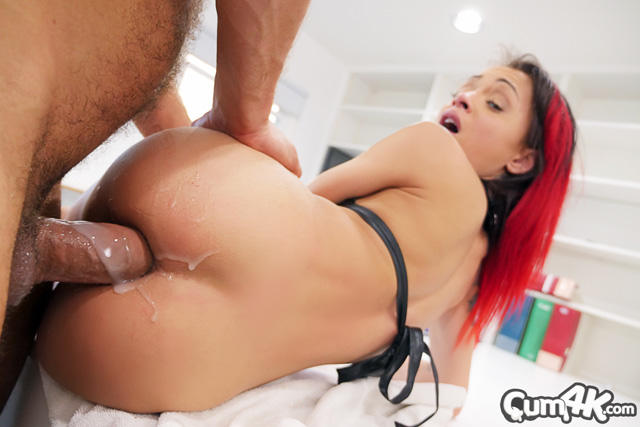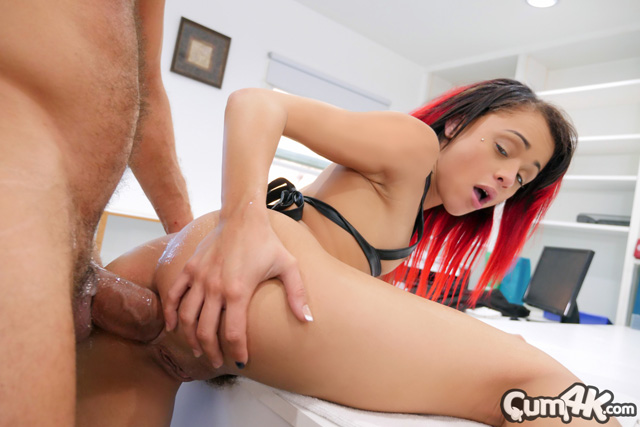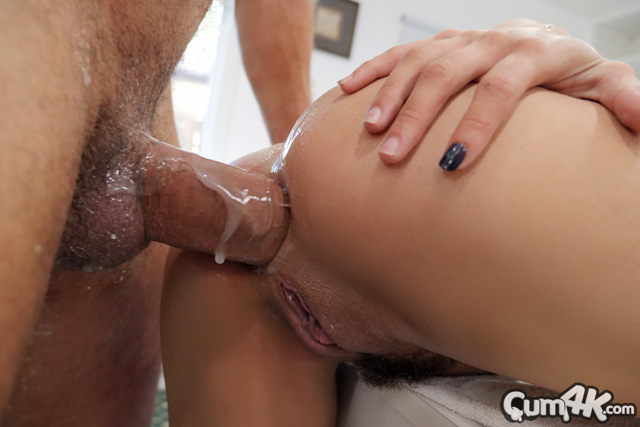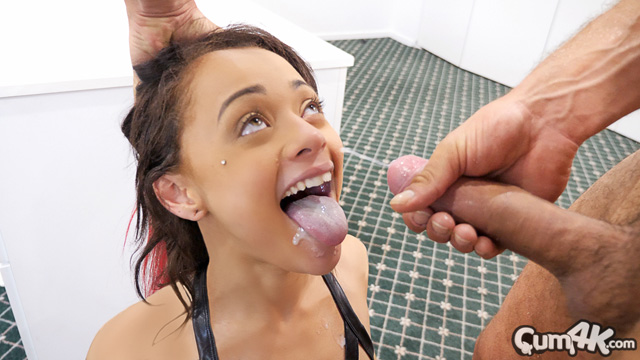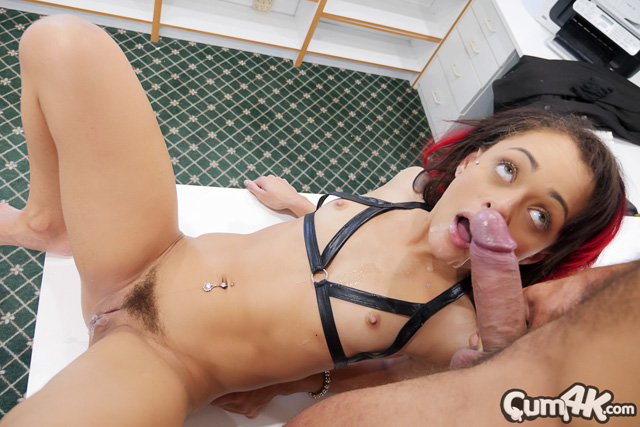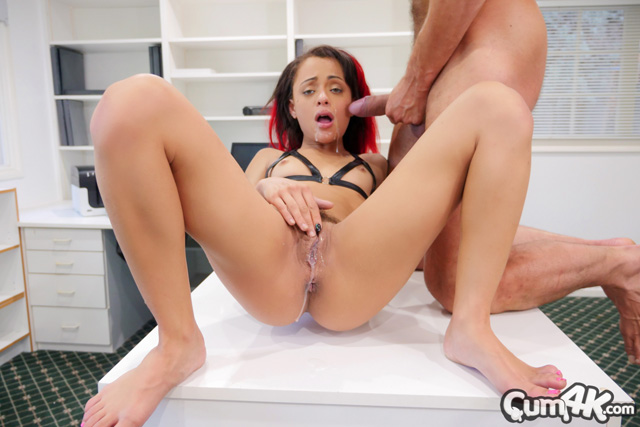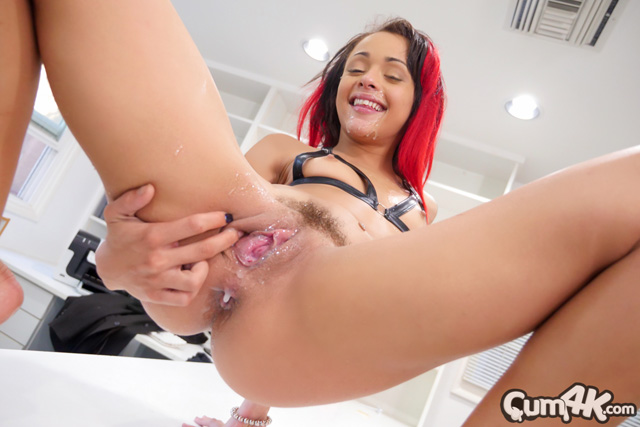 Watch Holly Hendrix take creampies in all of her holes and get a bonus facial in this wild cum filled fuckfest with horny little slut Holly!  Get your $1 PASS to Cum 4K the brand hottest brand new 4K creampie porn site!  Watch insane cumshot videos with 2-3 cumshots in every episode!  Inside the member's area you will enjoy 2-3 new updates weekly, unlimited streaming & downloads in all available formats including HD, SD, MPEG, WMV, iPhone, iPad, BlackBerry, Android.  Cum 4K offers 24/7 member support by web, e-mail and a 1-800 phone line along with 100% discreet billing so you can rest assured your personal business stays personal.  Get your $1 PASS to the world's best creampie porn site!  Bust your biggest load deep in Holly's tight little asshole as she begs for more…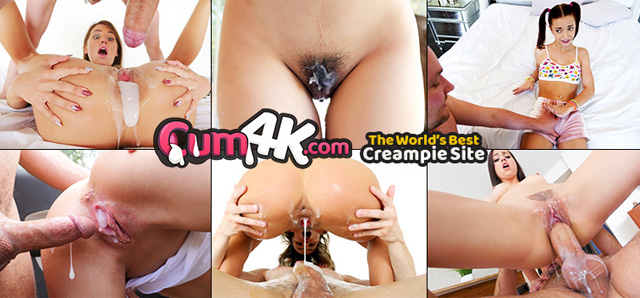 View more in the 4K Porn or Cumshots  categories or return to the cover of Porn Corporation.
More: Overflowing Alina Lopez With Messy Creampies – New Creampie Porn Site: Cum 4K
See more Cum 4K.  Like jizz? Check out our Bukkake & Gloryhole & Gangbang categories.
View all of the articles starring Holly Hendrix or see all the Porn News or New Porn Sites!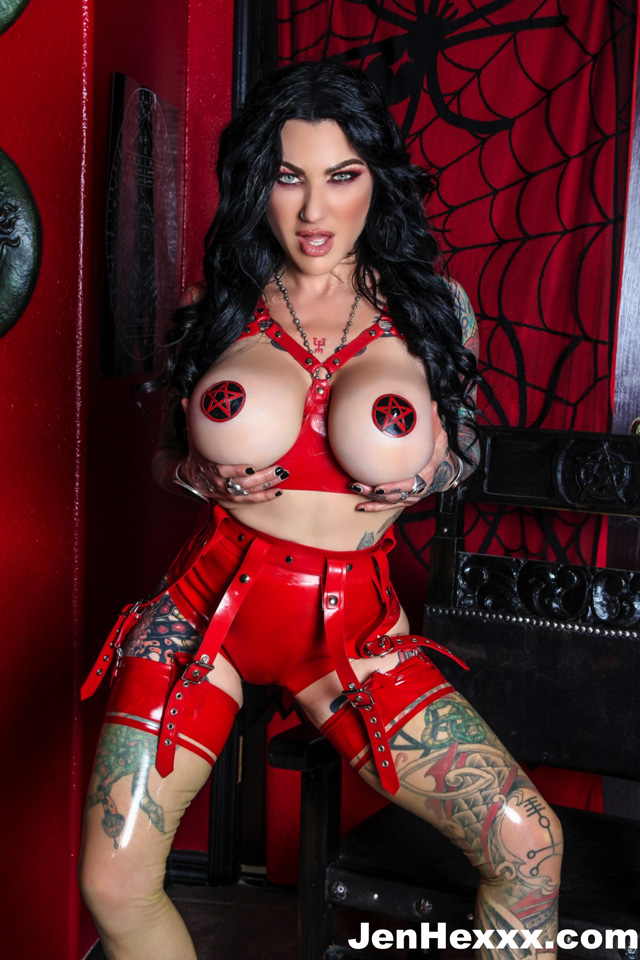 Our favorite witchy snake charmer porn star Jen Hexxx launches her brand new official site!  This stunning inked babe is one of a kind.  She loves playing with boys and girls and is so flexible you can bend her legs behind her head to eat her tasty pussy!  She measures up at a stellar 36DDD-27-35 so cum & take a ride with magical inked unicorn Jenevieve. Watch as hotties Jen enjoys sucking cock, having wild lesbian sex, bdsm & fetish play including sissy boy pegging, slave training, contortionist sex & hot threesomes!  In her spare time divine charmer Jen practices yoga religiously, does tarot card readings and puts on live exotic dancing shows with giant snakes!  Want more of this sexy enchantress?  Read Jen's exclusive interview with Porn Corporation & sign up to Jen Hexxx's brand new official site.  Inside Jen's site you can watch her sexual escapades with all her horny friends including Romi Rain, Audrey Black, Savannah Fox, Tana Lee, Ariella Ferrera, Savana Styles, Anna Bell Peaks, Alura Jensen, Makayla Cox & more!  Get a $5 PASS & get full access to the entire Puba network with all the hottest official pornstar sites with over 75+ and counting amazing porn sites!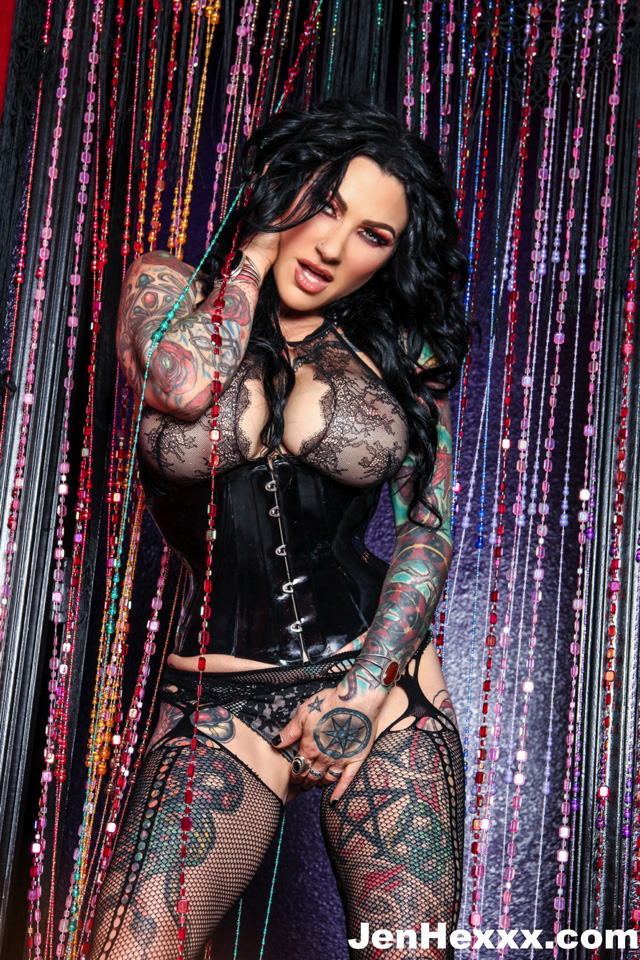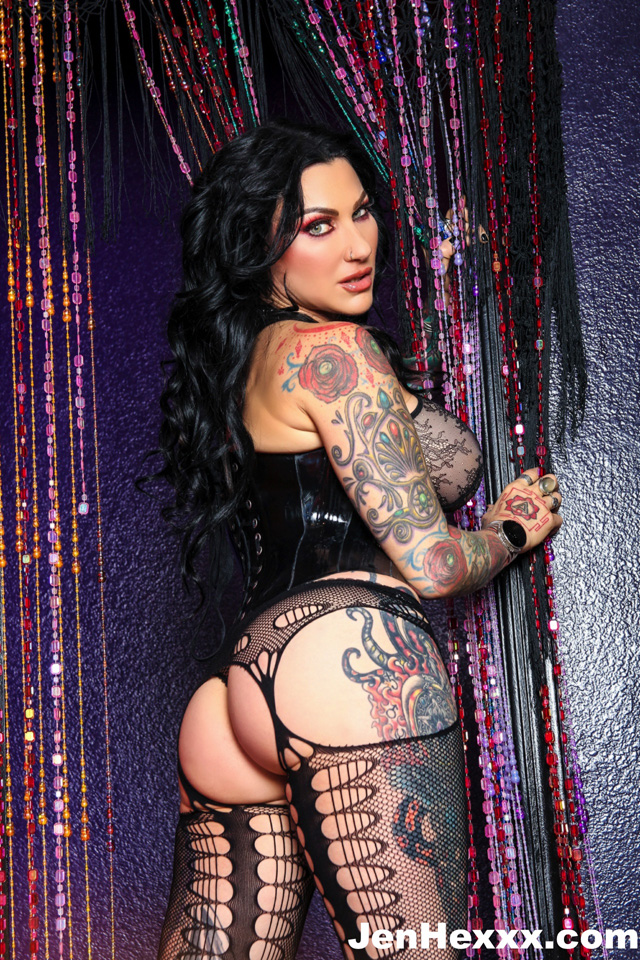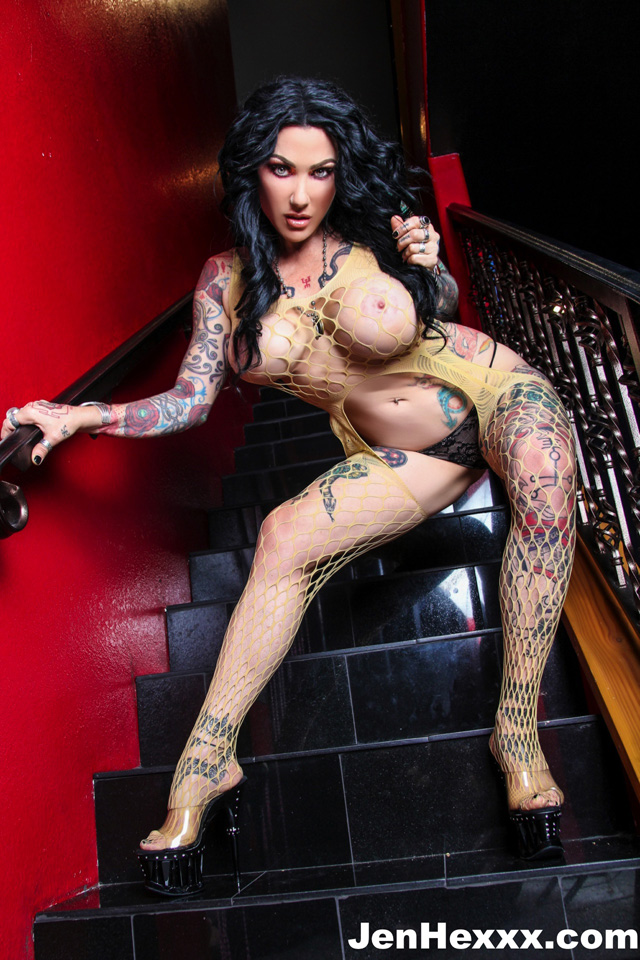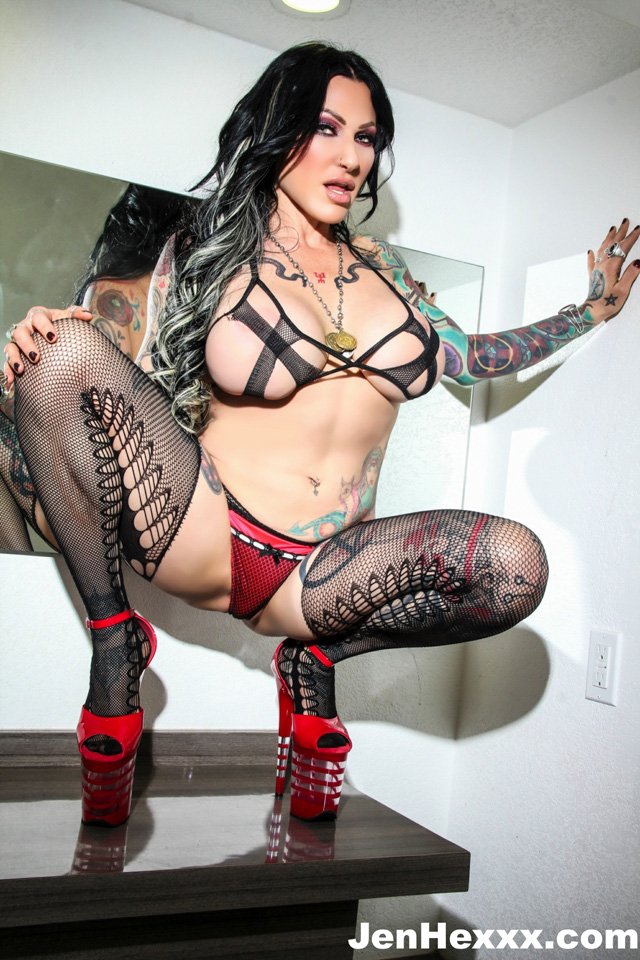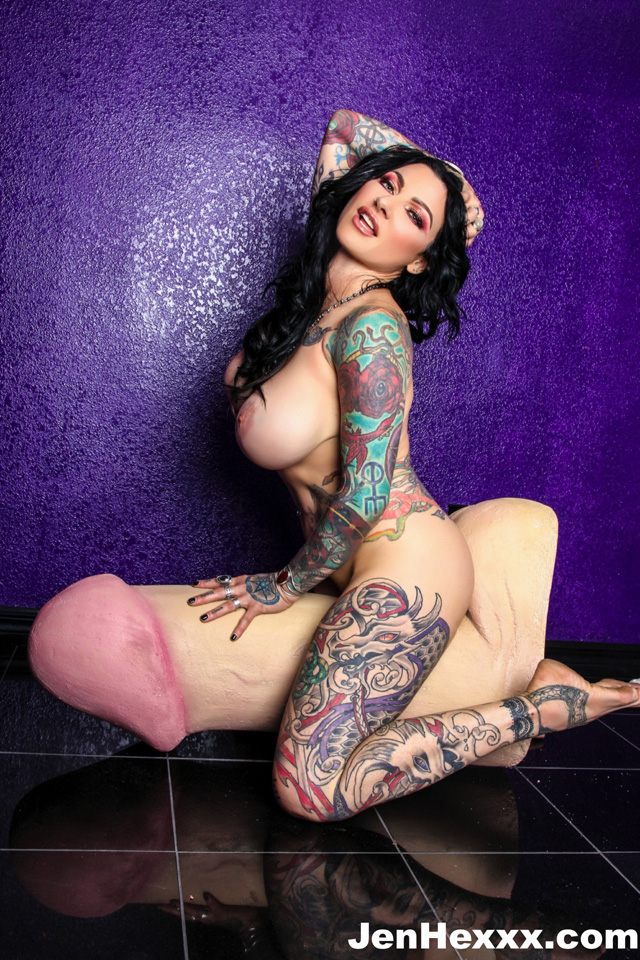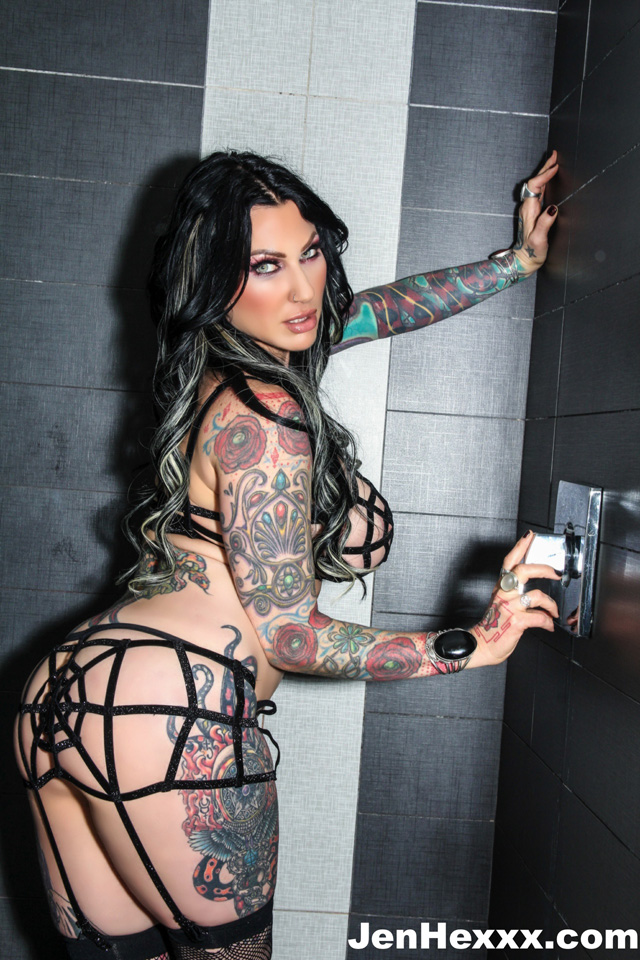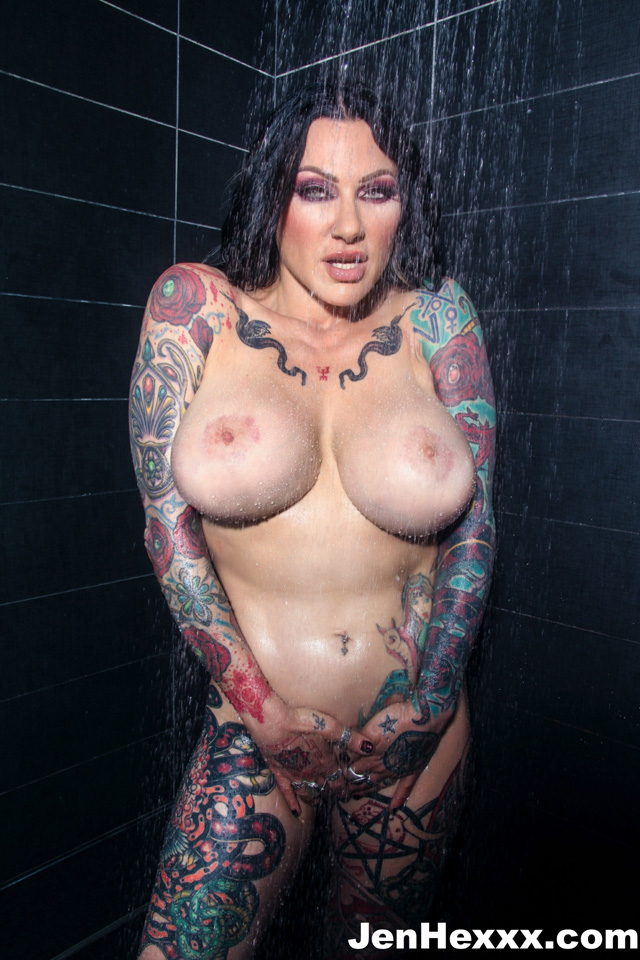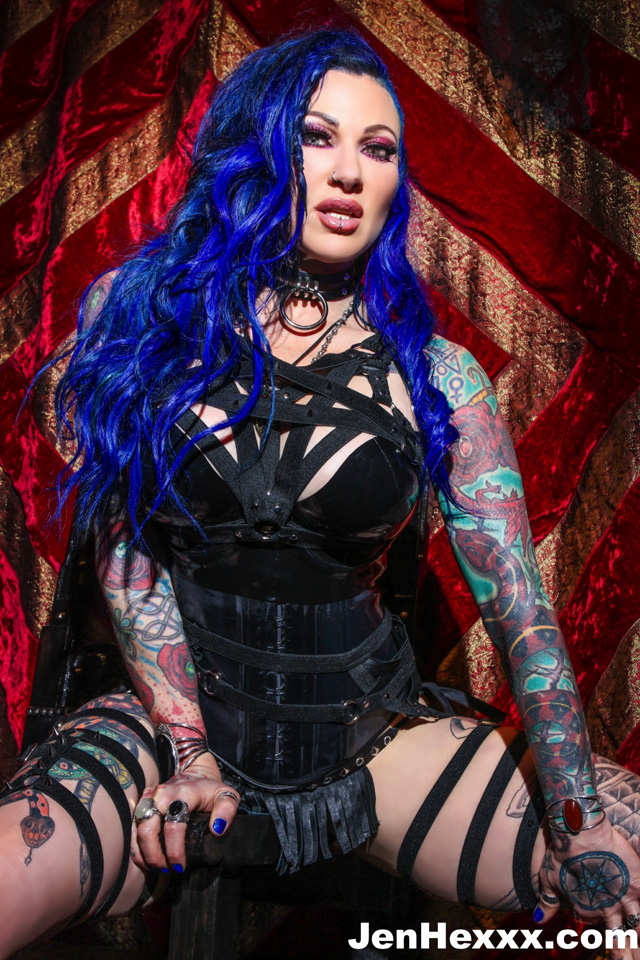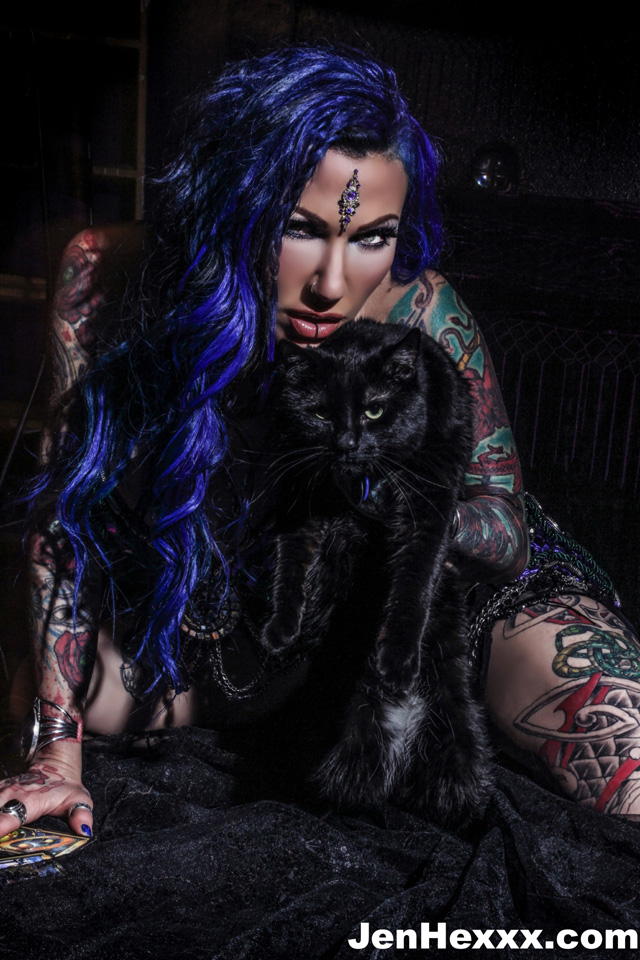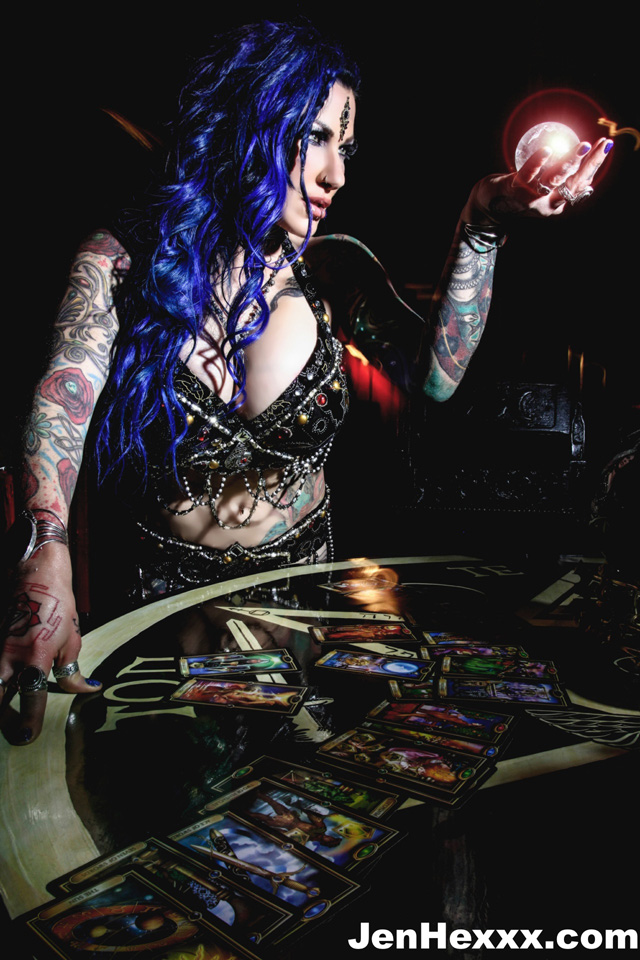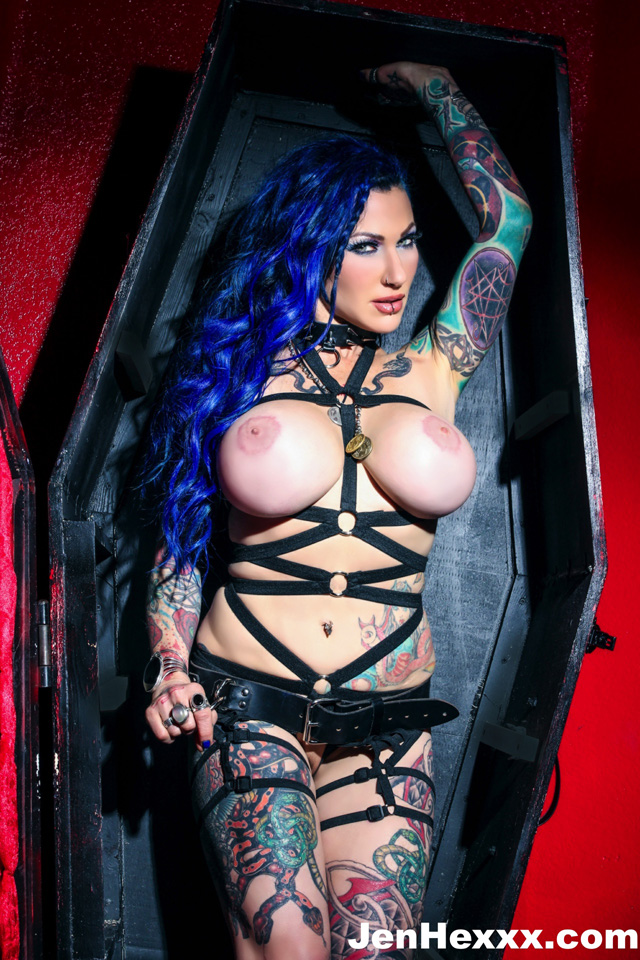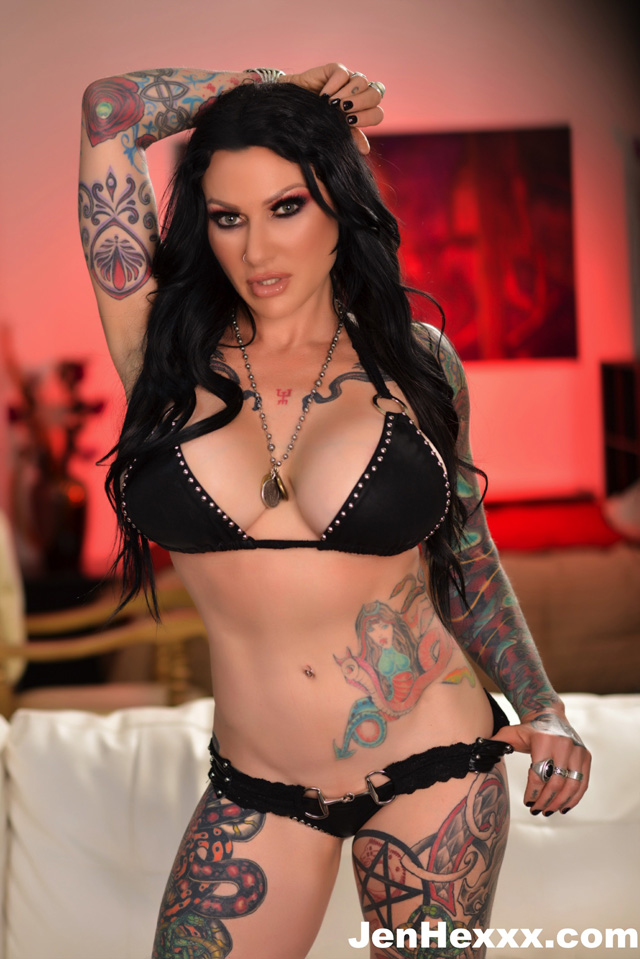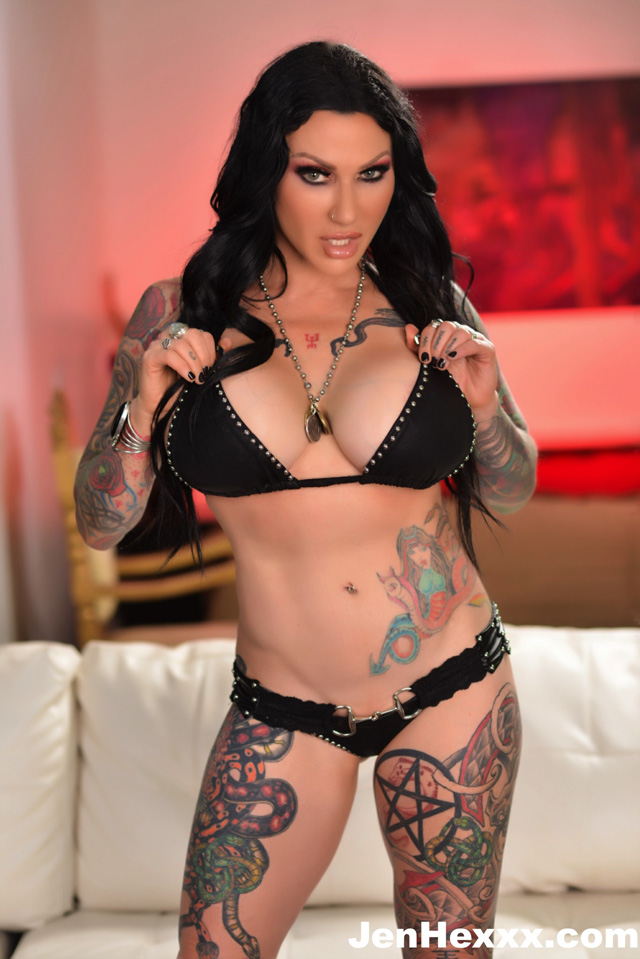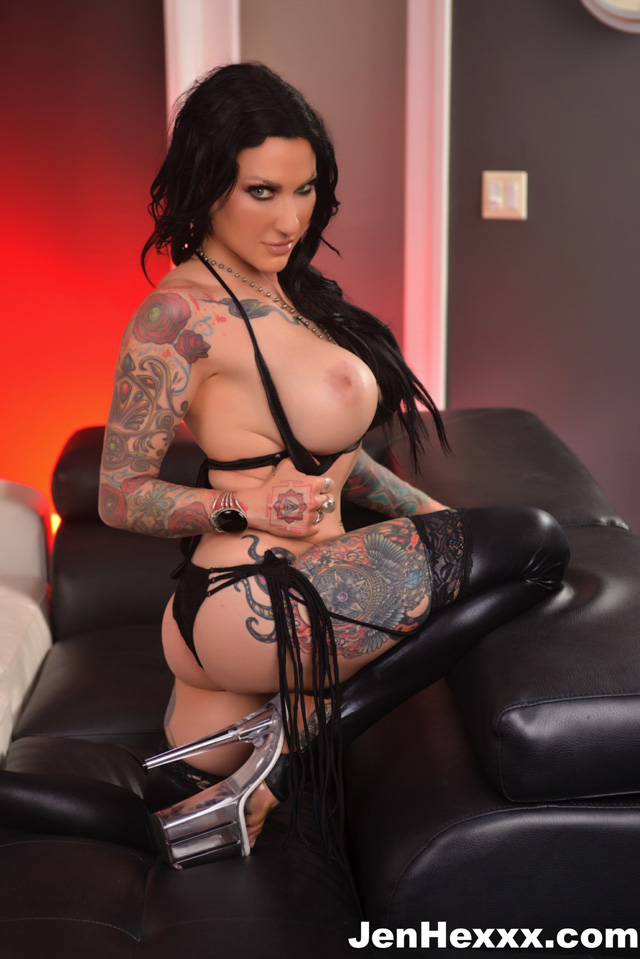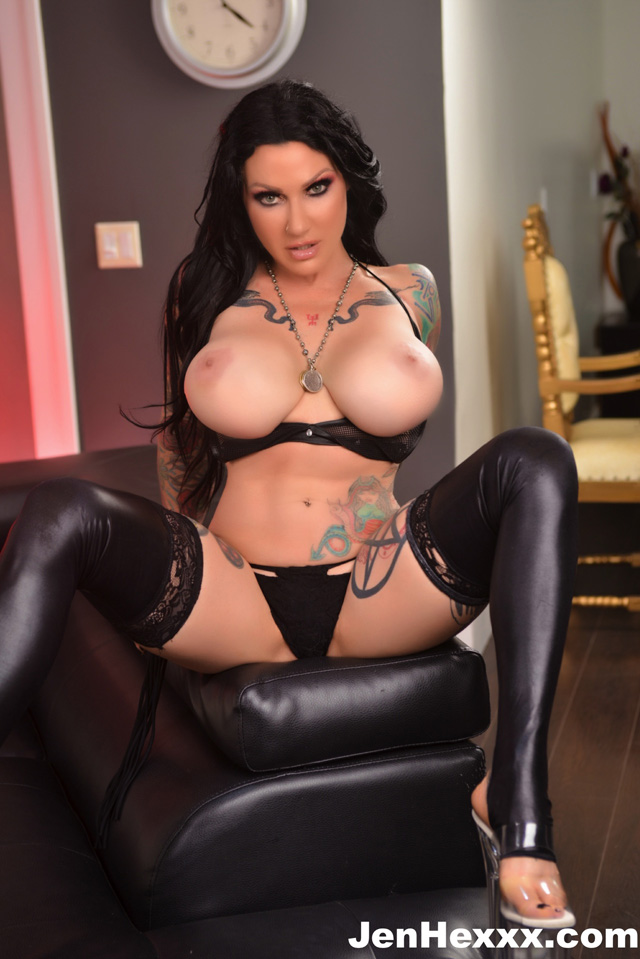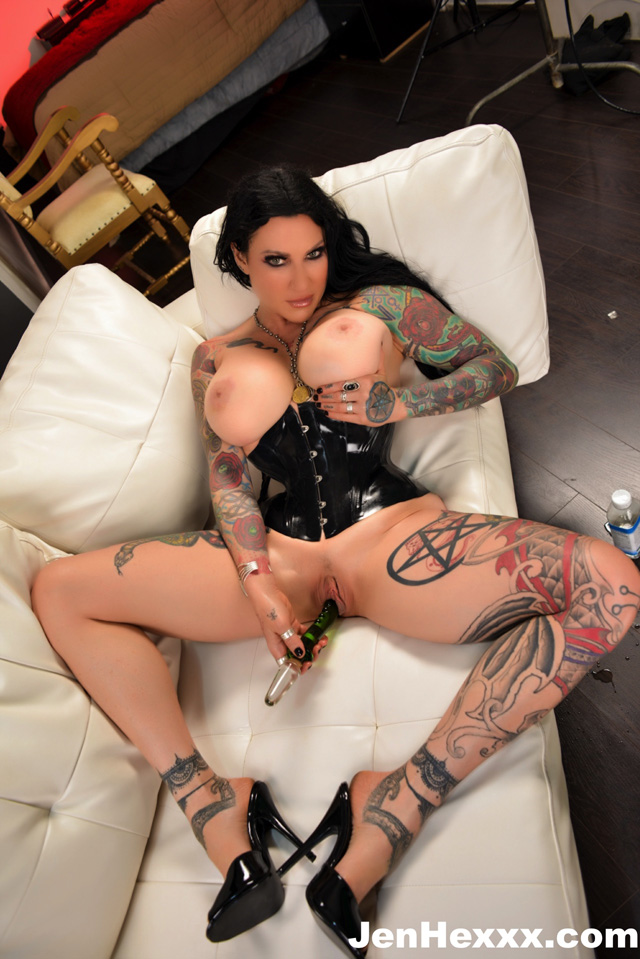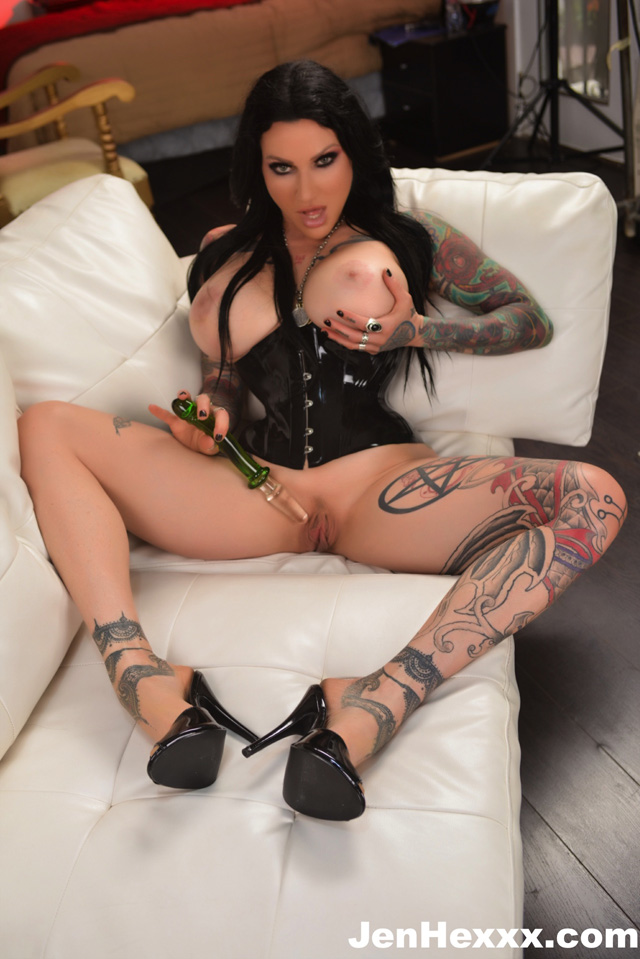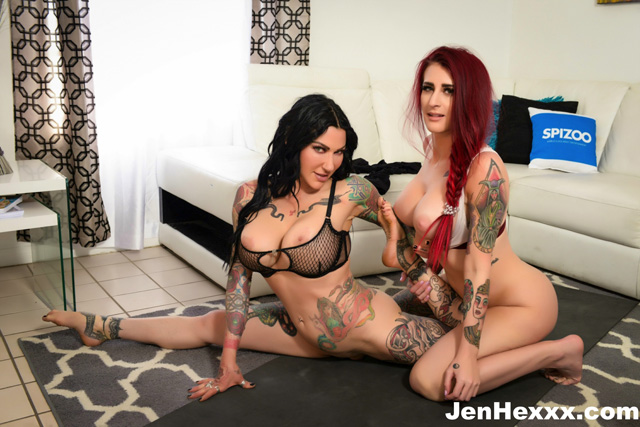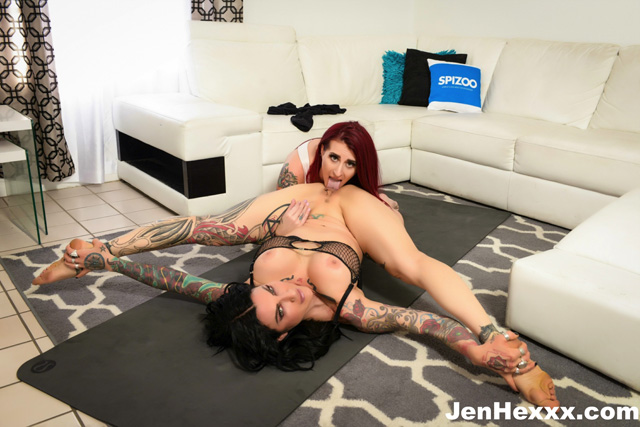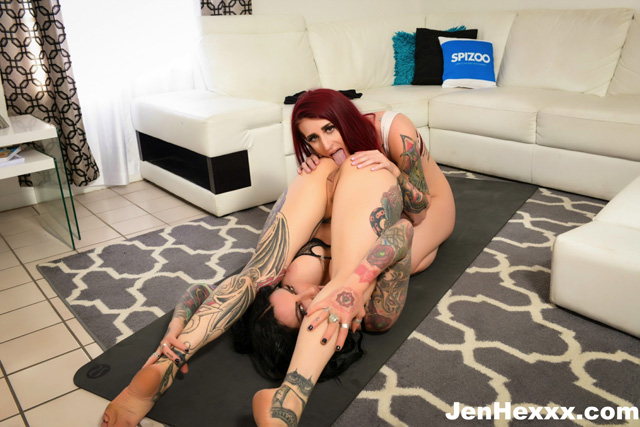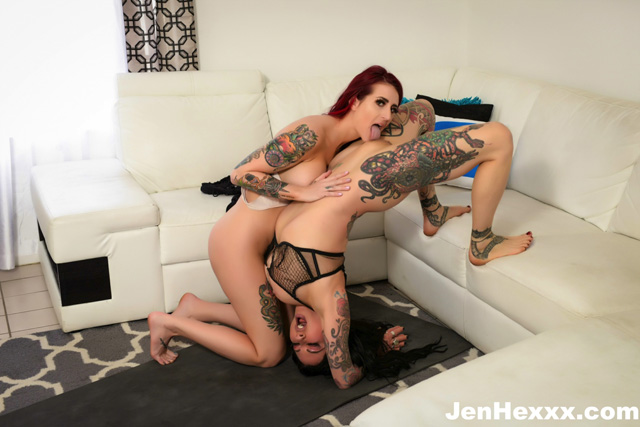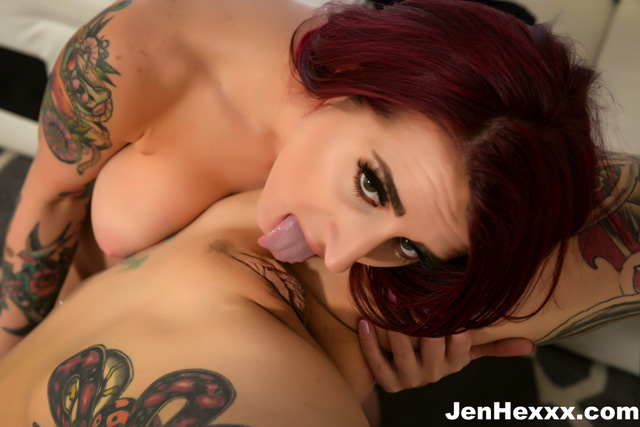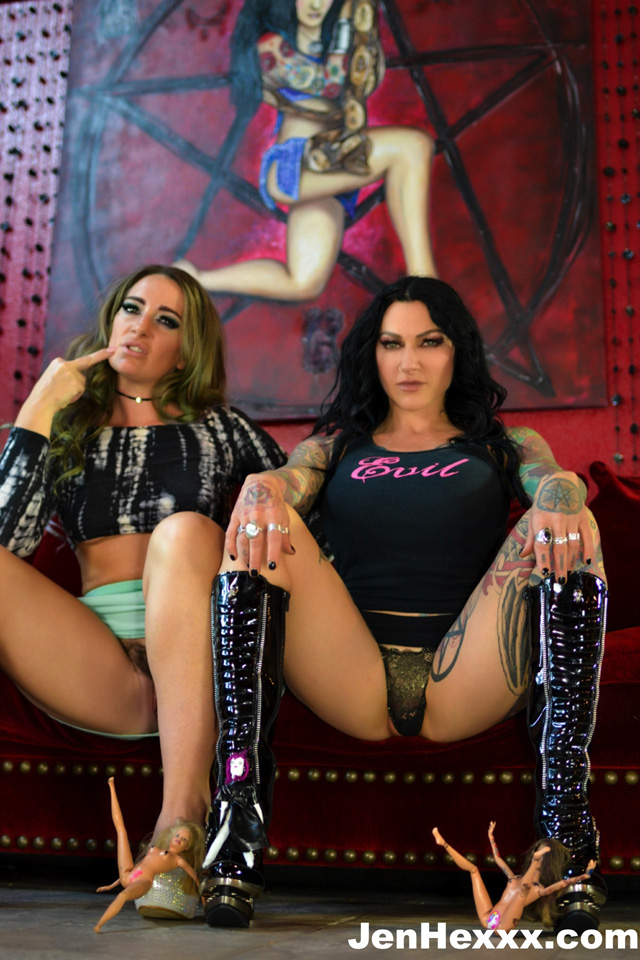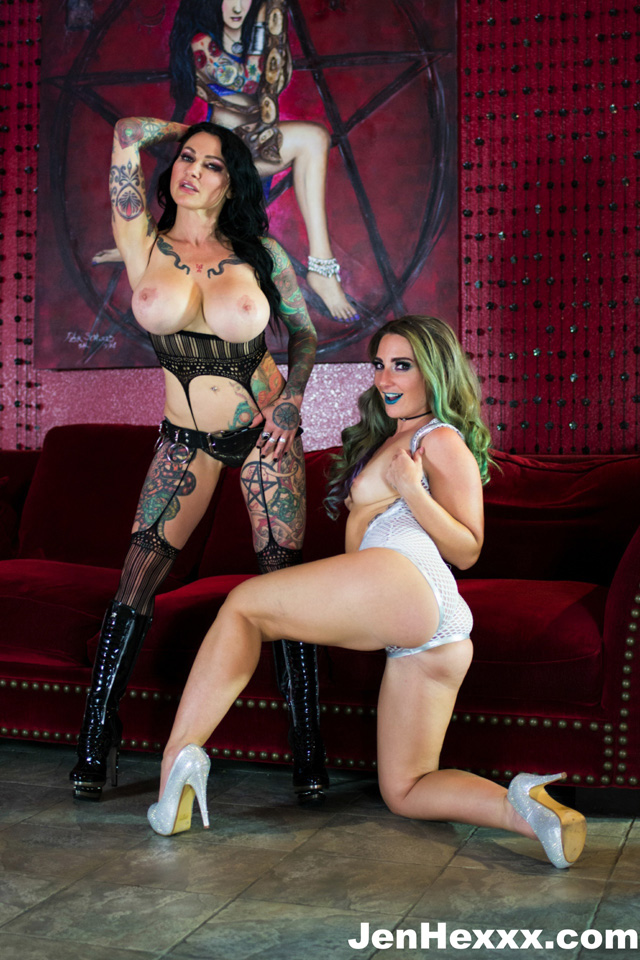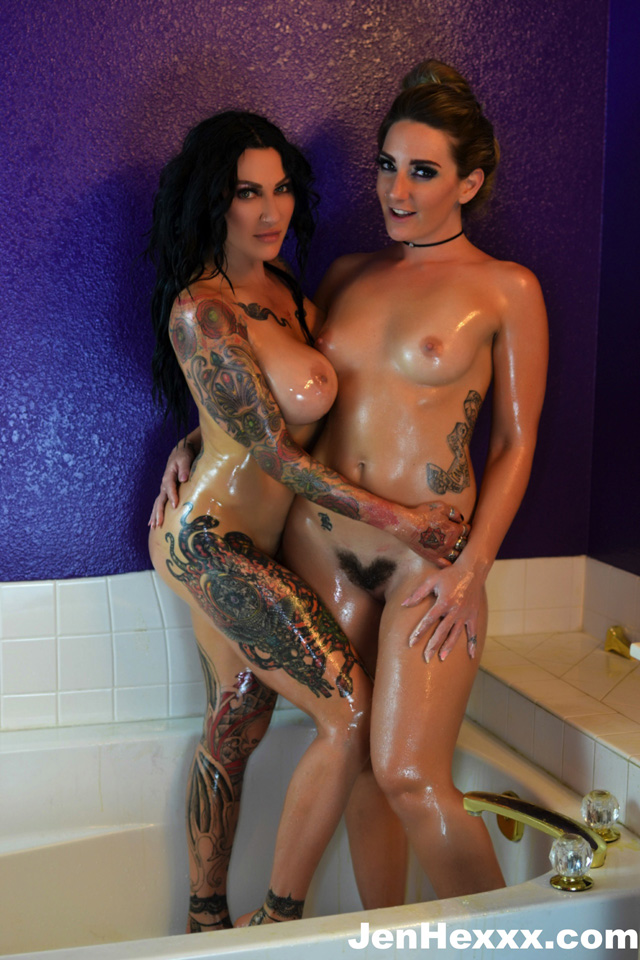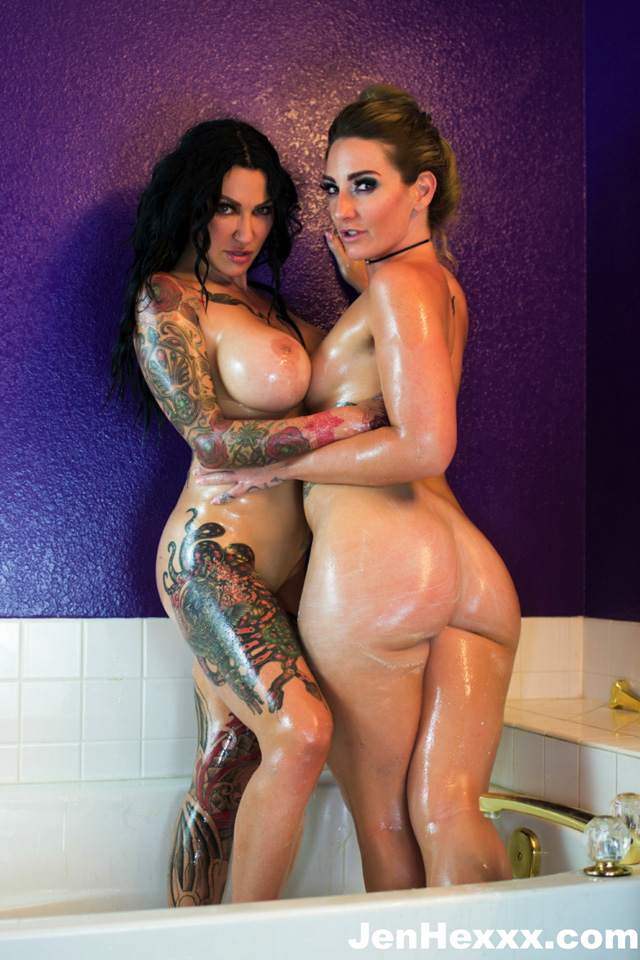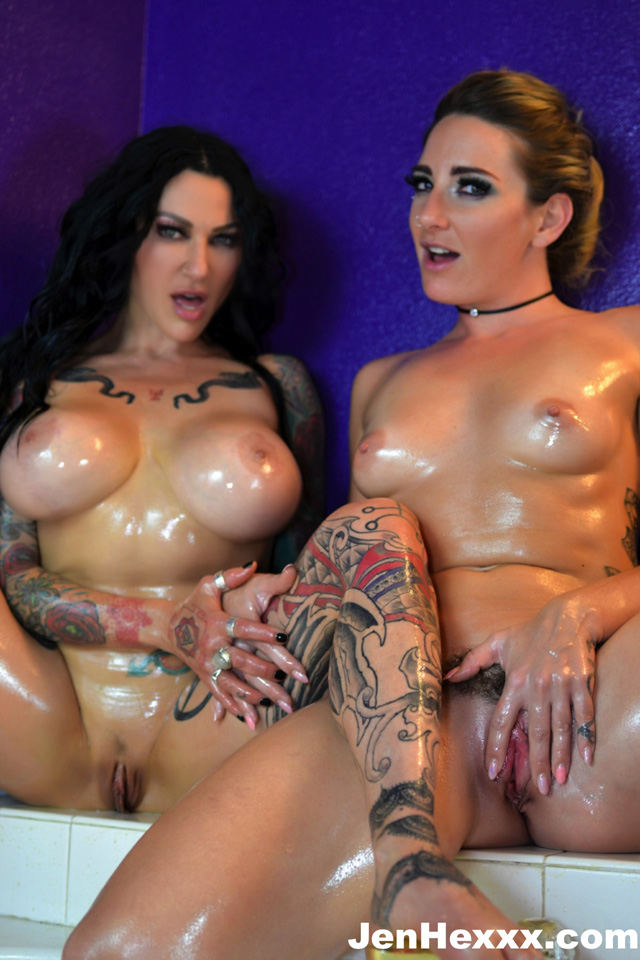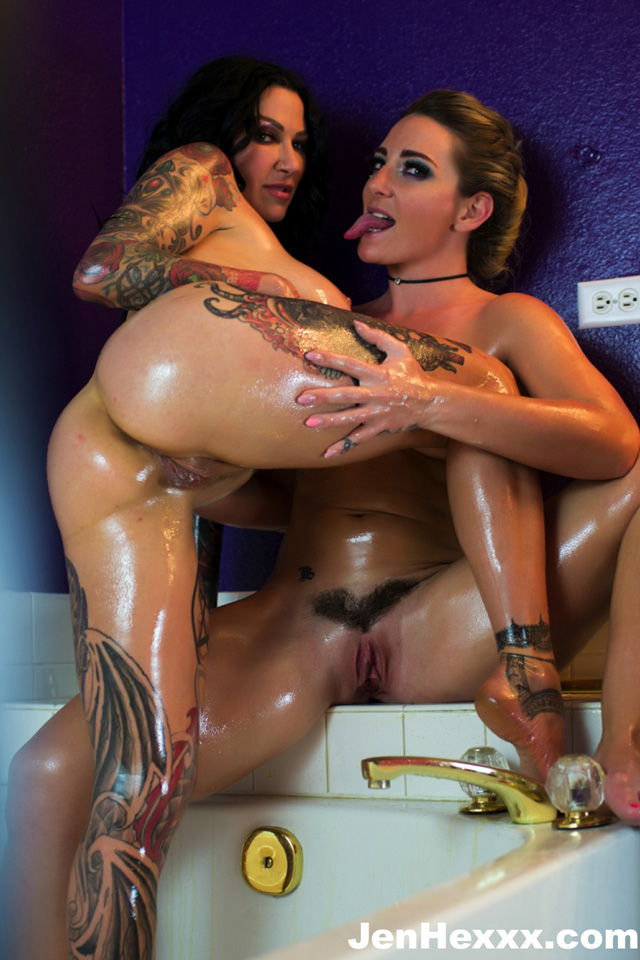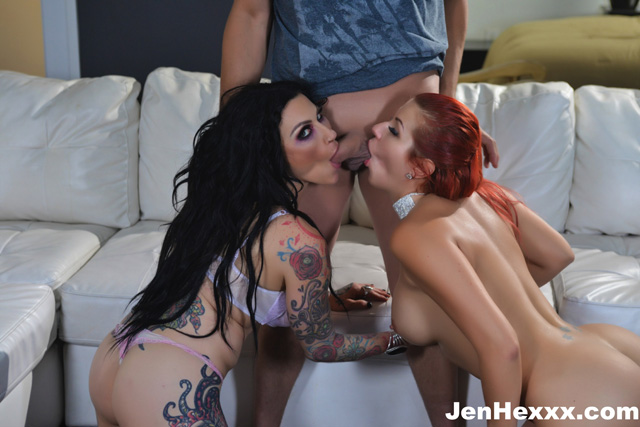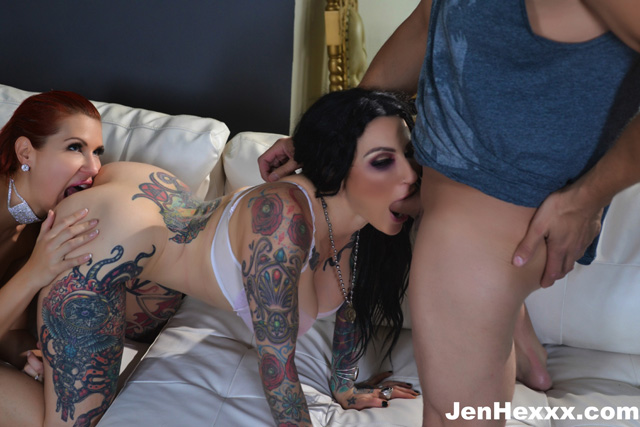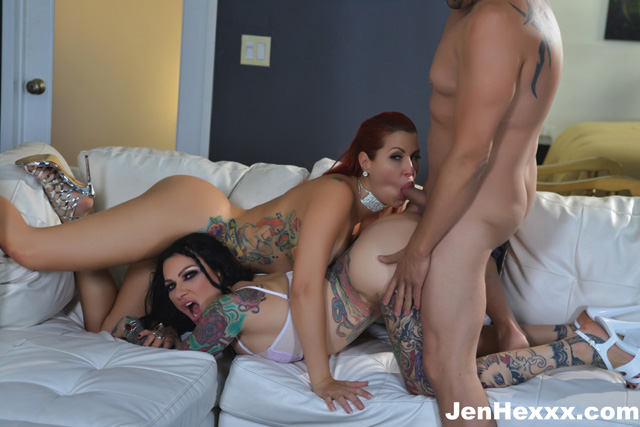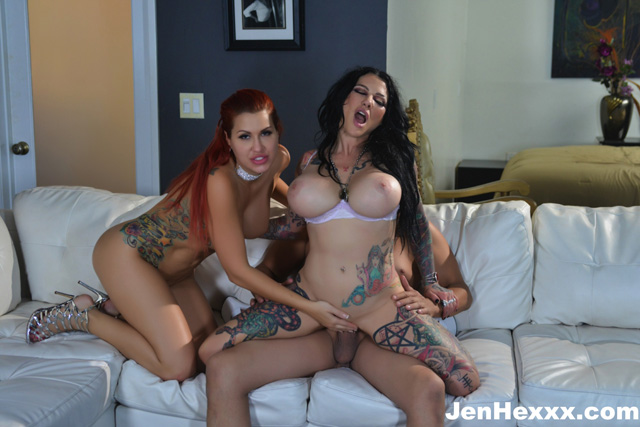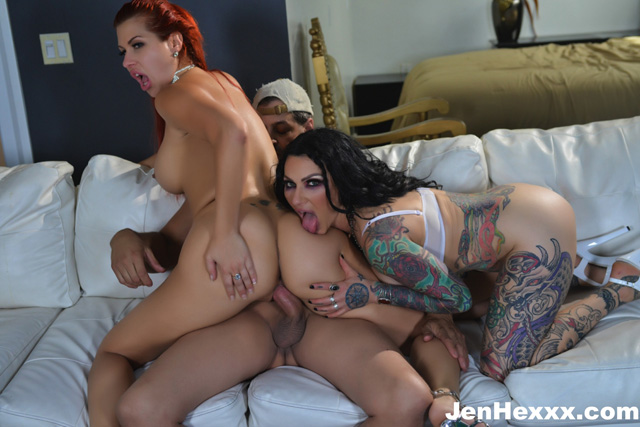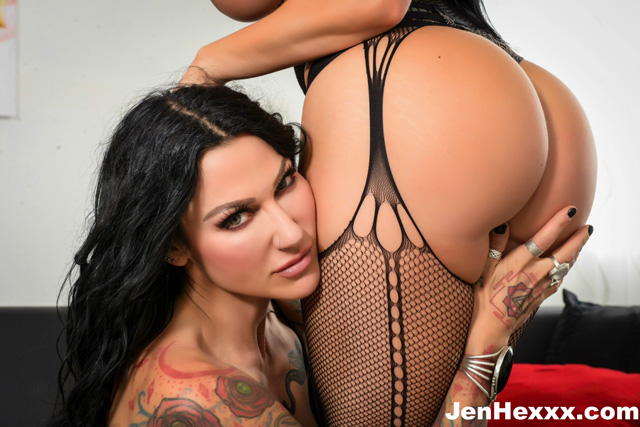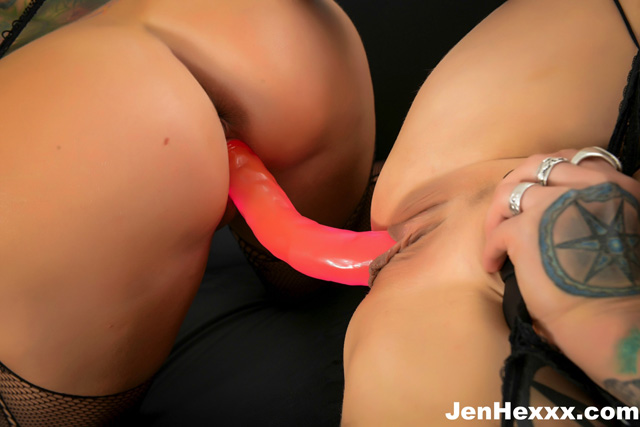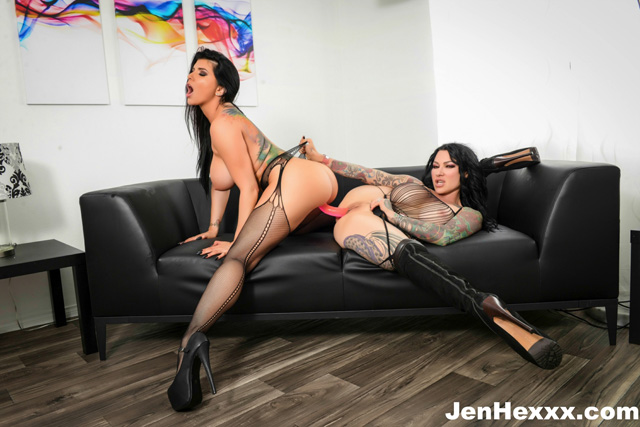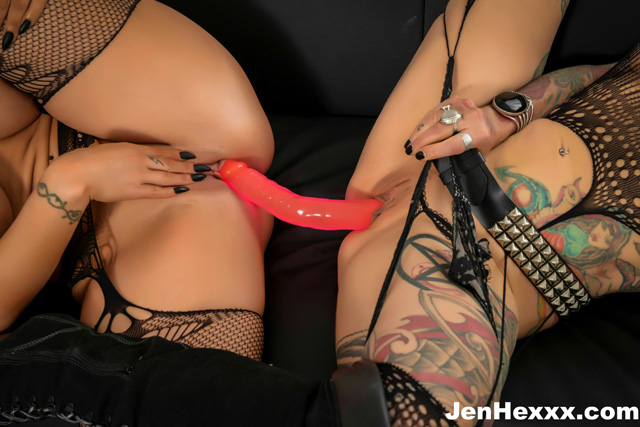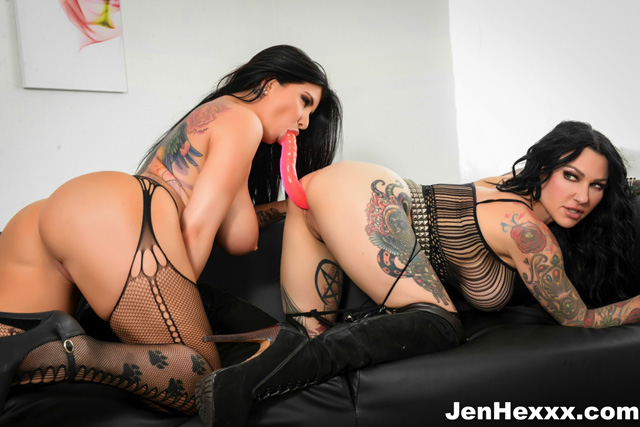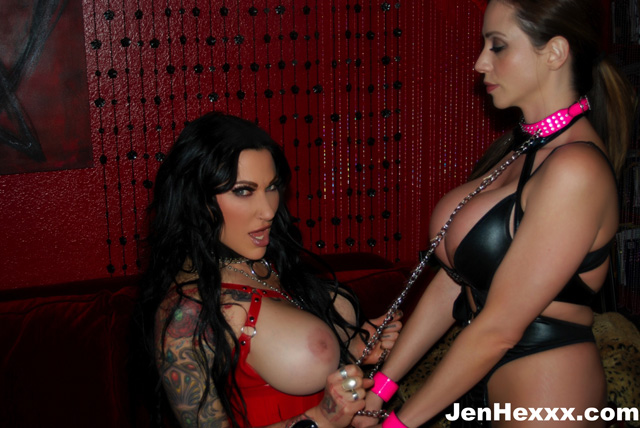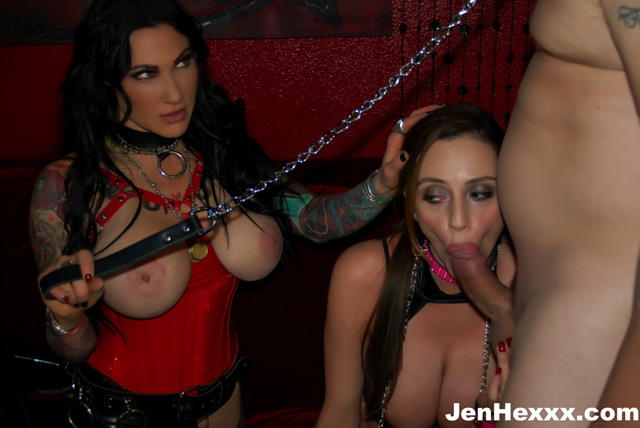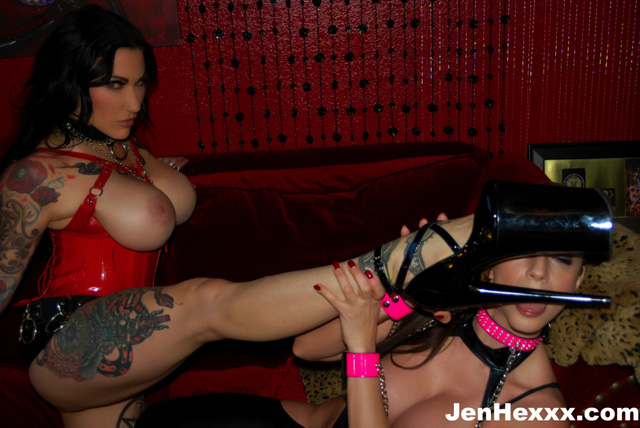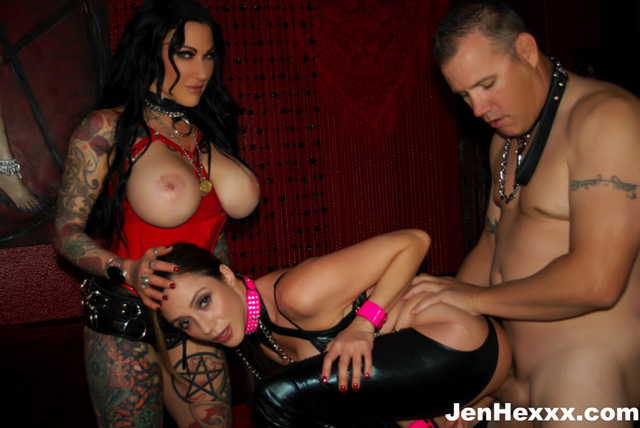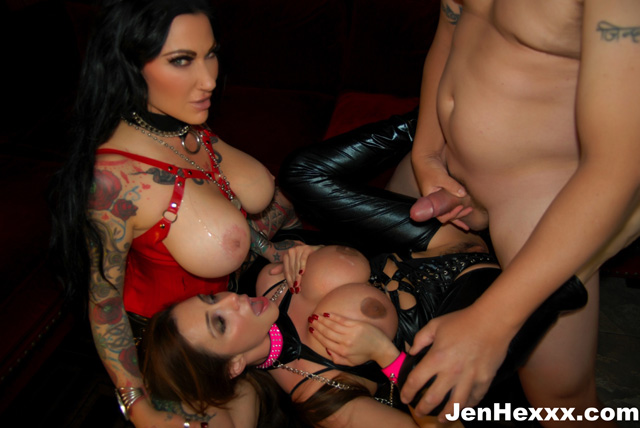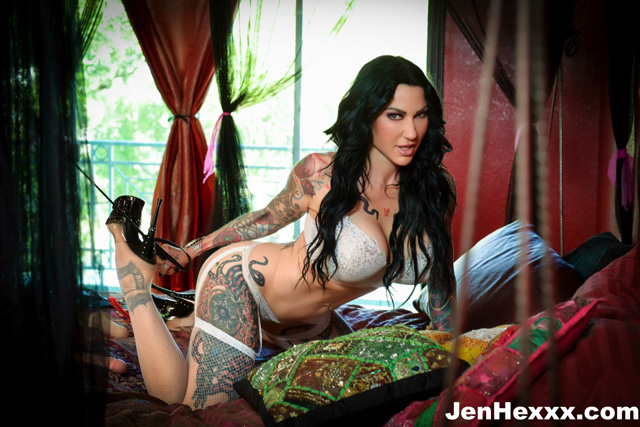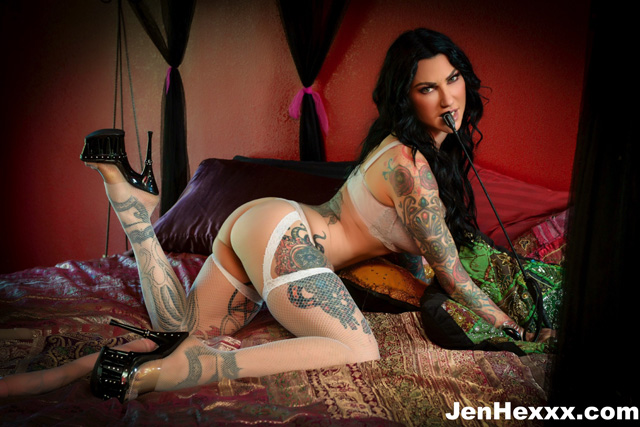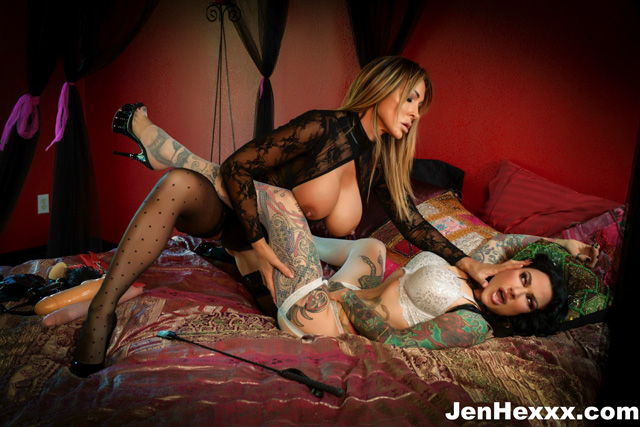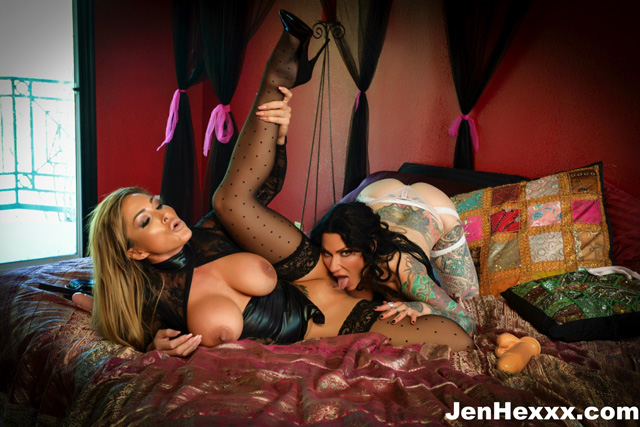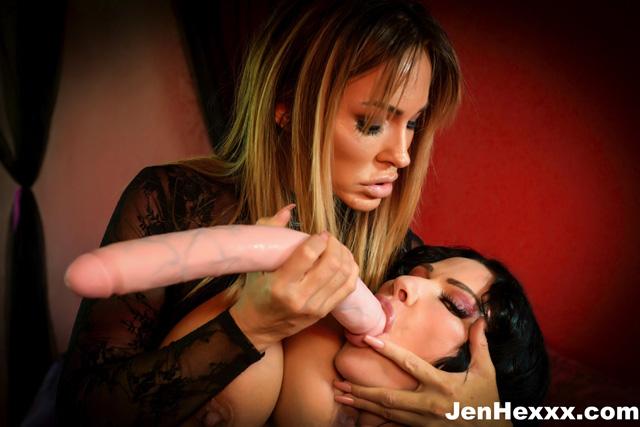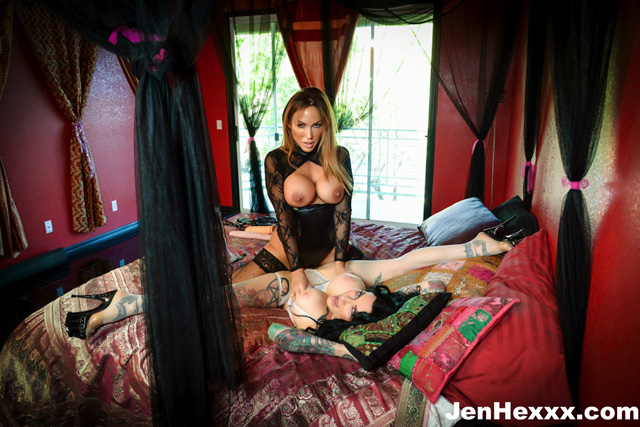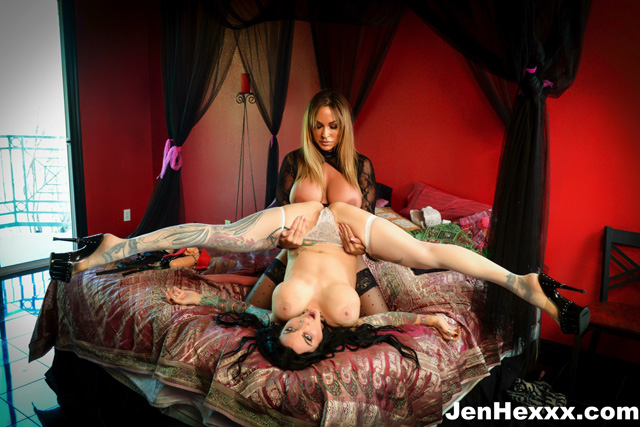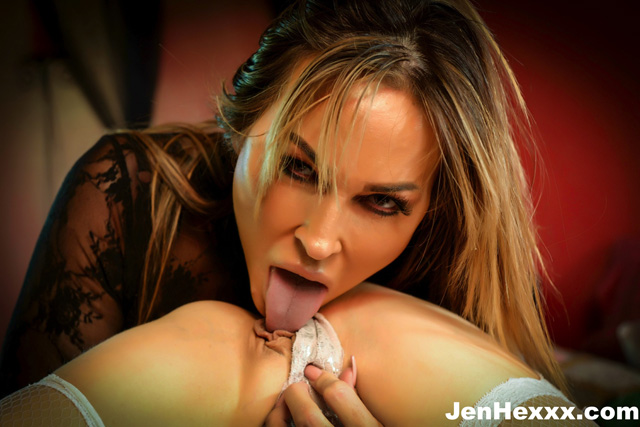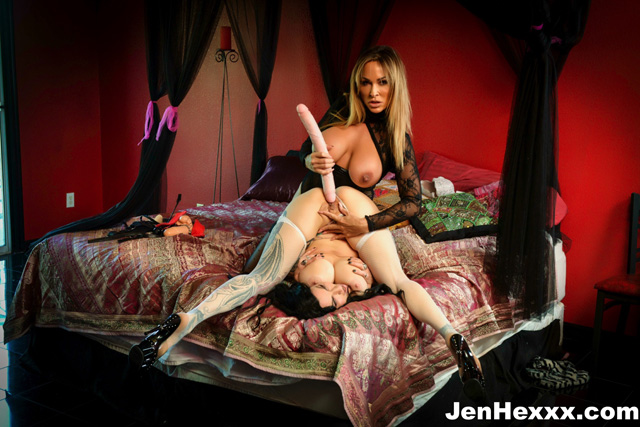 Join Jenevieve Hexxx's brand new official site and get access to all of her new videos & photo sets in solo, lesbian, hardcore & group sex!  You will be enchanted by Jen's witchy ways, love for life and lust and desire for all things sexual! Join and get full access to the Puba Network with full HD & mobile capabilities including the official sites of Romi Rain, Lolly Ink, Daisy Monroe, Sarah Jessie, Alix Lynx, Vyxen Steel, Christy Mack, Dahlia Sky, Elsa Jean, Nicole Aniston, Leya Falcon, Jayden Cole, Keisha Grey, Kendra Cole, Jezebelle Bond, Marica Hase, Olivia Austin, Rachel Roxxx,  Sarah Vandella, Nikita Von James, Samantha Saint, Nadia White, Dava Foxx, Brooklyn Chase, Dana DeArmond, Alison Tyler, Brett Rossi & more!  Are you ready to indulge in your dark side and get physical with tattooed Seductress Jenevieve Hexxx?  Get your $5 PASS to Jen Hexxx and get access to the entire Puba pornstar network tonight with access to over 75+ porn sites!

Continue reading in the Pornstars or Fetish or Flexible categories or return to the cover of Porn Corp.
View more of Jenevieve Hexxx.  Noteworthy:  Jenevieve Hexxx Interview For Porn Corporation
See all the hottest New Porn Sites launched recently or catch up on the latest Porn News.
Read all of the articles starring Puba.  Previous: Sarah Jessie's Edgy Artistic Smoking Fetish Pinups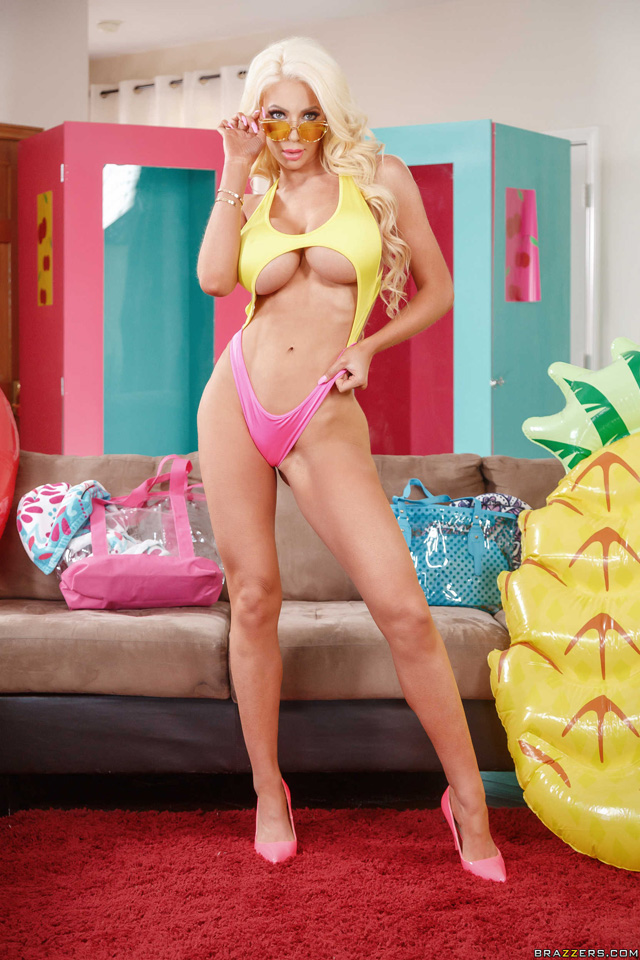 Doll babes Nicolette Shea & August Taylor star in this special edition of All Dolled Up in a wild Spring Break scene!  Watch as Justin Hunt is getting ready to hit the beaches with his best bud to scout out hot chicks to hook up with.  Justin gets a surprise for his buddy and buys a couple of life-size sex dolls to spice up their trip.  But to his surprise these two big titty Barbies come to life and fuck him senseless!  Get your $1 PASS to Brazzers to watch this hot new threesome sex scene now…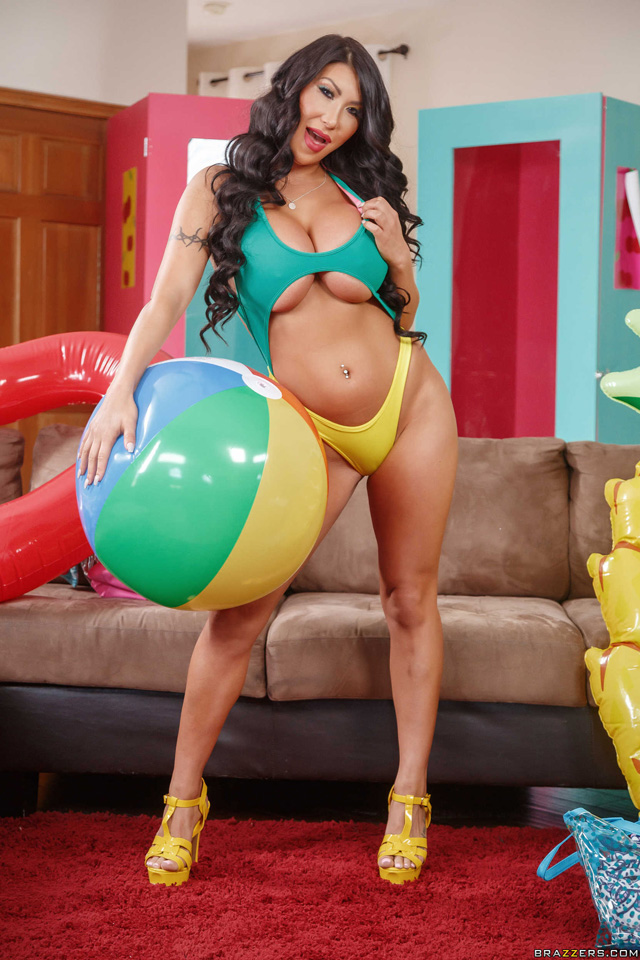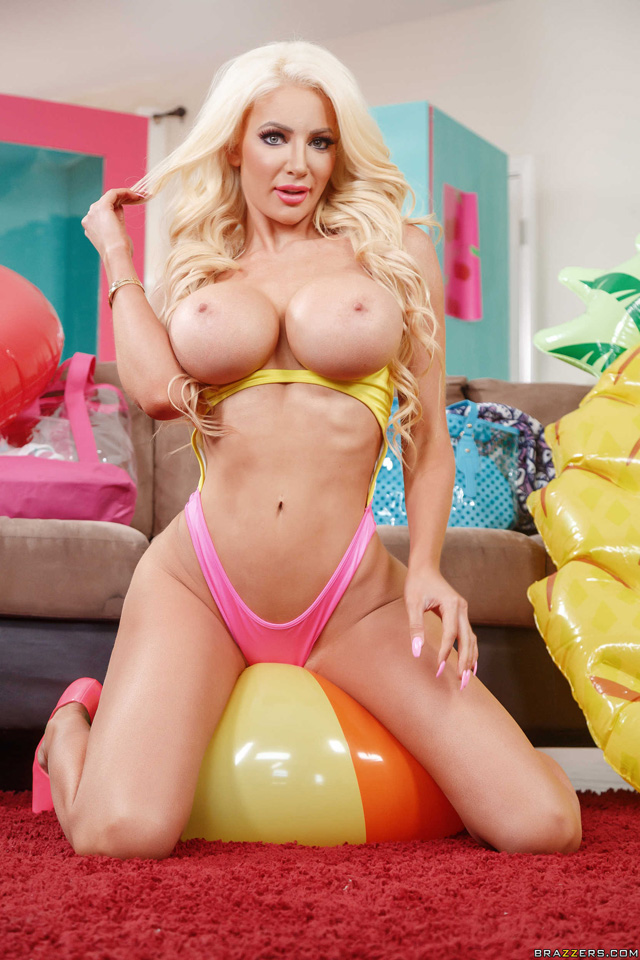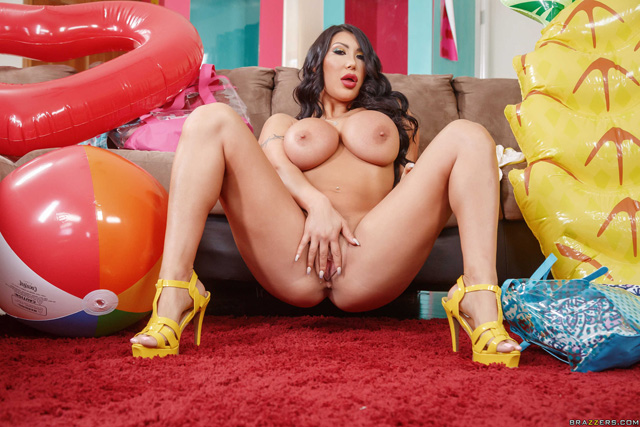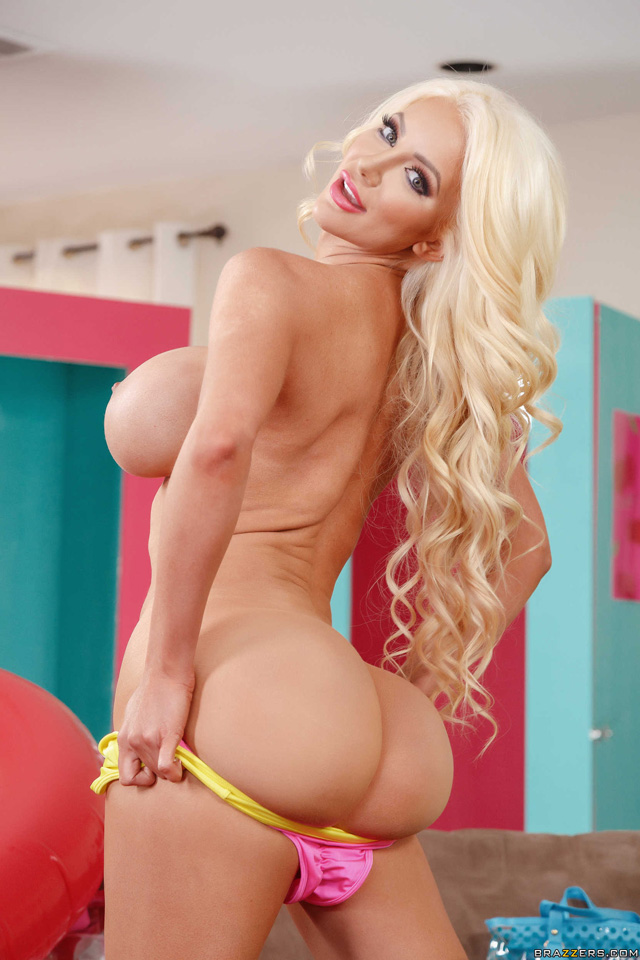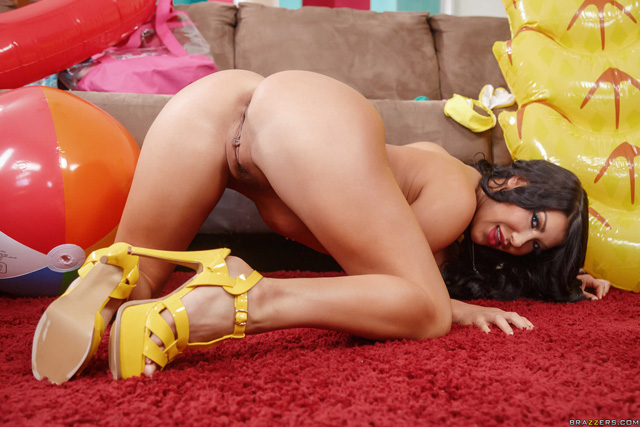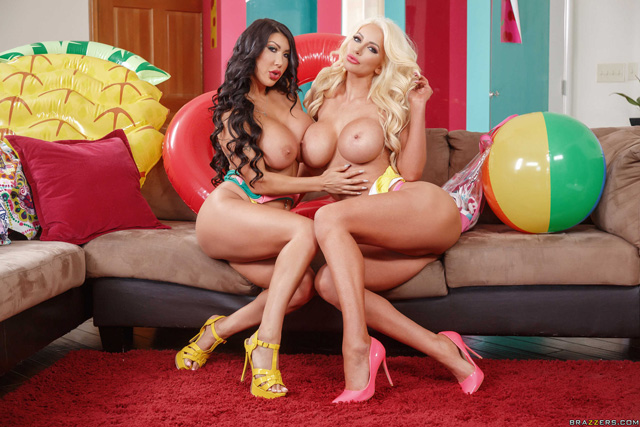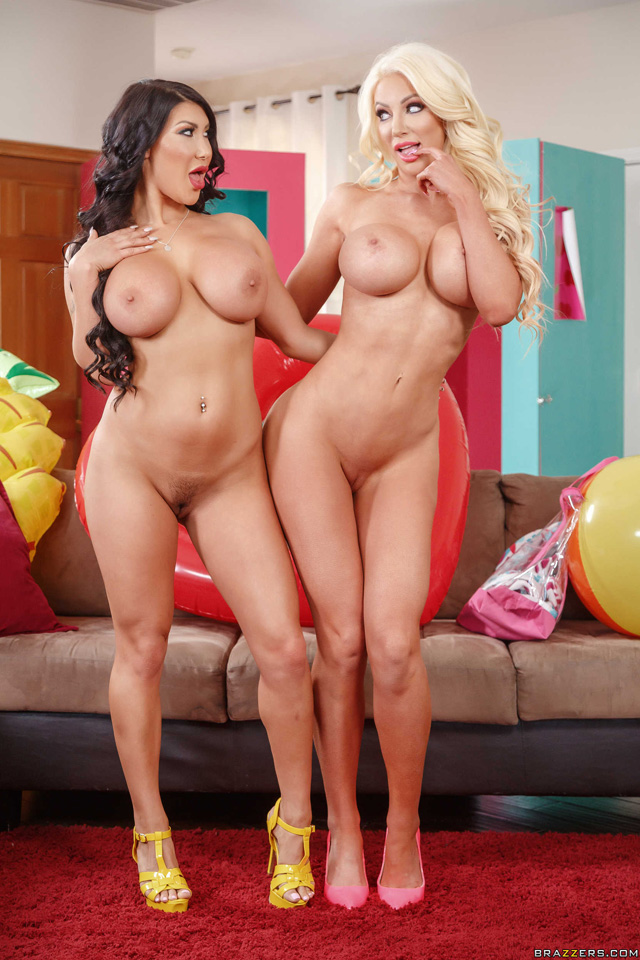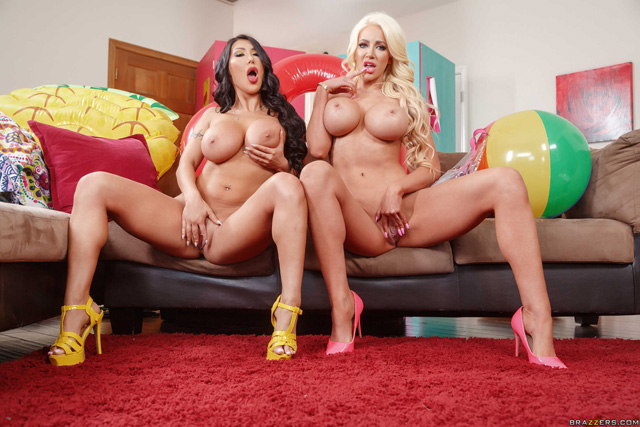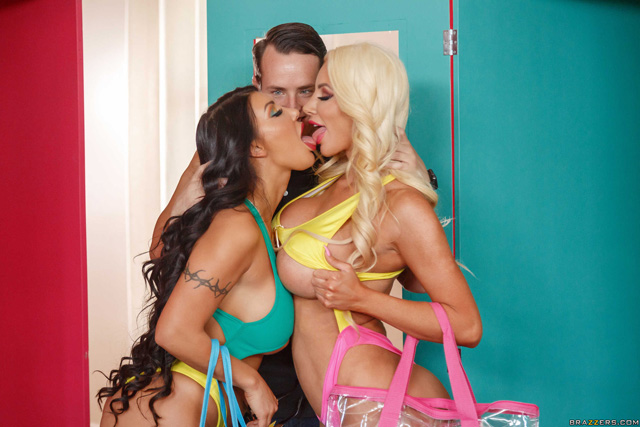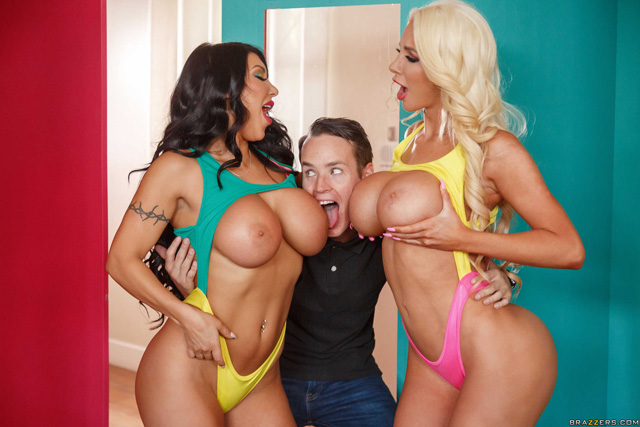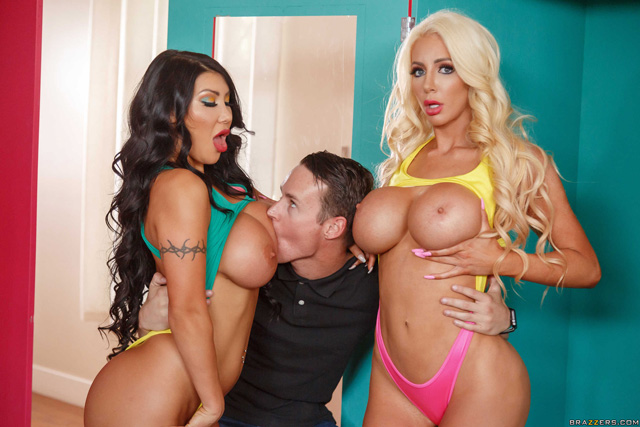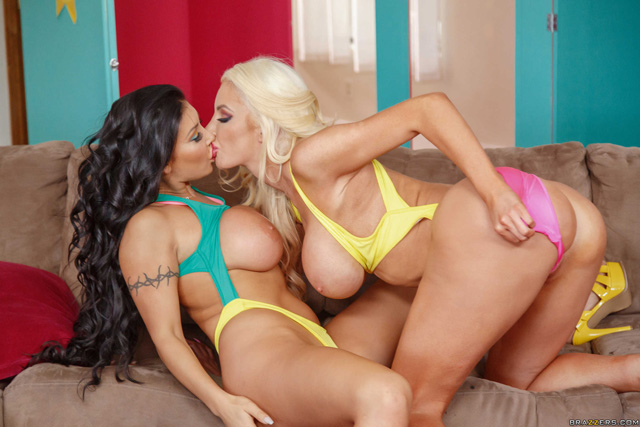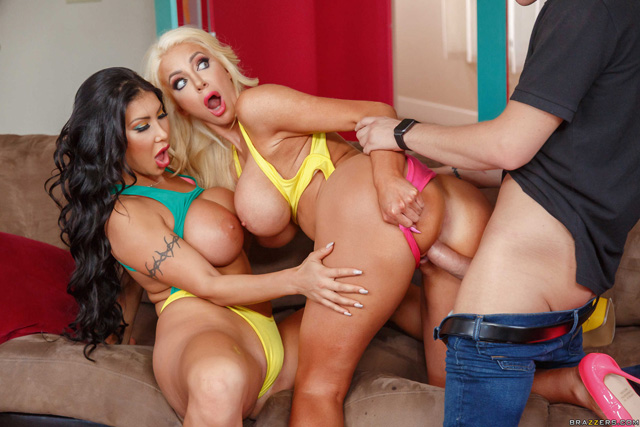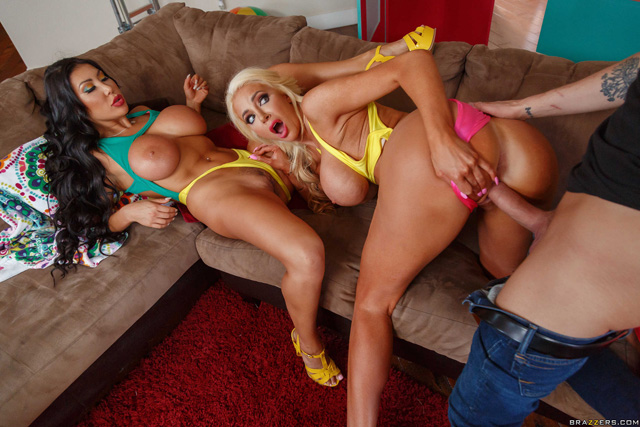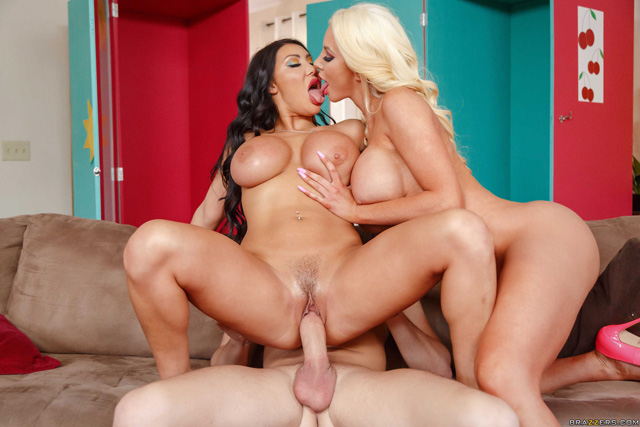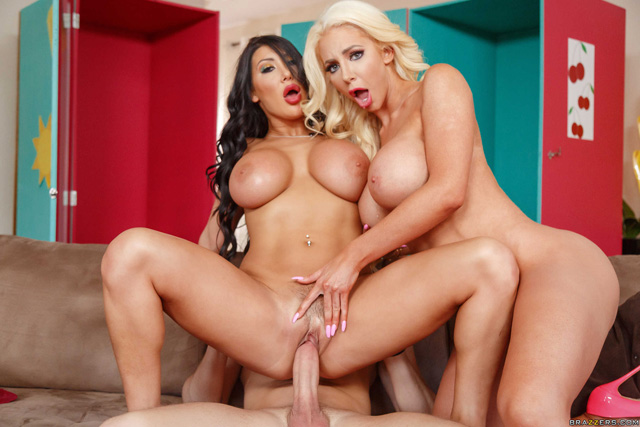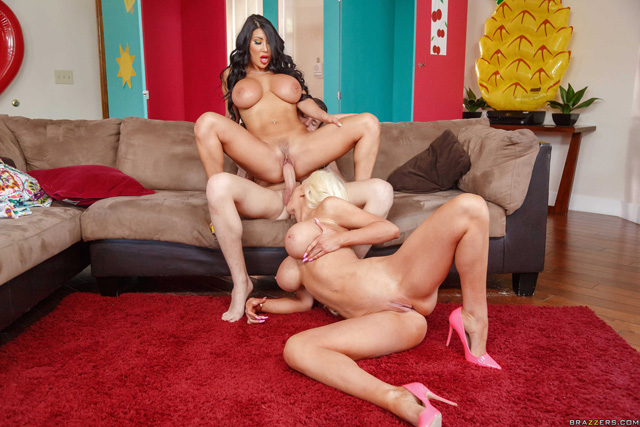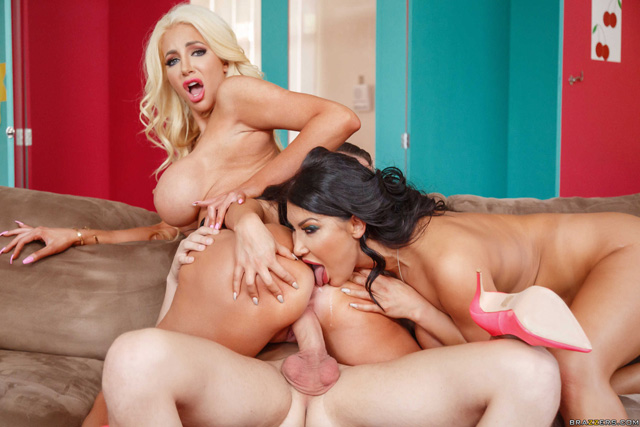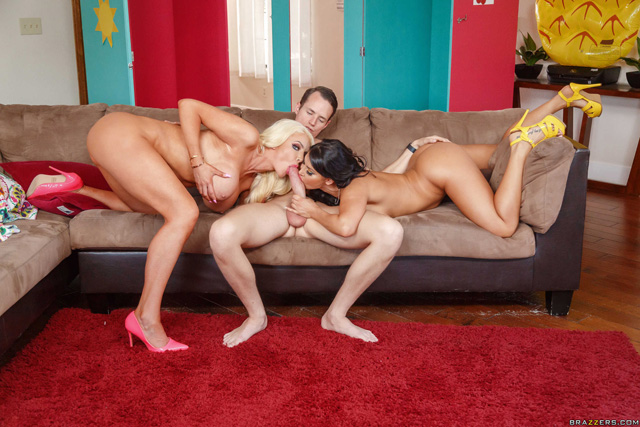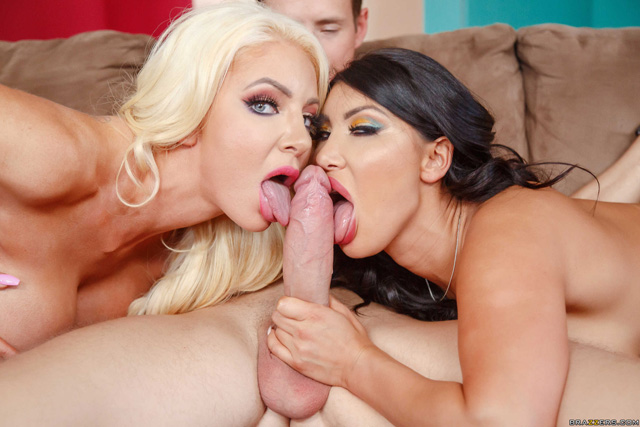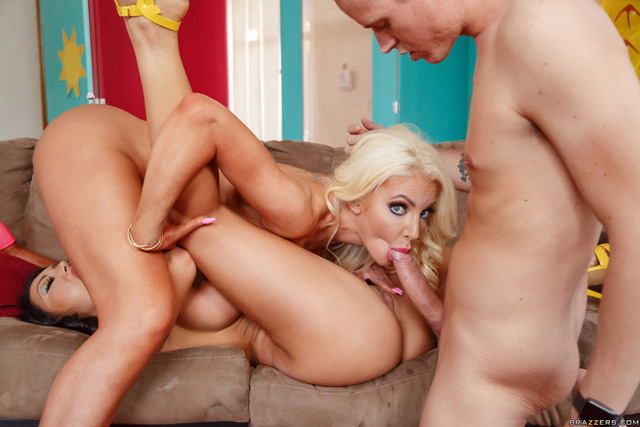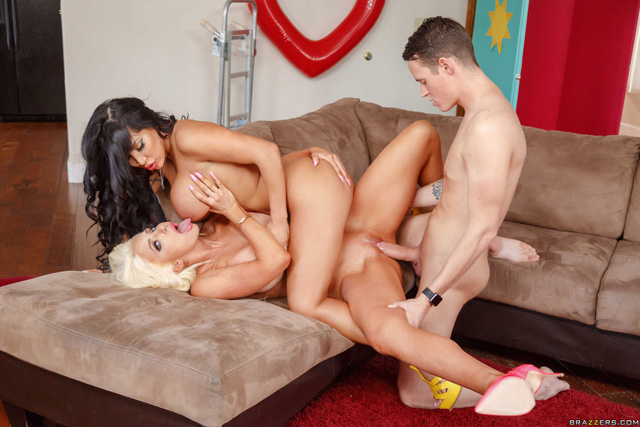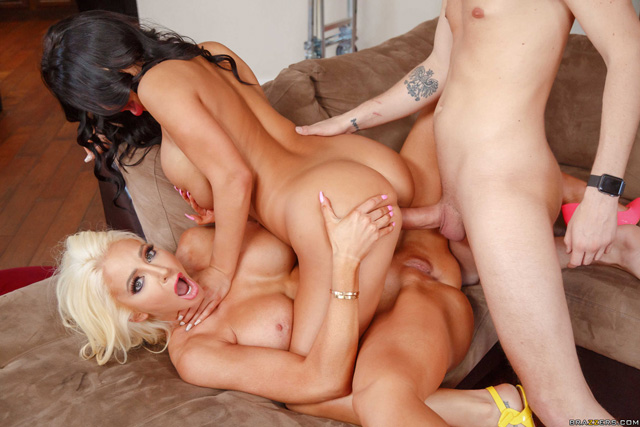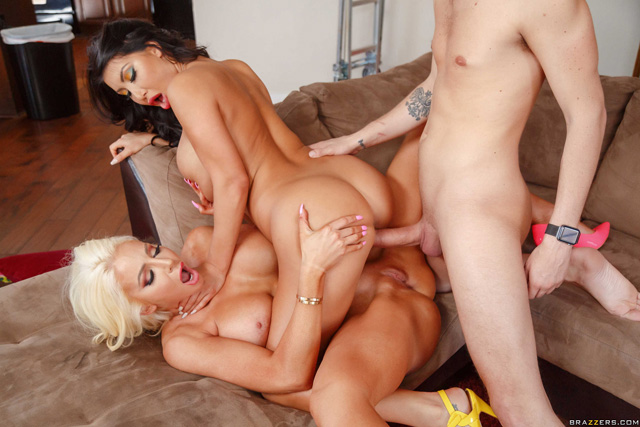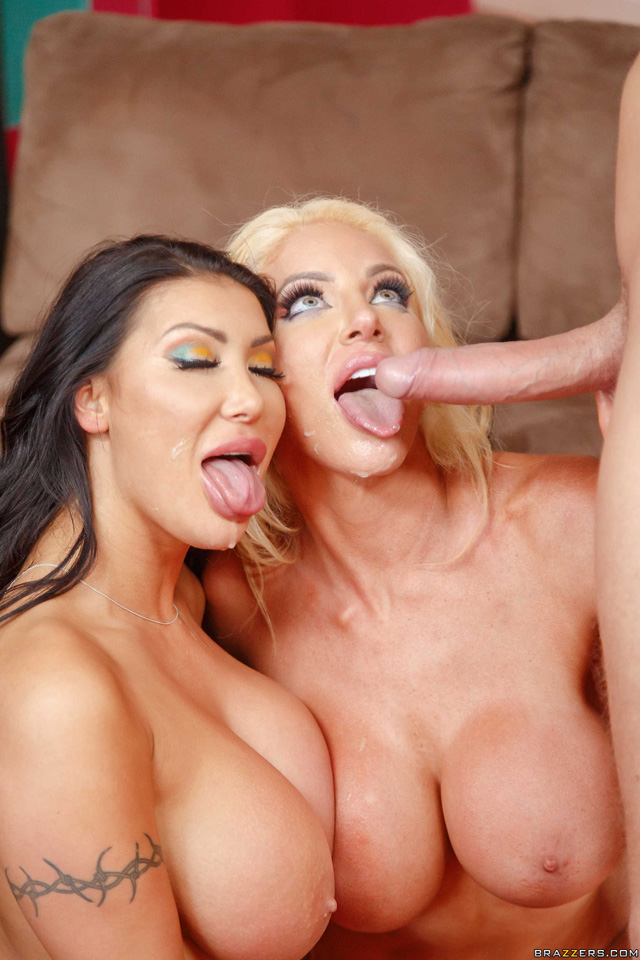 Watch Nicolette Shea & August Taylor in the Spring Break Edition of All Dolled Up as these life size Barbies come to life and fuck Justin in a wild threesome!  Get your $1 PASS to Brazzers to watch all the hottest pornstar sex movies inside… August & Nicolette are waiting for you to cum & join them!
More in the Pornstars or Big Tits or MILF categories or return to the cover of Porn Corporation.
View more from Brazzers.  Previous: Trump Scandal Pornstar: Stormy Daniels' Secret
See all the articles starring Spring Break Porn or Nicolette Shea or August Taylor.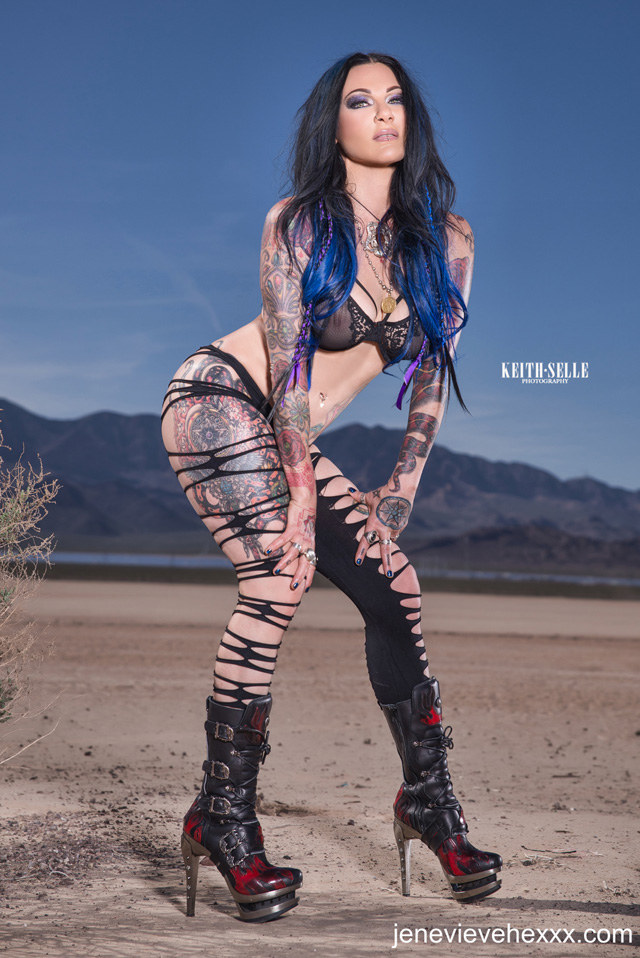 1. What was your first experience in the adult industry and how did you begin your porn career?
JENEVIEVE HEXXX:  First, I was given Joanna Angel's number and I sent her a selfie. She fucked me on film shortly after that message and viola!
2. Please tell us about your upbringing in a nutshell & where you grew up?
JENEVIEVE HEXXX:  I am of half human and half reptilian decent. I was born of a human mother in Connecticut but I was always very otherworldly. Strange supernatural experiences were quite normal when I was young. The humans encouraged my third eyesight though, and they always set the table for my spirit friends to eat (although they could not see them).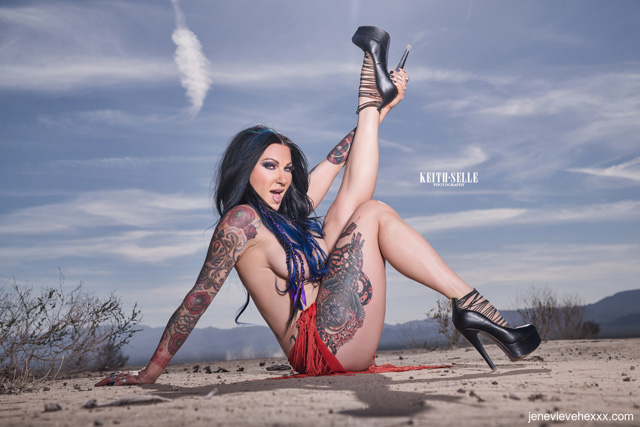 3. What are your religious beliefs? Are you a Wiccan, Satanist, Atheist, Judaism, Christian or something in between or different altogether?
JENEVIEVE HEXXX:  I'm quite something different altogether. In simplest terms, I'm Pagan.
4. Jenevieve, you've got us in a Hexxx! If you identify as a Witch surely you believe in Magic? Do you personally lean towards dark magic or light magic? Do you practice spells?
JENEVIEVE HEXXX:  This question is a loaded one. Magick is grey until you set an intention behind it. Yes, indeed I do believe in magick. In some way or other, doesn't everyone?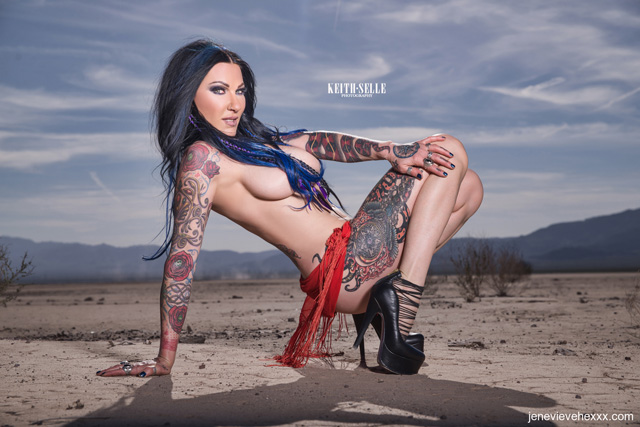 5. What are the biggest modern misconceptions about Witches that you encounter?
JENEVIEVE HEXXX:  The biggest misconception is that witches do the Devil's work. Next time you see a magickal new moon, and a warm sexy wind gives you inspiration, know it was from me. The devil had nothing to do with it.
6. I hear you're a snake girl. Me too! What are your favorite kinds of serpents? Do you have any snakes, reptiles, arachnids or other creatures as pets currently?
JENEVIEVE HEXXX:  I have 2 snakes. An Albino Boa and a Red Tail Boa. Their names are Pendragon and Odezza. They are approximately 7 feet in length.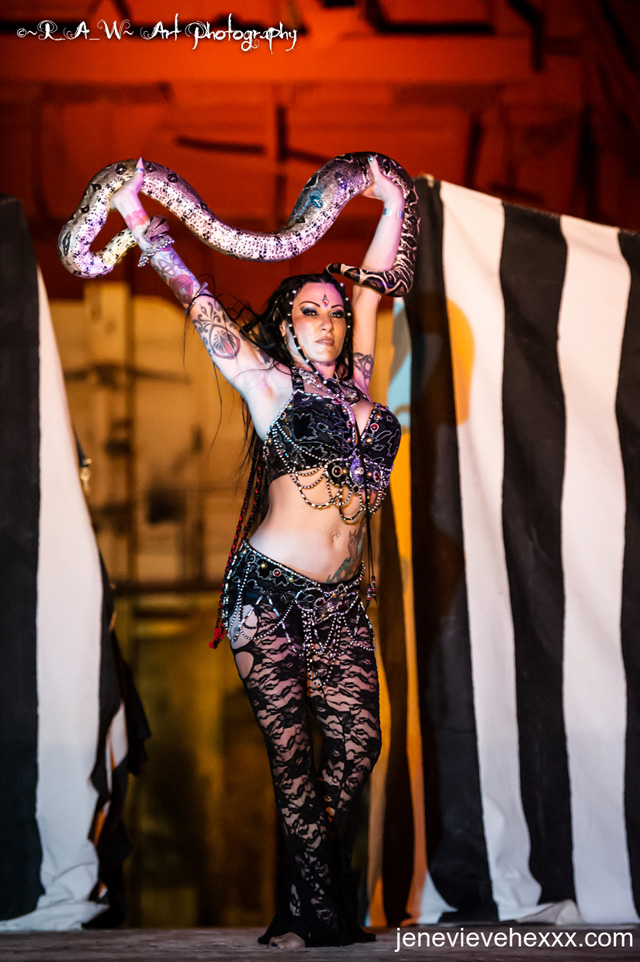 7. We know you do modeling with snakes. Do you have any wild stories you can share with our readers?
JENEVIEVE HEXXX:  I dance with snakes too! The modeling is just the precursor to the snake charming show. Every performance with them is a wild story. My serpents and I are in a trance on stage. We do mystical, hypnotic, and bewildering things with our bodies. They do bite though! Exhilarating!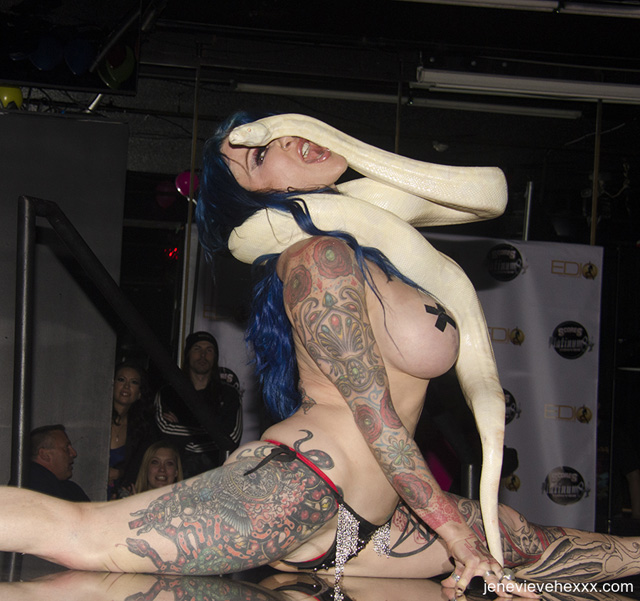 8. You've got some sick ink and are a multiple Inked Awards nominee including Best Tits. First of all, what size are your awesome tits? Also, please tell us about your tattoos and what they represent to you.
JENEVIEVE HEXXX:  My Tattoos are all based on mysticism. If I said what they all were, everyone would be on google for 2 hours to make sense of it all!  I've got Triple D boobage.
9. Do you have any upcoming tattoos in mind that you are planning on adding to your body art collection that you can tell us about?
JENEVIEVE HEXXX:  Not at the moment.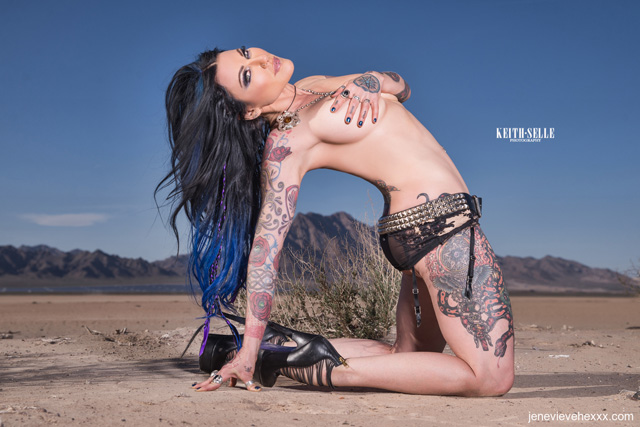 10. What is your sexual orientation?
JENEVIEVE HEXXX:  I identify as alien sex fiend.
11. What do you prefer cock or pussy? If you could only choose one for all of 2018 what would it be?
JENEVIEVE HEXXX:  I would do magick and create a morph genitalia called Cocussy.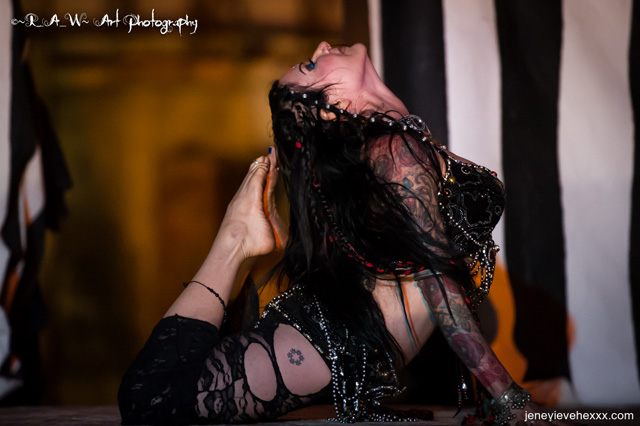 12. What are your biggest turn-ons? What kills the mood for you?
JENEVIEVE HEXXX:  I like wild sexual beasts who are authentic and slightly insane, with a side of creative genius. Someone who wants to get psychedelic in the magick forest with me.  I get turned off with by ignorance, bad vibes, and fake faces.
13. What is your favorite sexual act?
JENEVIEVE HEXXX:  I love it all. I don't have one favorite.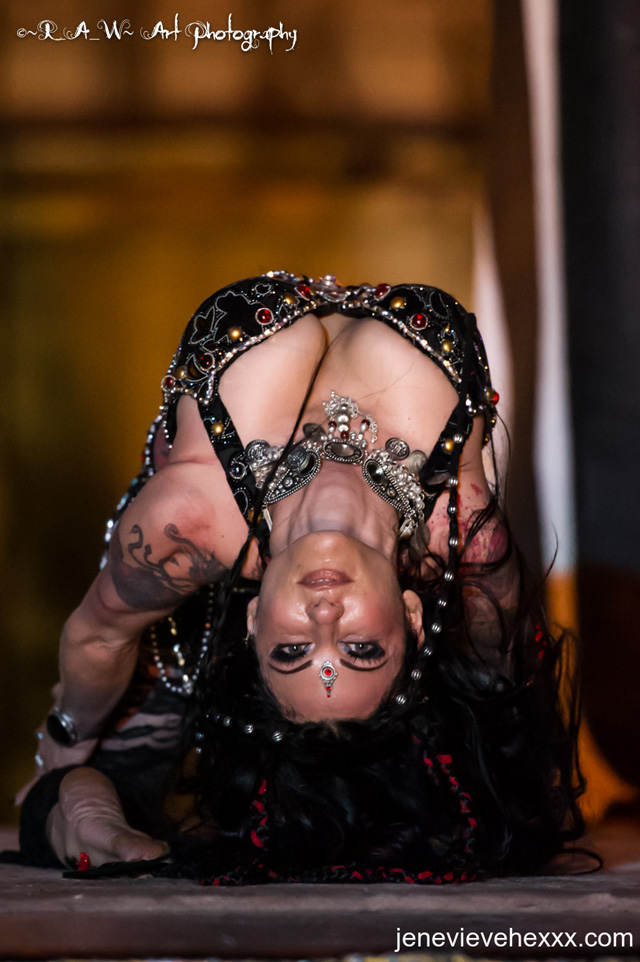 14. Please tell us your most outrageous sex story?
JENEVIEVE HEXXX:  Oh my, there are so many. Probably the time I was transported to an alien spaceship for an outer space orgy.
15. What is the craziest thing you have ever done?
JENEVIEVE HEXXX:  I am confused by the word crazy. I have no frame of reference for what's not crazy. Does that make me crazy?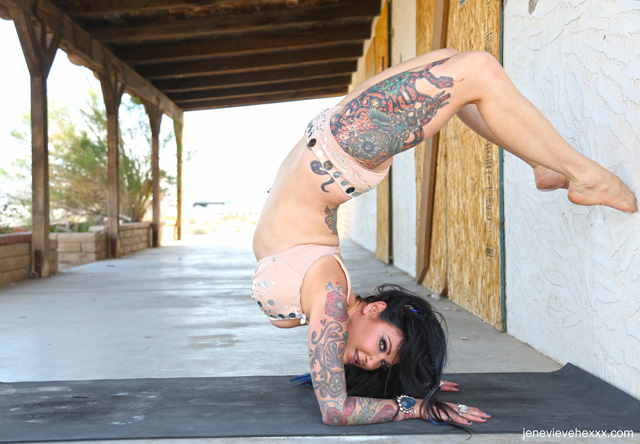 16. How far have you gone sexually? Have you ever had a threesome? Gangbang? Double penetration? Double anal? What haven't you done that we can expect to see on film in the future?
JENEVIEVE HEXXX:  Double anal sounds like it's out of my frequency, but never say never. Threesomes are weekly, and gangbangs may be just around the corner, down the rabbit hole.
17. When you aren't filming porn, doing witch stuff and wrangling snakes, what do you like to do in your free time? Any quirky hobbies or things you can't live without?
JENEVIEVE HEXXX:  I love this. You seem to know me. I'm a crazy tree hugger, organic, hippy witch. I'm usually in a forest doing mind expansion ceremonies or doing yoga 3 hours a day seeking to levitate. I will influence the world to fuck and dance with glee, and reverence for all life when I get there.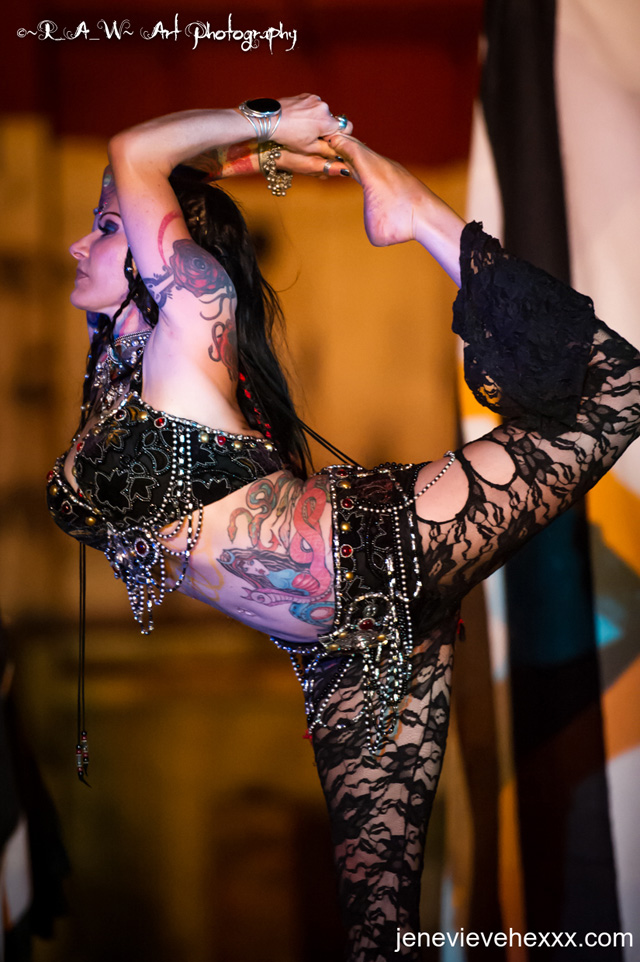 18. Are you filming any upcoming scenes right now you can share with us? Please tell us about your upcoming events, business plans, and career aspirations. Are you currently working on any other projects that you can let us in on?
JENEVIEVE HEXXX:  Inked 4 by Axel Braun will be out soon. I'm also producing and directing this year for my company "Triple Hexxx productions", crazy debaucherously magick porn!
I'll be shooting for two other companies which I will announce on my twitter soon. You will see me at AVN of course along with several feature dancing dates announced soon.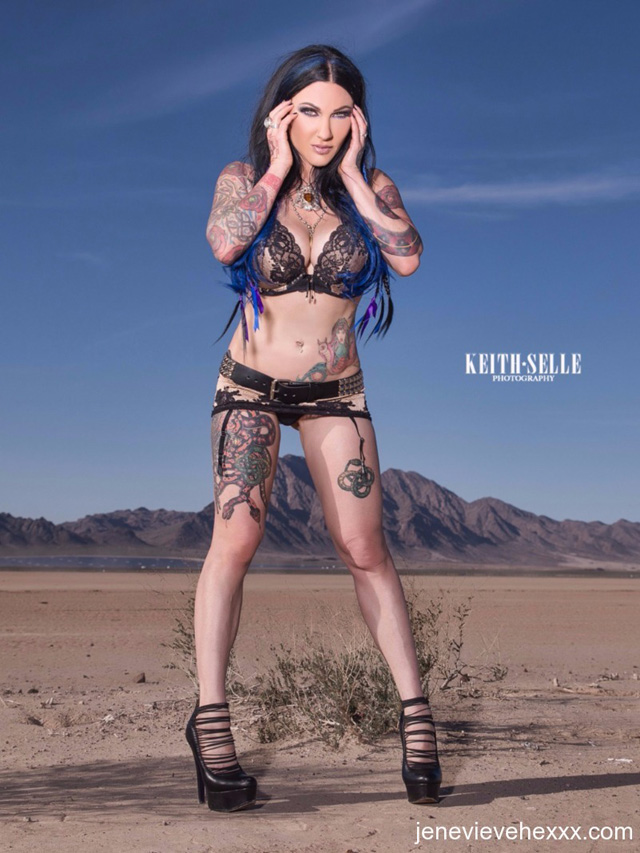 19. Where can your fans connect with you more? Please share with us your official site & social media accounts.
JENEVIEVE HEXXX:  Find me on at:  Twitter – Only Fans – Instagram – Snapchat: @Jenevievezaya – Is My Girl – My Official Site: JenHexxx.com
20. This is something I ask all of our interviewees but I am particularly curious about your answer, Jenevieve Hexxx… Please leave our readers with a true taste of delicious you, if you were ice cream what flavor would you be?
JENEVIEVE HEXXX: Vegan, deep, dark rose, blood, enchanting, raw cacao cream. A succulent immortality blend.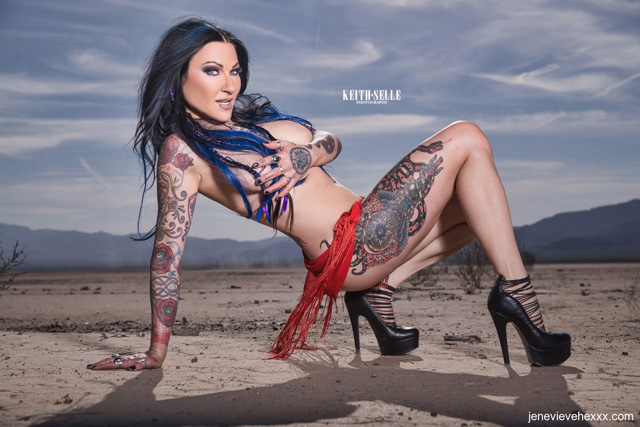 21. Is there anything else you would like to share with your fans, our readers or our associates in the adult industry?
JENEVIEVE HEXXX: No. Jen has left for yoga now…
Remember,  The Goddess is alive and magick is afoot.  Psychic readings and Tarot – Psychic Sorceress – Bewitching belly and snake dance – The Serpentine Sorceress  ~ ENTER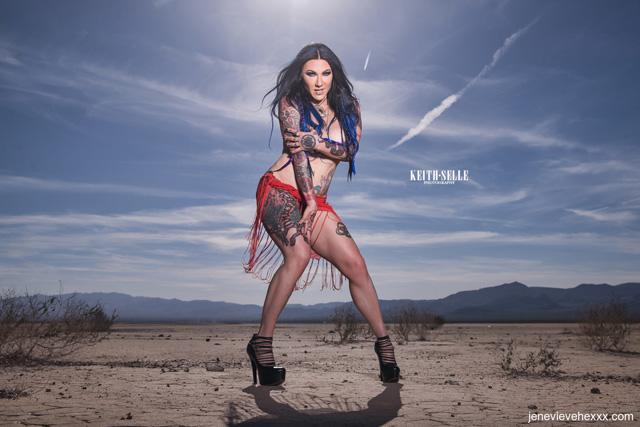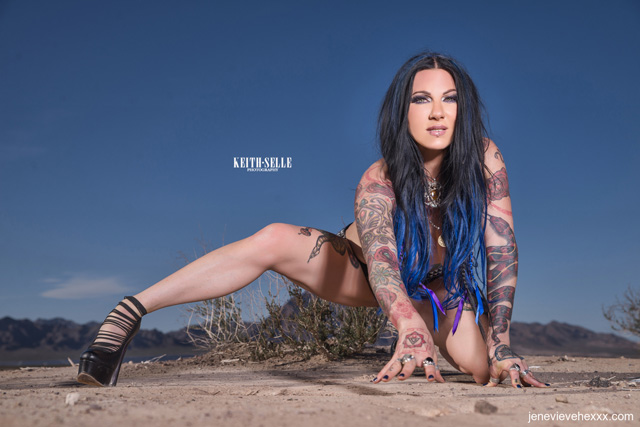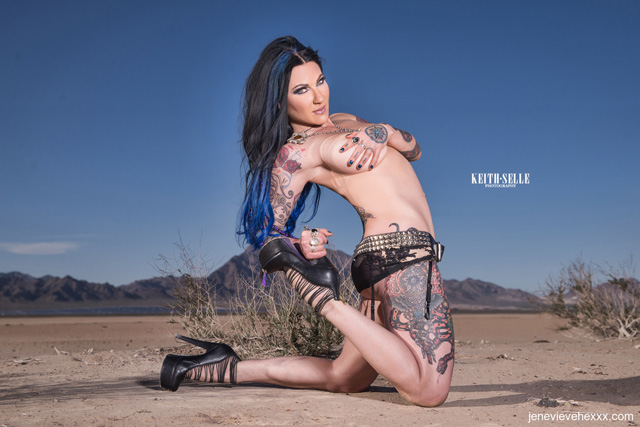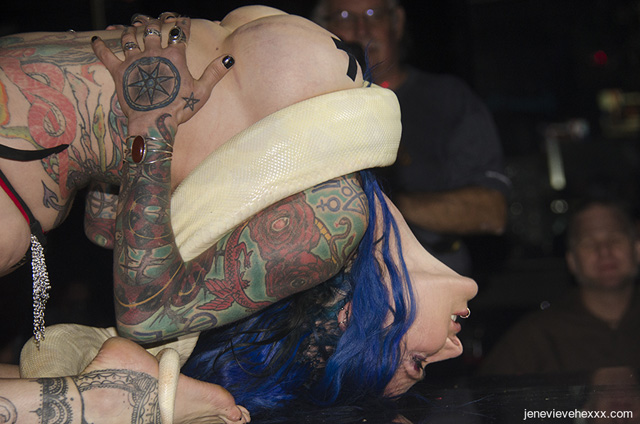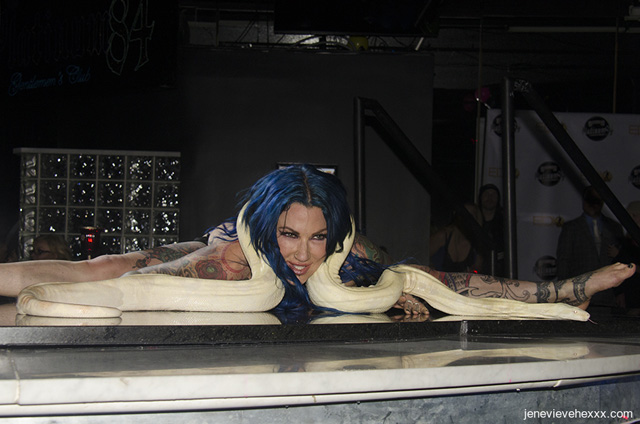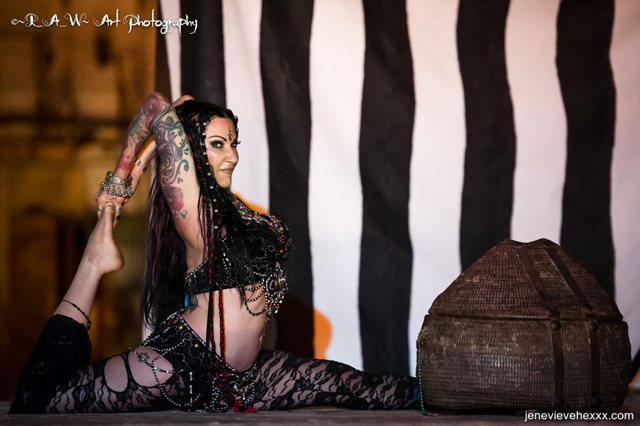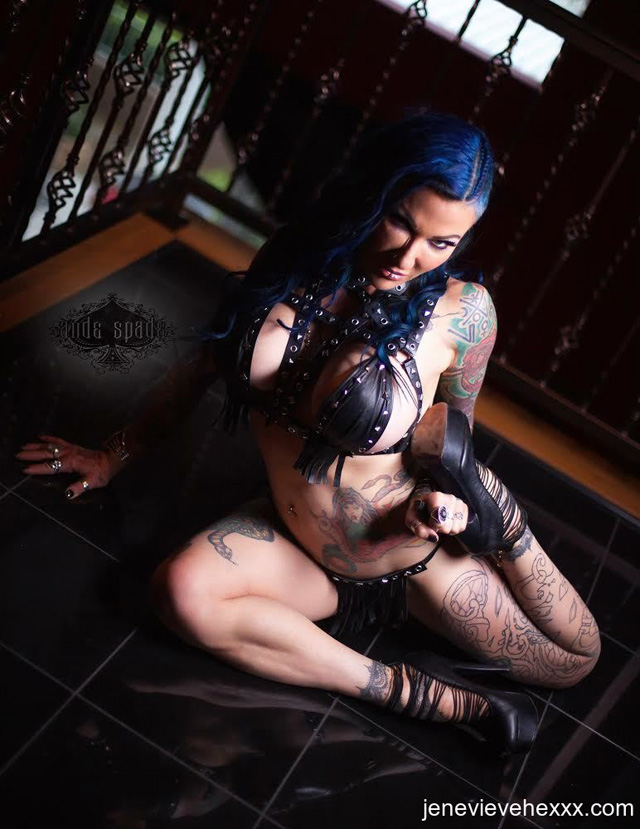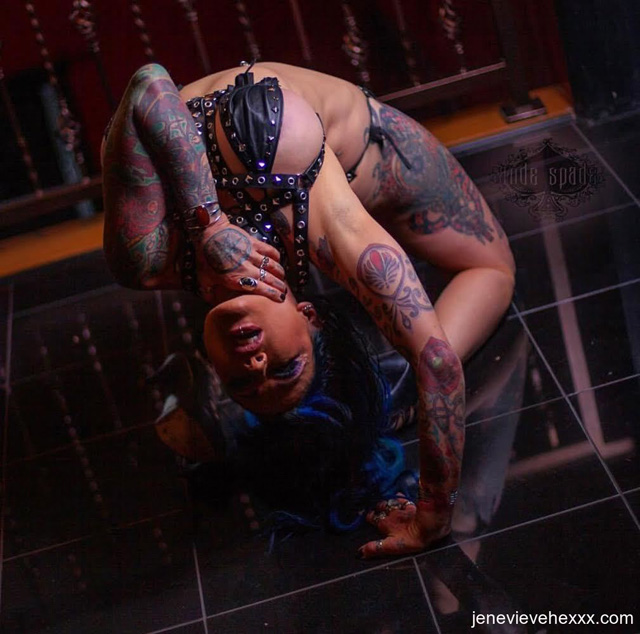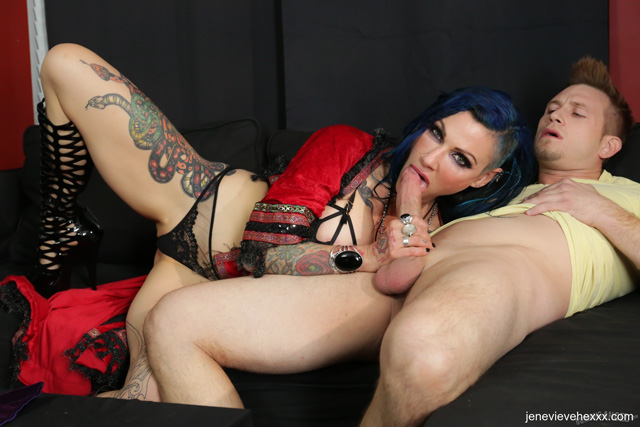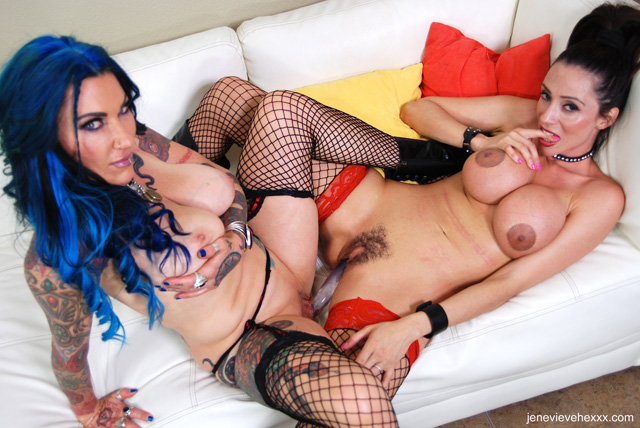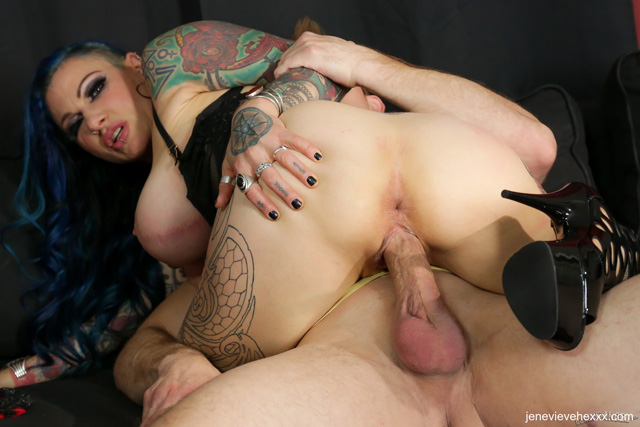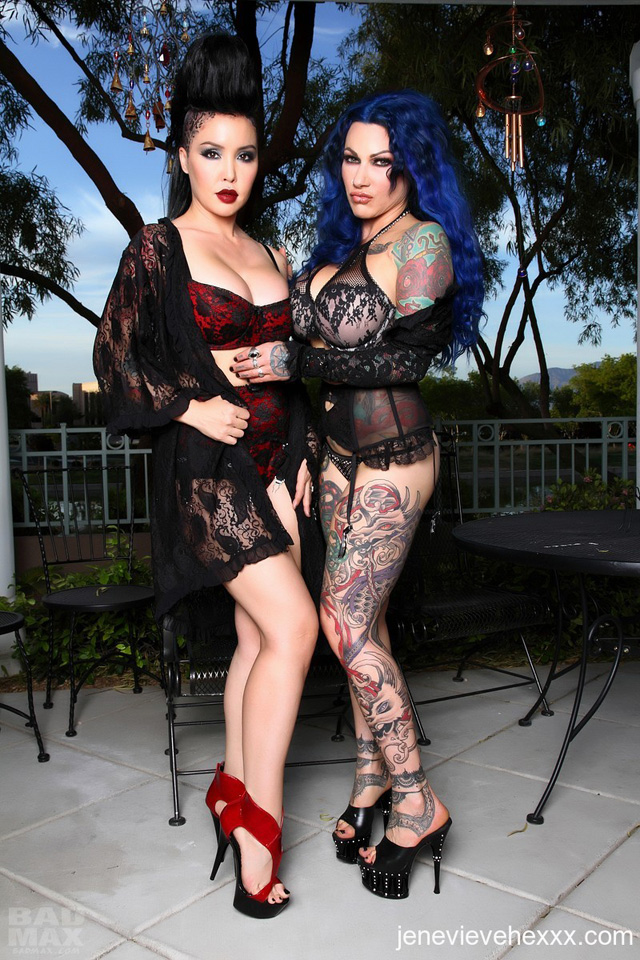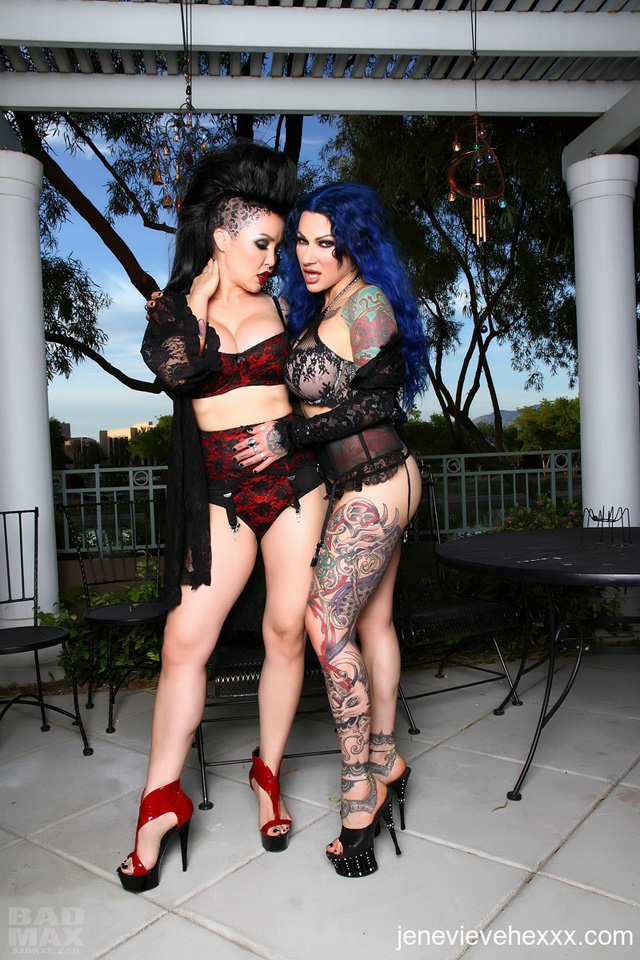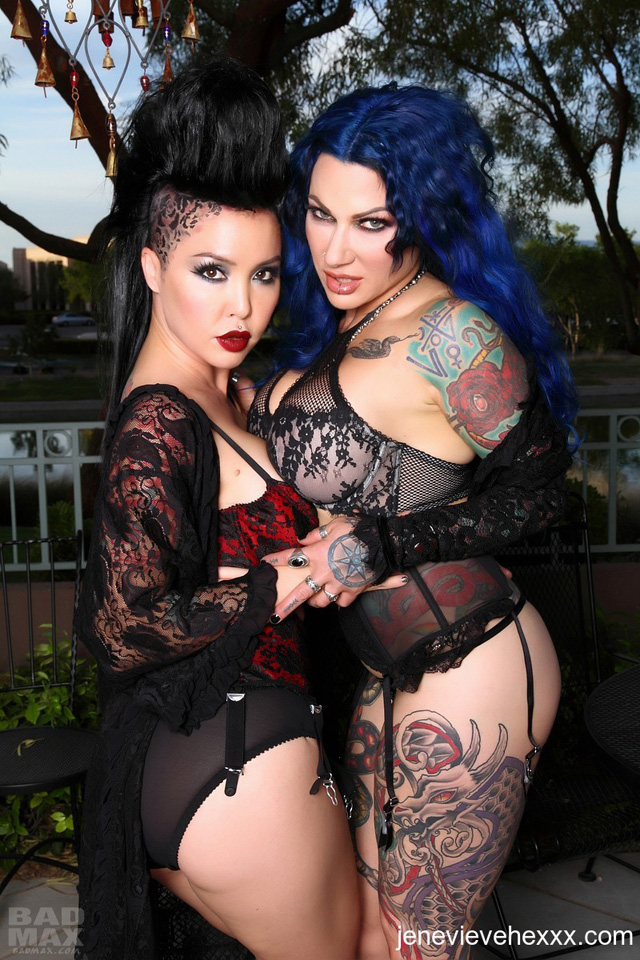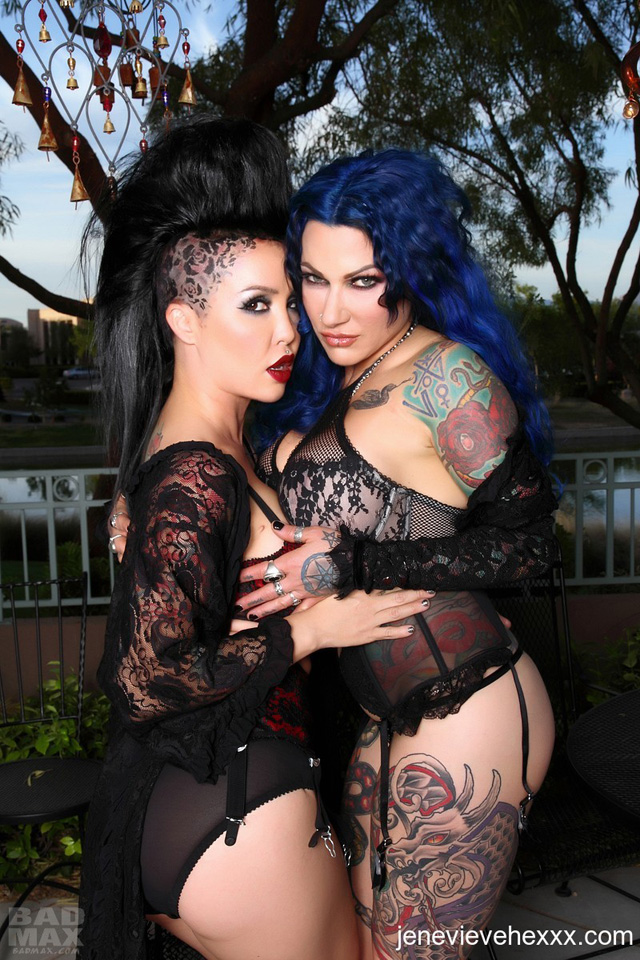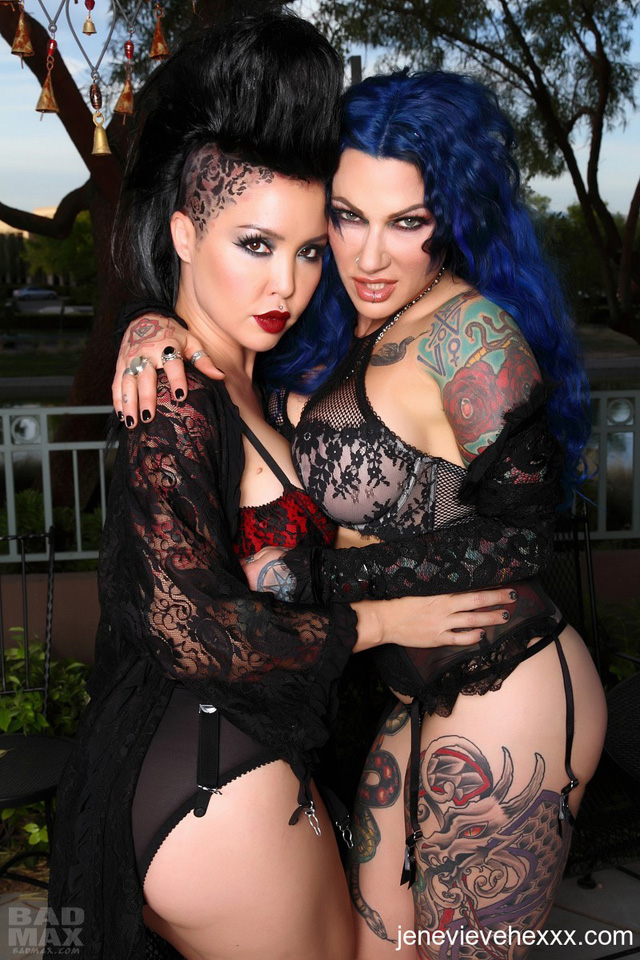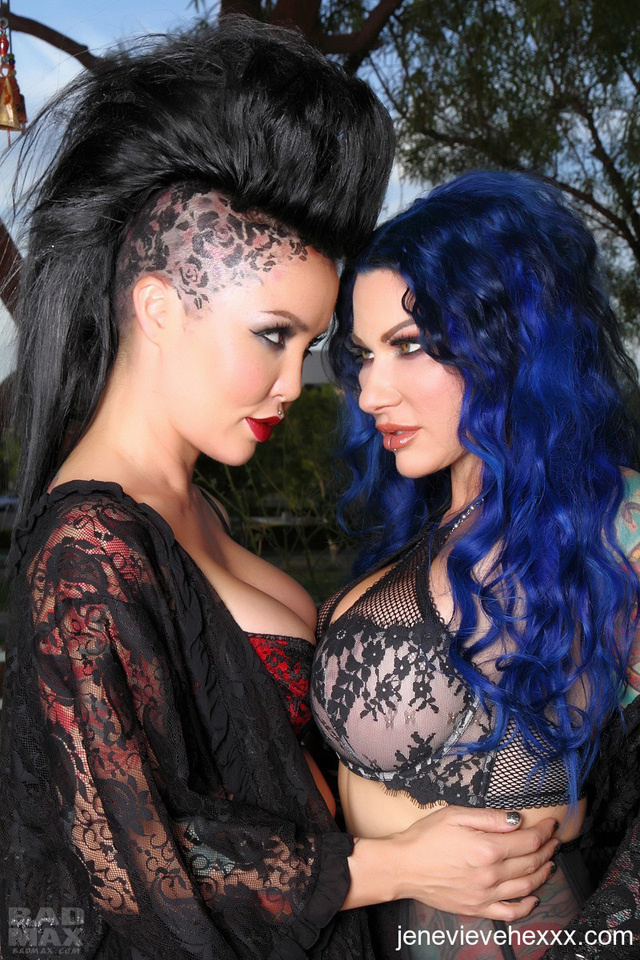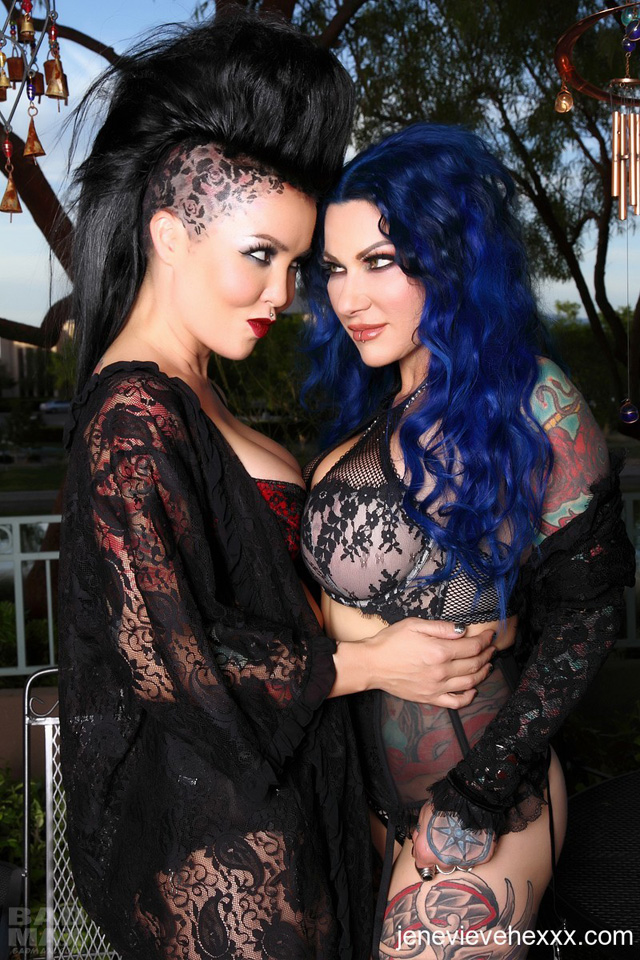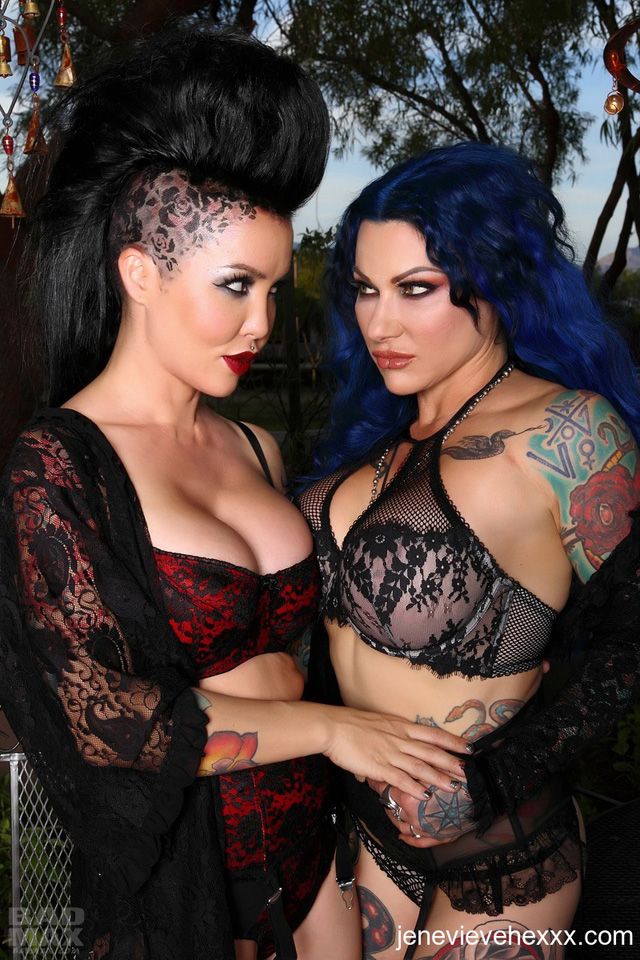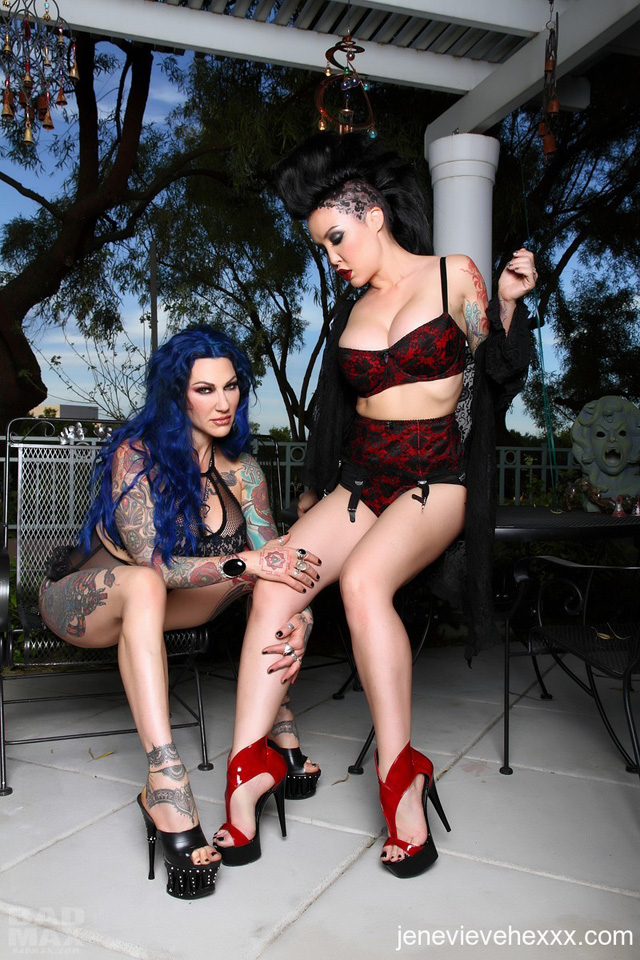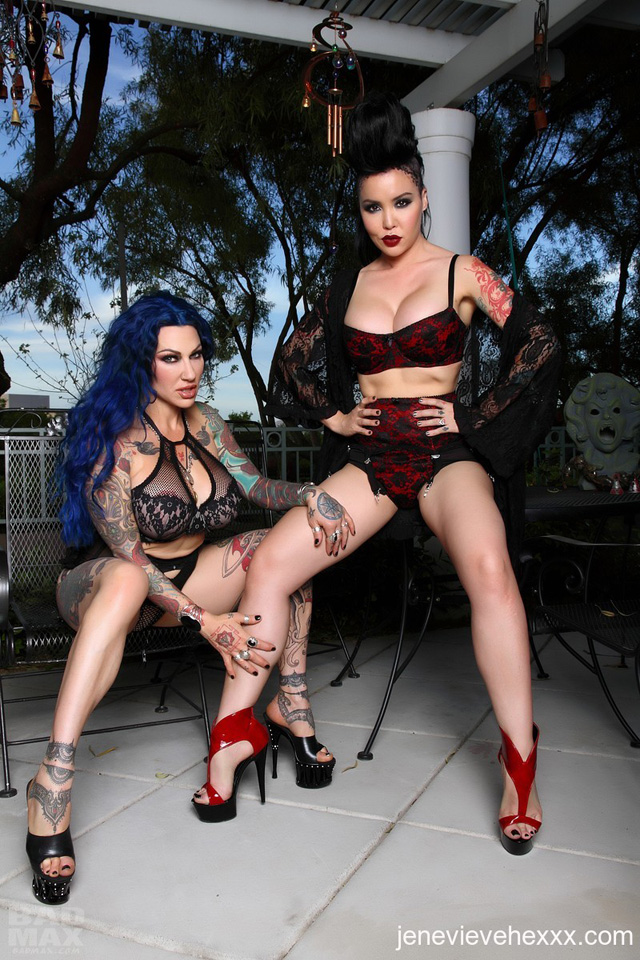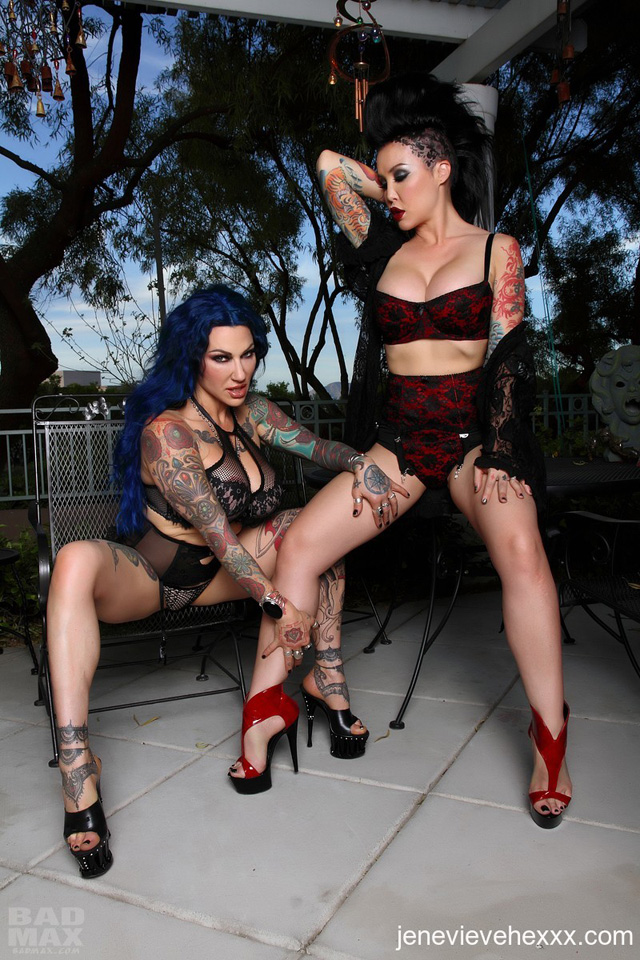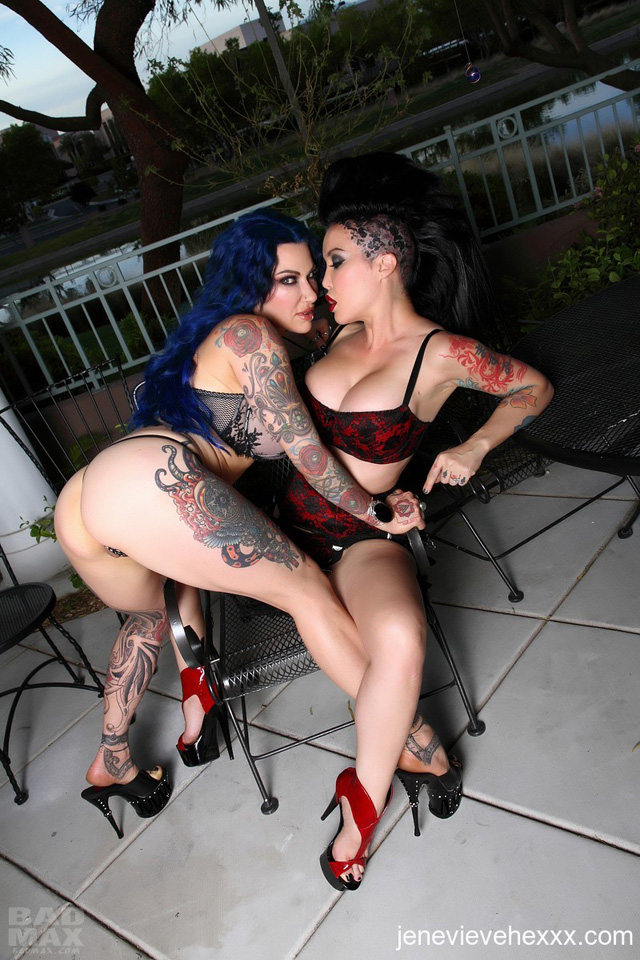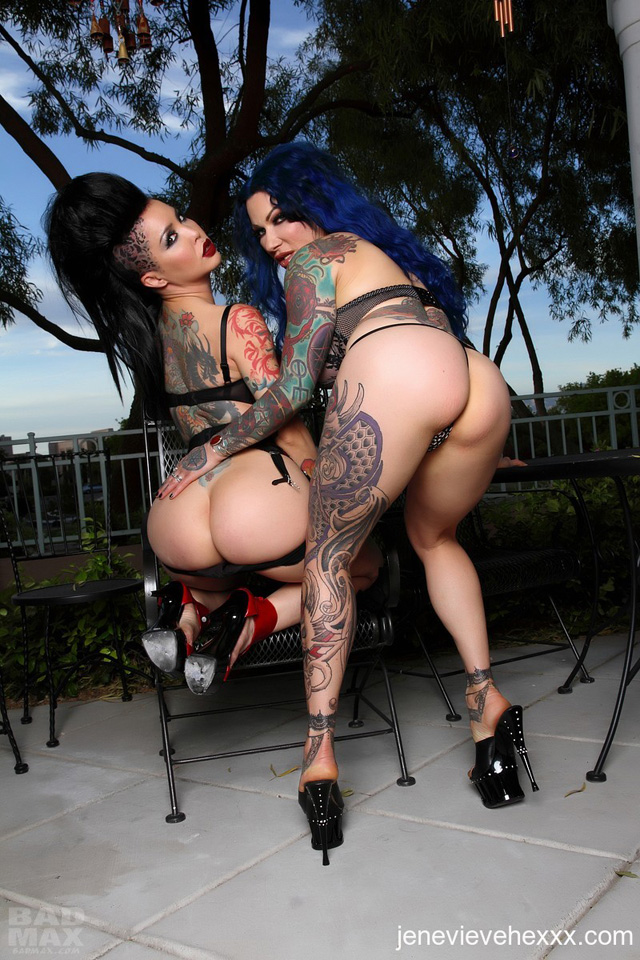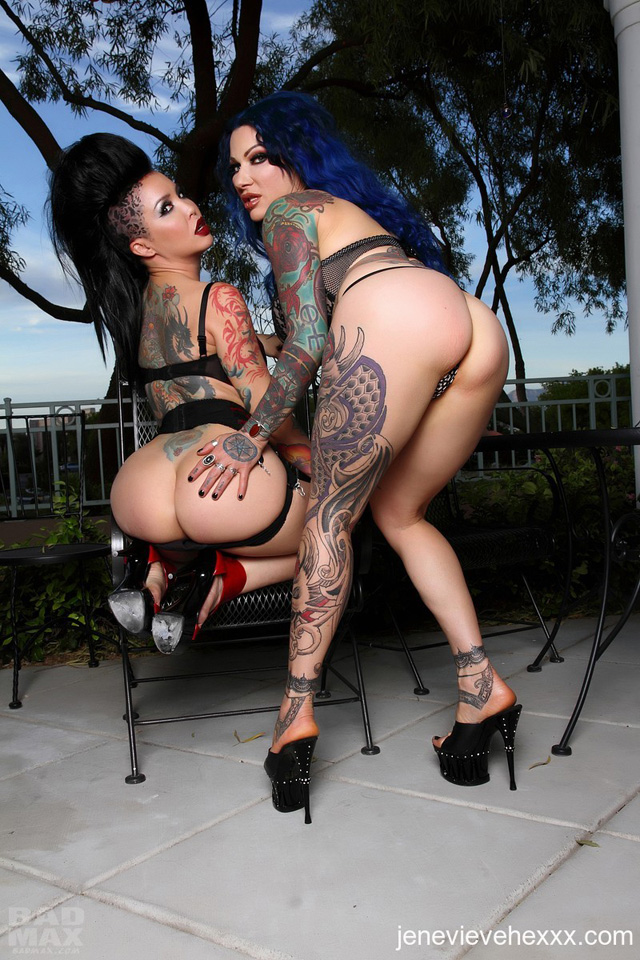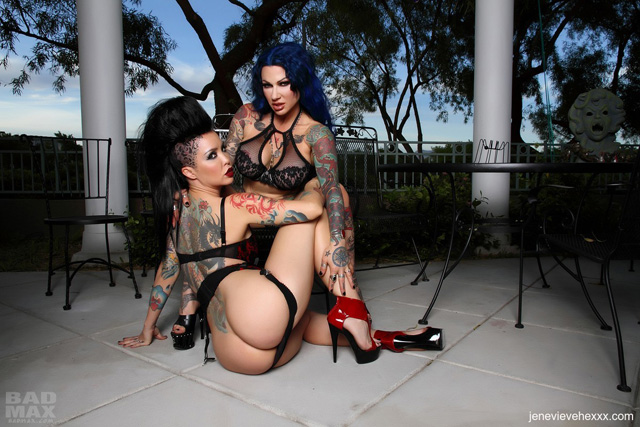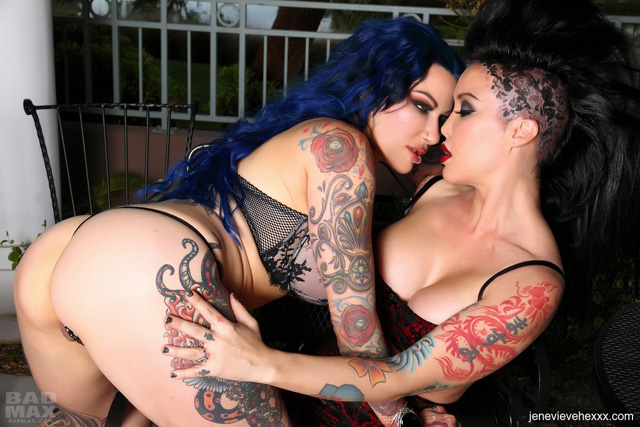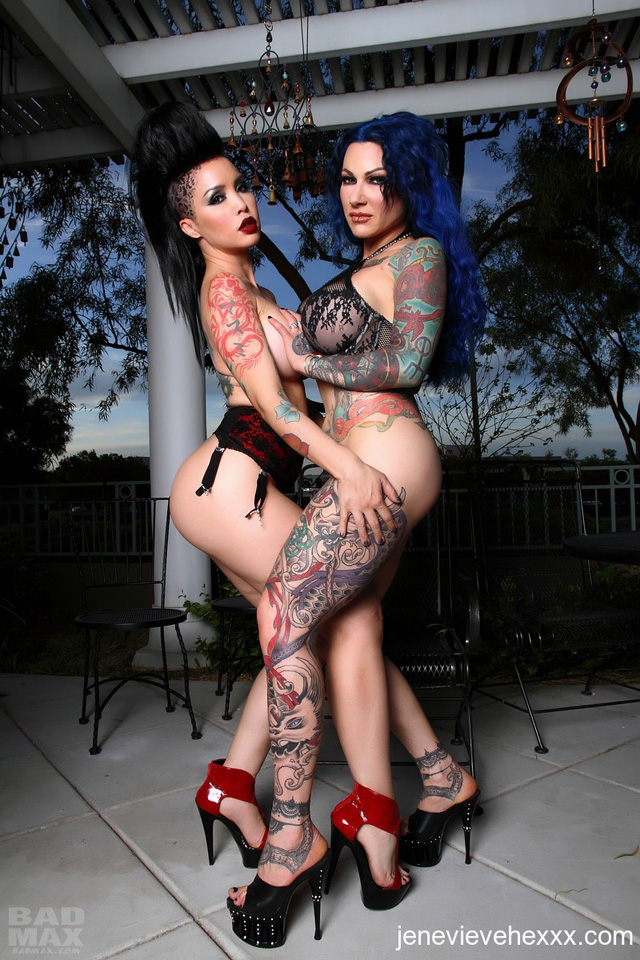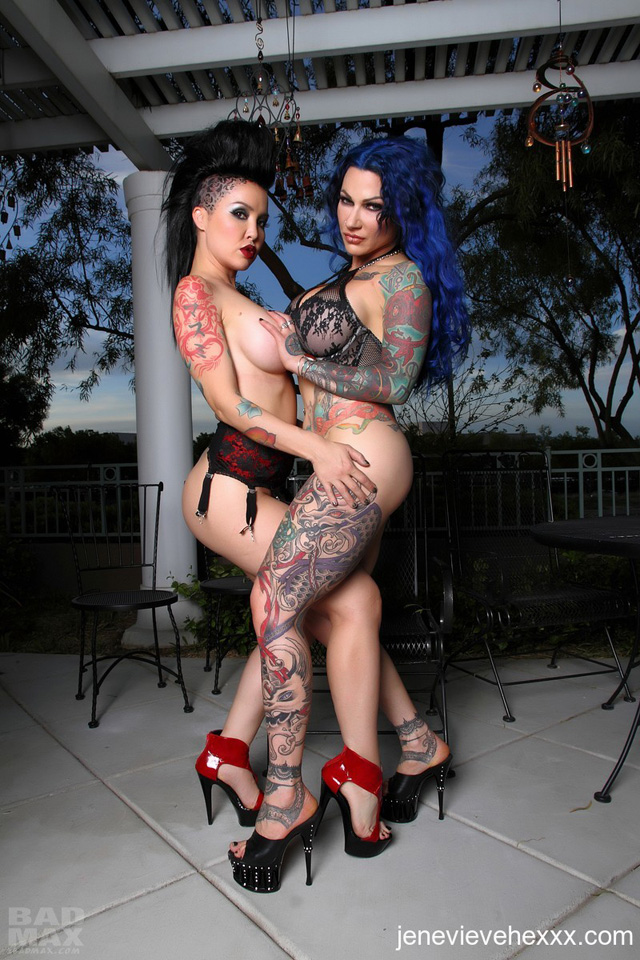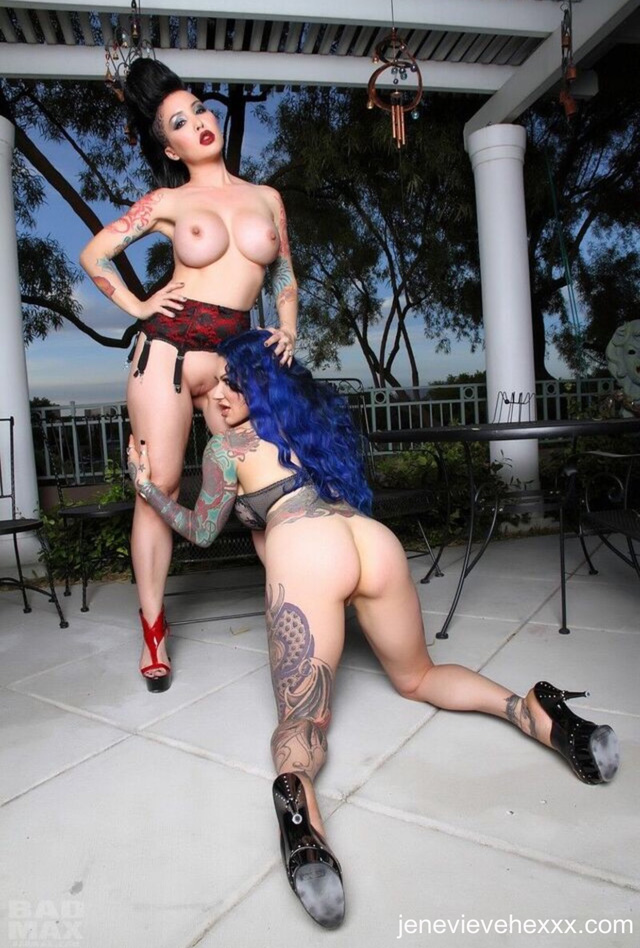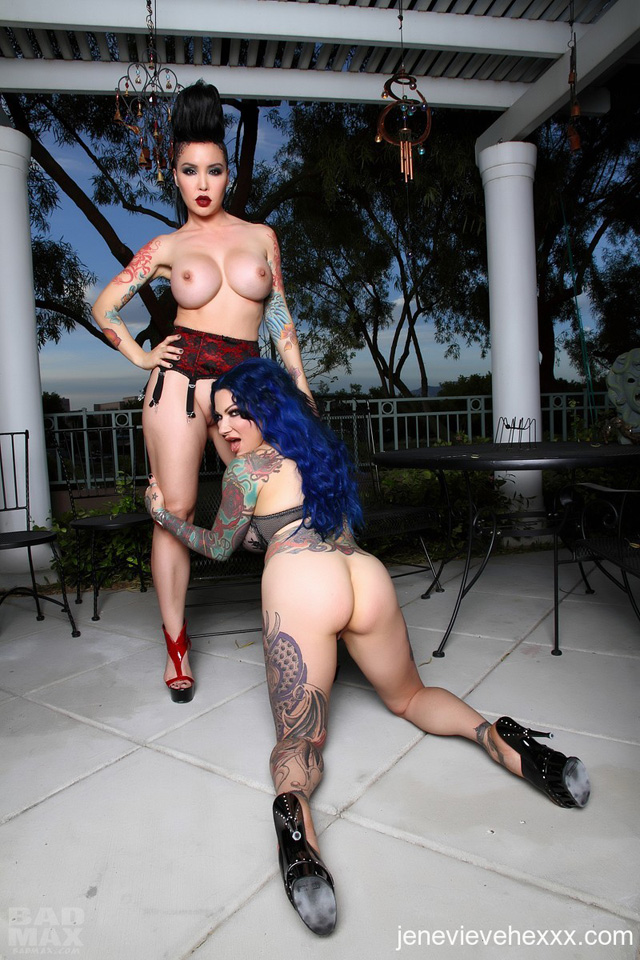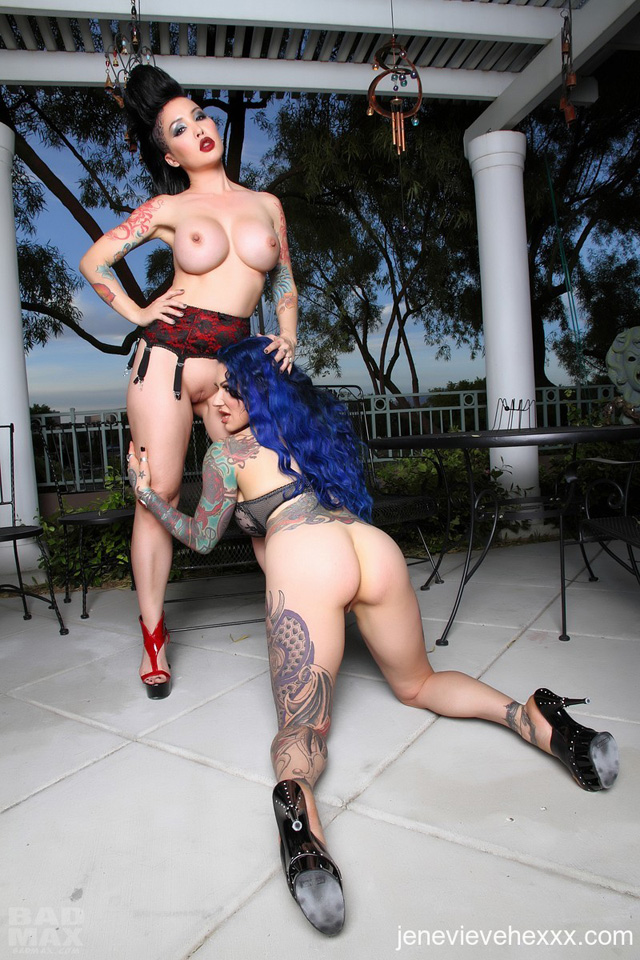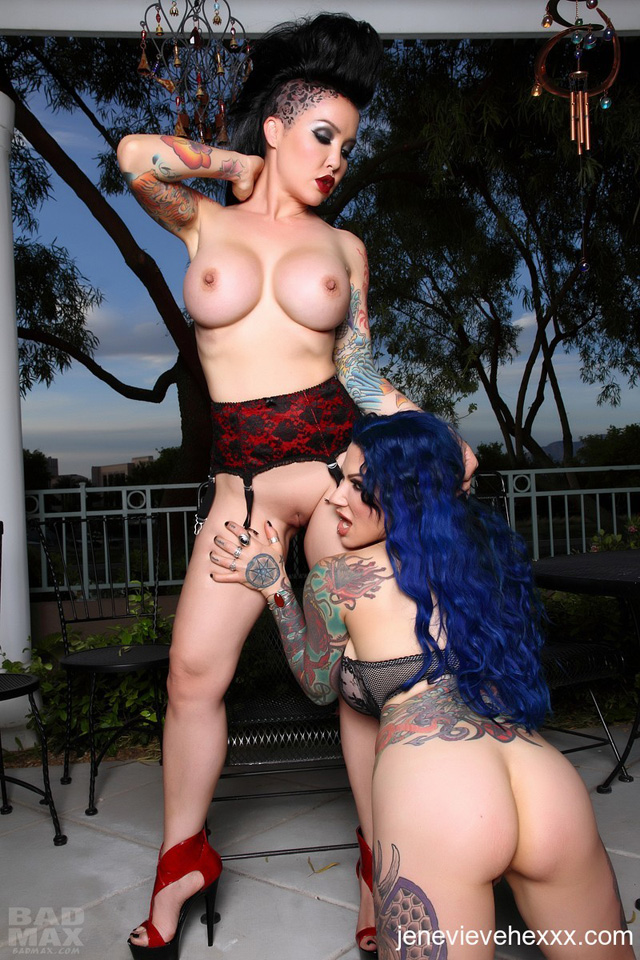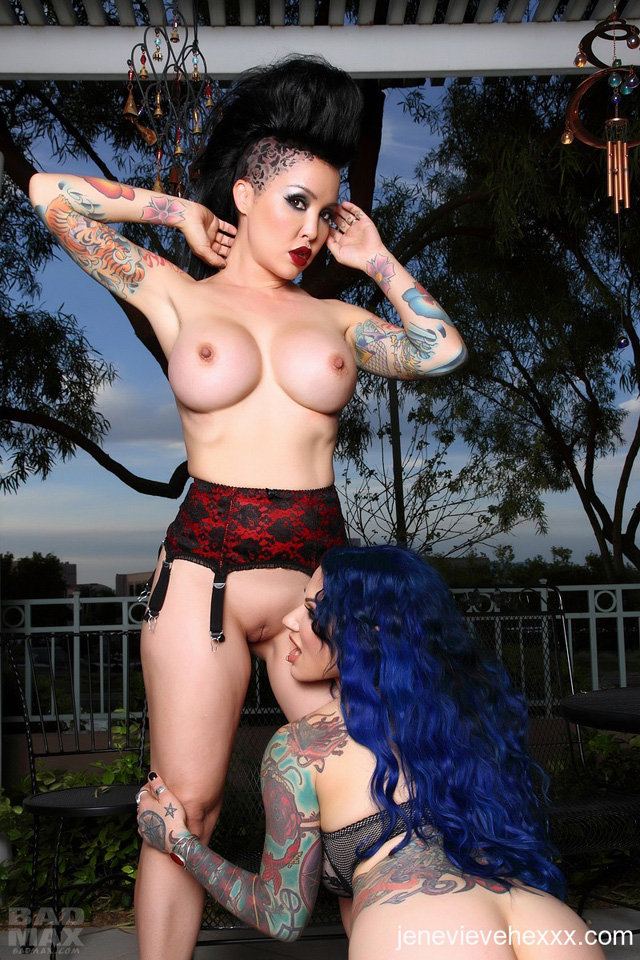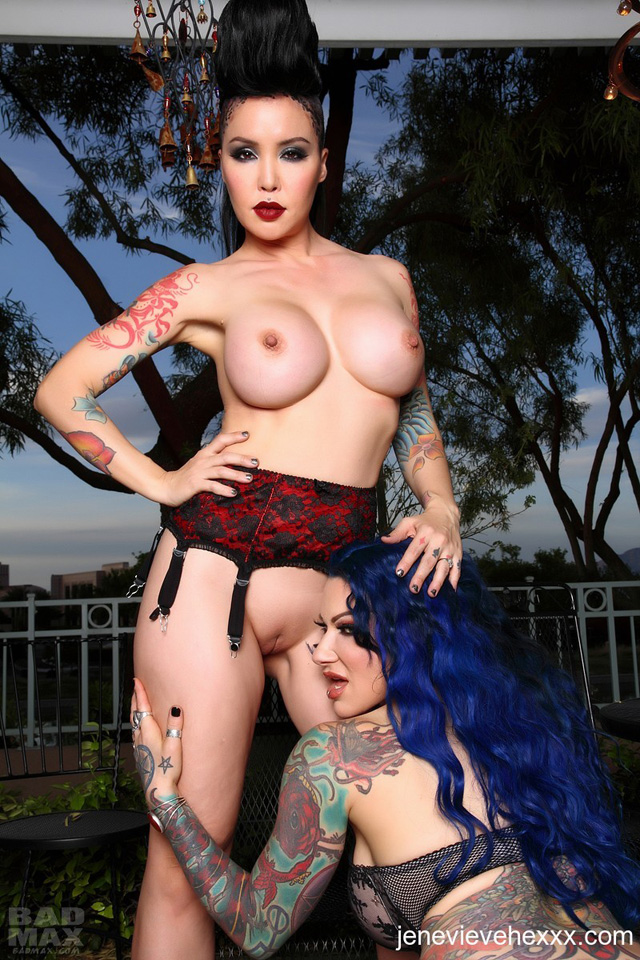 Are you ready to be enchanted by the one and only Jen Hexxx?  For more wild hardcore & lesbian sex with snake charming witchy babe Jenevieve Hexxx check out her Official Site!  Peep her sexy inked Asian lover & friend Masuimi Max aka Bad Max's Site too!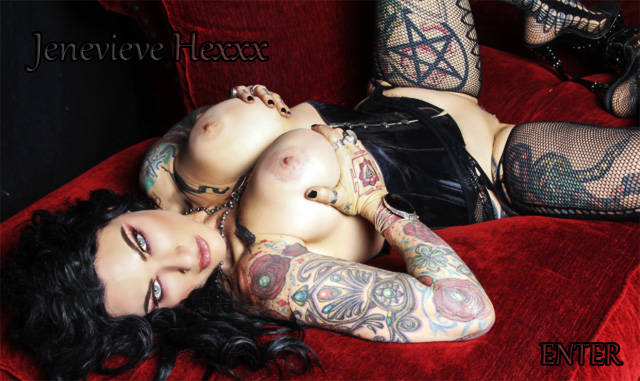 Continue reading Pornstar Interviews or return to cover of Porn Corporation magazine.
View more of Jenevieve Hexxx. Previous: Naughty & Nice: Jenevieve Hexxx & Lauren Phillips
More exclusive adult entertainer interviews:  Ryan Driller – Olive Glass – Sarah Vandella
Raven Bay – Jenna J Ross – Olivia Wilder –  Nikita Von James – Allison Moore – Karla Lane
Kayla Jane Danger – Natasha Starr – Karmen Karma – Leia Down – Mia Gold – Nora Noir
Looking for juicy editorials & interviews from the Adult Industry or Porn Corporation Girls?
Keep up on the latest & read our hottest topics:  New Porn Sites – Porn News & Adult Parodies