Browsing articles tagged with " art"
Emma Hix loves the holidays and her favorite part is all the beautiful lights.  Emma wraps herself in a string of lights and this ethereal blonde teen starts to masturbate.  Lucky for us, she is not alone tonight and she gets fucked like a holiday fairy in the warm glow of the strand of lights like a petite sex decoration as she gets drizzled in snowy sperm.  Get your $1 PASS to Exxxtra Small for all the petite hotties and get full access to the entire Team Skeet network.  Special: $60/1 year membership, that's only $5/month.  Happy Holidays!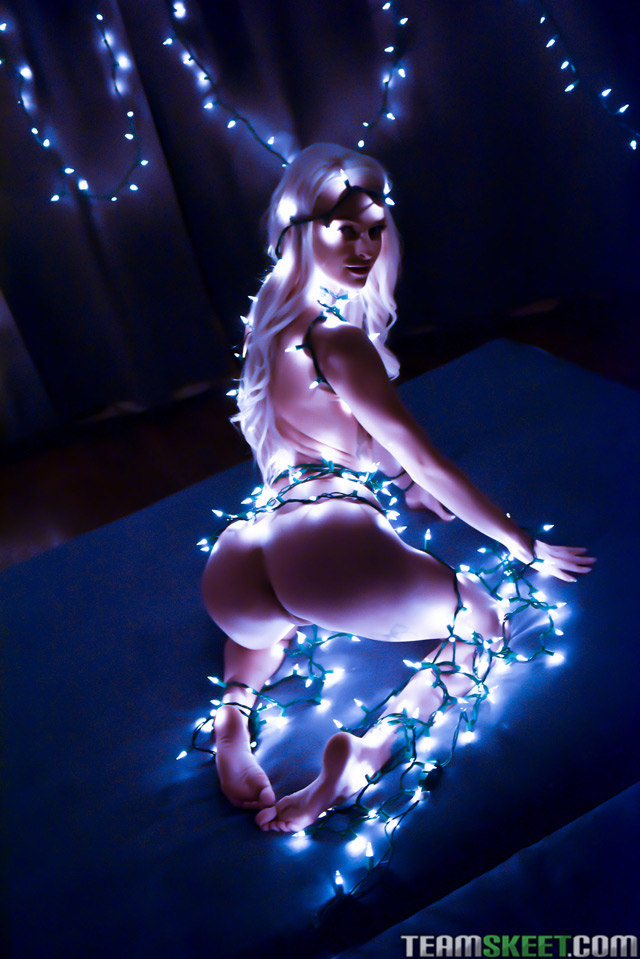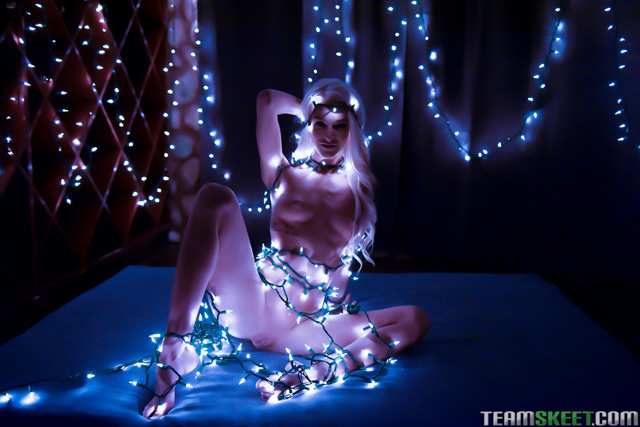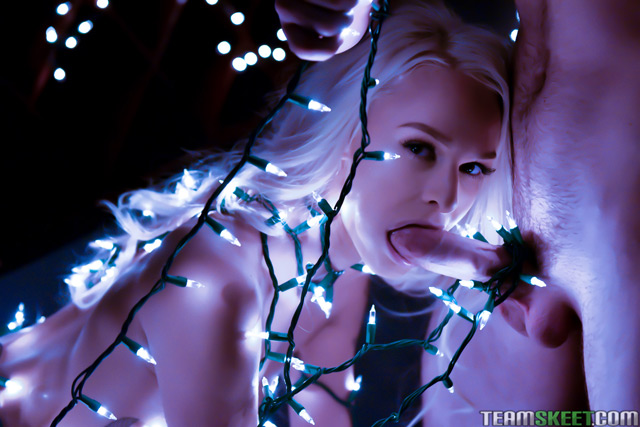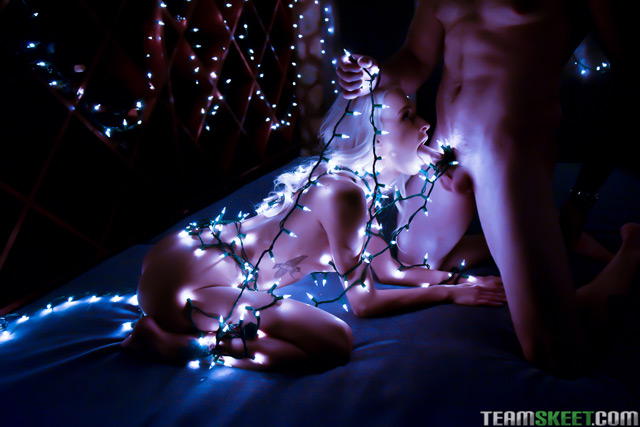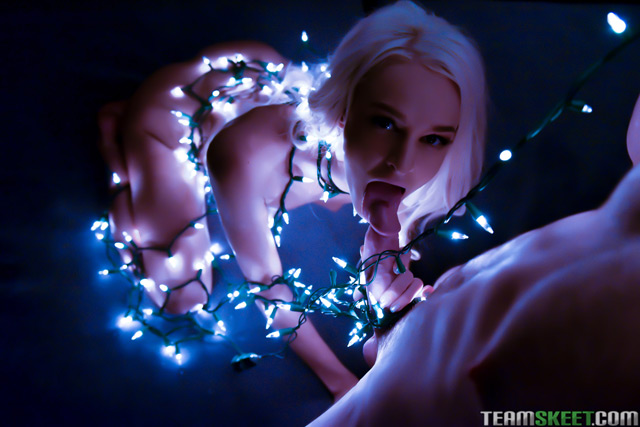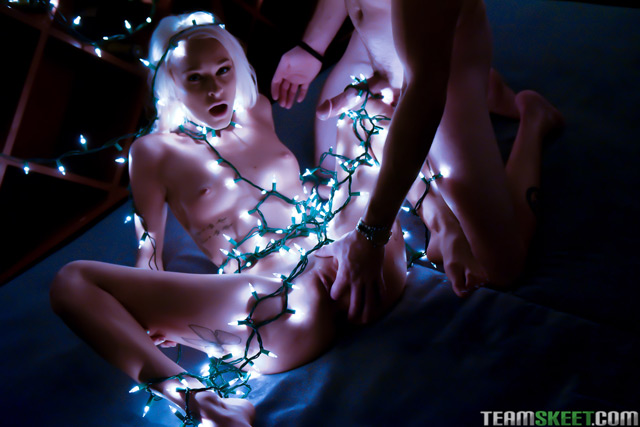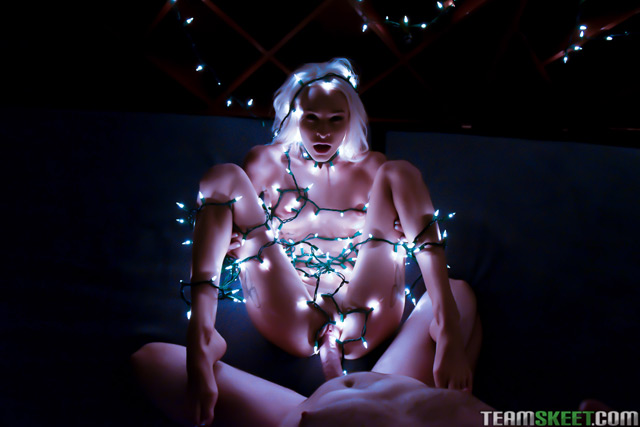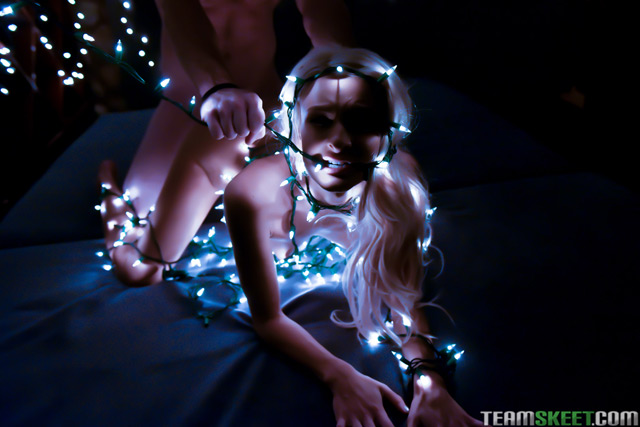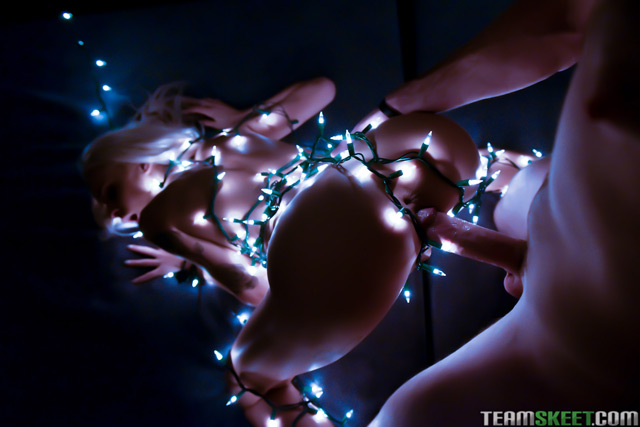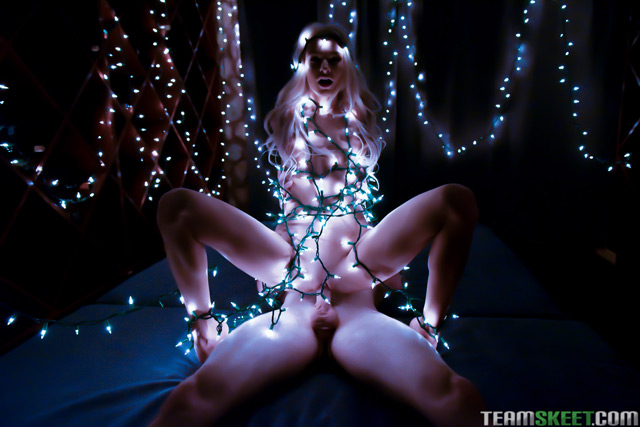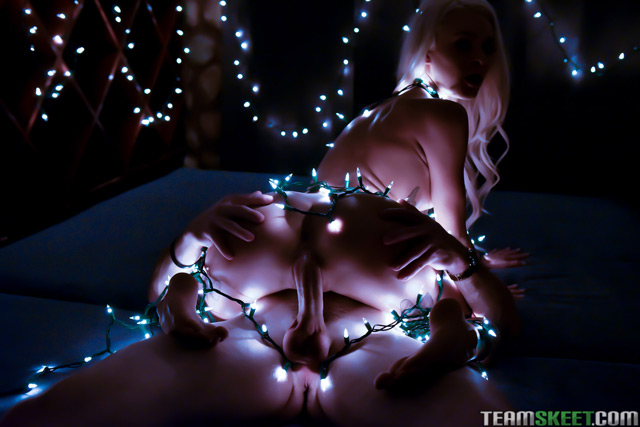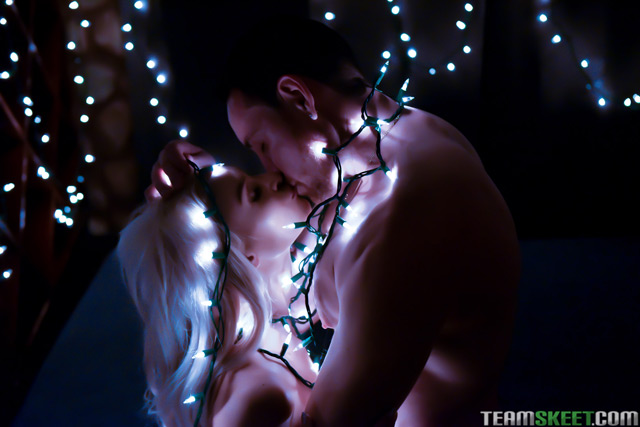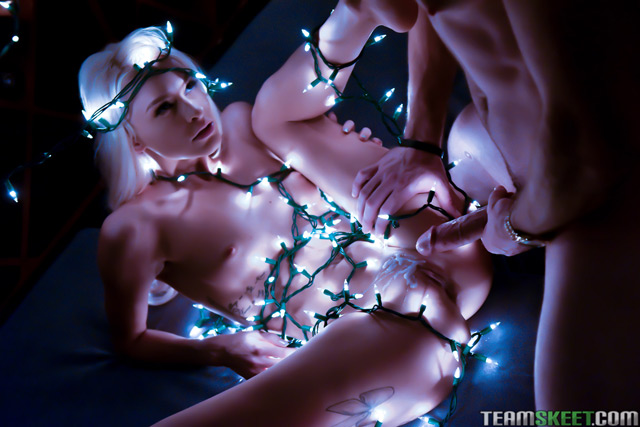 Happy Holidays!  Make it extra happy and treat yourself to a 1 year membership to Team Skeet for only $60, that's $5/month… now that's something to celebrate.  Emma Hix is waiting to celebrate with you under the lights!  Join Exxxtra Small for only $1 to access all the horniest first timer teens & access the entire Team Skeet network with top sites Teen Pies, Innocent High, CFNM Teens, Teeny Black, My Babysitters Club, She's New & more!
Continue reading in the Teen Porn category or return to the cover of Porn Corporation.
More Team Skeet.  Previous: Horny Blonde Inked Hottie Kali Rose Sucks Cock
View all the articles starring Exxxtra Small or petite pornstar babe Emma Hix.
Previous Exxxtra Small holiday porn:  Elf On A Shelf Porn Starring Petite Uma Jolie
Need more festive hotties?  Check out all of our awesome Christmas Porn!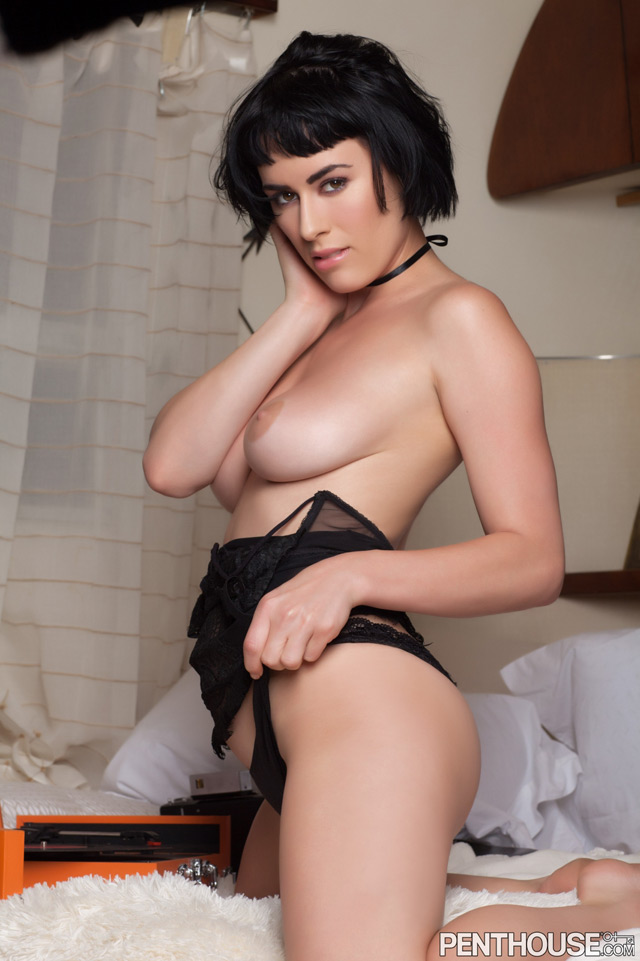 1. How did you begin your career in the adult industry and how long have you been performing?
OLIVE GLASS: I have been performing in the adult industry as a career since February, 2017! I dabbled it in here and there for fun and extra money before, but in February I made the happy decision to move to LA and really go for it!
2. Please tell us a little about your heritage & upbringing and how that has shaped you into the beautiful woman you are today. We hear you have a Mormon history. What was that like? We've also heard rumors that you are from/spent time in Australia. Are the rumors true? Please set the record straight.
OLIVE GLASS: You're right about the Mormonisn. I come from a branch of Mormonism that split from the church in the 1940's, and moved to a part of the desert near the border of Nevada. They call themselves the Apostolic United Brethren. I had a really odd upbringing, by typical American kid standards. I never felt like i truly fit in. Most of the girls I grew up with couldn't wait to get married as soon as humanly possible, have a bunch of kids, and settle down in the same community they grew up in; while there's nothing wrong with that desire, I have always been deeply curious about the world, and there wasn't anything I wanted more than to be a well-traveled, worldly woman whose presence demanded the respect of those around her. My community found my sense of adventure and ambition to be wildly blasphemous. No matter how hard they tried, I'm *far* from becoming a docile little fields wife. When I had the chance, I left home and created my life, just the way I always always wanted it. 🙂
I have seen the rumors online about me being from Australia!! I have absolutely no ties to Australia. I had a really good laugh over this question, though!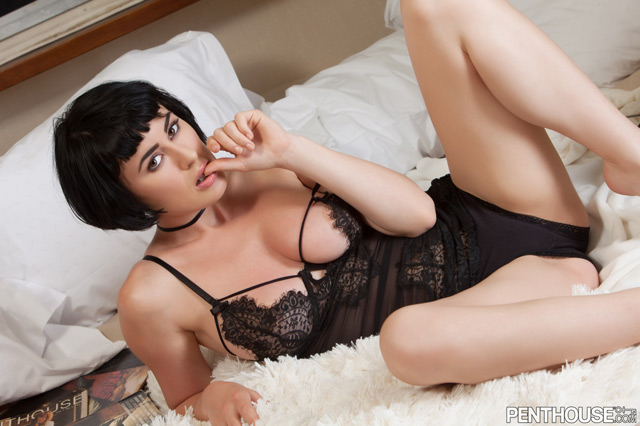 3. Olive, please share with our readers your stats. Boob size, height, etc. and what seems to be a well kept secret… what day is your birthday? We haven't been able to find out anywhere!
OLIVE GLASS: Here are the stats!
Height: 5′ 7″
Weight: 115 lbs
Cup Size: 32C
Waist: 24″
Hips: 31″
Dress: 2
Shoe: 7.5
…and my birthday is February 18, 1990 🙂 I'm an Aquarius/Pisces baby!
4. Let's turn it up a notch and give the fans what they really want! Sex talk with Olive Glass. What are your biggest turn-ons and what kills the heat in the bedroom for you?
OLIVE GLASS: I love love love trying new things. Like…you want to try that new vibrating butt plug? Let's do it! Always wanted to try a cock ring and never have? Let's do it. You want to go down on each other with mouths full of warm water just to see how it feels? If its weird, we can have a laugh and forget about it and just fuck… but if it works we just found something new and rad we didn't know we liked!
My biggest turn off was is when a guy takes things too seriously. Nothing will make me bummed out faster than someone who freaks out over little things that don't go their way; in or out of the bedroom. Sex is supposed to be fun!  Also, dudes who are afraid of period blood… get over it! It's not a big deal! Plus, I'm super horny on my period, so get on the bandwagon or leave.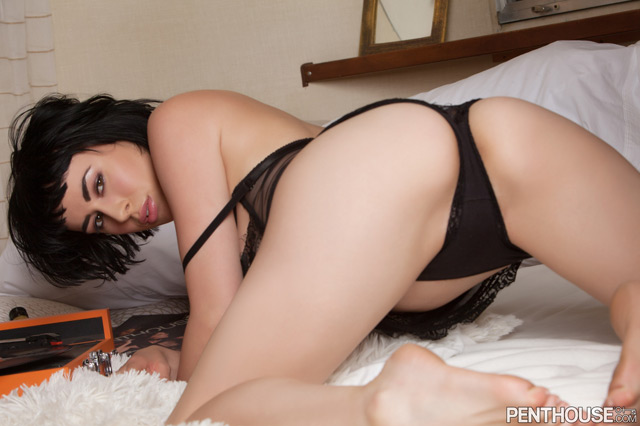 5. Have you ever had anal sex? Can we ever expect to see an Olive Glass anal sex scene or double penetration scene in the future?
OLIVE GLASS: I have had anal sex and love it! And yes you'll be seeing anal from me… but I'm not really sure when or where yet 😉 Keep an eye out though, because it's coming! I hope to one day have a DP scene. It's such a turn-on for me, so once I start doing anal, that's my next goal. It's always good to have goals. 😉
6. What is your favorite sexual position/sex acts?
OLIVE GLASS: I love rough sex! I also love being a sub to a daddy. My favorite position right now is doggy- I kind of go between different positions… like sometimes I'm obsessed with being an acrobat and trying out new weird shit, like hanging off doors or being upside down in some weird kinky way… and then sometimes I like the classics- doggy and missionary are pretty standard positions I always love!
7. Please share with us your wildest sex story!
OLIVE GLASS: I was working as a journalist for a well-known Latin men's magazine a few years ago in New York. Once I was at a red carpet for a reality TV show at this fancy hotel in Manhattan. It was packed. The bartender happened to be my crush, so when no one was looking, I grabbed him and pulled him into one of the closets and we fucked on top of a bunch of coats. Then we fixed our clothes and I fixed my makeup and we headed back to our positions in the party. We looked so sweaty!! I feel like everyone probably knew what we were up to.
8. Would you ever date or fuck a fan?
OLIVE GLASS: Well I hope that whoever I date or fuck is a fan of my work! Haha! So yes, I would.
9. We want to get to know the real you. Tell our readers what an average day in the life of Olive Glass consists of? Any rituals or things you can't live without?
OLIVE GLASS: I guess the first thing to know about me, is that I have like 20 projects going at one time, always. Painting, singing or acting lessons, ballet, photography… lots of art-related stuff. I wake up around 8 am, drink a cup of tea, and dive into my work. Then on days when I'm not traveling or shooting, I usually run errands, do computer work, garden, and make a big dinner. I stop work around 8 pm, and play! I love hitting up a couple cool spots in LA for drinks. You'll probably see me around East Hollywood on my days off.
10. What's your current love life status? Single and loving it or is there someone special?
OLIVE GLASS: Very single! Haha. I just moved to LA and just began my career in porn! I'm too busy working on being a badass bitch right now.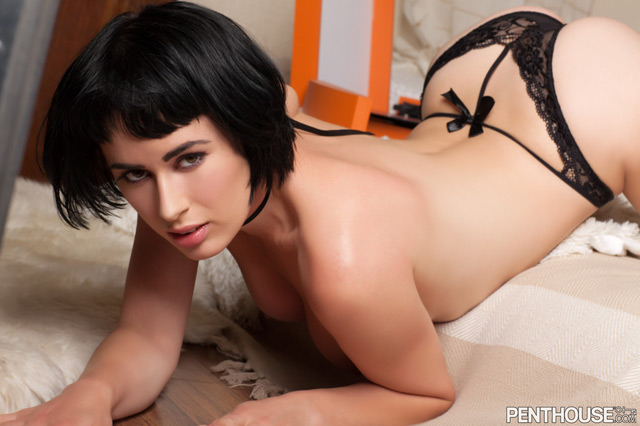 11. Do you have any pets? What is your favorite animal?
OLIVE GLASS: I have a beautiful old rescue kitty, her name is Shiva. She's my best friend and my favorite animal in the whole world.
12. In your spare time when you are not doing photo shoots and shooting porn films what do you enjoy spending your time doing?
OLIVE GLASS: Right now a lot of my energy is going towards my trip to Svalbard this Winter. I booked a tour guide to take me on a week long expedition across Svalbard, on two dogsleds. I will be bringing a few of my cameras and documenting the trip to create a coffee table book of my images and notes on the experience. It'll be my first book and my first time in the Arctic, so obviously I'm over the moon with excitement. Also, the tour just happened to fall on my birthday, so that's pretty cool.
13. What is the craziest thing you have ever done?
OLIVE GLASS: Probably booking this trip to Svalbard. Like, I'm going across the Arctic in my own dog sled with just myself and a local tour guide. That's crazy. Other than that, this one time I rode in a hot air balloon and it got blown about 10 miles off-course and ran out of gas, and we had to make an emergency landing in a middle school playground at like 8 am. It was kind of scary but also I couldn't stop laughing.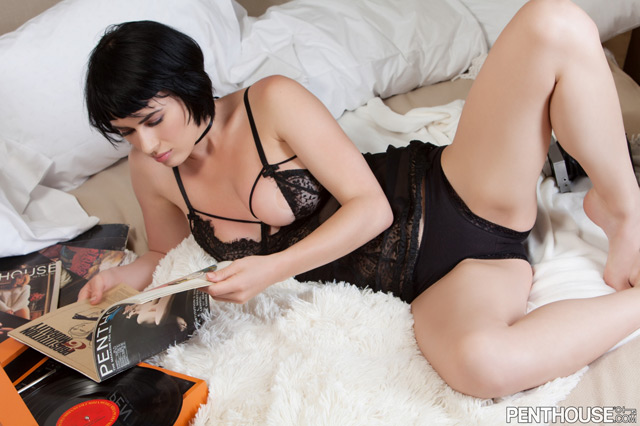 14. Congratulations on being crowned the prestigious Penthouse Pet of the Month for June 2017. Bob Guccione's legacy of Penthouse has always been my personal favorite adult publication and we know first-hand how great they are to work with. Please tell us how your experience as POTM has been so far?
OLIVE GLASS: I love being a Penthouse Pet!! The other pets are so lovely- I have met Riley Nixon and Christiana Cinn and Jenna Sativa recently on my first film for Penthouse, and we got along so well. Everyone who works at the offices are just so welcoming. I feel like I've joined a really empowering, loving porn family- and I'm a Penthouse pet forever! That's pretty special.
15. You're not just your average pornstar. You're quite possibly the only pornstar to have ever modeled in Vogue magazine. [Check Olive out in Vogue Italia.] You're a model, actress and artist with highly acclaimed mainstream accomplishments. Let's shed the light to your adult fans and talk about the other faucets of your career. Please share with our readers where they can see more of your mainstream modeling work so they can appreciate and encompass the full picture of you, Olive Glass.
OLIVE GLASS: Aw, thank you so much! I've been modeling for almost 8 years full-time now! While my focus is mostly on my porn career at this point in time, I'm still pursuing my mainstream work. For my mainstream work I go under the moniker "Glass Olive' (just switched it around for porn haha). I have a website: OfficialGlassOlive.com and my instagram is @glassolive. That's probably the best two resources for my more mainstream and art modeling work, outside of just googling my name.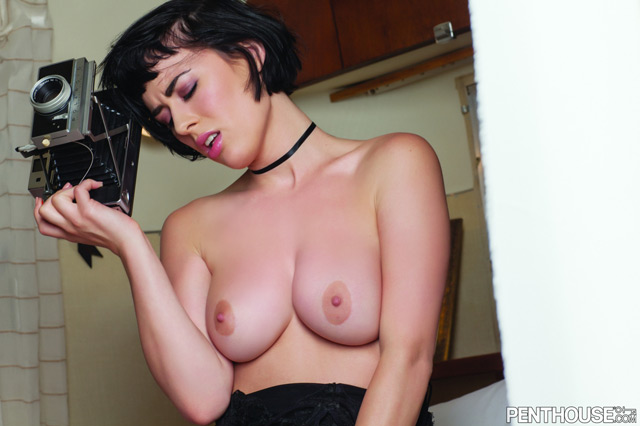 16. Who in your life has helped support and motivate you and what models/ actresses and photographers have been your inspiration and role models?
OLIVE GLASS: Aah, that's such a big question! I'm inspired by strong women. I'm inspired by people that work everyday to break boundaries of what they were told they could be. A lot of those people are in my life- like my mother, who is in stage 4 cancer and still gets up to garden every day, my dear friends in New York who are forming a powerful and talented community of sex-positive artists who are changing the art world, my best friend Annie who is an endlessly creative and loving spirit. My role models are my family 🙂 Other role models are from movies or books- like Miss Franny Fischer from my favorite TV series; and Lyra, the main character of the book series 'His Dark Materials'.
17. You share such emotion and can truly convey a story through your movements and expressions when shooting editorial photo sets and videography pieces. Can you please share with us your creative process while on set?
OLIVE GLASS: Every team I work with has different vibes. I just try to get in the groove of their pace and energy, and see how it effects me, then I do my best to physically express the emotions and reactions that bubble to the surface. Whoever said modeling is just standing around looking pretty was eating some strong drugs, because it's anything but that. It's often very draining, but so worth it. If I leave set- mainstream or porn- feeling like i truly connected with the team/performers to create something we all vibed with, I feel like I did my job right. Ideally that's every shoot, but sometimes it just doesn't work out. In the cases where I don't feel like I accomplished my goal, I spend some time thinking about where the disconnect might have been, and ways I can improve for next time.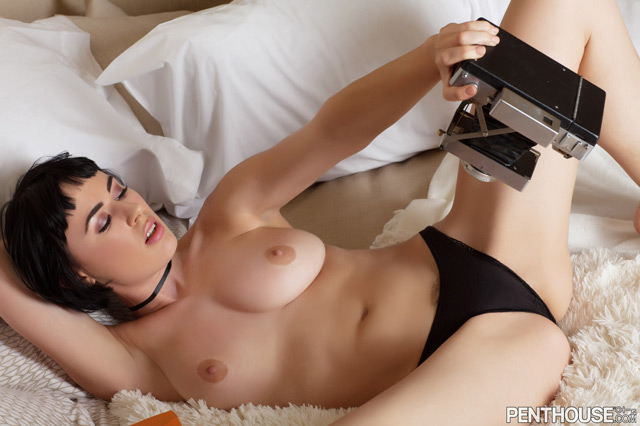 18. What kind of media is your favorite to shoot? We've watched you in everything from music videos, to stunning editorial magazine shoots to hardcore porn videos. What do you have the most fun shooting? What do you enjoy seeing the finished product of most?
OLIVE GLASS: I like all of them! I look for different outcomes to each genre. What I want from a fashion editorial is completely different than what I want from a porn film. Figuring out how to create a good product for different audiences is really fun to me. It feels really good when I hit the nail on the head, like I figured out a riddle. Although, I would say that I am partial to acting in indie films. There is nothing I love more than working on a film set where everyone is working hard to create a rad product. I love the feeling of a 'set family' and having time during the filming to get to know my character and sort of 'fall into' the story. I'm an actress at heart.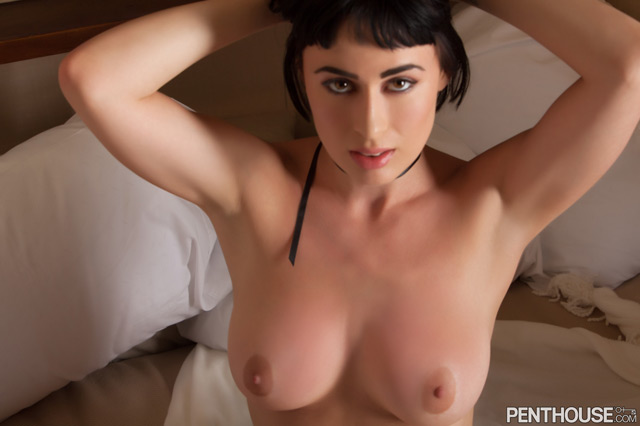 19. You were one of the hot bikini girls who flash their tits in the 2016 Netflix blockbuster The Do-Over from Adam Sandler. Great boob cameo by the way, your tits looked very perky as you were shaking them. So we have to ask, how did it feel to boo David Spade's flashed man parts while giving them a double thumbs-down?
OLIVE GLASS:  Ah! Haha, thank you! That was such a fun experience! David was hilarious in that scene- but he had on a cock sock, so I didn't really see anything. At least that's what they told me! He was a ways away from me, on a different yacht, so maybe he actually wasn't wearing anything and they just told me he was wearing a sock!
20. I am just teasing, but yes you have done that, booed David Spade's crotch. Those guys are hilarious, how was it working with Adam Sandler and David Spade?
OLIVE GLASS:  I adore Adam Sandler- such a sweet man. I really loved working with his team! They are all really tight, and you can tell that they have a blast working together. We shot in Savannah, Georgia as well as an Juan, Puerto Rico- so it felt a little bit like a vacation!
21. Do you have people in real life recognize you? Do they ever approach you?
OLIVE GLASS: Yeah they do! I get approached from time to time- not often, but more lately than ever before. Everyone has been really sweet and fun to talk to. I probably get more excited than they do to meet a fan in person! It's such a treat.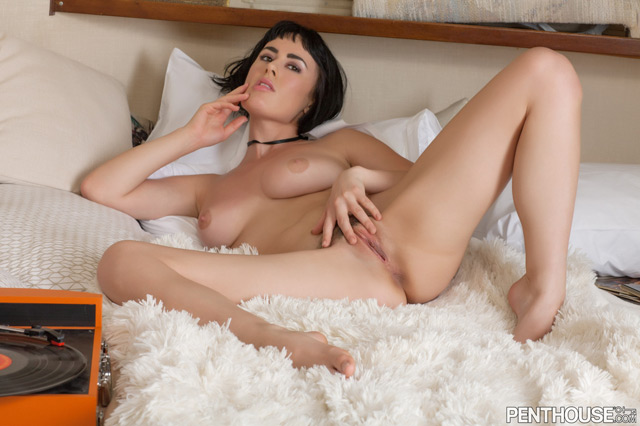 22. Whisper a secret in our ear, please share with us something most people do not know about you?
OLIVE GLASS: I can write backwards and forwards with both hands, at the same time.
23. Please tell us about your upcoming events, business plans and career aspirations. Are you currently working on any other projects that you can let us in on?
OLIVE GLASS:  Well right now, I'm excited for the release of my first Wicked feature- Spoiled. I'm looking forward to attending my first industry events, and this winter I'll be going to AVN for the first time! I'm so excited for that.  This winter, I will also be doing some traveling in Norway and the Scandinavian countries, in order to create a book of photos and stories about my trip.
24. Leave us with a true taste of the refined babe we know & love, Olive Glass. We would like to know if you were ice cream, what flavor would you be?
OLIVE GLASS: Coconut ice cream with vegan butter pecan!! Yummmm.
25. Is there anything you would like to share with your fans and our readers?
OLIVE GLASS: Thanks for following my work! can't wait to meet you all at AVN!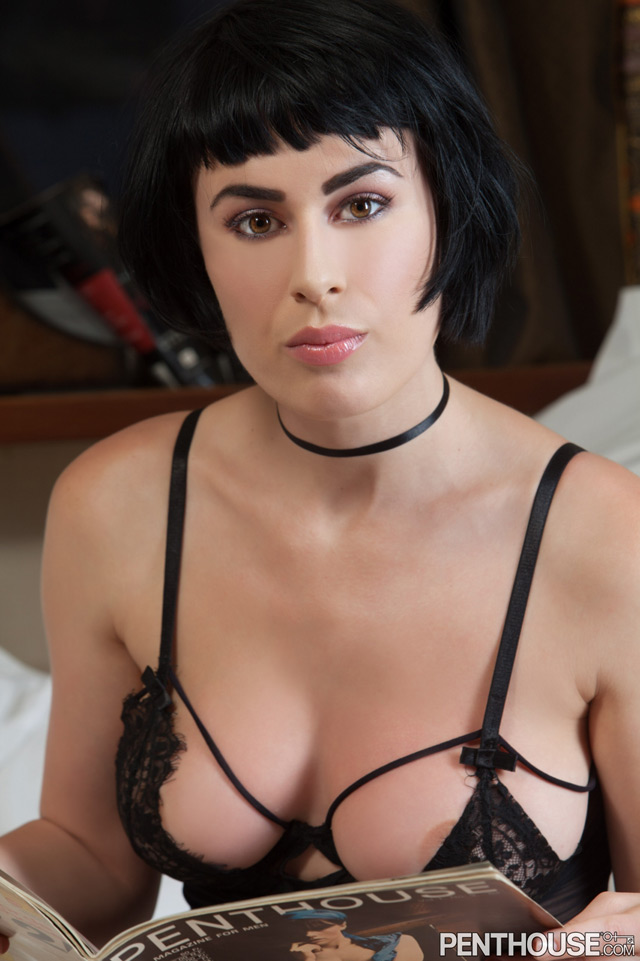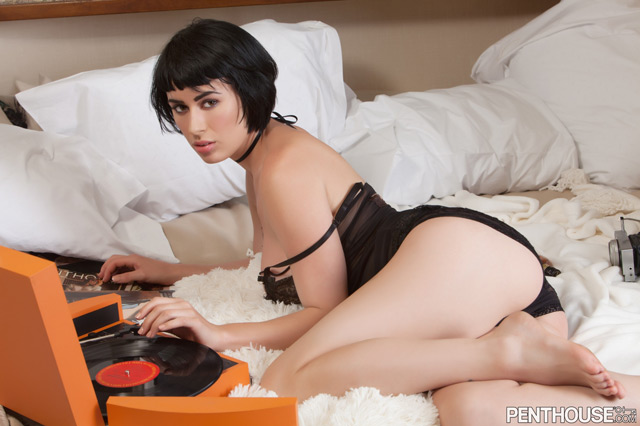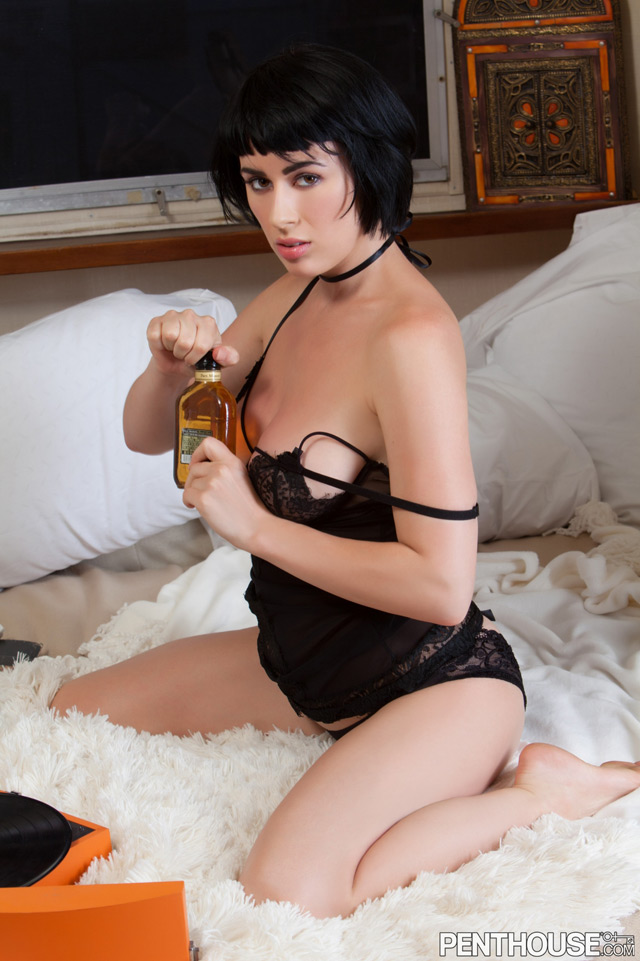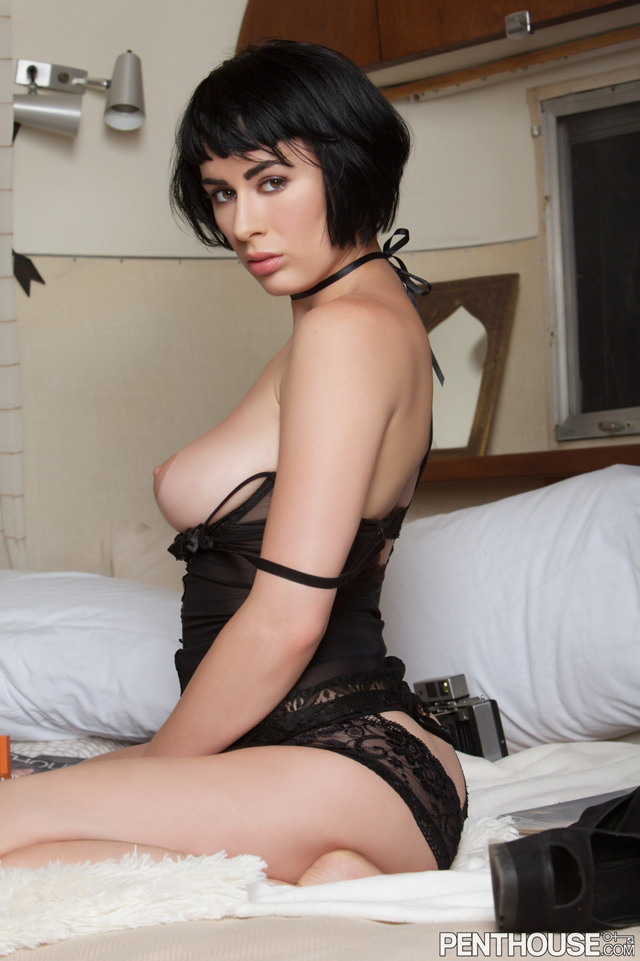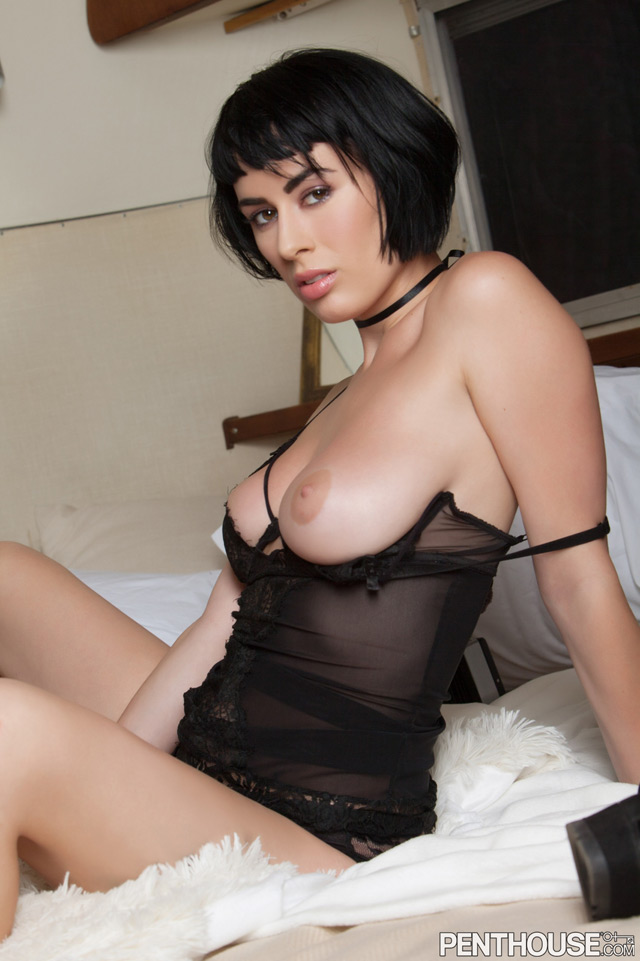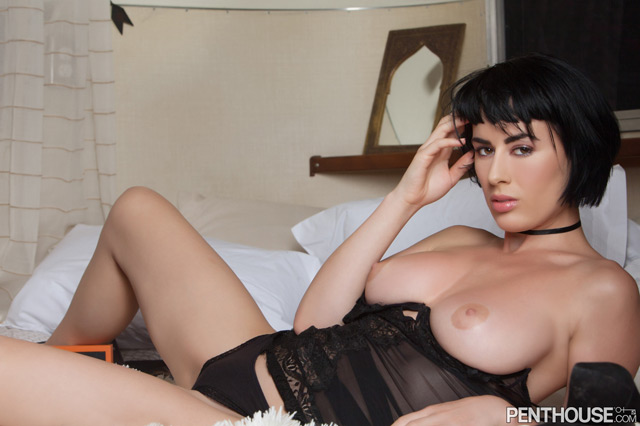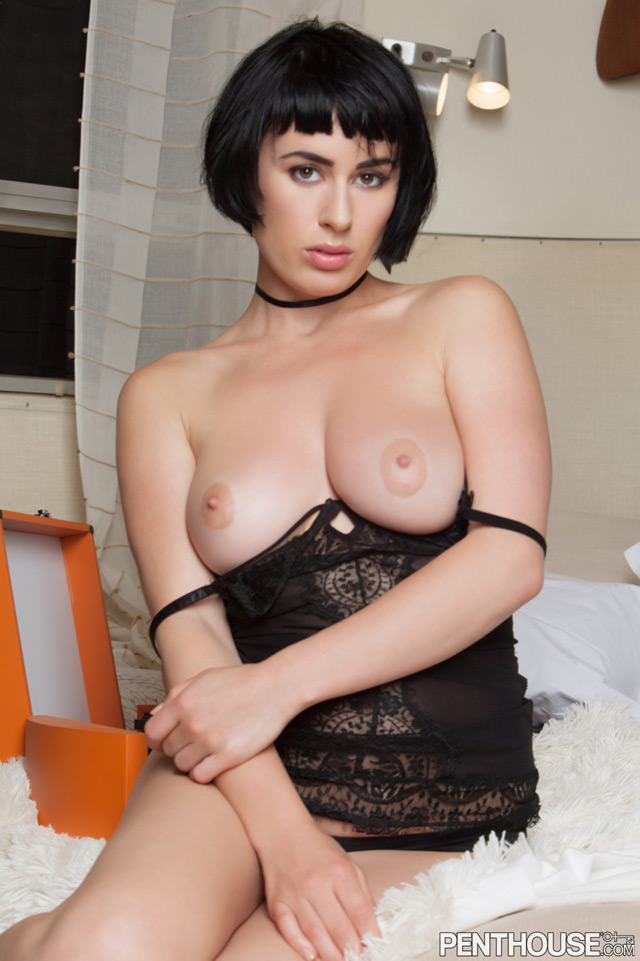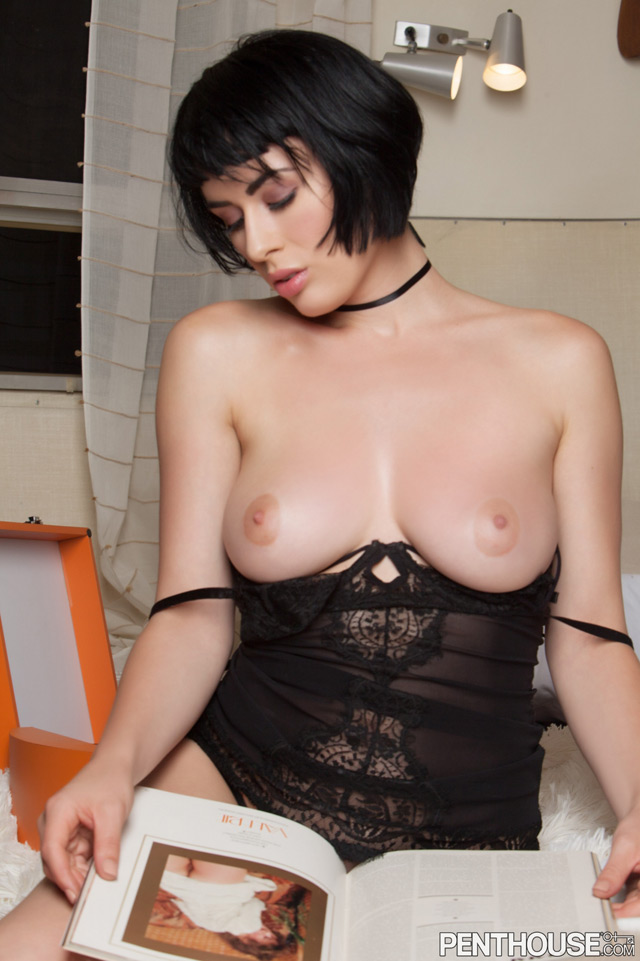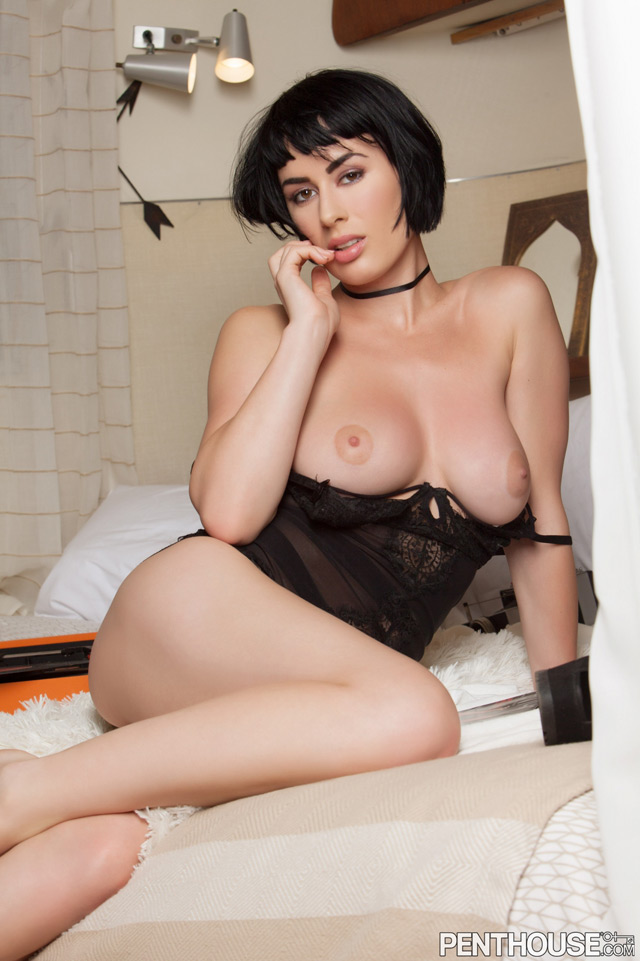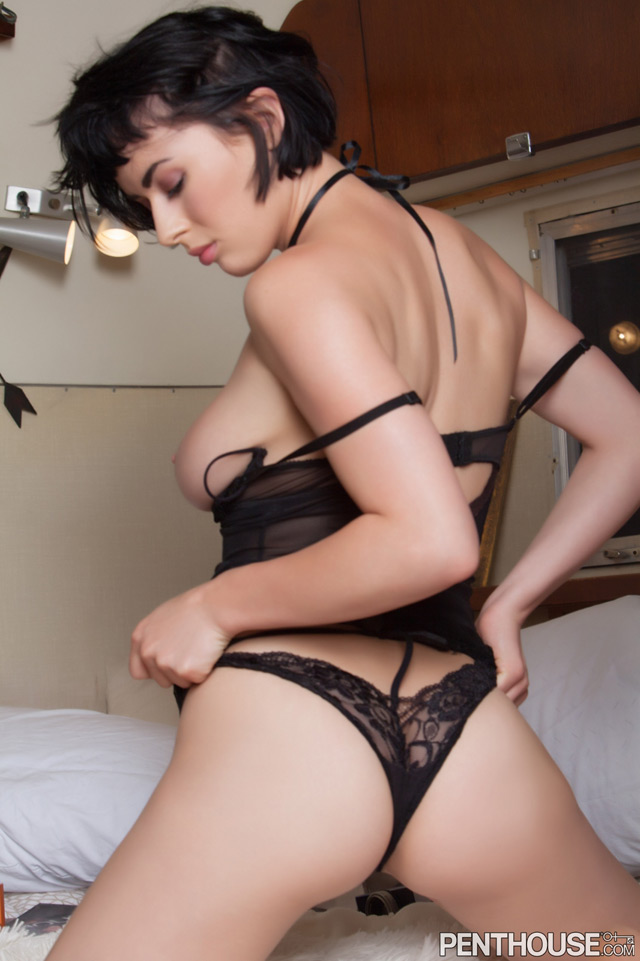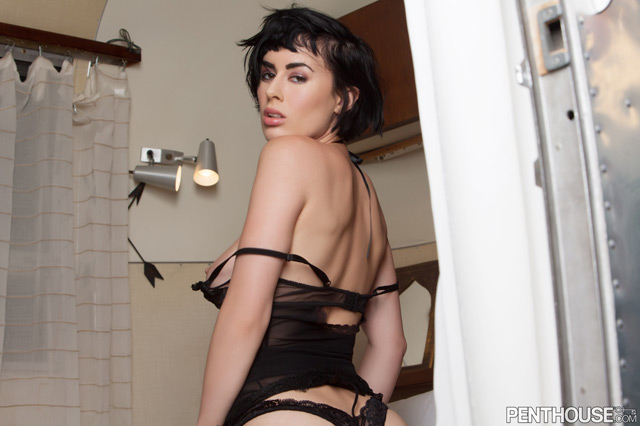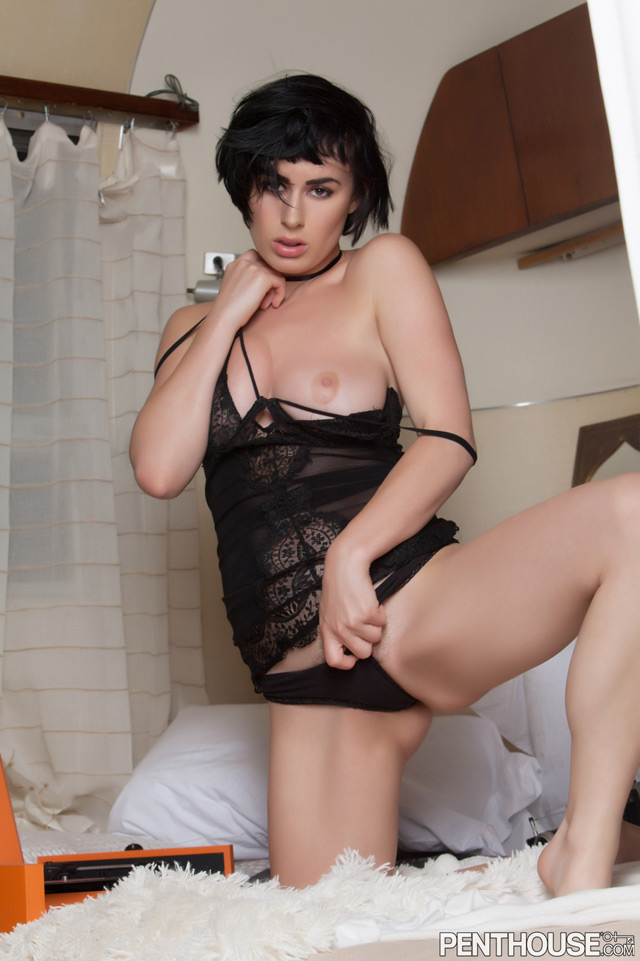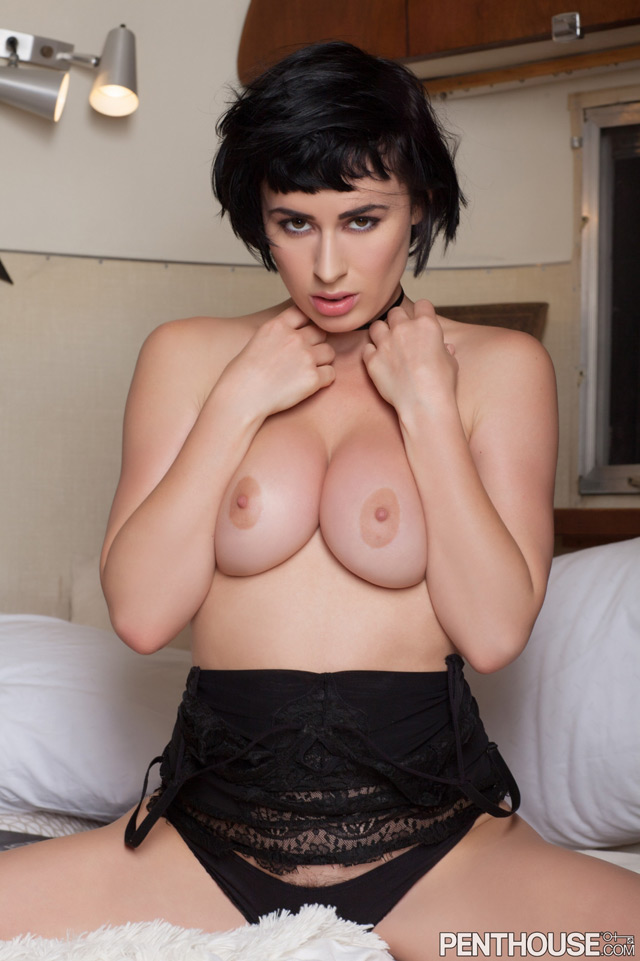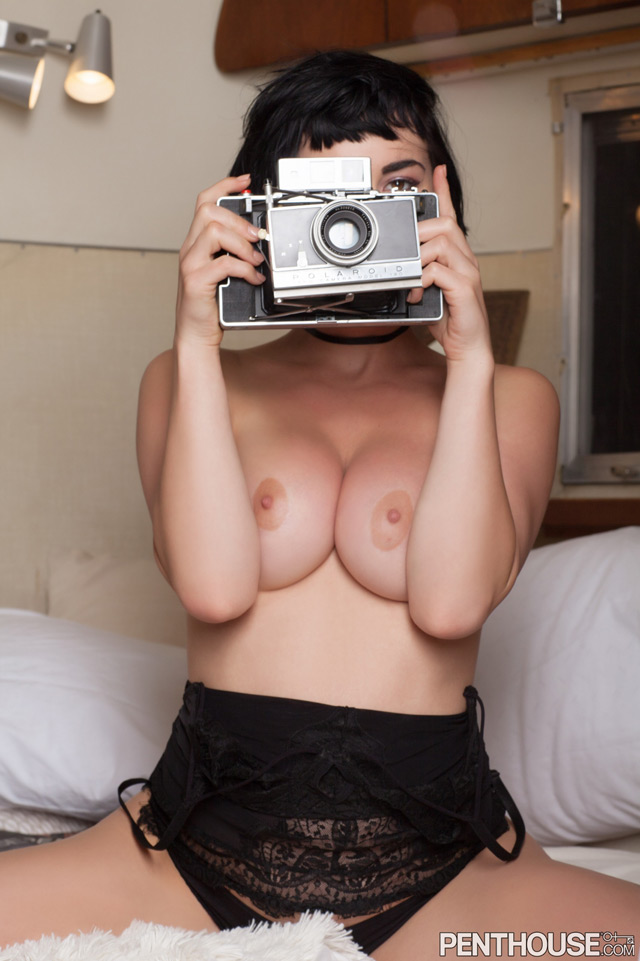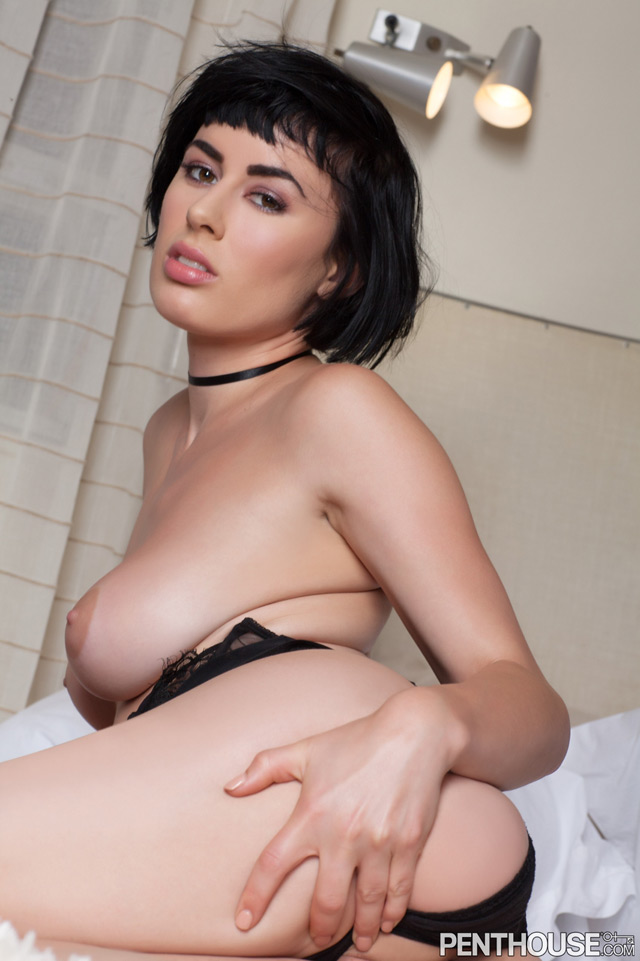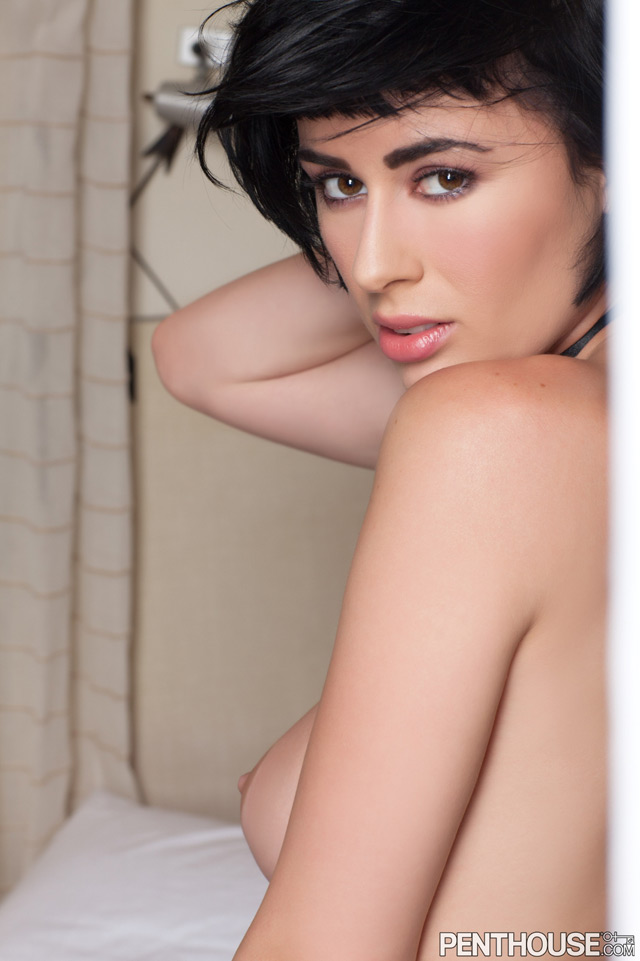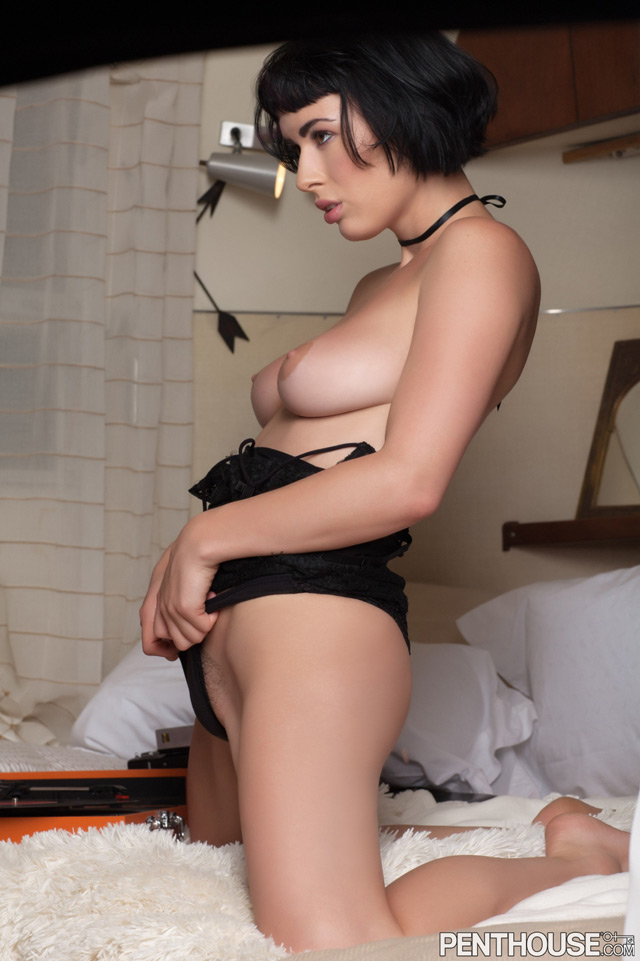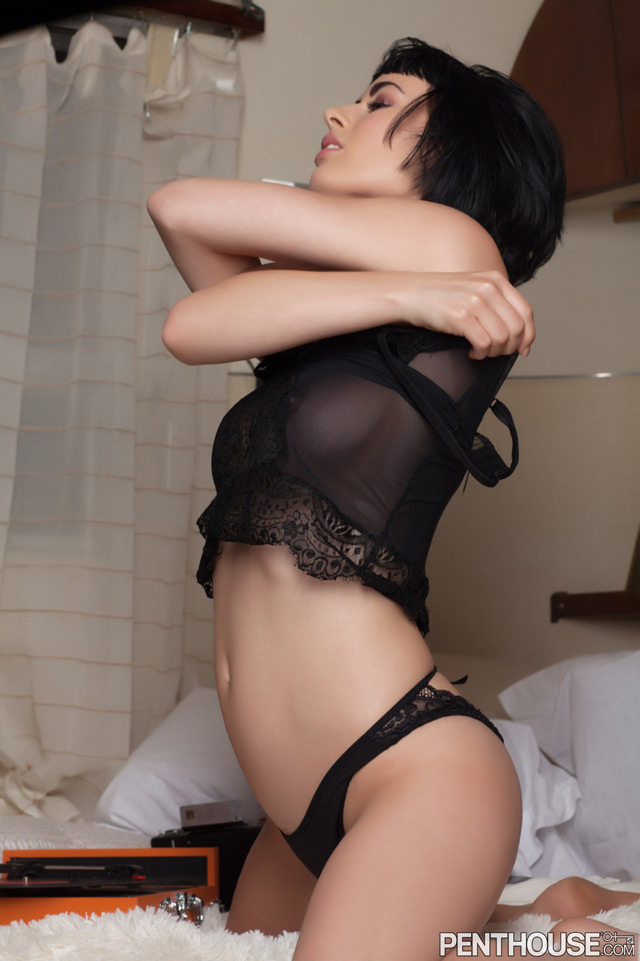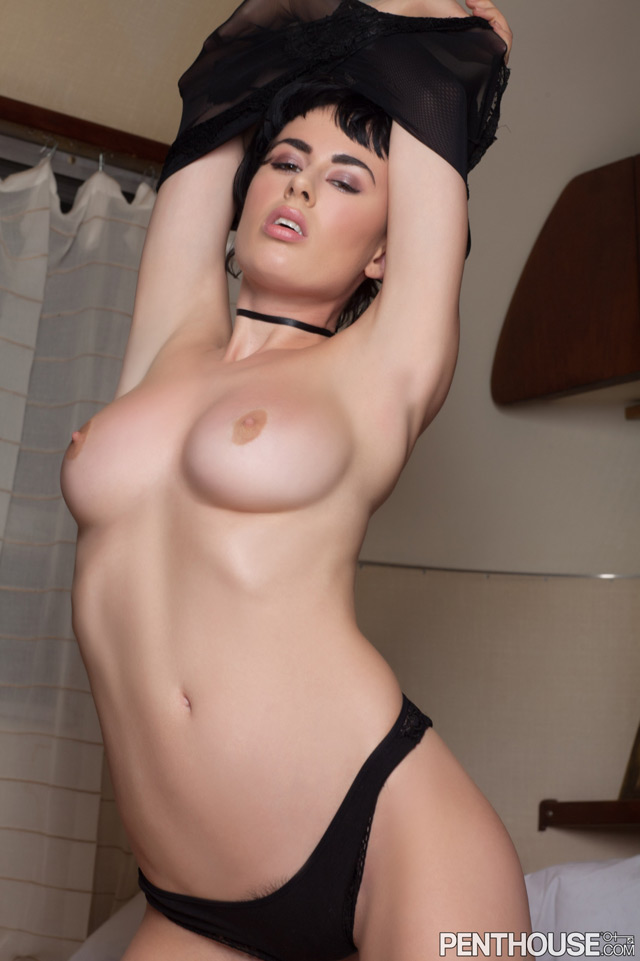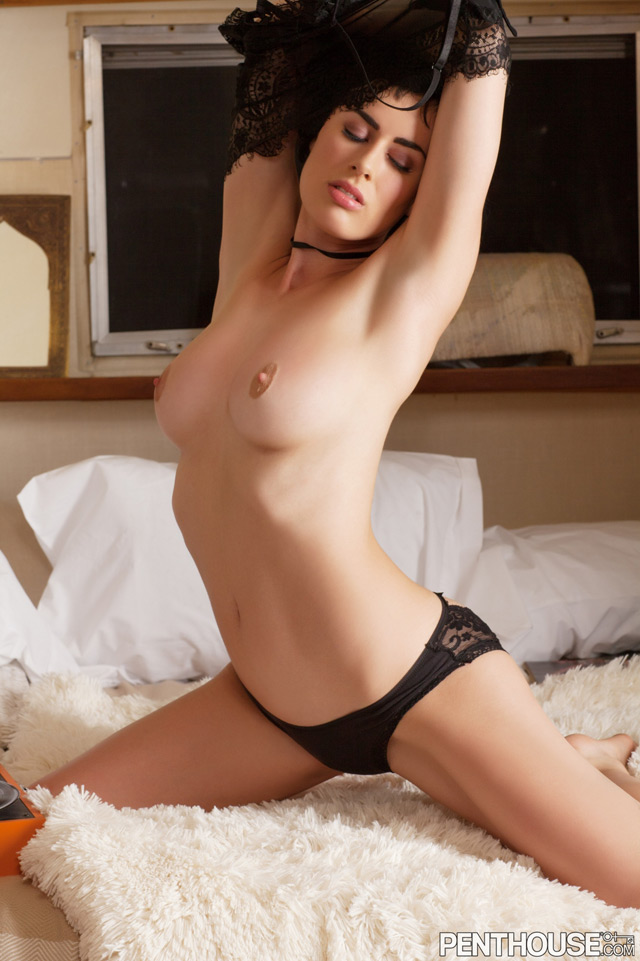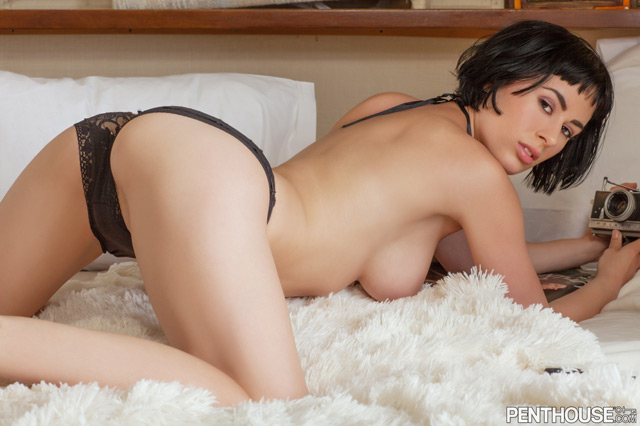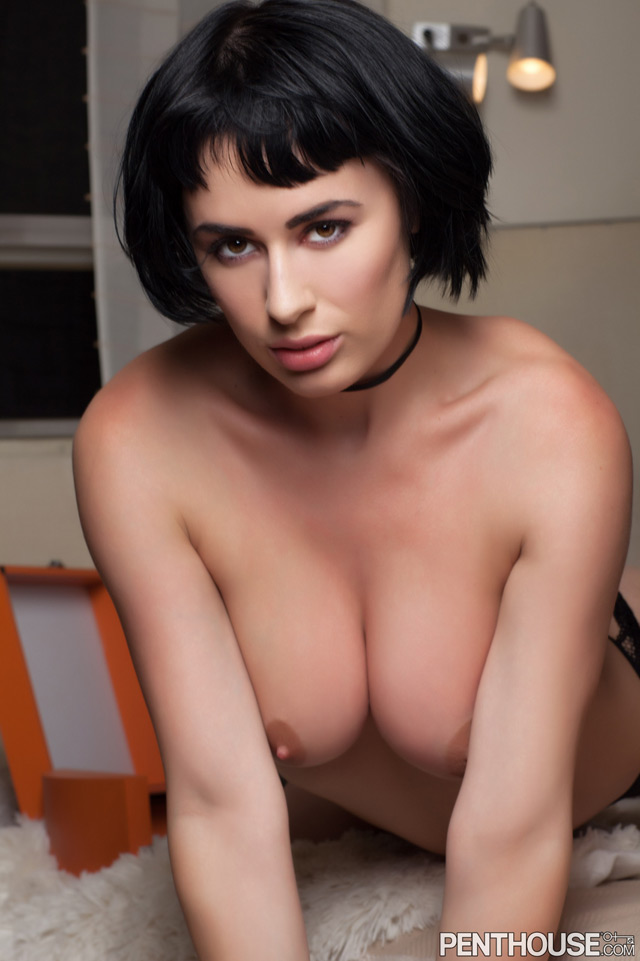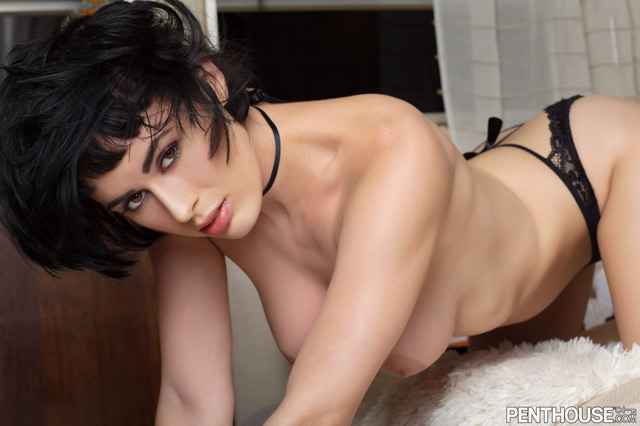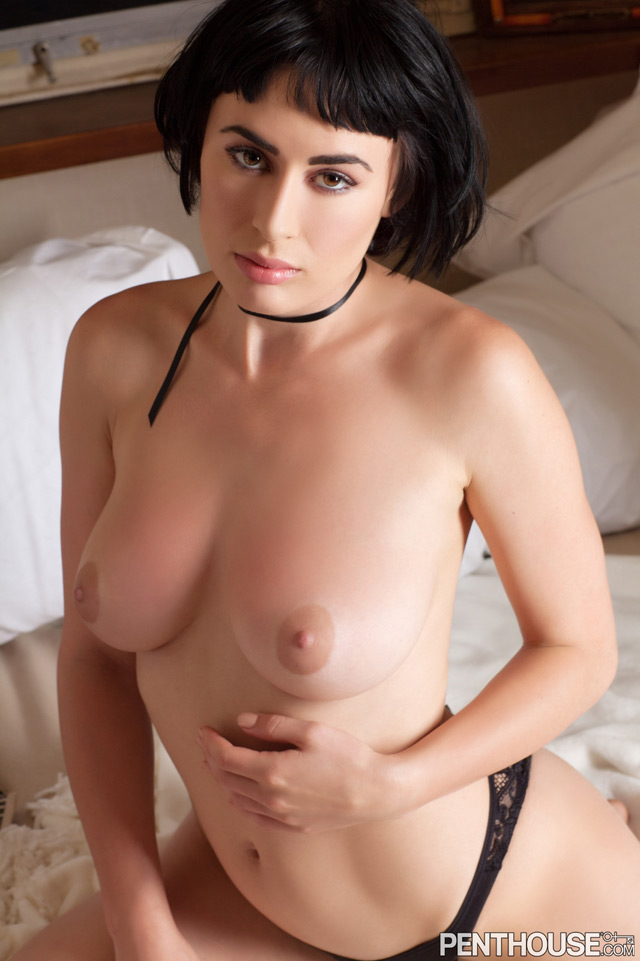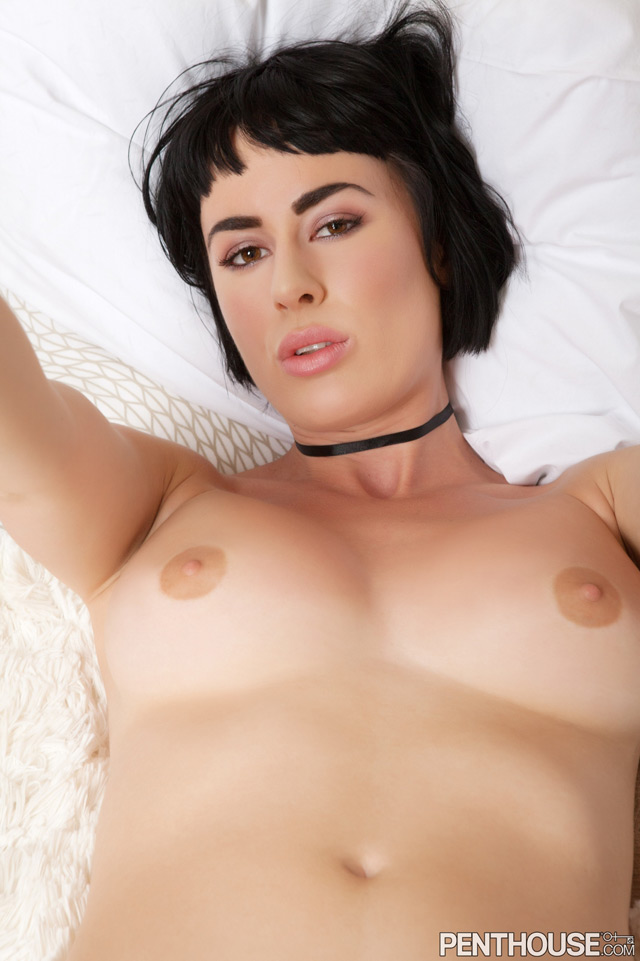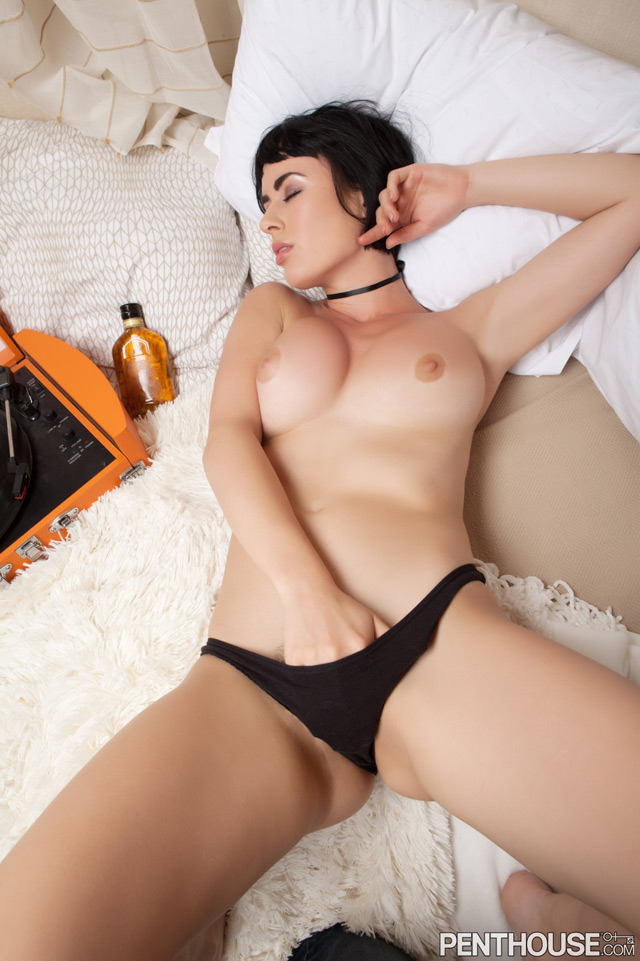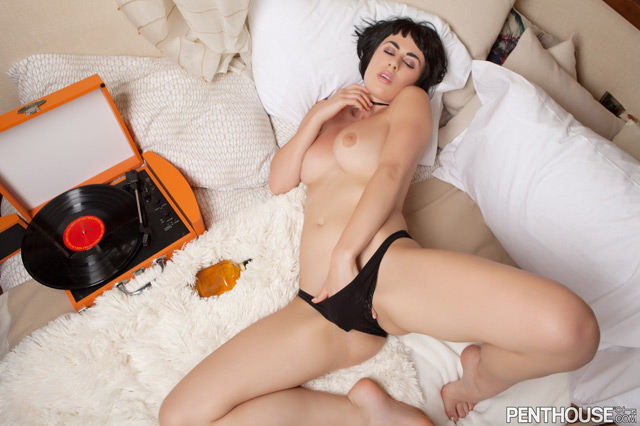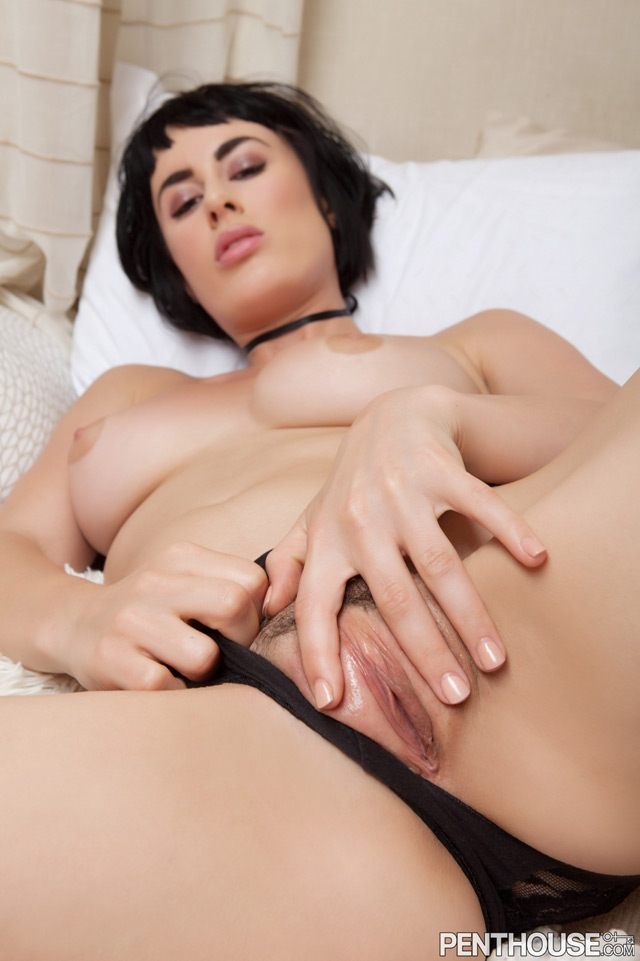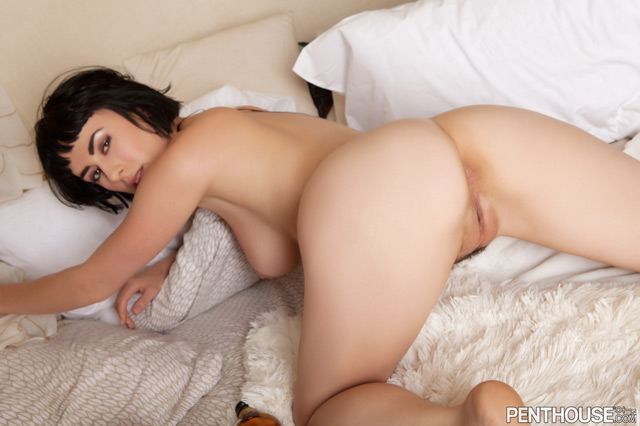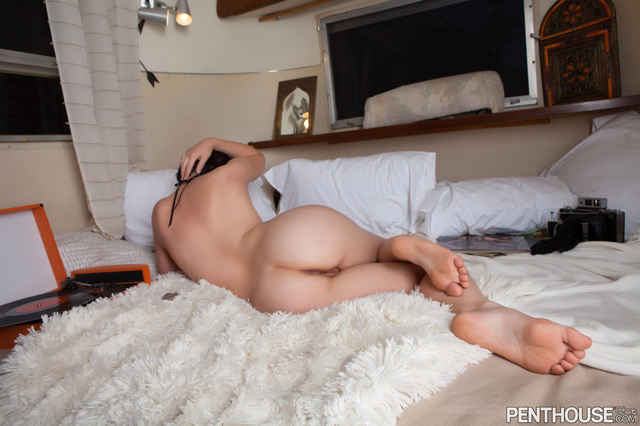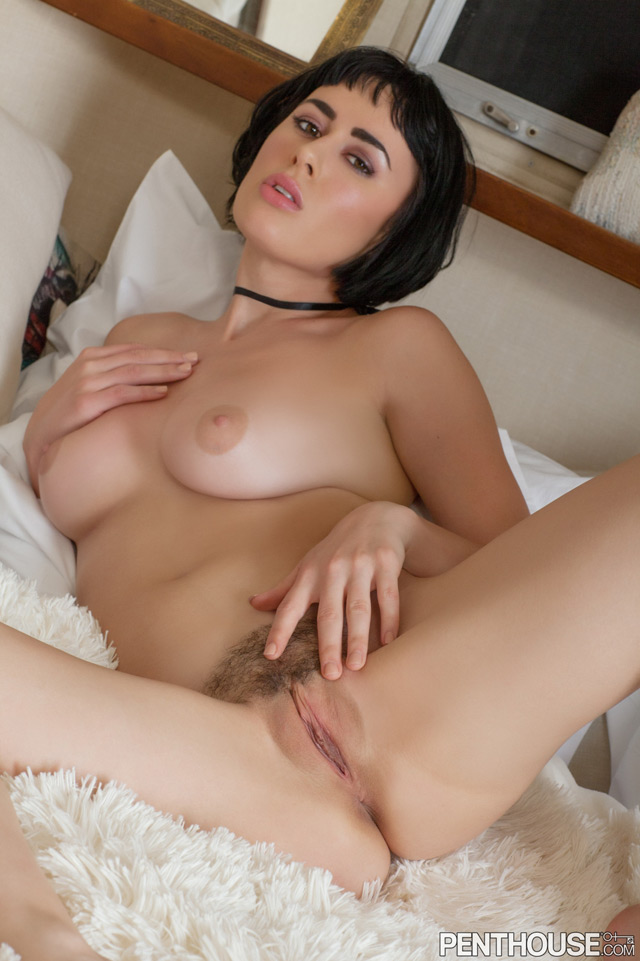 We hope you enjoyed pornstar Olive Glass and accomplished actress/model & artist Glass Olive's interview for Porn Corporation showcasing a Penthouse pictorial of the nude June 2017 Pet reading a vintage Penthouse magazine in a retro Airstream trailer in the shoot Incendiary Bedtime.  View all of Olive's erotic photos & videos shot as POTM inside Penthouse.  Inside the member's area you can access nearly 50 years of Penthouse Pets, thousands of nude & erotic photos sets and hardcore videos shot in 4K, 3D, HD!  What are you waiting for?  Unlock a new lifestyle and experience Life on Top inside Penthouse.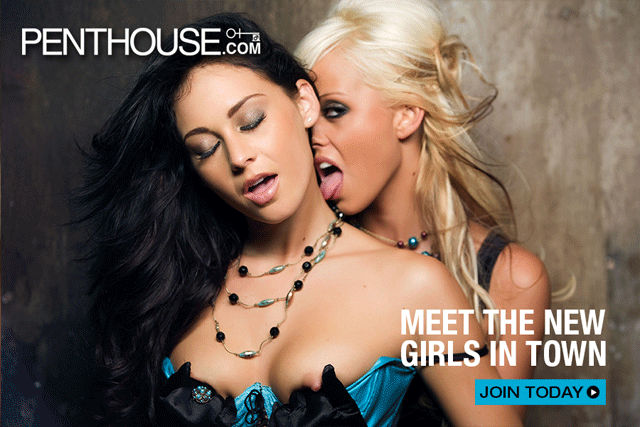 Continue reading Pornstar Interviews or return to cover of Porn Corporation magazine.
Previous featured Pornstar Interview:  Sarah Vandella Interview For Porn Corporation
Top Related Olive Glass showcase:  Olive Glass Penthouse Pet For June 2017
View all of the articles starring Olive Glass or Penthouse featured in our archives.
Recent Penthouse Pet news:  Manda Kay Penthouse Pet For July 2017
Looking for juicy editorials & interviews from the Adult Industry or Porn Corporation Girls?
Keep up on the latest & read our hottest topics:  New Porn Sites – Porn News & Adult Parodies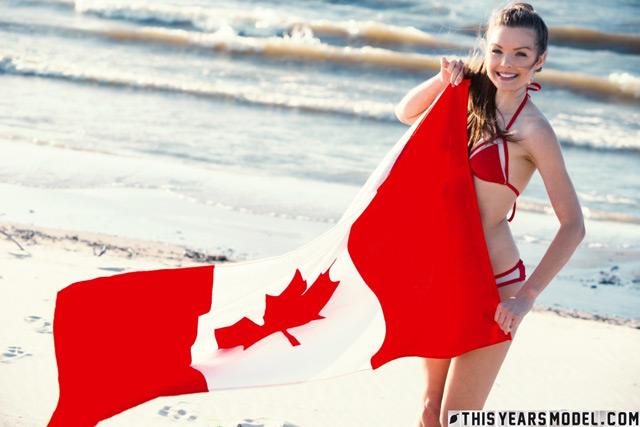 As a fellow Canadian I am proud to wish you a Happy Canada Day and was ecstatic to see an adult update with a beautiful Canadian model, Michelle Jean from an amazing Canadian erotic site, This Years Model.  So here's to Canada.  The girls kick ass, the beers are cold and the people are friendly.  See all of sexy Canadian babe Michelle Jean's exclusive photos & videos only at TYM.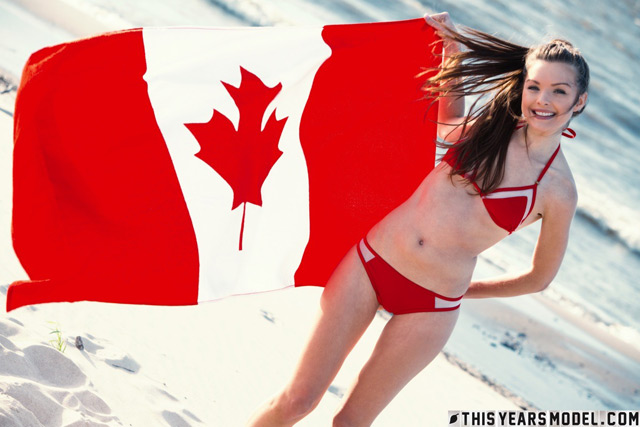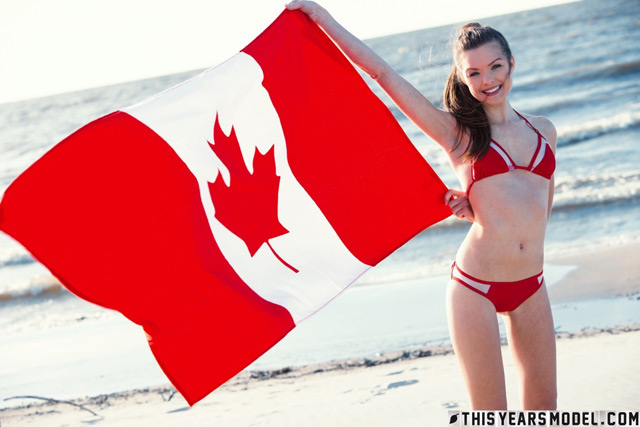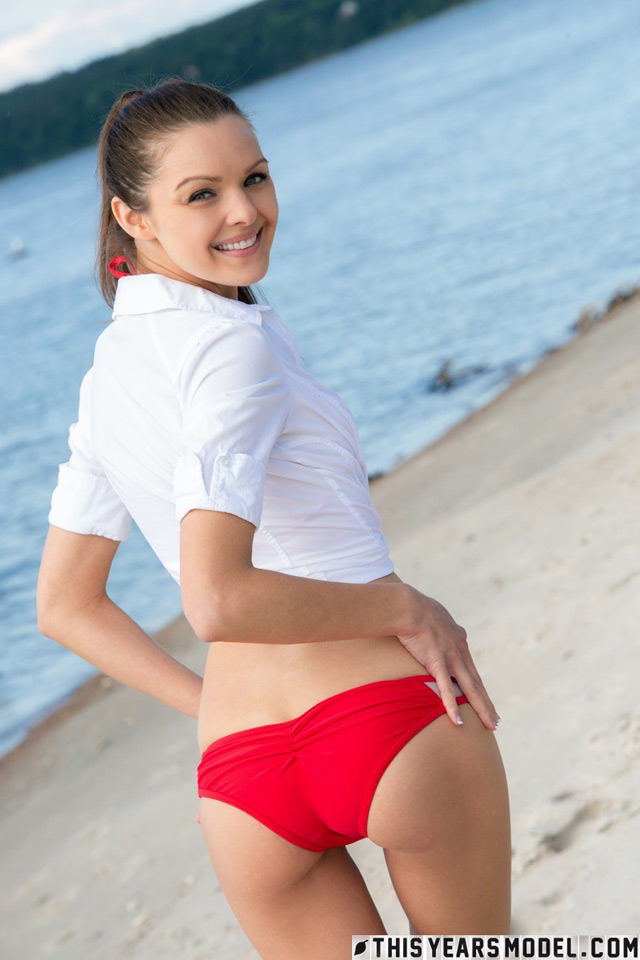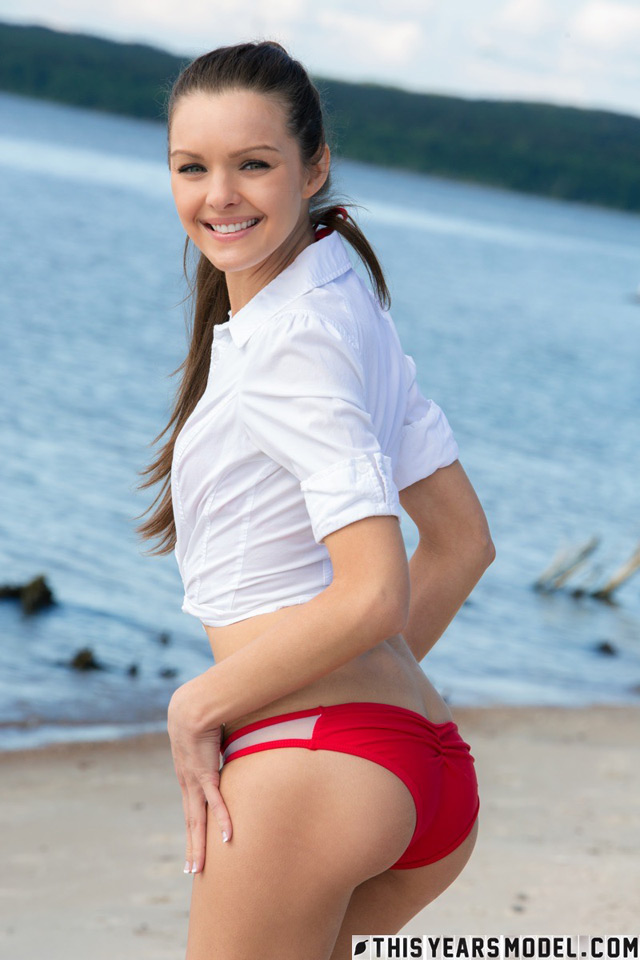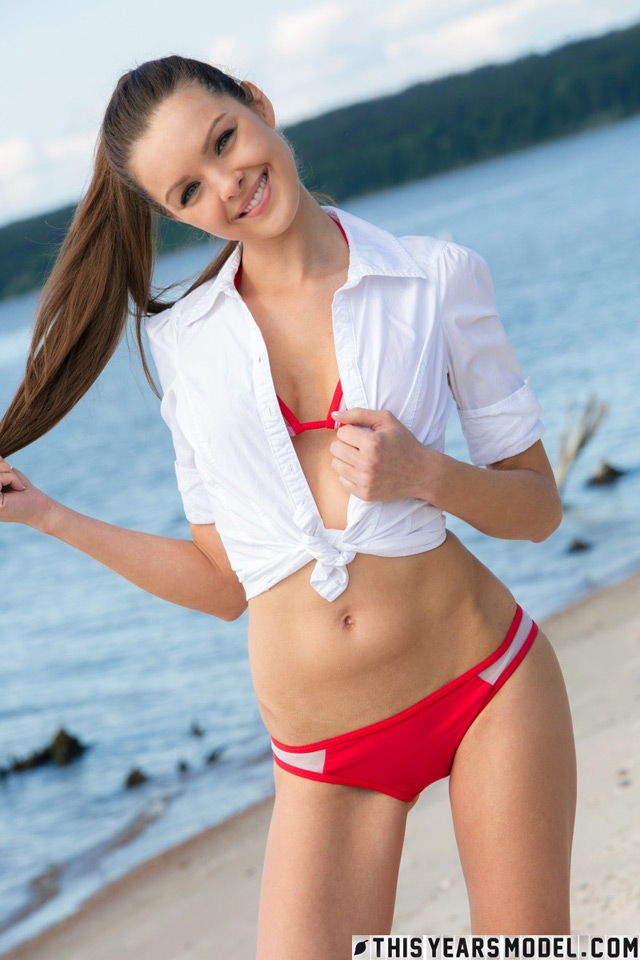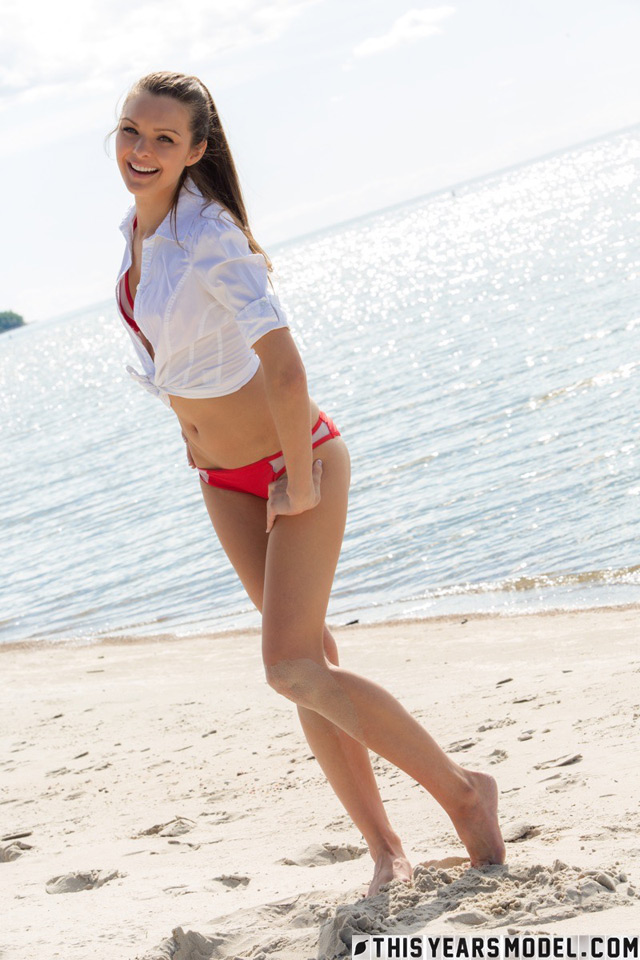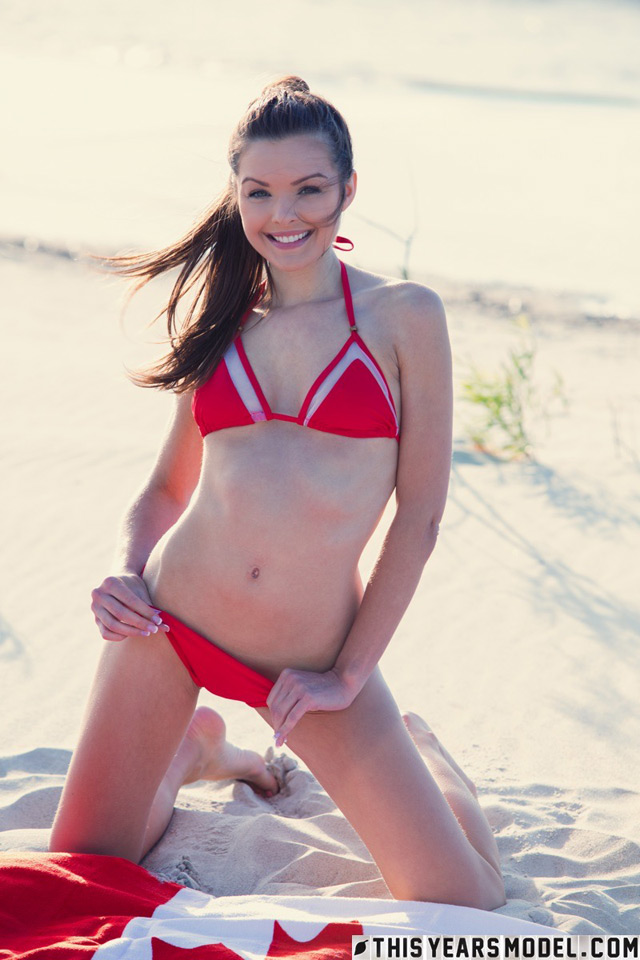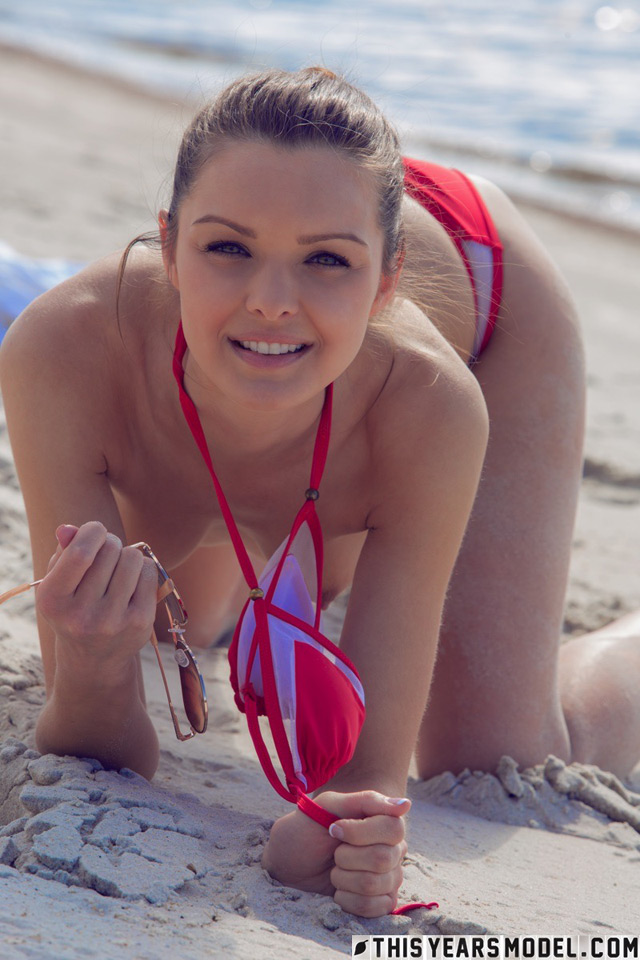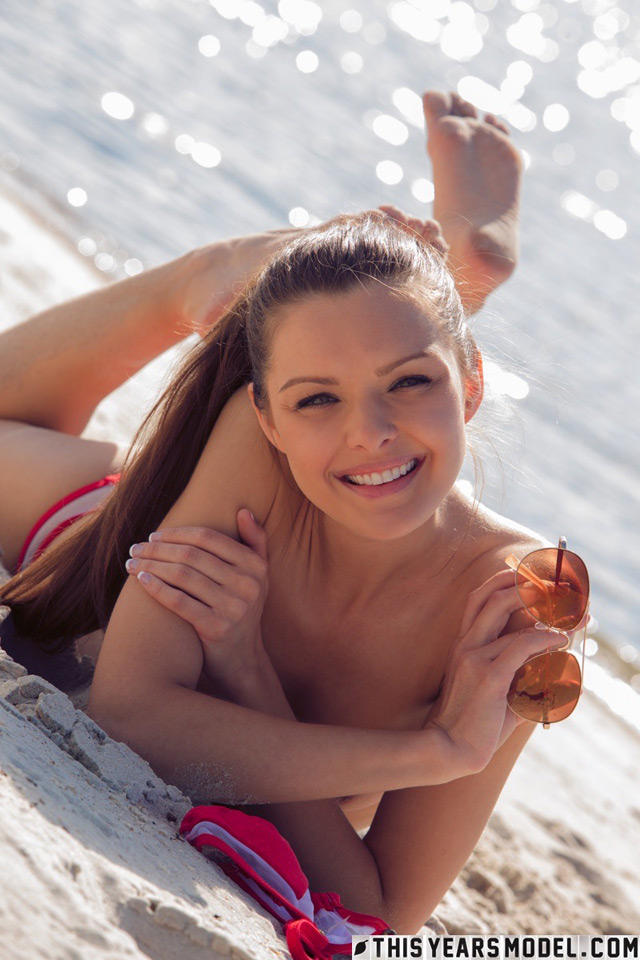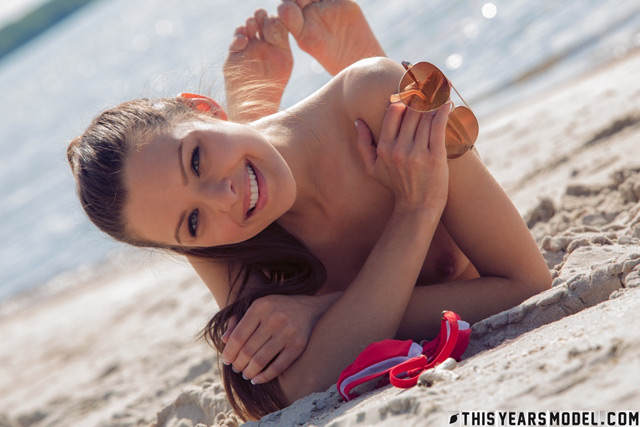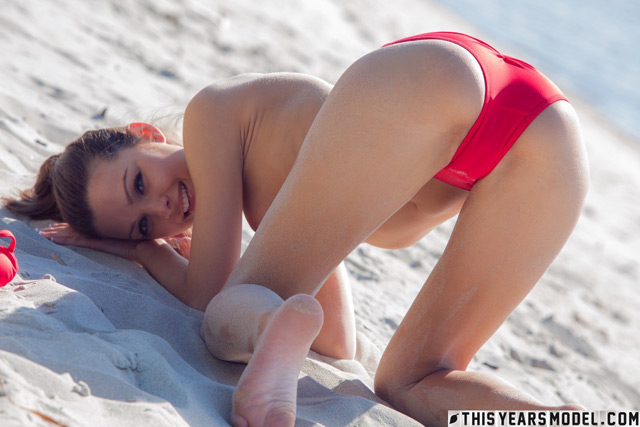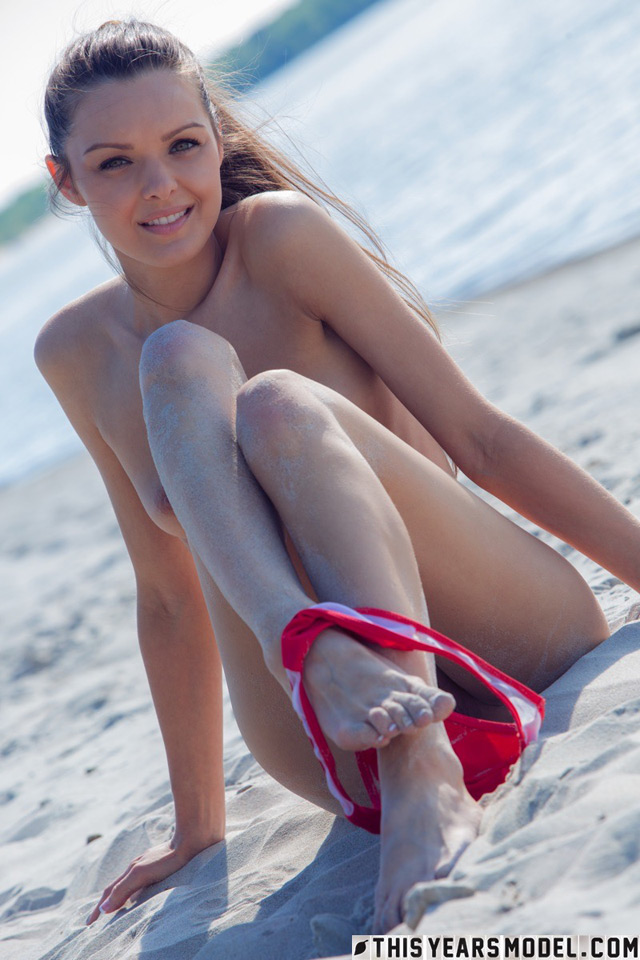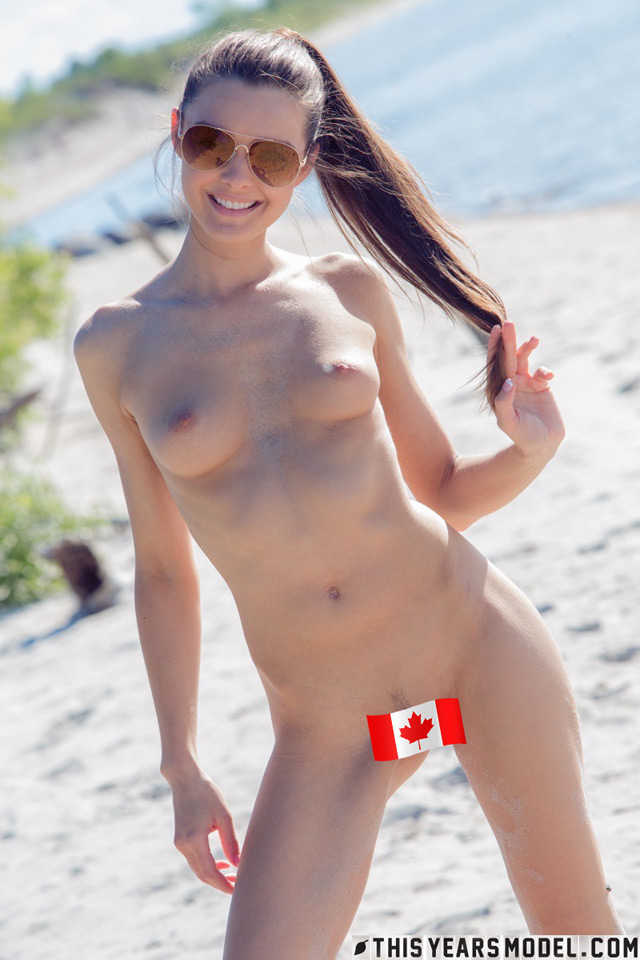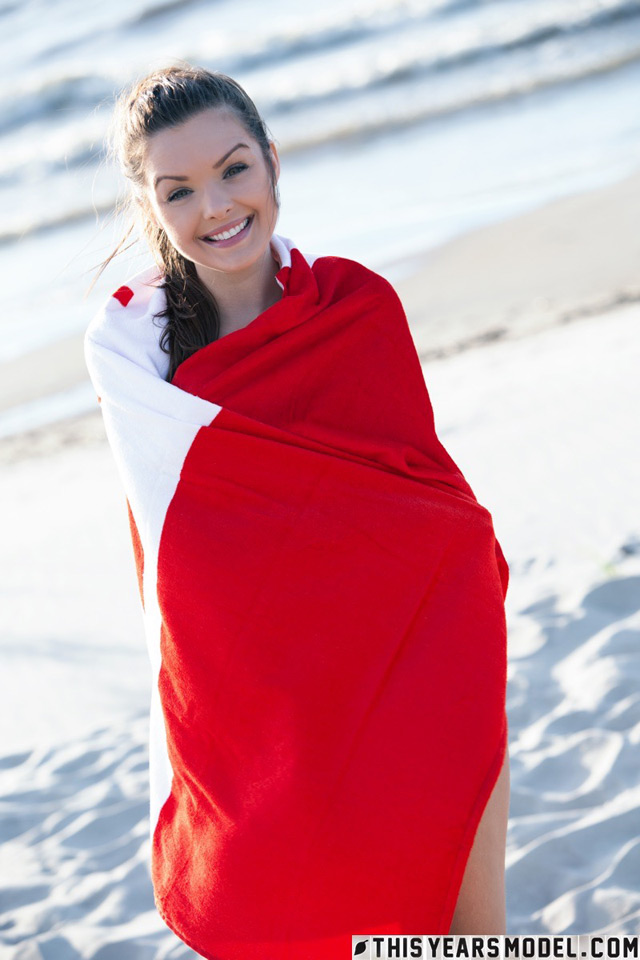 Celebrate Canada's 150th Birthday [even if you aren't Canadian!] with all the sexy & horny Canadian models inside This Years Model.  Michelle Jean Clark is waiting for you inside…

Continue reading in the Softcore category or return to the cover of Porn Corporation magazine.
Previous Softcore featured article:  Marley Love Penthouse CyberCutie For June 2017
View more This Years Model – Michelle Jean – Canadian Girls or Canada Day Porn!
Michelle Jean is a total beach babe: A Day At The Beach With Michelle Jean Clark
Top: Kianna Dior: Happy Fucking Canada Day! – Nikki Benz: "Stick It In My Canadian Ass!"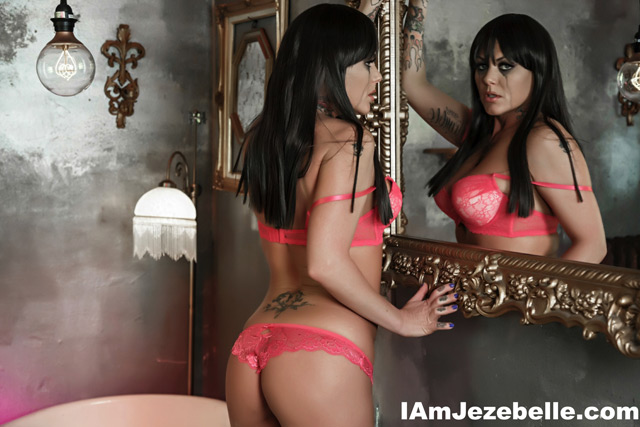 Jezebelle Bond, the original punk princess pornstar launches a new official site!  Th epic come back of alt fetish model Jezebelle has the Internet reeling with chatter…  The legend has returned and she is looking hotter than ever.  This artsy fun loving MILF punk knows how to get down!  Watch Jezebelle's stellar solo orgasms from masturbating, hot lesbian sex sessions & give blowjobs like a pro.  Check out Jezebelle Bond's new site & access all the Puba pornstars!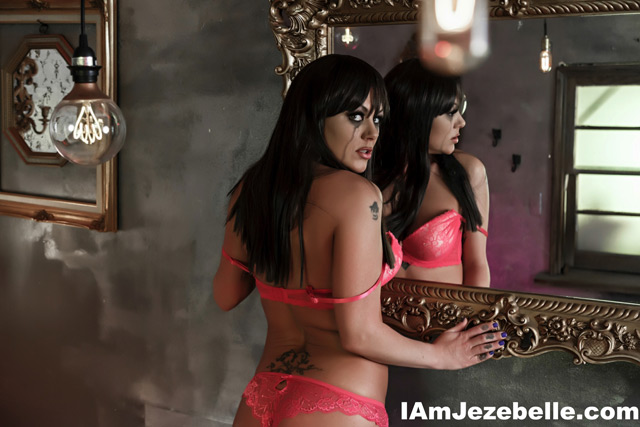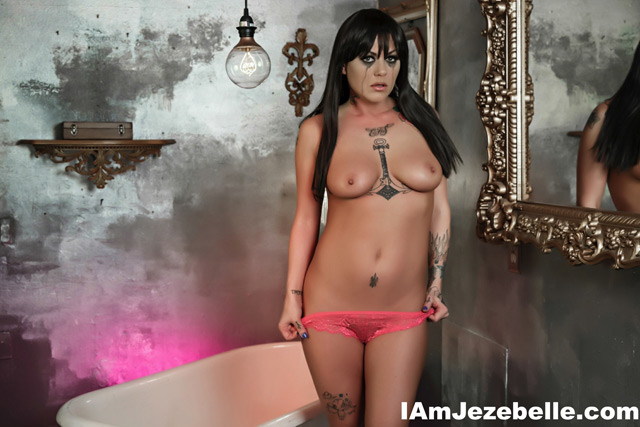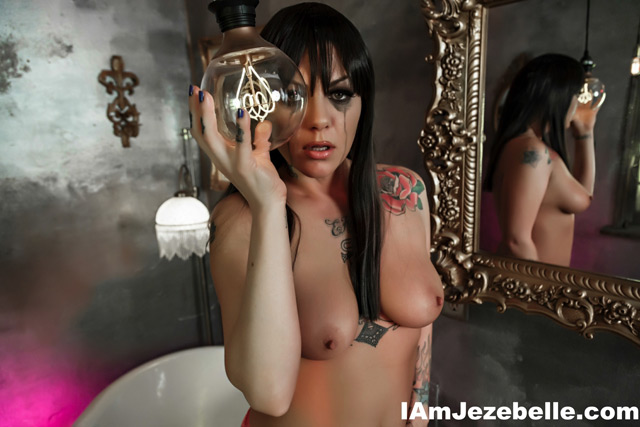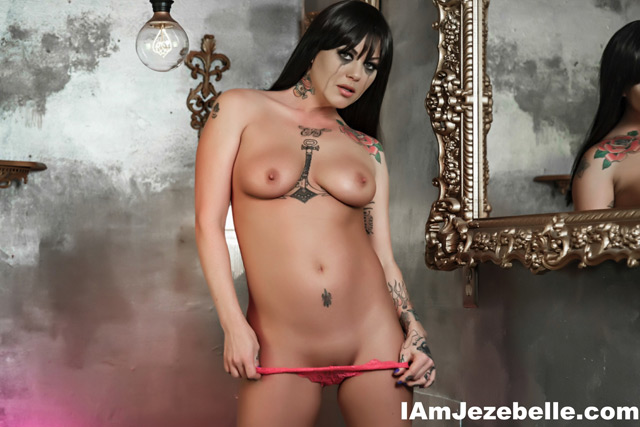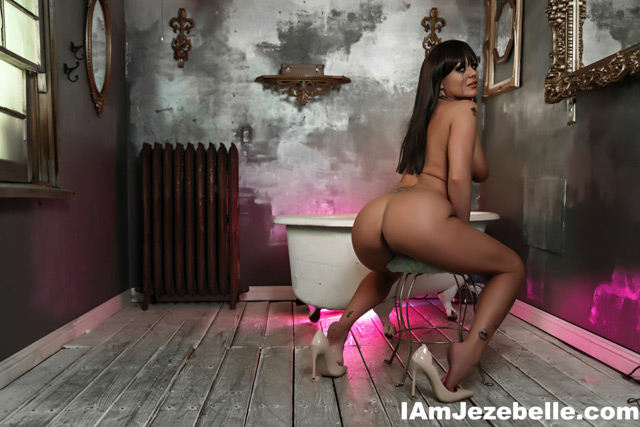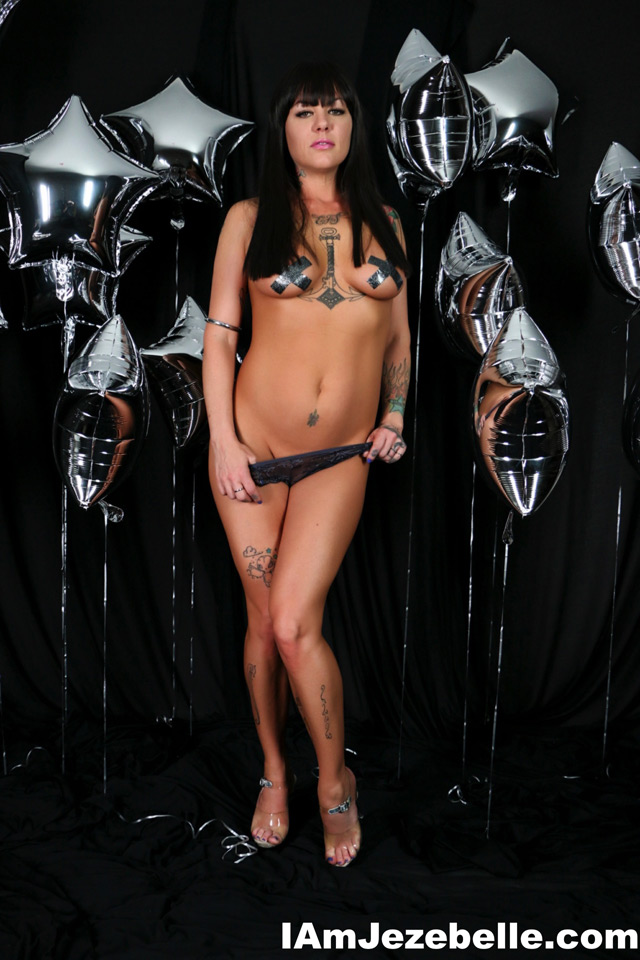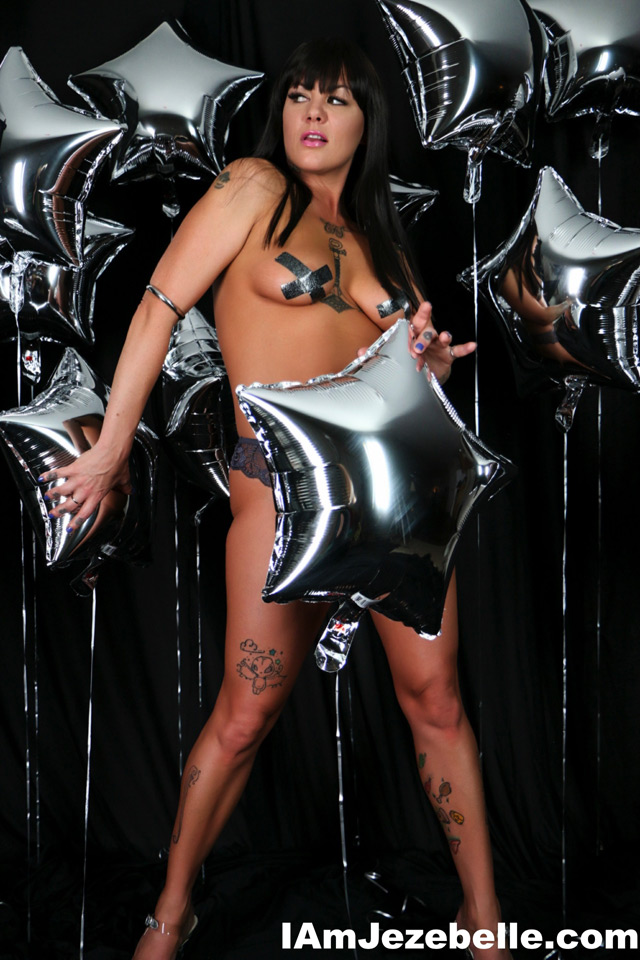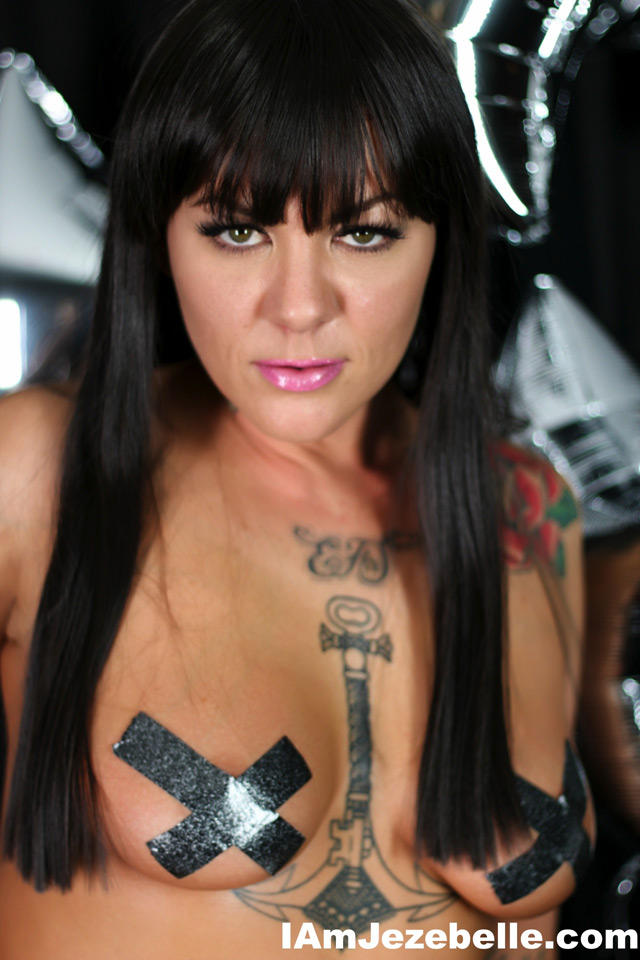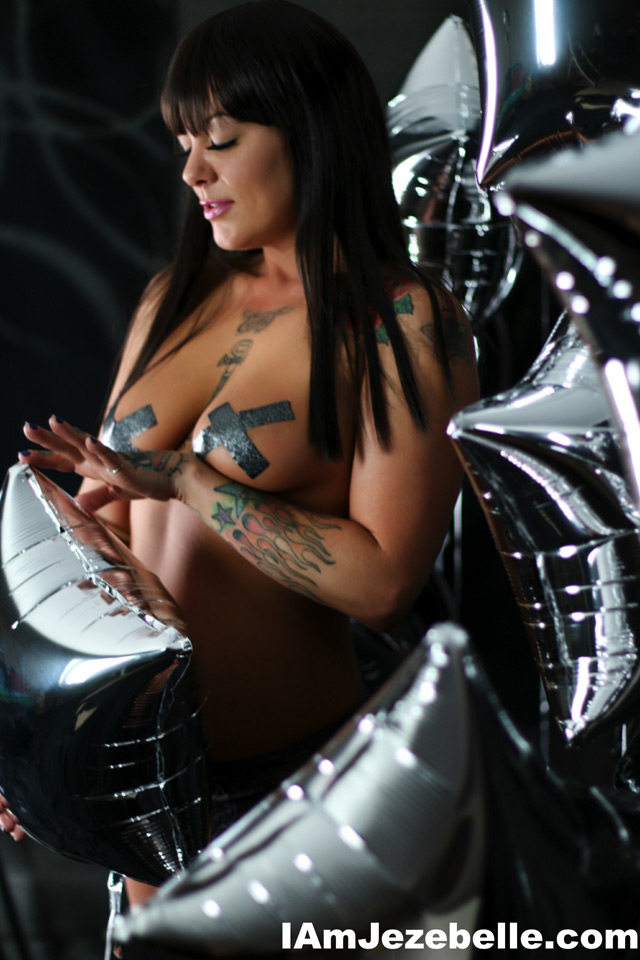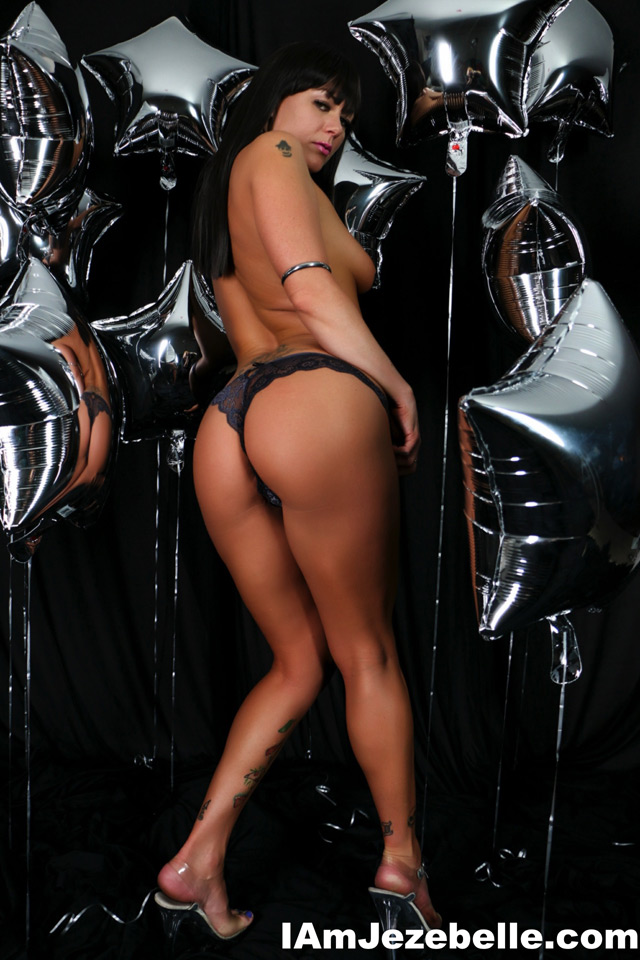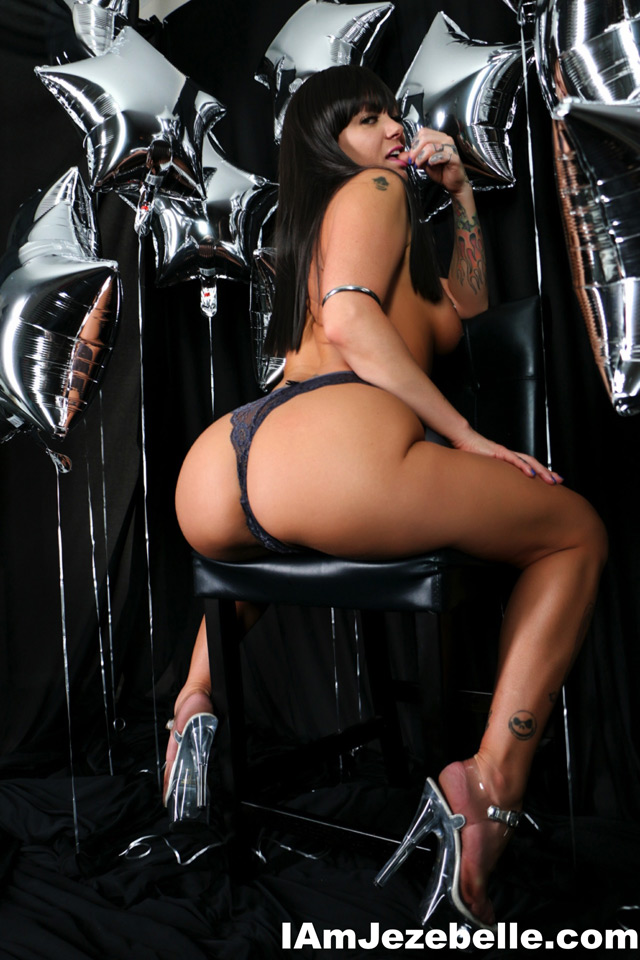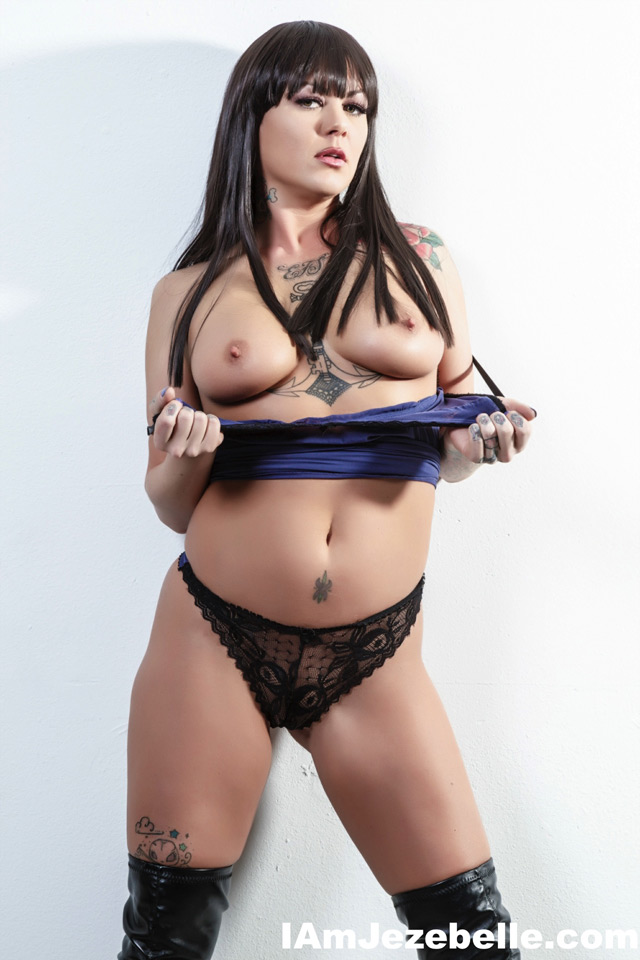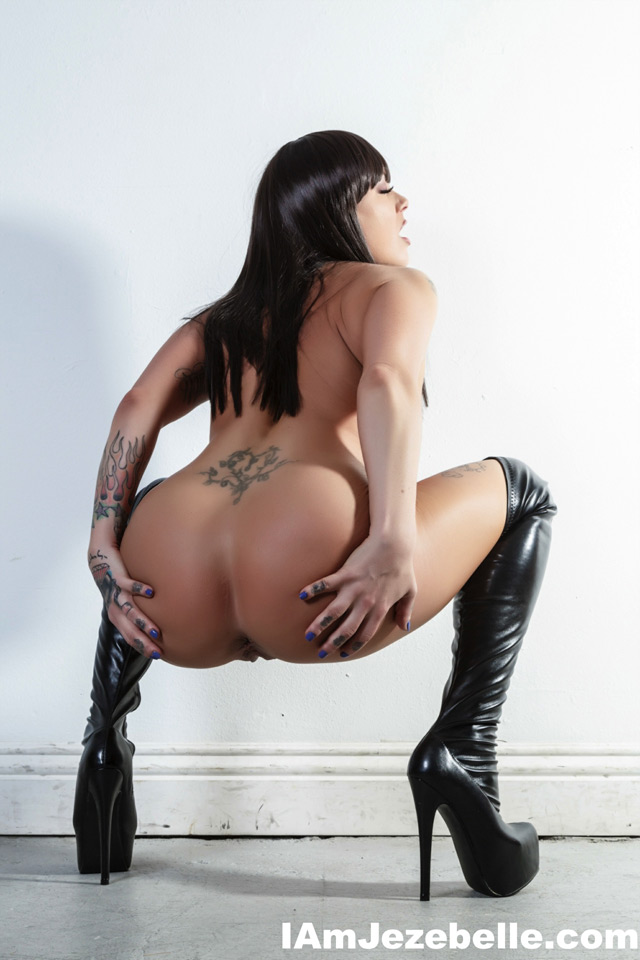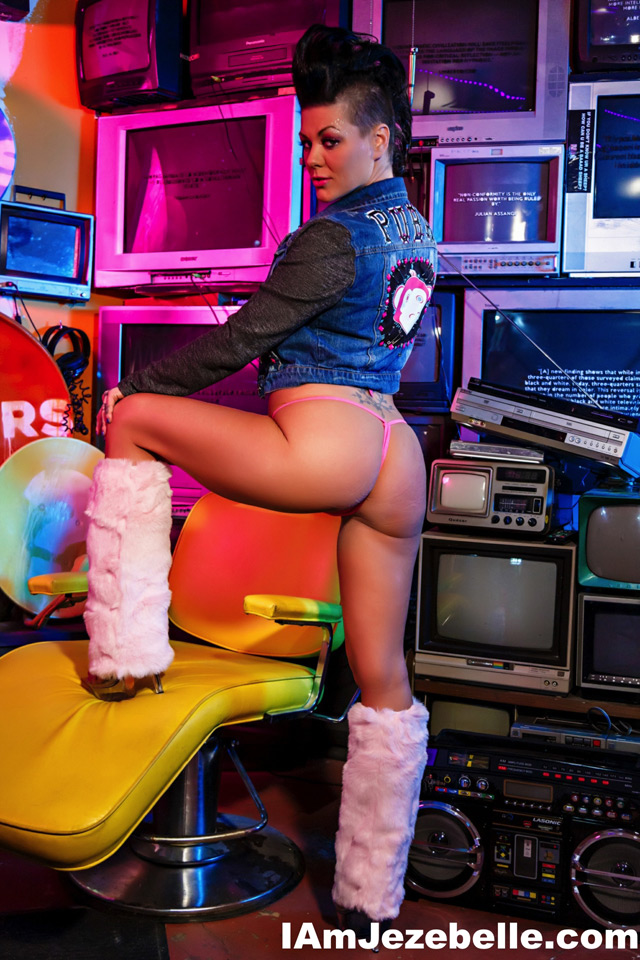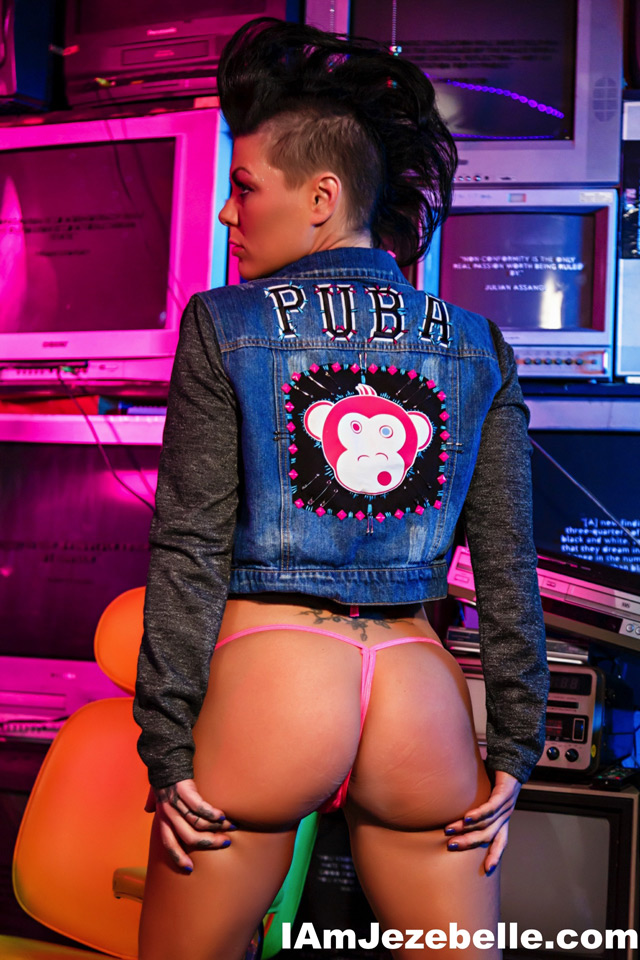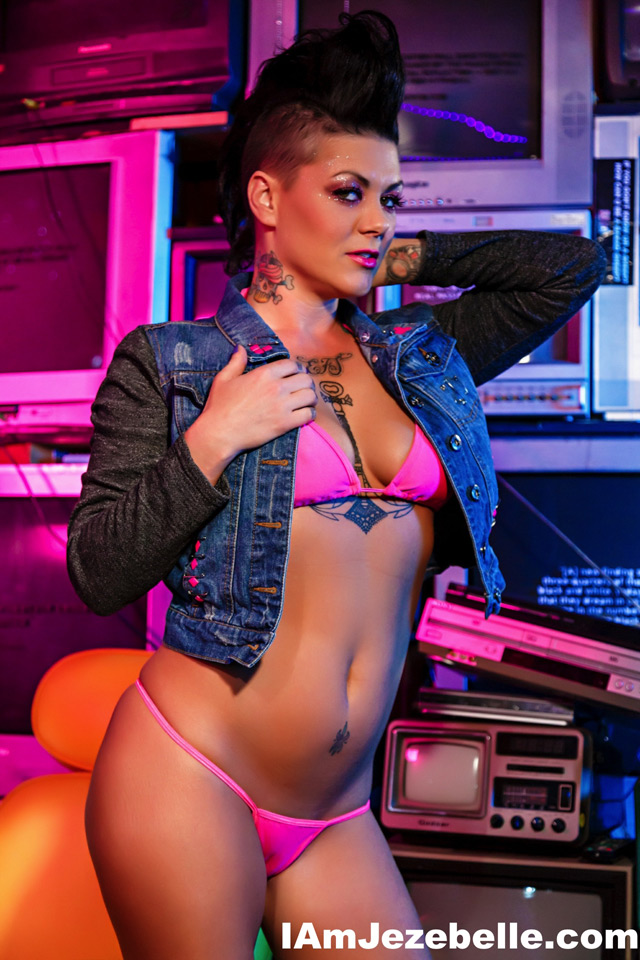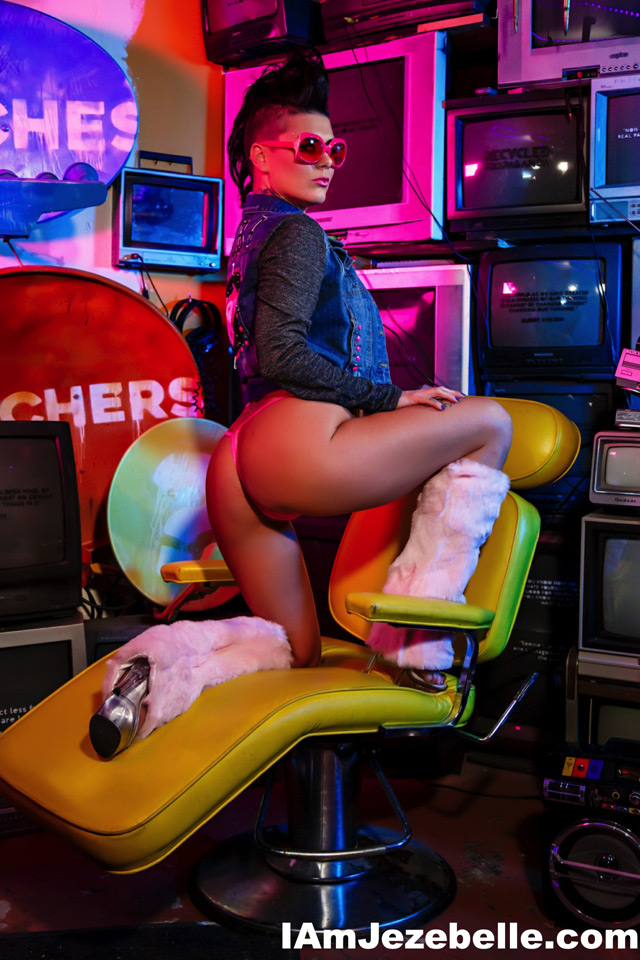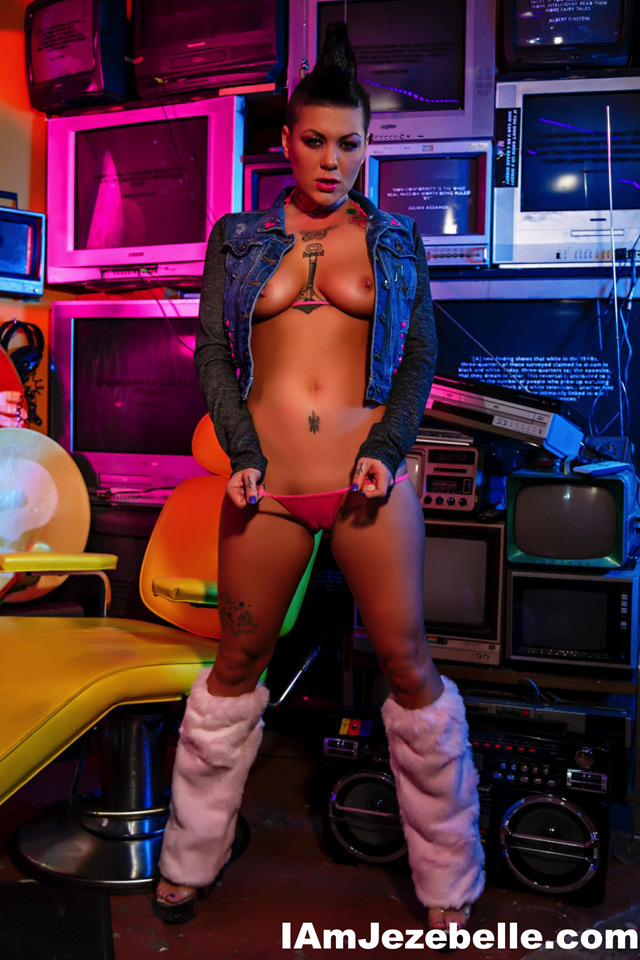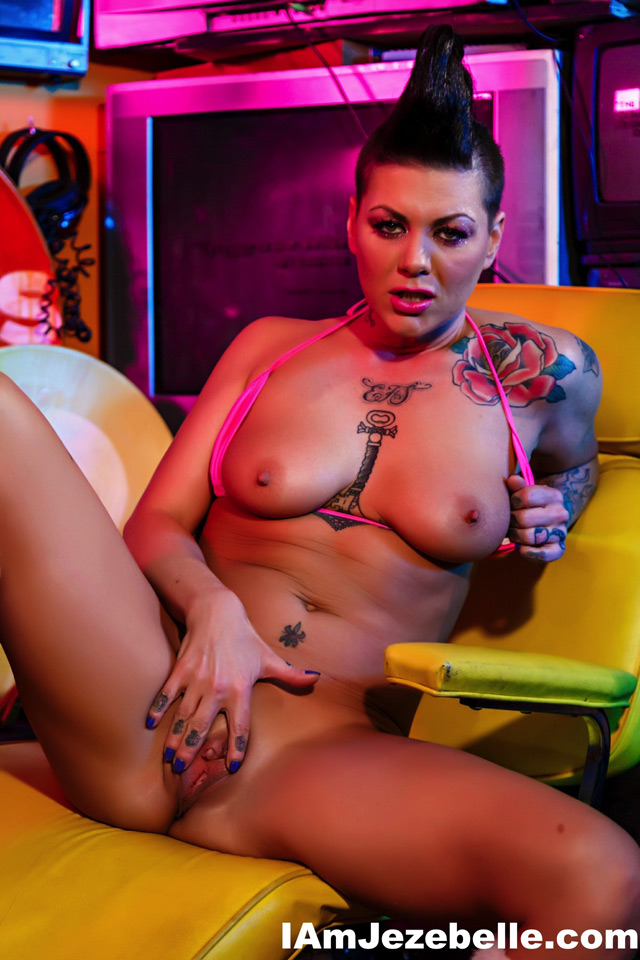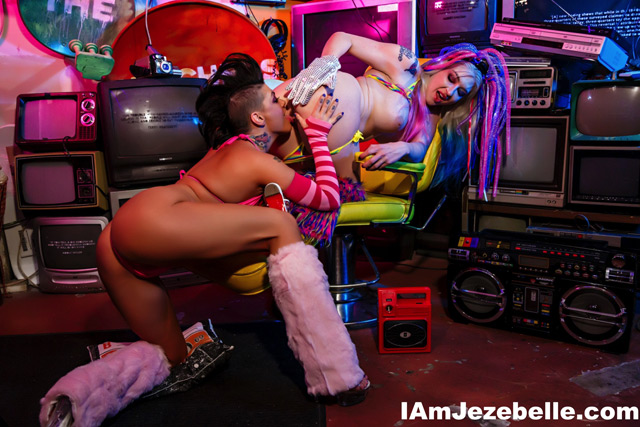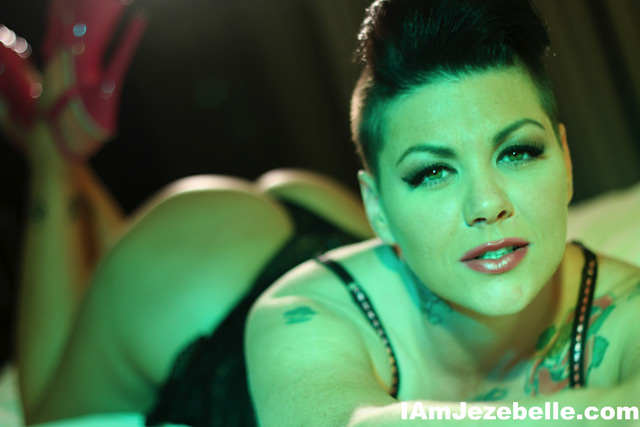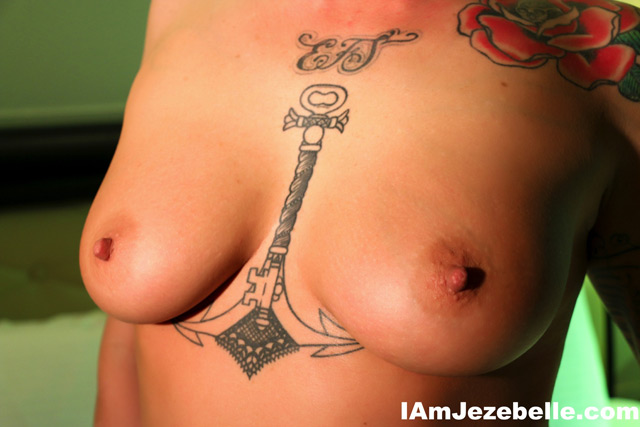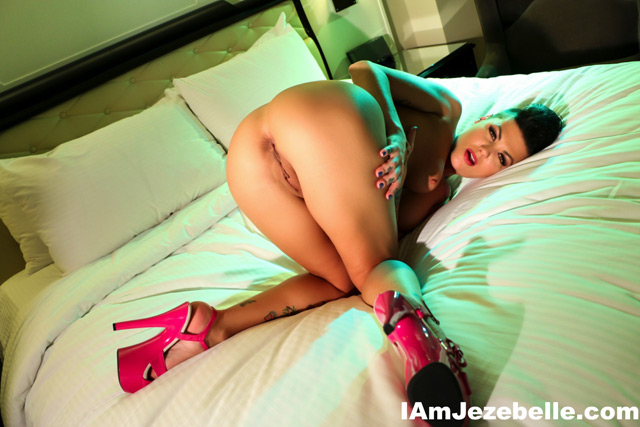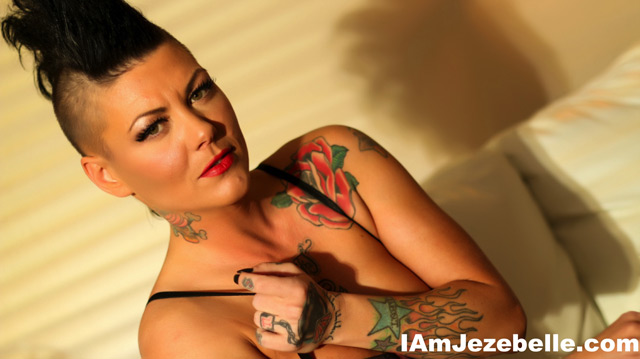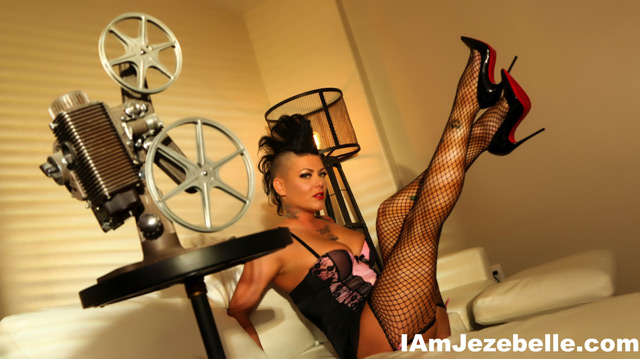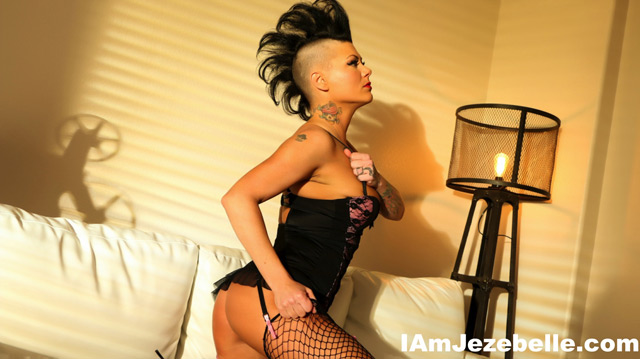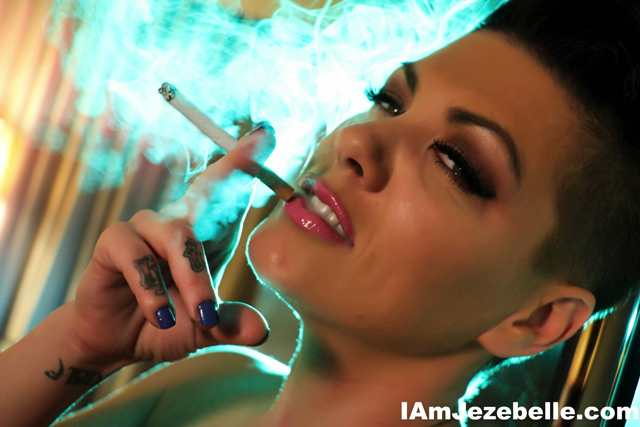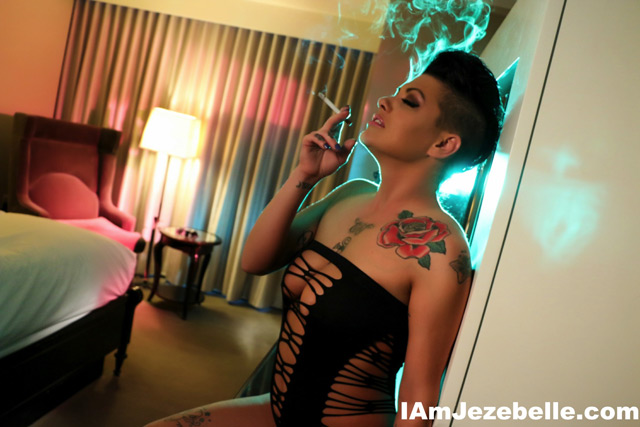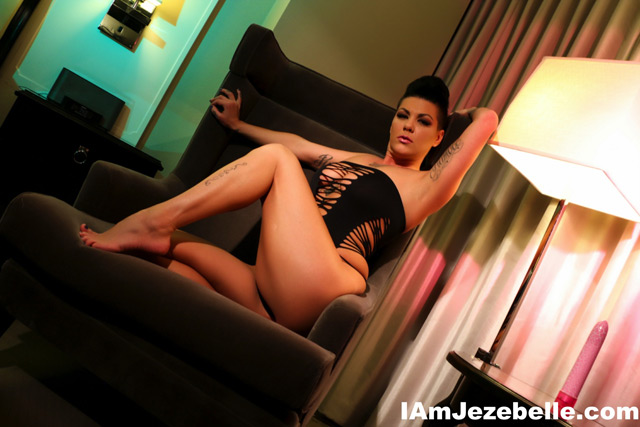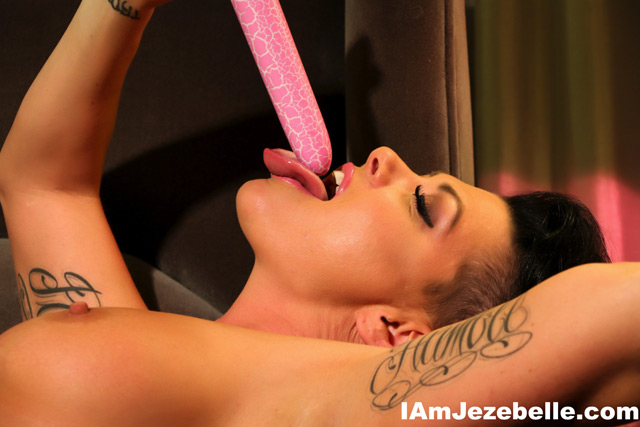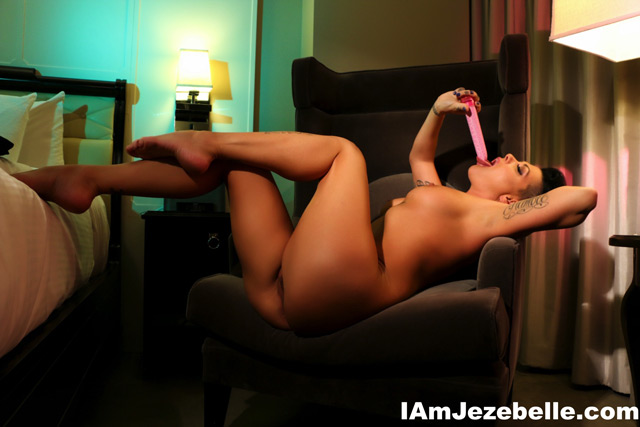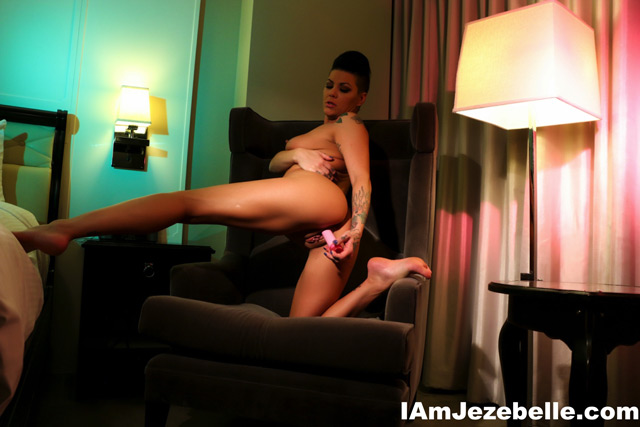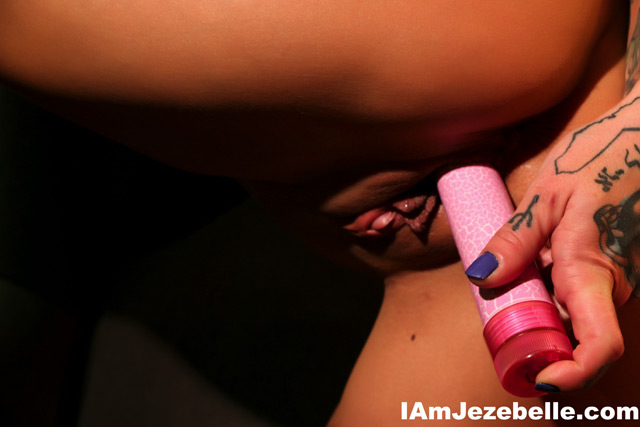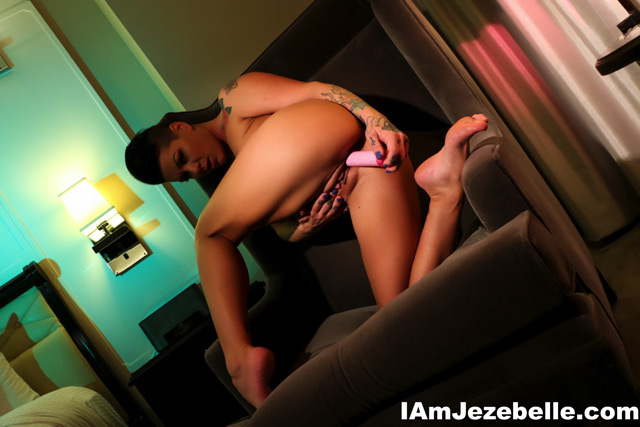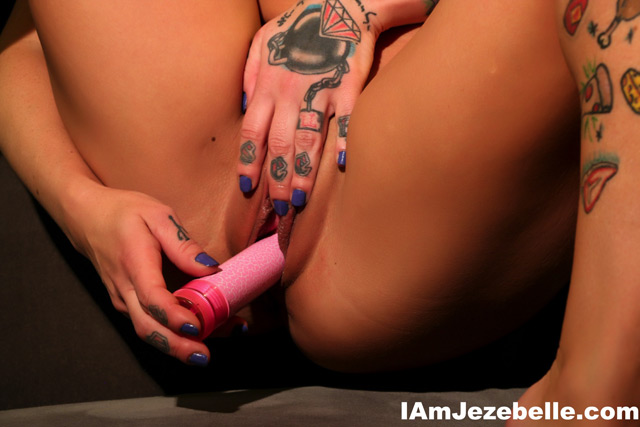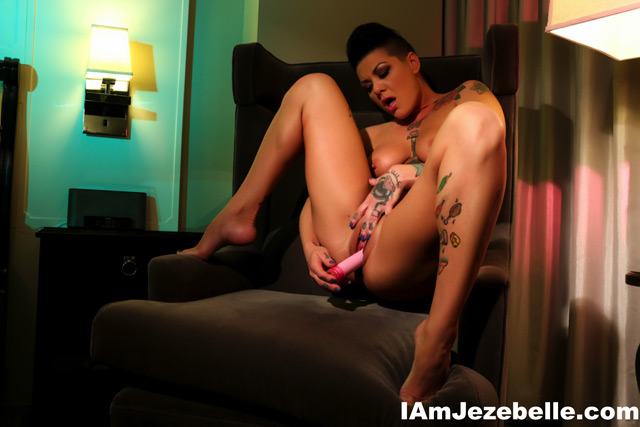 Check out these free streaming video clips from Jezebelle Bond's new site with Puba.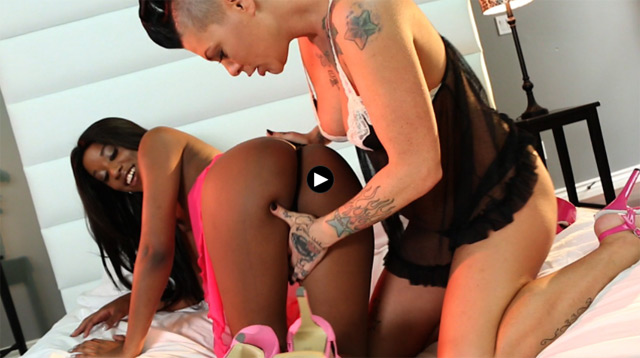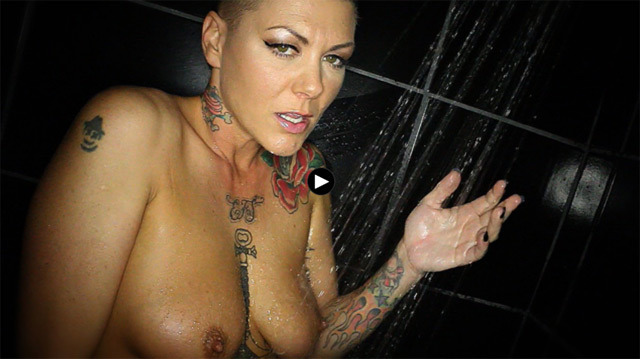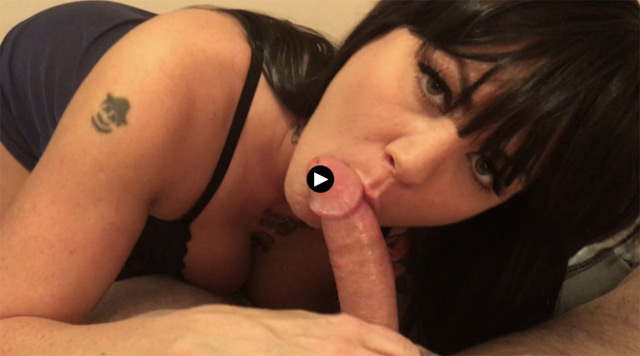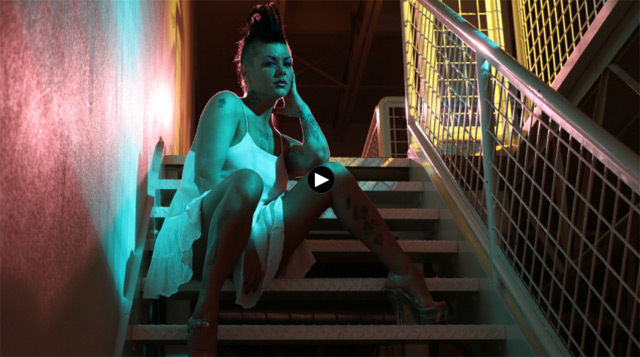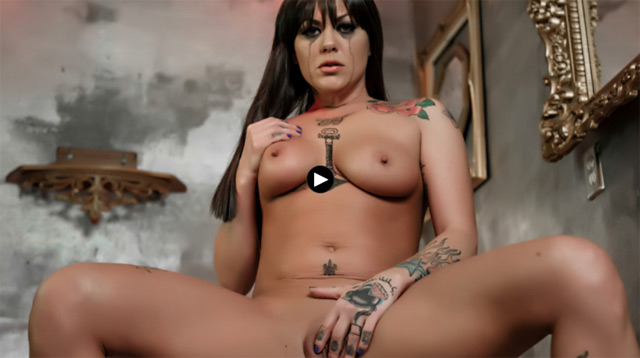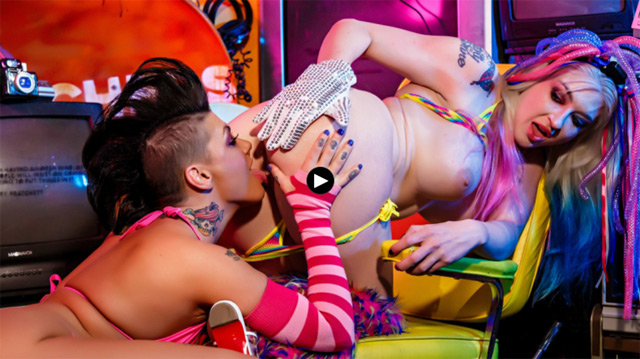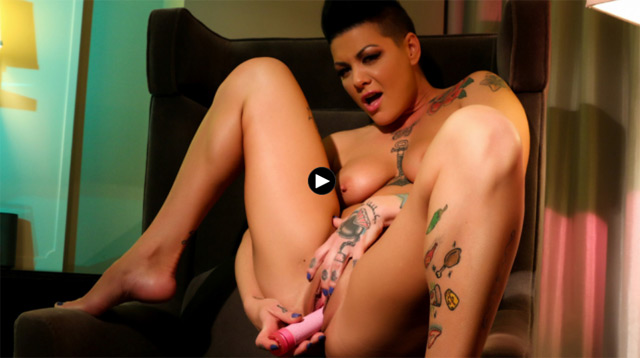 Visit Jezebelle Bond's Official Site for all of the original punk pornstar's hot new videos & photos!  Join to get full access to the entire Puba network with over 40+ official sites including the new sites of Olivia Austin, Keisha Grey, Brooklyn Chase, Marica Hase and official sites of Leya Falcon, Romi Rain, Dahlia Sky, Christy Mack, Mason Moore, Nicole Aniston, Skin Diamond, Rachel Roxxx, Nikita Von James, Abigail Mac, Elsa Jean, Dava Foxx, Mia Lelani, Alison Tyler, Brett Rossi, Kirsten Price, Lola Foxx, Asa Akira, Samantha Saint, Vanessa Cage, Dani Daniels, Kendall Karson, Victoria White, Britney Amber, Charley Chase, Jayden Jaymes, Natasha Nice, Shyla Stylez, London Keyes, Capri Cavanni & more!  Enjoy weekly updates & full mobile capabilities.  Get your pass to the newest Puba girl & see more inside Jezebelle Bond's official site!

Continue reading in the Pornstars category or return to the cover of Porn Corporation magazine.
See more from Puba – Punk Porn – Jezebelle Bond – Porn News or New Porn Sites.
Previous Puba Sites to Debut: Pornstar Olivia Austin Launches Official Website
Keisha Grey – Brooklyn Chase – Summer Brielle – Marica Hase – Alix Lynx – Daisy Monroe
More New Sites: Spy Fam – Lex Nai – Bliss Dulce – Ainslee Divine – BAEBZ – Real Teens VR
Bad MILFs – Briana Lee – Dad Crush – ShopLyfter – HOLED – Daughter Swap – Sis Loves Me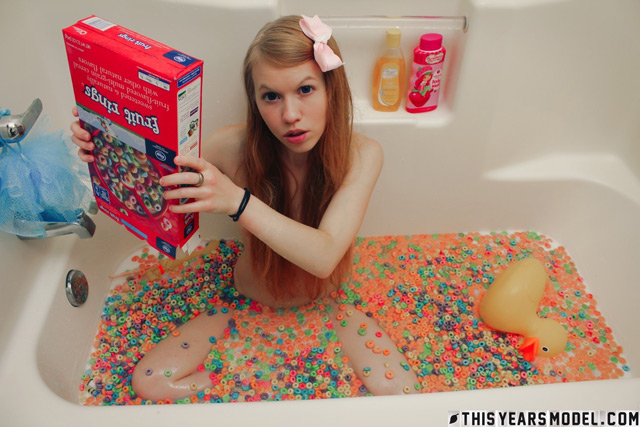 Petite redhead teen Dolly Little is a real little doll.  This artistic nude photo shoot consists of Dolly showing off her tight shaved pink pussy and nubile peach nipples in a bath of milk while wearing a pink bow in her hair.  Watch as she gets wet and messy pouring Fruit Rings cereal and swimming in her breakfast…  Bon Appétit!  See the full set & more artistic nudes of Dolly Little inside TYM.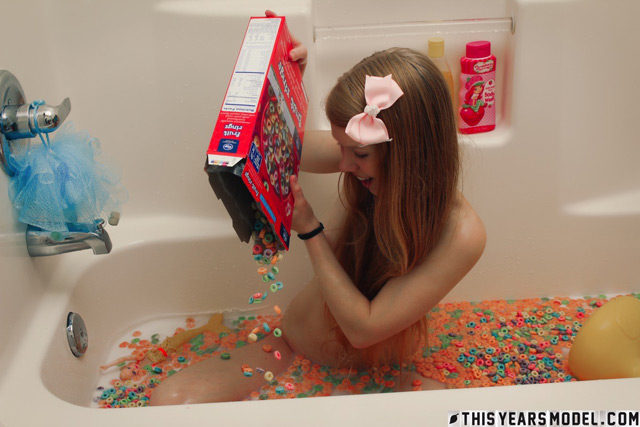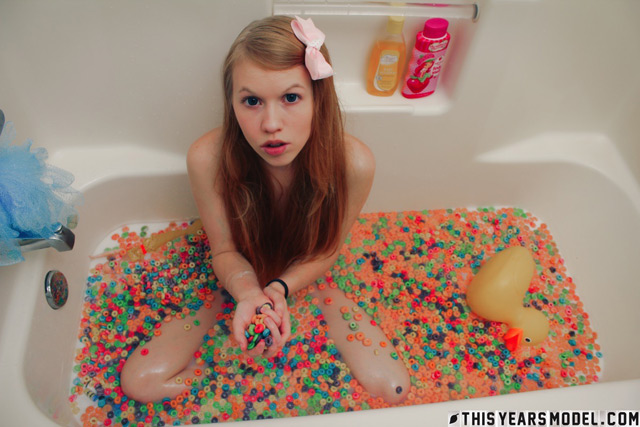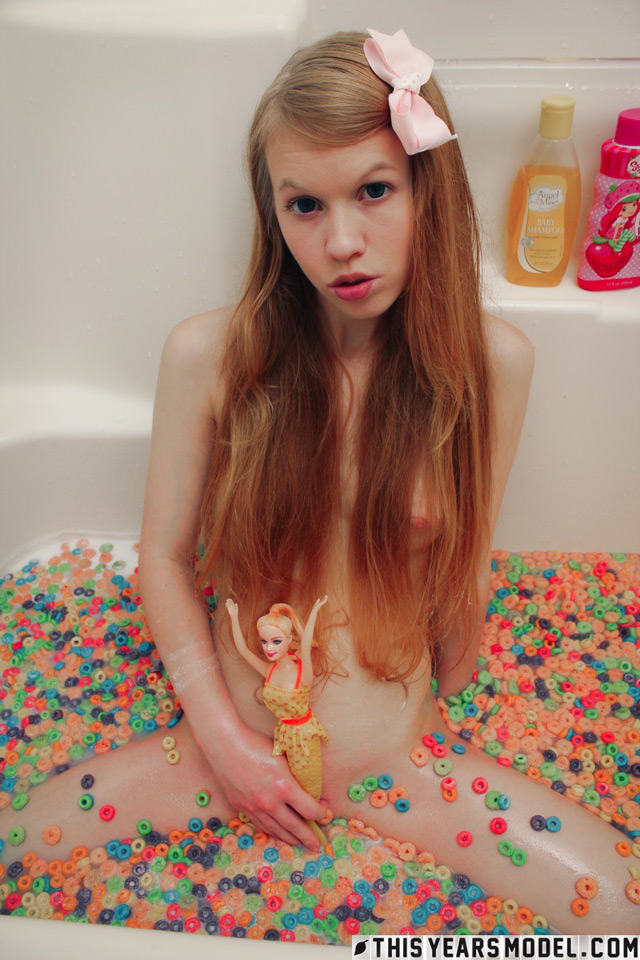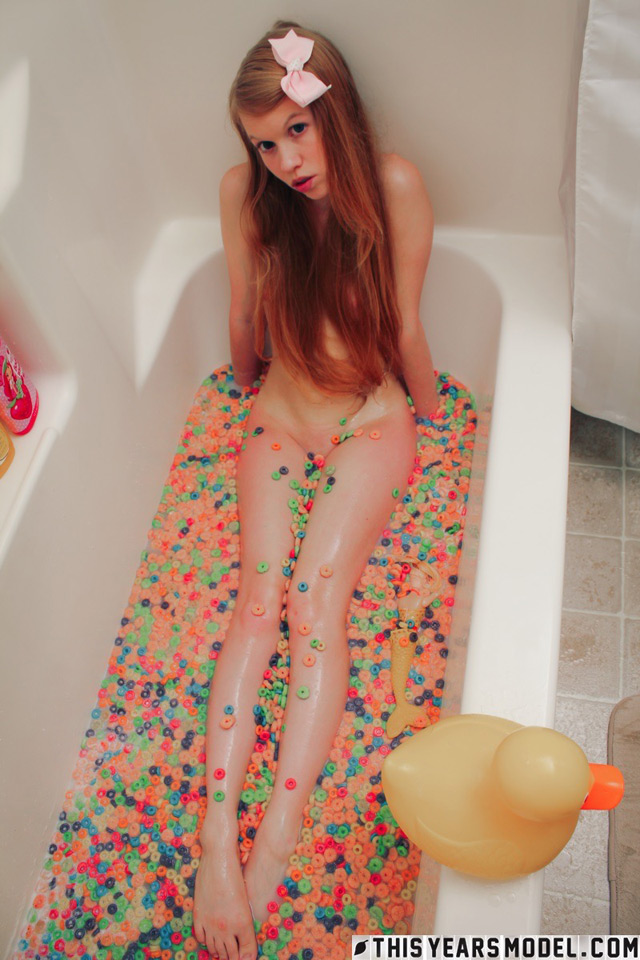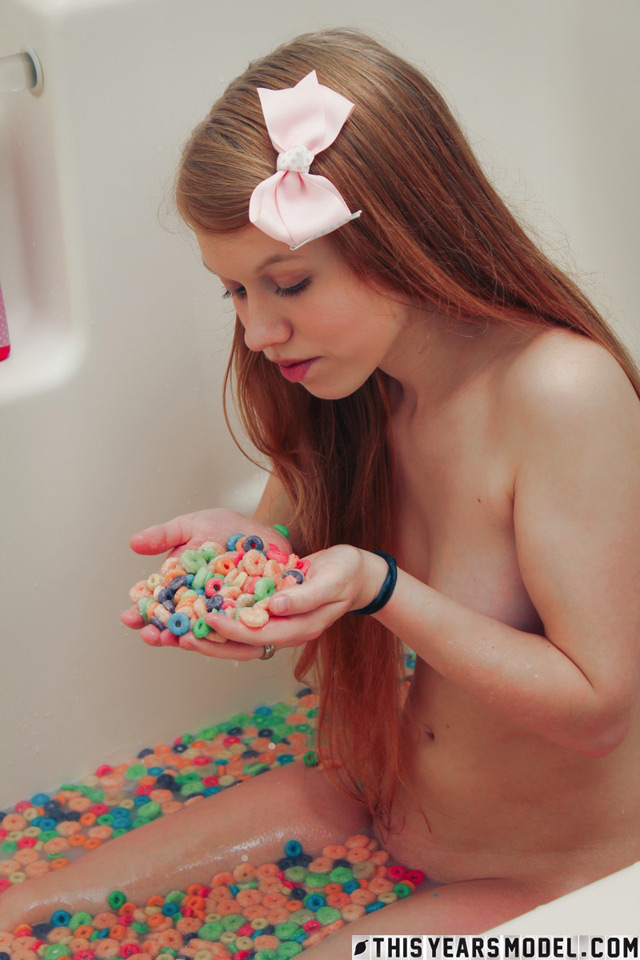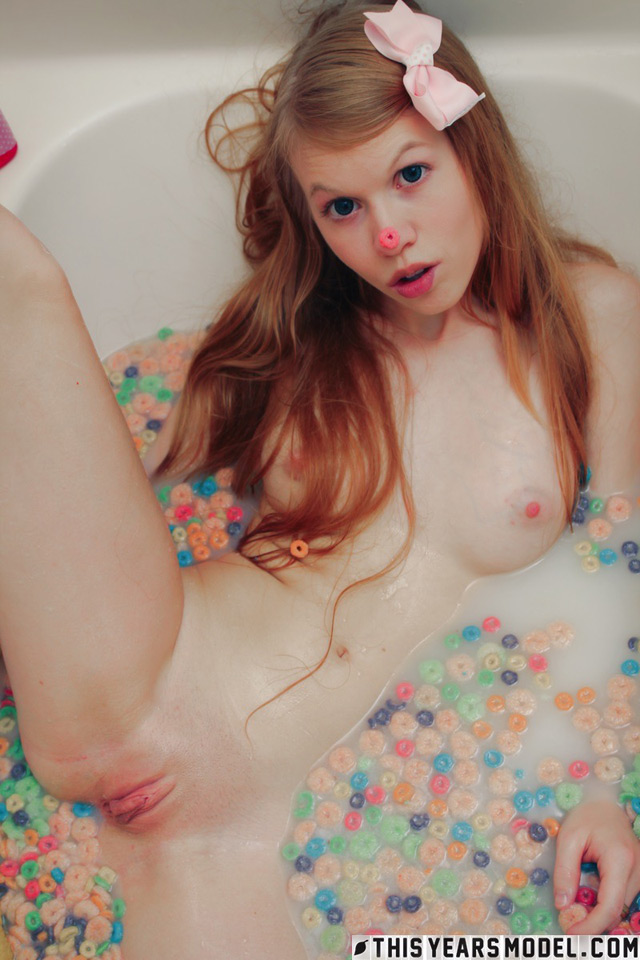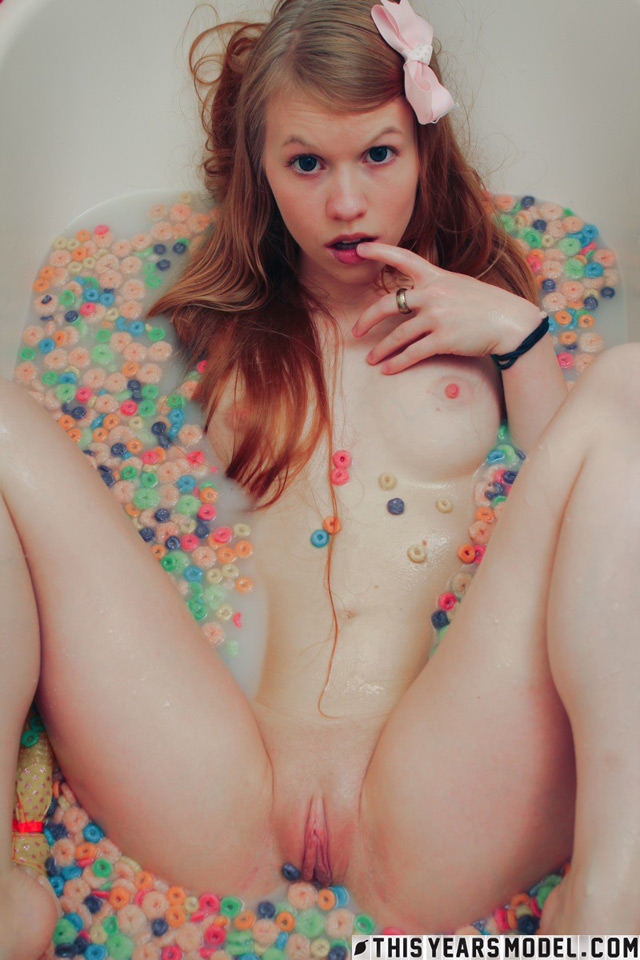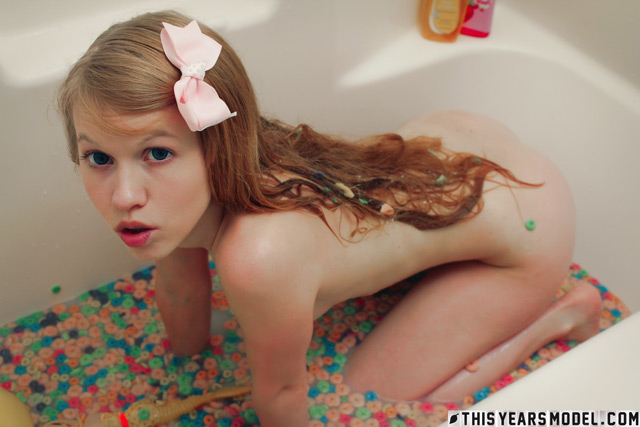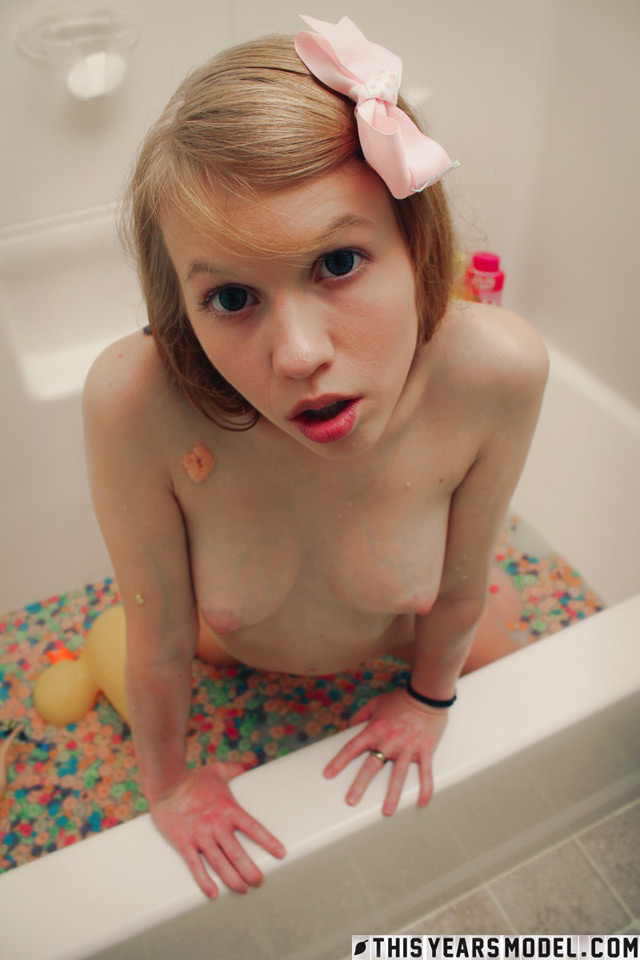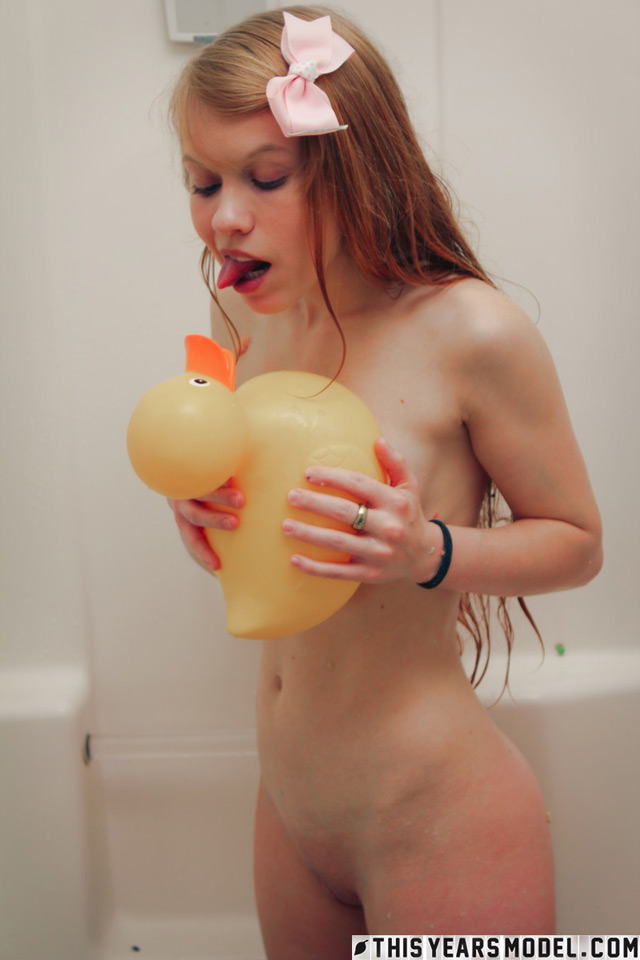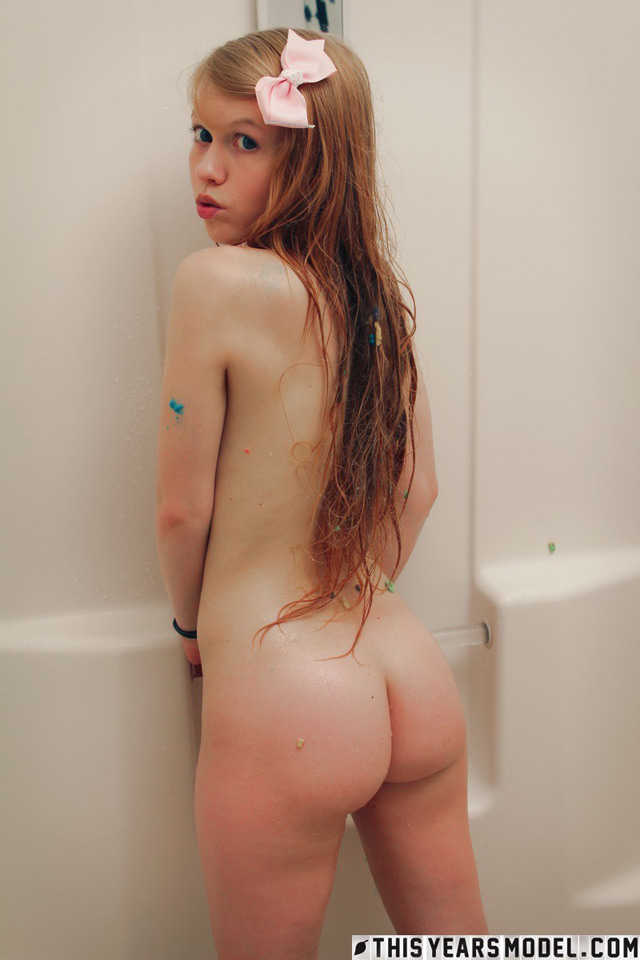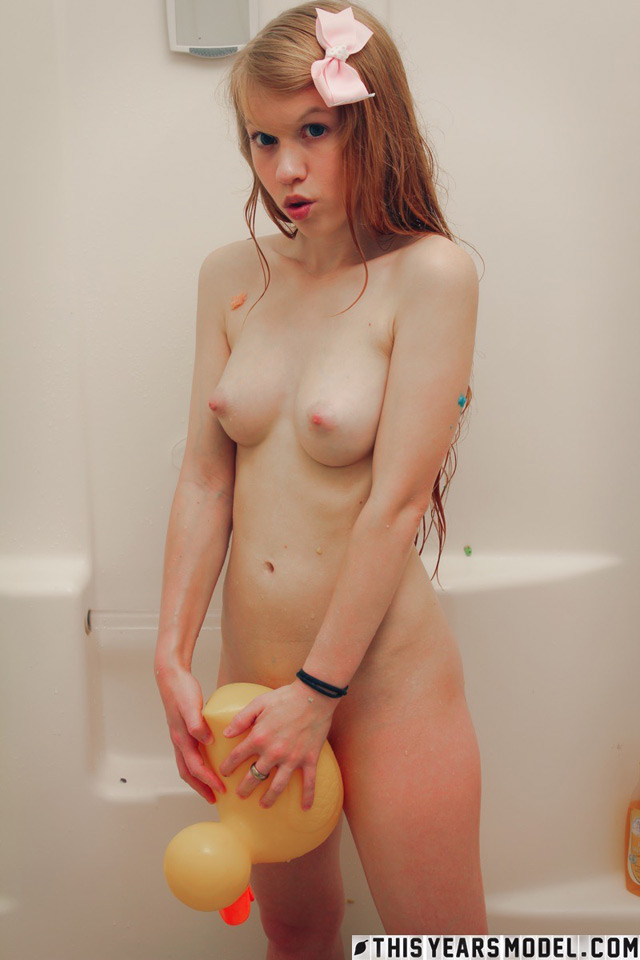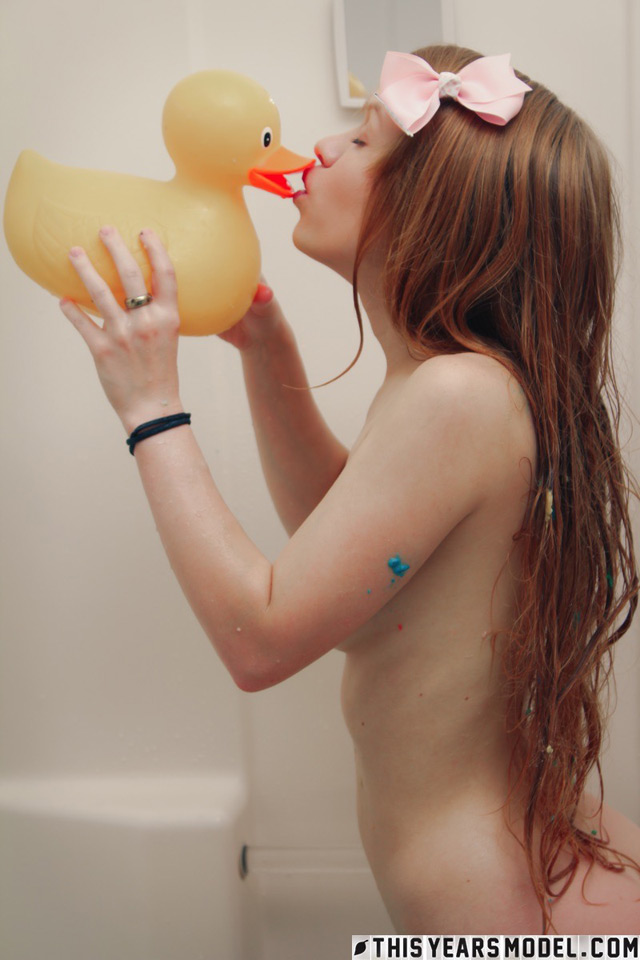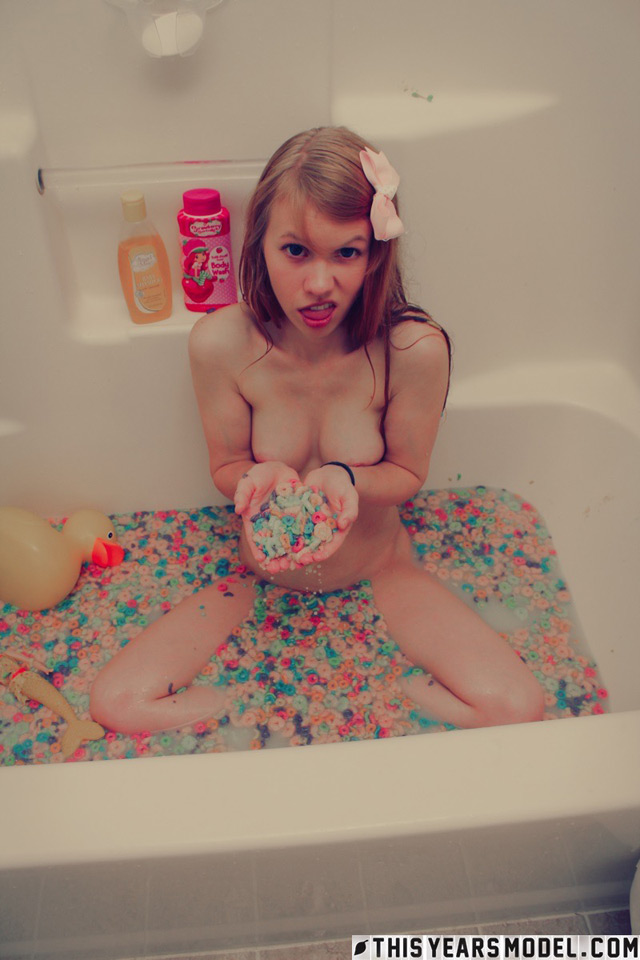 Get up close and personal with Dolly Little in this WAM fetish shoot and become the rubber ducky in Dolly's milk & cereal bath when you get a pass to This Years Model.

See more in the Redheads or Wet And Messy category or return to the cover of Porn Corporation.
View more articles starring Dolly Little or top new erotic nude teen site This Years Model.
Top related This Years Model article:  Petite Teen Dolly Little Has A Magic Crayon
Similar articles:  Girl Next Door Lily Eats Cereal Nude In Milk Bath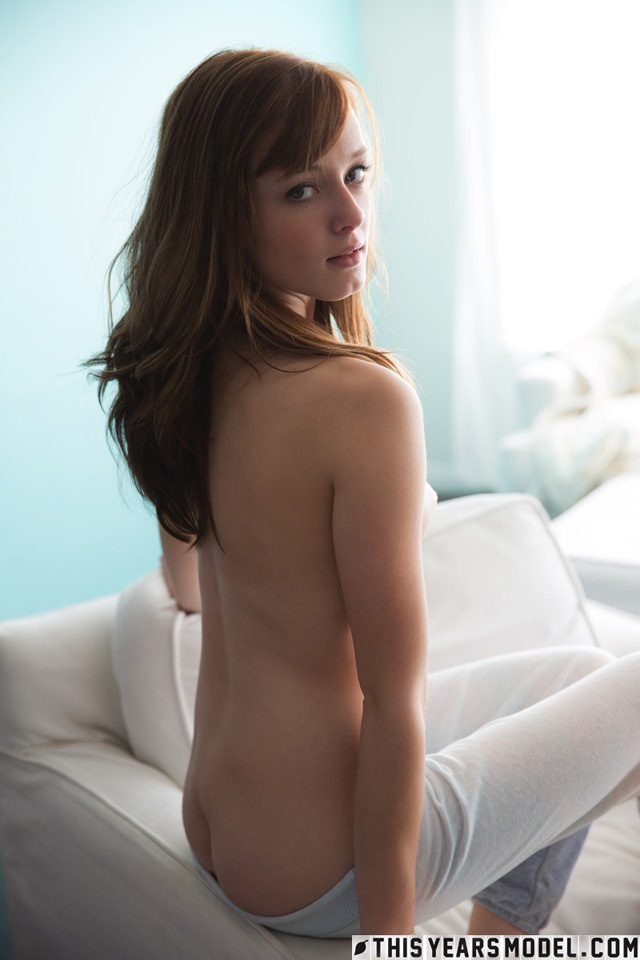 New redhead teen model Ellie Jane gets naked and shows off her perfect pert body inside This Years Model.  Do you want to see more of this fresh all natural sexy teen girl Ellie Jane?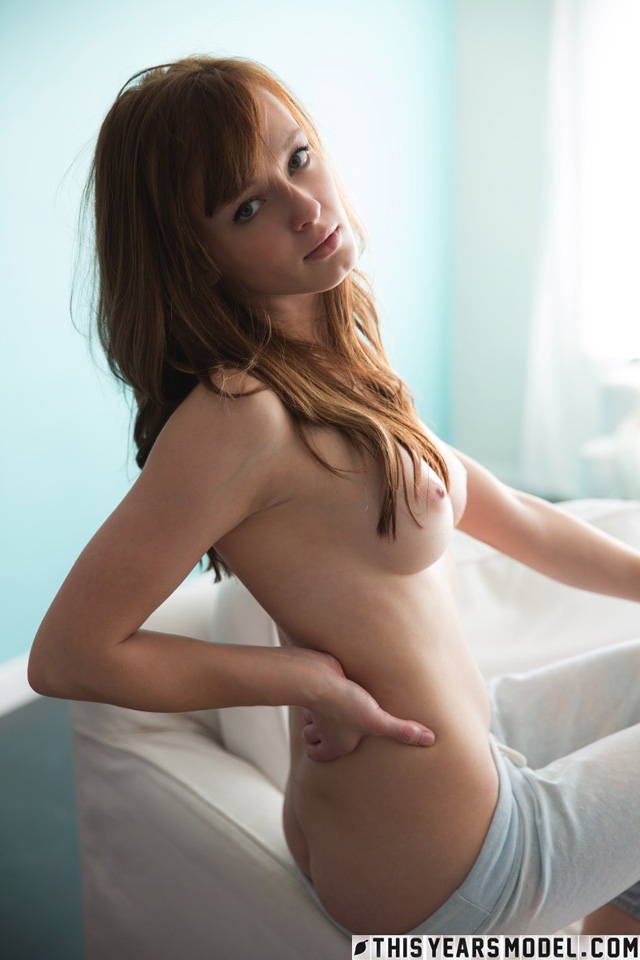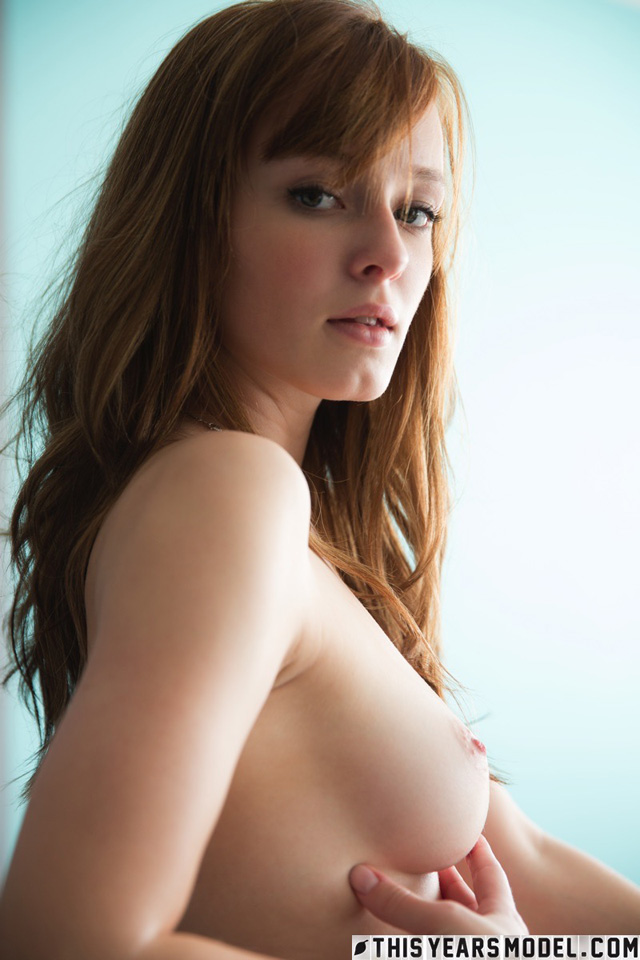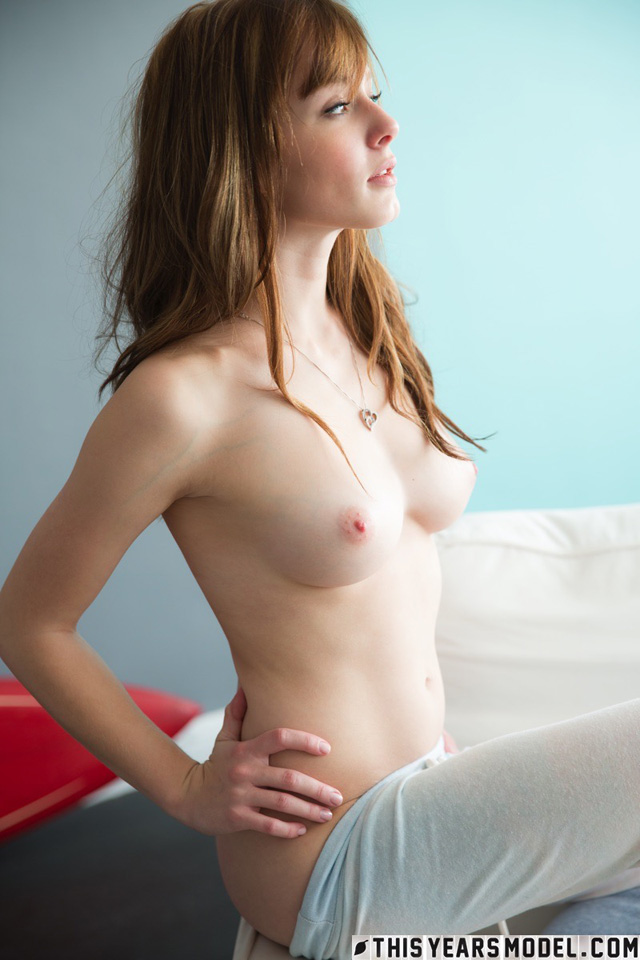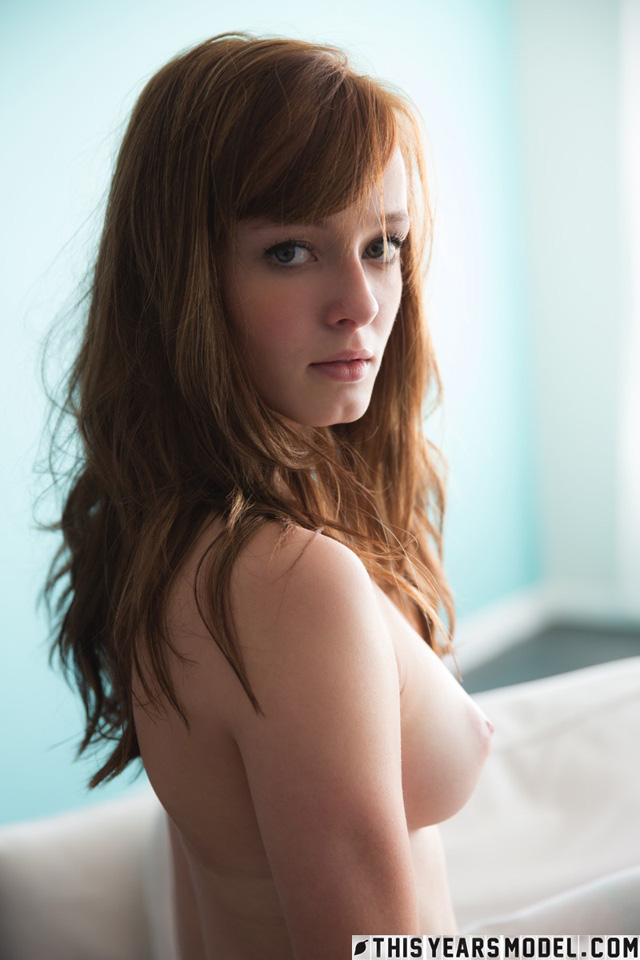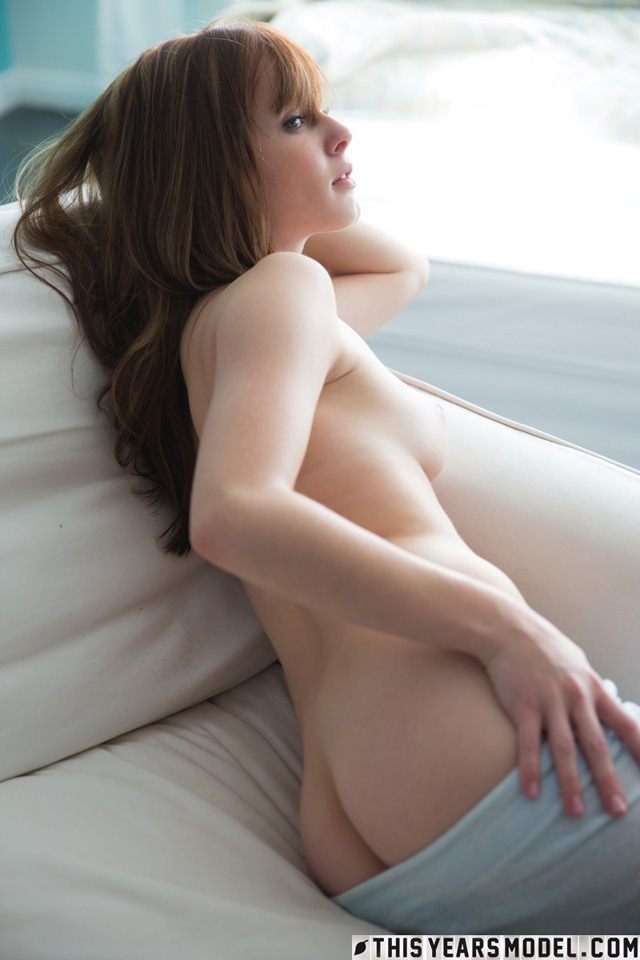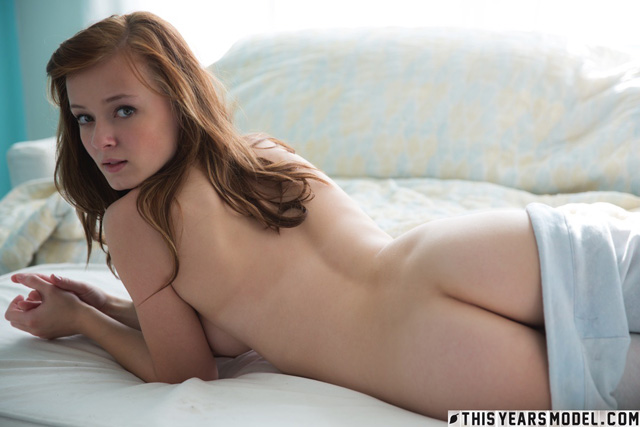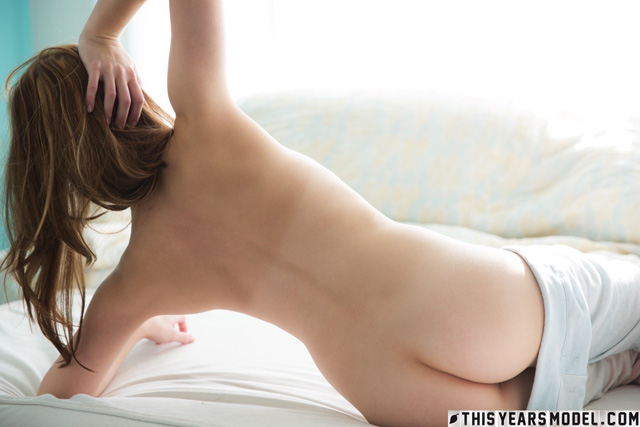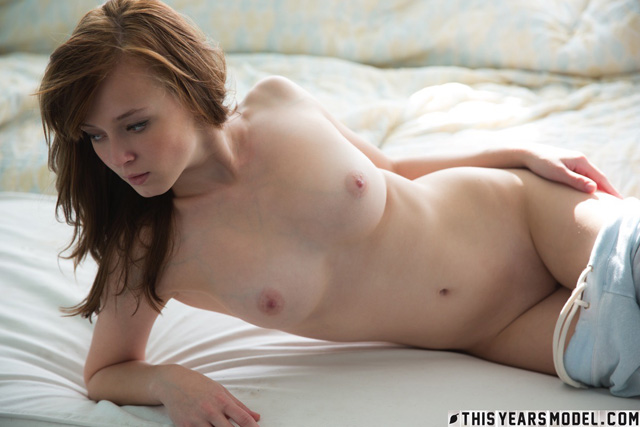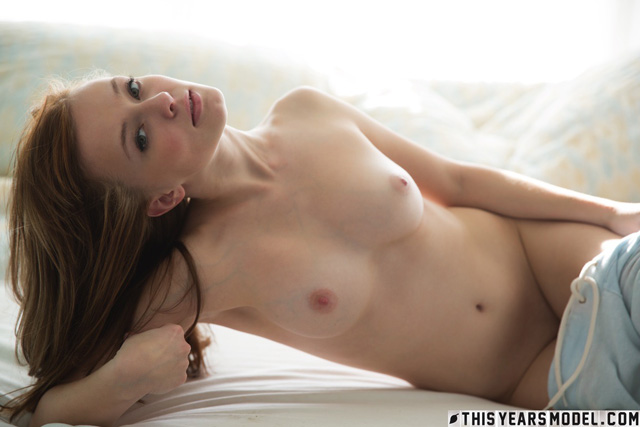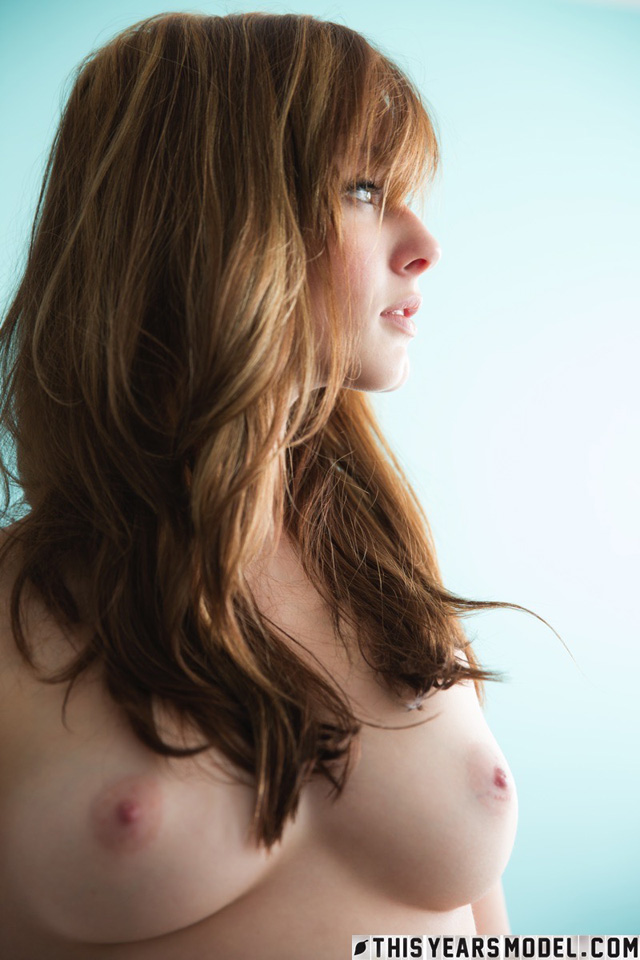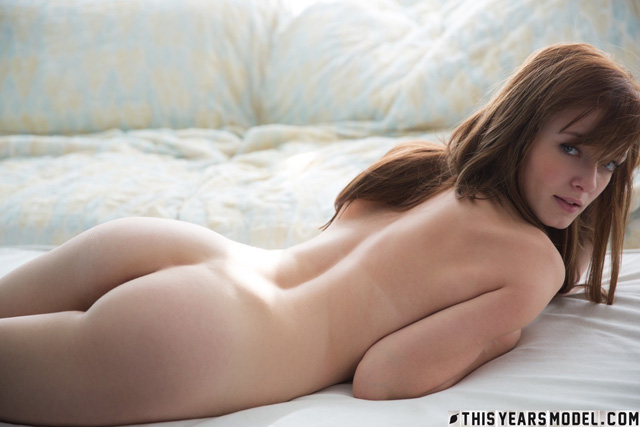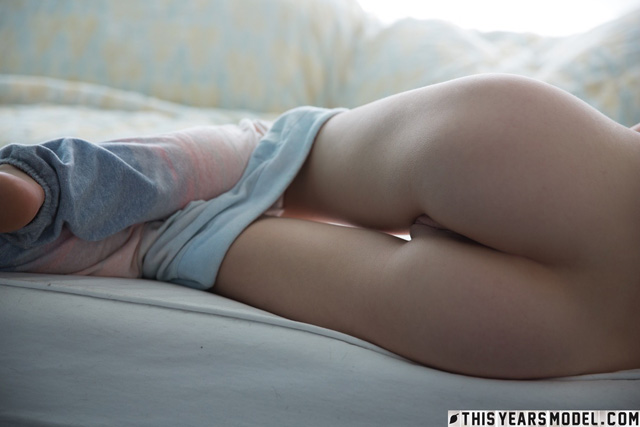 See more of fresh new all natural redhead teen model Ellie Jane getting naked inside This Years Model.  Are you ready for all of this cute new girl?

Continue reading in the Redheads category or return to the cover of Porn Corporation magazine.
View more This Years Model.  Previous:  Cute Brunette Rylee Marks Cameltoe & Nice Tits
Top related This Years Model article:  Petite Teen Dolly Little Has A Magic Crayon
Check out the hottest new solo girl website:  Lex Nai Launches Brand New Official Site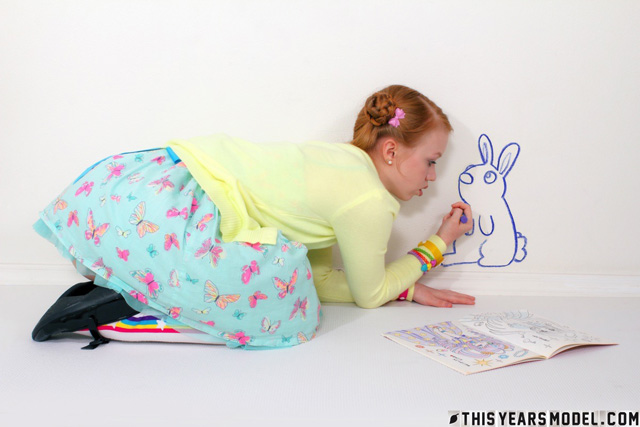 Petite natural redhead teen Dolly Little has a magic crayon in these fun nude pics.  Dolly draws art on the wall that comes to life including a sunny beach with sun tan lotion and icecream that drips down her sweet tight teen body, perky tits and shaved pussy!  Want to see more hot naked fresh teen girls in sexy photos & videos and get naked to play with Dolly Little?  Enter This Years Model!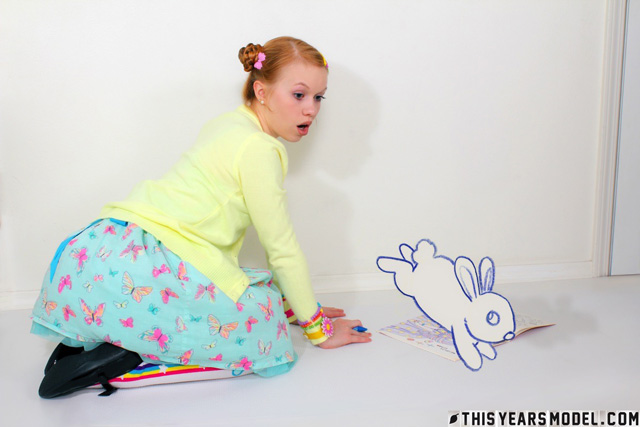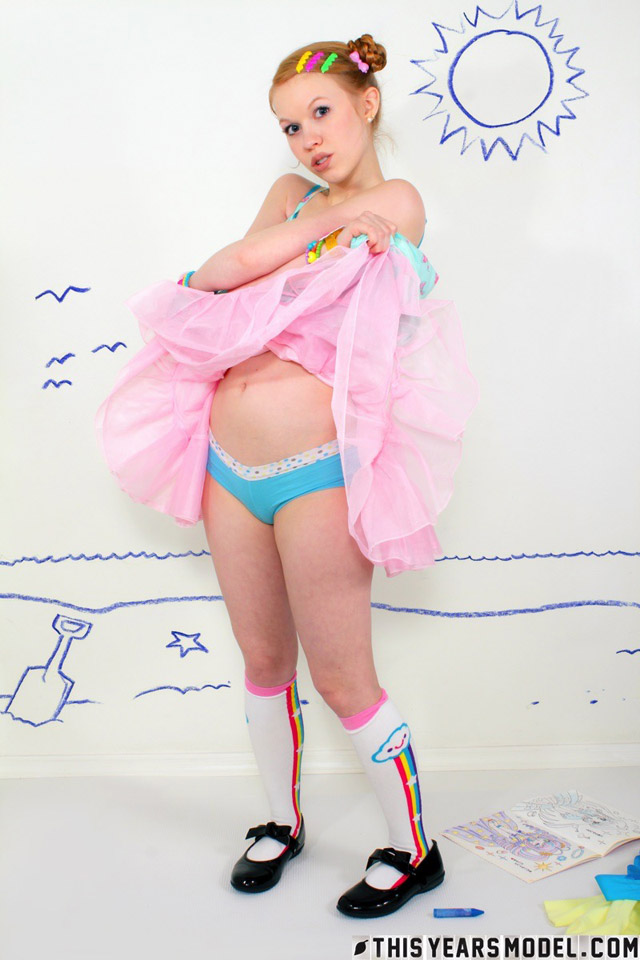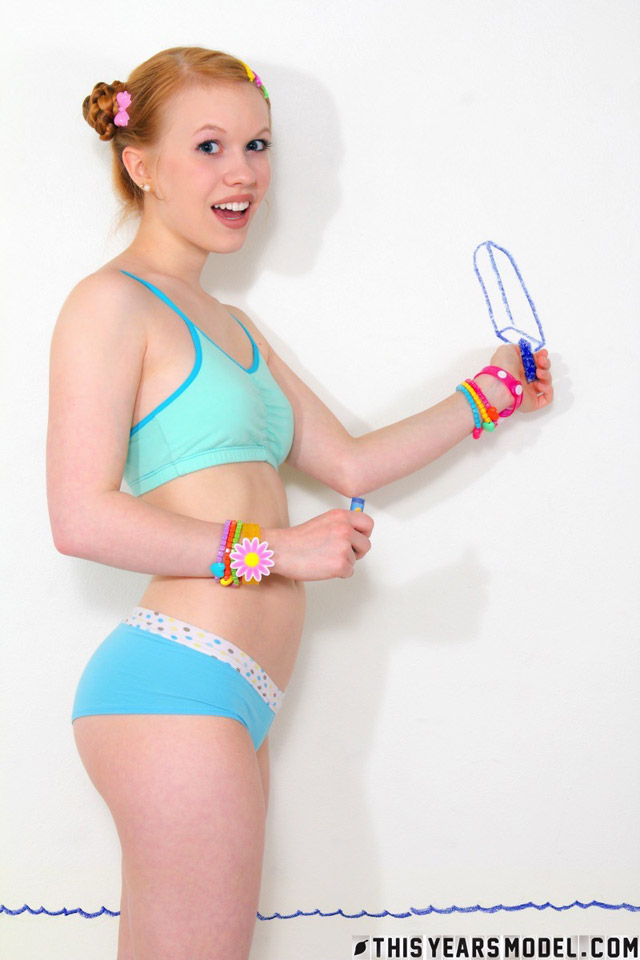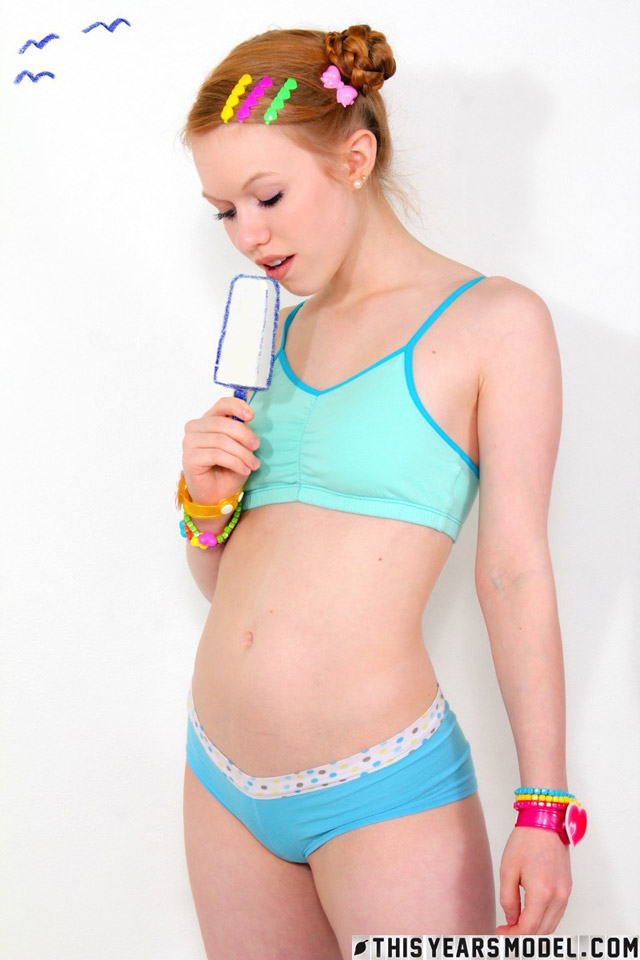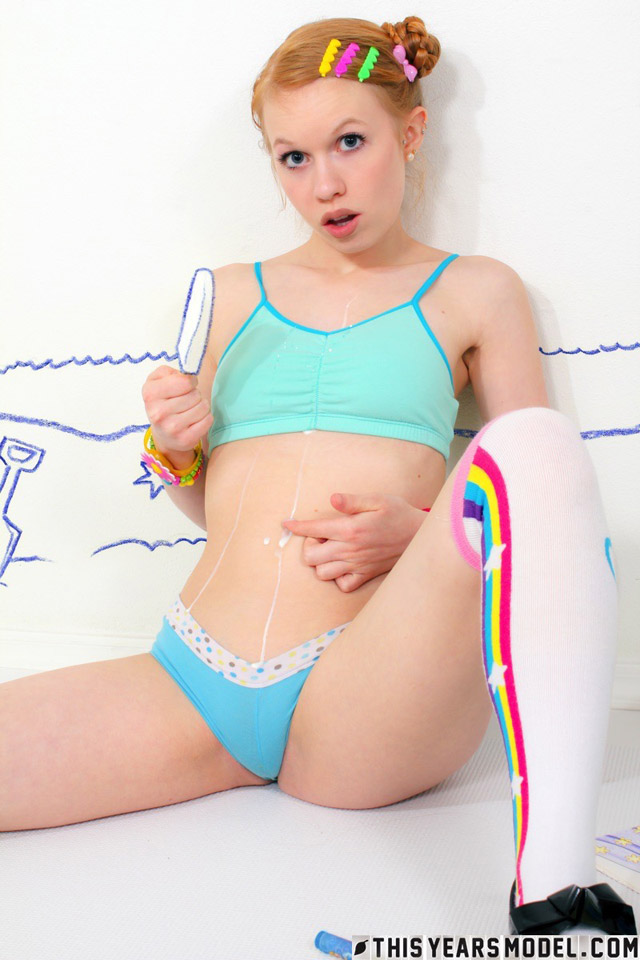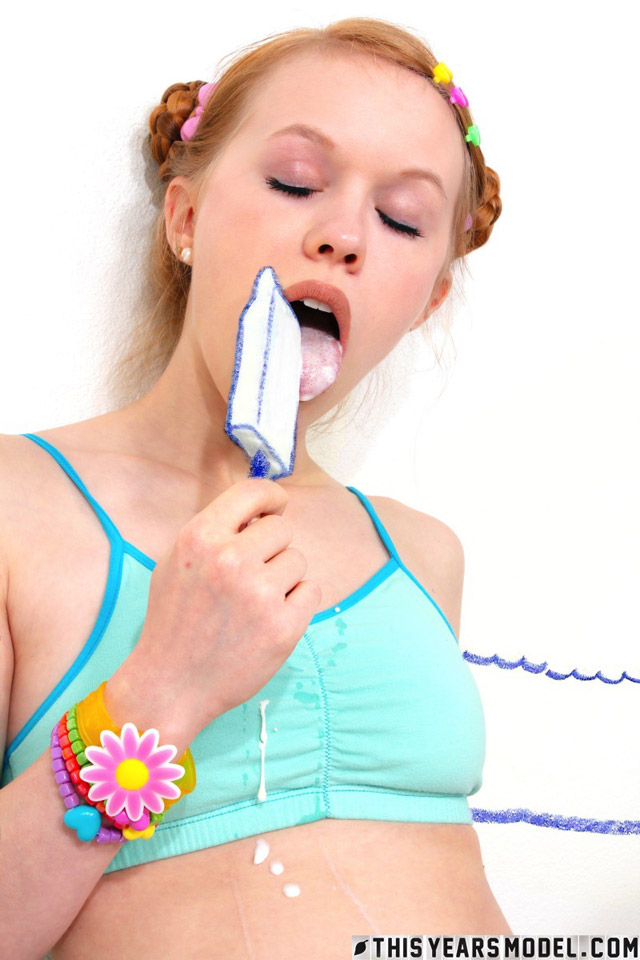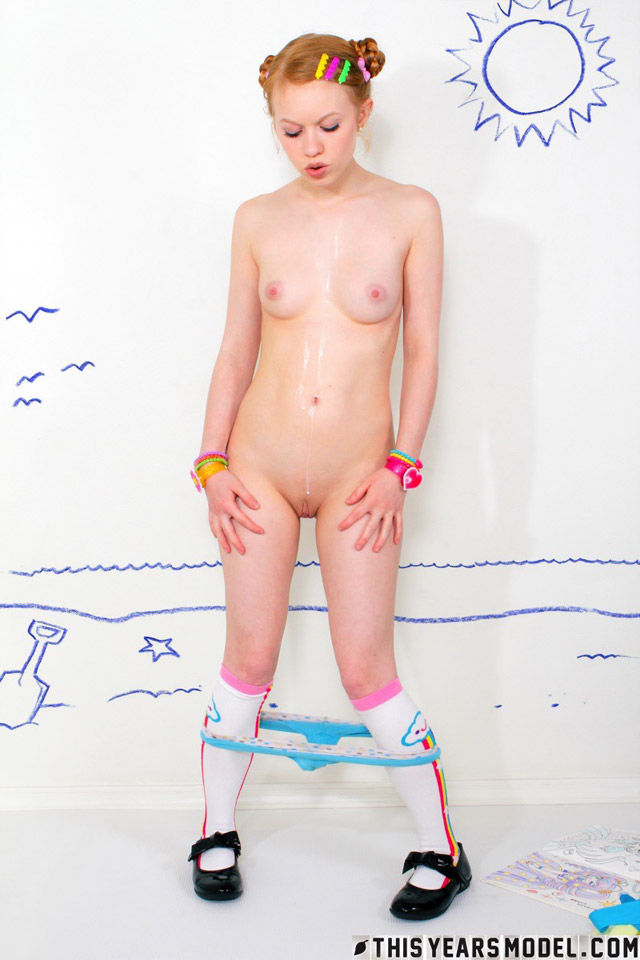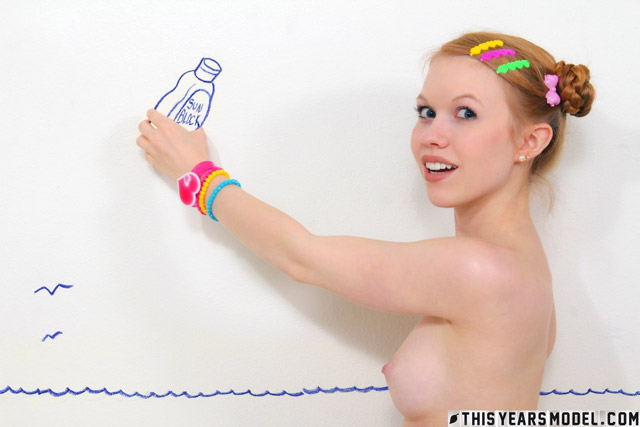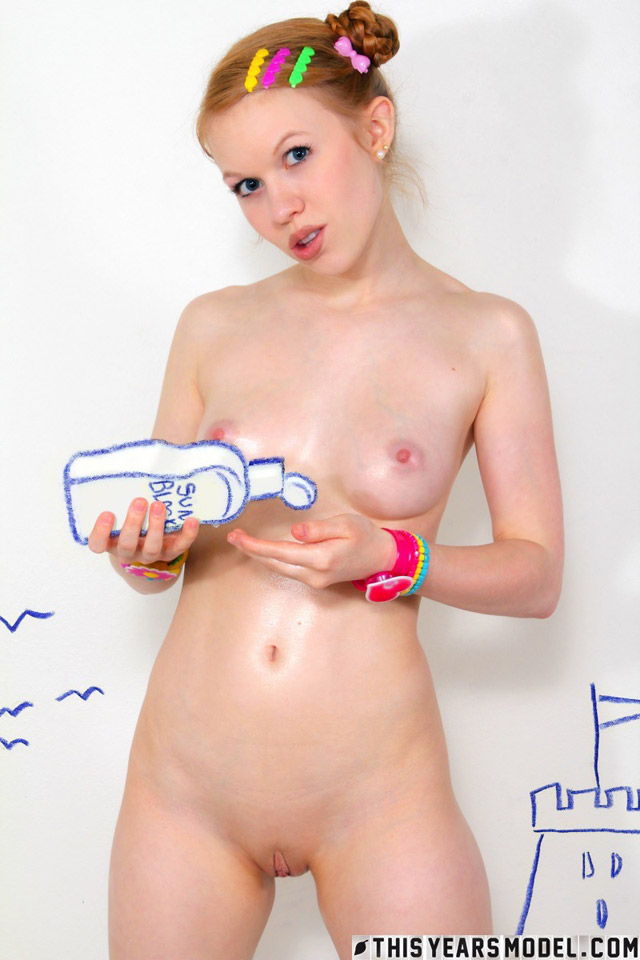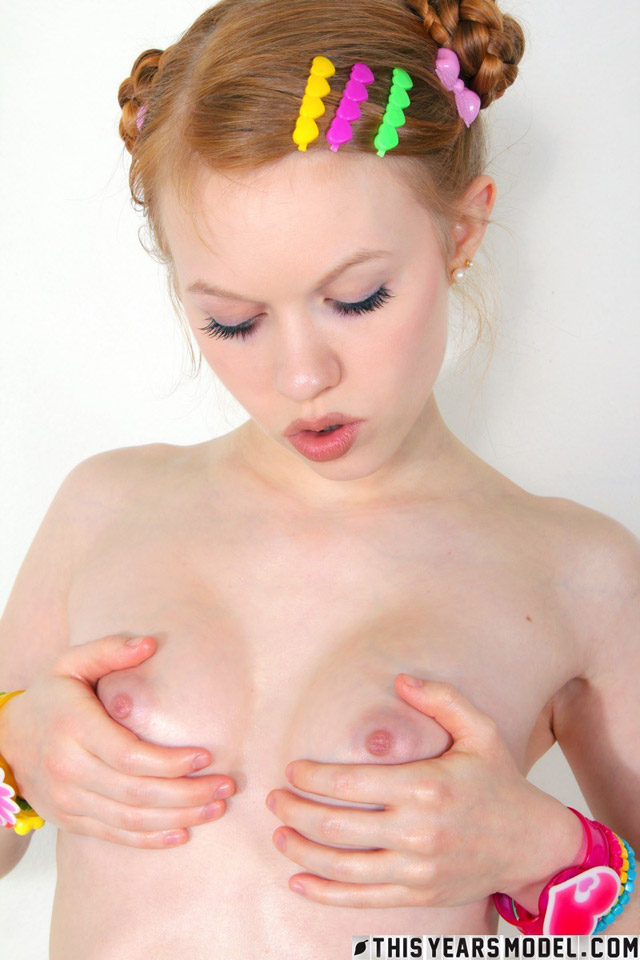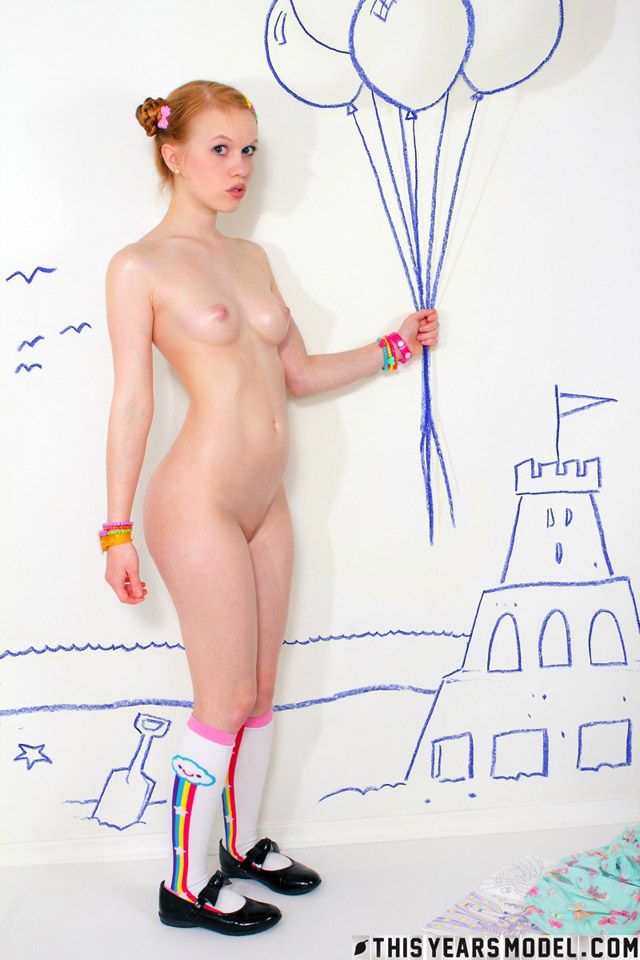 Do you want to see more of tight little teen and all natural redhead babe Dolly Little?  Catch all of her new sets inside This Years Model.  Sexy & playful cutie Dolly Little is waiting for you inside with all of her horny girl friends…

Continue reading in the Redheads category or return to the cover of Porn Corporation magazine.
Previous: Smoking Hot Redhead GF Lolo Punzel Sex – New Solo Girl Porn Site: Miss Kaysie
View more articles starring top new erotic nude teen site This Years Model.
Previous This Years Model article:  Ashley Doll Ambrosial In White Lingerie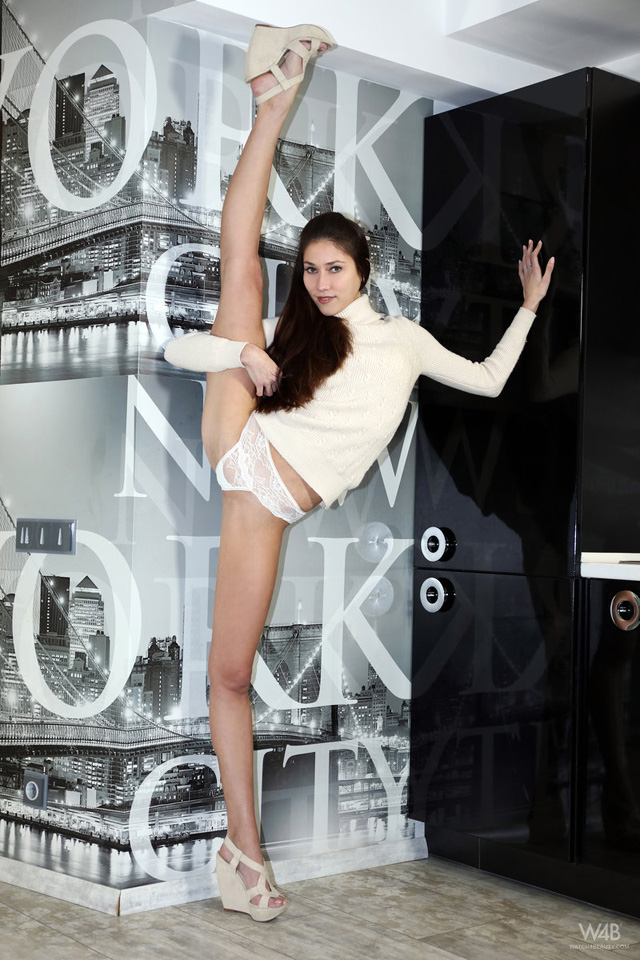 Meet extremely flexible babe Iva. Her erotic gymnastics bring amazing naked contortionist art to life for you to dream and fantasize of fucking her in the wildest positions!  Iva is sweet, fun loving girl who loves to explore and enjoys new experiences.  She was born in the Ukraine in 1991 and measures up at a perfect 34-24-34 standing, slender, tall and beautiful at 5'5″.  Iva previously worked in a circus but switched her career to nude modelling for a more exciting lifestyle!  Iva's passions include gymnastics, dancing and traveling.  Her top sexual fantasy is go to through the entire Kamasutra from start to finish.  Do you want to attempt to give flexible hottie Iva her fantasy?  Can you handle her wild riding positions?  See all of her photos & videos inside Watch4Beauty!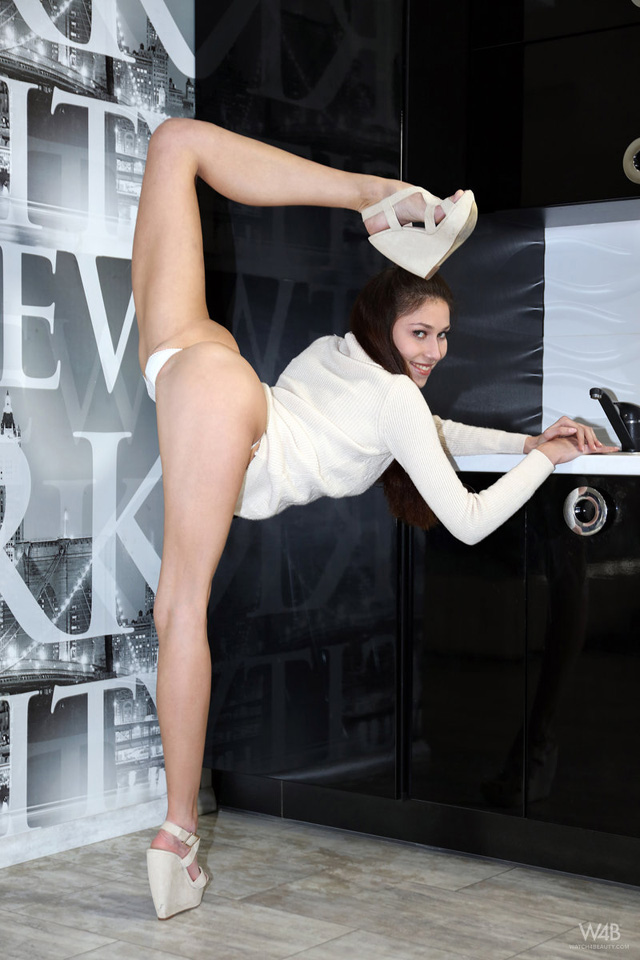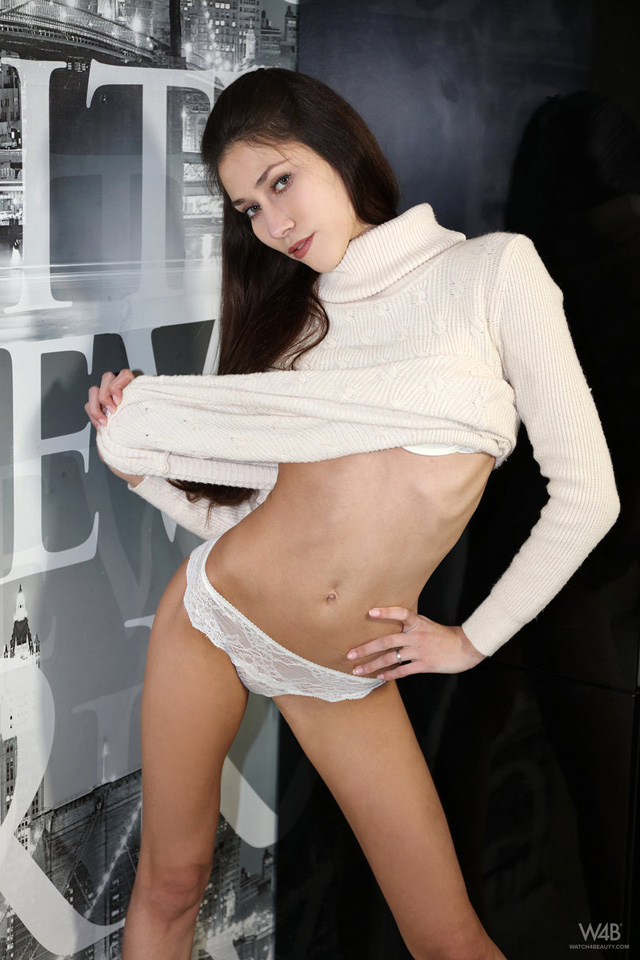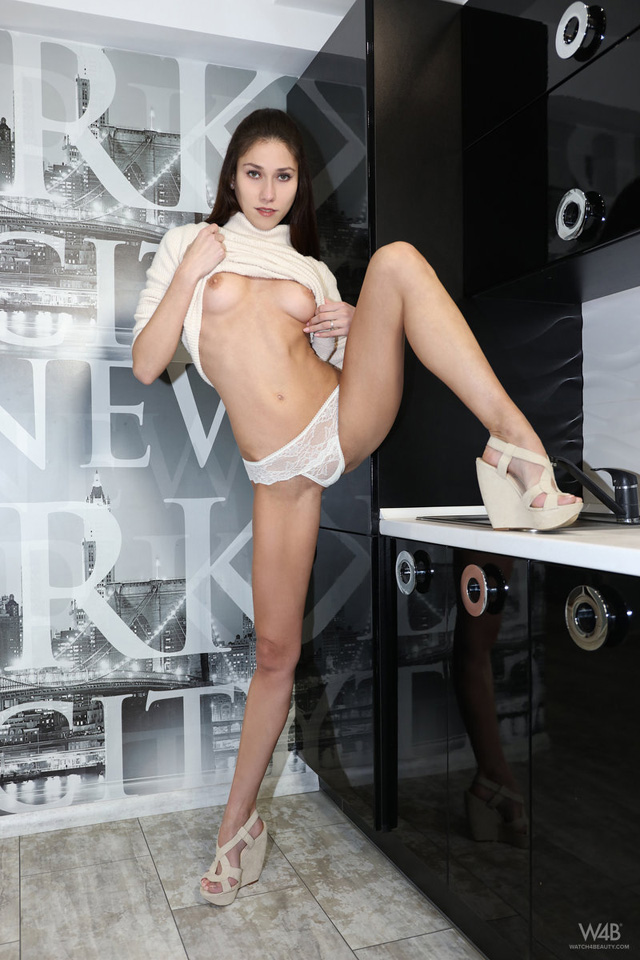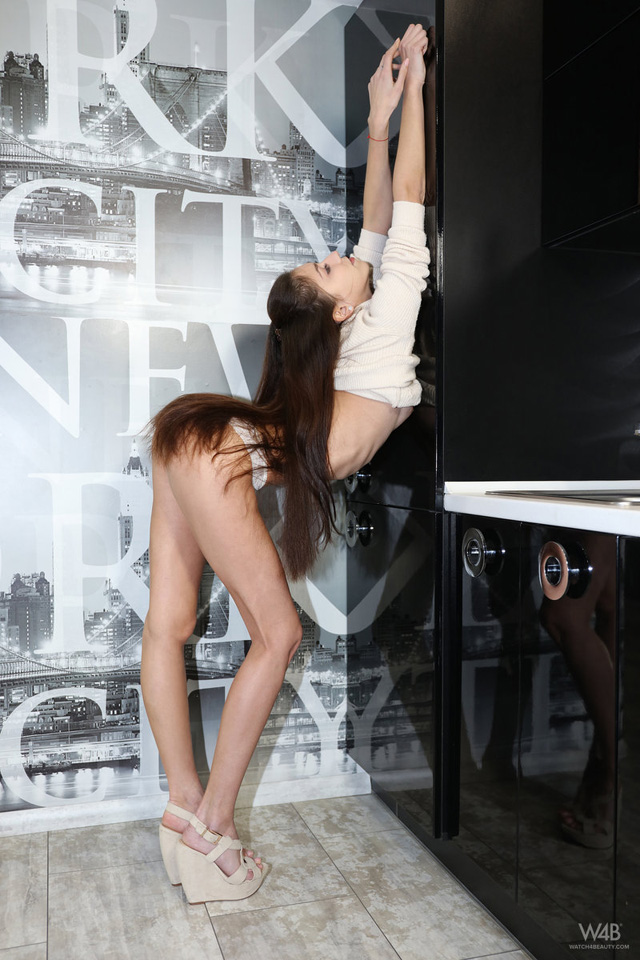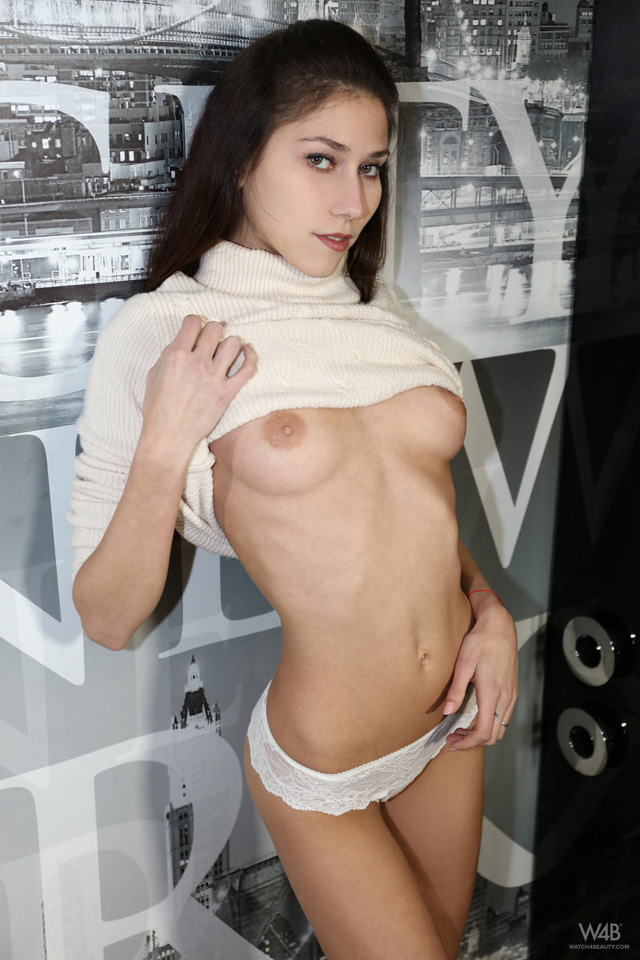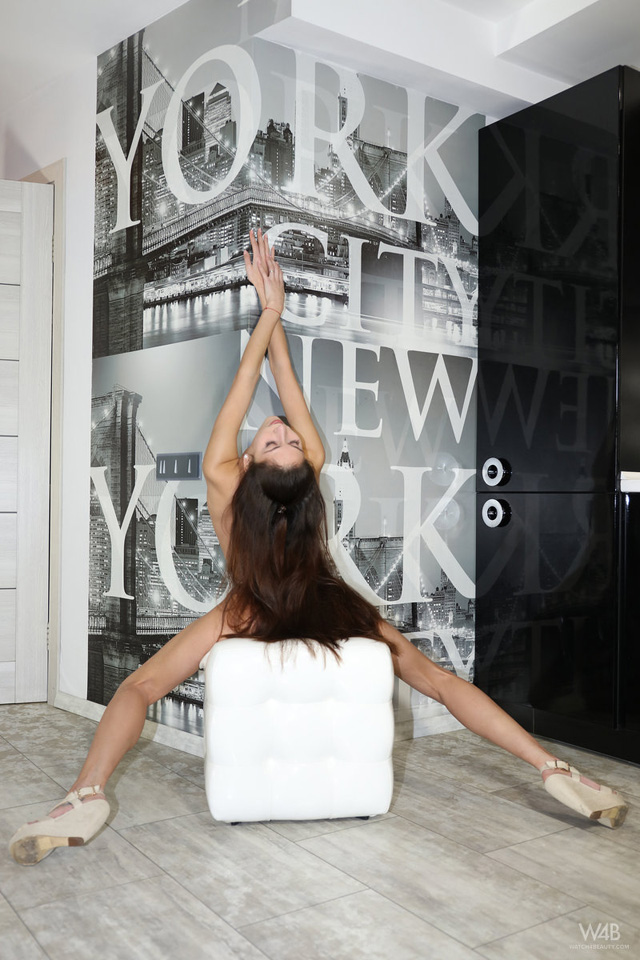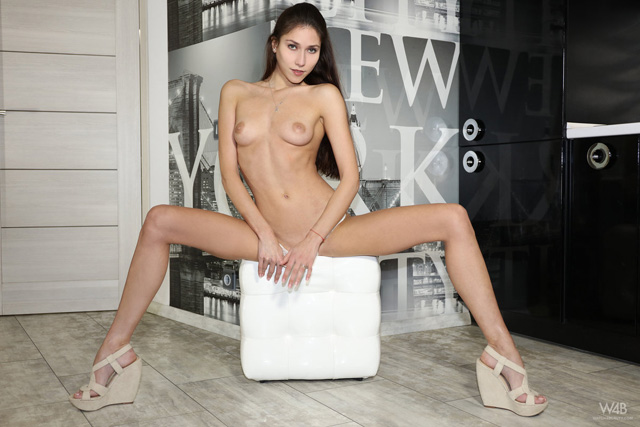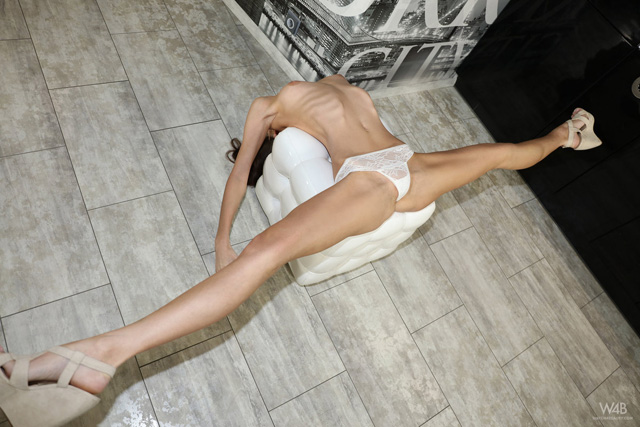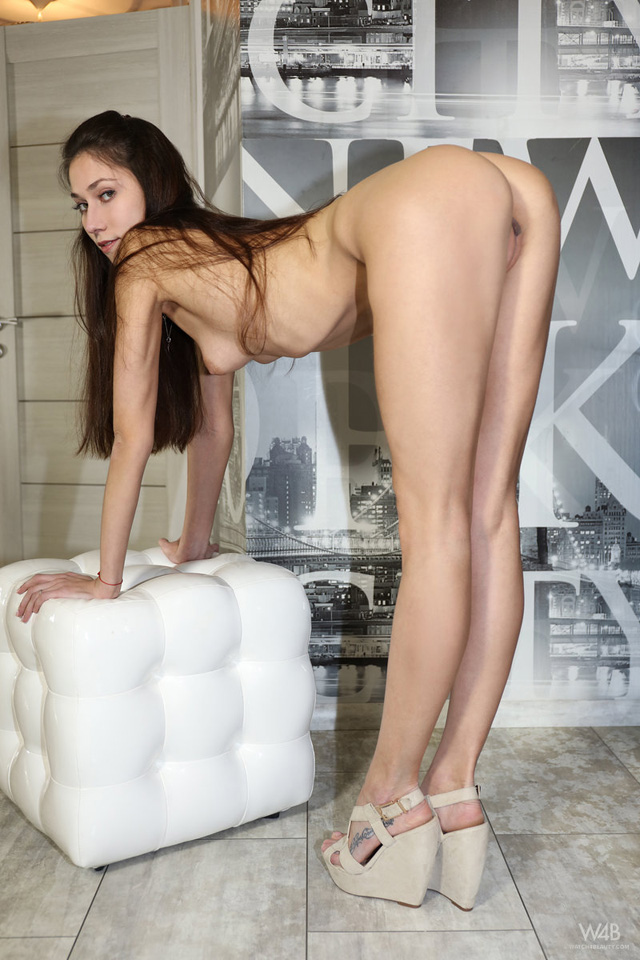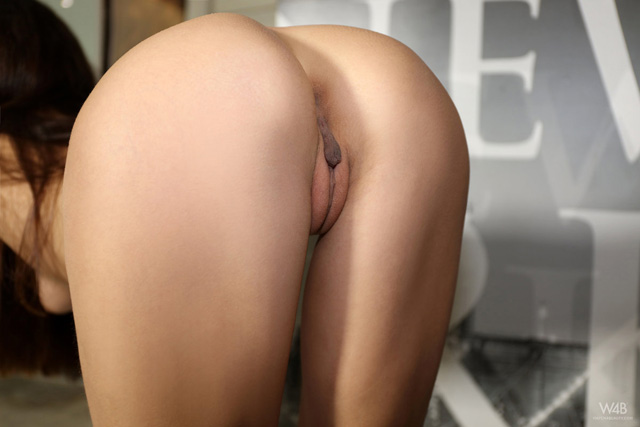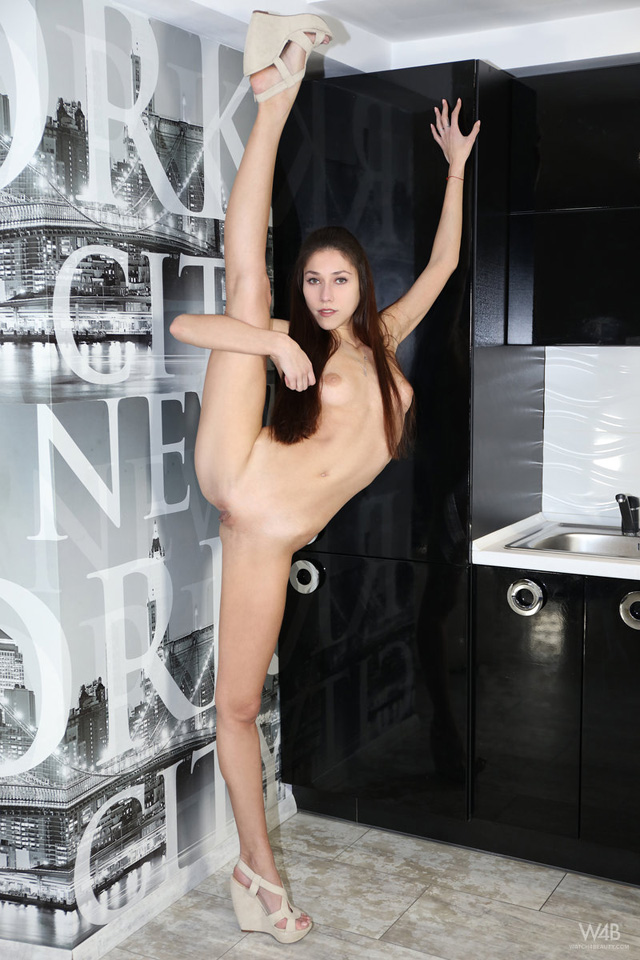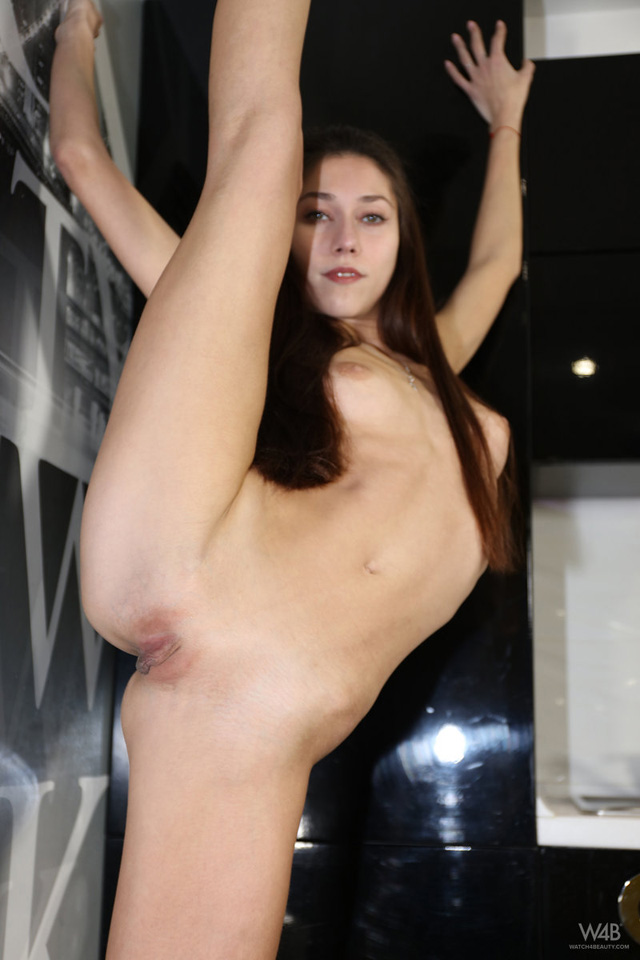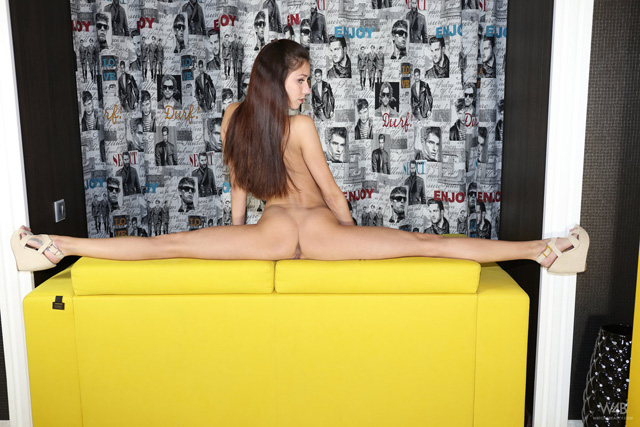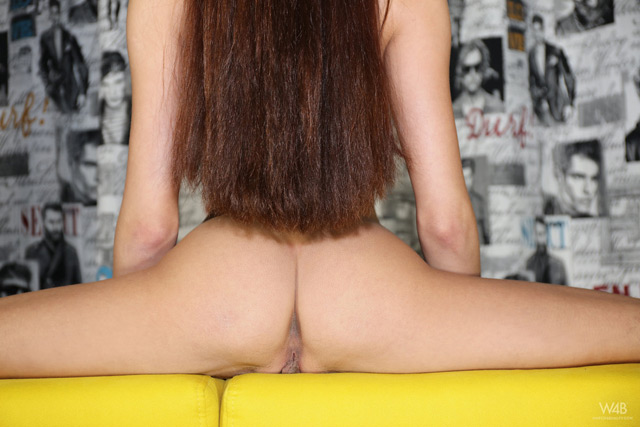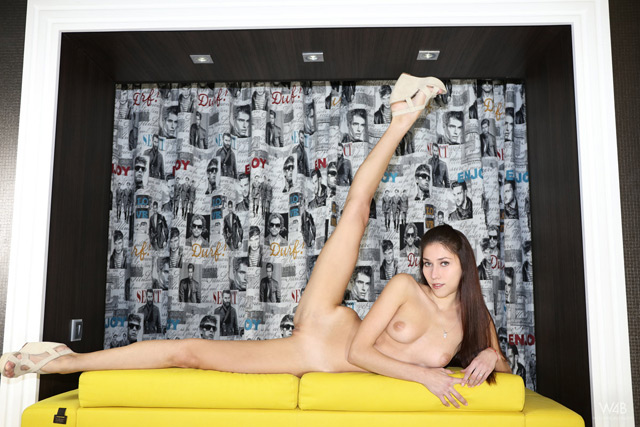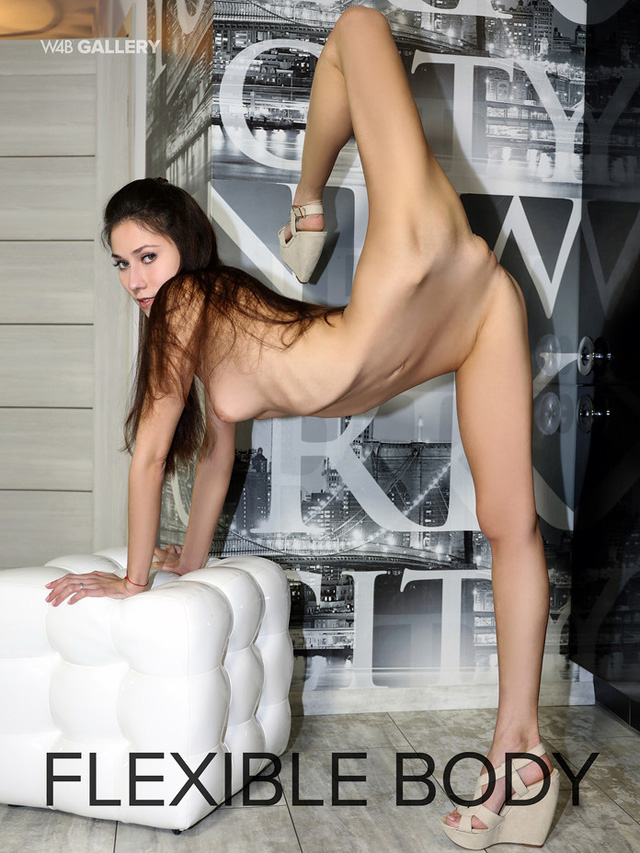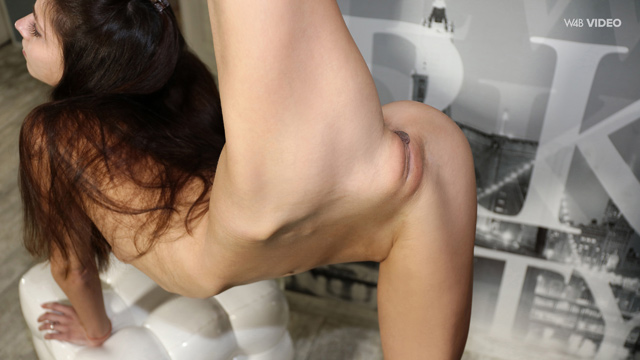 Watch flexible nude artist Iva bendin acrobatic positions for you to fantasize fucking her tight pussy as she wraps around you!  Visit W4B for the hottest nude art, lesbian porn and solo masturbation filmed in the most beautiful exotic locations from around the world inside Watch4Beauty!

Visit the Flexible Sex category or return to the cover of Porn Corporation magazine.
Previous flexible article:  Flexible Babe Tiffany Watson Hot Anal Yoga
View all of the articles showcasing Watch4Beauty magazine in our archives.
Previous top nude art feature: Exotic Nude Body Artist Joey Kim In Penthouse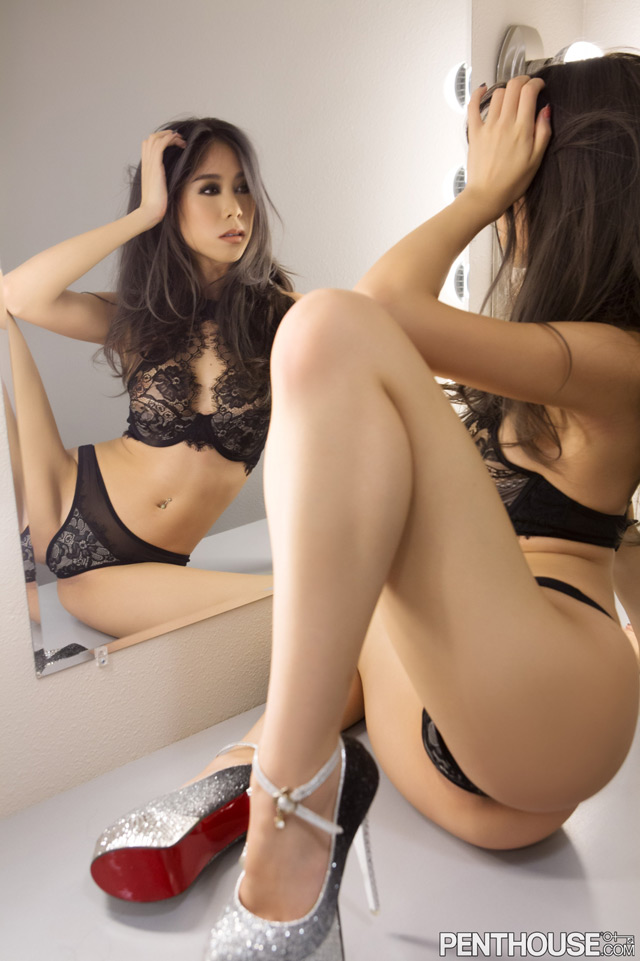 Stunning babe Joey Kim is more than just a pretty face on a rocking body.  Joey is truly an artist, she specializes in erotic performance art including exotic dancing, burlesque shows, aerial art, self shot videography & photography and is a professional striptease artist.  Famous for her gift with movement Joey Kim shoots erotic underwater, in air and on stage performances.  Check it out as Joey Kim shoots for Penthouse as she strips off her black lace lingerie by the mirror in the dressing room to expose her perfect body as she arches her back and caresses her curves for all the see.  Indulge with the hottest women and view all of Joey Kim's new photos inside Penthouse.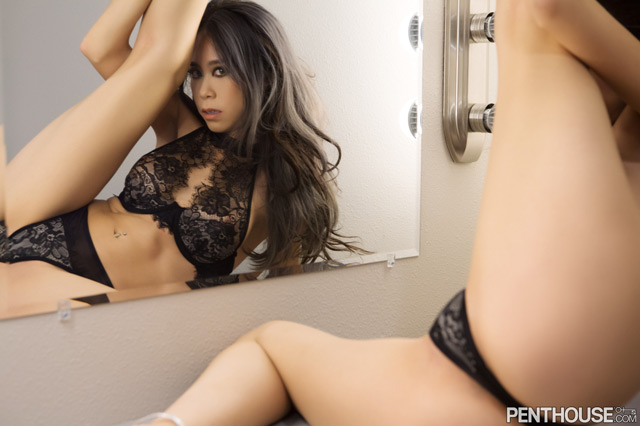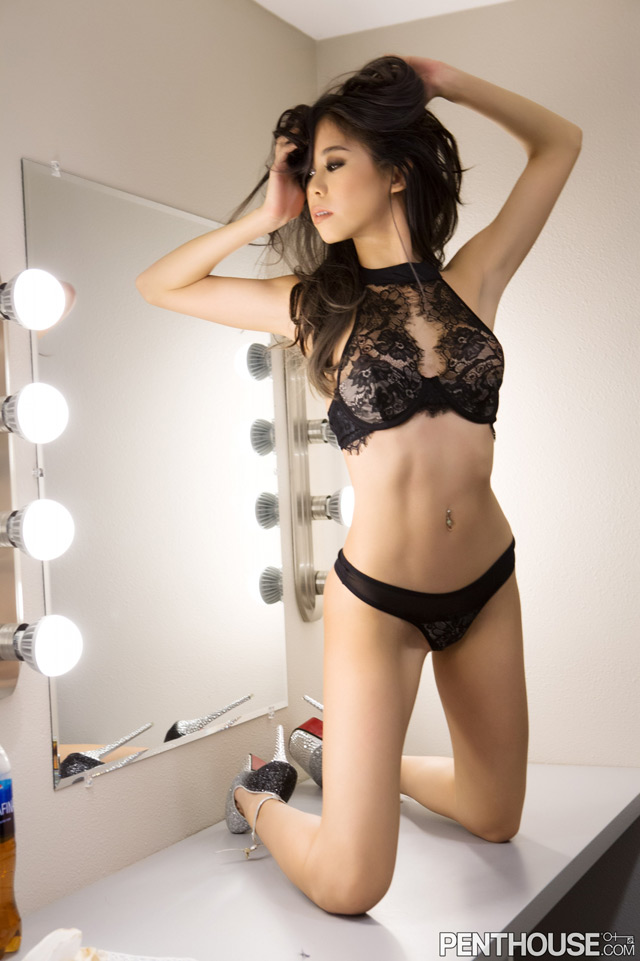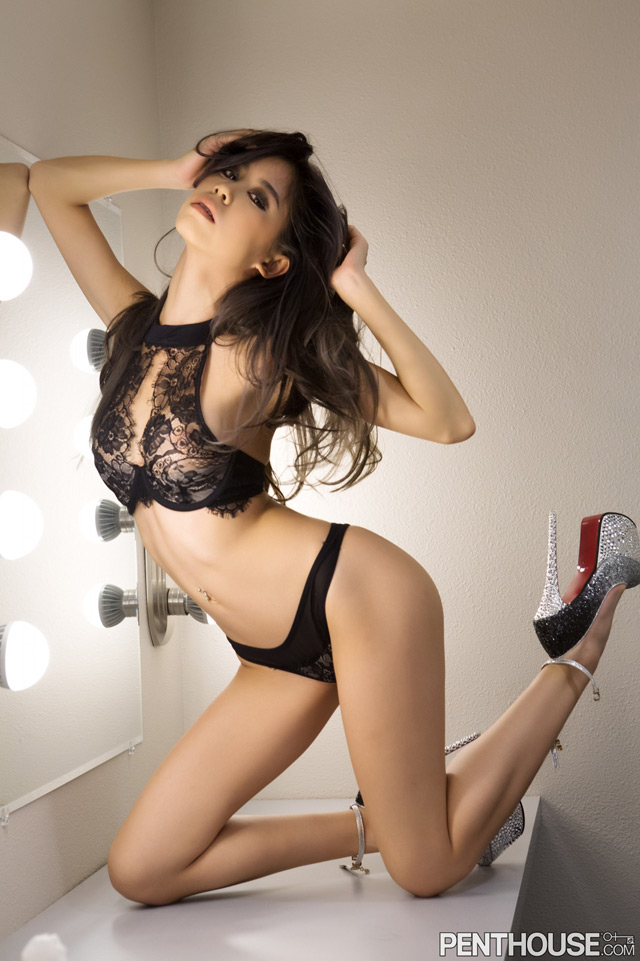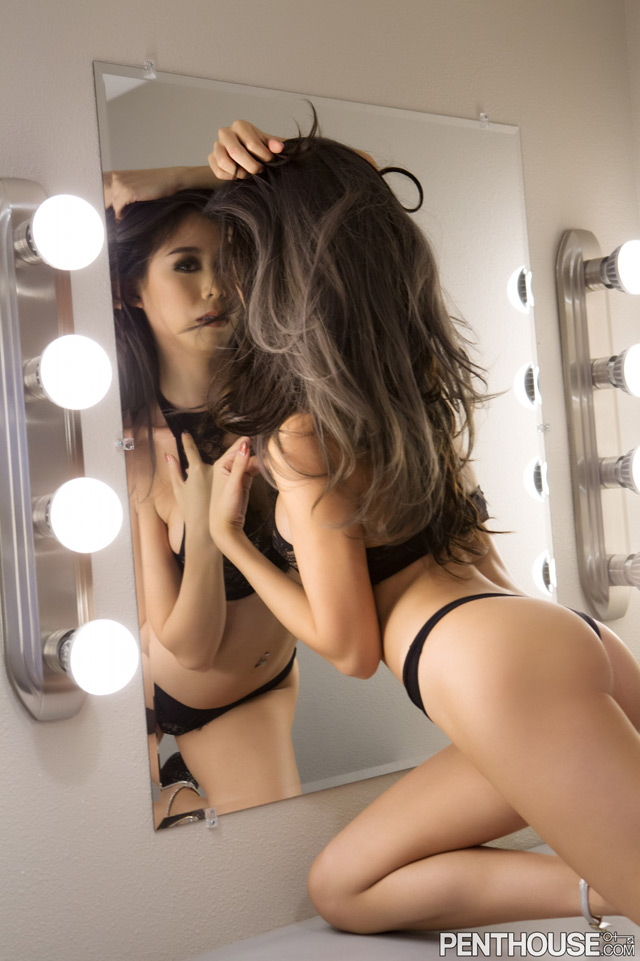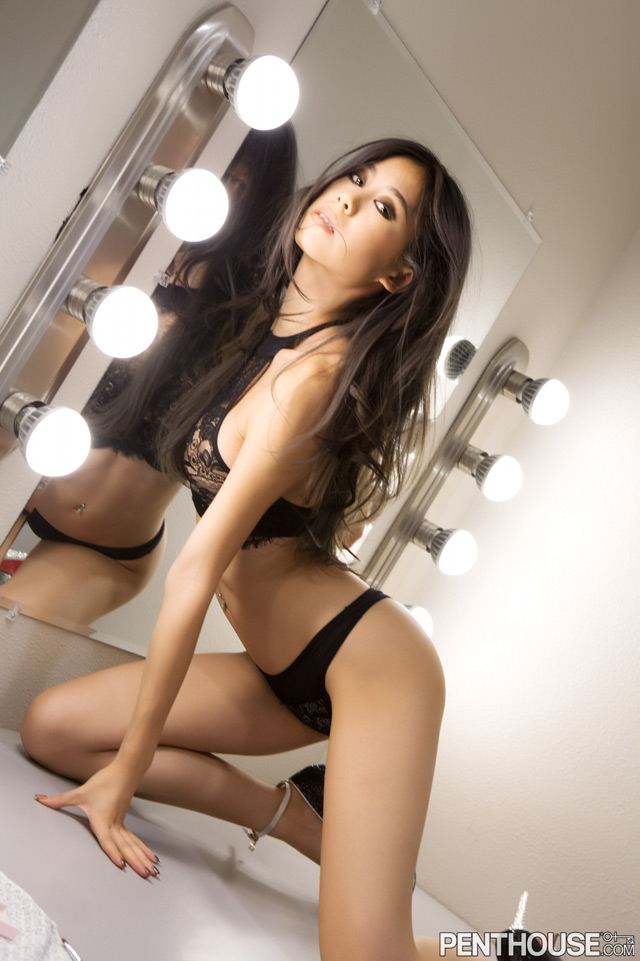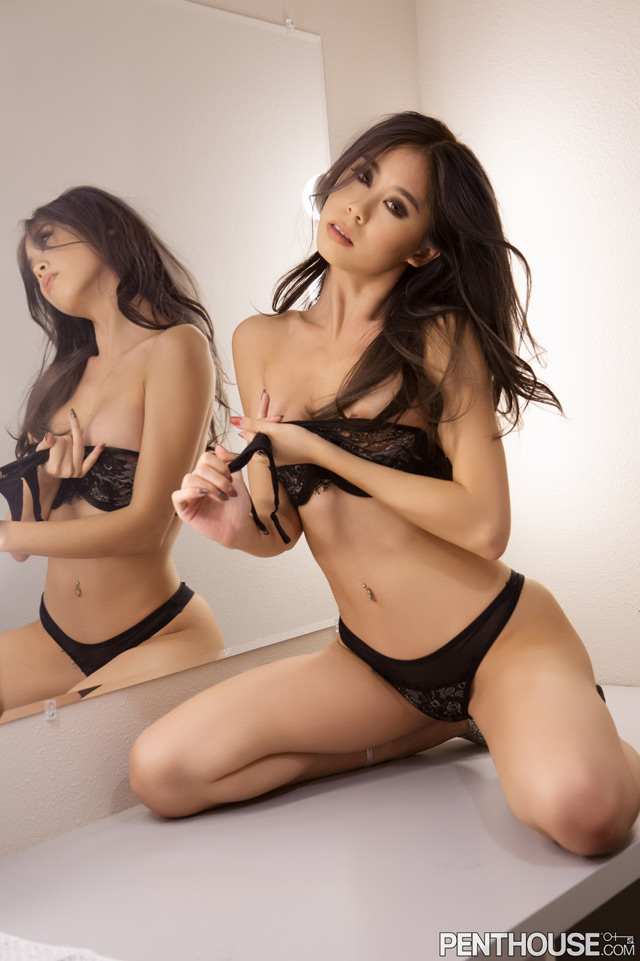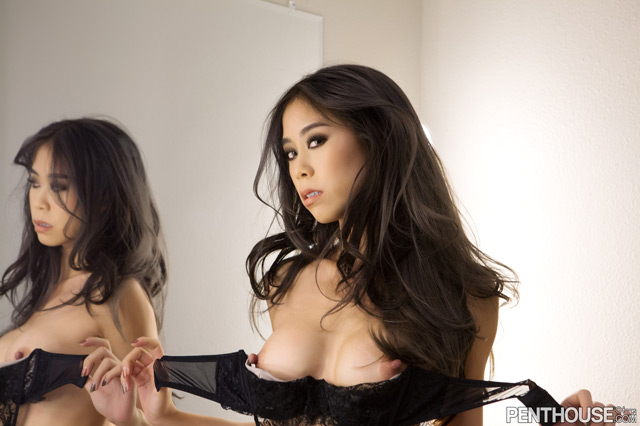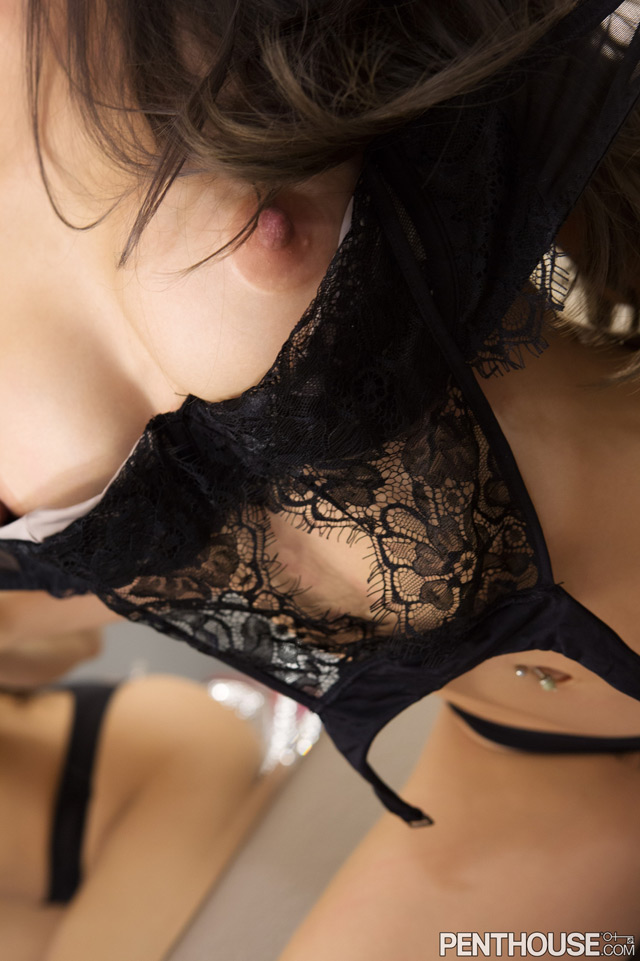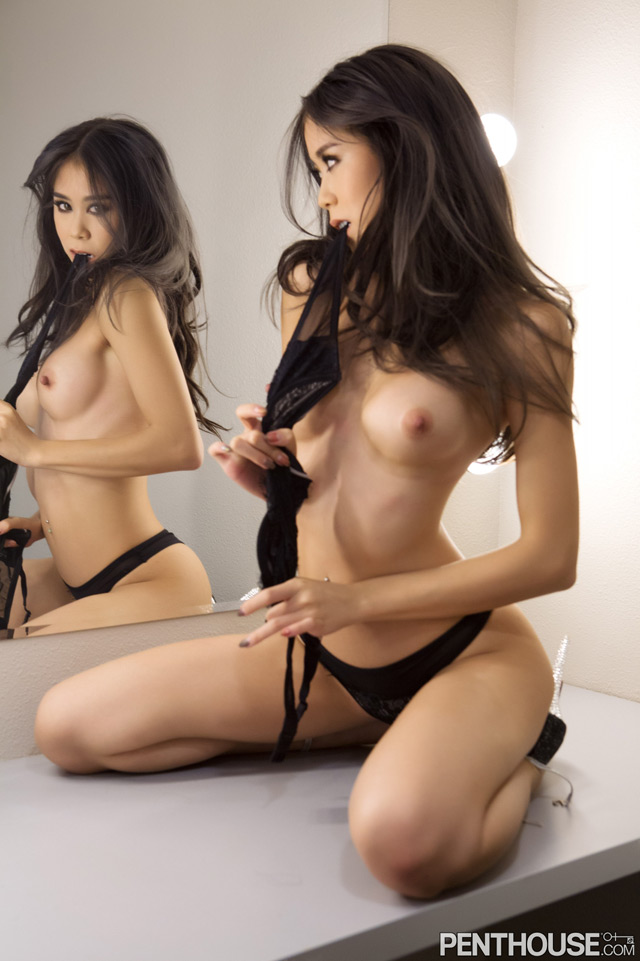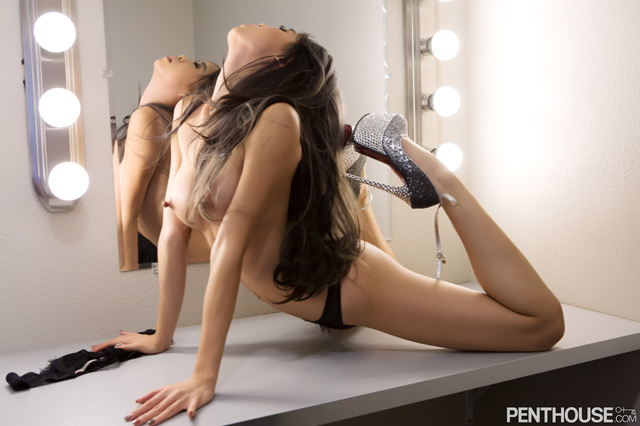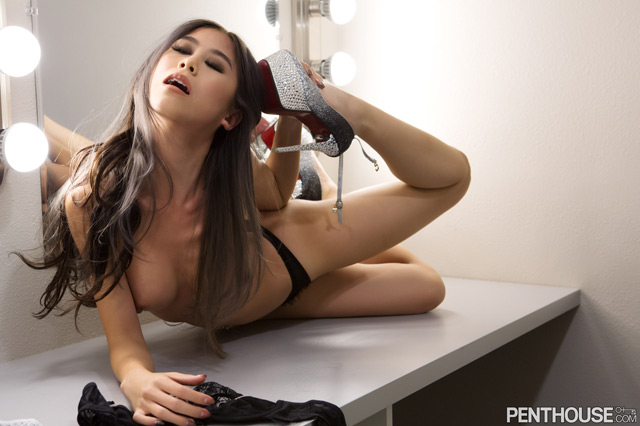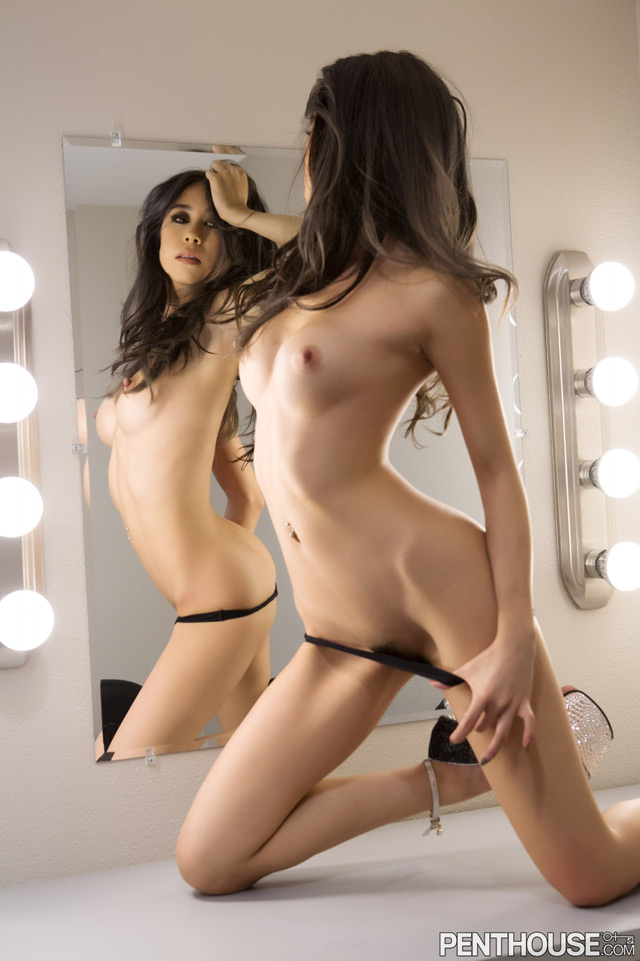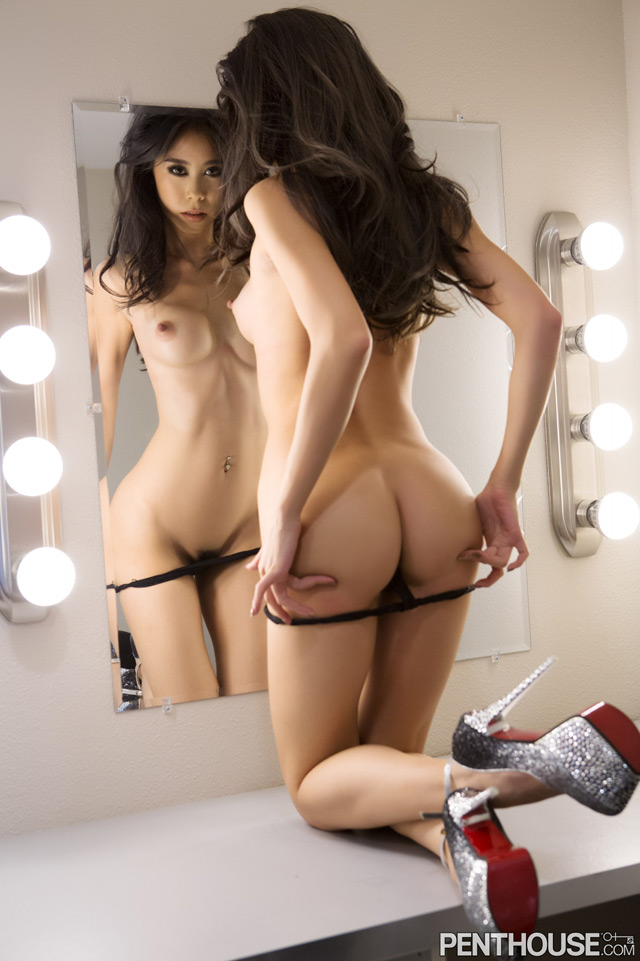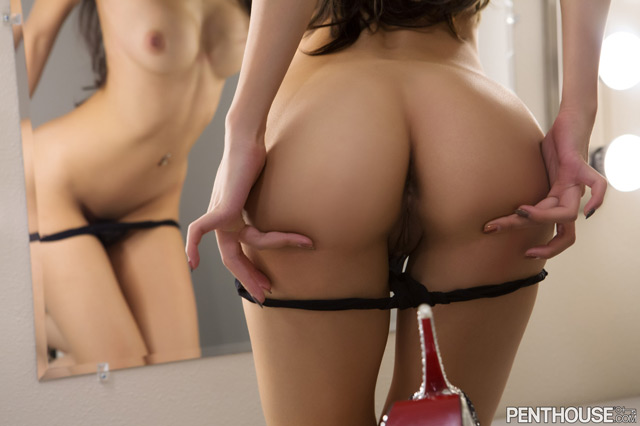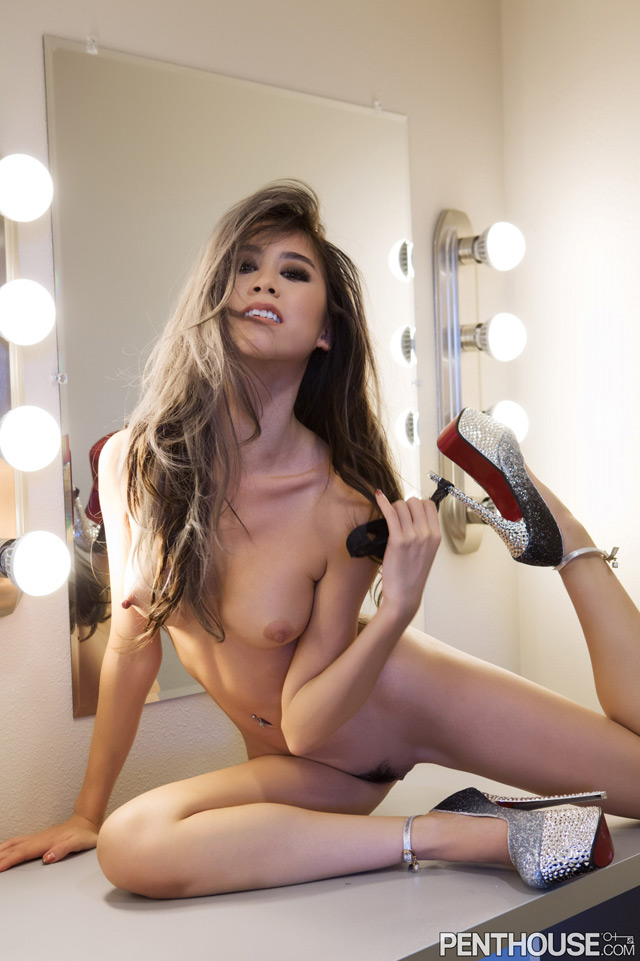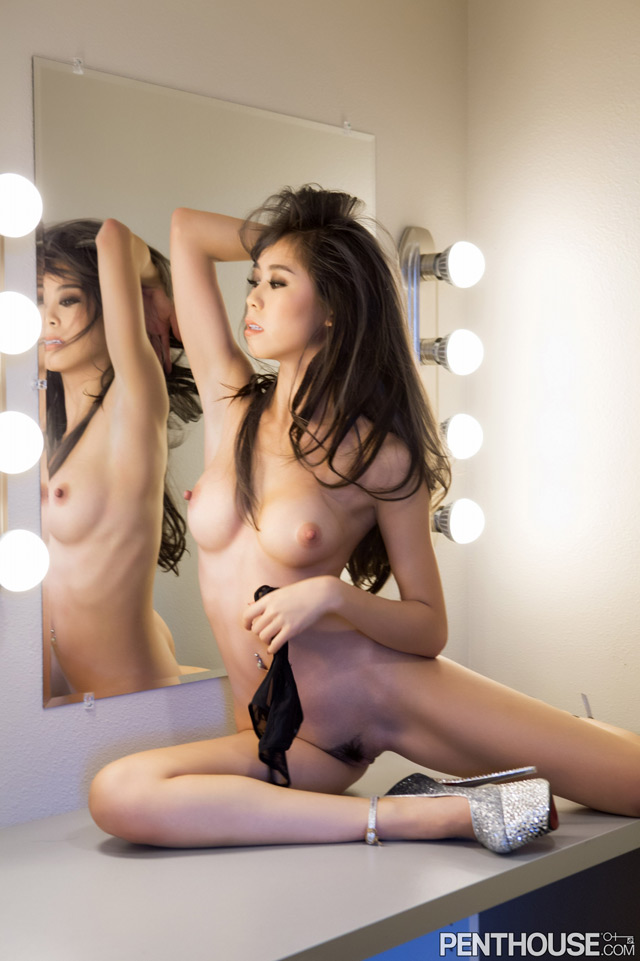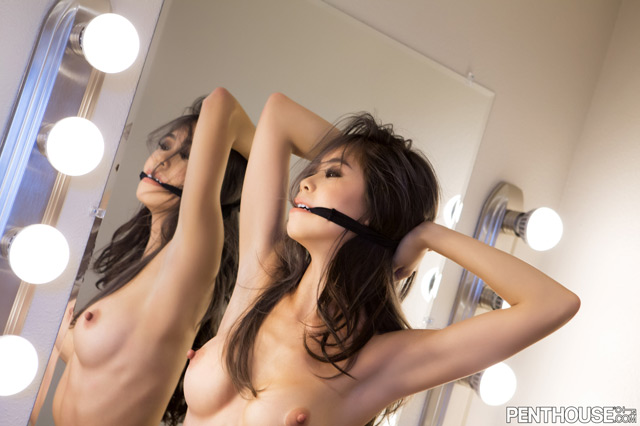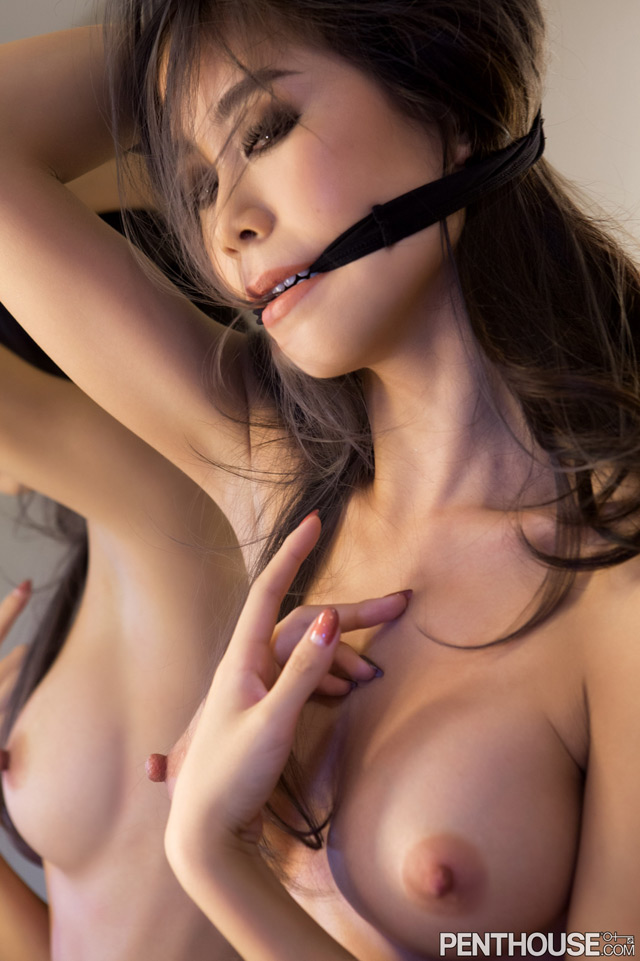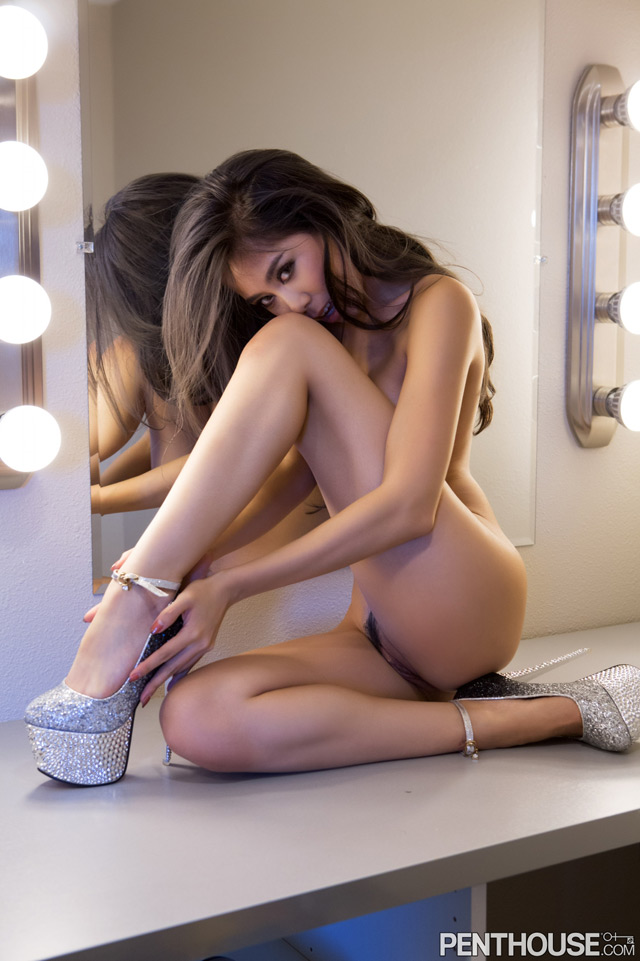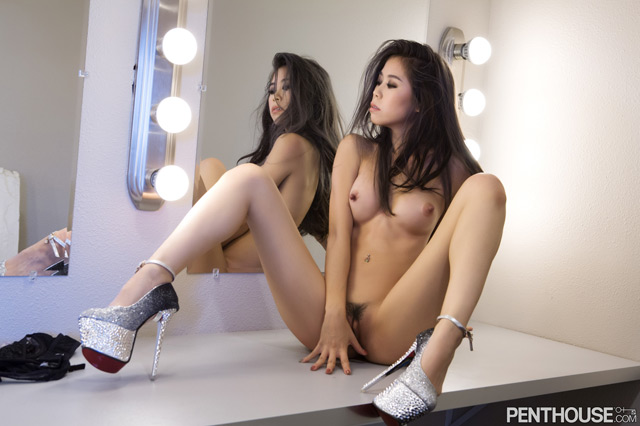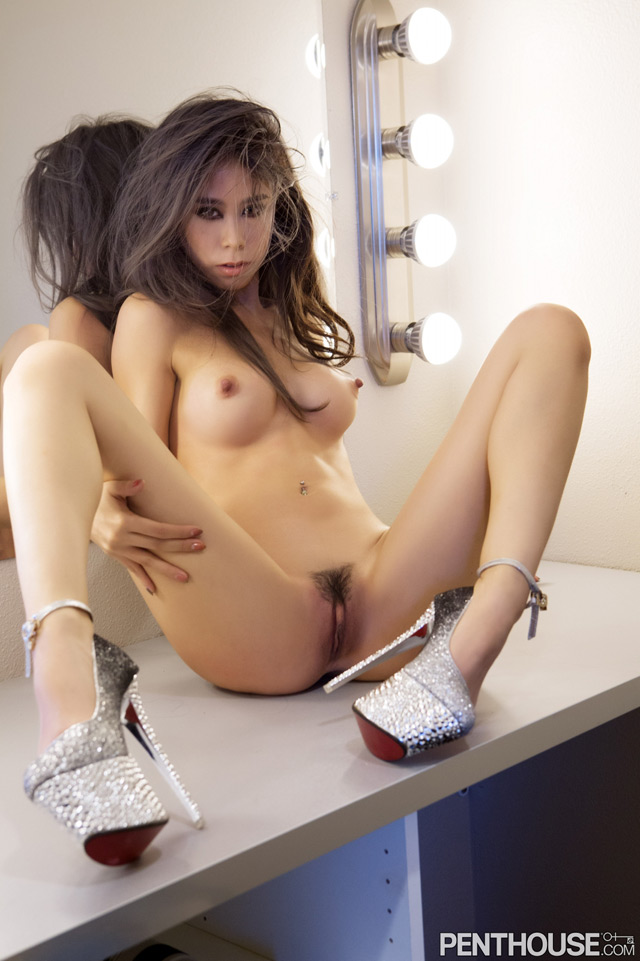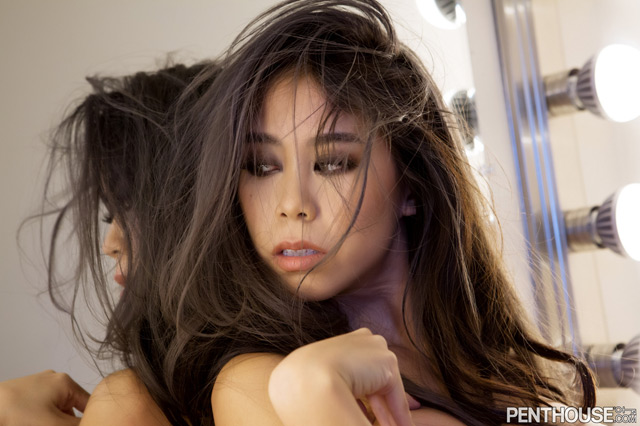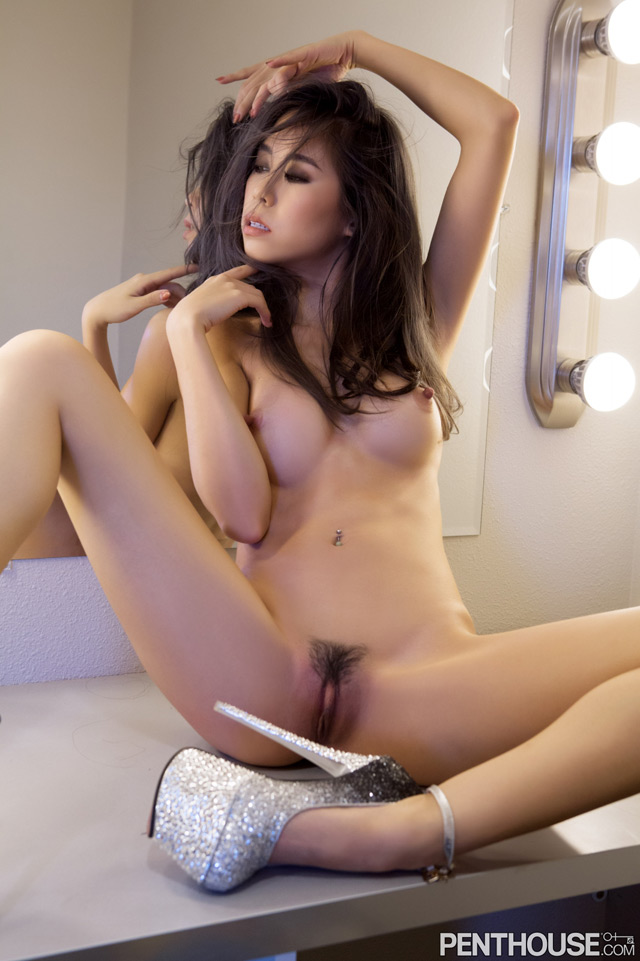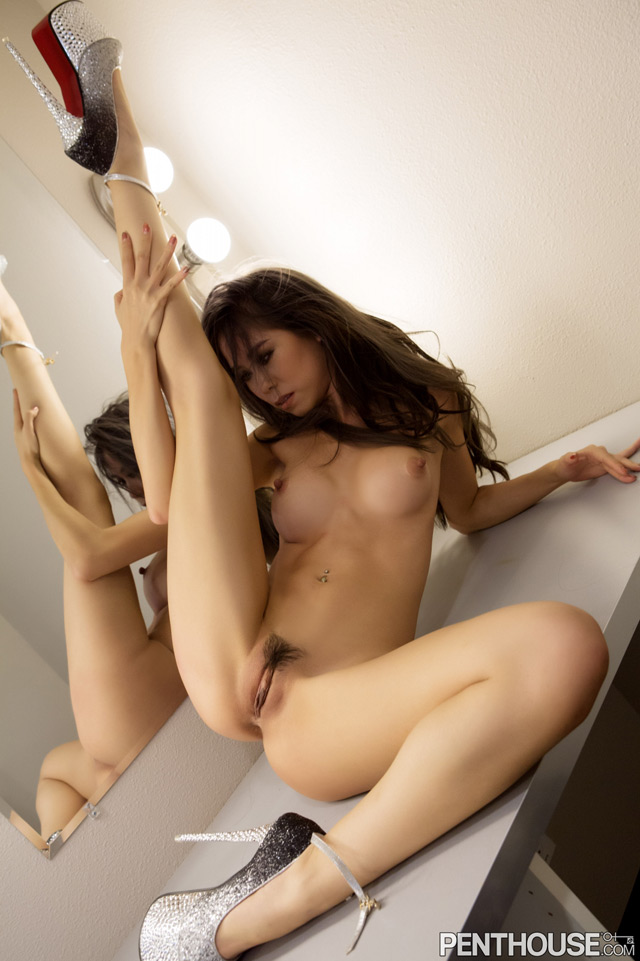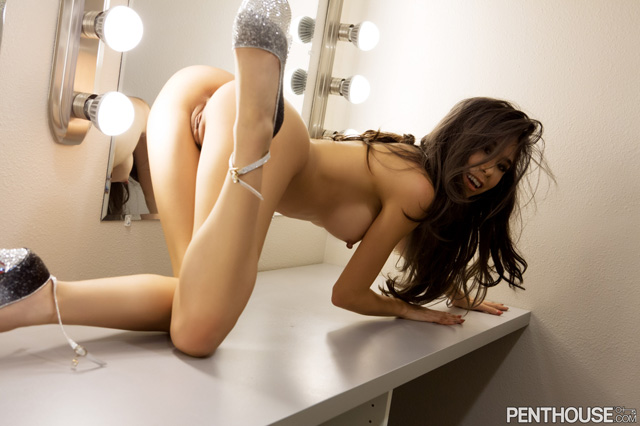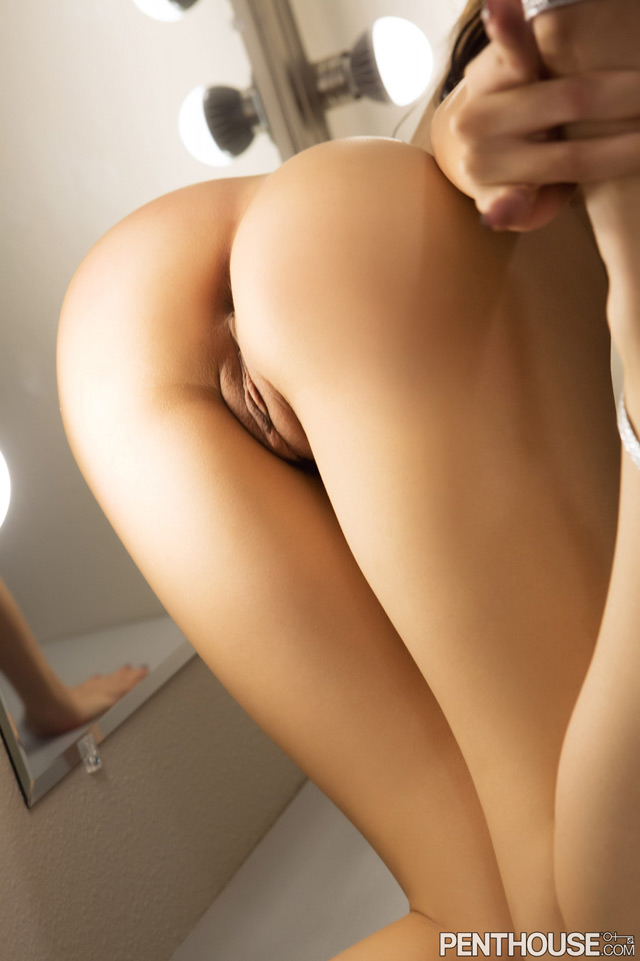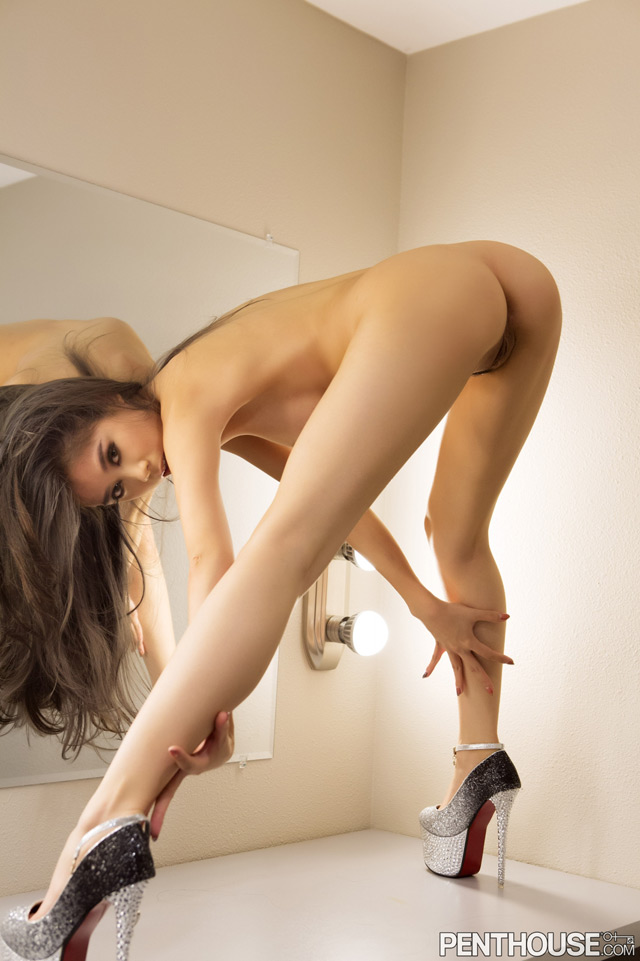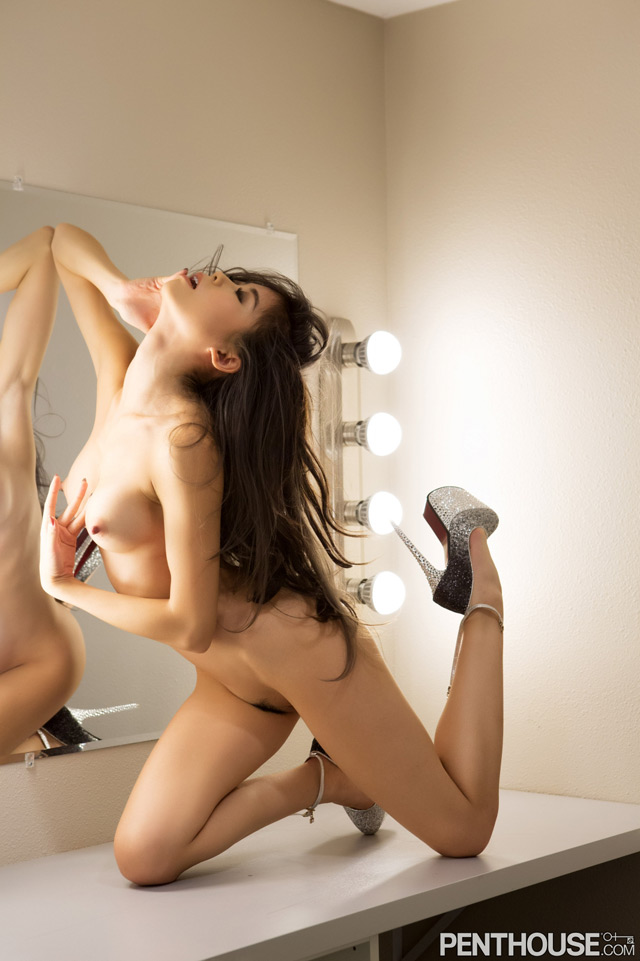 Enter Penthouse to Experience Life On Top with the freshest nude models including Joey Kim and party with the most beautiful erotic babes in the world.  They are waiting inside…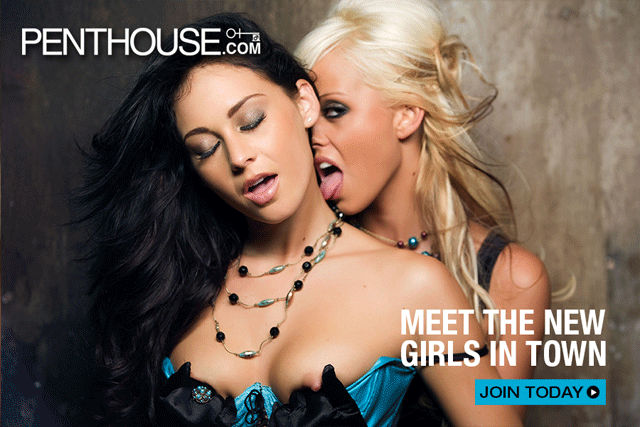 Continue viewing articles in the Asian Porn category or return to cover of Porn Corporation.
Previous article in the Asian category:  Exotic GF Aoki Kalani Sex & Drizzled In Jizz
Recent Penthouse news:  Blake Is The Penthouse Pet For December 2016
Check out the Japanese Porn category. View all of the Penthouse pictorials.  Similar models:
Anna Lee Penthouse Pet October 2015 – Filipina Babe CJ Miles Embraces The City At Night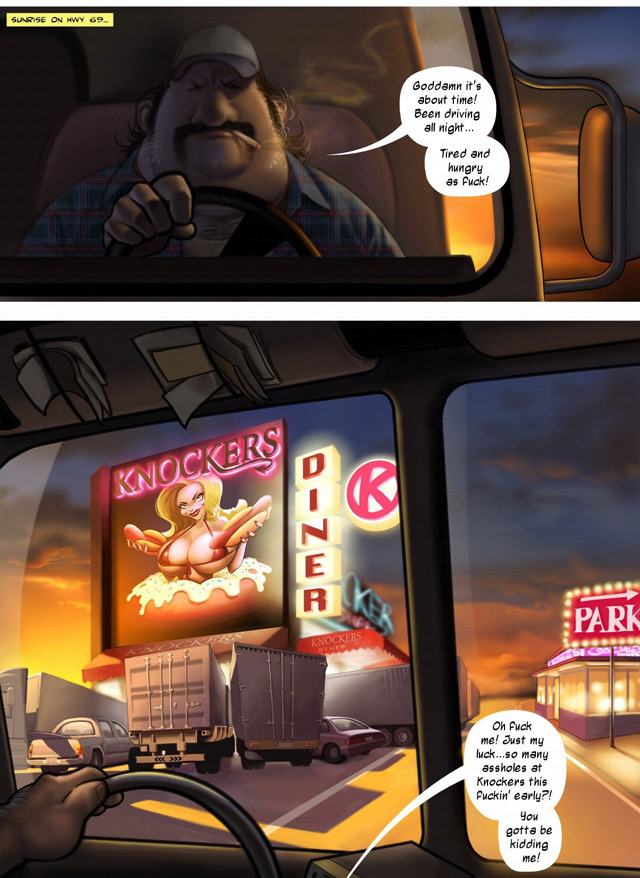 Welcome to Coochies Sex Diner!  Meet their sexy waitresses… The new girl: 18 year old Akiko from Japan, Corrina who was born in the Ukraine, Kim from Korea with grade A fake all-American tits and Lollipop, the horny blonde slut!  A trucker known as Big Earl notices a new diner Coochies pops up next to his favorite stop Knockers and decides to give it a try when Knockers is full up.  He walks in to find some sweet tits and ass and good eats but can't leave due to the embarrassment of his raging boner!  That's when the owner MC B gives Earl a special menu with sex positions on it and offers him to pick a waitress… Who would you choose?  To continue reading this comic and to see Big Earl's experience at Coochies Sex Diner join Art Of Jaguar for all the hardcore toon sex!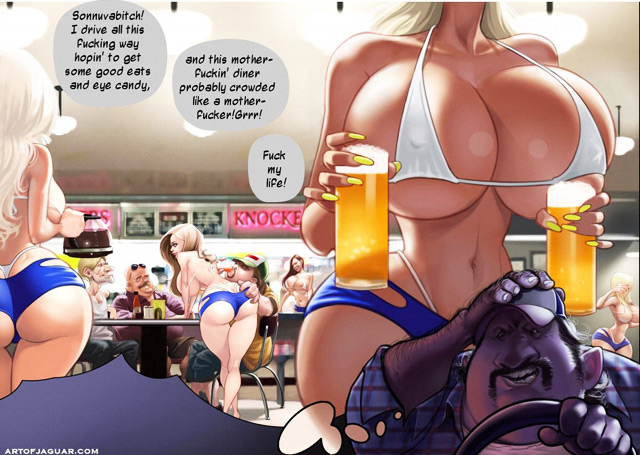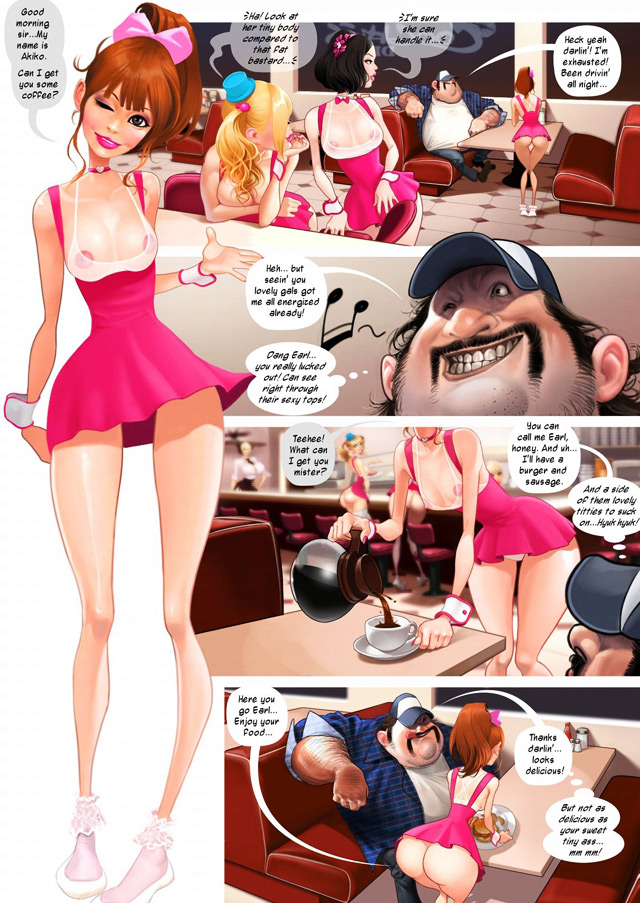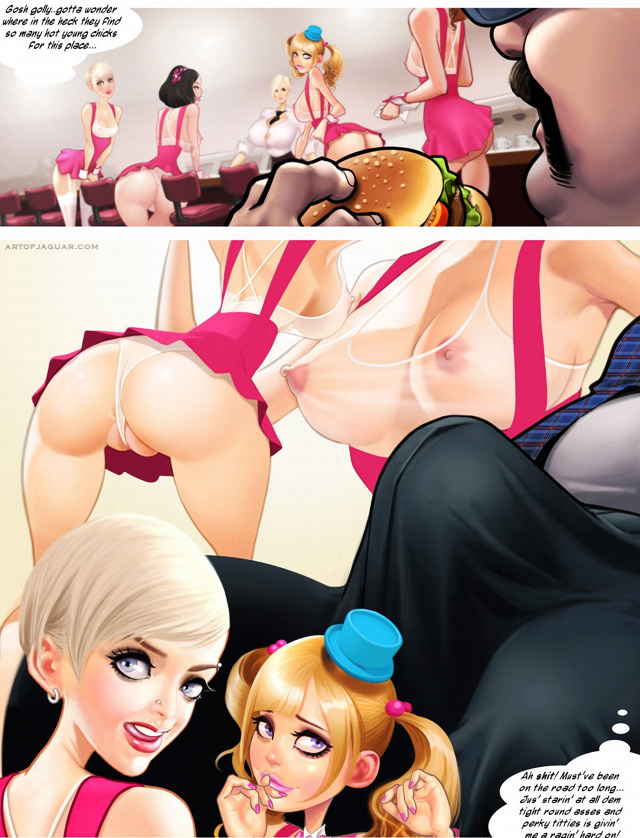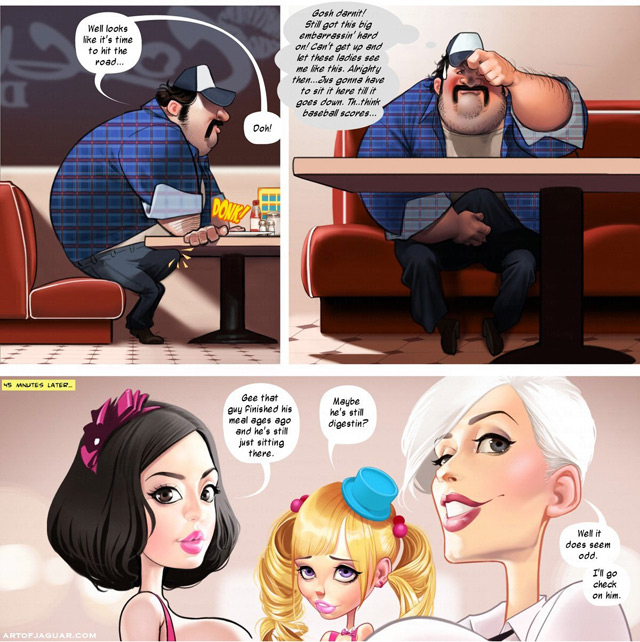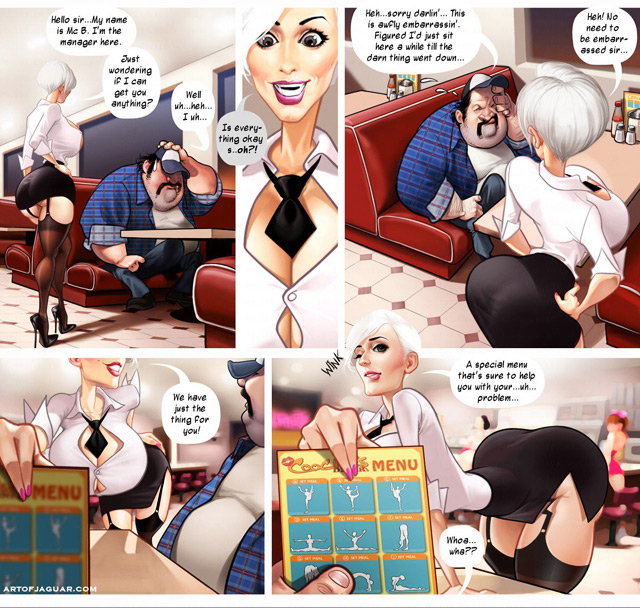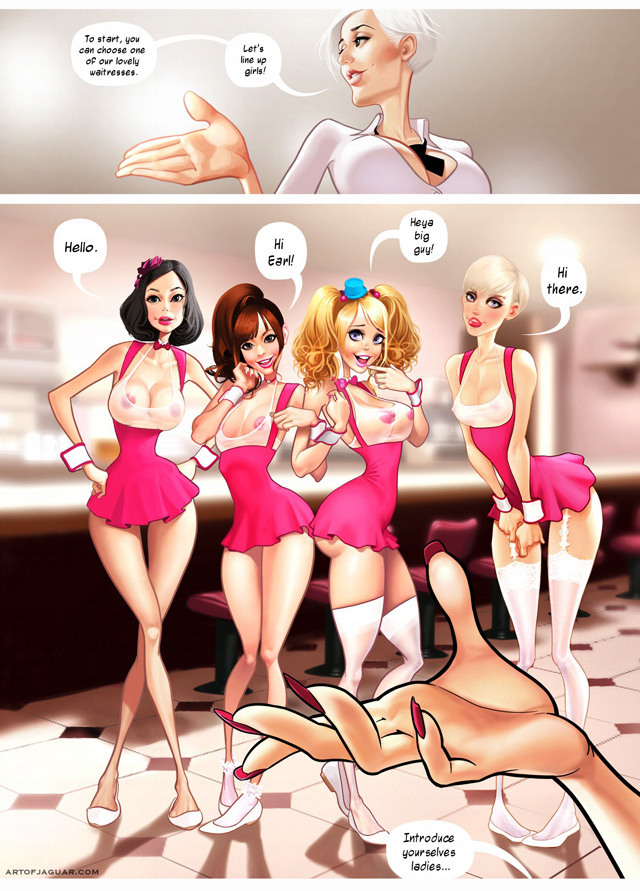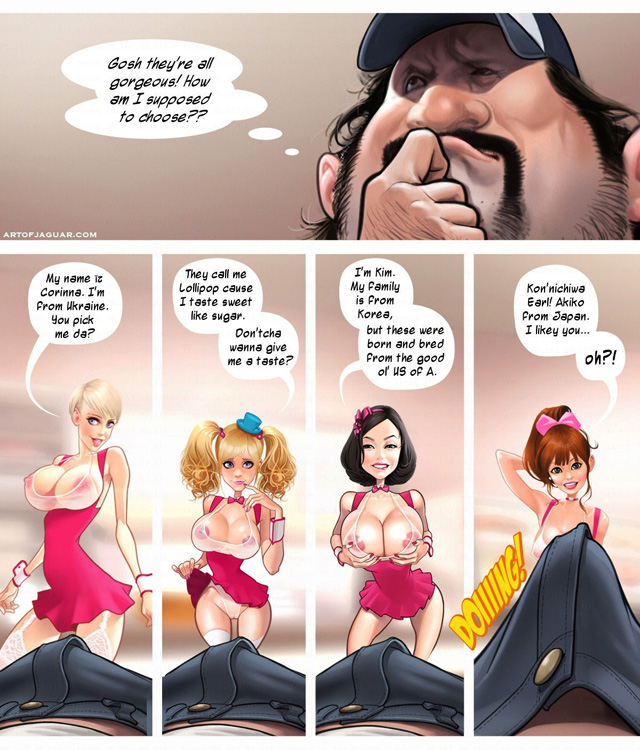 Are you ready to step into Coochies Diner to get your dick wet with the hottest waitresses willing to do anything for their customers?  Get your pass now to read the full comic and become a member to AoJ for all the dirtiest and best sex comics online… I promise you will cum harder than ever!  Get your pass now to the wildest cartoon porn site online Art of Jaguar.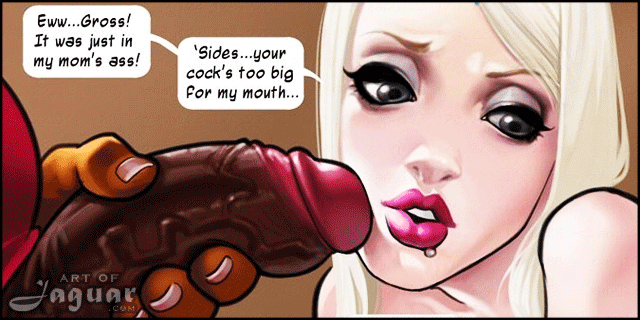 Continue reading in the Adult Comics category or return to the front of Porn Corporation magazine.
See more pages from the Coochies comic series:  Art of Jaguar – New X-Rated Comics Porn Site
Previous Arty of Jaguar featured comic:  Cartoon Slut Caught By Mom Has Wild Anal Orgy
View all of the Art of Jaguar articles & check out these free hot AoJ adult comic Galleries:
Bethany & Mom – Dirty Homeless Needs – Professor Pinkus – Dreams of Alexa – Alexa in Rich Bitch

More Top Sites: Sluttish.xxx – Giantess Club – Bimbo Story Club – BE Story Club – PlanetComiXXX
For more of your favorite comic book heroes in X-rated action check out our Parody Porn category!